{"id":7406684766362,"title":"Women's Solid Color Pocket Short Sleeve Cotton Linen Shirt","handle":"womens-solid-color-pocket-short-sleeve-cotton-linen-shirt","description":"\u003ch3 data-mce-fragment=\"1\"\u003e\u003cspan style=\"color: #48a4a4;\"\u003eFEATURES\u003c\/span\u003e\u003c\/h3\u003e\n\u003cul data-mce-fragment=\"1\"\u003e\n\u003cli data-mce-fragment=\"1\"\u003e\n\u003cp data-mce-fragment=\"1\"\u003e\u003cspan class=\"a-list-item\" style=\"color: #779448;\" data-mce-fragment=\"1\"\u003e\u003cstrong data-mce-fragment=\"1\"\u003e🍋 Material\u003c\/strong\u003e\u003c\/span\u003e\u003c\/p\u003e\n\u003c\/li\u003e\n\u003c\/ul\u003e\n\u003cp style=\"padding-left: 30px;\"\u003e\u003cspan class=\"a-list-item\" data-mce-fragment=\"1\"\u003eMade of high quality fabric. Breathable, Soft, Comfortable and Lightweight, can be easily dress up or dress down.\u003c\/span\u003e\u003c\/p\u003e\n\u003cul data-mce-fragment=\"1\"\u003e\n\u003cli data-mce-fragment=\"1\"\u003e\n\u003cp data-mce-fragment=\"1\"\u003e\u003cspan class=\"a-list-item\" style=\"color: #779448;\" data-mce-fragment=\"1\"\u003e\u003cstrong data-mce-fragment=\"1\"\u003e🍋 Fashion\u003c\/strong\u003e\u003c\/span\u003e\u003c\/p\u003e\n\u003c\/li\u003e\n\u003c\/ul\u003e\n\u003cp style=\"padding-left: 30px;\"\u003e\u003cspan class=\"a-list-item\" data-mce-fragment=\"1\"\u003e\u003cspan data-mce-fragment=\"1\"\u003eThe shirt flared hem design will make your look more beautiful and chic. Wear this shirt in spring and summer. It is fashionable and comfortable.\u003c\/span\u003e\u003c\/span\u003e\u003c\/p\u003e\n\u003cp\u003e\u003cspan class=\"a-list-item\" data-mce-fragment=\"1\"\u003e\u003cspan data-mce-fragment=\"1\"\u003e\u003cimg alt=\"\" src=\"https:\/\/cdn.shopifycdn.net\/s\/files\/1\/0559\/5224\/4936\/products\/1_fc4f2d8c-d50d-4935-bc01-7b240512572b_480x480.jpg?v=1658128962\" style=\"display: block; margin-left: auto; margin-right: auto;\" width=\"400\" height=\"400\"\u003e\u003c\/span\u003e\u003c\/span\u003e\u003c\/p\u003e\n\u003cul data-mce-fragment=\"1\"\u003e\n\u003cli data-mce-fragment=\"1\"\u003e\n\u003cp data-mce-fragment=\"1\"\u003e\u003cspan class=\"a-list-item\" style=\"color: #779448;\" data-mce-fragment=\"1\"\u003e\u003cstrong data-mce-fragment=\"1\"\u003e🍋 Match\u003c\/strong\u003e \u003c\/span\u003e\u003c\/p\u003e\n\u003c\/li\u003e\n\u003c\/ul\u003e\n\u003cp style=\"padding-left: 30px;\"\u003e\u003cspan class=\"a-list-item\" data-mce-fragment=\"1\"\u003e\u003cspan data-mce-fragment=\"1\"\u003eYou can match it with fashionable high heels or strappy sandals, and match it with your favorite handbag, which is full of charm. \u003c\/span\u003e\u003c\/span\u003e\u003c\/p\u003e\n\u003cul data-mce-fragment=\"1\"\u003e\n\u003cli data-mce-fragment=\"1\"\u003e\n\u003cp data-mce-fragment=\"1\"\u003e\u003cspan class=\"a-list-item\" data-mce-fragment=\"1\"\u003e🍋 \u003c\/span\u003e\u003cspan class=\"a-list-item\" data-mce-fragment=\"1\"\u003e\u003cspan data-mce-fragment=\"1\"\u003e\u003c\/span\u003e\u003c\/span\u003e\u003cspan class=\"a-list-item\" style=\"color: #779448;\" data-mce-fragment=\"1\"\u003e\u003cstrong data-mce-fragment=\"1\"\u003eBest Gift\u003c\/strong\u003e\u003c\/span\u003e\u003c\/p\u003e\n\u003c\/li\u003e\n\u003c\/ul\u003e\n\u003cp style=\"padding-left: 30px;\"\u003e\u003cspan class=\"a-list-item\" data-mce-fragment=\"1\"\u003eIt was a nice gift, for yourself or gift it for mama, daughter, wife, aunt, friend, girlfriend, sister to show your deep love for her.\u003c\/span\u003e\u003c\/p\u003e\n\u003cp\u003e\u003cspan class=\"a-list-item\" data-mce-fragment=\"1\"\u003e\u003cimg alt=\"\" src=\"https:\/\/cdn.shopifycdn.net\/s\/files\/1\/0559\/5224\/4936\/products\/6_76635bf3-5485-4080-9196-790006043cd5_480x480.jpg?v=1658128957\" style=\"display: block; margin-left: auto; margin-right: auto;\" width=\"401\" height=\"401\"\u003e\u003c\/span\u003e\u003c\/p\u003e\n\u003ch3 data-mce-fragment=\"1\"\u003e\u003cspan style=\"color: #48a4a4;\" data-mce-fragment=\"1\"\u003eSPECIFICATIONS\u003c\/span\u003e\u003c\/h3\u003e\n\u003cul data-mce-fragment=\"1\"\u003e\n\u003cli data-mce-fragment=\"1\"\u003e\n\u003cp data-mce-fragment=\"1\"\u003e\u003cstrong data-mce-fragment=\"1\"\u003eItem Type:\u003cspan data-mce-fragment=\"1\"\u003e \u003c\/span\u003e\u003c\/strong\u003eShirt\u003c\/p\u003e\n\u003c\/li\u003e\n\u003cli data-mce-fragment=\"1\"\u003e\n\u003cp\u003e\u003cstrong\u003eMaterial:\u003c\/strong\u003e\u003cspan\u003e \u003c\/span\u003eCotton, Linen\u003c\/p\u003e\n\u003c\/li\u003e\n\u003cli data-mce-fragment=\"1\"\u003e\n\u003cp data-mce-fragment=\"1\"\u003e\u003cstrong data-mce-fragment=\"1\"\u003eOccasion: \u003c\/strong\u003eBeach, Holiday, Daily\u003c\/p\u003e\n\u003c\/li\u003e\n\u003cli data-mce-fragment=\"1\"\u003e\n\u003cp data-mce-fragment=\"1\"\u003e\u003cstrong data-mce-fragment=\"1\"\u003eStyle: \u003c\/strong\u003eCasual\u003c\/p\u003e\n\u003c\/li\u003e\n\u003cli data-mce-fragment=\"1\"\u003e\n\u003cp data-mce-fragment=\"1\"\u003e\u003cstrong data-mce-fragment=\"1\"\u003eGender: \u003c\/strong\u003eFemale\u003c\/p\u003e\n\u003c\/li\u003e\n\u003cli data-mce-fragment=\"1\"\u003e\n\u003cp data-mce-fragment=\"1\"\u003e\u003cstrong data-mce-fragment=\"1\"\u003eSeason: \u003c\/strong\u003eSummer\u003c\/p\u003e\n\u003c\/li\u003e\n\u003cli data-mce-fragment=\"1\"\u003e\n\u003cp data-mce-fragment=\"1\"\u003e\u003cstrong data-mce-fragment=\"1\"\u003eColor:\u003cspan data-mce-fragment=\"1\"\u003e \u003c\/span\u003e\u003c\/strong\u003e\u003cspan class=\"Polaris-Badge_2qgie\" data-mce-fragment=\"1\"\u003eWhite, \u003c\/span\u003e\u003cspan class=\"Polaris-Badge_2qgie\" data-mce-fragment=\"1\"\u003eBlack, \u003c\/span\u003e\u003cspan class=\"Polaris-Badge_2qgie\" data-mce-fragment=\"1\"\u003eBeige, \u003c\/span\u003e\u003cspan class=\"Polaris-Badge_2qgie\" data-mce-fragment=\"1\"\u003eBlue, \u003c\/span\u003e\u003cspan class=\"Polaris-Badge_2qgie\" data-mce-fragment=\"1\"\u003ePink, \u003c\/span\u003e\u003cspan class=\"Polaris-Badge_2qgie\" data-mce-fragment=\"1\"\u003eGrey, \u003c\/span\u003e\u003cspan class=\"Polaris-Badge_2qgie\" data-mce-fragment=\"1\"\u003eGreen, \u003c\/span\u003e\u003cspan class=\"Polaris-Badge_2qgie\" data-mce-fragment=\"1\"\u003eLight Blue\u003c\/span\u003e\u003c\/p\u003e\n\u003c\/li\u003e\n\u003cli data-mce-fragment=\"1\"\u003e\n\u003cp data-mce-fragment=\"1\"\u003e\u003cstrong data-mce-fragment=\"1\"\u003eSize(cm\/inch):\u003c\/strong\u003e\u003cspan data-mce-fragment=\"1\"\u003e \u003c\/span\u003e\u003c\/p\u003e\n\u003c\/li\u003e\n\u003c\/ul\u003e\n\u003cp style=\"text-align: center;\"\u003e \u003cimg alt=\"\" src=\"https:\/\/cdn.shopifycdn.net\/s\/files\/1\/0356\/3048\/1544\/files\/6_37826cec-0010-4acd-b724-8b7951cf5cf2_480x480.png?v=1658127151\" data-mce-src=\"https:\/\/cdn.shopifycdn.net\/s\/files\/1\/0356\/3048\/1544\/files\/6_37826cec-0010-4acd-b724-8b7951cf5cf2_480x480.png?v=1658127151\" data-mce-fragment=\"1\"\u003e\u003c\/p\u003e\n\u003ch3 data-mce-fragment=\"1\"\u003e\u003cspan style=\"color: #48a4a4;\" data-mce-fragment=\"1\"\u003ePACKAGE\u003c\/span\u003e\u003c\/h3\u003e\n\u003cul data-mce-fragment=\"1\"\u003e\n\u003cli data-mce-fragment=\"1\"\u003e1* Women's Solid Color Pocket Short Sleeve Cotton Linen Shirt\u003c\/li\u003e\n\u003c\/ul\u003e\n\u003ch3 data-mce-fragment=\"1\"\u003e\u003cspan style=\"color: #48a4a4;\" data-mce-fragment=\"1\"\u003e\u003cstrong data-mce-fragment=\"1\"\u003eNOTES\u003c\/strong\u003e\u003c\/span\u003e\u003c\/h3\u003e\n\u003cul data-mce-fragment=\"1\"\u003e\n\u003cli data-mce-fragment=\"1\"\u003e\n\u003cp data-mce-fragment=\"1\"\u003e\u003cstrong\u003ePlease allow slight measurement deviations due to manual measurement.\u003c\/strong\u003e\u003c\/p\u003e\n\u003c\/li\u003e\n\u003cli data-mce-fragment=\"1\"\u003e\n\u003cp data-mce-fragment=\"1\"\u003e\u003cstrong\u003eDue to the different monitor and light effect, the actual color of the item might be slightly different from the color showed in the pictures.\u003c\/strong\u003e\u003c\/p\u003e\n\u003c\/li\u003e\n\u003c\/ul\u003e","published_at":"2022-07-20T03:14:53-06:00","created_at":"2022-07-20T03:14:57-06:00","vendor":"luluwin","type":"","tags":["clothing \u0026 accessories","women's clothing"],"price":1999,"price_min":1999,"price_max":1999,"available":true,"price_varies":false,"compare_at_price":3999,"compare_at_price_min":3999,"compare_at_price_max":3999,"compare_at_price_varies":false,"variants":[{"id":42222237843610,"title":"White \/ S","option1":"White","option2":"S","option3":null,"sku":"BL33877-C005-S00S","requires_shipping":true,"taxable":false,"featured_image":{"id":34430085726362,"product_id":7406684766362,"position":8,"created_at":"2022-07-20T03:15:09-06:00","updated_at":"2022-07-20T03:15:09-06:00","alt":null,"width":800,"height":800,"src":"\/\/www.luluwin.co.uk\/cdn\/shop\/products\/1_7bb5d782-6514-4f6f-88b8-7aa33b0b3c35.jpg?v=1658308509","variant_ids":[42222237843610,42222237876378,42222237909146,42222237941914,42222237974682,42222238007450,42222238040218,42222238072986]},"available":true,"name":"Women's Solid Color Pocket Short Sleeve Cotton Linen Shirt - White \/ S","public_title":"White \/ S","options":["White","S"],"price":1999,"weight":0,"compare_at_price":3999,"inventory_management":null,"barcode":null,"featured_media":{"alt":null,"id":26889864872090,"position":8,"preview_image":{"aspect_ratio":1.0,"height":800,"width":800,"src":"\/\/www.luluwin.co.uk\/cdn\/shop\/products\/1_7bb5d782-6514-4f6f-88b8-7aa33b0b3c35.jpg?v=1658308509"}},"requires_selling_plan":false,"selling_plan_allocations":[]},{"id":42222237876378,"title":"White \/ M","option1":"White","option2":"M","option3":null,"sku":"BL33877-C005-S00M","requires_shipping":true,"taxable":false,"featured_image":{"id":34430085726362,"product_id":7406684766362,"position":8,"created_at":"2022-07-20T03:15:09-06:00","updated_at":"2022-07-20T03:15:09-06:00","alt":null,"width":800,"height":800,"src":"\/\/www.luluwin.co.uk\/cdn\/shop\/products\/1_7bb5d782-6514-4f6f-88b8-7aa33b0b3c35.jpg?v=1658308509","variant_ids":[42222237843610,42222237876378,42222237909146,42222237941914,42222237974682,42222238007450,42222238040218,42222238072986]},"available":true,"name":"Women's Solid Color Pocket Short Sleeve Cotton Linen Shirt - White \/ M","public_title":"White \/ M","options":["White","M"],"price":1999,"weight":0,"compare_at_price":3999,"inventory_management":null,"barcode":null,"featured_media":{"alt":null,"id":26889864872090,"position":8,"preview_image":{"aspect_ratio":1.0,"height":800,"width":800,"src":"\/\/www.luluwin.co.uk\/cdn\/shop\/products\/1_7bb5d782-6514-4f6f-88b8-7aa33b0b3c35.jpg?v=1658308509"}},"requires_selling_plan":false,"selling_plan_allocations":[]},{"id":42222237909146,"title":"White \/ L","option1":"White","option2":"L","option3":null,"sku":"BL33877-C005-S00L","requires_shipping":true,"taxable":false,"featured_image":{"id":34430085726362,"product_id":7406684766362,"position":8,"created_at":"2022-07-20T03:15:09-06:00","updated_at":"2022-07-20T03:15:09-06:00","alt":null,"width":800,"height":800,"src":"\/\/www.luluwin.co.uk\/cdn\/shop\/products\/1_7bb5d782-6514-4f6f-88b8-7aa33b0b3c35.jpg?v=1658308509","variant_ids":[42222237843610,42222237876378,42222237909146,42222237941914,42222237974682,42222238007450,42222238040218,42222238072986]},"available":true,"name":"Women's Solid Color Pocket Short Sleeve Cotton Linen Shirt - White \/ L","public_title":"White \/ L","options":["White","L"],"price":1999,"weight":0,"compare_at_price":3999,"inventory_management":null,"barcode":null,"featured_media":{"alt":null,"id":26889864872090,"position":8,"preview_image":{"aspect_ratio":1.0,"height":800,"width":800,"src":"\/\/www.luluwin.co.uk\/cdn\/shop\/products\/1_7bb5d782-6514-4f6f-88b8-7aa33b0b3c35.jpg?v=1658308509"}},"requires_selling_plan":false,"selling_plan_allocations":[]},{"id":42222237941914,"title":"White \/ XL","option1":"White","option2":"XL","option3":null,"sku":"BL33877-C005-S00X","requires_shipping":true,"taxable":false,"featured_image":{"id":34430085726362,"product_id":7406684766362,"position":8,"created_at":"2022-07-20T03:15:09-06:00","updated_at":"2022-07-20T03:15:09-06:00","alt":null,"width":800,"height":800,"src":"\/\/www.luluwin.co.uk\/cdn\/shop\/products\/1_7bb5d782-6514-4f6f-88b8-7aa33b0b3c35.jpg?v=1658308509","variant_ids":[42222237843610,42222237876378,42222237909146,42222237941914,42222237974682,42222238007450,42222238040218,42222238072986]},"available":true,"name":"Women's Solid Color Pocket Short Sleeve Cotton Linen Shirt - White \/ XL","public_title":"White \/ XL","options":["White","XL"],"price":1999,"weight":0,"compare_at_price":3999,"inventory_management":null,"barcode":null,"featured_media":{"alt":null,"id":26889864872090,"position":8,"preview_image":{"aspect_ratio":1.0,"height":800,"width":800,"src":"\/\/www.luluwin.co.uk\/cdn\/shop\/products\/1_7bb5d782-6514-4f6f-88b8-7aa33b0b3c35.jpg?v=1658308509"}},"requires_selling_plan":false,"selling_plan_allocations":[]},{"id":42222237974682,"title":"White \/ 2XL","option1":"White","option2":"2XL","option3":null,"sku":"BL33877-C005-S02X","requires_shipping":true,"taxable":false,"featured_image":{"id":34430085726362,"product_id":7406684766362,"position":8,"created_at":"2022-07-20T03:15:09-06:00","updated_at":"2022-07-20T03:15:09-06:00","alt":null,"width":800,"height":800,"src":"\/\/www.luluwin.co.uk\/cdn\/shop\/products\/1_7bb5d782-6514-4f6f-88b8-7aa33b0b3c35.jpg?v=1658308509","variant_ids":[42222237843610,42222237876378,42222237909146,42222237941914,42222237974682,42222238007450,42222238040218,42222238072986]},"available":true,"name":"Women's Solid Color Pocket Short Sleeve Cotton Linen Shirt - White \/ 2XL","public_title":"White \/ 2XL","options":["White","2XL"],"price":1999,"weight":0,"compare_at_price":3999,"inventory_management":null,"barcode":null,"featured_media":{"alt":null,"id":26889864872090,"position":8,"preview_image":{"aspect_ratio":1.0,"height":800,"width":800,"src":"\/\/www.luluwin.co.uk\/cdn\/shop\/products\/1_7bb5d782-6514-4f6f-88b8-7aa33b0b3c35.jpg?v=1658308509"}},"requires_selling_plan":false,"selling_plan_allocations":[]},{"id":42222238007450,"title":"White \/ 3XL","option1":"White","option2":"3XL","option3":null,"sku":"BL33877-C005-S03X","requires_shipping":true,"taxable":false,"featured_image":{"id":34430085726362,"product_id":7406684766362,"position":8,"created_at":"2022-07-20T03:15:09-06:00","updated_at":"2022-07-20T03:15:09-06:00","alt":null,"width":800,"height":800,"src":"\/\/www.luluwin.co.uk\/cdn\/shop\/products\/1_7bb5d782-6514-4f6f-88b8-7aa33b0b3c35.jpg?v=1658308509","variant_ids":[42222237843610,42222237876378,42222237909146,42222237941914,42222237974682,42222238007450,42222238040218,42222238072986]},"available":true,"name":"Women's Solid Color Pocket Short Sleeve Cotton Linen Shirt - White \/ 3XL","public_title":"White \/ 3XL","options":["White","3XL"],"price":1999,"weight":0,"compare_at_price":3999,"inventory_management":null,"barcode":null,"featured_media":{"alt":null,"id":26889864872090,"position":8,"preview_image":{"aspect_ratio":1.0,"height":800,"width":800,"src":"\/\/www.luluwin.co.uk\/cdn\/shop\/products\/1_7bb5d782-6514-4f6f-88b8-7aa33b0b3c35.jpg?v=1658308509"}},"requires_selling_plan":false,"selling_plan_allocations":[]},{"id":42222238040218,"title":"White \/ 4XL","option1":"White","option2":"4XL","option3":null,"sku":"BL33877-C005-S04X","requires_shipping":true,"taxable":false,"featured_image":{"id":34430085726362,"product_id":7406684766362,"position":8,"created_at":"2022-07-20T03:15:09-06:00","updated_at":"2022-07-20T03:15:09-06:00","alt":null,"width":800,"height":800,"src":"\/\/www.luluwin.co.uk\/cdn\/shop\/products\/1_7bb5d782-6514-4f6f-88b8-7aa33b0b3c35.jpg?v=1658308509","variant_ids":[42222237843610,42222237876378,42222237909146,42222237941914,42222237974682,42222238007450,42222238040218,42222238072986]},"available":true,"name":"Women's Solid Color Pocket Short Sleeve Cotton Linen Shirt - White \/ 4XL","public_title":"White \/ 4XL","options":["White","4XL"],"price":1999,"weight":0,"compare_at_price":3999,"inventory_management":null,"barcode":null,"featured_media":{"alt":null,"id":26889864872090,"position":8,"preview_image":{"aspect_ratio":1.0,"height":800,"width":800,"src":"\/\/www.luluwin.co.uk\/cdn\/shop\/products\/1_7bb5d782-6514-4f6f-88b8-7aa33b0b3c35.jpg?v=1658308509"}},"requires_selling_plan":false,"selling_plan_allocations":[]},{"id":42222238072986,"title":"White \/ 5XL","option1":"White","option2":"5XL","option3":null,"sku":"BL33877-C005-S05X","requires_shipping":true,"taxable":false,"featured_image":{"id":34430085726362,"product_id":7406684766362,"position":8,"created_at":"2022-07-20T03:15:09-06:00","updated_at":"2022-07-20T03:15:09-06:00","alt":null,"width":800,"height":800,"src":"\/\/www.luluwin.co.uk\/cdn\/shop\/products\/1_7bb5d782-6514-4f6f-88b8-7aa33b0b3c35.jpg?v=1658308509","variant_ids":[42222237843610,42222237876378,42222237909146,42222237941914,42222237974682,42222238007450,42222238040218,42222238072986]},"available":true,"name":"Women's Solid Color Pocket Short Sleeve Cotton Linen Shirt - White \/ 5XL","public_title":"White \/ 5XL","options":["White","5XL"],"price":1999,"weight":0,"compare_at_price":3999,"inventory_management":null,"barcode":null,"featured_media":{"alt":null,"id":26889864872090,"position":8,"preview_image":{"aspect_ratio":1.0,"height":800,"width":800,"src":"\/\/www.luluwin.co.uk\/cdn\/shop\/products\/1_7bb5d782-6514-4f6f-88b8-7aa33b0b3c35.jpg?v=1658308509"}},"requires_selling_plan":false,"selling_plan_allocations":[]},{"id":42222238105754,"title":"Black \/ S","option1":"Black","option2":"S","option3":null,"sku":"BL33877-C001-S00S","requires_shipping":true,"taxable":false,"featured_image":{"id":34430084907162,"product_id":7406684766362,"position":5,"created_at":"2022-07-20T03:15:03-06:00","updated_at":"2022-07-20T03:15:03-06:00","alt":null,"width":800,"height":800,"src":"\/\/www.luluwin.co.uk\/cdn\/shop\/products\/7_ce08e432-911e-4400-81f3-5395a02392b9.jpg?v=1658308503","variant_ids":[42222238105754,42222238138522,42222238171290,42222238204058,42222238236826,42222238269594,42222238335130,42222238400666]},"available":true,"name":"Women's Solid Color Pocket Short Sleeve Cotton Linen Shirt - Black \/ S","public_title":"Black \/ S","options":["Black","S"],"price":1999,"weight":0,"compare_at_price":3999,"inventory_management":null,"barcode":null,"featured_media":{"alt":null,"id":26889864052890,"position":5,"preview_image":{"aspect_ratio":1.0,"height":800,"width":800,"src":"\/\/www.luluwin.co.uk\/cdn\/shop\/products\/7_ce08e432-911e-4400-81f3-5395a02392b9.jpg?v=1658308503"}},"requires_selling_plan":false,"selling_plan_allocations":[]},{"id":42222238138522,"title":"Black \/ M","option1":"Black","option2":"M","option3":null,"sku":"BL33877-C001-S00M","requires_shipping":true,"taxable":false,"featured_image":{"id":34430084907162,"product_id":7406684766362,"position":5,"created_at":"2022-07-20T03:15:03-06:00","updated_at":"2022-07-20T03:15:03-06:00","alt":null,"width":800,"height":800,"src":"\/\/www.luluwin.co.uk\/cdn\/shop\/products\/7_ce08e432-911e-4400-81f3-5395a02392b9.jpg?v=1658308503","variant_ids":[42222238105754,42222238138522,42222238171290,42222238204058,42222238236826,42222238269594,42222238335130,42222238400666]},"available":true,"name":"Women's Solid Color Pocket Short Sleeve Cotton Linen Shirt - Black \/ M","public_title":"Black \/ M","options":["Black","M"],"price":1999,"weight":0,"compare_at_price":3999,"inventory_management":null,"barcode":null,"featured_media":{"alt":null,"id":26889864052890,"position":5,"preview_image":{"aspect_ratio":1.0,"height":800,"width":800,"src":"\/\/www.luluwin.co.uk\/cdn\/shop\/products\/7_ce08e432-911e-4400-81f3-5395a02392b9.jpg?v=1658308503"}},"requires_selling_plan":false,"selling_plan_allocations":[]},{"id":42222238171290,"title":"Black \/ L","option1":"Black","option2":"L","option3":null,"sku":"BL33877-C001-S00L","requires_shipping":true,"taxable":false,"featured_image":{"id":34430084907162,"product_id":7406684766362,"position":5,"created_at":"2022-07-20T03:15:03-06:00","updated_at":"2022-07-20T03:15:03-06:00","alt":null,"width":800,"height":800,"src":"\/\/www.luluwin.co.uk\/cdn\/shop\/products\/7_ce08e432-911e-4400-81f3-5395a02392b9.jpg?v=1658308503","variant_ids":[42222238105754,42222238138522,42222238171290,42222238204058,42222238236826,42222238269594,42222238335130,42222238400666]},"available":true,"name":"Women's Solid Color Pocket Short Sleeve Cotton Linen Shirt - Black \/ L","public_title":"Black \/ L","options":["Black","L"],"price":1999,"weight":0,"compare_at_price":3999,"inventory_management":null,"barcode":null,"featured_media":{"alt":null,"id":26889864052890,"position":5,"preview_image":{"aspect_ratio":1.0,"height":800,"width":800,"src":"\/\/www.luluwin.co.uk\/cdn\/shop\/products\/7_ce08e432-911e-4400-81f3-5395a02392b9.jpg?v=1658308503"}},"requires_selling_plan":false,"selling_plan_allocations":[]},{"id":42222238204058,"title":"Black \/ XL","option1":"Black","option2":"XL","option3":null,"sku":"BL33877-C001-S00X","requires_shipping":true,"taxable":false,"featured_image":{"id":34430084907162,"product_id":7406684766362,"position":5,"created_at":"2022-07-20T03:15:03-06:00","updated_at":"2022-07-20T03:15:03-06:00","alt":null,"width":800,"height":800,"src":"\/\/www.luluwin.co.uk\/cdn\/shop\/products\/7_ce08e432-911e-4400-81f3-5395a02392b9.jpg?v=1658308503","variant_ids":[42222238105754,42222238138522,42222238171290,42222238204058,42222238236826,42222238269594,42222238335130,42222238400666]},"available":true,"name":"Women's Solid Color Pocket Short Sleeve Cotton Linen Shirt - Black \/ XL","public_title":"Black \/ XL","options":["Black","XL"],"price":1999,"weight":0,"compare_at_price":3999,"inventory_management":null,"barcode":null,"featured_media":{"alt":null,"id":26889864052890,"position":5,"preview_image":{"aspect_ratio":1.0,"height":800,"width":800,"src":"\/\/www.luluwin.co.uk\/cdn\/shop\/products\/7_ce08e432-911e-4400-81f3-5395a02392b9.jpg?v=1658308503"}},"requires_selling_plan":false,"selling_plan_allocations":[]},{"id":42222238236826,"title":"Black \/ 2XL","option1":"Black","option2":"2XL","option3":null,"sku":"BL33877-C001-S02X","requires_shipping":true,"taxable":false,"featured_image":{"id":34430084907162,"product_id":7406684766362,"position":5,"created_at":"2022-07-20T03:15:03-06:00","updated_at":"2022-07-20T03:15:03-06:00","alt":null,"width":800,"height":800,"src":"\/\/www.luluwin.co.uk\/cdn\/shop\/products\/7_ce08e432-911e-4400-81f3-5395a02392b9.jpg?v=1658308503","variant_ids":[42222238105754,42222238138522,42222238171290,42222238204058,42222238236826,42222238269594,42222238335130,42222238400666]},"available":true,"name":"Women's Solid Color Pocket Short Sleeve Cotton Linen Shirt - Black \/ 2XL","public_title":"Black \/ 2XL","options":["Black","2XL"],"price":1999,"weight":0,"compare_at_price":3999,"inventory_management":null,"barcode":null,"featured_media":{"alt":null,"id":26889864052890,"position":5,"preview_image":{"aspect_ratio":1.0,"height":800,"width":800,"src":"\/\/www.luluwin.co.uk\/cdn\/shop\/products\/7_ce08e432-911e-4400-81f3-5395a02392b9.jpg?v=1658308503"}},"requires_selling_plan":false,"selling_plan_allocations":[]},{"id":42222238269594,"title":"Black \/ 3XL","option1":"Black","option2":"3XL","option3":null,"sku":"BL33877-C001-S03X","requires_shipping":true,"taxable":false,"featured_image":{"id":34430084907162,"product_id":7406684766362,"position":5,"created_at":"2022-07-20T03:15:03-06:00","updated_at":"2022-07-20T03:15:03-06:00","alt":null,"width":800,"height":800,"src":"\/\/www.luluwin.co.uk\/cdn\/shop\/products\/7_ce08e432-911e-4400-81f3-5395a02392b9.jpg?v=1658308503","variant_ids":[42222238105754,42222238138522,42222238171290,42222238204058,42222238236826,42222238269594,42222238335130,42222238400666]},"available":true,"name":"Women's Solid Color Pocket Short Sleeve Cotton Linen Shirt - Black \/ 3XL","public_title":"Black \/ 3XL","options":["Black","3XL"],"price":1999,"weight":0,"compare_at_price":3999,"inventory_management":null,"barcode":null,"featured_media":{"alt":null,"id":26889864052890,"position":5,"preview_image":{"aspect_ratio":1.0,"height":800,"width":800,"src":"\/\/www.luluwin.co.uk\/cdn\/shop\/products\/7_ce08e432-911e-4400-81f3-5395a02392b9.jpg?v=1658308503"}},"requires_selling_plan":false,"selling_plan_allocations":[]},{"id":42222238335130,"title":"Black \/ 4XL","option1":"Black","option2":"4XL","option3":null,"sku":"BL33877-C001-S04X","requires_shipping":true,"taxable":false,"featured_image":{"id":34430084907162,"product_id":7406684766362,"position":5,"created_at":"2022-07-20T03:15:03-06:00","updated_at":"2022-07-20T03:15:03-06:00","alt":null,"width":800,"height":800,"src":"\/\/www.luluwin.co.uk\/cdn\/shop\/products\/7_ce08e432-911e-4400-81f3-5395a02392b9.jpg?v=1658308503","variant_ids":[42222238105754,42222238138522,42222238171290,42222238204058,42222238236826,42222238269594,42222238335130,42222238400666]},"available":true,"name":"Women's Solid Color Pocket Short Sleeve Cotton Linen Shirt - Black \/ 4XL","public_title":"Black \/ 4XL","options":["Black","4XL"],"price":1999,"weight":0,"compare_at_price":3999,"inventory_management":null,"barcode":null,"featured_media":{"alt":null,"id":26889864052890,"position":5,"preview_image":{"aspect_ratio":1.0,"height":800,"width":800,"src":"\/\/www.luluwin.co.uk\/cdn\/shop\/products\/7_ce08e432-911e-4400-81f3-5395a02392b9.jpg?v=1658308503"}},"requires_selling_plan":false,"selling_plan_allocations":[]},{"id":42222238400666,"title":"Black \/ 5XL","option1":"Black","option2":"5XL","option3":null,"sku":"BL33877-C001-S05X","requires_shipping":true,"taxable":false,"featured_image":{"id":34430084907162,"product_id":7406684766362,"position":5,"created_at":"2022-07-20T03:15:03-06:00","updated_at":"2022-07-20T03:15:03-06:00","alt":null,"width":800,"height":800,"src":"\/\/www.luluwin.co.uk\/cdn\/shop\/products\/7_ce08e432-911e-4400-81f3-5395a02392b9.jpg?v=1658308503","variant_ids":[42222238105754,42222238138522,42222238171290,42222238204058,42222238236826,42222238269594,42222238335130,42222238400666]},"available":true,"name":"Women's Solid Color Pocket Short Sleeve Cotton Linen Shirt - Black \/ 5XL","public_title":"Black \/ 5XL","options":["Black","5XL"],"price":1999,"weight":0,"compare_at_price":3999,"inventory_management":null,"barcode":null,"featured_media":{"alt":null,"id":26889864052890,"position":5,"preview_image":{"aspect_ratio":1.0,"height":800,"width":800,"src":"\/\/www.luluwin.co.uk\/cdn\/shop\/products\/7_ce08e432-911e-4400-81f3-5395a02392b9.jpg?v=1658308503"}},"requires_selling_plan":false,"selling_plan_allocations":[]},{"id":42222238433434,"title":"Beige \/ S","option1":"Beige","option2":"S","option3":null,"sku":"BL33877-C018-S00S","requires_shipping":true,"taxable":false,"featured_image":{"id":34430086742170,"product_id":7406684766362,"position":11,"created_at":"2022-07-20T03:15:15-06:00","updated_at":"2022-07-20T03:15:15-06:00","alt":null,"width":800,"height":800,"src":"\/\/www.luluwin.co.uk\/cdn\/shop\/products\/5_33aedf22-9b07-4341-a7cd-60070e93ef01.jpg?v=1658308515","variant_ids":[42222238433434,42222238531738,42222238597274,42222238662810,42222238695578,42222238728346,42222238761114,42222238793882]},"available":true,"name":"Women's Solid Color Pocket Short Sleeve Cotton Linen Shirt - Beige \/ S","public_title":"Beige \/ S","options":["Beige","S"],"price":1999,"weight":0,"compare_at_price":3999,"inventory_management":null,"barcode":null,"featured_media":{"alt":null,"id":26889865887898,"position":11,"preview_image":{"aspect_ratio":1.0,"height":800,"width":800,"src":"\/\/www.luluwin.co.uk\/cdn\/shop\/products\/5_33aedf22-9b07-4341-a7cd-60070e93ef01.jpg?v=1658308515"}},"requires_selling_plan":false,"selling_plan_allocations":[]},{"id":42222238531738,"title":"Beige \/ M","option1":"Beige","option2":"M","option3":null,"sku":"BL33877-C018-S00M","requires_shipping":true,"taxable":false,"featured_image":{"id":34430086742170,"product_id":7406684766362,"position":11,"created_at":"2022-07-20T03:15:15-06:00","updated_at":"2022-07-20T03:15:15-06:00","alt":null,"width":800,"height":800,"src":"\/\/www.luluwin.co.uk\/cdn\/shop\/products\/5_33aedf22-9b07-4341-a7cd-60070e93ef01.jpg?v=1658308515","variant_ids":[42222238433434,42222238531738,42222238597274,42222238662810,42222238695578,42222238728346,42222238761114,42222238793882]},"available":true,"name":"Women's Solid Color Pocket Short Sleeve Cotton Linen Shirt - Beige \/ M","public_title":"Beige \/ M","options":["Beige","M"],"price":1999,"weight":0,"compare_at_price":3999,"inventory_management":null,"barcode":null,"featured_media":{"alt":null,"id":26889865887898,"position":11,"preview_image":{"aspect_ratio":1.0,"height":800,"width":800,"src":"\/\/www.luluwin.co.uk\/cdn\/shop\/products\/5_33aedf22-9b07-4341-a7cd-60070e93ef01.jpg?v=1658308515"}},"requires_selling_plan":false,"selling_plan_allocations":[]},{"id":42222238597274,"title":"Beige \/ L","option1":"Beige","option2":"L","option3":null,"sku":"BL33877-C018-S00L","requires_shipping":true,"taxable":false,"featured_image":{"id":34430086742170,"product_id":7406684766362,"position":11,"created_at":"2022-07-20T03:15:15-06:00","updated_at":"2022-07-20T03:15:15-06:00","alt":null,"width":800,"height":800,"src":"\/\/www.luluwin.co.uk\/cdn\/shop\/products\/5_33aedf22-9b07-4341-a7cd-60070e93ef01.jpg?v=1658308515","variant_ids":[42222238433434,42222238531738,42222238597274,42222238662810,42222238695578,42222238728346,42222238761114,42222238793882]},"available":true,"name":"Women's Solid Color Pocket Short Sleeve Cotton Linen Shirt - Beige \/ L","public_title":"Beige \/ L","options":["Beige","L"],"price":1999,"weight":0,"compare_at_price":3999,"inventory_management":null,"barcode":null,"featured_media":{"alt":null,"id":26889865887898,"position":11,"preview_image":{"aspect_ratio":1.0,"height":800,"width":800,"src":"\/\/www.luluwin.co.uk\/cdn\/shop\/products\/5_33aedf22-9b07-4341-a7cd-60070e93ef01.jpg?v=1658308515"}},"requires_selling_plan":false,"selling_plan_allocations":[]},{"id":42222238662810,"title":"Beige \/ XL","option1":"Beige","option2":"XL","option3":null,"sku":"BL33877-C018-S00X","requires_shipping":true,"taxable":false,"featured_image":{"id":34430086742170,"product_id":7406684766362,"position":11,"created_at":"2022-07-20T03:15:15-06:00","updated_at":"2022-07-20T03:15:15-06:00","alt":null,"width":800,"height":800,"src":"\/\/www.luluwin.co.uk\/cdn\/shop\/products\/5_33aedf22-9b07-4341-a7cd-60070e93ef01.jpg?v=1658308515","variant_ids":[42222238433434,42222238531738,42222238597274,42222238662810,42222238695578,42222238728346,42222238761114,42222238793882]},"available":true,"name":"Women's Solid Color Pocket Short Sleeve Cotton Linen Shirt - Beige \/ XL","public_title":"Beige \/ XL","options":["Beige","XL"],"price":1999,"weight":0,"compare_at_price":3999,"inventory_management":null,"barcode":null,"featured_media":{"alt":null,"id":26889865887898,"position":11,"preview_image":{"aspect_ratio":1.0,"height":800,"width":800,"src":"\/\/www.luluwin.co.uk\/cdn\/shop\/products\/5_33aedf22-9b07-4341-a7cd-60070e93ef01.jpg?v=1658308515"}},"requires_selling_plan":false,"selling_plan_allocations":[]},{"id":42222238695578,"title":"Beige \/ 2XL","option1":"Beige","option2":"2XL","option3":null,"sku":"BL33877-C018-S02X","requires_shipping":true,"taxable":false,"featured_image":{"id":34430086742170,"product_id":7406684766362,"position":11,"created_at":"2022-07-20T03:15:15-06:00","updated_at":"2022-07-20T03:15:15-06:00","alt":null,"width":800,"height":800,"src":"\/\/www.luluwin.co.uk\/cdn\/shop\/products\/5_33aedf22-9b07-4341-a7cd-60070e93ef01.jpg?v=1658308515","variant_ids":[42222238433434,42222238531738,42222238597274,42222238662810,42222238695578,42222238728346,42222238761114,42222238793882]},"available":true,"name":"Women's Solid Color Pocket Short Sleeve Cotton Linen Shirt - Beige \/ 2XL","public_title":"Beige \/ 2XL","options":["Beige","2XL"],"price":1999,"weight":0,"compare_at_price":3999,"inventory_management":null,"barcode":null,"featured_media":{"alt":null,"id":26889865887898,"position":11,"preview_image":{"aspect_ratio":1.0,"height":800,"width":800,"src":"\/\/www.luluwin.co.uk\/cdn\/shop\/products\/5_33aedf22-9b07-4341-a7cd-60070e93ef01.jpg?v=1658308515"}},"requires_selling_plan":false,"selling_plan_allocations":[]},{"id":42222238728346,"title":"Beige \/ 3XL","option1":"Beige","option2":"3XL","option3":null,"sku":"BL33877-C018-S03X","requires_shipping":true,"taxable":false,"featured_image":{"id":34430086742170,"product_id":7406684766362,"position":11,"created_at":"2022-07-20T03:15:15-06:00","updated_at":"2022-07-20T03:15:15-06:00","alt":null,"width":800,"height":800,"src":"\/\/www.luluwin.co.uk\/cdn\/shop\/products\/5_33aedf22-9b07-4341-a7cd-60070e93ef01.jpg?v=1658308515","variant_ids":[42222238433434,42222238531738,42222238597274,42222238662810,42222238695578,42222238728346,42222238761114,42222238793882]},"available":true,"name":"Women's Solid Color Pocket Short Sleeve Cotton Linen Shirt - Beige \/ 3XL","public_title":"Beige \/ 3XL","options":["Beige","3XL"],"price":1999,"weight":0,"compare_at_price":3999,"inventory_management":null,"barcode":null,"featured_media":{"alt":null,"id":26889865887898,"position":11,"preview_image":{"aspect_ratio":1.0,"height":800,"width":800,"src":"\/\/www.luluwin.co.uk\/cdn\/shop\/products\/5_33aedf22-9b07-4341-a7cd-60070e93ef01.jpg?v=1658308515"}},"requires_selling_plan":false,"selling_plan_allocations":[]},{"id":42222238761114,"title":"Beige \/ 4XL","option1":"Beige","option2":"4XL","option3":null,"sku":"BL33877-C018-S04X","requires_shipping":true,"taxable":false,"featured_image":{"id":34430086742170,"product_id":7406684766362,"position":11,"created_at":"2022-07-20T03:15:15-06:00","updated_at":"2022-07-20T03:15:15-06:00","alt":null,"width":800,"height":800,"src":"\/\/www.luluwin.co.uk\/cdn\/shop\/products\/5_33aedf22-9b07-4341-a7cd-60070e93ef01.jpg?v=1658308515","variant_ids":[42222238433434,42222238531738,42222238597274,42222238662810,42222238695578,42222238728346,42222238761114,42222238793882]},"available":true,"name":"Women's Solid Color Pocket Short Sleeve Cotton Linen Shirt - Beige \/ 4XL","public_title":"Beige \/ 4XL","options":["Beige","4XL"],"price":1999,"weight":0,"compare_at_price":3999,"inventory_management":null,"barcode":null,"featured_media":{"alt":null,"id":26889865887898,"position":11,"preview_image":{"aspect_ratio":1.0,"height":800,"width":800,"src":"\/\/www.luluwin.co.uk\/cdn\/shop\/products\/5_33aedf22-9b07-4341-a7cd-60070e93ef01.jpg?v=1658308515"}},"requires_selling_plan":false,"selling_plan_allocations":[]},{"id":42222238793882,"title":"Beige \/ 5XL","option1":"Beige","option2":"5XL","option3":null,"sku":"BL33877-C018-S05X","requires_shipping":true,"taxable":false,"featured_image":{"id":34430086742170,"product_id":7406684766362,"position":11,"created_at":"2022-07-20T03:15:15-06:00","updated_at":"2022-07-20T03:15:15-06:00","alt":null,"width":800,"height":800,"src":"\/\/www.luluwin.co.uk\/cdn\/shop\/products\/5_33aedf22-9b07-4341-a7cd-60070e93ef01.jpg?v=1658308515","variant_ids":[42222238433434,42222238531738,42222238597274,42222238662810,42222238695578,42222238728346,42222238761114,42222238793882]},"available":true,"name":"Women's Solid Color Pocket Short Sleeve Cotton Linen Shirt - Beige \/ 5XL","public_title":"Beige \/ 5XL","options":["Beige","5XL"],"price":1999,"weight":0,"compare_at_price":3999,"inventory_management":null,"barcode":null,"featured_media":{"alt":null,"id":26889865887898,"position":11,"preview_image":{"aspect_ratio":1.0,"height":800,"width":800,"src":"\/\/www.luluwin.co.uk\/cdn\/shop\/products\/5_33aedf22-9b07-4341-a7cd-60070e93ef01.jpg?v=1658308515"}},"requires_selling_plan":false,"selling_plan_allocations":[]},{"id":42222238826650,"title":"Blue \/ S","option1":"Blue","option2":"S","option3":null,"sku":"BL33877-C106-S00S","requires_shipping":true,"taxable":false,"featured_image":{"id":34430085464218,"product_id":7406684766362,"position":6,"created_at":"2022-07-20T03:15:04-06:00","updated_at":"2022-07-20T03:15:04-06:00","alt":null,"width":800,"height":800,"src":"\/\/www.luluwin.co.uk\/cdn\/shop\/products\/3_b2134056-1179-4153-809f-6ecab42d4730.jpg?v=1658308504","variant_ids":[42222238826650,42222238859418,42222238892186,42222238924954,42222238957722,42222238990490,42222239023258,42222239056026]},"available":true,"name":"Women's Solid Color Pocket Short Sleeve Cotton Linen Shirt - Blue \/ S","public_title":"Blue \/ S","options":["Blue","S"],"price":1999,"weight":0,"compare_at_price":3999,"inventory_management":null,"barcode":null,"featured_media":{"alt":null,"id":26889864609946,"position":6,"preview_image":{"aspect_ratio":1.0,"height":800,"width":800,"src":"\/\/www.luluwin.co.uk\/cdn\/shop\/products\/3_b2134056-1179-4153-809f-6ecab42d4730.jpg?v=1658308504"}},"requires_selling_plan":false,"selling_plan_allocations":[]},{"id":42222238859418,"title":"Blue \/ M","option1":"Blue","option2":"M","option3":null,"sku":"BL33877-C106-S00M","requires_shipping":true,"taxable":false,"featured_image":{"id":34430085464218,"product_id":7406684766362,"position":6,"created_at":"2022-07-20T03:15:04-06:00","updated_at":"2022-07-20T03:15:04-06:00","alt":null,"width":800,"height":800,"src":"\/\/www.luluwin.co.uk\/cdn\/shop\/products\/3_b2134056-1179-4153-809f-6ecab42d4730.jpg?v=1658308504","variant_ids":[42222238826650,42222238859418,42222238892186,42222238924954,42222238957722,42222238990490,42222239023258,42222239056026]},"available":true,"name":"Women's Solid Color Pocket Short Sleeve Cotton Linen Shirt - Blue \/ M","public_title":"Blue \/ M","options":["Blue","M"],"price":1999,"weight":0,"compare_at_price":3999,"inventory_management":null,"barcode":null,"featured_media":{"alt":null,"id":26889864609946,"position":6,"preview_image":{"aspect_ratio":1.0,"height":800,"width":800,"src":"\/\/www.luluwin.co.uk\/cdn\/shop\/products\/3_b2134056-1179-4153-809f-6ecab42d4730.jpg?v=1658308504"}},"requires_selling_plan":false,"selling_plan_allocations":[]},{"id":42222238892186,"title":"Blue \/ L","option1":"Blue","option2":"L","option3":null,"sku":"BL33877-C106-S00L","requires_shipping":true,"taxable":false,"featured_image":{"id":34430085464218,"product_id":7406684766362,"position":6,"created_at":"2022-07-20T03:15:04-06:00","updated_at":"2022-07-20T03:15:04-06:00","alt":null,"width":800,"height":800,"src":"\/\/www.luluwin.co.uk\/cdn\/shop\/products\/3_b2134056-1179-4153-809f-6ecab42d4730.jpg?v=1658308504","variant_ids":[42222238826650,42222238859418,42222238892186,42222238924954,42222238957722,42222238990490,42222239023258,42222239056026]},"available":true,"name":"Women's Solid Color Pocket Short Sleeve Cotton Linen Shirt - Blue \/ L","public_title":"Blue \/ L","options":["Blue","L"],"price":1999,"weight":0,"compare_at_price":3999,"inventory_management":null,"barcode":null,"featured_media":{"alt":null,"id":26889864609946,"position":6,"preview_image":{"aspect_ratio":1.0,"height":800,"width":800,"src":"\/\/www.luluwin.co.uk\/cdn\/shop\/products\/3_b2134056-1179-4153-809f-6ecab42d4730.jpg?v=1658308504"}},"requires_selling_plan":false,"selling_plan_allocations":[]},{"id":42222238924954,"title":"Blue \/ XL","option1":"Blue","option2":"XL","option3":null,"sku":"BL33877-C106-S00X","requires_shipping":true,"taxable":false,"featured_image":{"id":34430085464218,"product_id":7406684766362,"position":6,"created_at":"2022-07-20T03:15:04-06:00","updated_at":"2022-07-20T03:15:04-06:00","alt":null,"width":800,"height":800,"src":"\/\/www.luluwin.co.uk\/cdn\/shop\/products\/3_b2134056-1179-4153-809f-6ecab42d4730.jpg?v=1658308504","variant_ids":[42222238826650,42222238859418,42222238892186,42222238924954,42222238957722,42222238990490,42222239023258,42222239056026]},"available":true,"name":"Women's Solid Color Pocket Short Sleeve Cotton Linen Shirt - Blue \/ XL","public_title":"Blue \/ XL","options":["Blue","XL"],"price":1999,"weight":0,"compare_at_price":3999,"inventory_management":null,"barcode":null,"featured_media":{"alt":null,"id":26889864609946,"position":6,"preview_image":{"aspect_ratio":1.0,"height":800,"width":800,"src":"\/\/www.luluwin.co.uk\/cdn\/shop\/products\/3_b2134056-1179-4153-809f-6ecab42d4730.jpg?v=1658308504"}},"requires_selling_plan":false,"selling_plan_allocations":[]},{"id":42222238957722,"title":"Blue \/ 2XL","option1":"Blue","option2":"2XL","option3":null,"sku":"BL33877-C106-S02X","requires_shipping":true,"taxable":false,"featured_image":{"id":34430085464218,"product_id":7406684766362,"position":6,"created_at":"2022-07-20T03:15:04-06:00","updated_at":"2022-07-20T03:15:04-06:00","alt":null,"width":800,"height":800,"src":"\/\/www.luluwin.co.uk\/cdn\/shop\/products\/3_b2134056-1179-4153-809f-6ecab42d4730.jpg?v=1658308504","variant_ids":[42222238826650,42222238859418,42222238892186,42222238924954,42222238957722,42222238990490,42222239023258,42222239056026]},"available":true,"name":"Women's Solid Color Pocket Short Sleeve Cotton Linen Shirt - Blue \/ 2XL","public_title":"Blue \/ 2XL","options":["Blue","2XL"],"price":1999,"weight":0,"compare_at_price":3999,"inventory_management":null,"barcode":null,"featured_media":{"alt":null,"id":26889864609946,"position":6,"preview_image":{"aspect_ratio":1.0,"height":800,"width":800,"src":"\/\/www.luluwin.co.uk\/cdn\/shop\/products\/3_b2134056-1179-4153-809f-6ecab42d4730.jpg?v=1658308504"}},"requires_selling_plan":false,"selling_plan_allocations":[]},{"id":42222238990490,"title":"Blue \/ 3XL","option1":"Blue","option2":"3XL","option3":null,"sku":"BL33877-C106-S03X","requires_shipping":true,"taxable":false,"featured_image":{"id":34430085464218,"product_id":7406684766362,"position":6,"created_at":"2022-07-20T03:15:04-06:00","updated_at":"2022-07-20T03:15:04-06:00","alt":null,"width":800,"height":800,"src":"\/\/www.luluwin.co.uk\/cdn\/shop\/products\/3_b2134056-1179-4153-809f-6ecab42d4730.jpg?v=1658308504","variant_ids":[42222238826650,42222238859418,42222238892186,42222238924954,42222238957722,42222238990490,42222239023258,42222239056026]},"available":true,"name":"Women's Solid Color Pocket Short Sleeve Cotton Linen Shirt - Blue \/ 3XL","public_title":"Blue \/ 3XL","options":["Blue","3XL"],"price":1999,"weight":0,"compare_at_price":3999,"inventory_management":null,"barcode":null,"featured_media":{"alt":null,"id":26889864609946,"position":6,"preview_image":{"aspect_ratio":1.0,"height":800,"width":800,"src":"\/\/www.luluwin.co.uk\/cdn\/shop\/products\/3_b2134056-1179-4153-809f-6ecab42d4730.jpg?v=1658308504"}},"requires_selling_plan":false,"selling_plan_allocations":[]},{"id":42222239023258,"title":"Blue \/ 4XL","option1":"Blue","option2":"4XL","option3":null,"sku":"BL33877-C106-S04X","requires_shipping":true,"taxable":false,"featured_image":{"id":34430085464218,"product_id":7406684766362,"position":6,"created_at":"2022-07-20T03:15:04-06:00","updated_at":"2022-07-20T03:15:04-06:00","alt":null,"width":800,"height":800,"src":"\/\/www.luluwin.co.uk\/cdn\/shop\/products\/3_b2134056-1179-4153-809f-6ecab42d4730.jpg?v=1658308504","variant_ids":[42222238826650,42222238859418,42222238892186,42222238924954,42222238957722,42222238990490,42222239023258,42222239056026]},"available":true,"name":"Women's Solid Color Pocket Short Sleeve Cotton Linen Shirt - Blue \/ 4XL","public_title":"Blue \/ 4XL","options":["Blue","4XL"],"price":1999,"weight":0,"compare_at_price":3999,"inventory_management":null,"barcode":null,"featured_media":{"alt":null,"id":26889864609946,"position":6,"preview_image":{"aspect_ratio":1.0,"height":800,"width":800,"src":"\/\/www.luluwin.co.uk\/cdn\/shop\/products\/3_b2134056-1179-4153-809f-6ecab42d4730.jpg?v=1658308504"}},"requires_selling_plan":false,"selling_plan_allocations":[]},{"id":42222239056026,"title":"Blue \/ 5XL","option1":"Blue","option2":"5XL","option3":null,"sku":"BL33877-C106-S05X","requires_shipping":true,"taxable":false,"featured_image":{"id":34430085464218,"product_id":7406684766362,"position":6,"created_at":"2022-07-20T03:15:04-06:00","updated_at":"2022-07-20T03:15:04-06:00","alt":null,"width":800,"height":800,"src":"\/\/www.luluwin.co.uk\/cdn\/shop\/products\/3_b2134056-1179-4153-809f-6ecab42d4730.jpg?v=1658308504","variant_ids":[42222238826650,42222238859418,42222238892186,42222238924954,42222238957722,42222238990490,42222239023258,42222239056026]},"available":true,"name":"Women's Solid Color Pocket Short Sleeve Cotton Linen Shirt - Blue \/ 5XL","public_title":"Blue \/ 5XL","options":["Blue","5XL"],"price":1999,"weight":0,"compare_at_price":3999,"inventory_management":null,"barcode":null,"featured_media":{"alt":null,"id":26889864609946,"position":6,"preview_image":{"aspect_ratio":1.0,"height":800,"width":800,"src":"\/\/www.luluwin.co.uk\/cdn\/shop\/products\/3_b2134056-1179-4153-809f-6ecab42d4730.jpg?v=1658308504"}},"requires_selling_plan":false,"selling_plan_allocations":[]},{"id":42222239088794,"title":"Pink \/ S","option1":"Pink","option2":"S","option3":null,"sku":"BL33877-C611-S00S","requires_shipping":true,"taxable":false,"featured_image":{"id":34430085595290,"product_id":7406684766362,"position":7,"created_at":"2022-07-20T03:15:07-06:00","updated_at":"2022-07-20T03:15:07-06:00","alt":null,"width":800,"height":800,"src":"\/\/www.luluwin.co.uk\/cdn\/shop\/products\/4_6034fc5c-1bfb-46d5-8550-f8bfd3610535.jpg?v=1658308507","variant_ids":[42222239088794,42222239121562,42222239154330,42222239187098,42222239219866,42222239252634,42222239285402,42222239318170]},"available":true,"name":"Women's Solid Color Pocket Short Sleeve Cotton Linen Shirt - Pink \/ S","public_title":"Pink \/ S","options":["Pink","S"],"price":1999,"weight":0,"compare_at_price":3999,"inventory_management":null,"barcode":null,"featured_media":{"alt":null,"id":26889864773786,"position":7,"preview_image":{"aspect_ratio":1.0,"height":800,"width":800,"src":"\/\/www.luluwin.co.uk\/cdn\/shop\/products\/4_6034fc5c-1bfb-46d5-8550-f8bfd3610535.jpg?v=1658308507"}},"requires_selling_plan":false,"selling_plan_allocations":[]},{"id":42222239121562,"title":"Pink \/ M","option1":"Pink","option2":"M","option3":null,"sku":"BL33877-C611-S00M","requires_shipping":true,"taxable":false,"featured_image":{"id":34430085595290,"product_id":7406684766362,"position":7,"created_at":"2022-07-20T03:15:07-06:00","updated_at":"2022-07-20T03:15:07-06:00","alt":null,"width":800,"height":800,"src":"\/\/www.luluwin.co.uk\/cdn\/shop\/products\/4_6034fc5c-1bfb-46d5-8550-f8bfd3610535.jpg?v=1658308507","variant_ids":[42222239088794,42222239121562,42222239154330,42222239187098,42222239219866,42222239252634,42222239285402,42222239318170]},"available":true,"name":"Women's Solid Color Pocket Short Sleeve Cotton Linen Shirt - Pink \/ M","public_title":"Pink \/ M","options":["Pink","M"],"price":1999,"weight":0,"compare_at_price":3999,"inventory_management":null,"barcode":null,"featured_media":{"alt":null,"id":26889864773786,"position":7,"preview_image":{"aspect_ratio":1.0,"height":800,"width":800,"src":"\/\/www.luluwin.co.uk\/cdn\/shop\/products\/4_6034fc5c-1bfb-46d5-8550-f8bfd3610535.jpg?v=1658308507"}},"requires_selling_plan":false,"selling_plan_allocations":[]},{"id":42222239154330,"title":"Pink \/ L","option1":"Pink","option2":"L","option3":null,"sku":"BL33877-C611-S00L","requires_shipping":true,"taxable":false,"featured_image":{"id":34430085595290,"product_id":7406684766362,"position":7,"created_at":"2022-07-20T03:15:07-06:00","updated_at":"2022-07-20T03:15:07-06:00","alt":null,"width":800,"height":800,"src":"\/\/www.luluwin.co.uk\/cdn\/shop\/products\/4_6034fc5c-1bfb-46d5-8550-f8bfd3610535.jpg?v=1658308507","variant_ids":[42222239088794,42222239121562,42222239154330,42222239187098,42222239219866,42222239252634,42222239285402,42222239318170]},"available":true,"name":"Women's Solid Color Pocket Short Sleeve Cotton Linen Shirt - Pink \/ L","public_title":"Pink \/ L","options":["Pink","L"],"price":1999,"weight":0,"compare_at_price":3999,"inventory_management":null,"barcode":null,"featured_media":{"alt":null,"id":26889864773786,"position":7,"preview_image":{"aspect_ratio":1.0,"height":800,"width":800,"src":"\/\/www.luluwin.co.uk\/cdn\/shop\/products\/4_6034fc5c-1bfb-46d5-8550-f8bfd3610535.jpg?v=1658308507"}},"requires_selling_plan":false,"selling_plan_allocations":[]},{"id":42222239187098,"title":"Pink \/ XL","option1":"Pink","option2":"XL","option3":null,"sku":"BL33877-C611-S00X","requires_shipping":true,"taxable":false,"featured_image":{"id":34430085595290,"product_id":7406684766362,"position":7,"created_at":"2022-07-20T03:15:07-06:00","updated_at":"2022-07-20T03:15:07-06:00","alt":null,"width":800,"height":800,"src":"\/\/www.luluwin.co.uk\/cdn\/shop\/products\/4_6034fc5c-1bfb-46d5-8550-f8bfd3610535.jpg?v=1658308507","variant_ids":[42222239088794,42222239121562,42222239154330,42222239187098,42222239219866,42222239252634,42222239285402,42222239318170]},"available":true,"name":"Women's Solid Color Pocket Short Sleeve Cotton Linen Shirt - Pink \/ XL","public_title":"Pink \/ XL","options":["Pink","XL"],"price":1999,"weight":0,"compare_at_price":3999,"inventory_management":null,"barcode":null,"featured_media":{"alt":null,"id":26889864773786,"position":7,"preview_image":{"aspect_ratio":1.0,"height":800,"width":800,"src":"\/\/www.luluwin.co.uk\/cdn\/shop\/products\/4_6034fc5c-1bfb-46d5-8550-f8bfd3610535.jpg?v=1658308507"}},"requires_selling_plan":false,"selling_plan_allocations":[]},{"id":42222239219866,"title":"Pink \/ 2XL","option1":"Pink","option2":"2XL","option3":null,"sku":"BL33877-C611-S02X","requires_shipping":true,"taxable":false,"featured_image":{"id":34430085595290,"product_id":7406684766362,"position":7,"created_at":"2022-07-20T03:15:07-06:00","updated_at":"2022-07-20T03:15:07-06:00","alt":null,"width":800,"height":800,"src":"\/\/www.luluwin.co.uk\/cdn\/shop\/products\/4_6034fc5c-1bfb-46d5-8550-f8bfd3610535.jpg?v=1658308507","variant_ids":[42222239088794,42222239121562,42222239154330,42222239187098,42222239219866,42222239252634,42222239285402,42222239318170]},"available":true,"name":"Women's Solid Color Pocket Short Sleeve Cotton Linen Shirt - Pink \/ 2XL","public_title":"Pink \/ 2XL","options":["Pink","2XL"],"price":1999,"weight":0,"compare_at_price":3999,"inventory_management":null,"barcode":null,"featured_media":{"alt":null,"id":26889864773786,"position":7,"preview_image":{"aspect_ratio":1.0,"height":800,"width":800,"src":"\/\/www.luluwin.co.uk\/cdn\/shop\/products\/4_6034fc5c-1bfb-46d5-8550-f8bfd3610535.jpg?v=1658308507"}},"requires_selling_plan":false,"selling_plan_allocations":[]},{"id":42222239252634,"title":"Pink \/ 3XL","option1":"Pink","option2":"3XL","option3":null,"sku":"BL33877-C611-S03X","requires_shipping":true,"taxable":false,"featured_image":{"id":34430085595290,"product_id":7406684766362,"position":7,"created_at":"2022-07-20T03:15:07-06:00","updated_at":"2022-07-20T03:15:07-06:00","alt":null,"width":800,"height":800,"src":"\/\/www.luluwin.co.uk\/cdn\/shop\/products\/4_6034fc5c-1bfb-46d5-8550-f8bfd3610535.jpg?v=1658308507","variant_ids":[42222239088794,42222239121562,42222239154330,42222239187098,42222239219866,42222239252634,42222239285402,42222239318170]},"available":true,"name":"Women's Solid Color Pocket Short Sleeve Cotton Linen Shirt - Pink \/ 3XL","public_title":"Pink \/ 3XL","options":["Pink","3XL"],"price":1999,"weight":0,"compare_at_price":3999,"inventory_management":null,"barcode":null,"featured_media":{"alt":null,"id":26889864773786,"position":7,"preview_image":{"aspect_ratio":1.0,"height":800,"width":800,"src":"\/\/www.luluwin.co.uk\/cdn\/shop\/products\/4_6034fc5c-1bfb-46d5-8550-f8bfd3610535.jpg?v=1658308507"}},"requires_selling_plan":false,"selling_plan_allocations":[]},{"id":42222239285402,"title":"Pink \/ 4XL","option1":"Pink","option2":"4XL","option3":null,"sku":"BL33877-C611-S04X","requires_shipping":true,"taxable":false,"featured_image":{"id":34430085595290,"product_id":7406684766362,"position":7,"created_at":"2022-07-20T03:15:07-06:00","updated_at":"2022-07-20T03:15:07-06:00","alt":null,"width":800,"height":800,"src":"\/\/www.luluwin.co.uk\/cdn\/shop\/products\/4_6034fc5c-1bfb-46d5-8550-f8bfd3610535.jpg?v=1658308507","variant_ids":[42222239088794,42222239121562,42222239154330,42222239187098,42222239219866,42222239252634,42222239285402,42222239318170]},"available":true,"name":"Women's Solid Color Pocket Short Sleeve Cotton Linen Shirt - Pink \/ 4XL","public_title":"Pink \/ 4XL","options":["Pink","4XL"],"price":1999,"weight":0,"compare_at_price":3999,"inventory_management":null,"barcode":null,"featured_media":{"alt":null,"id":26889864773786,"position":7,"preview_image":{"aspect_ratio":1.0,"height":800,"width":800,"src":"\/\/www.luluwin.co.uk\/cdn\/shop\/products\/4_6034fc5c-1bfb-46d5-8550-f8bfd3610535.jpg?v=1658308507"}},"requires_selling_plan":false,"selling_plan_allocations":[]},{"id":42222239318170,"title":"Pink \/ 5XL","option1":"Pink","option2":"5XL","option3":null,"sku":"BL33877-C611-S05X","requires_shipping":true,"taxable":false,"featured_image":{"id":34430085595290,"product_id":7406684766362,"position":7,"created_at":"2022-07-20T03:15:07-06:00","updated_at":"2022-07-20T03:15:07-06:00","alt":null,"width":800,"height":800,"src":"\/\/www.luluwin.co.uk\/cdn\/shop\/products\/4_6034fc5c-1bfb-46d5-8550-f8bfd3610535.jpg?v=1658308507","variant_ids":[42222239088794,42222239121562,42222239154330,42222239187098,42222239219866,42222239252634,42222239285402,42222239318170]},"available":true,"name":"Women's Solid Color Pocket Short Sleeve Cotton Linen Shirt - Pink \/ 5XL","public_title":"Pink \/ 5XL","options":["Pink","5XL"],"price":1999,"weight":0,"compare_at_price":3999,"inventory_management":null,"barcode":null,"featured_media":{"alt":null,"id":26889864773786,"position":7,"preview_image":{"aspect_ratio":1.0,"height":800,"width":800,"src":"\/\/www.luluwin.co.uk\/cdn\/shop\/products\/4_6034fc5c-1bfb-46d5-8550-f8bfd3610535.jpg?v=1658308507"}},"requires_selling_plan":false,"selling_plan_allocations":[]},{"id":42222239350938,"title":"Grey \/ S","option1":"Grey","option2":"S","option3":null,"sku":"BL33877-C006-S00S","requires_shipping":true,"taxable":false,"featured_image":{"id":34430086283418,"product_id":7406684766362,"position":10,"created_at":"2022-07-20T03:15:13-06:00","updated_at":"2022-07-20T03:15:13-06:00","alt":null,"width":800,"height":800,"src":"\/\/www.luluwin.co.uk\/cdn\/shop\/products\/2_602788f7-e3fe-4bba-b342-9b857f3bf321.jpg?v=1658308513","variant_ids":[42222239350938,42222239383706,42222239416474,42222239449242,42222239482010,42222239514778,42222239547546,42222239580314]},"available":true,"name":"Women's Solid Color Pocket Short Sleeve Cotton Linen Shirt - Grey \/ S","public_title":"Grey \/ S","options":["Grey","S"],"price":1999,"weight":0,"compare_at_price":3999,"inventory_management":null,"barcode":null,"featured_media":{"alt":null,"id":26889865429146,"position":10,"preview_image":{"aspect_ratio":1.0,"height":800,"width":800,"src":"\/\/www.luluwin.co.uk\/cdn\/shop\/products\/2_602788f7-e3fe-4bba-b342-9b857f3bf321.jpg?v=1658308513"}},"requires_selling_plan":false,"selling_plan_allocations":[]},{"id":42222239383706,"title":"Grey \/ M","option1":"Grey","option2":"M","option3":null,"sku":"BL33877-C006-S00M","requires_shipping":true,"taxable":false,"featured_image":{"id":34430086283418,"product_id":7406684766362,"position":10,"created_at":"2022-07-20T03:15:13-06:00","updated_at":"2022-07-20T03:15:13-06:00","alt":null,"width":800,"height":800,"src":"\/\/www.luluwin.co.uk\/cdn\/shop\/products\/2_602788f7-e3fe-4bba-b342-9b857f3bf321.jpg?v=1658308513","variant_ids":[42222239350938,42222239383706,42222239416474,42222239449242,42222239482010,42222239514778,42222239547546,42222239580314]},"available":true,"name":"Women's Solid Color Pocket Short Sleeve Cotton Linen Shirt - Grey \/ M","public_title":"Grey \/ M","options":["Grey","M"],"price":1999,"weight":0,"compare_at_price":3999,"inventory_management":null,"barcode":null,"featured_media":{"alt":null,"id":26889865429146,"position":10,"preview_image":{"aspect_ratio":1.0,"height":800,"width":800,"src":"\/\/www.luluwin.co.uk\/cdn\/shop\/products\/2_602788f7-e3fe-4bba-b342-9b857f3bf321.jpg?v=1658308513"}},"requires_selling_plan":false,"selling_plan_allocations":[]},{"id":42222239416474,"title":"Grey \/ L","option1":"Grey","option2":"L","option3":null,"sku":"BL33877-C006-S00L","requires_shipping":true,"taxable":false,"featured_image":{"id":34430086283418,"product_id":7406684766362,"position":10,"created_at":"2022-07-20T03:15:13-06:00","updated_at":"2022-07-20T03:15:13-06:00","alt":null,"width":800,"height":800,"src":"\/\/www.luluwin.co.uk\/cdn\/shop\/products\/2_602788f7-e3fe-4bba-b342-9b857f3bf321.jpg?v=1658308513","variant_ids":[42222239350938,42222239383706,42222239416474,42222239449242,42222239482010,42222239514778,42222239547546,42222239580314]},"available":true,"name":"Women's Solid Color Pocket Short Sleeve Cotton Linen Shirt - Grey \/ L","public_title":"Grey \/ L","options":["Grey","L"],"price":1999,"weight":0,"compare_at_price":3999,"inventory_management":null,"barcode":null,"featured_media":{"alt":null,"id":26889865429146,"position":10,"preview_image":{"aspect_ratio":1.0,"height":800,"width":800,"src":"\/\/www.luluwin.co.uk\/cdn\/shop\/products\/2_602788f7-e3fe-4bba-b342-9b857f3bf321.jpg?v=1658308513"}},"requires_selling_plan":false,"selling_plan_allocations":[]},{"id":42222239449242,"title":"Grey \/ XL","option1":"Grey","option2":"XL","option3":null,"sku":"BL33877-C006-S00X","requires_shipping":true,"taxable":false,"featured_image":{"id":34430086283418,"product_id":7406684766362,"position":10,"created_at":"2022-07-20T03:15:13-06:00","updated_at":"2022-07-20T03:15:13-06:00","alt":null,"width":800,"height":800,"src":"\/\/www.luluwin.co.uk\/cdn\/shop\/products\/2_602788f7-e3fe-4bba-b342-9b857f3bf321.jpg?v=1658308513","variant_ids":[42222239350938,42222239383706,42222239416474,42222239449242,42222239482010,42222239514778,42222239547546,42222239580314]},"available":true,"name":"Women's Solid Color Pocket Short Sleeve Cotton Linen Shirt - Grey \/ XL","public_title":"Grey \/ XL","options":["Grey","XL"],"price":1999,"weight":0,"compare_at_price":3999,"inventory_management":null,"barcode":null,"featured_media":{"alt":null,"id":26889865429146,"position":10,"preview_image":{"aspect_ratio":1.0,"height":800,"width":800,"src":"\/\/www.luluwin.co.uk\/cdn\/shop\/products\/2_602788f7-e3fe-4bba-b342-9b857f3bf321.jpg?v=1658308513"}},"requires_selling_plan":false,"selling_plan_allocations":[]},{"id":42222239482010,"title":"Grey \/ 2XL","option1":"Grey","option2":"2XL","option3":null,"sku":"BL33877-C006-S02X","requires_shipping":true,"taxable":false,"featured_image":{"id":34430086283418,"product_id":7406684766362,"position":10,"created_at":"2022-07-20T03:15:13-06:00","updated_at":"2022-07-20T03:15:13-06:00","alt":null,"width":800,"height":800,"src":"\/\/www.luluwin.co.uk\/cdn\/shop\/products\/2_602788f7-e3fe-4bba-b342-9b857f3bf321.jpg?v=1658308513","variant_ids":[42222239350938,42222239383706,42222239416474,42222239449242,42222239482010,42222239514778,42222239547546,42222239580314]},"available":true,"name":"Women's Solid Color Pocket Short Sleeve Cotton Linen Shirt - Grey \/ 2XL","public_title":"Grey \/ 2XL","options":["Grey","2XL"],"price":1999,"weight":0,"compare_at_price":3999,"inventory_management":null,"barcode":null,"featured_media":{"alt":null,"id":26889865429146,"position":10,"preview_image":{"aspect_ratio":1.0,"height":800,"width":800,"src":"\/\/www.luluwin.co.uk\/cdn\/shop\/products\/2_602788f7-e3fe-4bba-b342-9b857f3bf321.jpg?v=1658308513"}},"requires_selling_plan":false,"selling_plan_allocations":[]},{"id":42222239514778,"title":"Grey \/ 3XL","option1":"Grey","option2":"3XL","option3":null,"sku":"BL33877-C006-S03X","requires_shipping":true,"taxable":false,"featured_image":{"id":34430086283418,"product_id":7406684766362,"position":10,"created_at":"2022-07-20T03:15:13-06:00","updated_at":"2022-07-20T03:15:13-06:00","alt":null,"width":800,"height":800,"src":"\/\/www.luluwin.co.uk\/cdn\/shop\/products\/2_602788f7-e3fe-4bba-b342-9b857f3bf321.jpg?v=1658308513","variant_ids":[42222239350938,42222239383706,42222239416474,42222239449242,42222239482010,42222239514778,42222239547546,42222239580314]},"available":true,"name":"Women's Solid Color Pocket Short Sleeve Cotton Linen Shirt - Grey \/ 3XL","public_title":"Grey \/ 3XL","options":["Grey","3XL"],"price":1999,"weight":0,"compare_at_price":3999,"inventory_management":null,"barcode":null,"featured_media":{"alt":null,"id":26889865429146,"position":10,"preview_image":{"aspect_ratio":1.0,"height":800,"width":800,"src":"\/\/www.luluwin.co.uk\/cdn\/shop\/products\/2_602788f7-e3fe-4bba-b342-9b857f3bf321.jpg?v=1658308513"}},"requires_selling_plan":false,"selling_plan_allocations":[]},{"id":42222239547546,"title":"Grey \/ 4XL","option1":"Grey","option2":"4XL","option3":null,"sku":"BL33877-C006-S04X","requires_shipping":true,"taxable":false,"featured_image":{"id":34430086283418,"product_id":7406684766362,"position":10,"created_at":"2022-07-20T03:15:13-06:00","updated_at":"2022-07-20T03:15:13-06:00","alt":null,"width":800,"height":800,"src":"\/\/www.luluwin.co.uk\/cdn\/shop\/products\/2_602788f7-e3fe-4bba-b342-9b857f3bf321.jpg?v=1658308513","variant_ids":[42222239350938,42222239383706,42222239416474,42222239449242,42222239482010,42222239514778,42222239547546,42222239580314]},"available":true,"name":"Women's Solid Color Pocket Short Sleeve Cotton Linen Shirt - Grey \/ 4XL","public_title":"Grey \/ 4XL","options":["Grey","4XL"],"price":1999,"weight":0,"compare_at_price":3999,"inventory_management":null,"barcode":null,"featured_media":{"alt":null,"id":26889865429146,"position":10,"preview_image":{"aspect_ratio":1.0,"height":800,"width":800,"src":"\/\/www.luluwin.co.uk\/cdn\/shop\/products\/2_602788f7-e3fe-4bba-b342-9b857f3bf321.jpg?v=1658308513"}},"requires_selling_plan":false,"selling_plan_allocations":[]},{"id":42222239580314,"title":"Grey \/ 5XL","option1":"Grey","option2":"5XL","option3":null,"sku":"BL33877-C006-S05X","requires_shipping":true,"taxable":false,"featured_image":{"id":34430086283418,"product_id":7406684766362,"position":10,"created_at":"2022-07-20T03:15:13-06:00","updated_at":"2022-07-20T03:15:13-06:00","alt":null,"width":800,"height":800,"src":"\/\/www.luluwin.co.uk\/cdn\/shop\/products\/2_602788f7-e3fe-4bba-b342-9b857f3bf321.jpg?v=1658308513","variant_ids":[42222239350938,42222239383706,42222239416474,42222239449242,42222239482010,42222239514778,42222239547546,42222239580314]},"available":true,"name":"Women's Solid Color Pocket Short Sleeve Cotton Linen Shirt - Grey \/ 5XL","public_title":"Grey \/ 5XL","options":["Grey","5XL"],"price":1999,"weight":0,"compare_at_price":3999,"inventory_management":null,"barcode":null,"featured_media":{"alt":null,"id":26889865429146,"position":10,"preview_image":{"aspect_ratio":1.0,"height":800,"width":800,"src":"\/\/www.luluwin.co.uk\/cdn\/shop\/products\/2_602788f7-e3fe-4bba-b342-9b857f3bf321.jpg?v=1658308513"}},"requires_selling_plan":false,"selling_plan_allocations":[]},{"id":42222239613082,"title":"Green \/ S","option1":"Green","option2":"S","option3":null,"sku":"BL33877-C053-S00S","requires_shipping":true,"taxable":false,"featured_image":{"id":34430087168154,"product_id":7406684766362,"position":12,"created_at":"2022-07-20T03:15:17-06:00","updated_at":"2022-07-20T03:15:17-06:00","alt":null,"width":800,"height":800,"src":"\/\/www.luluwin.co.uk\/cdn\/shop\/products\/1_fc4f2d8c-d50d-4935-bc01-7b240512572b.jpg?v=1658308517","variant_ids":[42222239613082,42222239645850,42222239678618,42222239711386,42222239744154,42222239776922,42222239809690,42222239842458]},"available":true,"name":"Women's Solid Color Pocket Short Sleeve Cotton Linen Shirt - Green \/ S","public_title":"Green \/ S","options":["Green","S"],"price":1999,"weight":0,"compare_at_price":3999,"inventory_management":null,"barcode":null,"featured_media":{"alt":null,"id":26889866313882,"position":12,"preview_image":{"aspect_ratio":1.0,"height":800,"width":800,"src":"\/\/www.luluwin.co.uk\/cdn\/shop\/products\/1_fc4f2d8c-d50d-4935-bc01-7b240512572b.jpg?v=1658308517"}},"requires_selling_plan":false,"selling_plan_allocations":[]},{"id":42222239645850,"title":"Green \/ M","option1":"Green","option2":"M","option3":null,"sku":"BL33877-C053-S00M","requires_shipping":true,"taxable":false,"featured_image":{"id":34430087168154,"product_id":7406684766362,"position":12,"created_at":"2022-07-20T03:15:17-06:00","updated_at":"2022-07-20T03:15:17-06:00","alt":null,"width":800,"height":800,"src":"\/\/www.luluwin.co.uk\/cdn\/shop\/products\/1_fc4f2d8c-d50d-4935-bc01-7b240512572b.jpg?v=1658308517","variant_ids":[42222239613082,42222239645850,42222239678618,42222239711386,42222239744154,42222239776922,42222239809690,42222239842458]},"available":true,"name":"Women's Solid Color Pocket Short Sleeve Cotton Linen Shirt - Green \/ M","public_title":"Green \/ M","options":["Green","M"],"price":1999,"weight":0,"compare_at_price":3999,"inventory_management":null,"barcode":null,"featured_media":{"alt":null,"id":26889866313882,"position":12,"preview_image":{"aspect_ratio":1.0,"height":800,"width":800,"src":"\/\/www.luluwin.co.uk\/cdn\/shop\/products\/1_fc4f2d8c-d50d-4935-bc01-7b240512572b.jpg?v=1658308517"}},"requires_selling_plan":false,"selling_plan_allocations":[]},{"id":42222239678618,"title":"Green \/ L","option1":"Green","option2":"L","option3":null,"sku":"BL33877-C053-S00L","requires_shipping":true,"taxable":false,"featured_image":{"id":34430087168154,"product_id":7406684766362,"position":12,"created_at":"2022-07-20T03:15:17-06:00","updated_at":"2022-07-20T03:15:17-06:00","alt":null,"width":800,"height":800,"src":"\/\/www.luluwin.co.uk\/cdn\/shop\/products\/1_fc4f2d8c-d50d-4935-bc01-7b240512572b.jpg?v=1658308517","variant_ids":[42222239613082,42222239645850,42222239678618,42222239711386,42222239744154,42222239776922,42222239809690,42222239842458]},"available":true,"name":"Women's Solid Color Pocket Short Sleeve Cotton Linen Shirt - Green \/ L","public_title":"Green \/ L","options":["Green","L"],"price":1999,"weight":0,"compare_at_price":3999,"inventory_management":null,"barcode":null,"featured_media":{"alt":null,"id":26889866313882,"position":12,"preview_image":{"aspect_ratio":1.0,"height":800,"width":800,"src":"\/\/www.luluwin.co.uk\/cdn\/shop\/products\/1_fc4f2d8c-d50d-4935-bc01-7b240512572b.jpg?v=1658308517"}},"requires_selling_plan":false,"selling_plan_allocations":[]},{"id":42222239711386,"title":"Green \/ XL","option1":"Green","option2":"XL","option3":null,"sku":"BL33877-C053-S00X","requires_shipping":true,"taxable":false,"featured_image":{"id":34430087168154,"product_id":7406684766362,"position":12,"created_at":"2022-07-20T03:15:17-06:00","updated_at":"2022-07-20T03:15:17-06:00","alt":null,"width":800,"height":800,"src":"\/\/www.luluwin.co.uk\/cdn\/shop\/products\/1_fc4f2d8c-d50d-4935-bc01-7b240512572b.jpg?v=1658308517","variant_ids":[42222239613082,42222239645850,42222239678618,42222239711386,42222239744154,42222239776922,42222239809690,42222239842458]},"available":true,"name":"Women's Solid Color Pocket Short Sleeve Cotton Linen Shirt - Green \/ XL","public_title":"Green \/ XL","options":["Green","XL"],"price":1999,"weight":0,"compare_at_price":3999,"inventory_management":null,"barcode":null,"featured_media":{"alt":null,"id":26889866313882,"position":12,"preview_image":{"aspect_ratio":1.0,"height":800,"width":800,"src":"\/\/www.luluwin.co.uk\/cdn\/shop\/products\/1_fc4f2d8c-d50d-4935-bc01-7b240512572b.jpg?v=1658308517"}},"requires_selling_plan":false,"selling_plan_allocations":[]},{"id":42222239744154,"title":"Green \/ 2XL","option1":"Green","option2":"2XL","option3":null,"sku":"BL33877-C053-S02X","requires_shipping":true,"taxable":false,"featured_image":{"id":34430087168154,"product_id":7406684766362,"position":12,"created_at":"2022-07-20T03:15:17-06:00","updated_at":"2022-07-20T03:15:17-06:00","alt":null,"width":800,"height":800,"src":"\/\/www.luluwin.co.uk\/cdn\/shop\/products\/1_fc4f2d8c-d50d-4935-bc01-7b240512572b.jpg?v=1658308517","variant_ids":[42222239613082,42222239645850,42222239678618,42222239711386,42222239744154,42222239776922,42222239809690,42222239842458]},"available":true,"name":"Women's Solid Color Pocket Short Sleeve Cotton Linen Shirt - Green \/ 2XL","public_title":"Green \/ 2XL","options":["Green","2XL"],"price":1999,"weight":0,"compare_at_price":3999,"inventory_management":null,"barcode":null,"featured_media":{"alt":null,"id":26889866313882,"position":12,"preview_image":{"aspect_ratio":1.0,"height":800,"width":800,"src":"\/\/www.luluwin.co.uk\/cdn\/shop\/products\/1_fc4f2d8c-d50d-4935-bc01-7b240512572b.jpg?v=1658308517"}},"requires_selling_plan":false,"selling_plan_allocations":[]},{"id":42222239776922,"title":"Green \/ 3XL","option1":"Green","option2":"3XL","option3":null,"sku":"BL33877-C053-S03X","requires_shipping":true,"taxable":false,"featured_image":{"id":34430087168154,"product_id":7406684766362,"position":12,"created_at":"2022-07-20T03:15:17-06:00","updated_at":"2022-07-20T03:15:17-06:00","alt":null,"width":800,"height":800,"src":"\/\/www.luluwin.co.uk\/cdn\/shop\/products\/1_fc4f2d8c-d50d-4935-bc01-7b240512572b.jpg?v=1658308517","variant_ids":[42222239613082,42222239645850,42222239678618,42222239711386,42222239744154,42222239776922,42222239809690,42222239842458]},"available":true,"name":"Women's Solid Color Pocket Short Sleeve Cotton Linen Shirt - Green \/ 3XL","public_title":"Green \/ 3XL","options":["Green","3XL"],"price":1999,"weight":0,"compare_at_price":3999,"inventory_management":null,"barcode":null,"featured_media":{"alt":null,"id":26889866313882,"position":12,"preview_image":{"aspect_ratio":1.0,"height":800,"width":800,"src":"\/\/www.luluwin.co.uk\/cdn\/shop\/products\/1_fc4f2d8c-d50d-4935-bc01-7b240512572b.jpg?v=1658308517"}},"requires_selling_plan":false,"selling_plan_allocations":[]},{"id":42222239809690,"title":"Green \/ 4XL","option1":"Green","option2":"4XL","option3":null,"sku":"BL33877-C053-S04X","requires_shipping":true,"taxable":false,"featured_image":{"id":34430087168154,"product_id":7406684766362,"position":12,"created_at":"2022-07-20T03:15:17-06:00","updated_at":"2022-07-20T03:15:17-06:00","alt":null,"width":800,"height":800,"src":"\/\/www.luluwin.co.uk\/cdn\/shop\/products\/1_fc4f2d8c-d50d-4935-bc01-7b240512572b.jpg?v=1658308517","variant_ids":[42222239613082,42222239645850,42222239678618,42222239711386,42222239744154,42222239776922,42222239809690,42222239842458]},"available":true,"name":"Women's Solid Color Pocket Short Sleeve Cotton Linen Shirt - Green \/ 4XL","public_title":"Green \/ 4XL","options":["Green","4XL"],"price":1999,"weight":0,"compare_at_price":3999,"inventory_management":null,"barcode":null,"featured_media":{"alt":null,"id":26889866313882,"position":12,"preview_image":{"aspect_ratio":1.0,"height":800,"width":800,"src":"\/\/www.luluwin.co.uk\/cdn\/shop\/products\/1_fc4f2d8c-d50d-4935-bc01-7b240512572b.jpg?v=1658308517"}},"requires_selling_plan":false,"selling_plan_allocations":[]},{"id":42222239842458,"title":"Green \/ 5XL","option1":"Green","option2":"5XL","option3":null,"sku":"BL33877-C053-S05X","requires_shipping":true,"taxable":false,"featured_image":{"id":34430087168154,"product_id":7406684766362,"position":12,"created_at":"2022-07-20T03:15:17-06:00","updated_at":"2022-07-20T03:15:17-06:00","alt":null,"width":800,"height":800,"src":"\/\/www.luluwin.co.uk\/cdn\/shop\/products\/1_fc4f2d8c-d50d-4935-bc01-7b240512572b.jpg?v=1658308517","variant_ids":[42222239613082,42222239645850,42222239678618,42222239711386,42222239744154,42222239776922,42222239809690,42222239842458]},"available":true,"name":"Women's Solid Color Pocket Short Sleeve Cotton Linen Shirt - Green \/ 5XL","public_title":"Green \/ 5XL","options":["Green","5XL"],"price":1999,"weight":0,"compare_at_price":3999,"inventory_management":null,"barcode":null,"featured_media":{"alt":null,"id":26889866313882,"position":12,"preview_image":{"aspect_ratio":1.0,"height":800,"width":800,"src":"\/\/www.luluwin.co.uk\/cdn\/shop\/products\/1_fc4f2d8c-d50d-4935-bc01-7b240512572b.jpg?v=1658308517"}},"requires_selling_plan":false,"selling_plan_allocations":[]},{"id":42222239875226,"title":"Light Blue \/ S","option1":"Light Blue","option2":"S","option3":null,"sku":"BL33877-C037-S00S","requires_shipping":true,"taxable":false,"featured_image":{"id":34430086021274,"product_id":7406684766362,"position":9,"created_at":"2022-07-20T03:15:11-06:00","updated_at":"2022-07-20T03:15:11-06:00","alt":null,"width":800,"height":800,"src":"\/\/www.luluwin.co.uk\/cdn\/shop\/products\/6_76635bf3-5485-4080-9196-790006043cd5.jpg?v=1658308511","variant_ids":[42222239875226,42222239907994,42222239940762,42222239973530,42222240006298,42222240039066,42222240071834,42222240104602]},"available":true,"name":"Women's Solid Color Pocket Short Sleeve Cotton Linen Shirt - Light Blue \/ S","public_title":"Light Blue \/ S","options":["Light Blue","S"],"price":1999,"weight":0,"compare_at_price":3999,"inventory_management":null,"barcode":null,"featured_media":{"alt":null,"id":26889865167002,"position":9,"preview_image":{"aspect_ratio":1.0,"height":800,"width":800,"src":"\/\/www.luluwin.co.uk\/cdn\/shop\/products\/6_76635bf3-5485-4080-9196-790006043cd5.jpg?v=1658308511"}},"requires_selling_plan":false,"selling_plan_allocations":[]},{"id":42222239907994,"title":"Light Blue \/ M","option1":"Light Blue","option2":"M","option3":null,"sku":"BL33877-C037-S00M","requires_shipping":true,"taxable":false,"featured_image":{"id":34430086021274,"product_id":7406684766362,"position":9,"created_at":"2022-07-20T03:15:11-06:00","updated_at":"2022-07-20T03:15:11-06:00","alt":null,"width":800,"height":800,"src":"\/\/www.luluwin.co.uk\/cdn\/shop\/products\/6_76635bf3-5485-4080-9196-790006043cd5.jpg?v=1658308511","variant_ids":[42222239875226,42222239907994,42222239940762,42222239973530,42222240006298,42222240039066,42222240071834,42222240104602]},"available":true,"name":"Women's Solid Color Pocket Short Sleeve Cotton Linen Shirt - Light Blue \/ M","public_title":"Light Blue \/ M","options":["Light Blue","M"],"price":1999,"weight":0,"compare_at_price":3999,"inventory_management":null,"barcode":null,"featured_media":{"alt":null,"id":26889865167002,"position":9,"preview_image":{"aspect_ratio":1.0,"height":800,"width":800,"src":"\/\/www.luluwin.co.uk\/cdn\/shop\/products\/6_76635bf3-5485-4080-9196-790006043cd5.jpg?v=1658308511"}},"requires_selling_plan":false,"selling_plan_allocations":[]},{"id":42222239940762,"title":"Light Blue \/ L","option1":"Light Blue","option2":"L","option3":null,"sku":"BL33877-C037-S00L","requires_shipping":true,"taxable":false,"featured_image":{"id":34430086021274,"product_id":7406684766362,"position":9,"created_at":"2022-07-20T03:15:11-06:00","updated_at":"2022-07-20T03:15:11-06:00","alt":null,"width":800,"height":800,"src":"\/\/www.luluwin.co.uk\/cdn\/shop\/products\/6_76635bf3-5485-4080-9196-790006043cd5.jpg?v=1658308511","variant_ids":[42222239875226,42222239907994,42222239940762,42222239973530,42222240006298,42222240039066,42222240071834,42222240104602]},"available":true,"name":"Women's Solid Color Pocket Short Sleeve Cotton Linen Shirt - Light Blue \/ L","public_title":"Light Blue \/ L","options":["Light Blue","L"],"price":1999,"weight":0,"compare_at_price":3999,"inventory_management":null,"barcode":null,"featured_media":{"alt":null,"id":26889865167002,"position":9,"preview_image":{"aspect_ratio":1.0,"height":800,"width":800,"src":"\/\/www.luluwin.co.uk\/cdn\/shop\/products\/6_76635bf3-5485-4080-9196-790006043cd5.jpg?v=1658308511"}},"requires_selling_plan":false,"selling_plan_allocations":[]},{"id":42222239973530,"title":"Light Blue \/ XL","option1":"Light Blue","option2":"XL","option3":null,"sku":"BL33877-C037-S00X","requires_shipping":true,"taxable":false,"featured_image":{"id":34430086021274,"product_id":7406684766362,"position":9,"created_at":"2022-07-20T03:15:11-06:00","updated_at":"2022-07-20T03:15:11-06:00","alt":null,"width":800,"height":800,"src":"\/\/www.luluwin.co.uk\/cdn\/shop\/products\/6_76635bf3-5485-4080-9196-790006043cd5.jpg?v=1658308511","variant_ids":[42222239875226,42222239907994,42222239940762,42222239973530,42222240006298,42222240039066,42222240071834,42222240104602]},"available":true,"name":"Women's Solid Color Pocket Short Sleeve Cotton Linen Shirt - Light Blue \/ XL","public_title":"Light Blue \/ XL","options":["Light Blue","XL"],"price":1999,"weight":0,"compare_at_price":3999,"inventory_management":null,"barcode":null,"featured_media":{"alt":null,"id":26889865167002,"position":9,"preview_image":{"aspect_ratio":1.0,"height":800,"width":800,"src":"\/\/www.luluwin.co.uk\/cdn\/shop\/products\/6_76635bf3-5485-4080-9196-790006043cd5.jpg?v=1658308511"}},"requires_selling_plan":false,"selling_plan_allocations":[]},{"id":42222240006298,"title":"Light Blue \/ 2XL","option1":"Light Blue","option2":"2XL","option3":null,"sku":"BL33877-C037-S02X","requires_shipping":true,"taxable":false,"featured_image":{"id":34430086021274,"product_id":7406684766362,"position":9,"created_at":"2022-07-20T03:15:11-06:00","updated_at":"2022-07-20T03:15:11-06:00","alt":null,"width":800,"height":800,"src":"\/\/www.luluwin.co.uk\/cdn\/shop\/products\/6_76635bf3-5485-4080-9196-790006043cd5.jpg?v=1658308511","variant_ids":[42222239875226,42222239907994,42222239940762,42222239973530,42222240006298,42222240039066,42222240071834,42222240104602]},"available":true,"name":"Women's Solid Color Pocket Short Sleeve Cotton Linen Shirt - Light Blue \/ 2XL","public_title":"Light Blue \/ 2XL","options":["Light Blue","2XL"],"price":1999,"weight":0,"compare_at_price":3999,"inventory_management":null,"barcode":null,"featured_media":{"alt":null,"id":26889865167002,"position":9,"preview_image":{"aspect_ratio":1.0,"height":800,"width":800,"src":"\/\/www.luluwin.co.uk\/cdn\/shop\/products\/6_76635bf3-5485-4080-9196-790006043cd5.jpg?v=1658308511"}},"requires_selling_plan":false,"selling_plan_allocations":[]},{"id":42222240039066,"title":"Light Blue \/ 3XL","option1":"Light Blue","option2":"3XL","option3":null,"sku":"BL33877-C037-S03X","requires_shipping":true,"taxable":false,"featured_image":{"id":34430086021274,"product_id":7406684766362,"position":9,"created_at":"2022-07-20T03:15:11-06:00","updated_at":"2022-07-20T03:15:11-06:00","alt":null,"width":800,"height":800,"src":"\/\/www.luluwin.co.uk\/cdn\/shop\/products\/6_76635bf3-5485-4080-9196-790006043cd5.jpg?v=1658308511","variant_ids":[42222239875226,42222239907994,42222239940762,42222239973530,42222240006298,42222240039066,42222240071834,42222240104602]},"available":true,"name":"Women's Solid Color Pocket Short Sleeve Cotton Linen Shirt - Light Blue \/ 3XL","public_title":"Light Blue \/ 3XL","options":["Light Blue","3XL"],"price":1999,"weight":0,"compare_at_price":3999,"inventory_management":null,"barcode":null,"featured_media":{"alt":null,"id":26889865167002,"position":9,"preview_image":{"aspect_ratio":1.0,"height":800,"width":800,"src":"\/\/www.luluwin.co.uk\/cdn\/shop\/products\/6_76635bf3-5485-4080-9196-790006043cd5.jpg?v=1658308511"}},"requires_selling_plan":false,"selling_plan_allocations":[]},{"id":42222240071834,"title":"Light Blue \/ 4XL","option1":"Light Blue","option2":"4XL","option3":null,"sku":"BL33877-C037-S04X","requires_shipping":true,"taxable":false,"featured_image":{"id":34430086021274,"product_id":7406684766362,"position":9,"created_at":"2022-07-20T03:15:11-06:00","updated_at":"2022-07-20T03:15:11-06:00","alt":null,"width":800,"height":800,"src":"\/\/www.luluwin.co.uk\/cdn\/shop\/products\/6_76635bf3-5485-4080-9196-790006043cd5.jpg?v=1658308511","variant_ids":[42222239875226,42222239907994,42222239940762,42222239973530,42222240006298,42222240039066,42222240071834,42222240104602]},"available":true,"name":"Women's Solid Color Pocket Short Sleeve Cotton Linen Shirt - Light Blue \/ 4XL","public_title":"Light Blue \/ 4XL","options":["Light Blue","4XL"],"price":1999,"weight":0,"compare_at_price":3999,"inventory_management":null,"barcode":null,"featured_media":{"alt":null,"id":26889865167002,"position":9,"preview_image":{"aspect_ratio":1.0,"height":800,"width":800,"src":"\/\/www.luluwin.co.uk\/cdn\/shop\/products\/6_76635bf3-5485-4080-9196-790006043cd5.jpg?v=1658308511"}},"requires_selling_plan":false,"selling_plan_allocations":[]},{"id":42222240104602,"title":"Light Blue \/ 5XL","option1":"Light Blue","option2":"5XL","option3":null,"sku":"BL33877-C037-S05X","requires_shipping":true,"taxable":false,"featured_image":{"id":34430086021274,"product_id":7406684766362,"position":9,"created_at":"2022-07-20T03:15:11-06:00","updated_at":"2022-07-20T03:15:11-06:00","alt":null,"width":800,"height":800,"src":"\/\/www.luluwin.co.uk\/cdn\/shop\/products\/6_76635bf3-5485-4080-9196-790006043cd5.jpg?v=1658308511","variant_ids":[42222239875226,42222239907994,42222239940762,42222239973530,42222240006298,42222240039066,42222240071834,42222240104602]},"available":true,"name":"Women's Solid Color Pocket Short Sleeve Cotton Linen Shirt - Light Blue \/ 5XL","public_title":"Light Blue \/ 5XL","options":["Light Blue","5XL"],"price":1999,"weight":0,"compare_at_price":3999,"inventory_management":null,"barcode":null,"featured_media":{"alt":null,"id":26889865167002,"position":9,"preview_image":{"aspect_ratio":1.0,"height":800,"width":800,"src":"\/\/www.luluwin.co.uk\/cdn\/shop\/products\/6_76635bf3-5485-4080-9196-790006043cd5.jpg?v=1658308511"}},"requires_selling_plan":false,"selling_plan_allocations":[]}],"images":["\/\/www.luluwin.co.uk\/cdn\/shop\/products\/fm01_8b9f56f9-f604-4afc-95dd-56ed0d6699e6.jpg?v=1658308497","\/\/www.luluwin.co.uk\/cdn\/shop\/products\/8_4aefc81b-8850-41f1-a19e-8e505646f19c.jpg?v=1658308497","\/\/www.luluwin.co.uk\/cdn\/shop\/products\/fm02_3f944a2a-84fd-419b-b7d6-fca02e716b9b.jpg?v=1658308497","\/\/www.luluwin.co.uk\/cdn\/shop\/products\/b8421501ceee8ed8defa49d79fc692df_c32c6402-842a-465b-957f-6a4867bbcae4.jpg?v=1658308497","\/\/www.luluwin.co.uk\/cdn\/shop\/products\/7_ce08e432-911e-4400-81f3-5395a02392b9.jpg?v=1658308503","\/\/www.luluwin.co.uk\/cdn\/shop\/products\/3_b2134056-1179-4153-809f-6ecab42d4730.jpg?v=1658308504","\/\/www.luluwin.co.uk\/cdn\/shop\/products\/4_6034fc5c-1bfb-46d5-8550-f8bfd3610535.jpg?v=1658308507","\/\/www.luluwin.co.uk\/cdn\/shop\/products\/1_7bb5d782-6514-4f6f-88b8-7aa33b0b3c35.jpg?v=1658308509","\/\/www.luluwin.co.uk\/cdn\/shop\/products\/6_76635bf3-5485-4080-9196-790006043cd5.jpg?v=1658308511","\/\/www.luluwin.co.uk\/cdn\/shop\/products\/2_602788f7-e3fe-4bba-b342-9b857f3bf321.jpg?v=1658308513","\/\/www.luluwin.co.uk\/cdn\/shop\/products\/5_33aedf22-9b07-4341-a7cd-60070e93ef01.jpg?v=1658308515","\/\/www.luluwin.co.uk\/cdn\/shop\/products\/1_fc4f2d8c-d50d-4935-bc01-7b240512572b.jpg?v=1658308517"],"featured_image":"\/\/www.luluwin.co.uk\/cdn\/shop\/products\/fm01_8b9f56f9-f604-4afc-95dd-56ed0d6699e6.jpg?v=1658308497","options":["Color","Size"],"media":[{"alt":null,"id":26889863561370,"position":1,"preview_image":{"aspect_ratio":1.0,"height":800,"width":800,"src":"\/\/www.luluwin.co.uk\/cdn\/shop\/products\/fm01_8b9f56f9-f604-4afc-95dd-56ed0d6699e6.jpg?v=1658308497"},"aspect_ratio":1.0,"height":800,"media_type":"image","src":"\/\/www.luluwin.co.uk\/cdn\/shop\/products\/fm01_8b9f56f9-f604-4afc-95dd-56ed0d6699e6.jpg?v=1658308497","width":800},{"alt":null,"id":26889863594138,"position":2,"preview_image":{"aspect_ratio":1.0,"height":800,"width":800,"src":"\/\/www.luluwin.co.uk\/cdn\/shop\/products\/8_4aefc81b-8850-41f1-a19e-8e505646f19c.jpg?v=1658308497"},"aspect_ratio":1.0,"height":800,"media_type":"image","src":"\/\/www.luluwin.co.uk\/cdn\/shop\/products\/8_4aefc81b-8850-41f1-a19e-8e505646f19c.jpg?v=1658308497","width":800},{"alt":null,"id":26889863626906,"position":3,"preview_image":{"aspect_ratio":1.0,"height":800,"width":800,"src":"\/\/www.luluwin.co.uk\/cdn\/shop\/products\/fm02_3f944a2a-84fd-419b-b7d6-fca02e716b9b.jpg?v=1658308497"},"aspect_ratio":1.0,"height":800,"media_type":"image","src":"\/\/www.luluwin.co.uk\/cdn\/shop\/products\/fm02_3f944a2a-84fd-419b-b7d6-fca02e716b9b.jpg?v=1658308497","width":800},{"alt":null,"id":26889863659674,"position":4,"preview_image":{"aspect_ratio":1.0,"height":800,"width":800,"src":"\/\/www.luluwin.co.uk\/cdn\/shop\/products\/b8421501ceee8ed8defa49d79fc692df_c32c6402-842a-465b-957f-6a4867bbcae4.jpg?v=1658308497"},"aspect_ratio":1.0,"height":800,"media_type":"image","src":"\/\/www.luluwin.co.uk\/cdn\/shop\/products\/b8421501ceee8ed8defa49d79fc692df_c32c6402-842a-465b-957f-6a4867bbcae4.jpg?v=1658308497","width":800},{"alt":null,"id":26889864052890,"position":5,"preview_image":{"aspect_ratio":1.0,"height":800,"width":800,"src":"\/\/www.luluwin.co.uk\/cdn\/shop\/products\/7_ce08e432-911e-4400-81f3-5395a02392b9.jpg?v=1658308503"},"aspect_ratio":1.0,"height":800,"media_type":"image","src":"\/\/www.luluwin.co.uk\/cdn\/shop\/products\/7_ce08e432-911e-4400-81f3-5395a02392b9.jpg?v=1658308503","width":800},{"alt":null,"id":26889864609946,"position":6,"preview_image":{"aspect_ratio":1.0,"height":800,"width":800,"src":"\/\/www.luluwin.co.uk\/cdn\/shop\/products\/3_b2134056-1179-4153-809f-6ecab42d4730.jpg?v=1658308504"},"aspect_ratio":1.0,"height":800,"media_type":"image","src":"\/\/www.luluwin.co.uk\/cdn\/shop\/products\/3_b2134056-1179-4153-809f-6ecab42d4730.jpg?v=1658308504","width":800},{"alt":null,"id":26889864773786,"position":7,"preview_image":{"aspect_ratio":1.0,"height":800,"width":800,"src":"\/\/www.luluwin.co.uk\/cdn\/shop\/products\/4_6034fc5c-1bfb-46d5-8550-f8bfd3610535.jpg?v=1658308507"},"aspect_ratio":1.0,"height":800,"media_type":"image","src":"\/\/www.luluwin.co.uk\/cdn\/shop\/products\/4_6034fc5c-1bfb-46d5-8550-f8bfd3610535.jpg?v=1658308507","width":800},{"alt":null,"id":26889864872090,"position":8,"preview_image":{"aspect_ratio":1.0,"height":800,"width":800,"src":"\/\/www.luluwin.co.uk\/cdn\/shop\/products\/1_7bb5d782-6514-4f6f-88b8-7aa33b0b3c35.jpg?v=1658308509"},"aspect_ratio":1.0,"height":800,"media_type":"image","src":"\/\/www.luluwin.co.uk\/cdn\/shop\/products\/1_7bb5d782-6514-4f6f-88b8-7aa33b0b3c35.jpg?v=1658308509","width":800},{"alt":null,"id":26889865167002,"position":9,"preview_image":{"aspect_ratio":1.0,"height":800,"width":800,"src":"\/\/www.luluwin.co.uk\/cdn\/shop\/products\/6_76635bf3-5485-4080-9196-790006043cd5.jpg?v=1658308511"},"aspect_ratio":1.0,"height":800,"media_type":"image","src":"\/\/www.luluwin.co.uk\/cdn\/shop\/products\/6_76635bf3-5485-4080-9196-790006043cd5.jpg?v=1658308511","width":800},{"alt":null,"id":26889865429146,"position":10,"preview_image":{"aspect_ratio":1.0,"height":800,"width":800,"src":"\/\/www.luluwin.co.uk\/cdn\/shop\/products\/2_602788f7-e3fe-4bba-b342-9b857f3bf321.jpg?v=1658308513"},"aspect_ratio":1.0,"height":800,"media_type":"image","src":"\/\/www.luluwin.co.uk\/cdn\/shop\/products\/2_602788f7-e3fe-4bba-b342-9b857f3bf321.jpg?v=1658308513","width":800},{"alt":null,"id":26889865887898,"position":11,"preview_image":{"aspect_ratio":1.0,"height":800,"width":800,"src":"\/\/www.luluwin.co.uk\/cdn\/shop\/products\/5_33aedf22-9b07-4341-a7cd-60070e93ef01.jpg?v=1658308515"},"aspect_ratio":1.0,"height":800,"media_type":"image","src":"\/\/www.luluwin.co.uk\/cdn\/shop\/products\/5_33aedf22-9b07-4341-a7cd-60070e93ef01.jpg?v=1658308515","width":800},{"alt":null,"id":26889866313882,"position":12,"preview_image":{"aspect_ratio":1.0,"height":800,"width":800,"src":"\/\/www.luluwin.co.uk\/cdn\/shop\/products\/1_fc4f2d8c-d50d-4935-bc01-7b240512572b.jpg?v=1658308517"},"aspect_ratio":1.0,"height":800,"media_type":"image","src":"\/\/www.luluwin.co.uk\/cdn\/shop\/products\/1_fc4f2d8c-d50d-4935-bc01-7b240512572b.jpg?v=1658308517","width":800}],"requires_selling_plan":false,"selling_plan_groups":[],"content":"\u003ch3 data-mce-fragment=\"1\"\u003e\u003cspan style=\"color: #48a4a4;\"\u003eFEATURES\u003c\/span\u003e\u003c\/h3\u003e\n\u003cul data-mce-fragment=\"1\"\u003e\n\u003cli data-mce-fragment=\"1\"\u003e\n\u003cp data-mce-fragment=\"1\"\u003e\u003cspan class=\"a-list-item\" style=\"color: #779448;\" data-mce-fragment=\"1\"\u003e\u003cstrong data-mce-fragment=\"1\"\u003e🍋 Material\u003c\/strong\u003e\u003c\/span\u003e\u003c\/p\u003e\n\u003c\/li\u003e\n\u003c\/ul\u003e\n\u003cp style=\"padding-left: 30px;\"\u003e\u003cspan class=\"a-list-item\" data-mce-fragment=\"1\"\u003eMade of high quality fabric. Breathable, Soft, Comfortable and Lightweight, can be easily dress up or dress down.\u003c\/span\u003e\u003c\/p\u003e\n\u003cul data-mce-fragment=\"1\"\u003e\n\u003cli data-mce-fragment=\"1\"\u003e\n\u003cp data-mce-fragment=\"1\"\u003e\u003cspan class=\"a-list-item\" style=\"color: #779448;\" data-mce-fragment=\"1\"\u003e\u003cstrong data-mce-fragment=\"1\"\u003e🍋 Fashion\u003c\/strong\u003e\u003c\/span\u003e\u003c\/p\u003e\n\u003c\/li\u003e\n\u003c\/ul\u003e\n\u003cp style=\"padding-left: 30px;\"\u003e\u003cspan class=\"a-list-item\" data-mce-fragment=\"1\"\u003e\u003cspan data-mce-fragment=\"1\"\u003eThe shirt flared hem design will make your look more beautiful and chic. Wear this shirt in spring and summer. It is fashionable and comfortable.\u003c\/span\u003e\u003c\/span\u003e\u003c\/p\u003e\n\u003cp\u003e\u003cspan class=\"a-list-item\" data-mce-fragment=\"1\"\u003e\u003cspan data-mce-fragment=\"1\"\u003e\u003cimg alt=\"\" src=\"https:\/\/cdn.shopifycdn.net\/s\/files\/1\/0559\/5224\/4936\/products\/1_fc4f2d8c-d50d-4935-bc01-7b240512572b_480x480.jpg?v=1658128962\" style=\"display: block; margin-left: auto; margin-right: auto;\" width=\"400\" height=\"400\"\u003e\u003c\/span\u003e\u003c\/span\u003e\u003c\/p\u003e\n\u003cul data-mce-fragment=\"1\"\u003e\n\u003cli data-mce-fragment=\"1\"\u003e\n\u003cp data-mce-fragment=\"1\"\u003e\u003cspan class=\"a-list-item\" style=\"color: #779448;\" data-mce-fragment=\"1\"\u003e\u003cstrong data-mce-fragment=\"1\"\u003e🍋 Match\u003c\/strong\u003e \u003c\/span\u003e\u003c\/p\u003e\n\u003c\/li\u003e\n\u003c\/ul\u003e\n\u003cp style=\"padding-left: 30px;\"\u003e\u003cspan class=\"a-list-item\" data-mce-fragment=\"1\"\u003e\u003cspan data-mce-fragment=\"1\"\u003eYou can match it with fashionable high heels or strappy sandals, and match it with your favorite handbag, which is full of charm. \u003c\/span\u003e\u003c\/span\u003e\u003c\/p\u003e\n\u003cul data-mce-fragment=\"1\"\u003e\n\u003cli data-mce-fragment=\"1\"\u003e\n\u003cp data-mce-fragment=\"1\"\u003e\u003cspan class=\"a-list-item\" data-mce-fragment=\"1\"\u003e🍋 \u003c\/span\u003e\u003cspan class=\"a-list-item\" data-mce-fragment=\"1\"\u003e\u003cspan data-mce-fragment=\"1\"\u003e\u003c\/span\u003e\u003c\/span\u003e\u003cspan class=\"a-list-item\" style=\"color: #779448;\" data-mce-fragment=\"1\"\u003e\u003cstrong data-mce-fragment=\"1\"\u003eBest Gift\u003c\/strong\u003e\u003c\/span\u003e\u003c\/p\u003e\n\u003c\/li\u003e\n\u003c\/ul\u003e\n\u003cp style=\"padding-left: 30px;\"\u003e\u003cspan class=\"a-list-item\" data-mce-fragment=\"1\"\u003eIt was a nice gift, for yourself or gift it for mama, daughter, wife, aunt, friend, girlfriend, sister to show your deep love for her.\u003c\/span\u003e\u003c\/p\u003e\n\u003cp\u003e\u003cspan class=\"a-list-item\" data-mce-fragment=\"1\"\u003e\u003cimg alt=\"\" src=\"https:\/\/cdn.shopifycdn.net\/s\/files\/1\/0559\/5224\/4936\/products\/6_76635bf3-5485-4080-9196-790006043cd5_480x480.jpg?v=1658128957\" style=\"display: block; margin-left: auto; margin-right: auto;\" width=\"401\" height=\"401\"\u003e\u003c\/span\u003e\u003c\/p\u003e\n\u003ch3 data-mce-fragment=\"1\"\u003e\u003cspan style=\"color: #48a4a4;\" data-mce-fragment=\"1\"\u003eSPECIFICATIONS\u003c\/span\u003e\u003c\/h3\u003e\n\u003cul data-mce-fragment=\"1\"\u003e\n\u003cli data-mce-fragment=\"1\"\u003e\n\u003cp data-mce-fragment=\"1\"\u003e\u003cstrong data-mce-fragment=\"1\"\u003eItem Type:\u003cspan data-mce-fragment=\"1\"\u003e \u003c\/span\u003e\u003c\/strong\u003eShirt\u003c\/p\u003e\n\u003c\/li\u003e\n\u003cli data-mce-fragment=\"1\"\u003e\n\u003cp\u003e\u003cstrong\u003eMaterial:\u003c\/strong\u003e\u003cspan\u003e \u003c\/span\u003eCotton, Linen\u003c\/p\u003e\n\u003c\/li\u003e\n\u003cli data-mce-fragment=\"1\"\u003e\n\u003cp data-mce-fragment=\"1\"\u003e\u003cstrong data-mce-fragment=\"1\"\u003eOccasion: \u003c\/strong\u003eBeach, Holiday, Daily\u003c\/p\u003e\n\u003c\/li\u003e\n\u003cli data-mce-fragment=\"1\"\u003e\n\u003cp data-mce-fragment=\"1\"\u003e\u003cstrong data-mce-fragment=\"1\"\u003eStyle: \u003c\/strong\u003eCasual\u003c\/p\u003e\n\u003c\/li\u003e\n\u003cli data-mce-fragment=\"1\"\u003e\n\u003cp data-mce-fragment=\"1\"\u003e\u003cstrong data-mce-fragment=\"1\"\u003eGender: \u003c\/strong\u003eFemale\u003c\/p\u003e\n\u003c\/li\u003e\n\u003cli data-mce-fragment=\"1\"\u003e\n\u003cp data-mce-fragment=\"1\"\u003e\u003cstrong data-mce-fragment=\"1\"\u003eSeason: \u003c\/strong\u003eSummer\u003c\/p\u003e\n\u003c\/li\u003e\n\u003cli data-mce-fragment=\"1\"\u003e\n\u003cp data-mce-fragment=\"1\"\u003e\u003cstrong data-mce-fragment=\"1\"\u003eColor:\u003cspan data-mce-fragment=\"1\"\u003e \u003c\/span\u003e\u003c\/strong\u003e\u003cspan class=\"Polaris-Badge_2qgie\" data-mce-fragment=\"1\"\u003eWhite, \u003c\/span\u003e\u003cspan class=\"Polaris-Badge_2qgie\" data-mce-fragment=\"1\"\u003eBlack, \u003c\/span\u003e\u003cspan class=\"Polaris-Badge_2qgie\" data-mce-fragment=\"1\"\u003eBeige, \u003c\/span\u003e\u003cspan class=\"Polaris-Badge_2qgie\" data-mce-fragment=\"1\"\u003eBlue, \u003c\/span\u003e\u003cspan class=\"Polaris-Badge_2qgie\" data-mce-fragment=\"1\"\u003ePink, \u003c\/span\u003e\u003cspan class=\"Polaris-Badge_2qgie\" data-mce-fragment=\"1\"\u003eGrey, \u003c\/span\u003e\u003cspan class=\"Polaris-Badge_2qgie\" data-mce-fragment=\"1\"\u003eGreen, \u003c\/span\u003e\u003cspan class=\"Polaris-Badge_2qgie\" data-mce-fragment=\"1\"\u003eLight Blue\u003c\/span\u003e\u003c\/p\u003e\n\u003c\/li\u003e\n\u003cli data-mce-fragment=\"1\"\u003e\n\u003cp data-mce-fragment=\"1\"\u003e\u003cstrong data-mce-fragment=\"1\"\u003eSize(cm\/inch):\u003c\/strong\u003e\u003cspan data-mce-fragment=\"1\"\u003e \u003c\/span\u003e\u003c\/p\u003e\n\u003c\/li\u003e\n\u003c\/ul\u003e\n\u003cp style=\"text-align: center;\"\u003e \u003cimg alt=\"\" src=\"https:\/\/cdn.shopifycdn.net\/s\/files\/1\/0356\/3048\/1544\/files\/6_37826cec-0010-4acd-b724-8b7951cf5cf2_480x480.png?v=1658127151\" data-mce-src=\"https:\/\/cdn.shopifycdn.net\/s\/files\/1\/0356\/3048\/1544\/files\/6_37826cec-0010-4acd-b724-8b7951cf5cf2_480x480.png?v=1658127151\" data-mce-fragment=\"1\"\u003e\u003c\/p\u003e\n\u003ch3 data-mce-fragment=\"1\"\u003e\u003cspan style=\"color: #48a4a4;\" data-mce-fragment=\"1\"\u003ePACKAGE\u003c\/span\u003e\u003c\/h3\u003e\n\u003cul data-mce-fragment=\"1\"\u003e\n\u003cli data-mce-fragment=\"1\"\u003e1* Women's Solid Color Pocket Short Sleeve Cotton Linen Shirt\u003c\/li\u003e\n\u003c\/ul\u003e\n\u003ch3 data-mce-fragment=\"1\"\u003e\u003cspan style=\"color: #48a4a4;\" data-mce-fragment=\"1\"\u003e\u003cstrong data-mce-fragment=\"1\"\u003eNOTES\u003c\/strong\u003e\u003c\/span\u003e\u003c\/h3\u003e\n\u003cul data-mce-fragment=\"1\"\u003e\n\u003cli data-mce-fragment=\"1\"\u003e\n\u003cp data-mce-fragment=\"1\"\u003e\u003cstrong\u003ePlease allow slight measurement deviations due to manual measurement.\u003c\/strong\u003e\u003c\/p\u003e\n\u003c\/li\u003e\n\u003cli data-mce-fragment=\"1\"\u003e\n\u003cp data-mce-fragment=\"1\"\u003e\u003cstrong\u003eDue to the different monitor and light effect, the actual color of the item might be slightly different from the color showed in the pictures.\u003c\/strong\u003e\u003c\/p\u003e\n\u003c\/li\u003e\n\u003c\/ul\u003e"}
Women's Solid Color Pocket Short Sleeve Cotton Linen Shirt
Adding product to your cart
FEATURES
Made of high quality fabric. Breathable, Soft, Comfortable and Lightweight, can be easily dress up or dress down.
The shirt flared hem design will make your look more beautiful and chic. Wear this shirt in spring and summer. It is fashionable and comfortable.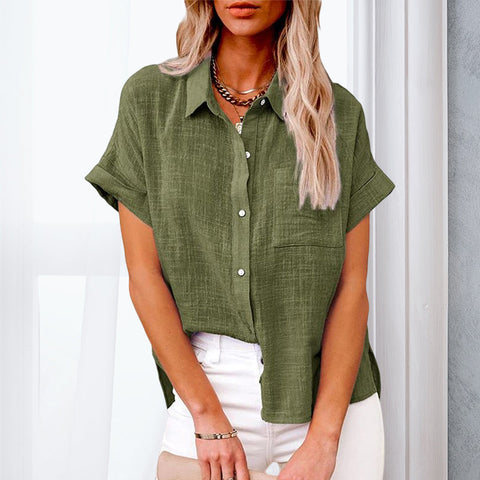 You can match it with fashionable high heels or strappy sandals, and match it with your favorite handbag, which is full of charm.
It was a nice gift, for yourself or gift it for mama, daughter, wife, aunt, friend, girlfriend, sister to show your deep love for her.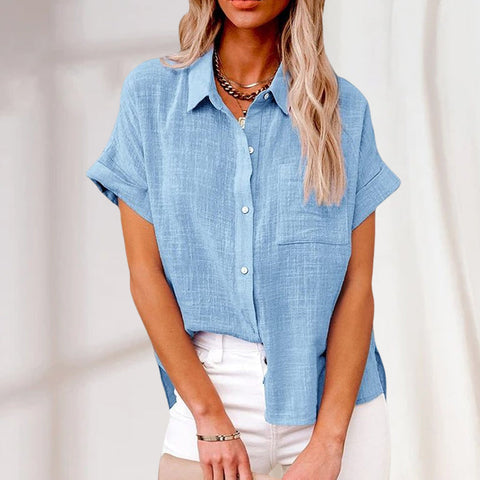 SPECIFICATIONS
Item Type: Shirt

Material: Cotton, Linen

Occasion: Beach, Holiday, Daily

Style: Casual

Gender: Female

Season: Summer

Color: White, Black, Beige, Blue, Pink, Grey, Green, Light Blue

Size(cm/inch):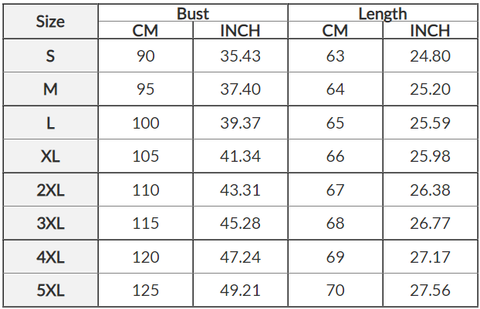 PACKAGE
1* Women's Solid Color Pocket Short Sleeve Cotton Linen Shirt
NOTES
Please allow slight measurement deviations due to manual measurement.

Due to the different monitor and light effect, the actual color of the item might be slightly different from the color showed in the pictures.