{"id":7729049993370,"title":"Women's Flat Sandals","handle":"womens-flat-sandals","description":"\u003ch4 style=\"text-align: center;\"\u003e\u003cstrong\u003e😽 😼\u003c\/strong\u003e\u003c\/h4\u003e\n\u003ch4 style=\"text-align: center;\"\u003e\n\u003cspan style=\"color: #b2671c;\"\u003e\u003cstrong\u003eTHESE SANDALS DON'T JUST LOOK AMAZING! THEY ALSO PROVIDE SUPPORT FOR YOUR FEET!\u003c\/strong\u003e\u003c\/span\u003e\u003cbr\u003e\u003cspan style=\"color: #dba46c;\"\u003e\u003cstrong\u003eThe pretty, vintage-looking lady sandals that provide good arch support.\u003c\/strong\u003e\u003c\/span\u003e\n\u003c\/h4\u003e\n\u003ch4 style=\"text-align: left;\"\u003e\n\u003cimg src=\"https:\/\/cdn.shopifycdn.net\/s\/files\/1\/0040\/2728\/5539\/files\/960d31dc159bd21df3667ad762458aeb_a5de7bba-c1b8-4baa-a761-88c970b4058d_480x480.png?v=1678087607\" alt=\"\" style=\"display: block; margin-left: auto; margin-right: auto;\" data-mce-fragment=\"1\" data-mce-src=\"https:\/\/cdn.shopifycdn.net\/s\/files\/1\/0040\/2728\/5539\/files\/960d31dc159bd21df3667ad762458aeb_a5de7bba-c1b8-4baa-a761-88c970b4058d_480x480.png?v=1678087607\" width=\"447\" height=\"447\"\u003e\u003cbr\u003e\u003cspan style=\"color: #b2671c;\"\u003e\u003cstrong\u003eFEATURE:\u003c\/strong\u003e\u003c\/span\u003e\u003cbr\u003e\n\u003c\/h4\u003e\n\u003cul\u003e\n\u003cli\u003e👍\u003cspan style=\"color: #dba46c;\"\u003e\u003cstrong\u003e【Massage Function Footbed】\u003c\/strong\u003e\u003c\/span\u003eWedge sandals for women with cushion, help for shock absorbing and cushion, promote blood circulation, good for health.\u003c\/li\u003e\n\u003c\/ul\u003e\n\u003ch4 style=\"text-align: left;\" data-mce-style=\"text-align: left;\"\u003e\u003cimg src=\"https:\/\/cdn.shopify.com\/s\/files\/1\/0040\/2728\/5539\/files\/25077fec3f5a36d6c14320a31e3d12bc_480x480.gif?v=1678086819\" alt=\"\" style=\"display: block; margin-left: auto; margin-right: auto;\" data-mce-fragment=\"1\" data-mce-src=\"https:\/\/cdn.shopify.com\/s\/files\/1\/0040\/2728\/5539\/files\/25077fec3f5a36d6c14320a31e3d12bc_480x480.gif?v=1678086819\" data-mce-style=\"display: block; margin-left: auto; margin-right: auto;\" data-mce-selected=\"1\" width=\"445\" height=\"250\"\u003e\u003c\/h4\u003e\n\u003cul\u003e\n\u003cli\u003e👍\u003cspan style=\"color: #dba46c;\"\u003e\u003cstrong\u003e【Arch Support Design】\u003c\/strong\u003e\u003c\/span\u003eWedges for women with arch support design perfectly fit the feet, are comfortable and not tired, and can be worn all day. Women's Wedges are easy to put on and take off.\u003c\/li\u003e\n\u003c\/ul\u003e\n\u003cp\u003e\u003cimg style=\"display: block; margin-left: auto; margin-right: auto;\" alt=\"\" src=\"https:\/\/cdn.shopify.com\/s\/files\/1\/0040\/2728\/5539\/files\/c297e18129d4b5831451ac6222c65f6e_480x480.gif?v=1678086847\" data-mce-src=\"https:\/\/cdn.shopify.com\/s\/files\/1\/0040\/2728\/5539\/files\/c297e18129d4b5831451ac6222c65f6e_480x480.gif?v=1678086847\" data-mce-selected=\"1\" width=\"444\" height=\"250\"\u003e\u003c\/p\u003e\n\u003cul\u003e\n\u003cli\u003e👍\u003cspan style=\"color: #dba46c;\"\u003e\u003cstrong\u003e【 Non-Slip Rubber Outsole】\u003c\/strong\u003e\u003c\/span\u003eWedge sandals for women have a durable non-slip rubber sole, soft synthetic upper and breathable lining.\u003c\/li\u003e\n\u003c\/ul\u003e\n\u003cul\u003e\n\u003cli\u003e👍\u003cspan style=\"color: #dba46c;\"\u003e\u003cstrong\u003e【Lightweight and comfortable】\u003c\/strong\u003e\u003c\/span\u003eWe intend to make it soft and comfortable with a unique platform and wedge design. It will support any foot pain when standing or walking for a long time.\u003c\/li\u003e\n\u003c\/ul\u003e\n\u003cp\u003e\u003cimg alt=\"\" src=\"https:\/\/cdn.shopifycdn.net\/s\/files\/1\/0040\/2728\/5539\/files\/1_c0ba52b5-ee18-464b-924d-5cee6bae983b_480x480.png?v=1678087627\" style=\"display: block; margin-left: auto; margin-right: auto;\" width=\"443\" height=\"443\"\u003e\u003c\/p\u003e\n\u003cul\u003e\n\u003cli\u003e👍\u003cspan style=\"color: #dba46c;\"\u003e\u003cstrong\u003e【Easy to adjust】\u003c\/strong\u003e\u003c\/span\u003eThe strap will fit your feet and prevent problems that are too tight or too loose. Sometimes your feet may slip out of the sandals, but this time, our sturdy leather buckle straps can hold your feet in the sandals, and this will never happen again.\u003c\/li\u003e\n\u003c\/ul\u003e\n\u003cp\u003e\u003cimg alt=\"\" src=\"https:\/\/cdn.shopifycdn.net\/s\/files\/1\/0040\/2728\/5539\/files\/8_e23d6387-2733-4115-bfb8-ee353f9949c3_480x480.png?v=1678087642\" style=\"display: block; margin-left: auto; margin-right: auto;\" width=\"445\" height=\"445\"\u003e\u003c\/p\u003e\n\u003cul\u003e\n\u003cli\u003e👍\u003cspan style=\"color: #dba46c;\"\u003e\u003cstrong\u003e【Elegant and stylish】\u003c\/strong\u003e\u003c\/span\u003eIn addition to the benefits we mentioned above, our goal is to design a stylish appearance and add a little taste to your wardrobe. This sandal has a classic retro feel. The round toe design can cover the toes without causing any pain.\u003c\/li\u003e\n\u003c\/ul\u003e\n\u003ch4\u003e\n\u003cbr\u003e\u003cspan style=\"color: #b2671c;\"\u003e\u003cstrong\u003eSPECIFICATION:\u003c\/strong\u003e\u003c\/span\u003e\u003cbr\u003e\n\u003c\/h4\u003e\n\u003cul\u003e\n\u003cli\u003e\n\u003cstrong\u003eMaterial:\u003c\/strong\u003e PU\u003cbr\u003e\n\u003c\/li\u003e\n\u003cli\u003e\n\u003cstrong\u003eColor:\u003c\/strong\u003e \u003cspan class=\"HwtZe\" jsname=\"jqKxS\" jsaction=\"mouseup:Sxi9L,BR6jm; mousedown:qjlr0e\" data-mce-fragment=\"1\" lang=\"en\"\u003e\u003cspan class=\"jCAhz ChMk0b\" jscontroller=\"Gn4SMb\" jsname=\"txFAF\" jsaction=\"agoMJf:PFBcW;MZfLnc:P7O7bd;nt4Alf:pvnm0e,pfE8Hb,PFBcW;B01qod:dJXsye;H1e5u:iXtTIf;lYIUJf:hij5Wb;bmeZHc:iURhpf;Oxj3Xe:qAKMYb,yaf12d\" data-mce-fragment=\"1\"\u003e\u003cspan class=\"ryNqvb\" jsname=\"W297wb\" jsaction=\"click:E6Tfl,GFf3ac,tMZCfe; contextmenu:Nqw7Te,QP7LD; mouseout:Nqw7Te; mouseover:E6Tfl,c2aHje\" data-mce-fragment=\"1\"\u003ered, black, gold, brown, white\u003c\/span\u003e\u003c\/span\u003e\u003c\/span\u003e\u003cbr\u003e\n\u003c\/li\u003e\n\u003cli\u003e\u003cstrong\u003eSize:\u003c\/strong\u003e\u003c\/li\u003e\n\u003c\/ul\u003e\n\u003ch4\u003e\n\u003cimg src=\"https:\/\/cdn.shopify.com\/s\/files\/1\/0040\/2728\/5539\/files\/O1CN01zWi6DS1U7J0xjf1oX__3896672470-0-cib_dd4aa95b-6271-43f8-874f-aeed3ae21582_480x480.jpg?v=1678087032\" alt=\"\" style=\"display: block; margin-left: auto; margin-right: auto;\" data-mce-fragment=\"1\" data-mce-src=\"https:\/\/cdn.shopify.com\/s\/files\/1\/0040\/2728\/5539\/files\/O1CN01zWi6DS1U7J0xjf1oX__3896672470-0-cib_dd4aa95b-6271-43f8-874f-aeed3ae21582_480x480.jpg?v=1678087032\"\u003e\u003cbr\u003e\u003cspan style=\"color: #b2671c;\"\u003e\u003cstrong\u003ePACKAGE INCLUDES:\u003c\/strong\u003e\u003c\/span\u003e\u003cbr\u003e\n\u003c\/h4\u003e\n\u003cul\u003e\n\u003cli\u003e1 Pair × Women's Flat Sandals\u003c\/li\u003e\n\u003c\/ul\u003e","published_at":"2023-03-06T02:22:53-06:00","created_at":"2023-03-06T02:23:09-06:00","vendor":"luluwin","type":"","tags":["casual shoes","shoes"],"price":1999,"price_min":1999,"price_max":1999,"available":true,"price_varies":false,"compare_at_price":3999,"compare_at_price_min":3999,"compare_at_price_max":3999,"compare_at_price_varies":false,"variants":[{"id":43385836372122,"title":"red \/ 35","option1":"red","option2":"35","option3":null,"sku":"SH46078-C002-S035","requires_shipping":true,"taxable":false,"featured_image":{"id":36549031624858,"product_id":7729049993370,"position":15,"created_at":"2023-03-06T02:23:24-06:00","updated_at":"2023-03-06T02:23:24-06:00","alt":null,"width":800,"height":800,"src":"\/\/www.luluwin.co.uk\/cdn\/shop\/products\/2_5f08ecf6-9063-416b-9abb-c7b304cad6fd.png?v=1678091004","variant_ids":[43385836372122,43385836404890,43385836437658,43385836470426,43385836503194,43385836535962,43385836568730,43385836601498,43385836634266]},"available":true,"name":"Women's Flat Sandals - red \/ 35","public_title":"red \/ 35","options":["red","35"],"price":1999,"weight":0,"compare_at_price":3999,"inventory_management":null,"barcode":null,"featured_media":{"alt":null,"id":29045893890202,"position":15,"preview_image":{"aspect_ratio":1.0,"height":800,"width":800,"src":"\/\/www.luluwin.co.uk\/cdn\/shop\/products\/2_5f08ecf6-9063-416b-9abb-c7b304cad6fd.png?v=1678091004"}},"requires_selling_plan":false,"selling_plan_allocations":[]},{"id":43385836404890,"title":"red \/ 36","option1":"red","option2":"36","option3":null,"sku":"SH46078-C002-S036","requires_shipping":true,"taxable":false,"featured_image":{"id":36549031624858,"product_id":7729049993370,"position":15,"created_at":"2023-03-06T02:23:24-06:00","updated_at":"2023-03-06T02:23:24-06:00","alt":null,"width":800,"height":800,"src":"\/\/www.luluwin.co.uk\/cdn\/shop\/products\/2_5f08ecf6-9063-416b-9abb-c7b304cad6fd.png?v=1678091004","variant_ids":[43385836372122,43385836404890,43385836437658,43385836470426,43385836503194,43385836535962,43385836568730,43385836601498,43385836634266]},"available":true,"name":"Women's Flat Sandals - red \/ 36","public_title":"red \/ 36","options":["red","36"],"price":1999,"weight":0,"compare_at_price":3999,"inventory_management":null,"barcode":null,"featured_media":{"alt":null,"id":29045893890202,"position":15,"preview_image":{"aspect_ratio":1.0,"height":800,"width":800,"src":"\/\/www.luluwin.co.uk\/cdn\/shop\/products\/2_5f08ecf6-9063-416b-9abb-c7b304cad6fd.png?v=1678091004"}},"requires_selling_plan":false,"selling_plan_allocations":[]},{"id":43385836437658,"title":"red \/ 37","option1":"red","option2":"37","option3":null,"sku":"SH46078-C002-S037","requires_shipping":true,"taxable":false,"featured_image":{"id":36549031624858,"product_id":7729049993370,"position":15,"created_at":"2023-03-06T02:23:24-06:00","updated_at":"2023-03-06T02:23:24-06:00","alt":null,"width":800,"height":800,"src":"\/\/www.luluwin.co.uk\/cdn\/shop\/products\/2_5f08ecf6-9063-416b-9abb-c7b304cad6fd.png?v=1678091004","variant_ids":[43385836372122,43385836404890,43385836437658,43385836470426,43385836503194,43385836535962,43385836568730,43385836601498,43385836634266]},"available":true,"name":"Women's Flat Sandals - red \/ 37","public_title":"red \/ 37","options":["red","37"],"price":1999,"weight":0,"compare_at_price":3999,"inventory_management":null,"barcode":null,"featured_media":{"alt":null,"id":29045893890202,"position":15,"preview_image":{"aspect_ratio":1.0,"height":800,"width":800,"src":"\/\/www.luluwin.co.uk\/cdn\/shop\/products\/2_5f08ecf6-9063-416b-9abb-c7b304cad6fd.png?v=1678091004"}},"requires_selling_plan":false,"selling_plan_allocations":[]},{"id":43385836470426,"title":"red \/ 38","option1":"red","option2":"38","option3":null,"sku":"SH46078-C002-S038","requires_shipping":true,"taxable":false,"featured_image":{"id":36549031624858,"product_id":7729049993370,"position":15,"created_at":"2023-03-06T02:23:24-06:00","updated_at":"2023-03-06T02:23:24-06:00","alt":null,"width":800,"height":800,"src":"\/\/www.luluwin.co.uk\/cdn\/shop\/products\/2_5f08ecf6-9063-416b-9abb-c7b304cad6fd.png?v=1678091004","variant_ids":[43385836372122,43385836404890,43385836437658,43385836470426,43385836503194,43385836535962,43385836568730,43385836601498,43385836634266]},"available":true,"name":"Women's Flat Sandals - red \/ 38","public_title":"red \/ 38","options":["red","38"],"price":1999,"weight":0,"compare_at_price":3999,"inventory_management":null,"barcode":null,"featured_media":{"alt":null,"id":29045893890202,"position":15,"preview_image":{"aspect_ratio":1.0,"height":800,"width":800,"src":"\/\/www.luluwin.co.uk\/cdn\/shop\/products\/2_5f08ecf6-9063-416b-9abb-c7b304cad6fd.png?v=1678091004"}},"requires_selling_plan":false,"selling_plan_allocations":[]},{"id":43385836503194,"title":"red \/ 39","option1":"red","option2":"39","option3":null,"sku":"SH46078-C002-S039","requires_shipping":true,"taxable":false,"featured_image":{"id":36549031624858,"product_id":7729049993370,"position":15,"created_at":"2023-03-06T02:23:24-06:00","updated_at":"2023-03-06T02:23:24-06:00","alt":null,"width":800,"height":800,"src":"\/\/www.luluwin.co.uk\/cdn\/shop\/products\/2_5f08ecf6-9063-416b-9abb-c7b304cad6fd.png?v=1678091004","variant_ids":[43385836372122,43385836404890,43385836437658,43385836470426,43385836503194,43385836535962,43385836568730,43385836601498,43385836634266]},"available":true,"name":"Women's Flat Sandals - red \/ 39","public_title":"red \/ 39","options":["red","39"],"price":1999,"weight":0,"compare_at_price":3999,"inventory_management":null,"barcode":null,"featured_media":{"alt":null,"id":29045893890202,"position":15,"preview_image":{"aspect_ratio":1.0,"height":800,"width":800,"src":"\/\/www.luluwin.co.uk\/cdn\/shop\/products\/2_5f08ecf6-9063-416b-9abb-c7b304cad6fd.png?v=1678091004"}},"requires_selling_plan":false,"selling_plan_allocations":[]},{"id":43385836535962,"title":"red \/ 40","option1":"red","option2":"40","option3":null,"sku":"SH46078-C002-S040","requires_shipping":true,"taxable":false,"featured_image":{"id":36549031624858,"product_id":7729049993370,"position":15,"created_at":"2023-03-06T02:23:24-06:00","updated_at":"2023-03-06T02:23:24-06:00","alt":null,"width":800,"height":800,"src":"\/\/www.luluwin.co.uk\/cdn\/shop\/products\/2_5f08ecf6-9063-416b-9abb-c7b304cad6fd.png?v=1678091004","variant_ids":[43385836372122,43385836404890,43385836437658,43385836470426,43385836503194,43385836535962,43385836568730,43385836601498,43385836634266]},"available":true,"name":"Women's Flat Sandals - red \/ 40","public_title":"red \/ 40","options":["red","40"],"price":1999,"weight":0,"compare_at_price":3999,"inventory_management":null,"barcode":null,"featured_media":{"alt":null,"id":29045893890202,"position":15,"preview_image":{"aspect_ratio":1.0,"height":800,"width":800,"src":"\/\/www.luluwin.co.uk\/cdn\/shop\/products\/2_5f08ecf6-9063-416b-9abb-c7b304cad6fd.png?v=1678091004"}},"requires_selling_plan":false,"selling_plan_allocations":[]},{"id":43385836568730,"title":"red \/ 41","option1":"red","option2":"41","option3":null,"sku":"SH46078-C002-S041","requires_shipping":true,"taxable":false,"featured_image":{"id":36549031624858,"product_id":7729049993370,"position":15,"created_at":"2023-03-06T02:23:24-06:00","updated_at":"2023-03-06T02:23:24-06:00","alt":null,"width":800,"height":800,"src":"\/\/www.luluwin.co.uk\/cdn\/shop\/products\/2_5f08ecf6-9063-416b-9abb-c7b304cad6fd.png?v=1678091004","variant_ids":[43385836372122,43385836404890,43385836437658,43385836470426,43385836503194,43385836535962,43385836568730,43385836601498,43385836634266]},"available":true,"name":"Women's Flat Sandals - red \/ 41","public_title":"red \/ 41","options":["red","41"],"price":1999,"weight":0,"compare_at_price":3999,"inventory_management":null,"barcode":null,"featured_media":{"alt":null,"id":29045893890202,"position":15,"preview_image":{"aspect_ratio":1.0,"height":800,"width":800,"src":"\/\/www.luluwin.co.uk\/cdn\/shop\/products\/2_5f08ecf6-9063-416b-9abb-c7b304cad6fd.png?v=1678091004"}},"requires_selling_plan":false,"selling_plan_allocations":[]},{"id":43385836601498,"title":"red \/ 42","option1":"red","option2":"42","option3":null,"sku":"SH46078-C002-S042","requires_shipping":true,"taxable":false,"featured_image":{"id":36549031624858,"product_id":7729049993370,"position":15,"created_at":"2023-03-06T02:23:24-06:00","updated_at":"2023-03-06T02:23:24-06:00","alt":null,"width":800,"height":800,"src":"\/\/www.luluwin.co.uk\/cdn\/shop\/products\/2_5f08ecf6-9063-416b-9abb-c7b304cad6fd.png?v=1678091004","variant_ids":[43385836372122,43385836404890,43385836437658,43385836470426,43385836503194,43385836535962,43385836568730,43385836601498,43385836634266]},"available":true,"name":"Women's Flat Sandals - red \/ 42","public_title":"red \/ 42","options":["red","42"],"price":1999,"weight":0,"compare_at_price":3999,"inventory_management":null,"barcode":null,"featured_media":{"alt":null,"id":29045893890202,"position":15,"preview_image":{"aspect_ratio":1.0,"height":800,"width":800,"src":"\/\/www.luluwin.co.uk\/cdn\/shop\/products\/2_5f08ecf6-9063-416b-9abb-c7b304cad6fd.png?v=1678091004"}},"requires_selling_plan":false,"selling_plan_allocations":[]},{"id":43385836634266,"title":"red \/ 43","option1":"red","option2":"43","option3":null,"sku":"SH46078-C002-S043","requires_shipping":true,"taxable":false,"featured_image":{"id":36549031624858,"product_id":7729049993370,"position":15,"created_at":"2023-03-06T02:23:24-06:00","updated_at":"2023-03-06T02:23:24-06:00","alt":null,"width":800,"height":800,"src":"\/\/www.luluwin.co.uk\/cdn\/shop\/products\/2_5f08ecf6-9063-416b-9abb-c7b304cad6fd.png?v=1678091004","variant_ids":[43385836372122,43385836404890,43385836437658,43385836470426,43385836503194,43385836535962,43385836568730,43385836601498,43385836634266]},"available":true,"name":"Women's Flat Sandals - red \/ 43","public_title":"red \/ 43","options":["red","43"],"price":1999,"weight":0,"compare_at_price":3999,"inventory_management":null,"barcode":null,"featured_media":{"alt":null,"id":29045893890202,"position":15,"preview_image":{"aspect_ratio":1.0,"height":800,"width":800,"src":"\/\/www.luluwin.co.uk\/cdn\/shop\/products\/2_5f08ecf6-9063-416b-9abb-c7b304cad6fd.png?v=1678091004"}},"requires_selling_plan":false,"selling_plan_allocations":[]},{"id":43385836699802,"title":"black \/ 35","option1":"black","option2":"35","option3":null,"sku":"SH46078-C001-S035","requires_shipping":true,"taxable":false,"featured_image":{"id":36549031231642,"product_id":7729049993370,"position":14,"created_at":"2023-03-06T02:23:21-06:00","updated_at":"2023-03-06T02:23:21-06:00","alt":null,"width":800,"height":800,"src":"\/\/www.luluwin.co.uk\/cdn\/shop\/products\/3_0fc93d02-43ef-46cc-92f0-4135c2a588e2.png?v=1678091001","variant_ids":[43385836699802,43385836732570,43385836765338,43385836798106,43385836830874,43385836863642,43385836896410,43385836929178,43385836961946]},"available":true,"name":"Women's Flat Sandals - black \/ 35","public_title":"black \/ 35","options":["black","35"],"price":1999,"weight":0,"compare_at_price":3999,"inventory_management":null,"barcode":null,"featured_media":{"alt":null,"id":29045893431450,"position":14,"preview_image":{"aspect_ratio":1.0,"height":800,"width":800,"src":"\/\/www.luluwin.co.uk\/cdn\/shop\/products\/3_0fc93d02-43ef-46cc-92f0-4135c2a588e2.png?v=1678091001"}},"requires_selling_plan":false,"selling_plan_allocations":[]},{"id":43385836732570,"title":"black \/ 36","option1":"black","option2":"36","option3":null,"sku":"SH46078-C001-S036","requires_shipping":true,"taxable":false,"featured_image":{"id":36549031231642,"product_id":7729049993370,"position":14,"created_at":"2023-03-06T02:23:21-06:00","updated_at":"2023-03-06T02:23:21-06:00","alt":null,"width":800,"height":800,"src":"\/\/www.luluwin.co.uk\/cdn\/shop\/products\/3_0fc93d02-43ef-46cc-92f0-4135c2a588e2.png?v=1678091001","variant_ids":[43385836699802,43385836732570,43385836765338,43385836798106,43385836830874,43385836863642,43385836896410,43385836929178,43385836961946]},"available":true,"name":"Women's Flat Sandals - black \/ 36","public_title":"black \/ 36","options":["black","36"],"price":1999,"weight":0,"compare_at_price":3999,"inventory_management":null,"barcode":null,"featured_media":{"alt":null,"id":29045893431450,"position":14,"preview_image":{"aspect_ratio":1.0,"height":800,"width":800,"src":"\/\/www.luluwin.co.uk\/cdn\/shop\/products\/3_0fc93d02-43ef-46cc-92f0-4135c2a588e2.png?v=1678091001"}},"requires_selling_plan":false,"selling_plan_allocations":[]},{"id":43385836765338,"title":"black \/ 37","option1":"black","option2":"37","option3":null,"sku":"SH46078-C001-S037","requires_shipping":true,"taxable":false,"featured_image":{"id":36549031231642,"product_id":7729049993370,"position":14,"created_at":"2023-03-06T02:23:21-06:00","updated_at":"2023-03-06T02:23:21-06:00","alt":null,"width":800,"height":800,"src":"\/\/www.luluwin.co.uk\/cdn\/shop\/products\/3_0fc93d02-43ef-46cc-92f0-4135c2a588e2.png?v=1678091001","variant_ids":[43385836699802,43385836732570,43385836765338,43385836798106,43385836830874,43385836863642,43385836896410,43385836929178,43385836961946]},"available":true,"name":"Women's Flat Sandals - black \/ 37","public_title":"black \/ 37","options":["black","37"],"price":1999,"weight":0,"compare_at_price":3999,"inventory_management":null,"barcode":null,"featured_media":{"alt":null,"id":29045893431450,"position":14,"preview_image":{"aspect_ratio":1.0,"height":800,"width":800,"src":"\/\/www.luluwin.co.uk\/cdn\/shop\/products\/3_0fc93d02-43ef-46cc-92f0-4135c2a588e2.png?v=1678091001"}},"requires_selling_plan":false,"selling_plan_allocations":[]},{"id":43385836798106,"title":"black \/ 38","option1":"black","option2":"38","option3":null,"sku":"SH46078-C001-S038","requires_shipping":true,"taxable":false,"featured_image":{"id":36549031231642,"product_id":7729049993370,"position":14,"created_at":"2023-03-06T02:23:21-06:00","updated_at":"2023-03-06T02:23:21-06:00","alt":null,"width":800,"height":800,"src":"\/\/www.luluwin.co.uk\/cdn\/shop\/products\/3_0fc93d02-43ef-46cc-92f0-4135c2a588e2.png?v=1678091001","variant_ids":[43385836699802,43385836732570,43385836765338,43385836798106,43385836830874,43385836863642,43385836896410,43385836929178,43385836961946]},"available":true,"name":"Women's Flat Sandals - black \/ 38","public_title":"black \/ 38","options":["black","38"],"price":1999,"weight":0,"compare_at_price":3999,"inventory_management":null,"barcode":null,"featured_media":{"alt":null,"id":29045893431450,"position":14,"preview_image":{"aspect_ratio":1.0,"height":800,"width":800,"src":"\/\/www.luluwin.co.uk\/cdn\/shop\/products\/3_0fc93d02-43ef-46cc-92f0-4135c2a588e2.png?v=1678091001"}},"requires_selling_plan":false,"selling_plan_allocations":[]},{"id":43385836830874,"title":"black \/ 39","option1":"black","option2":"39","option3":null,"sku":"SH46078-C001-S039","requires_shipping":true,"taxable":false,"featured_image":{"id":36549031231642,"product_id":7729049993370,"position":14,"created_at":"2023-03-06T02:23:21-06:00","updated_at":"2023-03-06T02:23:21-06:00","alt":null,"width":800,"height":800,"src":"\/\/www.luluwin.co.uk\/cdn\/shop\/products\/3_0fc93d02-43ef-46cc-92f0-4135c2a588e2.png?v=1678091001","variant_ids":[43385836699802,43385836732570,43385836765338,43385836798106,43385836830874,43385836863642,43385836896410,43385836929178,43385836961946]},"available":true,"name":"Women's Flat Sandals - black \/ 39","public_title":"black \/ 39","options":["black","39"],"price":1999,"weight":0,"compare_at_price":3999,"inventory_management":null,"barcode":null,"featured_media":{"alt":null,"id":29045893431450,"position":14,"preview_image":{"aspect_ratio":1.0,"height":800,"width":800,"src":"\/\/www.luluwin.co.uk\/cdn\/shop\/products\/3_0fc93d02-43ef-46cc-92f0-4135c2a588e2.png?v=1678091001"}},"requires_selling_plan":false,"selling_plan_allocations":[]},{"id":43385836863642,"title":"black \/ 40","option1":"black","option2":"40","option3":null,"sku":"SH46078-C001-S040","requires_shipping":true,"taxable":false,"featured_image":{"id":36549031231642,"product_id":7729049993370,"position":14,"created_at":"2023-03-06T02:23:21-06:00","updated_at":"2023-03-06T02:23:21-06:00","alt":null,"width":800,"height":800,"src":"\/\/www.luluwin.co.uk\/cdn\/shop\/products\/3_0fc93d02-43ef-46cc-92f0-4135c2a588e2.png?v=1678091001","variant_ids":[43385836699802,43385836732570,43385836765338,43385836798106,43385836830874,43385836863642,43385836896410,43385836929178,43385836961946]},"available":true,"name":"Women's Flat Sandals - black \/ 40","public_title":"black \/ 40","options":["black","40"],"price":1999,"weight":0,"compare_at_price":3999,"inventory_management":null,"barcode":null,"featured_media":{"alt":null,"id":29045893431450,"position":14,"preview_image":{"aspect_ratio":1.0,"height":800,"width":800,"src":"\/\/www.luluwin.co.uk\/cdn\/shop\/products\/3_0fc93d02-43ef-46cc-92f0-4135c2a588e2.png?v=1678091001"}},"requires_selling_plan":false,"selling_plan_allocations":[]},{"id":43385836896410,"title":"black \/ 41","option1":"black","option2":"41","option3":null,"sku":"SH46078-C001-S041","requires_shipping":true,"taxable":false,"featured_image":{"id":36549031231642,"product_id":7729049993370,"position":14,"created_at":"2023-03-06T02:23:21-06:00","updated_at":"2023-03-06T02:23:21-06:00","alt":null,"width":800,"height":800,"src":"\/\/www.luluwin.co.uk\/cdn\/shop\/products\/3_0fc93d02-43ef-46cc-92f0-4135c2a588e2.png?v=1678091001","variant_ids":[43385836699802,43385836732570,43385836765338,43385836798106,43385836830874,43385836863642,43385836896410,43385836929178,43385836961946]},"available":true,"name":"Women's Flat Sandals - black \/ 41","public_title":"black \/ 41","options":["black","41"],"price":1999,"weight":0,"compare_at_price":3999,"inventory_management":null,"barcode":null,"featured_media":{"alt":null,"id":29045893431450,"position":14,"preview_image":{"aspect_ratio":1.0,"height":800,"width":800,"src":"\/\/www.luluwin.co.uk\/cdn\/shop\/products\/3_0fc93d02-43ef-46cc-92f0-4135c2a588e2.png?v=1678091001"}},"requires_selling_plan":false,"selling_plan_allocations":[]},{"id":43385836929178,"title":"black \/ 42","option1":"black","option2":"42","option3":null,"sku":"SH46078-C001-S042","requires_shipping":true,"taxable":false,"featured_image":{"id":36549031231642,"product_id":7729049993370,"position":14,"created_at":"2023-03-06T02:23:21-06:00","updated_at":"2023-03-06T02:23:21-06:00","alt":null,"width":800,"height":800,"src":"\/\/www.luluwin.co.uk\/cdn\/shop\/products\/3_0fc93d02-43ef-46cc-92f0-4135c2a588e2.png?v=1678091001","variant_ids":[43385836699802,43385836732570,43385836765338,43385836798106,43385836830874,43385836863642,43385836896410,43385836929178,43385836961946]},"available":true,"name":"Women's Flat Sandals - black \/ 42","public_title":"black \/ 42","options":["black","42"],"price":1999,"weight":0,"compare_at_price":3999,"inventory_management":null,"barcode":null,"featured_media":{"alt":null,"id":29045893431450,"position":14,"preview_image":{"aspect_ratio":1.0,"height":800,"width":800,"src":"\/\/www.luluwin.co.uk\/cdn\/shop\/products\/3_0fc93d02-43ef-46cc-92f0-4135c2a588e2.png?v=1678091001"}},"requires_selling_plan":false,"selling_plan_allocations":[]},{"id":43385836961946,"title":"black \/ 43","option1":"black","option2":"43","option3":null,"sku":"SH46078-C001-S043","requires_shipping":true,"taxable":false,"featured_image":{"id":36549031231642,"product_id":7729049993370,"position":14,"created_at":"2023-03-06T02:23:21-06:00","updated_at":"2023-03-06T02:23:21-06:00","alt":null,"width":800,"height":800,"src":"\/\/www.luluwin.co.uk\/cdn\/shop\/products\/3_0fc93d02-43ef-46cc-92f0-4135c2a588e2.png?v=1678091001","variant_ids":[43385836699802,43385836732570,43385836765338,43385836798106,43385836830874,43385836863642,43385836896410,43385836929178,43385836961946]},"available":true,"name":"Women's Flat Sandals - black \/ 43","public_title":"black \/ 43","options":["black","43"],"price":1999,"weight":0,"compare_at_price":3999,"inventory_management":null,"barcode":null,"featured_media":{"alt":null,"id":29045893431450,"position":14,"preview_image":{"aspect_ratio":1.0,"height":800,"width":800,"src":"\/\/www.luluwin.co.uk\/cdn\/shop\/products\/3_0fc93d02-43ef-46cc-92f0-4135c2a588e2.png?v=1678091001"}},"requires_selling_plan":false,"selling_plan_allocations":[]},{"id":43385836994714,"title":"gold \/ 35","option1":"gold","option2":"35","option3":null,"sku":"SH46078-C021-S035","requires_shipping":true,"taxable":false,"featured_image":{"id":36549031821466,"product_id":7729049993370,"position":16,"created_at":"2023-03-06T02:23:27-06:00","updated_at":"2023-03-06T02:23:27-06:00","alt":null,"width":800,"height":800,"src":"\/\/www.luluwin.co.uk\/cdn\/shop\/products\/5_907b3564-80e1-4d14-8c48-22e90ac4e0b4.png?v=1678091007","variant_ids":[43385836994714,43385837027482,43385837060250,43385837093018,43385837125786,43385837158554,43385837191322,43385837224090,43385837256858]},"available":true,"name":"Women's Flat Sandals - gold \/ 35","public_title":"gold \/ 35","options":["gold","35"],"price":1999,"weight":0,"compare_at_price":3999,"inventory_management":null,"barcode":null,"featured_media":{"alt":null,"id":29045894054042,"position":16,"preview_image":{"aspect_ratio":1.0,"height":800,"width":800,"src":"\/\/www.luluwin.co.uk\/cdn\/shop\/products\/5_907b3564-80e1-4d14-8c48-22e90ac4e0b4.png?v=1678091007"}},"requires_selling_plan":false,"selling_plan_allocations":[]},{"id":43385837027482,"title":"gold \/ 36","option1":"gold","option2":"36","option3":null,"sku":"SH46078-C021-S036","requires_shipping":true,"taxable":false,"featured_image":{"id":36549031821466,"product_id":7729049993370,"position":16,"created_at":"2023-03-06T02:23:27-06:00","updated_at":"2023-03-06T02:23:27-06:00","alt":null,"width":800,"height":800,"src":"\/\/www.luluwin.co.uk\/cdn\/shop\/products\/5_907b3564-80e1-4d14-8c48-22e90ac4e0b4.png?v=1678091007","variant_ids":[43385836994714,43385837027482,43385837060250,43385837093018,43385837125786,43385837158554,43385837191322,43385837224090,43385837256858]},"available":true,"name":"Women's Flat Sandals - gold \/ 36","public_title":"gold \/ 36","options":["gold","36"],"price":1999,"weight":0,"compare_at_price":3999,"inventory_management":null,"barcode":null,"featured_media":{"alt":null,"id":29045894054042,"position":16,"preview_image":{"aspect_ratio":1.0,"height":800,"width":800,"src":"\/\/www.luluwin.co.uk\/cdn\/shop\/products\/5_907b3564-80e1-4d14-8c48-22e90ac4e0b4.png?v=1678091007"}},"requires_selling_plan":false,"selling_plan_allocations":[]},{"id":43385837060250,"title":"gold \/ 37","option1":"gold","option2":"37","option3":null,"sku":"SH46078-C021-S037","requires_shipping":true,"taxable":false,"featured_image":{"id":36549031821466,"product_id":7729049993370,"position":16,"created_at":"2023-03-06T02:23:27-06:00","updated_at":"2023-03-06T02:23:27-06:00","alt":null,"width":800,"height":800,"src":"\/\/www.luluwin.co.uk\/cdn\/shop\/products\/5_907b3564-80e1-4d14-8c48-22e90ac4e0b4.png?v=1678091007","variant_ids":[43385836994714,43385837027482,43385837060250,43385837093018,43385837125786,43385837158554,43385837191322,43385837224090,43385837256858]},"available":true,"name":"Women's Flat Sandals - gold \/ 37","public_title":"gold \/ 37","options":["gold","37"],"price":1999,"weight":0,"compare_at_price":3999,"inventory_management":null,"barcode":null,"featured_media":{"alt":null,"id":29045894054042,"position":16,"preview_image":{"aspect_ratio":1.0,"height":800,"width":800,"src":"\/\/www.luluwin.co.uk\/cdn\/shop\/products\/5_907b3564-80e1-4d14-8c48-22e90ac4e0b4.png?v=1678091007"}},"requires_selling_plan":false,"selling_plan_allocations":[]},{"id":43385837093018,"title":"gold \/ 38","option1":"gold","option2":"38","option3":null,"sku":"SH46078-C021-S038","requires_shipping":true,"taxable":false,"featured_image":{"id":36549031821466,"product_id":7729049993370,"position":16,"created_at":"2023-03-06T02:23:27-06:00","updated_at":"2023-03-06T02:23:27-06:00","alt":null,"width":800,"height":800,"src":"\/\/www.luluwin.co.uk\/cdn\/shop\/products\/5_907b3564-80e1-4d14-8c48-22e90ac4e0b4.png?v=1678091007","variant_ids":[43385836994714,43385837027482,43385837060250,43385837093018,43385837125786,43385837158554,43385837191322,43385837224090,43385837256858]},"available":true,"name":"Women's Flat Sandals - gold \/ 38","public_title":"gold \/ 38","options":["gold","38"],"price":1999,"weight":0,"compare_at_price":3999,"inventory_management":null,"barcode":null,"featured_media":{"alt":null,"id":29045894054042,"position":16,"preview_image":{"aspect_ratio":1.0,"height":800,"width":800,"src":"\/\/www.luluwin.co.uk\/cdn\/shop\/products\/5_907b3564-80e1-4d14-8c48-22e90ac4e0b4.png?v=1678091007"}},"requires_selling_plan":false,"selling_plan_allocations":[]},{"id":43385837125786,"title":"gold \/ 39","option1":"gold","option2":"39","option3":null,"sku":"SH46078-C021-S039","requires_shipping":true,"taxable":false,"featured_image":{"id":36549031821466,"product_id":7729049993370,"position":16,"created_at":"2023-03-06T02:23:27-06:00","updated_at":"2023-03-06T02:23:27-06:00","alt":null,"width":800,"height":800,"src":"\/\/www.luluwin.co.uk\/cdn\/shop\/products\/5_907b3564-80e1-4d14-8c48-22e90ac4e0b4.png?v=1678091007","variant_ids":[43385836994714,43385837027482,43385837060250,43385837093018,43385837125786,43385837158554,43385837191322,43385837224090,43385837256858]},"available":true,"name":"Women's Flat Sandals - gold \/ 39","public_title":"gold \/ 39","options":["gold","39"],"price":1999,"weight":0,"compare_at_price":3999,"inventory_management":null,"barcode":null,"featured_media":{"alt":null,"id":29045894054042,"position":16,"preview_image":{"aspect_ratio":1.0,"height":800,"width":800,"src":"\/\/www.luluwin.co.uk\/cdn\/shop\/products\/5_907b3564-80e1-4d14-8c48-22e90ac4e0b4.png?v=1678091007"}},"requires_selling_plan":false,"selling_plan_allocations":[]},{"id":43385837158554,"title":"gold \/ 40","option1":"gold","option2":"40","option3":null,"sku":"SH46078-C021-S040","requires_shipping":true,"taxable":false,"featured_image":{"id":36549031821466,"product_id":7729049993370,"position":16,"created_at":"2023-03-06T02:23:27-06:00","updated_at":"2023-03-06T02:23:27-06:00","alt":null,"width":800,"height":800,"src":"\/\/www.luluwin.co.uk\/cdn\/shop\/products\/5_907b3564-80e1-4d14-8c48-22e90ac4e0b4.png?v=1678091007","variant_ids":[43385836994714,43385837027482,43385837060250,43385837093018,43385837125786,43385837158554,43385837191322,43385837224090,43385837256858]},"available":true,"name":"Women's Flat Sandals - gold \/ 40","public_title":"gold \/ 40","options":["gold","40"],"price":1999,"weight":0,"compare_at_price":3999,"inventory_management":null,"barcode":null,"featured_media":{"alt":null,"id":29045894054042,"position":16,"preview_image":{"aspect_ratio":1.0,"height":800,"width":800,"src":"\/\/www.luluwin.co.uk\/cdn\/shop\/products\/5_907b3564-80e1-4d14-8c48-22e90ac4e0b4.png?v=1678091007"}},"requires_selling_plan":false,"selling_plan_allocations":[]},{"id":43385837191322,"title":"gold \/ 41","option1":"gold","option2":"41","option3":null,"sku":"SH46078-C021-S041","requires_shipping":true,"taxable":false,"featured_image":{"id":36549031821466,"product_id":7729049993370,"position":16,"created_at":"2023-03-06T02:23:27-06:00","updated_at":"2023-03-06T02:23:27-06:00","alt":null,"width":800,"height":800,"src":"\/\/www.luluwin.co.uk\/cdn\/shop\/products\/5_907b3564-80e1-4d14-8c48-22e90ac4e0b4.png?v=1678091007","variant_ids":[43385836994714,43385837027482,43385837060250,43385837093018,43385837125786,43385837158554,43385837191322,43385837224090,43385837256858]},"available":true,"name":"Women's Flat Sandals - gold \/ 41","public_title":"gold \/ 41","options":["gold","41"],"price":1999,"weight":0,"compare_at_price":3999,"inventory_management":null,"barcode":null,"featured_media":{"alt":null,"id":29045894054042,"position":16,"preview_image":{"aspect_ratio":1.0,"height":800,"width":800,"src":"\/\/www.luluwin.co.uk\/cdn\/shop\/products\/5_907b3564-80e1-4d14-8c48-22e90ac4e0b4.png?v=1678091007"}},"requires_selling_plan":false,"selling_plan_allocations":[]},{"id":43385837224090,"title":"gold \/ 42","option1":"gold","option2":"42","option3":null,"sku":"SH46078-C021-S042","requires_shipping":true,"taxable":false,"featured_image":{"id":36549031821466,"product_id":7729049993370,"position":16,"created_at":"2023-03-06T02:23:27-06:00","updated_at":"2023-03-06T02:23:27-06:00","alt":null,"width":800,"height":800,"src":"\/\/www.luluwin.co.uk\/cdn\/shop\/products\/5_907b3564-80e1-4d14-8c48-22e90ac4e0b4.png?v=1678091007","variant_ids":[43385836994714,43385837027482,43385837060250,43385837093018,43385837125786,43385837158554,43385837191322,43385837224090,43385837256858]},"available":true,"name":"Women's Flat Sandals - gold \/ 42","public_title":"gold \/ 42","options":["gold","42"],"price":1999,"weight":0,"compare_at_price":3999,"inventory_management":null,"barcode":null,"featured_media":{"alt":null,"id":29045894054042,"position":16,"preview_image":{"aspect_ratio":1.0,"height":800,"width":800,"src":"\/\/www.luluwin.co.uk\/cdn\/shop\/products\/5_907b3564-80e1-4d14-8c48-22e90ac4e0b4.png?v=1678091007"}},"requires_selling_plan":false,"selling_plan_allocations":[]},{"id":43385837256858,"title":"gold \/ 43","option1":"gold","option2":"43","option3":null,"sku":"SH46078-C021-S043","requires_shipping":true,"taxable":false,"featured_image":{"id":36549031821466,"product_id":7729049993370,"position":16,"created_at":"2023-03-06T02:23:27-06:00","updated_at":"2023-03-06T02:23:27-06:00","alt":null,"width":800,"height":800,"src":"\/\/www.luluwin.co.uk\/cdn\/shop\/products\/5_907b3564-80e1-4d14-8c48-22e90ac4e0b4.png?v=1678091007","variant_ids":[43385836994714,43385837027482,43385837060250,43385837093018,43385837125786,43385837158554,43385837191322,43385837224090,43385837256858]},"available":true,"name":"Women's Flat Sandals - gold \/ 43","public_title":"gold \/ 43","options":["gold","43"],"price":1999,"weight":0,"compare_at_price":3999,"inventory_management":null,"barcode":null,"featured_media":{"alt":null,"id":29045894054042,"position":16,"preview_image":{"aspect_ratio":1.0,"height":800,"width":800,"src":"\/\/www.luluwin.co.uk\/cdn\/shop\/products\/5_907b3564-80e1-4d14-8c48-22e90ac4e0b4.png?v=1678091007"}},"requires_selling_plan":false,"selling_plan_allocations":[]},{"id":43385837289626,"title":"brown \/ 35","option1":"brown","option2":"35","option3":null,"sku":"SH46078-C007-S035","requires_shipping":true,"taxable":false,"featured_image":{"id":36549030510746,"product_id":7729049993370,"position":12,"created_at":"2023-03-06T02:23:15-06:00","updated_at":"2023-03-06T02:23:15-06:00","alt":null,"width":800,"height":800,"src":"\/\/www.luluwin.co.uk\/cdn\/shop\/products\/1_2051d33f-82b6-449a-be1b-24160f95805e.png?v=1678090995","variant_ids":[43385837289626,43385837322394,43385837355162,43385837387930,43385837420698,43385837453466,43385837486234,43385837519002,43385837551770]},"available":true,"name":"Women's Flat Sandals - brown \/ 35","public_title":"brown \/ 35","options":["brown","35"],"price":1999,"weight":0,"compare_at_price":3999,"inventory_management":null,"barcode":null,"featured_media":{"alt":null,"id":29045892710554,"position":12,"preview_image":{"aspect_ratio":1.0,"height":800,"width":800,"src":"\/\/www.luluwin.co.uk\/cdn\/shop\/products\/1_2051d33f-82b6-449a-be1b-24160f95805e.png?v=1678090995"}},"requires_selling_plan":false,"selling_plan_allocations":[]},{"id":43385837322394,"title":"brown \/ 36","option1":"brown","option2":"36","option3":null,"sku":"SH46078-C007-S036","requires_shipping":true,"taxable":false,"featured_image":{"id":36549030510746,"product_id":7729049993370,"position":12,"created_at":"2023-03-06T02:23:15-06:00","updated_at":"2023-03-06T02:23:15-06:00","alt":null,"width":800,"height":800,"src":"\/\/www.luluwin.co.uk\/cdn\/shop\/products\/1_2051d33f-82b6-449a-be1b-24160f95805e.png?v=1678090995","variant_ids":[43385837289626,43385837322394,43385837355162,43385837387930,43385837420698,43385837453466,43385837486234,43385837519002,43385837551770]},"available":true,"name":"Women's Flat Sandals - brown \/ 36","public_title":"brown \/ 36","options":["brown","36"],"price":1999,"weight":0,"compare_at_price":3999,"inventory_management":null,"barcode":null,"featured_media":{"alt":null,"id":29045892710554,"position":12,"preview_image":{"aspect_ratio":1.0,"height":800,"width":800,"src":"\/\/www.luluwin.co.uk\/cdn\/shop\/products\/1_2051d33f-82b6-449a-be1b-24160f95805e.png?v=1678090995"}},"requires_selling_plan":false,"selling_plan_allocations":[]},{"id":43385837355162,"title":"brown \/ 37","option1":"brown","option2":"37","option3":null,"sku":"SH46078-C007-S037","requires_shipping":true,"taxable":false,"featured_image":{"id":36549030510746,"product_id":7729049993370,"position":12,"created_at":"2023-03-06T02:23:15-06:00","updated_at":"2023-03-06T02:23:15-06:00","alt":null,"width":800,"height":800,"src":"\/\/www.luluwin.co.uk\/cdn\/shop\/products\/1_2051d33f-82b6-449a-be1b-24160f95805e.png?v=1678090995","variant_ids":[43385837289626,43385837322394,43385837355162,43385837387930,43385837420698,43385837453466,43385837486234,43385837519002,43385837551770]},"available":true,"name":"Women's Flat Sandals - brown \/ 37","public_title":"brown \/ 37","options":["brown","37"],"price":1999,"weight":0,"compare_at_price":3999,"inventory_management":null,"barcode":null,"featured_media":{"alt":null,"id":29045892710554,"position":12,"preview_image":{"aspect_ratio":1.0,"height":800,"width":800,"src":"\/\/www.luluwin.co.uk\/cdn\/shop\/products\/1_2051d33f-82b6-449a-be1b-24160f95805e.png?v=1678090995"}},"requires_selling_plan":false,"selling_plan_allocations":[]},{"id":43385837387930,"title":"brown \/ 38","option1":"brown","option2":"38","option3":null,"sku":"SH46078-C007-S038","requires_shipping":true,"taxable":false,"featured_image":{"id":36549030510746,"product_id":7729049993370,"position":12,"created_at":"2023-03-06T02:23:15-06:00","updated_at":"2023-03-06T02:23:15-06:00","alt":null,"width":800,"height":800,"src":"\/\/www.luluwin.co.uk\/cdn\/shop\/products\/1_2051d33f-82b6-449a-be1b-24160f95805e.png?v=1678090995","variant_ids":[43385837289626,43385837322394,43385837355162,43385837387930,43385837420698,43385837453466,43385837486234,43385837519002,43385837551770]},"available":true,"name":"Women's Flat Sandals - brown \/ 38","public_title":"brown \/ 38","options":["brown","38"],"price":1999,"weight":0,"compare_at_price":3999,"inventory_management":null,"barcode":null,"featured_media":{"alt":null,"id":29045892710554,"position":12,"preview_image":{"aspect_ratio":1.0,"height":800,"width":800,"src":"\/\/www.luluwin.co.uk\/cdn\/shop\/products\/1_2051d33f-82b6-449a-be1b-24160f95805e.png?v=1678090995"}},"requires_selling_plan":false,"selling_plan_allocations":[]},{"id":43385837420698,"title":"brown \/ 39","option1":"brown","option2":"39","option3":null,"sku":"SH46078-C007-S039","requires_shipping":true,"taxable":false,"featured_image":{"id":36549030510746,"product_id":7729049993370,"position":12,"created_at":"2023-03-06T02:23:15-06:00","updated_at":"2023-03-06T02:23:15-06:00","alt":null,"width":800,"height":800,"src":"\/\/www.luluwin.co.uk\/cdn\/shop\/products\/1_2051d33f-82b6-449a-be1b-24160f95805e.png?v=1678090995","variant_ids":[43385837289626,43385837322394,43385837355162,43385837387930,43385837420698,43385837453466,43385837486234,43385837519002,43385837551770]},"available":true,"name":"Women's Flat Sandals - brown \/ 39","public_title":"brown \/ 39","options":["brown","39"],"price":1999,"weight":0,"compare_at_price":3999,"inventory_management":null,"barcode":null,"featured_media":{"alt":null,"id":29045892710554,"position":12,"preview_image":{"aspect_ratio":1.0,"height":800,"width":800,"src":"\/\/www.luluwin.co.uk\/cdn\/shop\/products\/1_2051d33f-82b6-449a-be1b-24160f95805e.png?v=1678090995"}},"requires_selling_plan":false,"selling_plan_allocations":[]},{"id":43385837453466,"title":"brown \/ 40","option1":"brown","option2":"40","option3":null,"sku":"SH46078-C007-S040","requires_shipping":true,"taxable":false,"featured_image":{"id":36549030510746,"product_id":7729049993370,"position":12,"created_at":"2023-03-06T02:23:15-06:00","updated_at":"2023-03-06T02:23:15-06:00","alt":null,"width":800,"height":800,"src":"\/\/www.luluwin.co.uk\/cdn\/shop\/products\/1_2051d33f-82b6-449a-be1b-24160f95805e.png?v=1678090995","variant_ids":[43385837289626,43385837322394,43385837355162,43385837387930,43385837420698,43385837453466,43385837486234,43385837519002,43385837551770]},"available":true,"name":"Women's Flat Sandals - brown \/ 40","public_title":"brown \/ 40","options":["brown","40"],"price":1999,"weight":0,"compare_at_price":3999,"inventory_management":null,"barcode":null,"featured_media":{"alt":null,"id":29045892710554,"position":12,"preview_image":{"aspect_ratio":1.0,"height":800,"width":800,"src":"\/\/www.luluwin.co.uk\/cdn\/shop\/products\/1_2051d33f-82b6-449a-be1b-24160f95805e.png?v=1678090995"}},"requires_selling_plan":false,"selling_plan_allocations":[]},{"id":43385837486234,"title":"brown \/ 41","option1":"brown","option2":"41","option3":null,"sku":"SH46078-C007-S041","requires_shipping":true,"taxable":false,"featured_image":{"id":36549030510746,"product_id":7729049993370,"position":12,"created_at":"2023-03-06T02:23:15-06:00","updated_at":"2023-03-06T02:23:15-06:00","alt":null,"width":800,"height":800,"src":"\/\/www.luluwin.co.uk\/cdn\/shop\/products\/1_2051d33f-82b6-449a-be1b-24160f95805e.png?v=1678090995","variant_ids":[43385837289626,43385837322394,43385837355162,43385837387930,43385837420698,43385837453466,43385837486234,43385837519002,43385837551770]},"available":true,"name":"Women's Flat Sandals - brown \/ 41","public_title":"brown \/ 41","options":["brown","41"],"price":1999,"weight":0,"compare_at_price":3999,"inventory_management":null,"barcode":null,"featured_media":{"alt":null,"id":29045892710554,"position":12,"preview_image":{"aspect_ratio":1.0,"height":800,"width":800,"src":"\/\/www.luluwin.co.uk\/cdn\/shop\/products\/1_2051d33f-82b6-449a-be1b-24160f95805e.png?v=1678090995"}},"requires_selling_plan":false,"selling_plan_allocations":[]},{"id":43385837519002,"title":"brown \/ 42","option1":"brown","option2":"42","option3":null,"sku":"SH46078-C007-S042","requires_shipping":true,"taxable":false,"featured_image":{"id":36549030510746,"product_id":7729049993370,"position":12,"created_at":"2023-03-06T02:23:15-06:00","updated_at":"2023-03-06T02:23:15-06:00","alt":null,"width":800,"height":800,"src":"\/\/www.luluwin.co.uk\/cdn\/shop\/products\/1_2051d33f-82b6-449a-be1b-24160f95805e.png?v=1678090995","variant_ids":[43385837289626,43385837322394,43385837355162,43385837387930,43385837420698,43385837453466,43385837486234,43385837519002,43385837551770]},"available":true,"name":"Women's Flat Sandals - brown \/ 42","public_title":"brown \/ 42","options":["brown","42"],"price":1999,"weight":0,"compare_at_price":3999,"inventory_management":null,"barcode":null,"featured_media":{"alt":null,"id":29045892710554,"position":12,"preview_image":{"aspect_ratio":1.0,"height":800,"width":800,"src":"\/\/www.luluwin.co.uk\/cdn\/shop\/products\/1_2051d33f-82b6-449a-be1b-24160f95805e.png?v=1678090995"}},"requires_selling_plan":false,"selling_plan_allocations":[]},{"id":43385837551770,"title":"brown \/ 43","option1":"brown","option2":"43","option3":null,"sku":"SH46078-C007-S043","requires_shipping":true,"taxable":false,"featured_image":{"id":36549030510746,"product_id":7729049993370,"position":12,"created_at":"2023-03-06T02:23:15-06:00","updated_at":"2023-03-06T02:23:15-06:00","alt":null,"width":800,"height":800,"src":"\/\/www.luluwin.co.uk\/cdn\/shop\/products\/1_2051d33f-82b6-449a-be1b-24160f95805e.png?v=1678090995","variant_ids":[43385837289626,43385837322394,43385837355162,43385837387930,43385837420698,43385837453466,43385837486234,43385837519002,43385837551770]},"available":true,"name":"Women's Flat Sandals - brown \/ 43","public_title":"brown \/ 43","options":["brown","43"],"price":1999,"weight":0,"compare_at_price":3999,"inventory_management":null,"barcode":null,"featured_media":{"alt":null,"id":29045892710554,"position":12,"preview_image":{"aspect_ratio":1.0,"height":800,"width":800,"src":"\/\/www.luluwin.co.uk\/cdn\/shop\/products\/1_2051d33f-82b6-449a-be1b-24160f95805e.png?v=1678090995"}},"requires_selling_plan":false,"selling_plan_allocations":[]},{"id":43385837584538,"title":"white \/ 35","option1":"white","option2":"35","option3":null,"sku":"SH46078-C005-S035","requires_shipping":true,"taxable":false,"featured_image":{"id":36549030674586,"product_id":7729049993370,"position":13,"created_at":"2023-03-06T02:23:18-06:00","updated_at":"2023-03-06T02:23:18-06:00","alt":null,"width":800,"height":800,"src":"\/\/www.luluwin.co.uk\/cdn\/shop\/products\/4_e041d385-9a72-4722-bb1e-fc75a398c6e2.png?v=1678090998","variant_ids":[43385837584538,43385837617306,43385837650074,43385837682842,43385837715610,43385837748378,43385837781146,43385837813914,43385837846682]},"available":true,"name":"Women's Flat Sandals - white \/ 35","public_title":"white \/ 35","options":["white","35"],"price":1999,"weight":0,"compare_at_price":3999,"inventory_management":null,"barcode":null,"featured_media":{"alt":null,"id":29045892874394,"position":13,"preview_image":{"aspect_ratio":1.0,"height":800,"width":800,"src":"\/\/www.luluwin.co.uk\/cdn\/shop\/products\/4_e041d385-9a72-4722-bb1e-fc75a398c6e2.png?v=1678090998"}},"requires_selling_plan":false,"selling_plan_allocations":[]},{"id":43385837617306,"title":"white \/ 36","option1":"white","option2":"36","option3":null,"sku":"SH46078-C005-S036","requires_shipping":true,"taxable":false,"featured_image":{"id":36549030674586,"product_id":7729049993370,"position":13,"created_at":"2023-03-06T02:23:18-06:00","updated_at":"2023-03-06T02:23:18-06:00","alt":null,"width":800,"height":800,"src":"\/\/www.luluwin.co.uk\/cdn\/shop\/products\/4_e041d385-9a72-4722-bb1e-fc75a398c6e2.png?v=1678090998","variant_ids":[43385837584538,43385837617306,43385837650074,43385837682842,43385837715610,43385837748378,43385837781146,43385837813914,43385837846682]},"available":true,"name":"Women's Flat Sandals - white \/ 36","public_title":"white \/ 36","options":["white","36"],"price":1999,"weight":0,"compare_at_price":3999,"inventory_management":null,"barcode":null,"featured_media":{"alt":null,"id":29045892874394,"position":13,"preview_image":{"aspect_ratio":1.0,"height":800,"width":800,"src":"\/\/www.luluwin.co.uk\/cdn\/shop\/products\/4_e041d385-9a72-4722-bb1e-fc75a398c6e2.png?v=1678090998"}},"requires_selling_plan":false,"selling_plan_allocations":[]},{"id":43385837650074,"title":"white \/ 37","option1":"white","option2":"37","option3":null,"sku":"SH46078-C005-S037","requires_shipping":true,"taxable":false,"featured_image":{"id":36549030674586,"product_id":7729049993370,"position":13,"created_at":"2023-03-06T02:23:18-06:00","updated_at":"2023-03-06T02:23:18-06:00","alt":null,"width":800,"height":800,"src":"\/\/www.luluwin.co.uk\/cdn\/shop\/products\/4_e041d385-9a72-4722-bb1e-fc75a398c6e2.png?v=1678090998","variant_ids":[43385837584538,43385837617306,43385837650074,43385837682842,43385837715610,43385837748378,43385837781146,43385837813914,43385837846682]},"available":true,"name":"Women's Flat Sandals - white \/ 37","public_title":"white \/ 37","options":["white","37"],"price":1999,"weight":0,"compare_at_price":3999,"inventory_management":null,"barcode":null,"featured_media":{"alt":null,"id":29045892874394,"position":13,"preview_image":{"aspect_ratio":1.0,"height":800,"width":800,"src":"\/\/www.luluwin.co.uk\/cdn\/shop\/products\/4_e041d385-9a72-4722-bb1e-fc75a398c6e2.png?v=1678090998"}},"requires_selling_plan":false,"selling_plan_allocations":[]},{"id":43385837682842,"title":"white \/ 38","option1":"white","option2":"38","option3":null,"sku":"SH46078-C005-S038","requires_shipping":true,"taxable":false,"featured_image":{"id":36549030674586,"product_id":7729049993370,"position":13,"created_at":"2023-03-06T02:23:18-06:00","updated_at":"2023-03-06T02:23:18-06:00","alt":null,"width":800,"height":800,"src":"\/\/www.luluwin.co.uk\/cdn\/shop\/products\/4_e041d385-9a72-4722-bb1e-fc75a398c6e2.png?v=1678090998","variant_ids":[43385837584538,43385837617306,43385837650074,43385837682842,43385837715610,43385837748378,43385837781146,43385837813914,43385837846682]},"available":true,"name":"Women's Flat Sandals - white \/ 38","public_title":"white \/ 38","options":["white","38"],"price":1999,"weight":0,"compare_at_price":3999,"inventory_management":null,"barcode":null,"featured_media":{"alt":null,"id":29045892874394,"position":13,"preview_image":{"aspect_ratio":1.0,"height":800,"width":800,"src":"\/\/www.luluwin.co.uk\/cdn\/shop\/products\/4_e041d385-9a72-4722-bb1e-fc75a398c6e2.png?v=1678090998"}},"requires_selling_plan":false,"selling_plan_allocations":[]},{"id":43385837715610,"title":"white \/ 39","option1":"white","option2":"39","option3":null,"sku":"SH46078-C005-S039","requires_shipping":true,"taxable":false,"featured_image":{"id":36549030674586,"product_id":7729049993370,"position":13,"created_at":"2023-03-06T02:23:18-06:00","updated_at":"2023-03-06T02:23:18-06:00","alt":null,"width":800,"height":800,"src":"\/\/www.luluwin.co.uk\/cdn\/shop\/products\/4_e041d385-9a72-4722-bb1e-fc75a398c6e2.png?v=1678090998","variant_ids":[43385837584538,43385837617306,43385837650074,43385837682842,43385837715610,43385837748378,43385837781146,43385837813914,43385837846682]},"available":true,"name":"Women's Flat Sandals - white \/ 39","public_title":"white \/ 39","options":["white","39"],"price":1999,"weight":0,"compare_at_price":3999,"inventory_management":null,"barcode":null,"featured_media":{"alt":null,"id":29045892874394,"position":13,"preview_image":{"aspect_ratio":1.0,"height":800,"width":800,"src":"\/\/www.luluwin.co.uk\/cdn\/shop\/products\/4_e041d385-9a72-4722-bb1e-fc75a398c6e2.png?v=1678090998"}},"requires_selling_plan":false,"selling_plan_allocations":[]},{"id":43385837748378,"title":"white \/ 40","option1":"white","option2":"40","option3":null,"sku":"SH46078-C005-S040","requires_shipping":true,"taxable":false,"featured_image":{"id":36549030674586,"product_id":7729049993370,"position":13,"created_at":"2023-03-06T02:23:18-06:00","updated_at":"2023-03-06T02:23:18-06:00","alt":null,"width":800,"height":800,"src":"\/\/www.luluwin.co.uk\/cdn\/shop\/products\/4_e041d385-9a72-4722-bb1e-fc75a398c6e2.png?v=1678090998","variant_ids":[43385837584538,43385837617306,43385837650074,43385837682842,43385837715610,43385837748378,43385837781146,43385837813914,43385837846682]},"available":true,"name":"Women's Flat Sandals - white \/ 40","public_title":"white \/ 40","options":["white","40"],"price":1999,"weight":0,"compare_at_price":3999,"inventory_management":null,"barcode":null,"featured_media":{"alt":null,"id":29045892874394,"position":13,"preview_image":{"aspect_ratio":1.0,"height":800,"width":800,"src":"\/\/www.luluwin.co.uk\/cdn\/shop\/products\/4_e041d385-9a72-4722-bb1e-fc75a398c6e2.png?v=1678090998"}},"requires_selling_plan":false,"selling_plan_allocations":[]},{"id":43385837781146,"title":"white \/ 41","option1":"white","option2":"41","option3":null,"sku":"SH46078-C005-S041","requires_shipping":true,"taxable":false,"featured_image":{"id":36549030674586,"product_id":7729049993370,"position":13,"created_at":"2023-03-06T02:23:18-06:00","updated_at":"2023-03-06T02:23:18-06:00","alt":null,"width":800,"height":800,"src":"\/\/www.luluwin.co.uk\/cdn\/shop\/products\/4_e041d385-9a72-4722-bb1e-fc75a398c6e2.png?v=1678090998","variant_ids":[43385837584538,43385837617306,43385837650074,43385837682842,43385837715610,43385837748378,43385837781146,43385837813914,43385837846682]},"available":true,"name":"Women's Flat Sandals - white \/ 41","public_title":"white \/ 41","options":["white","41"],"price":1999,"weight":0,"compare_at_price":3999,"inventory_management":null,"barcode":null,"featured_media":{"alt":null,"id":29045892874394,"position":13,"preview_image":{"aspect_ratio":1.0,"height":800,"width":800,"src":"\/\/www.luluwin.co.uk\/cdn\/shop\/products\/4_e041d385-9a72-4722-bb1e-fc75a398c6e2.png?v=1678090998"}},"requires_selling_plan":false,"selling_plan_allocations":[]},{"id":43385837813914,"title":"white \/ 42","option1":"white","option2":"42","option3":null,"sku":"SH46078-C005-S042","requires_shipping":true,"taxable":false,"featured_image":{"id":36549030674586,"product_id":7729049993370,"position":13,"created_at":"2023-03-06T02:23:18-06:00","updated_at":"2023-03-06T02:23:18-06:00","alt":null,"width":800,"height":800,"src":"\/\/www.luluwin.co.uk\/cdn\/shop\/products\/4_e041d385-9a72-4722-bb1e-fc75a398c6e2.png?v=1678090998","variant_ids":[43385837584538,43385837617306,43385837650074,43385837682842,43385837715610,43385837748378,43385837781146,43385837813914,43385837846682]},"available":true,"name":"Women's Flat Sandals - white \/ 42","public_title":"white \/ 42","options":["white","42"],"price":1999,"weight":0,"compare_at_price":3999,"inventory_management":null,"barcode":null,"featured_media":{"alt":null,"id":29045892874394,"position":13,"preview_image":{"aspect_ratio":1.0,"height":800,"width":800,"src":"\/\/www.luluwin.co.uk\/cdn\/shop\/products\/4_e041d385-9a72-4722-bb1e-fc75a398c6e2.png?v=1678090998"}},"requires_selling_plan":false,"selling_plan_allocations":[]},{"id":43385837846682,"title":"white \/ 43","option1":"white","option2":"43","option3":null,"sku":"SH46078-C005-S043","requires_shipping":true,"taxable":false,"featured_image":{"id":36549030674586,"product_id":7729049993370,"position":13,"created_at":"2023-03-06T02:23:18-06:00","updated_at":"2023-03-06T02:23:18-06:00","alt":null,"width":800,"height":800,"src":"\/\/www.luluwin.co.uk\/cdn\/shop\/products\/4_e041d385-9a72-4722-bb1e-fc75a398c6e2.png?v=1678090998","variant_ids":[43385837584538,43385837617306,43385837650074,43385837682842,43385837715610,43385837748378,43385837781146,43385837813914,43385837846682]},"available":true,"name":"Women's Flat Sandals - white \/ 43","public_title":"white \/ 43","options":["white","43"],"price":1999,"weight":0,"compare_at_price":3999,"inventory_management":null,"barcode":null,"featured_media":{"alt":null,"id":29045892874394,"position":13,"preview_image":{"aspect_ratio":1.0,"height":800,"width":800,"src":"\/\/www.luluwin.co.uk\/cdn\/shop\/products\/4_e041d385-9a72-4722-bb1e-fc75a398c6e2.png?v=1678090998"}},"requires_selling_plan":false,"selling_plan_allocations":[]}],"images":["\/\/www.luluwin.co.uk\/cdn\/shop\/products\/1_00b21ec7-c13e-493d-a2f4-826e82cee132.png?v=1678090989","\/\/www.luluwin.co.uk\/cdn\/shop\/products\/960d31dc159bd21df3667ad762458aeb_93ce8068-af2e-4043-a02b-d60a071acd45.png?v=1678090989","\/\/www.luluwin.co.uk\/cdn\/shop\/products\/8_ea9bd3ee-2257-47c5-aa2a-272aaa830a83.png?v=1678090989","\/\/www.luluwin.co.uk\/cdn\/shop\/products\/9_e91afa4f-9a17-4dab-addb-b7b674e2daa1.png?v=1678090989","\/\/www.luluwin.co.uk\/cdn\/shop\/products\/6_2c1e5caa-4e56-4938-a993-ee7e6800fd19.png?v=1678090989","\/\/www.luluwin.co.uk\/cdn\/shop\/products\/7_e07622db-4015-4616-879d-7233f8d31fff.png?v=1678090989","\/\/www.luluwin.co.uk\/cdn\/shop\/products\/845698aaf0480dee65e404307020f294_1e2c506f-e28b-48b8-be88-3175754eb8bb.png?v=1678090990","\/\/www.luluwin.co.uk\/cdn\/shop\/products\/1_8fe68b22-a0d5-42e2-9740-0a8b603c7462.png?v=1678090990","\/\/www.luluwin.co.uk\/cdn\/shop\/products\/2_1fb8e6bb-8e9d-43aa-8c4b-a380364259e7.png?v=1678090990","\/\/www.luluwin.co.uk\/cdn\/shop\/products\/3_93a8735c-17c5-4935-b67a-923dbfbf424d.png?v=1678090990","\/\/www.luluwin.co.uk\/cdn\/shop\/products\/4_9ef9f048-7b19-495a-b122-270b29b21fa7.png?v=1678090990","\/\/www.luluwin.co.uk\/cdn\/shop\/products\/1_2051d33f-82b6-449a-be1b-24160f95805e.png?v=1678090995","\/\/www.luluwin.co.uk\/cdn\/shop\/products\/4_e041d385-9a72-4722-bb1e-fc75a398c6e2.png?v=1678090998","\/\/www.luluwin.co.uk\/cdn\/shop\/products\/3_0fc93d02-43ef-46cc-92f0-4135c2a588e2.png?v=1678091001","\/\/www.luluwin.co.uk\/cdn\/shop\/products\/2_5f08ecf6-9063-416b-9abb-c7b304cad6fd.png?v=1678091004","\/\/www.luluwin.co.uk\/cdn\/shop\/products\/5_907b3564-80e1-4d14-8c48-22e90ac4e0b4.png?v=1678091007"],"featured_image":"\/\/www.luluwin.co.uk\/cdn\/shop\/products\/1_00b21ec7-c13e-493d-a2f4-826e82cee132.png?v=1678090989","options":["Color","Size"],"media":[{"alt":null,"id":29045892055194,"position":1,"preview_image":{"aspect_ratio":1.0,"height":800,"width":800,"src":"\/\/www.luluwin.co.uk\/cdn\/shop\/products\/1_00b21ec7-c13e-493d-a2f4-826e82cee132.png?v=1678090989"},"aspect_ratio":1.0,"height":800,"media_type":"image","src":"\/\/www.luluwin.co.uk\/cdn\/shop\/products\/1_00b21ec7-c13e-493d-a2f4-826e82cee132.png?v=1678090989","width":800},{"alt":null,"id":29045892087962,"position":2,"preview_image":{"aspect_ratio":1.0,"height":800,"width":800,"src":"\/\/www.luluwin.co.uk\/cdn\/shop\/products\/960d31dc159bd21df3667ad762458aeb_93ce8068-af2e-4043-a02b-d60a071acd45.png?v=1678090989"},"aspect_ratio":1.0,"height":800,"media_type":"image","src":"\/\/www.luluwin.co.uk\/cdn\/shop\/products\/960d31dc159bd21df3667ad762458aeb_93ce8068-af2e-4043-a02b-d60a071acd45.png?v=1678090989","width":800},{"alt":null,"id":29045892120730,"position":3,"preview_image":{"aspect_ratio":1.0,"height":800,"width":800,"src":"\/\/www.luluwin.co.uk\/cdn\/shop\/products\/8_ea9bd3ee-2257-47c5-aa2a-272aaa830a83.png?v=1678090989"},"aspect_ratio":1.0,"height":800,"media_type":"image","src":"\/\/www.luluwin.co.uk\/cdn\/shop\/products\/8_ea9bd3ee-2257-47c5-aa2a-272aaa830a83.png?v=1678090989","width":800},{"alt":null,"id":29045892153498,"position":4,"preview_image":{"aspect_ratio":1.0,"height":800,"width":800,"src":"\/\/www.luluwin.co.uk\/cdn\/shop\/products\/9_e91afa4f-9a17-4dab-addb-b7b674e2daa1.png?v=1678090989"},"aspect_ratio":1.0,"height":800,"media_type":"image","src":"\/\/www.luluwin.co.uk\/cdn\/shop\/products\/9_e91afa4f-9a17-4dab-addb-b7b674e2daa1.png?v=1678090989","width":800},{"alt":null,"id":29045892186266,"position":5,"preview_image":{"aspect_ratio":1.0,"height":800,"width":800,"src":"\/\/www.luluwin.co.uk\/cdn\/shop\/products\/6_2c1e5caa-4e56-4938-a993-ee7e6800fd19.png?v=1678090989"},"aspect_ratio":1.0,"height":800,"media_type":"image","src":"\/\/www.luluwin.co.uk\/cdn\/shop\/products\/6_2c1e5caa-4e56-4938-a993-ee7e6800fd19.png?v=1678090989","width":800},{"alt":null,"id":29045892219034,"position":6,"preview_image":{"aspect_ratio":1.0,"height":800,"width":800,"src":"\/\/www.luluwin.co.uk\/cdn\/shop\/products\/7_e07622db-4015-4616-879d-7233f8d31fff.png?v=1678090989"},"aspect_ratio":1.0,"height":800,"media_type":"image","src":"\/\/www.luluwin.co.uk\/cdn\/shop\/products\/7_e07622db-4015-4616-879d-7233f8d31fff.png?v=1678090989","width":800},{"alt":null,"id":29045892251802,"position":7,"preview_image":{"aspect_ratio":1.0,"height":800,"width":800,"src":"\/\/www.luluwin.co.uk\/cdn\/shop\/products\/845698aaf0480dee65e404307020f294_1e2c506f-e28b-48b8-be88-3175754eb8bb.png?v=1678090990"},"aspect_ratio":1.0,"height":800,"media_type":"image","src":"\/\/www.luluwin.co.uk\/cdn\/shop\/products\/845698aaf0480dee65e404307020f294_1e2c506f-e28b-48b8-be88-3175754eb8bb.png?v=1678090990","width":800},{"alt":null,"id":29045892284570,"position":8,"preview_image":{"aspect_ratio":1.0,"height":800,"width":800,"src":"\/\/www.luluwin.co.uk\/cdn\/shop\/products\/1_8fe68b22-a0d5-42e2-9740-0a8b603c7462.png?v=1678090990"},"aspect_ratio":1.0,"height":800,"media_type":"image","src":"\/\/www.luluwin.co.uk\/cdn\/shop\/products\/1_8fe68b22-a0d5-42e2-9740-0a8b603c7462.png?v=1678090990","width":800},{"alt":null,"id":29045892317338,"position":9,"preview_image":{"aspect_ratio":1.0,"height":800,"width":800,"src":"\/\/www.luluwin.co.uk\/cdn\/shop\/products\/2_1fb8e6bb-8e9d-43aa-8c4b-a380364259e7.png?v=1678090990"},"aspect_ratio":1.0,"height":800,"media_type":"image","src":"\/\/www.luluwin.co.uk\/cdn\/shop\/products\/2_1fb8e6bb-8e9d-43aa-8c4b-a380364259e7.png?v=1678090990","width":800},{"alt":null,"id":29045892350106,"position":10,"preview_image":{"aspect_ratio":1.0,"height":800,"width":800,"src":"\/\/www.luluwin.co.uk\/cdn\/shop\/products\/3_93a8735c-17c5-4935-b67a-923dbfbf424d.png?v=1678090990"},"aspect_ratio":1.0,"height":800,"media_type":"image","src":"\/\/www.luluwin.co.uk\/cdn\/shop\/products\/3_93a8735c-17c5-4935-b67a-923dbfbf424d.png?v=1678090990","width":800},{"alt":null,"id":29045892382874,"position":11,"preview_image":{"aspect_ratio":1.0,"height":800,"width":800,"src":"\/\/www.luluwin.co.uk\/cdn\/shop\/products\/4_9ef9f048-7b19-495a-b122-270b29b21fa7.png?v=1678090990"},"aspect_ratio":1.0,"height":800,"media_type":"image","src":"\/\/www.luluwin.co.uk\/cdn\/shop\/products\/4_9ef9f048-7b19-495a-b122-270b29b21fa7.png?v=1678090990","width":800},{"alt":null,"id":29045892710554,"position":12,"preview_image":{"aspect_ratio":1.0,"height":800,"width":800,"src":"\/\/www.luluwin.co.uk\/cdn\/shop\/products\/1_2051d33f-82b6-449a-be1b-24160f95805e.png?v=1678090995"},"aspect_ratio":1.0,"height":800,"media_type":"image","src":"\/\/www.luluwin.co.uk\/cdn\/shop\/products\/1_2051d33f-82b6-449a-be1b-24160f95805e.png?v=1678090995","width":800},{"alt":null,"id":29045892874394,"position":13,"preview_image":{"aspect_ratio":1.0,"height":800,"width":800,"src":"\/\/www.luluwin.co.uk\/cdn\/shop\/products\/4_e041d385-9a72-4722-bb1e-fc75a398c6e2.png?v=1678090998"},"aspect_ratio":1.0,"height":800,"media_type":"image","src":"\/\/www.luluwin.co.uk\/cdn\/shop\/products\/4_e041d385-9a72-4722-bb1e-fc75a398c6e2.png?v=1678090998","width":800},{"alt":null,"id":29045893431450,"position":14,"preview_image":{"aspect_ratio":1.0,"height":800,"width":800,"src":"\/\/www.luluwin.co.uk\/cdn\/shop\/products\/3_0fc93d02-43ef-46cc-92f0-4135c2a588e2.png?v=1678091001"},"aspect_ratio":1.0,"height":800,"media_type":"image","src":"\/\/www.luluwin.co.uk\/cdn\/shop\/products\/3_0fc93d02-43ef-46cc-92f0-4135c2a588e2.png?v=1678091001","width":800},{"alt":null,"id":29045893890202,"position":15,"preview_image":{"aspect_ratio":1.0,"height":800,"width":800,"src":"\/\/www.luluwin.co.uk\/cdn\/shop\/products\/2_5f08ecf6-9063-416b-9abb-c7b304cad6fd.png?v=1678091004"},"aspect_ratio":1.0,"height":800,"media_type":"image","src":"\/\/www.luluwin.co.uk\/cdn\/shop\/products\/2_5f08ecf6-9063-416b-9abb-c7b304cad6fd.png?v=1678091004","width":800},{"alt":null,"id":29045894054042,"position":16,"preview_image":{"aspect_ratio":1.0,"height":800,"width":800,"src":"\/\/www.luluwin.co.uk\/cdn\/shop\/products\/5_907b3564-80e1-4d14-8c48-22e90ac4e0b4.png?v=1678091007"},"aspect_ratio":1.0,"height":800,"media_type":"image","src":"\/\/www.luluwin.co.uk\/cdn\/shop\/products\/5_907b3564-80e1-4d14-8c48-22e90ac4e0b4.png?v=1678091007","width":800}],"requires_selling_plan":false,"selling_plan_groups":[],"content":"\u003ch4 style=\"text-align: center;\"\u003e\u003cstrong\u003e😽 😼\u003c\/strong\u003e\u003c\/h4\u003e\n\u003ch4 style=\"text-align: center;\"\u003e\n\u003cspan style=\"color: #b2671c;\"\u003e\u003cstrong\u003eTHESE SANDALS DON'T JUST LOOK AMAZING! THEY ALSO PROVIDE SUPPORT FOR YOUR FEET!\u003c\/strong\u003e\u003c\/span\u003e\u003cbr\u003e\u003cspan style=\"color: #dba46c;\"\u003e\u003cstrong\u003eThe pretty, vintage-looking lady sandals that provide good arch support.\u003c\/strong\u003e\u003c\/span\u003e\n\u003c\/h4\u003e\n\u003ch4 style=\"text-align: left;\"\u003e\n\u003cimg src=\"https:\/\/cdn.shopifycdn.net\/s\/files\/1\/0040\/2728\/5539\/files\/960d31dc159bd21df3667ad762458aeb_a5de7bba-c1b8-4baa-a761-88c970b4058d_480x480.png?v=1678087607\" alt=\"\" style=\"display: block; margin-left: auto; margin-right: auto;\" data-mce-fragment=\"1\" data-mce-src=\"https:\/\/cdn.shopifycdn.net\/s\/files\/1\/0040\/2728\/5539\/files\/960d31dc159bd21df3667ad762458aeb_a5de7bba-c1b8-4baa-a761-88c970b4058d_480x480.png?v=1678087607\" width=\"447\" height=\"447\"\u003e\u003cbr\u003e\u003cspan style=\"color: #b2671c;\"\u003e\u003cstrong\u003eFEATURE:\u003c\/strong\u003e\u003c\/span\u003e\u003cbr\u003e\n\u003c\/h4\u003e\n\u003cul\u003e\n\u003cli\u003e👍\u003cspan style=\"color: #dba46c;\"\u003e\u003cstrong\u003e【Massage Function Footbed】\u003c\/strong\u003e\u003c\/span\u003eWedge sandals for women with cushion, help for shock absorbing and cushion, promote blood circulation, good for health.\u003c\/li\u003e\n\u003c\/ul\u003e\n\u003ch4 style=\"text-align: left;\" data-mce-style=\"text-align: left;\"\u003e\u003cimg src=\"https:\/\/cdn.shopify.com\/s\/files\/1\/0040\/2728\/5539\/files\/25077fec3f5a36d6c14320a31e3d12bc_480x480.gif?v=1678086819\" alt=\"\" style=\"display: block; margin-left: auto; margin-right: auto;\" data-mce-fragment=\"1\" data-mce-src=\"https:\/\/cdn.shopify.com\/s\/files\/1\/0040\/2728\/5539\/files\/25077fec3f5a36d6c14320a31e3d12bc_480x480.gif?v=1678086819\" data-mce-style=\"display: block; margin-left: auto; margin-right: auto;\" data-mce-selected=\"1\" width=\"445\" height=\"250\"\u003e\u003c\/h4\u003e\n\u003cul\u003e\n\u003cli\u003e👍\u003cspan style=\"color: #dba46c;\"\u003e\u003cstrong\u003e【Arch Support Design】\u003c\/strong\u003e\u003c\/span\u003eWedges for women with arch support design perfectly fit the feet, are comfortable and not tired, and can be worn all day. Women's Wedges are easy to put on and take off.\u003c\/li\u003e\n\u003c\/ul\u003e\n\u003cp\u003e\u003cimg style=\"display: block; margin-left: auto; margin-right: auto;\" alt=\"\" src=\"https:\/\/cdn.shopify.com\/s\/files\/1\/0040\/2728\/5539\/files\/c297e18129d4b5831451ac6222c65f6e_480x480.gif?v=1678086847\" data-mce-src=\"https:\/\/cdn.shopify.com\/s\/files\/1\/0040\/2728\/5539\/files\/c297e18129d4b5831451ac6222c65f6e_480x480.gif?v=1678086847\" data-mce-selected=\"1\" width=\"444\" height=\"250\"\u003e\u003c\/p\u003e\n\u003cul\u003e\n\u003cli\u003e👍\u003cspan style=\"color: #dba46c;\"\u003e\u003cstrong\u003e【 Non-Slip Rubber Outsole】\u003c\/strong\u003e\u003c\/span\u003eWedge sandals for women have a durable non-slip rubber sole, soft synthetic upper and breathable lining.\u003c\/li\u003e\n\u003c\/ul\u003e\n\u003cul\u003e\n\u003cli\u003e👍\u003cspan style=\"color: #dba46c;\"\u003e\u003cstrong\u003e【Lightweight and comfortable】\u003c\/strong\u003e\u003c\/span\u003eWe intend to make it soft and comfortable with a unique platform and wedge design. It will support any foot pain when standing or walking for a long time.\u003c\/li\u003e\n\u003c\/ul\u003e\n\u003cp\u003e\u003cimg alt=\"\" src=\"https:\/\/cdn.shopifycdn.net\/s\/files\/1\/0040\/2728\/5539\/files\/1_c0ba52b5-ee18-464b-924d-5cee6bae983b_480x480.png?v=1678087627\" style=\"display: block; margin-left: auto; margin-right: auto;\" width=\"443\" height=\"443\"\u003e\u003c\/p\u003e\n\u003cul\u003e\n\u003cli\u003e👍\u003cspan style=\"color: #dba46c;\"\u003e\u003cstrong\u003e【Easy to adjust】\u003c\/strong\u003e\u003c\/span\u003eThe strap will fit your feet and prevent problems that are too tight or too loose. Sometimes your feet may slip out of the sandals, but this time, our sturdy leather buckle straps can hold your feet in the sandals, and this will never happen again.\u003c\/li\u003e\n\u003c\/ul\u003e\n\u003cp\u003e\u003cimg alt=\"\" src=\"https:\/\/cdn.shopifycdn.net\/s\/files\/1\/0040\/2728\/5539\/files\/8_e23d6387-2733-4115-bfb8-ee353f9949c3_480x480.png?v=1678087642\" style=\"display: block; margin-left: auto; margin-right: auto;\" width=\"445\" height=\"445\"\u003e\u003c\/p\u003e\n\u003cul\u003e\n\u003cli\u003e👍\u003cspan style=\"color: #dba46c;\"\u003e\u003cstrong\u003e【Elegant and stylish】\u003c\/strong\u003e\u003c\/span\u003eIn addition to the benefits we mentioned above, our goal is to design a stylish appearance and add a little taste to your wardrobe. This sandal has a classic retro feel. The round toe design can cover the toes without causing any pain.\u003c\/li\u003e\n\u003c\/ul\u003e\n\u003ch4\u003e\n\u003cbr\u003e\u003cspan style=\"color: #b2671c;\"\u003e\u003cstrong\u003eSPECIFICATION:\u003c\/strong\u003e\u003c\/span\u003e\u003cbr\u003e\n\u003c\/h4\u003e\n\u003cul\u003e\n\u003cli\u003e\n\u003cstrong\u003eMaterial:\u003c\/strong\u003e PU\u003cbr\u003e\n\u003c\/li\u003e\n\u003cli\u003e\n\u003cstrong\u003eColor:\u003c\/strong\u003e \u003cspan class=\"HwtZe\" jsname=\"jqKxS\" jsaction=\"mouseup:Sxi9L,BR6jm; mousedown:qjlr0e\" data-mce-fragment=\"1\" lang=\"en\"\u003e\u003cspan class=\"jCAhz ChMk0b\" jscontroller=\"Gn4SMb\" jsname=\"txFAF\" jsaction=\"agoMJf:PFBcW;MZfLnc:P7O7bd;nt4Alf:pvnm0e,pfE8Hb,PFBcW;B01qod:dJXsye;H1e5u:iXtTIf;lYIUJf:hij5Wb;bmeZHc:iURhpf;Oxj3Xe:qAKMYb,yaf12d\" data-mce-fragment=\"1\"\u003e\u003cspan class=\"ryNqvb\" jsname=\"W297wb\" jsaction=\"click:E6Tfl,GFf3ac,tMZCfe; contextmenu:Nqw7Te,QP7LD; mouseout:Nqw7Te; mouseover:E6Tfl,c2aHje\" data-mce-fragment=\"1\"\u003ered, black, gold, brown, white\u003c\/span\u003e\u003c\/span\u003e\u003c\/span\u003e\u003cbr\u003e\n\u003c\/li\u003e\n\u003cli\u003e\u003cstrong\u003eSize:\u003c\/strong\u003e\u003c\/li\u003e\n\u003c\/ul\u003e\n\u003ch4\u003e\n\u003cimg src=\"https:\/\/cdn.shopify.com\/s\/files\/1\/0040\/2728\/5539\/files\/O1CN01zWi6DS1U7J0xjf1oX__3896672470-0-cib_dd4aa95b-6271-43f8-874f-aeed3ae21582_480x480.jpg?v=1678087032\" alt=\"\" style=\"display: block; margin-left: auto; margin-right: auto;\" data-mce-fragment=\"1\" data-mce-src=\"https:\/\/cdn.shopify.com\/s\/files\/1\/0040\/2728\/5539\/files\/O1CN01zWi6DS1U7J0xjf1oX__3896672470-0-cib_dd4aa95b-6271-43f8-874f-aeed3ae21582_480x480.jpg?v=1678087032\"\u003e\u003cbr\u003e\u003cspan style=\"color: #b2671c;\"\u003e\u003cstrong\u003ePACKAGE INCLUDES:\u003c\/strong\u003e\u003c\/span\u003e\u003cbr\u003e\n\u003c\/h4\u003e\n\u003cul\u003e\n\u003cli\u003e1 Pair × Women's Flat Sandals\u003c\/li\u003e\n\u003c\/ul\u003e"}
Women's Flat Sandals
Adding product to your cart
😽 😼
THESE SANDALS DON'T JUST LOOK AMAZING! THEY ALSO PROVIDE SUPPORT FOR YOUR FEET!
The pretty, vintage-looking lady sandals that provide good arch support.

FEATURE:

👍【Massage Function Footbed】Wedge sandals for women with cushion, help for shock absorbing and cushion, promote blood circulation, good for health.

👍【Arch Support Design】Wedges for women with arch support design perfectly fit the feet, are comfortable and not tired, and can be worn all day. Women's Wedges are easy to put on and take off.
👍【 Non-Slip Rubber Outsole】Wedge sandals for women have a durable non-slip rubber sole, soft synthetic upper and breathable lining.
👍【Lightweight and comfortable】We intend to make it soft and comfortable with a unique platform and wedge design. It will support any foot pain when standing or walking for a long time.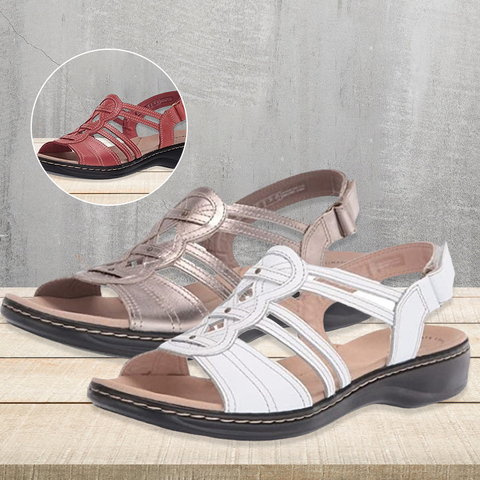 👍【Easy to adjust】The strap will fit your feet and prevent problems that are too tight or too loose. Sometimes your feet may slip out of the sandals, but this time, our sturdy leather buckle straps can hold your feet in the sandals, and this will never happen again.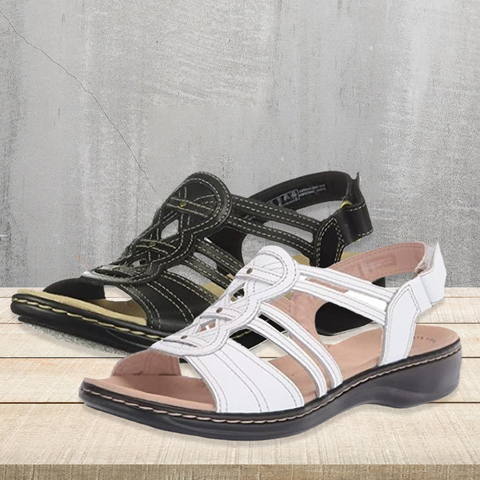 👍【Elegant and stylish】In addition to the benefits we mentioned above, our goal is to design a stylish appearance and add a little taste to your wardrobe. This sandal has a classic retro feel. The round toe design can cover the toes without causing any pain.

SPECIFICATION:

Material: PU

Color:

red, black, gold, brown, white



Size:

PACKAGE INCLUDES:

1 Pair × Women's Flat Sandals