The vegetable planter features double-layered, breathable fabric technology that supports improved growing results rather than traditional non-breathable containers such as plastic or ceramic pots.
🥔
Features:
Eco-Friendly: The grow bag used canvas and felt materials and have a double-layer design that is not only more environmentally friendly and durable but also easier to breathe to facilitate plant growth.
Unique Design:

 

The grow bag has designed a comes with visualization velcro window, through which you not only can check whether your plant is mature but also you can easily harvest plants through the window, without having to dig in clay soil!
Easy To Use:

 

Our Garden Planter Bag makes planting, growing, and harvesting your vegetables easier. The access flap eliminates the need to remove the plant soil and allows easy access to your homegrown produce.
Breathable And Visible: The grow bag has designed three vents to facilitate plant ventilation. Allows roots to breathe, boosts vegetable growth, and yields.
Functional: These garden planter bags are suitable for indoor and outdoor planting. They are ideal for patios, small gardens, balconies, sunrooms, and any outdoor space. They can be used to plant potato, taro, radish, carrot, onion, cucumber, aubergine, pepper, courgette, and many other vegetables.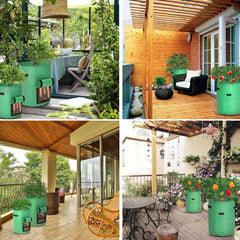 🥔Specifications:
Material: Wool Chemical Fiber
Color: Black, Brown, Green
Size:9*11inches/12*14inches/14*18inches
🥔Usage:
Put about 4 inches of pre-mixed fertilizer-containing soil on the bottom
Place 4 to 6 potato tubers evenly on the soil with the shoots facing up
Add soil to completely cover the potato tubers. If the soil is not completely dry, it is best to wait for the plants to emerge and water, observe the growth of the plants and repeat adding water and soil until the plants appear on the top of the bag.
After a few weeks, the leaves of the plant will wither and yellow, you can harvest potatoes directly from the window, take the big potatoes, and let the small potatoes continue to grow in the soil.
🥔Package Includes:
1*Vegetables Planter Bag