V-shaped three-sided toothbrush-any blind area can be easily cleaned!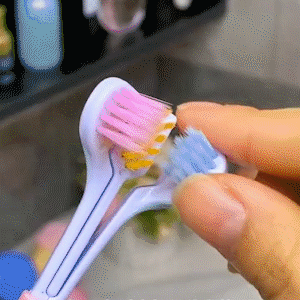 V-shaped wrapped brush head, all-round clean and no dead ends, Compared with ordinary toothbrushes, the cleaning effect is greatly improved.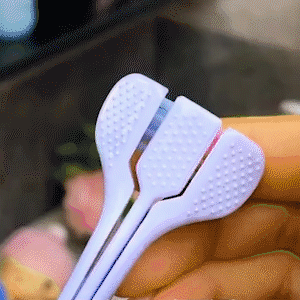 Teeth Black Technology--Significantly improves the cleansing of the blind area.
FEATURES:

All-round Cleaning
New V-shaped brush head, which can cover different sides of the teeth, wrap the tooth completely.
Soft Brush Bristles
The bristles are made of PBT material, the top of the bristles is smooth, and the bristles are soft, so you don't have to worry about hurting your gums.
Non-slip Grip
The rounded grip shape is more suitable for the curvature of the hand,and it is non-slip and easy to grasp.
Thoughtful Design
There is a raised tongue scraper on the back of the toothbrush, which can clean the tongue coating, bring you fresh breath,and can also be used to massage the tongue.
Suitable for the whole family
Scientific 45 degrees inclination allows toothbrush deeply and thoroughly to clean food debris in the gaps between teeth and gums. Reduce the risk of tooth decay, protect dental health.
SPECIFICATIONS:
Material: PP, PBT
Weight: 40g
Size: 19.5*2.5cm
Color: Purple/Green/Blue/Pink

Package Includes: 1*V-shaped Three-sided Toothbrush