{"id":7359921324186,"title":"Ultra-thin One-piece Bra","handle":"ultra-thin-one-piece-bra","description":"\u003cp data-mce-fragment=\"1\"\u003e\u003cspan style=\"color: #d73110;\" data-mce-fragment=\"1\"\u003e\u003cstrong data-mce-fragment=\"1\"\u003e\u003cspan style=\"color: #bc4c36;\"\u003e\u003cimg src=\"https:\/\/cdn.cloudfastin.top\/image\/2022\/05\/485666108a0a7b756dacdfd117ddfce3e9356756069b51753230af0c9845e76a.gif\" alt=\"undefined\" width=\"359\" height=\"407\" style=\"display: block; margin-left: auto; margin-right: auto;\" data-mce-fragment=\"1\" data-mce-src=\"https:\/\/cdn.cloudfastin.top\/image\/2022\/05\/485666108a0a7b756dacdfd117ddfce3e9356756069b51753230af0c9845e76a.gif\"\u003e💖You will love my Fashion Bra for many reasons💖\u003c\/span\u003e\u003cbr\u003e\u003cspan style=\"color: #bc4c36;\"\u003eThe deep cup bra is great to use for a smoother look under clothing. This bra helps to hide back fat, side bra bulge, and gives a lift while on\u003c\/span\u003e\u003cbr\u003e\u003c\/strong\u003e\u003c\/span\u003e\u003c\/p\u003e\n\u003cp data-mce-fragment=\"1\"\u003e\u003cspan style=\"color: #d73110;\" data-mce-fragment=\"1\"\u003e\u003cstrong data-mce-fragment=\"1\"\u003e\u003cspan style=\"color: #bc4c36;\"\u003e\u003cimg src=\"https:\/\/gcdn.giikin.com\/uploads\/dbb8403b6ff0e1ceb8f743303da463be.gif?Policy=eyJTdGF0ZW1lbnQiOlt7IlJlc291cmNlIjoiaHR0cHM6XC9cL2QxbG5lcGhrcjdta2puLmNsb3VkZnJvbnQubmV0XC8qIiwiQ29uZGl0aW9uIjp7IkRhdGVMZXNzVGhhbiI6eyJBV1M6RXBvY2hUaW1lIjoxNjU0MTYxNTM5fX19XX0_\u0026amp;Signature=\u0026amp;Key-Pair-Id=KCY5B3G9LR0QL\"\u003e\u003c\/span\u003e\u003c\/strong\u003e\u003c\/span\u003e\u003c\/p\u003e\n\u003cp data-mce-fragment=\"1\"\u003e\u003cspan style=\"color: #bc4c36;\" data-mce-fragment=\"1\"\u003e\u003cstrong data-mce-fragment=\"1\"\u003e 💃No matter what you do, this bra offers the bust support you've been looking for.💃\u003c\/strong\u003e\u003c\/span\u003e\u003c\/p\u003e\n\u003cp data-mce-fragment=\"1\"\u003e\u003cspan style=\"color: #bc4c36;\" data-mce-fragment=\"1\"\u003e\u003cstrong data-mce-fragment=\"1\"\u003eFEATURES\u003c\/strong\u003e\u003c\/span\u003e\u003c\/p\u003e\n\u003cul\u003e\n\u003cli\u003e\n\u003cp\u003e\u003cspan style=\"color: #000000;\"\u003e\u003cspan style=\"color: #ffad5e;\"\u003e\u003cstrong\u003e▲Amazing Comfy Bras▲ --\u003c\/strong\u003e \u003c\/span\u003eThis light support wireless bra maybe the most comfortable bralette you will ever owned. No buckle, wire free, 360° stretchy back. Ultra soft lightweight leisure no line bras for women make you feel like wearing nothing at all. Thickness is only 0.2cm\/0.08in thin, ice silk leisure bra provides you zero touch experience and all day comfort.\u003c\/span\u003e\u003c\/p\u003e\n\u003c\/li\u003e\n\u003c\/ul\u003e\n\u003cp\u003e\u003cspan style=\"color: #000000;\" data-mce-fragment=\"1\"\u003e\u003cimg src=\"https:\/\/gcdn.giikin.com\/uploads\/815e0413436ec3df16a4e04e253f71dc.gif?Policy=eyJTdGF0ZW1lbnQiOlt7IlJlc291cmNlIjoiaHR0cHM6XC9cL2QxbG5lcGhrcjdta2puLmNsb3VkZnJvbnQubmV0XC8qIiwiQ29uZGl0aW9uIjp7IkRhdGVMZXNzVGhhbiI6eyJBV1M6RXBvY2hUaW1lIjoxNjU0MTYxNTM5fX19XX0_\u0026amp;Signature=\u0026amp;Key-Pair-Id=KCY5B3G9LR0QL\" style=\"display: block; margin-left: auto; margin-right: auto;\"\u003e\u003c\/span\u003e\u003c\/p\u003e\n\u003cul\u003e\n\u003cli\u003e\n\u003cp\u003e\u003cspan style=\"color: #ffad5e;\"\u003e\u003cstrong\u003e▲Night Bras for Women Sleeping▲ –\u003c\/strong\u003e \u003c\/span\u003eOur soft seamless sleep bras yoga bra using unique adhesion technology, is seam-free and entirely flat. This looks awesome under a shirt because it is completely smooth, no lines, no bulges. Even sports bras are not quite as comfortable as sleep bras for women large breasts.\u003c\/p\u003e\n\u003c\/li\u003e\n\u003c\/ul\u003e\n\u003cp\u003e\u003cimg src=\"https:\/\/cdn.shopifycdn.net\/s\/files\/1\/0549\/5010\/1178\/files\/12_19ea9150-3e04-4921-b222-b7134b28e947_480x480.jpg?v=1653633533\" style=\"display: block; margin-left: auto; margin-right: auto;\"\u003e\u003c\/p\u003e\n\u003cul\u003e\n\u003cli\u003e\n\u003cp\u003e\u003cspan style=\"color: #ffad5e;\"\u003e\u003cstrong\u003e▲Super Soft Bra \u0026amp; Cotton Postin▲ --\u003c\/strong\u003e\u003c\/span\u003e This wireless everyday bra has been added stretch, so it fits well to various size of women without tightness. This comfort bra with wide straps will be your perfect solution for breastfeeding, sleeping or daily use, it is also perfect for after surgery or during and after pregnancy.\u003c\/p\u003e\n\u003c\/li\u003e\n\u003c\/ul\u003e\n\u003cp\u003e\u003cimg src=\"https:\/\/gcdn.giikin.com\/uploads\/855439ee8dfd61ae4df5d20b671d4adf.gif?Policy=eyJTdGF0ZW1lbnQiOlt7IlJlc291cmNlIjoiaHR0cHM6XC9cL2QxbG5lcGhrcjdta2puLmNsb3VkZnJvbnQubmV0XC8qIiwiQ29uZGl0aW9uIjp7IkRhdGVMZXNzVGhhbiI6eyJBV1M6RXBvY2hUaW1lIjoxNjU0MTYxNTM5fX19XX0_\u0026amp;Signature=\u0026amp;Key-Pair-Id=KCY5B3G9LR0QL\" width=\"520\" height=\"328\" style=\"display: block; margin-left: auto; margin-right: auto;\"\u003e\u003c\/p\u003e\n\u003cul\u003e\n\u003cli\u003e\n\u003cp\u003e\u003cspan style=\"color: #ffad5e;\"\u003e\u003cstrong\u003e▲Padded Wireless Bra▲ –\u003c\/strong\u003e\u003c\/span\u003e The inserts in this pullover bra isn't typical stiff circles in most sport bras and bralette, but instead have so many small air holes that is soft and breathable. 4x thin sleep bra with One-piece design to help shape and lift the breast.\u003c\/p\u003e\n\u003c\/li\u003e\n\u003c\/ul\u003e\n\u003cp\u003e\u003cimg src=\"https:\/\/gcdn.giikin.com\/uploads\/5ac2ea195e1b8dfdadc03a8c43f9e002.gif?Policy=eyJTdGF0ZW1lbnQiOlt7IlJlc291cmNlIjoiaHR0cHM6XC9cL2QxbG5lcGhrcjdta2puLmNsb3VkZnJvbnQubmV0XC8qIiwiQ29uZGl0aW9uIjp7IkRhdGVMZXNzVGhhbiI6eyJBV1M6RXBvY2hUaW1lIjoxNjU0MTYxNTM5fX19XX0_\u0026amp;Signature=\u0026amp;Key-Pair-Id=KCY5B3G9LR0QL\" style=\"display: block; margin-left: auto; margin-right: auto;\" width=\"387\" height=\"516\"\u003e\u003c\/p\u003e\n\u003ctable width=\"100%\"\u003e\n\u003ctbody\u003e\n\u003ctr\u003e\n\u003ctd style=\"text-align: center;\"\u003e\u003cstrong\u003eSize\u003c\/strong\u003e\u003c\/td\u003e\n\u003ctd style=\"text-align: center;\"\u003e\u003cstrong\u003eWeight\u003c\/strong\u003e\u003c\/td\u003e\n\u003c\/tr\u003e\n\u003ctr\u003e\n\u003ctd style=\"text-align: center;\"\u003eL\u003c\/td\u003e\n\u003ctd style=\"text-align: center;\"\u003e40-55kg\u003c\/td\u003e\n\u003c\/tr\u003e\n\u003ctr\u003e\n\u003ctd style=\"text-align: center;\"\u003eXL\u003c\/td\u003e\n\u003ctd style=\"text-align: center;\"\u003e55-65kg\u003c\/td\u003e\n\u003c\/tr\u003e\n\u003ctr\u003e\n\u003ctd style=\"text-align: center;\"\u003e2XL\u003c\/td\u003e\n\u003ctd style=\"text-align: center;\"\u003e65-75kg\u003c\/td\u003e\n\u003c\/tr\u003e\n\u003ctr\u003e\n\u003ctd style=\"text-align: center;\"\u003e3XL\u003c\/td\u003e\n\u003ctd style=\"text-align: center;\"\u003e75-90kg\u003c\/td\u003e\n\u003c\/tr\u003e\n\u003c\/tbody\u003e\n\u003c\/table\u003e\n\u003cp data-mce-fragment=\"1\"\u003e\u003cspan style=\"color: #bc4c36;\" data-mce-fragment=\"1\"\u003e\u003cstrong data-mce-fragment=\"1\"\u003eSPECIFICATIONS\u003c\/strong\u003e\u003c\/span\u003e\u003cbr data-mce-fragment=\"1\"\u003e\u003c\/p\u003e\n\u003cul data-mce-fragment=\"1\"\u003e\n\u003cli data-mce-fragment=\"1\"\u003e\n\u003cp data-mce-fragment=\"1\"\u003e\u003cstrong data-mce-fragment=\"1\"\u003eMaterial:\u003c\/strong\u003e\u003cspan data-mce-fragment=\"1\"\u003e Nylon\u003c\/span\u003e\u003c\/p\u003e\n\u003c\/li\u003e\n\u003cli data-mce-fragment=\"1\"\u003e\n\u003cp data-mce-fragment=\"1\"\u003e\u003cstrong data-mce-fragment=\"1\"\u003eColor:\u003c\/strong\u003e\u003cspan data-mce-fragment=\"1\"\u003e \u003cspan class=\"Polaris-Badge_2qgie\" data-mce-fragment=\"1\"\u003ePink, \u003c\/span\u003e\u003cspan class=\"Polaris-Badge_2qgie\" data-mce-fragment=\"1\"\u003eBlack, \u003c\/span\u003e\u003cspan class=\"Polaris-Badge_2qgie\" data-mce-fragment=\"1\"\u003eBlue, \u003c\/span\u003e\u003cspan class=\"Polaris-Badge_2qgie\" data-mce-fragment=\"1\"\u003eSkin, \u003c\/span\u003e\u003cspan class=\"Polaris-Badge_2qgie\" data-mce-fragment=\"1\"\u003eLight Blue\u003c\/span\u003e\u003c\/span\u003e\u003c\/p\u003e\n\u003c\/li\u003e\n\u003cli data-mce-fragment=\"1\"\u003e\n\u003cp data-mce-fragment=\"1\"\u003e\u003cstrong data-mce-fragment=\"1\"\u003eWeight:\u003c\/strong\u003e\u003cspan data-mce-fragment=\"1\"\u003e A\u003c\/span\u003ebout 130g\u003c\/p\u003e\n\u003c\/li\u003e\n\u003cli data-mce-fragment=\"1\"\u003e\n\u003cp data-mce-fragment=\"1\"\u003e\u003cstrong data-mce-fragment=\"1\"\u003eSize:\u003c\/strong\u003e\u003cspan data-mce-fragment=\"1\"\u003e \u003c\/span\u003e\u003cspan data-mce-fragment=\"1\"\u003eAs Shown\u003c\/span\u003e\u003cbr data-mce-fragment=\"1\"\u003e\u003c\/p\u003e\n\u003c\/li\u003e\n\u003c\/ul\u003e\n\u003cp data-mce-fragment=\"1\"\u003e\u003cspan style=\"color: #bc4c36;\" data-mce-fragment=\"1\"\u003e\u003cstrong data-mce-fragment=\"1\"\u003ePACKAGE\u003c\/strong\u003e\u003c\/span\u003e\u003cbr data-mce-fragment=\"1\"\u003e\u003c\/p\u003e\n\u003cul data-mce-fragment=\"1\"\u003e\n\u003cli data-mce-fragment=\"1\"\u003e1 * Ultra-thin One-piece Bra\u003c\/li\u003e\n\u003c\/ul\u003e\n\u003cspan style=\"color: #ff2a00;\" data-mce-fragment=\"1\"\u003e\u003cstrong data-mce-fragment=\"1\"\u003eNOTE\u003c\/strong\u003e\u003c\/span\u003e\u003cbr data-mce-fragment=\"1\"\u003e\n\u003cul data-mce-fragment=\"1\"\u003e\n\u003cli data-mce-fragment=\"1\"\u003e\n\u003cp data-mce-fragment=\"1\"\u003ePlease allow slight measurement deviation due to manual measurement.\u003c\/p\u003e\n\u003c\/li\u003e\n\u003cli data-mce-fragment=\"1\"\u003e\n\u003cp data-mce-fragment=\"1\"\u003eDue to the different monitor and light effect, the actual color of the item might be slightly different from the color showed on the pictures.\u003c\/p\u003e\n\u003c\/li\u003e\n\u003c\/ul\u003e","published_at":"2022-06-08T01:47:48-06:00","created_at":"2022-06-08T01:48:01-06:00","vendor":"luluwin","type":"","tags":["underwear"],"price":1299,"price_min":1299,"price_max":1299,"available":true,"price_varies":false,"compare_at_price":2999,"compare_at_price_min":2999,"compare_at_price_max":2999,"compare_at_price_varies":false,"variants":[{"id":42066930040986,"title":"Pink \/ L(40-55kg)","option1":"Pink","option2":"L(40-55kg)","option3":null,"sku":"UN31490-C009-S00L","requires_shipping":true,"taxable":false,"featured_image":{"id":34030144782490,"product_id":7359921324186,"position":19,"created_at":"2022-06-08T01:48:11-06:00","updated_at":"2022-06-08T01:48:11-06:00","alt":null,"width":800,"height":800,"src":"\/\/www.luluwin.co.uk\/cdn\/shop\/products\/sku1_46322d8b-4ffa-47ca-963e-705488926981.jpg?v=1654674491","variant_ids":[42066930040986,42066930073754,42066930106522,42066930139290]},"available":true,"name":"Ultra-thin One-piece Bra - Pink \/ L(40-55kg)","public_title":"Pink \/ L(40-55kg)","options":["Pink","L(40-55kg)"],"price":1299,"weight":0,"compare_at_price":2999,"inventory_management":null,"barcode":null,"featured_media":{"alt":null,"id":26483038453914,"position":19,"preview_image":{"aspect_ratio":1.0,"height":800,"width":800,"src":"\/\/www.luluwin.co.uk\/cdn\/shop\/products\/sku1_46322d8b-4ffa-47ca-963e-705488926981.jpg?v=1654674491"}},"requires_selling_plan":false,"selling_plan_allocations":[]},{"id":42066930073754,"title":"Pink \/ XL(55-65kg)","option1":"Pink","option2":"XL(55-65kg)","option3":null,"sku":"UN31490-C009-S00X","requires_shipping":true,"taxable":false,"featured_image":{"id":34030144782490,"product_id":7359921324186,"position":19,"created_at":"2022-06-08T01:48:11-06:00","updated_at":"2022-06-08T01:48:11-06:00","alt":null,"width":800,"height":800,"src":"\/\/www.luluwin.co.uk\/cdn\/shop\/products\/sku1_46322d8b-4ffa-47ca-963e-705488926981.jpg?v=1654674491","variant_ids":[42066930040986,42066930073754,42066930106522,42066930139290]},"available":true,"name":"Ultra-thin One-piece Bra - Pink \/ XL(55-65kg)","public_title":"Pink \/ XL(55-65kg)","options":["Pink","XL(55-65kg)"],"price":1299,"weight":0,"compare_at_price":2999,"inventory_management":null,"barcode":null,"featured_media":{"alt":null,"id":26483038453914,"position":19,"preview_image":{"aspect_ratio":1.0,"height":800,"width":800,"src":"\/\/www.luluwin.co.uk\/cdn\/shop\/products\/sku1_46322d8b-4ffa-47ca-963e-705488926981.jpg?v=1654674491"}},"requires_selling_plan":false,"selling_plan_allocations":[]},{"id":42066930106522,"title":"Pink \/ 2XL(65-75kg)","option1":"Pink","option2":"2XL(65-75kg)","option3":null,"sku":"UN31490-C009-S02X","requires_shipping":true,"taxable":false,"featured_image":{"id":34030144782490,"product_id":7359921324186,"position":19,"created_at":"2022-06-08T01:48:11-06:00","updated_at":"2022-06-08T01:48:11-06:00","alt":null,"width":800,"height":800,"src":"\/\/www.luluwin.co.uk\/cdn\/shop\/products\/sku1_46322d8b-4ffa-47ca-963e-705488926981.jpg?v=1654674491","variant_ids":[42066930040986,42066930073754,42066930106522,42066930139290]},"available":true,"name":"Ultra-thin One-piece Bra - Pink \/ 2XL(65-75kg)","public_title":"Pink \/ 2XL(65-75kg)","options":["Pink","2XL(65-75kg)"],"price":1299,"weight":0,"compare_at_price":2999,"inventory_management":null,"barcode":null,"featured_media":{"alt":null,"id":26483038453914,"position":19,"preview_image":{"aspect_ratio":1.0,"height":800,"width":800,"src":"\/\/www.luluwin.co.uk\/cdn\/shop\/products\/sku1_46322d8b-4ffa-47ca-963e-705488926981.jpg?v=1654674491"}},"requires_selling_plan":false,"selling_plan_allocations":[]},{"id":42066930139290,"title":"Pink \/ 3XL(75-90kg)","option1":"Pink","option2":"3XL(75-90kg)","option3":null,"sku":"UN31490-C009-S03X","requires_shipping":true,"taxable":false,"featured_image":{"id":34030144782490,"product_id":7359921324186,"position":19,"created_at":"2022-06-08T01:48:11-06:00","updated_at":"2022-06-08T01:48:11-06:00","alt":null,"width":800,"height":800,"src":"\/\/www.luluwin.co.uk\/cdn\/shop\/products\/sku1_46322d8b-4ffa-47ca-963e-705488926981.jpg?v=1654674491","variant_ids":[42066930040986,42066930073754,42066930106522,42066930139290]},"available":true,"name":"Ultra-thin One-piece Bra - Pink \/ 3XL(75-90kg)","public_title":"Pink \/ 3XL(75-90kg)","options":["Pink","3XL(75-90kg)"],"price":1299,"weight":0,"compare_at_price":2999,"inventory_management":null,"barcode":null,"featured_media":{"alt":null,"id":26483038453914,"position":19,"preview_image":{"aspect_ratio":1.0,"height":800,"width":800,"src":"\/\/www.luluwin.co.uk\/cdn\/shop\/products\/sku1_46322d8b-4ffa-47ca-963e-705488926981.jpg?v=1654674491"}},"requires_selling_plan":false,"selling_plan_allocations":[]},{"id":42066930172058,"title":"Black \/ L(40-55kg)","option1":"Black","option2":"L(40-55kg)","option3":null,"sku":"UN31490-C001-S00L","requires_shipping":true,"taxable":false,"featured_image":{"id":34030144061594,"product_id":7359921324186,"position":18,"created_at":"2022-06-08T01:48:09-06:00","updated_at":"2022-06-08T01:48:09-06:00","alt":null,"width":800,"height":800,"src":"\/\/www.luluwin.co.uk\/cdn\/shop\/products\/sku2_b5c8742e-e6cc-4768-825b-865eb0ad5a85.jpg?v=1654674489","variant_ids":[42066930172058,42066930204826,42066930237594,42066930270362]},"available":true,"name":"Ultra-thin One-piece Bra - Black \/ L(40-55kg)","public_title":"Black \/ L(40-55kg)","options":["Black","L(40-55kg)"],"price":1299,"weight":0,"compare_at_price":2999,"inventory_management":null,"barcode":null,"featured_media":{"alt":null,"id":26483037733018,"position":18,"preview_image":{"aspect_ratio":1.0,"height":800,"width":800,"src":"\/\/www.luluwin.co.uk\/cdn\/shop\/products\/sku2_b5c8742e-e6cc-4768-825b-865eb0ad5a85.jpg?v=1654674489"}},"requires_selling_plan":false,"selling_plan_allocations":[]},{"id":42066930204826,"title":"Black \/ XL(55-65kg)","option1":"Black","option2":"XL(55-65kg)","option3":null,"sku":"UN31490-C001-S00X","requires_shipping":true,"taxable":false,"featured_image":{"id":34030144061594,"product_id":7359921324186,"position":18,"created_at":"2022-06-08T01:48:09-06:00","updated_at":"2022-06-08T01:48:09-06:00","alt":null,"width":800,"height":800,"src":"\/\/www.luluwin.co.uk\/cdn\/shop\/products\/sku2_b5c8742e-e6cc-4768-825b-865eb0ad5a85.jpg?v=1654674489","variant_ids":[42066930172058,42066930204826,42066930237594,42066930270362]},"available":true,"name":"Ultra-thin One-piece Bra - Black \/ XL(55-65kg)","public_title":"Black \/ XL(55-65kg)","options":["Black","XL(55-65kg)"],"price":1299,"weight":0,"compare_at_price":2999,"inventory_management":null,"barcode":null,"featured_media":{"alt":null,"id":26483037733018,"position":18,"preview_image":{"aspect_ratio":1.0,"height":800,"width":800,"src":"\/\/www.luluwin.co.uk\/cdn\/shop\/products\/sku2_b5c8742e-e6cc-4768-825b-865eb0ad5a85.jpg?v=1654674489"}},"requires_selling_plan":false,"selling_plan_allocations":[]},{"id":42066930237594,"title":"Black \/ 2XL(65-75kg)","option1":"Black","option2":"2XL(65-75kg)","option3":null,"sku":"UN31490-C001-S02X","requires_shipping":true,"taxable":false,"featured_image":{"id":34030144061594,"product_id":7359921324186,"position":18,"created_at":"2022-06-08T01:48:09-06:00","updated_at":"2022-06-08T01:48:09-06:00","alt":null,"width":800,"height":800,"src":"\/\/www.luluwin.co.uk\/cdn\/shop\/products\/sku2_b5c8742e-e6cc-4768-825b-865eb0ad5a85.jpg?v=1654674489","variant_ids":[42066930172058,42066930204826,42066930237594,42066930270362]},"available":true,"name":"Ultra-thin One-piece Bra - Black \/ 2XL(65-75kg)","public_title":"Black \/ 2XL(65-75kg)","options":["Black","2XL(65-75kg)"],"price":1299,"weight":0,"compare_at_price":2999,"inventory_management":null,"barcode":null,"featured_media":{"alt":null,"id":26483037733018,"position":18,"preview_image":{"aspect_ratio":1.0,"height":800,"width":800,"src":"\/\/www.luluwin.co.uk\/cdn\/shop\/products\/sku2_b5c8742e-e6cc-4768-825b-865eb0ad5a85.jpg?v=1654674489"}},"requires_selling_plan":false,"selling_plan_allocations":[]},{"id":42066930270362,"title":"Black \/ 3XL(75-90kg)","option1":"Black","option2":"3XL(75-90kg)","option3":null,"sku":"UN31490-C001-S03X","requires_shipping":true,"taxable":false,"featured_image":{"id":34030144061594,"product_id":7359921324186,"position":18,"created_at":"2022-06-08T01:48:09-06:00","updated_at":"2022-06-08T01:48:09-06:00","alt":null,"width":800,"height":800,"src":"\/\/www.luluwin.co.uk\/cdn\/shop\/products\/sku2_b5c8742e-e6cc-4768-825b-865eb0ad5a85.jpg?v=1654674489","variant_ids":[42066930172058,42066930204826,42066930237594,42066930270362]},"available":true,"name":"Ultra-thin One-piece Bra - Black \/ 3XL(75-90kg)","public_title":"Black \/ 3XL(75-90kg)","options":["Black","3XL(75-90kg)"],"price":1299,"weight":0,"compare_at_price":2999,"inventory_management":null,"barcode":null,"featured_media":{"alt":null,"id":26483037733018,"position":18,"preview_image":{"aspect_ratio":1.0,"height":800,"width":800,"src":"\/\/www.luluwin.co.uk\/cdn\/shop\/products\/sku2_b5c8742e-e6cc-4768-825b-865eb0ad5a85.jpg?v=1654674489"}},"requires_selling_plan":false,"selling_plan_allocations":[]},{"id":42066930303130,"title":"Blue \/ L(40-55kg)","option1":"Blue","option2":"L(40-55kg)","option3":null,"sku":"UN31490-C106-S00L","requires_shipping":true,"taxable":false,"featured_image":{"id":34030143504538,"product_id":7359921324186,"position":16,"created_at":"2022-06-08T01:48:06-06:00","updated_at":"2022-06-08T01:48:06-06:00","alt":null,"width":800,"height":800,"src":"\/\/www.luluwin.co.uk\/cdn\/shop\/products\/sku3_3e9c1bdb-dd8a-4090-9c0c-27e2b36b1139.jpg?v=1654674486","variant_ids":[42066930303130,42066930335898,42066930368666,42066930401434]},"available":true,"name":"Ultra-thin One-piece Bra - Blue \/ L(40-55kg)","public_title":"Blue \/ L(40-55kg)","options":["Blue","L(40-55kg)"],"price":1299,"weight":0,"compare_at_price":2999,"inventory_management":null,"barcode":null,"featured_media":{"alt":null,"id":26483037175962,"position":16,"preview_image":{"aspect_ratio":1.0,"height":800,"width":800,"src":"\/\/www.luluwin.co.uk\/cdn\/shop\/products\/sku3_3e9c1bdb-dd8a-4090-9c0c-27e2b36b1139.jpg?v=1654674486"}},"requires_selling_plan":false,"selling_plan_allocations":[]},{"id":42066930335898,"title":"Blue \/ XL(55-65kg)","option1":"Blue","option2":"XL(55-65kg)","option3":null,"sku":"UN31490-C106-S00X","requires_shipping":true,"taxable":false,"featured_image":{"id":34030143504538,"product_id":7359921324186,"position":16,"created_at":"2022-06-08T01:48:06-06:00","updated_at":"2022-06-08T01:48:06-06:00","alt":null,"width":800,"height":800,"src":"\/\/www.luluwin.co.uk\/cdn\/shop\/products\/sku3_3e9c1bdb-dd8a-4090-9c0c-27e2b36b1139.jpg?v=1654674486","variant_ids":[42066930303130,42066930335898,42066930368666,42066930401434]},"available":true,"name":"Ultra-thin One-piece Bra - Blue \/ XL(55-65kg)","public_title":"Blue \/ XL(55-65kg)","options":["Blue","XL(55-65kg)"],"price":1299,"weight":0,"compare_at_price":2999,"inventory_management":null,"barcode":null,"featured_media":{"alt":null,"id":26483037175962,"position":16,"preview_image":{"aspect_ratio":1.0,"height":800,"width":800,"src":"\/\/www.luluwin.co.uk\/cdn\/shop\/products\/sku3_3e9c1bdb-dd8a-4090-9c0c-27e2b36b1139.jpg?v=1654674486"}},"requires_selling_plan":false,"selling_plan_allocations":[]},{"id":42066930368666,"title":"Blue \/ 2XL(65-75kg)","option1":"Blue","option2":"2XL(65-75kg)","option3":null,"sku":"UN31490-C106-S02X","requires_shipping":true,"taxable":false,"featured_image":{"id":34030143504538,"product_id":7359921324186,"position":16,"created_at":"2022-06-08T01:48:06-06:00","updated_at":"2022-06-08T01:48:06-06:00","alt":null,"width":800,"height":800,"src":"\/\/www.luluwin.co.uk\/cdn\/shop\/products\/sku3_3e9c1bdb-dd8a-4090-9c0c-27e2b36b1139.jpg?v=1654674486","variant_ids":[42066930303130,42066930335898,42066930368666,42066930401434]},"available":true,"name":"Ultra-thin One-piece Bra - Blue \/ 2XL(65-75kg)","public_title":"Blue \/ 2XL(65-75kg)","options":["Blue","2XL(65-75kg)"],"price":1299,"weight":0,"compare_at_price":2999,"inventory_management":null,"barcode":null,"featured_media":{"alt":null,"id":26483037175962,"position":16,"preview_image":{"aspect_ratio":1.0,"height":800,"width":800,"src":"\/\/www.luluwin.co.uk\/cdn\/shop\/products\/sku3_3e9c1bdb-dd8a-4090-9c0c-27e2b36b1139.jpg?v=1654674486"}},"requires_selling_plan":false,"selling_plan_allocations":[]},{"id":42066930401434,"title":"Blue \/ 3XL(75-90kg)","option1":"Blue","option2":"3XL(75-90kg)","option3":null,"sku":"UN31490-C106-S03X","requires_shipping":true,"taxable":false,"featured_image":{"id":34030143504538,"product_id":7359921324186,"position":16,"created_at":"2022-06-08T01:48:06-06:00","updated_at":"2022-06-08T01:48:06-06:00","alt":null,"width":800,"height":800,"src":"\/\/www.luluwin.co.uk\/cdn\/shop\/products\/sku3_3e9c1bdb-dd8a-4090-9c0c-27e2b36b1139.jpg?v=1654674486","variant_ids":[42066930303130,42066930335898,42066930368666,42066930401434]},"available":true,"name":"Ultra-thin One-piece Bra - Blue \/ 3XL(75-90kg)","public_title":"Blue \/ 3XL(75-90kg)","options":["Blue","3XL(75-90kg)"],"price":1299,"weight":0,"compare_at_price":2999,"inventory_management":null,"barcode":null,"featured_media":{"alt":null,"id":26483037175962,"position":16,"preview_image":{"aspect_ratio":1.0,"height":800,"width":800,"src":"\/\/www.luluwin.co.uk\/cdn\/shop\/products\/sku3_3e9c1bdb-dd8a-4090-9c0c-27e2b36b1139.jpg?v=1654674486"}},"requires_selling_plan":false,"selling_plan_allocations":[]},{"id":42066930434202,"title":"Skin \/ L(40-55kg)","option1":"Skin","option2":"L(40-55kg)","option3":null,"sku":"UN31490-C083-S00L","requires_shipping":true,"taxable":false,"featured_image":{"id":34030145175706,"product_id":7359921324186,"position":20,"created_at":"2022-06-08T01:48:13-06:00","updated_at":"2022-06-08T01:48:13-06:00","alt":null,"width":800,"height":800,"src":"\/\/www.luluwin.co.uk\/cdn\/shop\/products\/sku4_70385469-2099-4603-a392-da2a72518e33.jpg?v=1654674493","variant_ids":[42066930434202,42066930466970,42066930499738,42066930532506]},"available":true,"name":"Ultra-thin One-piece Bra - Skin \/ L(40-55kg)","public_title":"Skin \/ L(40-55kg)","options":["Skin","L(40-55kg)"],"price":1299,"weight":0,"compare_at_price":2999,"inventory_management":null,"barcode":null,"featured_media":{"alt":null,"id":26483038879898,"position":20,"preview_image":{"aspect_ratio":1.0,"height":800,"width":800,"src":"\/\/www.luluwin.co.uk\/cdn\/shop\/products\/sku4_70385469-2099-4603-a392-da2a72518e33.jpg?v=1654674493"}},"requires_selling_plan":false,"selling_plan_allocations":[]},{"id":42066930466970,"title":"Skin \/ XL(55-65kg)","option1":"Skin","option2":"XL(55-65kg)","option3":null,"sku":"UN31490-C083-S00X","requires_shipping":true,"taxable":false,"featured_image":{"id":34030145175706,"product_id":7359921324186,"position":20,"created_at":"2022-06-08T01:48:13-06:00","updated_at":"2022-06-08T01:48:13-06:00","alt":null,"width":800,"height":800,"src":"\/\/www.luluwin.co.uk\/cdn\/shop\/products\/sku4_70385469-2099-4603-a392-da2a72518e33.jpg?v=1654674493","variant_ids":[42066930434202,42066930466970,42066930499738,42066930532506]},"available":true,"name":"Ultra-thin One-piece Bra - Skin \/ XL(55-65kg)","public_title":"Skin \/ XL(55-65kg)","options":["Skin","XL(55-65kg)"],"price":1299,"weight":0,"compare_at_price":2999,"inventory_management":null,"barcode":null,"featured_media":{"alt":null,"id":26483038879898,"position":20,"preview_image":{"aspect_ratio":1.0,"height":800,"width":800,"src":"\/\/www.luluwin.co.uk\/cdn\/shop\/products\/sku4_70385469-2099-4603-a392-da2a72518e33.jpg?v=1654674493"}},"requires_selling_plan":false,"selling_plan_allocations":[]},{"id":42066930499738,"title":"Skin \/ 2XL(65-75kg)","option1":"Skin","option2":"2XL(65-75kg)","option3":null,"sku":"UN31490-C083-S02X","requires_shipping":true,"taxable":false,"featured_image":{"id":34030145175706,"product_id":7359921324186,"position":20,"created_at":"2022-06-08T01:48:13-06:00","updated_at":"2022-06-08T01:48:13-06:00","alt":null,"width":800,"height":800,"src":"\/\/www.luluwin.co.uk\/cdn\/shop\/products\/sku4_70385469-2099-4603-a392-da2a72518e33.jpg?v=1654674493","variant_ids":[42066930434202,42066930466970,42066930499738,42066930532506]},"available":true,"name":"Ultra-thin One-piece Bra - Skin \/ 2XL(65-75kg)","public_title":"Skin \/ 2XL(65-75kg)","options":["Skin","2XL(65-75kg)"],"price":1299,"weight":0,"compare_at_price":2999,"inventory_management":null,"barcode":null,"featured_media":{"alt":null,"id":26483038879898,"position":20,"preview_image":{"aspect_ratio":1.0,"height":800,"width":800,"src":"\/\/www.luluwin.co.uk\/cdn\/shop\/products\/sku4_70385469-2099-4603-a392-da2a72518e33.jpg?v=1654674493"}},"requires_selling_plan":false,"selling_plan_allocations":[]},{"id":42066930532506,"title":"Skin \/ 3XL(75-90kg)","option1":"Skin","option2":"3XL(75-90kg)","option3":null,"sku":"UN31490-C083-S03X","requires_shipping":true,"taxable":false,"featured_image":{"id":34030145175706,"product_id":7359921324186,"position":20,"created_at":"2022-06-08T01:48:13-06:00","updated_at":"2022-06-08T01:48:13-06:00","alt":null,"width":800,"height":800,"src":"\/\/www.luluwin.co.uk\/cdn\/shop\/products\/sku4_70385469-2099-4603-a392-da2a72518e33.jpg?v=1654674493","variant_ids":[42066930434202,42066930466970,42066930499738,42066930532506]},"available":true,"name":"Ultra-thin One-piece Bra - Skin \/ 3XL(75-90kg)","public_title":"Skin \/ 3XL(75-90kg)","options":["Skin","3XL(75-90kg)"],"price":1299,"weight":0,"compare_at_price":2999,"inventory_management":null,"barcode":null,"featured_media":{"alt":null,"id":26483038879898,"position":20,"preview_image":{"aspect_ratio":1.0,"height":800,"width":800,"src":"\/\/www.luluwin.co.uk\/cdn\/shop\/products\/sku4_70385469-2099-4603-a392-da2a72518e33.jpg?v=1654674493"}},"requires_selling_plan":false,"selling_plan_allocations":[]},{"id":42066930565274,"title":"Light Blue \/ L(40-55kg)","option1":"Light Blue","option2":"L(40-55kg)","option3":null,"sku":"UN31490-C044-S00L","requires_shipping":true,"taxable":false,"featured_image":{"id":34030143701146,"product_id":7359921324186,"position":17,"created_at":"2022-06-08T01:48:08-06:00","updated_at":"2022-06-08T01:48:08-06:00","alt":null,"width":800,"height":800,"src":"\/\/www.luluwin.co.uk\/cdn\/shop\/products\/sku5_289d00d9-845e-49d3-9318-d94e79548aa0.jpg?v=1654674488","variant_ids":[42066930565274,42066930598042,42066930630810,42066930663578]},"available":true,"name":"Ultra-thin One-piece Bra - Light Blue \/ L(40-55kg)","public_title":"Light Blue \/ L(40-55kg)","options":["Light Blue","L(40-55kg)"],"price":1299,"weight":0,"compare_at_price":2999,"inventory_management":null,"barcode":null,"featured_media":{"alt":null,"id":26483037372570,"position":17,"preview_image":{"aspect_ratio":1.0,"height":800,"width":800,"src":"\/\/www.luluwin.co.uk\/cdn\/shop\/products\/sku5_289d00d9-845e-49d3-9318-d94e79548aa0.jpg?v=1654674488"}},"requires_selling_plan":false,"selling_plan_allocations":[]},{"id":42066930598042,"title":"Light Blue \/ XL(55-65kg)","option1":"Light Blue","option2":"XL(55-65kg)","option3":null,"sku":"UN31490-C044-S00X","requires_shipping":true,"taxable":false,"featured_image":{"id":34030143701146,"product_id":7359921324186,"position":17,"created_at":"2022-06-08T01:48:08-06:00","updated_at":"2022-06-08T01:48:08-06:00","alt":null,"width":800,"height":800,"src":"\/\/www.luluwin.co.uk\/cdn\/shop\/products\/sku5_289d00d9-845e-49d3-9318-d94e79548aa0.jpg?v=1654674488","variant_ids":[42066930565274,42066930598042,42066930630810,42066930663578]},"available":true,"name":"Ultra-thin One-piece Bra - Light Blue \/ XL(55-65kg)","public_title":"Light Blue \/ XL(55-65kg)","options":["Light Blue","XL(55-65kg)"],"price":1299,"weight":0,"compare_at_price":2999,"inventory_management":null,"barcode":null,"featured_media":{"alt":null,"id":26483037372570,"position":17,"preview_image":{"aspect_ratio":1.0,"height":800,"width":800,"src":"\/\/www.luluwin.co.uk\/cdn\/shop\/products\/sku5_289d00d9-845e-49d3-9318-d94e79548aa0.jpg?v=1654674488"}},"requires_selling_plan":false,"selling_plan_allocations":[]},{"id":42066930630810,"title":"Light Blue \/ 2XL(65-75kg)","option1":"Light Blue","option2":"2XL(65-75kg)","option3":null,"sku":"UN31490-C044-S02X","requires_shipping":true,"taxable":false,"featured_image":{"id":34030143701146,"product_id":7359921324186,"position":17,"created_at":"2022-06-08T01:48:08-06:00","updated_at":"2022-06-08T01:48:08-06:00","alt":null,"width":800,"height":800,"src":"\/\/www.luluwin.co.uk\/cdn\/shop\/products\/sku5_289d00d9-845e-49d3-9318-d94e79548aa0.jpg?v=1654674488","variant_ids":[42066930565274,42066930598042,42066930630810,42066930663578]},"available":true,"name":"Ultra-thin One-piece Bra - Light Blue \/ 2XL(65-75kg)","public_title":"Light Blue \/ 2XL(65-75kg)","options":["Light Blue","2XL(65-75kg)"],"price":1299,"weight":0,"compare_at_price":2999,"inventory_management":null,"barcode":null,"featured_media":{"alt":null,"id":26483037372570,"position":17,"preview_image":{"aspect_ratio":1.0,"height":800,"width":800,"src":"\/\/www.luluwin.co.uk\/cdn\/shop\/products\/sku5_289d00d9-845e-49d3-9318-d94e79548aa0.jpg?v=1654674488"}},"requires_selling_plan":false,"selling_plan_allocations":[]},{"id":42066930663578,"title":"Light Blue \/ 3XL(75-90kg)","option1":"Light Blue","option2":"3XL(75-90kg)","option3":null,"sku":"UN31490-C044-S03X","requires_shipping":true,"taxable":false,"featured_image":{"id":34030143701146,"product_id":7359921324186,"position":17,"created_at":"2022-06-08T01:48:08-06:00","updated_at":"2022-06-08T01:48:08-06:00","alt":null,"width":800,"height":800,"src":"\/\/www.luluwin.co.uk\/cdn\/shop\/products\/sku5_289d00d9-845e-49d3-9318-d94e79548aa0.jpg?v=1654674488","variant_ids":[42066930565274,42066930598042,42066930630810,42066930663578]},"available":true,"name":"Ultra-thin One-piece Bra - Light Blue \/ 3XL(75-90kg)","public_title":"Light Blue \/ 3XL(75-90kg)","options":["Light Blue","3XL(75-90kg)"],"price":1299,"weight":0,"compare_at_price":2999,"inventory_management":null,"barcode":null,"featured_media":{"alt":null,"id":26483037372570,"position":17,"preview_image":{"aspect_ratio":1.0,"height":800,"width":800,"src":"\/\/www.luluwin.co.uk\/cdn\/shop\/products\/sku5_289d00d9-845e-49d3-9318-d94e79548aa0.jpg?v=1654674488"}},"requires_selling_plan":false,"selling_plan_allocations":[]}],"images":["\/\/www.luluwin.co.uk\/cdn\/shop\/products\/FM_cc58f38d-2a52-4bf8-8549-a8bac266ff8d.jpg?v=1654674482","\/\/www.luluwin.co.uk\/cdn\/shop\/products\/1_aaed1e65-7293-4f89-8349-045ff0b60eb4.jpg?v=1654674482","\/\/www.luluwin.co.uk\/cdn\/shop\/products\/3_6d2cd1a6-4f37-474b-a238-48e38d679451.jpg?v=1654674482","\/\/www.luluwin.co.uk\/cdn\/shop\/products\/4_e4c8a458-b664-4c05-b9cd-ac97ae7bc1ff.jpg?v=1654674482","\/\/www.luluwin.co.uk\/cdn\/shop\/products\/5_357e60b0-626a-43a3-8a78-953e88282ec4.jpg?v=1654674482","\/\/www.luluwin.co.uk\/cdn\/shop\/products\/6_edad074f-90af-46e0-9af3-90a02fa4b8e0.jpg?v=1654674482","\/\/www.luluwin.co.uk\/cdn\/shop\/products\/7_8d9eeb7f-9b2d-4848-b786-ed2a967fc42c.jpg?v=1654674482","\/\/www.luluwin.co.uk\/cdn\/shop\/products\/8_8f5a2af1-7c8b-4b3b-b865-b632c73575bd.jpg?v=1654674482","\/\/www.luluwin.co.uk\/cdn\/shop\/products\/9_10b53e9a-b28c-4adc-acab-944c6449496c.jpg?v=1654674482","\/\/www.luluwin.co.uk\/cdn\/shop\/products\/10_2c54b1c2-bea9-4d65-8c64-2eaa14606331.jpg?v=1654674482","\/\/www.luluwin.co.uk\/cdn\/shop\/products\/11_3eced893-d2e0-4d87-9600-3ce3852a52ed.jpg?v=1654674482","\/\/www.luluwin.co.uk\/cdn\/shop\/products\/12_b8b67d8f-80ff-4117-8a93-72ce10afd644.jpg?v=1654674482","\/\/www.luluwin.co.uk\/cdn\/shop\/products\/FM1_40da74be-5a09-429c-920f-75c2e31992f1.jpg?v=1654674482","\/\/www.luluwin.co.uk\/cdn\/shop\/products\/FM2_a395ea2c-358f-403c-bda4-af284cd0b30d.jpg?v=1654674482","\/\/www.luluwin.co.uk\/cdn\/shop\/products\/13_80e9cb52-1e86-4283-81bd-21c019b0a88b.jpg?v=1654674482","\/\/www.luluwin.co.uk\/cdn\/shop\/products\/sku3_3e9c1bdb-dd8a-4090-9c0c-27e2b36b1139.jpg?v=1654674486","\/\/www.luluwin.co.uk\/cdn\/shop\/products\/sku5_289d00d9-845e-49d3-9318-d94e79548aa0.jpg?v=1654674488","\/\/www.luluwin.co.uk\/cdn\/shop\/products\/sku2_b5c8742e-e6cc-4768-825b-865eb0ad5a85.jpg?v=1654674489","\/\/www.luluwin.co.uk\/cdn\/shop\/products\/sku1_46322d8b-4ffa-47ca-963e-705488926981.jpg?v=1654674491","\/\/www.luluwin.co.uk\/cdn\/shop\/products\/sku4_70385469-2099-4603-a392-da2a72518e33.jpg?v=1654674493"],"featured_image":"\/\/www.luluwin.co.uk\/cdn\/shop\/products\/FM_cc58f38d-2a52-4bf8-8549-a8bac266ff8d.jpg?v=1654674482","options":["Color","Size"],"media":[{"alt":null,"id":26483036094618,"position":1,"preview_image":{"aspect_ratio":1.0,"height":800,"width":800,"src":"\/\/www.luluwin.co.uk\/cdn\/shop\/products\/FM_cc58f38d-2a52-4bf8-8549-a8bac266ff8d.jpg?v=1654674482"},"aspect_ratio":1.0,"height":800,"media_type":"image","src":"\/\/www.luluwin.co.uk\/cdn\/shop\/products\/FM_cc58f38d-2a52-4bf8-8549-a8bac266ff8d.jpg?v=1654674482","width":800},{"alt":null,"id":26483036127386,"position":2,"preview_image":{"aspect_ratio":1.0,"height":800,"width":800,"src":"\/\/www.luluwin.co.uk\/cdn\/shop\/products\/1_aaed1e65-7293-4f89-8349-045ff0b60eb4.jpg?v=1654674482"},"aspect_ratio":1.0,"height":800,"media_type":"image","src":"\/\/www.luluwin.co.uk\/cdn\/shop\/products\/1_aaed1e65-7293-4f89-8349-045ff0b60eb4.jpg?v=1654674482","width":800},{"alt":null,"id":26483036160154,"position":3,"preview_image":{"aspect_ratio":1.0,"height":800,"width":800,"src":"\/\/www.luluwin.co.uk\/cdn\/shop\/products\/3_6d2cd1a6-4f37-474b-a238-48e38d679451.jpg?v=1654674482"},"aspect_ratio":1.0,"height":800,"media_type":"image","src":"\/\/www.luluwin.co.uk\/cdn\/shop\/products\/3_6d2cd1a6-4f37-474b-a238-48e38d679451.jpg?v=1654674482","width":800},{"alt":null,"id":26483036192922,"position":4,"preview_image":{"aspect_ratio":1.0,"height":800,"width":800,"src":"\/\/www.luluwin.co.uk\/cdn\/shop\/products\/4_e4c8a458-b664-4c05-b9cd-ac97ae7bc1ff.jpg?v=1654674482"},"aspect_ratio":1.0,"height":800,"media_type":"image","src":"\/\/www.luluwin.co.uk\/cdn\/shop\/products\/4_e4c8a458-b664-4c05-b9cd-ac97ae7bc1ff.jpg?v=1654674482","width":800},{"alt":null,"id":26483036225690,"position":5,"preview_image":{"aspect_ratio":1.0,"height":800,"width":800,"src":"\/\/www.luluwin.co.uk\/cdn\/shop\/products\/5_357e60b0-626a-43a3-8a78-953e88282ec4.jpg?v=1654674482"},"aspect_ratio":1.0,"height":800,"media_type":"image","src":"\/\/www.luluwin.co.uk\/cdn\/shop\/products\/5_357e60b0-626a-43a3-8a78-953e88282ec4.jpg?v=1654674482","width":800},{"alt":null,"id":26483036258458,"position":6,"preview_image":{"aspect_ratio":1.0,"height":800,"width":800,"src":"\/\/www.luluwin.co.uk\/cdn\/shop\/products\/6_edad074f-90af-46e0-9af3-90a02fa4b8e0.jpg?v=1654674482"},"aspect_ratio":1.0,"height":800,"media_type":"image","src":"\/\/www.luluwin.co.uk\/cdn\/shop\/products\/6_edad074f-90af-46e0-9af3-90a02fa4b8e0.jpg?v=1654674482","width":800},{"alt":null,"id":26483036291226,"position":7,"preview_image":{"aspect_ratio":1.0,"height":800,"width":800,"src":"\/\/www.luluwin.co.uk\/cdn\/shop\/products\/7_8d9eeb7f-9b2d-4848-b786-ed2a967fc42c.jpg?v=1654674482"},"aspect_ratio":1.0,"height":800,"media_type":"image","src":"\/\/www.luluwin.co.uk\/cdn\/shop\/products\/7_8d9eeb7f-9b2d-4848-b786-ed2a967fc42c.jpg?v=1654674482","width":800},{"alt":null,"id":26483036323994,"position":8,"preview_image":{"aspect_ratio":1.0,"height":800,"width":800,"src":"\/\/www.luluwin.co.uk\/cdn\/shop\/products\/8_8f5a2af1-7c8b-4b3b-b865-b632c73575bd.jpg?v=1654674482"},"aspect_ratio":1.0,"height":800,"media_type":"image","src":"\/\/www.luluwin.co.uk\/cdn\/shop\/products\/8_8f5a2af1-7c8b-4b3b-b865-b632c73575bd.jpg?v=1654674482","width":800},{"alt":null,"id":26483036356762,"position":9,"preview_image":{"aspect_ratio":1.0,"height":800,"width":800,"src":"\/\/www.luluwin.co.uk\/cdn\/shop\/products\/9_10b53e9a-b28c-4adc-acab-944c6449496c.jpg?v=1654674482"},"aspect_ratio":1.0,"height":800,"media_type":"image","src":"\/\/www.luluwin.co.uk\/cdn\/shop\/products\/9_10b53e9a-b28c-4adc-acab-944c6449496c.jpg?v=1654674482","width":800},{"alt":null,"id":26483036389530,"position":10,"preview_image":{"aspect_ratio":1.0,"height":800,"width":800,"src":"\/\/www.luluwin.co.uk\/cdn\/shop\/products\/10_2c54b1c2-bea9-4d65-8c64-2eaa14606331.jpg?v=1654674482"},"aspect_ratio":1.0,"height":800,"media_type":"image","src":"\/\/www.luluwin.co.uk\/cdn\/shop\/products\/10_2c54b1c2-bea9-4d65-8c64-2eaa14606331.jpg?v=1654674482","width":800},{"alt":null,"id":26483036422298,"position":11,"preview_image":{"aspect_ratio":1.0,"height":800,"width":800,"src":"\/\/www.luluwin.co.uk\/cdn\/shop\/products\/11_3eced893-d2e0-4d87-9600-3ce3852a52ed.jpg?v=1654674482"},"aspect_ratio":1.0,"height":800,"media_type":"image","src":"\/\/www.luluwin.co.uk\/cdn\/shop\/products\/11_3eced893-d2e0-4d87-9600-3ce3852a52ed.jpg?v=1654674482","width":800},{"alt":null,"id":26483036455066,"position":12,"preview_image":{"aspect_ratio":1.0,"height":800,"width":800,"src":"\/\/www.luluwin.co.uk\/cdn\/shop\/products\/12_b8b67d8f-80ff-4117-8a93-72ce10afd644.jpg?v=1654674482"},"aspect_ratio":1.0,"height":800,"media_type":"image","src":"\/\/www.luluwin.co.uk\/cdn\/shop\/products\/12_b8b67d8f-80ff-4117-8a93-72ce10afd644.jpg?v=1654674482","width":800},{"alt":null,"id":26483036487834,"position":13,"preview_image":{"aspect_ratio":1.0,"height":800,"width":800,"src":"\/\/www.luluwin.co.uk\/cdn\/shop\/products\/FM1_40da74be-5a09-429c-920f-75c2e31992f1.jpg?v=1654674482"},"aspect_ratio":1.0,"height":800,"media_type":"image","src":"\/\/www.luluwin.co.uk\/cdn\/shop\/products\/FM1_40da74be-5a09-429c-920f-75c2e31992f1.jpg?v=1654674482","width":800},{"alt":null,"id":26483036520602,"position":14,"preview_image":{"aspect_ratio":1.0,"height":800,"width":800,"src":"\/\/www.luluwin.co.uk\/cdn\/shop\/products\/FM2_a395ea2c-358f-403c-bda4-af284cd0b30d.jpg?v=1654674482"},"aspect_ratio":1.0,"height":800,"media_type":"image","src":"\/\/www.luluwin.co.uk\/cdn\/shop\/products\/FM2_a395ea2c-358f-403c-bda4-af284cd0b30d.jpg?v=1654674482","width":800},{"alt":null,"id":26483036553370,"position":15,"preview_image":{"aspect_ratio":1.0,"height":800,"width":800,"src":"\/\/www.luluwin.co.uk\/cdn\/shop\/products\/13_80e9cb52-1e86-4283-81bd-21c019b0a88b.jpg?v=1654674482"},"aspect_ratio":1.0,"height":800,"media_type":"image","src":"\/\/www.luluwin.co.uk\/cdn\/shop\/products\/13_80e9cb52-1e86-4283-81bd-21c019b0a88b.jpg?v=1654674482","width":800},{"alt":null,"id":26483037175962,"position":16,"preview_image":{"aspect_ratio":1.0,"height":800,"width":800,"src":"\/\/www.luluwin.co.uk\/cdn\/shop\/products\/sku3_3e9c1bdb-dd8a-4090-9c0c-27e2b36b1139.jpg?v=1654674486"},"aspect_ratio":1.0,"height":800,"media_type":"image","src":"\/\/www.luluwin.co.uk\/cdn\/shop\/products\/sku3_3e9c1bdb-dd8a-4090-9c0c-27e2b36b1139.jpg?v=1654674486","width":800},{"alt":null,"id":26483037372570,"position":17,"preview_image":{"aspect_ratio":1.0,"height":800,"width":800,"src":"\/\/www.luluwin.co.uk\/cdn\/shop\/products\/sku5_289d00d9-845e-49d3-9318-d94e79548aa0.jpg?v=1654674488"},"aspect_ratio":1.0,"height":800,"media_type":"image","src":"\/\/www.luluwin.co.uk\/cdn\/shop\/products\/sku5_289d00d9-845e-49d3-9318-d94e79548aa0.jpg?v=1654674488","width":800},{"alt":null,"id":26483037733018,"position":18,"preview_image":{"aspect_ratio":1.0,"height":800,"width":800,"src":"\/\/www.luluwin.co.uk\/cdn\/shop\/products\/sku2_b5c8742e-e6cc-4768-825b-865eb0ad5a85.jpg?v=1654674489"},"aspect_ratio":1.0,"height":800,"media_type":"image","src":"\/\/www.luluwin.co.uk\/cdn\/shop\/products\/sku2_b5c8742e-e6cc-4768-825b-865eb0ad5a85.jpg?v=1654674489","width":800},{"alt":null,"id":26483038453914,"position":19,"preview_image":{"aspect_ratio":1.0,"height":800,"width":800,"src":"\/\/www.luluwin.co.uk\/cdn\/shop\/products\/sku1_46322d8b-4ffa-47ca-963e-705488926981.jpg?v=1654674491"},"aspect_ratio":1.0,"height":800,"media_type":"image","src":"\/\/www.luluwin.co.uk\/cdn\/shop\/products\/sku1_46322d8b-4ffa-47ca-963e-705488926981.jpg?v=1654674491","width":800},{"alt":null,"id":26483038879898,"position":20,"preview_image":{"aspect_ratio":1.0,"height":800,"width":800,"src":"\/\/www.luluwin.co.uk\/cdn\/shop\/products\/sku4_70385469-2099-4603-a392-da2a72518e33.jpg?v=1654674493"},"aspect_ratio":1.0,"height":800,"media_type":"image","src":"\/\/www.luluwin.co.uk\/cdn\/shop\/products\/sku4_70385469-2099-4603-a392-da2a72518e33.jpg?v=1654674493","width":800}],"requires_selling_plan":false,"selling_plan_groups":[],"content":"\u003cp data-mce-fragment=\"1\"\u003e\u003cspan style=\"color: #d73110;\" data-mce-fragment=\"1\"\u003e\u003cstrong data-mce-fragment=\"1\"\u003e\u003cspan style=\"color: #bc4c36;\"\u003e\u003cimg src=\"https:\/\/cdn.cloudfastin.top\/image\/2022\/05\/485666108a0a7b756dacdfd117ddfce3e9356756069b51753230af0c9845e76a.gif\" alt=\"undefined\" width=\"359\" height=\"407\" style=\"display: block; margin-left: auto; margin-right: auto;\" data-mce-fragment=\"1\" data-mce-src=\"https:\/\/cdn.cloudfastin.top\/image\/2022\/05\/485666108a0a7b756dacdfd117ddfce3e9356756069b51753230af0c9845e76a.gif\"\u003e💖You will love my Fashion Bra for many reasons💖\u003c\/span\u003e\u003cbr\u003e\u003cspan style=\"color: #bc4c36;\"\u003eThe deep cup bra is great to use for a smoother look under clothing. This bra helps to hide back fat, side bra bulge, and gives a lift while on\u003c\/span\u003e\u003cbr\u003e\u003c\/strong\u003e\u003c\/span\u003e\u003c\/p\u003e\n\u003cp data-mce-fragment=\"1\"\u003e\u003cspan style=\"color: #d73110;\" data-mce-fragment=\"1\"\u003e\u003cstrong data-mce-fragment=\"1\"\u003e\u003cspan style=\"color: #bc4c36;\"\u003e\u003cimg src=\"https:\/\/gcdn.giikin.com\/uploads\/dbb8403b6ff0e1ceb8f743303da463be.gif?Policy=eyJTdGF0ZW1lbnQiOlt7IlJlc291cmNlIjoiaHR0cHM6XC9cL2QxbG5lcGhrcjdta2puLmNsb3VkZnJvbnQubmV0XC8qIiwiQ29uZGl0aW9uIjp7IkRhdGVMZXNzVGhhbiI6eyJBV1M6RXBvY2hUaW1lIjoxNjU0MTYxNTM5fX19XX0_\u0026amp;Signature=\u0026amp;Key-Pair-Id=KCY5B3G9LR0QL\"\u003e\u003c\/span\u003e\u003c\/strong\u003e\u003c\/span\u003e\u003c\/p\u003e\n\u003cp data-mce-fragment=\"1\"\u003e\u003cspan style=\"color: #bc4c36;\" data-mce-fragment=\"1\"\u003e\u003cstrong data-mce-fragment=\"1\"\u003e 💃No matter what you do, this bra offers the bust support you've been looking for.💃\u003c\/strong\u003e\u003c\/span\u003e\u003c\/p\u003e\n\u003cp data-mce-fragment=\"1\"\u003e\u003cspan style=\"color: #bc4c36;\" data-mce-fragment=\"1\"\u003e\u003cstrong data-mce-fragment=\"1\"\u003eFEATURES\u003c\/strong\u003e\u003c\/span\u003e\u003c\/p\u003e\n\u003cul\u003e\n\u003cli\u003e\n\u003cp\u003e\u003cspan style=\"color: #000000;\"\u003e\u003cspan style=\"color: #ffad5e;\"\u003e\u003cstrong\u003e▲Amazing Comfy Bras▲ --\u003c\/strong\u003e \u003c\/span\u003eThis light support wireless bra maybe the most comfortable bralette you will ever owned. No buckle, wire free, 360° stretchy back. Ultra soft lightweight leisure no line bras for women make you feel like wearing nothing at all. Thickness is only 0.2cm\/0.08in thin, ice silk leisure bra provides you zero touch experience and all day comfort.\u003c\/span\u003e\u003c\/p\u003e\n\u003c\/li\u003e\n\u003c\/ul\u003e\n\u003cp\u003e\u003cspan style=\"color: #000000;\" data-mce-fragment=\"1\"\u003e\u003cimg src=\"https:\/\/gcdn.giikin.com\/uploads\/815e0413436ec3df16a4e04e253f71dc.gif?Policy=eyJTdGF0ZW1lbnQiOlt7IlJlc291cmNlIjoiaHR0cHM6XC9cL2QxbG5lcGhrcjdta2puLmNsb3VkZnJvbnQubmV0XC8qIiwiQ29uZGl0aW9uIjp7IkRhdGVMZXNzVGhhbiI6eyJBV1M6RXBvY2hUaW1lIjoxNjU0MTYxNTM5fX19XX0_\u0026amp;Signature=\u0026amp;Key-Pair-Id=KCY5B3G9LR0QL\" style=\"display: block; margin-left: auto; margin-right: auto;\"\u003e\u003c\/span\u003e\u003c\/p\u003e\n\u003cul\u003e\n\u003cli\u003e\n\u003cp\u003e\u003cspan style=\"color: #ffad5e;\"\u003e\u003cstrong\u003e▲Night Bras for Women Sleeping▲ –\u003c\/strong\u003e \u003c\/span\u003eOur soft seamless sleep bras yoga bra using unique adhesion technology, is seam-free and entirely flat. This looks awesome under a shirt because it is completely smooth, no lines, no bulges. Even sports bras are not quite as comfortable as sleep bras for women large breasts.\u003c\/p\u003e\n\u003c\/li\u003e\n\u003c\/ul\u003e\n\u003cp\u003e\u003cimg src=\"https:\/\/cdn.shopifycdn.net\/s\/files\/1\/0549\/5010\/1178\/files\/12_19ea9150-3e04-4921-b222-b7134b28e947_480x480.jpg?v=1653633533\" style=\"display: block; margin-left: auto; margin-right: auto;\"\u003e\u003c\/p\u003e\n\u003cul\u003e\n\u003cli\u003e\n\u003cp\u003e\u003cspan style=\"color: #ffad5e;\"\u003e\u003cstrong\u003e▲Super Soft Bra \u0026amp; Cotton Postin▲ --\u003c\/strong\u003e\u003c\/span\u003e This wireless everyday bra has been added stretch, so it fits well to various size of women without tightness. This comfort bra with wide straps will be your perfect solution for breastfeeding, sleeping or daily use, it is also perfect for after surgery or during and after pregnancy.\u003c\/p\u003e\n\u003c\/li\u003e\n\u003c\/ul\u003e\n\u003cp\u003e\u003cimg src=\"https:\/\/gcdn.giikin.com\/uploads\/855439ee8dfd61ae4df5d20b671d4adf.gif?Policy=eyJTdGF0ZW1lbnQiOlt7IlJlc291cmNlIjoiaHR0cHM6XC9cL2QxbG5lcGhrcjdta2puLmNsb3VkZnJvbnQubmV0XC8qIiwiQ29uZGl0aW9uIjp7IkRhdGVMZXNzVGhhbiI6eyJBV1M6RXBvY2hUaW1lIjoxNjU0MTYxNTM5fX19XX0_\u0026amp;Signature=\u0026amp;Key-Pair-Id=KCY5B3G9LR0QL\" width=\"520\" height=\"328\" style=\"display: block; margin-left: auto; margin-right: auto;\"\u003e\u003c\/p\u003e\n\u003cul\u003e\n\u003cli\u003e\n\u003cp\u003e\u003cspan style=\"color: #ffad5e;\"\u003e\u003cstrong\u003e▲Padded Wireless Bra▲ –\u003c\/strong\u003e\u003c\/span\u003e The inserts in this pullover bra isn't typical stiff circles in most sport bras and bralette, but instead have so many small air holes that is soft and breathable. 4x thin sleep bra with One-piece design to help shape and lift the breast.\u003c\/p\u003e\n\u003c\/li\u003e\n\u003c\/ul\u003e\n\u003cp\u003e\u003cimg src=\"https:\/\/gcdn.giikin.com\/uploads\/5ac2ea195e1b8dfdadc03a8c43f9e002.gif?Policy=eyJTdGF0ZW1lbnQiOlt7IlJlc291cmNlIjoiaHR0cHM6XC9cL2QxbG5lcGhrcjdta2puLmNsb3VkZnJvbnQubmV0XC8qIiwiQ29uZGl0aW9uIjp7IkRhdGVMZXNzVGhhbiI6eyJBV1M6RXBvY2hUaW1lIjoxNjU0MTYxNTM5fX19XX0_\u0026amp;Signature=\u0026amp;Key-Pair-Id=KCY5B3G9LR0QL\" style=\"display: block; margin-left: auto; margin-right: auto;\" width=\"387\" height=\"516\"\u003e\u003c\/p\u003e\n\u003ctable width=\"100%\"\u003e\n\u003ctbody\u003e\n\u003ctr\u003e\n\u003ctd style=\"text-align: center;\"\u003e\u003cstrong\u003eSize\u003c\/strong\u003e\u003c\/td\u003e\n\u003ctd style=\"text-align: center;\"\u003e\u003cstrong\u003eWeight\u003c\/strong\u003e\u003c\/td\u003e\n\u003c\/tr\u003e\n\u003ctr\u003e\n\u003ctd style=\"text-align: center;\"\u003eL\u003c\/td\u003e\n\u003ctd style=\"text-align: center;\"\u003e40-55kg\u003c\/td\u003e\n\u003c\/tr\u003e\n\u003ctr\u003e\n\u003ctd style=\"text-align: center;\"\u003eXL\u003c\/td\u003e\n\u003ctd style=\"text-align: center;\"\u003e55-65kg\u003c\/td\u003e\n\u003c\/tr\u003e\n\u003ctr\u003e\n\u003ctd style=\"text-align: center;\"\u003e2XL\u003c\/td\u003e\n\u003ctd style=\"text-align: center;\"\u003e65-75kg\u003c\/td\u003e\n\u003c\/tr\u003e\n\u003ctr\u003e\n\u003ctd style=\"text-align: center;\"\u003e3XL\u003c\/td\u003e\n\u003ctd style=\"text-align: center;\"\u003e75-90kg\u003c\/td\u003e\n\u003c\/tr\u003e\n\u003c\/tbody\u003e\n\u003c\/table\u003e\n\u003cp data-mce-fragment=\"1\"\u003e\u003cspan style=\"color: #bc4c36;\" data-mce-fragment=\"1\"\u003e\u003cstrong data-mce-fragment=\"1\"\u003eSPECIFICATIONS\u003c\/strong\u003e\u003c\/span\u003e\u003cbr data-mce-fragment=\"1\"\u003e\u003c\/p\u003e\n\u003cul data-mce-fragment=\"1\"\u003e\n\u003cli data-mce-fragment=\"1\"\u003e\n\u003cp data-mce-fragment=\"1\"\u003e\u003cstrong data-mce-fragment=\"1\"\u003eMaterial:\u003c\/strong\u003e\u003cspan data-mce-fragment=\"1\"\u003e Nylon\u003c\/span\u003e\u003c\/p\u003e\n\u003c\/li\u003e\n\u003cli data-mce-fragment=\"1\"\u003e\n\u003cp data-mce-fragment=\"1\"\u003e\u003cstrong data-mce-fragment=\"1\"\u003eColor:\u003c\/strong\u003e\u003cspan data-mce-fragment=\"1\"\u003e \u003cspan class=\"Polaris-Badge_2qgie\" data-mce-fragment=\"1\"\u003ePink, \u003c\/span\u003e\u003cspan class=\"Polaris-Badge_2qgie\" data-mce-fragment=\"1\"\u003eBlack, \u003c\/span\u003e\u003cspan class=\"Polaris-Badge_2qgie\" data-mce-fragment=\"1\"\u003eBlue, \u003c\/span\u003e\u003cspan class=\"Polaris-Badge_2qgie\" data-mce-fragment=\"1\"\u003eSkin, \u003c\/span\u003e\u003cspan class=\"Polaris-Badge_2qgie\" data-mce-fragment=\"1\"\u003eLight Blue\u003c\/span\u003e\u003c\/span\u003e\u003c\/p\u003e\n\u003c\/li\u003e\n\u003cli data-mce-fragment=\"1\"\u003e\n\u003cp data-mce-fragment=\"1\"\u003e\u003cstrong data-mce-fragment=\"1\"\u003eWeight:\u003c\/strong\u003e\u003cspan data-mce-fragment=\"1\"\u003e A\u003c\/span\u003ebout 130g\u003c\/p\u003e\n\u003c\/li\u003e\n\u003cli data-mce-fragment=\"1\"\u003e\n\u003cp data-mce-fragment=\"1\"\u003e\u003cstrong data-mce-fragment=\"1\"\u003eSize:\u003c\/strong\u003e\u003cspan data-mce-fragment=\"1\"\u003e \u003c\/span\u003e\u003cspan data-mce-fragment=\"1\"\u003eAs Shown\u003c\/span\u003e\u003cbr data-mce-fragment=\"1\"\u003e\u003c\/p\u003e\n\u003c\/li\u003e\n\u003c\/ul\u003e\n\u003cp data-mce-fragment=\"1\"\u003e\u003cspan style=\"color: #bc4c36;\" data-mce-fragment=\"1\"\u003e\u003cstrong data-mce-fragment=\"1\"\u003ePACKAGE\u003c\/strong\u003e\u003c\/span\u003e\u003cbr data-mce-fragment=\"1\"\u003e\u003c\/p\u003e\n\u003cul data-mce-fragment=\"1\"\u003e\n\u003cli data-mce-fragment=\"1\"\u003e1 * Ultra-thin One-piece Bra\u003c\/li\u003e\n\u003c\/ul\u003e\n\u003cspan style=\"color: #ff2a00;\" data-mce-fragment=\"1\"\u003e\u003cstrong data-mce-fragment=\"1\"\u003eNOTE\u003c\/strong\u003e\u003c\/span\u003e\u003cbr data-mce-fragment=\"1\"\u003e\n\u003cul data-mce-fragment=\"1\"\u003e\n\u003cli data-mce-fragment=\"1\"\u003e\n\u003cp data-mce-fragment=\"1\"\u003ePlease allow slight measurement deviation due to manual measurement.\u003c\/p\u003e\n\u003c\/li\u003e\n\u003cli data-mce-fragment=\"1\"\u003e\n\u003cp data-mce-fragment=\"1\"\u003eDue to the different monitor and light effect, the actual color of the item might be slightly different from the color showed on the pictures.\u003c\/p\u003e\n\u003c\/li\u003e\n\u003c\/ul\u003e"}
Ultra-thin One-piece Bra
Adding product to your cart
💖You will love my Fashion Bra for many reasons💖
The deep cup bra is great to use for a smoother look under clothing. This bra helps to hide back fat, side bra bulge, and gives a lift while on

 💃No matter what you do, this bra offers the bust support you've been looking for.💃
FEATURES
▲Amazing Comfy Bras▲ -- This light support wireless bra maybe the most comfortable bralette you will ever owned. No buckle, wire free, 360° stretchy back. Ultra soft lightweight leisure no line bras for women make you feel like wearing nothing at all. Thickness is only 0.2cm/0.08in thin, ice silk leisure bra provides you zero touch experience and all day comfort.
▲Night Bras for Women Sleeping▲ – Our soft seamless sleep bras yoga bra using unique adhesion technology, is seam-free and entirely flat. This looks awesome under a shirt because it is completely smooth, no lines, no bulges. Even sports bras are not quite as comfortable as sleep bras for women large breasts.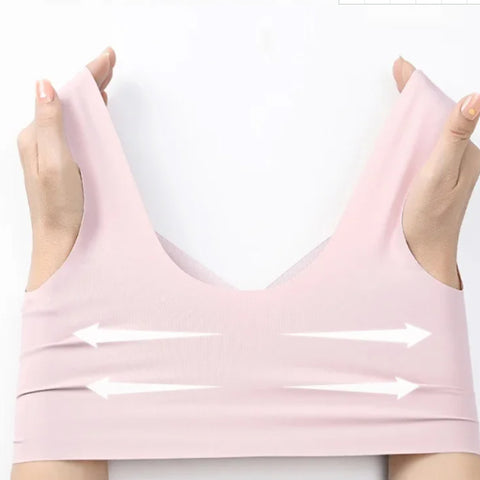 ▲Super Soft Bra & Cotton Postin▲ -- This wireless everyday bra has been added stretch, so it fits well to various size of women without tightness. This comfort bra with wide straps will be your perfect solution for breastfeeding, sleeping or daily use, it is also perfect for after surgery or during and after pregnancy.
▲Padded Wireless Bra▲ – The inserts in this pullover bra isn't typical stiff circles in most sport bras and bralette, but instead have so many small air holes that is soft and breathable. 4x thin sleep bra with One-piece design to help shape and lift the breast.
| | |
| --- | --- |
| Size | Weight |
| L | 40-55kg |
| XL | 55-65kg |
| 2XL | 65-75kg |
| 3XL | 75-90kg |
SPECIFICATIONS

Material: Nylon

Color: Pink, Black, Blue, Skin, Light Blue

Weight: About 130g

Size: As Shown

PACKAGE

1 * Ultra-thin One-piece Bra
NOTE
Please allow slight measurement deviation due to manual measurement.

Due to the different monitor and light effect, the actual color of the item might be slightly different from the color showed on the pictures.