{"id":6965000503450,"title":"Toothpick Holder Dispenser","handle":"toothpick-holder-dispenser","description":"\u003cdiv class=\"product-single__description rte\" itemprop=\"description\"\u003e\n\u003cdiv class=\"product-single__description rte\" itemprop=\"description\"\u003e\u003c!-- Build time: 2021-01-04 16:07:34 --\u003e\u003c\/div\u003e\n\u003c\/div\u003e\n\u003cstyle\u003e\u003c!--\n.listing-build-item table {\n width: 100% !important;\n margin: 5px 0 !important;\n border-collapse: collapse !important;\n table-layout: initial !important;\n }\n\n .listing-build-item table ul li,\n .listing-build-item table dl dd,\n .listing-build-item table dl dt {\n list-style:outside none !important;\n margin:0 !important;\n }\n\n .listing-build-item table ul,\n .listing-build-item table dl {\n margin-left: 0 !important;\n }\n\n .listing-build-item table tr\u003etd,\n .listing-build-item table tr\u003eth {\n padding: 10px 14px !important;\n font-size: 14px !important;\n border: 1px solid #cbcbcb !important;\n background-clip: padding-box !important;\n position: relative !important;\n letter-spacing:initial !important;\n text-align: left !important;\n }\n\n .listing-build-item table tr\u003eth {\n font-weight: 600 !important;\n }\n\n .listing-build-item h3 {\n color: #000 !important;\n font-size: 20px !important;\n font-weight: 600 !important;\n margin: 0 !important;\n padding: 10px 0 !important;\n text-align: left !important;\n }\n .listing-build-item table th,.listing-build-item h5{\n color:#000 !important;\n }\n\n .listing-build-item {\n margin-bottom: 30px !important;\n word-break: break-word !important;\n }\n\n .listing-build-item ul,\n .listing-build-item dl {\n margin: 0 !important;\n padding:0 !important;\n list-style:outside none !important\n }\n\n .listing-build-item .img-box {\n margin: 10px 0 !important;\n }\n\n .listing-build-item .img-box img {\n height: auto !important;\n max-width: 100% !important;\n margin: 0 auto !important;\n padding: 0 !important;\n display: block !important;\n }\n @media screen and (min-width: 992px){\n .listing-build-item table tr\u003eth {\n width: 180px !important;\n }\n }\n @media screen and (max-width: 750px){\n .listing-build-item table tr\u003eth {\n width: 100px !important;\n }\n }\n\n .listing-build-item tr:first-child th:after,\n .listing-build-item tr:first-child td:after {\n border: initial !important;\n }\n\n .listing-build-item ul\u003eli:last-child,\n .listing-build-item ul.features\u003eli:last-child,\n .listing-build-item ul\u003eli.package-row:last-child {\n margin-bottom: 0 !important;\n }\n .listing-build-item ul.features li,.listing-build-item ul li.package-row{\n margin-bottom:7px !important;\n }\n .listing-build-item h5{\n margin: 20px 0 5px 0 !important;\n font-weight: 600 !important;\n text-align: left !important;\n }\n .listing-build-item strong{\n font-weight: 600 !important;\n }\n--\u003e\u003c\/style\u003e\n\u003cdiv class=\"product-single__description rte\" itemprop=\"description\"\u003e\n\u003c!-- BEGIN Descriptions --\u003e\n\u003cp style=\"text-align: center;\"\u003e\u003cspan style=\"color: #ae0f0f;\"\u003e\u003cem\u003e\u003cstrong\u003eThe toothpick will pop up automatically with a simple press!\u003c\/strong\u003e\u003c\/em\u003e\u003c\/span\u003e\u003c\/p\u003e\n\u003cp style=\"text-align: center;\"\u003e\u003cimg alt=\"\" src=\"https:\/\/cdn.shopifycdn.net\/s\/files\/1\/0407\/0185\/3845\/files\/C1_480x480.png?v=1609748261\" data-mce-src=\"https:\/\/cdn.shopifycdn.net\/s\/files\/1\/0407\/0185\/3845\/files\/C1_480x480.png?v=1609748261\" data-mce-fragment=\"1\"\u003e \u003c\/p\u003e\n\u003cp\u003e\u003cspan style=\"color: #067f99;\"\u003e\u003cstrong\u003eFEATURES\u003c\/strong\u003e\u003c\/span\u003e\u003c\/p\u003e\n\u003cul class=\"features\"\u003e\n\u003cli\u003e\n\u003cp\u003e\u003cspan style=\"color: #00aaff;\"\u003e\u003cstrong\u003e\u003cspan style=\"color: #ff8000;\"\u003eWide Range Of Use:\u003c\/span\u003e \u003c\/strong\u003e\u003c\/span\u003eNot only a toothpick box but an ornament for office, home, restaurant, club, bar, KTV, cafes, hotel, also as a special gift for friends, lovers, family members, and more.\u003c\/p\u003e\n\u003c\/li\u003e\n\u003cli\u003e\n\u003cp\u003e\u003cspan style=\"color: #ff8000;\"\u003e\u003cstrong\u003eHigh Quality: \u003c\/strong\u003e\u003c\/span\u003eMade of PP and PS material, drop resistance, impact resistance, make sure long service time. Heightened bottom brim design for a non-slip place, provides a better usage experiment.\u003c\/p\u003e\n\u003c\/li\u003e\n\u003c\/ul\u003e\n\u003cdiv\u003e\u003cimg style=\"display: block; margin-left: auto; margin-right: auto;\" src=\"https:\/\/cdn.shopifycdn.net\/s\/files\/1\/0407\/0185\/3845\/files\/c2_480x480.jpg?v=1609748281\" alt=\"\" data-mce-src=\"https:\/\/cdn.shopifycdn.net\/s\/files\/1\/0407\/0185\/3845\/files\/c2_480x480.jpg?v=1609748281\" data-mce-fragment=\"1\"\u003e\u003c\/div\u003e\n\u003cdiv\u003e\n\u003cul class=\"features\"\u003e\n\u003cli\u003e\n\u003cp\u003e\u003cspan\u003e\u003cstrong\u003e\u003cspan style=\"color: #ff8000;\"\u003ePop-up \u0026amp; Press Design:\u003c\/span\u003e \u003c\/strong\u003e\u003c\/span\u003eSimply press the top button to make toothpicks pop out, prevent dust and insect contamination of toothpicks. One toothpick appears when pressed at a time, more hygienic use.\u003c\/p\u003e\n\u003c\/li\u003e\n\u003c\/ul\u003e\n\u003cul class=\"features\"\u003e\n\u003cli\u003e\n\u003cp\u003e\u003cspan style=\"color: #ff8000;\"\u003e\u003cstrong\u003eTransparent Lid \u0026amp; Big Mouth: \u003c\/strong\u003e\u003c\/span\u003eTransparent closed lid, the remaining amount is clearly visible. And the lid can be removed for easier cleaning. The big mouth is designed for convenient to put toothpicks in and take them out.\u003c\/p\u003e\n\u003c\/li\u003e\n\u003c\/ul\u003e\n\u003c\/div\u003e\n\u003cp\u003e\u003cspan style=\"color: #067f99;\"\u003e\u003cstrong\u003eUSING METHODS\u003c\/strong\u003e\u003c\/span\u003e\u003c\/p\u003e\n\u003cp\u003e\u003cimg alt=\"\" src=\"https:\/\/cdn.shopifycdn.net\/s\/files\/1\/0407\/0185\/3845\/files\/e1fe97687a383f6590c5be9ae6cc8b7e_480x480.jpg?v=1609748030\" style=\"display: block; margin-left: auto; margin-right: auto;\" data-mce-selected=\"1\"\u003e\u003c\/p\u003e\n\u003cp\u003e\u003cspan style=\"color: #067f99;\"\u003e\u003cstrong\u003eSPECIFICATIONS\u003c\/strong\u003e\u003c\/span\u003e\u003c\/p\u003e\n\u003cul\u003e\n\u003cli\u003e\u003cspan style=\"color: #000000;\"\u003e\u003cstrong\u003eMaterial: \u003c\/strong\u003ePP+PS\u003c\/span\u003e\u003c\/li\u003e\n\u003cli\u003e\n\u003cstrong\u003e\u003cspan style=\"color: #000000;\"\u003eColor:\u003c\/span\u003e\u003c\/strong\u003e\u003cspan style=\"color: #000000;\"\u003e Blue\/Gray\/Pink\u003c\/span\u003e\n\u003c\/li\u003e\n\u003c\/ul\u003e\n\u003c!-- END specification --\u003e \u003c!-- BEGIN note --\u003e\n\u003ch3\u003e\u003cimg style=\"display: block; margin-left: auto; margin-right: auto;\" src=\"https:\/\/cdn.shopifycdn.net\/s\/files\/1\/0407\/0185\/3845\/files\/bcc364c9c6a0e68a9370a321f733ee5f_480x480.png?v=1609748057\" alt=\"\"\u003e\u003c\/h3\u003e\n\u003ch3\u003e\u003cspan style=\"color: #ff2a00;\"\u003eNOTE\u003c\/span\u003e\u003c\/h3\u003e\n\u003cul\u003e\n\u003cli\u003eDue to the different display and lighting effects, the actual color of the item may be slightly different from the color displayed in the picture.\u003c\/li\u003e\n\u003cli\u003eDue to manual measurements, please allow slight measurement deviations.\u003c\/li\u003e\n\u003c\/ul\u003e\n\u003c!-- END note --\u003e\n\u003c\/div\u003e","published_at":"2021-08-18T21:38:56-06:00","created_at":"2021-08-18T21:39:02-06:00","vendor":"comfybear","type":"","tags":["Houseware"],"price":999,"price_min":999,"price_max":999,"available":true,"price_varies":false,"compare_at_price":1999,"compare_at_price_min":1999,"compare_at_price_max":1999,"compare_at_price_varies":false,"variants":[{"id":40665130991770,"title":"BLUE","option1":"BLUE","option2":null,"option3":null,"sku":"CP15919-C008","requires_shipping":true,"taxable":false,"featured_image":null,"available":true,"name":"Toothpick Holder Dispenser - BLUE","public_title":"BLUE","options":["BLUE"],"price":999,"weight":0,"compare_at_price":1999,"inventory_management":null,"barcode":null,"requires_selling_plan":false,"selling_plan_allocations":[]},{"id":40665131024538,"title":"GRAY","option1":"GRAY","option2":null,"option3":null,"sku":"CP15919-C006","requires_shipping":true,"taxable":false,"featured_image":null,"available":true,"name":"Toothpick Holder Dispenser - GRAY","public_title":"GRAY","options":["GRAY"],"price":999,"weight":0,"compare_at_price":1999,"inventory_management":null,"barcode":null,"requires_selling_plan":false,"selling_plan_allocations":[]},{"id":40665131057306,"title":"PINK","option1":"PINK","option2":null,"option3":null,"sku":"CP15919-C009","requires_shipping":true,"taxable":false,"featured_image":null,"available":true,"name":"Toothpick Holder Dispenser - PINK","public_title":"PINK","options":["PINK"],"price":999,"weight":0,"compare_at_price":1999,"inventory_management":null,"barcode":null,"requires_selling_plan":false,"selling_plan_allocations":[]}],"images":["\/\/www.luluwin.co.uk\/cdn\/shop\/products\/3_b1dd9207-1b82-424e-80f3-2702b180513e.jpg?v=1629344342","\/\/www.luluwin.co.uk\/cdn\/shop\/products\/4_21b595eb-7083-4e6b-85d2-3dd518d72dca.jpg?v=1629344342","\/\/www.luluwin.co.uk\/cdn\/shop\/products\/5_5a1f5325-933d-4c44-97f2-49ebf37187eb.jpg?v=1629344342","\/\/www.luluwin.co.uk\/cdn\/shop\/products\/6_69a30061-2025-4b7c-9912-f18c4f8f892a.jpg?v=1629344342","\/\/www.luluwin.co.uk\/cdn\/shop\/products\/7_4bfb07ce-0aff-46c0-b843-fd8761eb9302.jpg?v=1629344342","\/\/www.luluwin.co.uk\/cdn\/shop\/products\/1_55c191da-a301-43a9-9ce9-9ea06e9af758.jpg?v=1629344342","\/\/www.luluwin.co.uk\/cdn\/shop\/products\/2_755f9af6-d3a8-4a69-9e93-2ffa4c5c3ac9.jpg?v=1629344342","\/\/www.luluwin.co.uk\/cdn\/shop\/products\/8_4ad9de01-3115-43f3-8ff2-7d7b92b2c872.jpg?v=1629344342"],"featured_image":"\/\/www.luluwin.co.uk\/cdn\/shop\/products\/3_b1dd9207-1b82-424e-80f3-2702b180513e.jpg?v=1629344342","options":["Color"],"media":[{"alt":null,"id":23267555803290,"position":1,"preview_image":{"aspect_ratio":1.0,"height":800,"width":800,"src":"\/\/www.luluwin.co.uk\/cdn\/shop\/products\/3_b1dd9207-1b82-424e-80f3-2702b180513e.jpg?v=1629344342"},"aspect_ratio":1.0,"height":800,"media_type":"image","src":"\/\/www.luluwin.co.uk\/cdn\/shop\/products\/3_b1dd9207-1b82-424e-80f3-2702b180513e.jpg?v=1629344342","width":800},{"alt":null,"id":23267555836058,"position":2,"preview_image":{"aspect_ratio":1.0,"height":800,"width":800,"src":"\/\/www.luluwin.co.uk\/cdn\/shop\/products\/4_21b595eb-7083-4e6b-85d2-3dd518d72dca.jpg?v=1629344342"},"aspect_ratio":1.0,"height":800,"media_type":"image","src":"\/\/www.luluwin.co.uk\/cdn\/shop\/products\/4_21b595eb-7083-4e6b-85d2-3dd518d72dca.jpg?v=1629344342","width":800},{"alt":null,"id":23267555868826,"position":3,"preview_image":{"aspect_ratio":1.0,"height":800,"width":800,"src":"\/\/www.luluwin.co.uk\/cdn\/shop\/products\/5_5a1f5325-933d-4c44-97f2-49ebf37187eb.jpg?v=1629344342"},"aspect_ratio":1.0,"height":800,"media_type":"image","src":"\/\/www.luluwin.co.uk\/cdn\/shop\/products\/5_5a1f5325-933d-4c44-97f2-49ebf37187eb.jpg?v=1629344342","width":800},{"alt":null,"id":23267555901594,"position":4,"preview_image":{"aspect_ratio":1.0,"height":800,"width":800,"src":"\/\/www.luluwin.co.uk\/cdn\/shop\/products\/6_69a30061-2025-4b7c-9912-f18c4f8f892a.jpg?v=1629344342"},"aspect_ratio":1.0,"height":800,"media_type":"image","src":"\/\/www.luluwin.co.uk\/cdn\/shop\/products\/6_69a30061-2025-4b7c-9912-f18c4f8f892a.jpg?v=1629344342","width":800},{"alt":null,"id":23267555934362,"position":5,"preview_image":{"aspect_ratio":1.0,"height":800,"width":800,"src":"\/\/www.luluwin.co.uk\/cdn\/shop\/products\/7_4bfb07ce-0aff-46c0-b843-fd8761eb9302.jpg?v=1629344342"},"aspect_ratio":1.0,"height":800,"media_type":"image","src":"\/\/www.luluwin.co.uk\/cdn\/shop\/products\/7_4bfb07ce-0aff-46c0-b843-fd8761eb9302.jpg?v=1629344342","width":800},{"alt":null,"id":23267555967130,"position":6,"preview_image":{"aspect_ratio":1.0,"height":800,"width":800,"src":"\/\/www.luluwin.co.uk\/cdn\/shop\/products\/1_55c191da-a301-43a9-9ce9-9ea06e9af758.jpg?v=1629344342"},"aspect_ratio":1.0,"height":800,"media_type":"image","src":"\/\/www.luluwin.co.uk\/cdn\/shop\/products\/1_55c191da-a301-43a9-9ce9-9ea06e9af758.jpg?v=1629344342","width":800},{"alt":null,"id":23267555999898,"position":7,"preview_image":{"aspect_ratio":1.0,"height":800,"width":800,"src":"\/\/www.luluwin.co.uk\/cdn\/shop\/products\/2_755f9af6-d3a8-4a69-9e93-2ffa4c5c3ac9.jpg?v=1629344342"},"aspect_ratio":1.0,"height":800,"media_type":"image","src":"\/\/www.luluwin.co.uk\/cdn\/shop\/products\/2_755f9af6-d3a8-4a69-9e93-2ffa4c5c3ac9.jpg?v=1629344342","width":800},{"alt":null,"id":23267556032666,"position":8,"preview_image":{"aspect_ratio":1.0,"height":800,"width":800,"src":"\/\/www.luluwin.co.uk\/cdn\/shop\/products\/8_4ad9de01-3115-43f3-8ff2-7d7b92b2c872.jpg?v=1629344342"},"aspect_ratio":1.0,"height":800,"media_type":"image","src":"\/\/www.luluwin.co.uk\/cdn\/shop\/products\/8_4ad9de01-3115-43f3-8ff2-7d7b92b2c872.jpg?v=1629344342","width":800}],"requires_selling_plan":false,"selling_plan_groups":[],"content":"\u003cdiv class=\"product-single__description rte\" itemprop=\"description\"\u003e\n\u003cdiv class=\"product-single__description rte\" itemprop=\"description\"\u003e\u003c!-- Build time: 2021-01-04 16:07:34 --\u003e\u003c\/div\u003e\n\u003c\/div\u003e\n\u003cstyle\u003e\u003c!--\n.listing-build-item table {\n width: 100% !important;\n margin: 5px 0 !important;\n border-collapse: collapse !important;\n table-layout: initial !important;\n }\n\n .listing-build-item table ul li,\n .listing-build-item table dl dd,\n .listing-build-item table dl dt {\n list-style:outside none !important;\n margin:0 !important;\n }\n\n .listing-build-item table ul,\n .listing-build-item table dl {\n margin-left: 0 !important;\n }\n\n .listing-build-item table tr\u003etd,\n .listing-build-item table tr\u003eth {\n padding: 10px 14px !important;\n font-size: 14px !important;\n border: 1px solid #cbcbcb !important;\n background-clip: padding-box !important;\n position: relative !important;\n letter-spacing:initial !important;\n text-align: left !important;\n }\n\n .listing-build-item table tr\u003eth {\n font-weight: 600 !important;\n }\n\n .listing-build-item h3 {\n color: #000 !important;\n font-size: 20px !important;\n font-weight: 600 !important;\n margin: 0 !important;\n padding: 10px 0 !important;\n text-align: left !important;\n }\n .listing-build-item table th,.listing-build-item h5{\n color:#000 !important;\n }\n\n .listing-build-item {\n margin-bottom: 30px !important;\n word-break: break-word !important;\n }\n\n .listing-build-item ul,\n .listing-build-item dl {\n margin: 0 !important;\n padding:0 !important;\n list-style:outside none !important\n }\n\n .listing-build-item .img-box {\n margin: 10px 0 !important;\n }\n\n .listing-build-item .img-box img {\n height: auto !important;\n max-width: 100% !important;\n margin: 0 auto !important;\n padding: 0 !important;\n display: block !important;\n }\n @media screen and (min-width: 992px){\n .listing-build-item table tr\u003eth {\n width: 180px !important;\n }\n }\n @media screen and (max-width: 750px){\n .listing-build-item table tr\u003eth {\n width: 100px !important;\n }\n }\n\n .listing-build-item tr:first-child th:after,\n .listing-build-item tr:first-child td:after {\n border: initial !important;\n }\n\n .listing-build-item ul\u003eli:last-child,\n .listing-build-item ul.features\u003eli:last-child,\n .listing-build-item ul\u003eli.package-row:last-child {\n margin-bottom: 0 !important;\n }\n .listing-build-item ul.features li,.listing-build-item ul li.package-row{\n margin-bottom:7px !important;\n }\n .listing-build-item h5{\n margin: 20px 0 5px 0 !important;\n font-weight: 600 !important;\n text-align: left !important;\n }\n .listing-build-item strong{\n font-weight: 600 !important;\n }\n--\u003e\u003c\/style\u003e\n\u003cdiv class=\"product-single__description rte\" itemprop=\"description\"\u003e\n\u003c!-- BEGIN Descriptions --\u003e\n\u003cp style=\"text-align: center;\"\u003e\u003cspan style=\"color: #ae0f0f;\"\u003e\u003cem\u003e\u003cstrong\u003eThe toothpick will pop up automatically with a simple press!\u003c\/strong\u003e\u003c\/em\u003e\u003c\/span\u003e\u003c\/p\u003e\n\u003cp style=\"text-align: center;\"\u003e\u003cimg alt=\"\" src=\"https:\/\/cdn.shopifycdn.net\/s\/files\/1\/0407\/0185\/3845\/files\/C1_480x480.png?v=1609748261\" data-mce-src=\"https:\/\/cdn.shopifycdn.net\/s\/files\/1\/0407\/0185\/3845\/files\/C1_480x480.png?v=1609748261\" data-mce-fragment=\"1\"\u003e \u003c\/p\u003e\n\u003cp\u003e\u003cspan style=\"color: #067f99;\"\u003e\u003cstrong\u003eFEATURES\u003c\/strong\u003e\u003c\/span\u003e\u003c\/p\u003e\n\u003cul class=\"features\"\u003e\n\u003cli\u003e\n\u003cp\u003e\u003cspan style=\"color: #00aaff;\"\u003e\u003cstrong\u003e\u003cspan style=\"color: #ff8000;\"\u003eWide Range Of Use:\u003c\/span\u003e \u003c\/strong\u003e\u003c\/span\u003eNot only a toothpick box but an ornament for office, home, restaurant, club, bar, KTV, cafes, hotel, also as a special gift for friends, lovers, family members, and more.\u003c\/p\u003e\n\u003c\/li\u003e\n\u003cli\u003e\n\u003cp\u003e\u003cspan style=\"color: #ff8000;\"\u003e\u003cstrong\u003eHigh Quality: \u003c\/strong\u003e\u003c\/span\u003eMade of PP and PS material, drop resistance, impact resistance, make sure long service time. Heightened bottom brim design for a non-slip place, provides a better usage experiment.\u003c\/p\u003e\n\u003c\/li\u003e\n\u003c\/ul\u003e\n\u003cdiv\u003e\u003cimg style=\"display: block; margin-left: auto; margin-right: auto;\" src=\"https:\/\/cdn.shopifycdn.net\/s\/files\/1\/0407\/0185\/3845\/files\/c2_480x480.jpg?v=1609748281\" alt=\"\" data-mce-src=\"https:\/\/cdn.shopifycdn.net\/s\/files\/1\/0407\/0185\/3845\/files\/c2_480x480.jpg?v=1609748281\" data-mce-fragment=\"1\"\u003e\u003c\/div\u003e\n\u003cdiv\u003e\n\u003cul class=\"features\"\u003e\n\u003cli\u003e\n\u003cp\u003e\u003cspan\u003e\u003cstrong\u003e\u003cspan style=\"color: #ff8000;\"\u003ePop-up \u0026amp; Press Design:\u003c\/span\u003e \u003c\/strong\u003e\u003c\/span\u003eSimply press the top button to make toothpicks pop out, prevent dust and insect contamination of toothpicks. One toothpick appears when pressed at a time, more hygienic use.\u003c\/p\u003e\n\u003c\/li\u003e\n\u003c\/ul\u003e\n\u003cul class=\"features\"\u003e\n\u003cli\u003e\n\u003cp\u003e\u003cspan style=\"color: #ff8000;\"\u003e\u003cstrong\u003eTransparent Lid \u0026amp; Big Mouth: \u003c\/strong\u003e\u003c\/span\u003eTransparent closed lid, the remaining amount is clearly visible. And the lid can be removed for easier cleaning. The big mouth is designed for convenient to put toothpicks in and take them out.\u003c\/p\u003e\n\u003c\/li\u003e\n\u003c\/ul\u003e\n\u003c\/div\u003e\n\u003cp\u003e\u003cspan style=\"color: #067f99;\"\u003e\u003cstrong\u003eUSING METHODS\u003c\/strong\u003e\u003c\/span\u003e\u003c\/p\u003e\n\u003cp\u003e\u003cimg alt=\"\" src=\"https:\/\/cdn.shopifycdn.net\/s\/files\/1\/0407\/0185\/3845\/files\/e1fe97687a383f6590c5be9ae6cc8b7e_480x480.jpg?v=1609748030\" style=\"display: block; margin-left: auto; margin-right: auto;\" data-mce-selected=\"1\"\u003e\u003c\/p\u003e\n\u003cp\u003e\u003cspan style=\"color: #067f99;\"\u003e\u003cstrong\u003eSPECIFICATIONS\u003c\/strong\u003e\u003c\/span\u003e\u003c\/p\u003e\n\u003cul\u003e\n\u003cli\u003e\u003cspan style=\"color: #000000;\"\u003e\u003cstrong\u003eMaterial: \u003c\/strong\u003ePP+PS\u003c\/span\u003e\u003c\/li\u003e\n\u003cli\u003e\n\u003cstrong\u003e\u003cspan style=\"color: #000000;\"\u003eColor:\u003c\/span\u003e\u003c\/strong\u003e\u003cspan style=\"color: #000000;\"\u003e Blue\/Gray\/Pink\u003c\/span\u003e\n\u003c\/li\u003e\n\u003c\/ul\u003e\n\u003c!-- END specification --\u003e \u003c!-- BEGIN note --\u003e\n\u003ch3\u003e\u003cimg style=\"display: block; margin-left: auto; margin-right: auto;\" src=\"https:\/\/cdn.shopifycdn.net\/s\/files\/1\/0407\/0185\/3845\/files\/bcc364c9c6a0e68a9370a321f733ee5f_480x480.png?v=1609748057\" alt=\"\"\u003e\u003c\/h3\u003e\n\u003ch3\u003e\u003cspan style=\"color: #ff2a00;\"\u003eNOTE\u003c\/span\u003e\u003c\/h3\u003e\n\u003cul\u003e\n\u003cli\u003eDue to the different display and lighting effects, the actual color of the item may be slightly different from the color displayed in the picture.\u003c\/li\u003e\n\u003cli\u003eDue to manual measurements, please allow slight measurement deviations.\u003c\/li\u003e\n\u003c\/ul\u003e\n\u003c!-- END note --\u003e\n\u003c\/div\u003e"}
Toothpick Holder Dispenser
Adding product to your cart
The toothpick will pop up automatically with a simple press!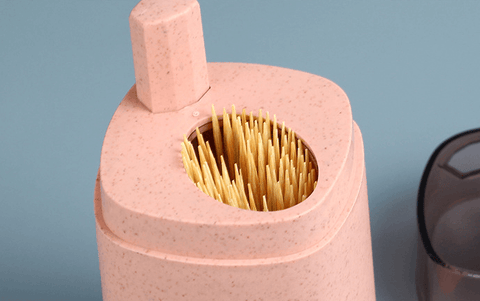 FEATURES
Wide Range Of Use: Not only a toothpick box but an ornament for office, home, restaurant, club, bar, KTV, cafes, hotel, also as a special gift for friends, lovers, family members, and more.

High Quality: Made of PP and PS material, drop resistance, impact resistance, make sure long service time. Heightened bottom brim design for a non-slip place, provides a better usage experiment.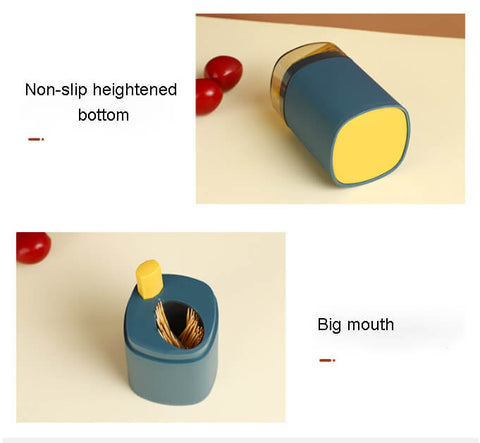 Pop-up & Press Design: Simply press the top button to make toothpicks pop out, prevent dust and insect contamination of toothpicks. One toothpick appears when pressed at a time, more hygienic use.
Transparent Lid & Big Mouth: Transparent closed lid, the remaining amount is clearly visible. And the lid can be removed for easier cleaning. The big mouth is designed for convenient to put toothpicks in and take them out.
USING METHODS
SPECIFICATIONS
Material: PP+PS

Color:

Blue/Gray/Pink

NOTE
Due to the different display and lighting effects, the actual color of the item may be slightly different from the color displayed in the picture.
Due to manual measurements, please allow slight measurement deviations.