{"id":6965102117018,"title":"Super Strong Bonding Spray","handle":"super-strong-bonding-spray","description":"\u003cdiv class=\"grid__item medium-up--one-half\"\u003e\n\u003cdiv class=\"product-single__meta\"\u003e\n\u003ch1 class=\"product-single__title\"\u003e\u003c\/h1\u003e\n\u003c\/div\u003e\n\u003cdiv class=\"product-single__description rte\"\u003e\n\u003ch2 style=\"text-align: center;\"\u003e\u003cspan style=\"color: #000000;\"\u003e💦Super Strong Bonding Spray\u003c\/span\u003e\u003c\/h2\u003e\n\u003cdiv style=\"text-align: center;\"\u003e😘😘We are happy to offer you a PRODUCT that will EASILY and INSTANTLY SEAL and REPAIR BROKEN SURFACES. Introducing the\u003cmeta charset=\"utf-8\"\u003e\n\u003cstrong\u003eSuper Strong Bonding Spray\u003c\/strong\u003e \u003cstrong\u003e. \u003c\/strong\u003e\n\u003c\/div\u003e\n\u003cdiv style=\"text-align: center;\"\u003e\n\u003cmeta charset=\"utf-8\"\u003e\n\u003cimg src=\"https:\/\/gcdn.giikin.com\/ueditor\/image\/20191028\/1572225256254852.gif\" alt=\"02.gif\" width=\"352\" height=\"242\"\u003e \u003cbr\u003e\u003cimg src=\"https:\/\/cdn.shopify.com\/s\/files\/1\/0441\/9724\/9186\/files\/Mighty_Sealant_Spray_yl_tn2_480x480.jpg?v=1596622522\" alt=\"\" width=\"351\" height=\"438\"\u003e\u003cbr\u003e\n\u003c\/div\u003e\n\u003ch3 style=\"text-align: left;\"\u003e\u003cspan style=\"color: #ff8000;\"\u003eFEATURES:\u003c\/span\u003e\u003c\/h3\u003e\n\u003cdiv style=\"text-align: center;\"\u003e\n\u003cul\u003e\n\u003cli style=\"text-align: left;\"\u003eSuper Strong Bonding Spray  is an INNOVATIVE SPRAY that EFFECTIVELY SEALS, and REPAIRS broken surfaces. It is a WATER-BASED SEALANT that is PAINTABLE and can be USED to\u003cspan style=\"color: #2b00ff;\"\u003e\u003cstrong\u003e WATERPROOF a LARGE VARIETY of SURFACES\u003c\/strong\u003e\u003c\/span\u003e.\u003c\/li\u003e\n\u003c\/ul\u003e\n\u003cmeta charset=\"utf-8\"\u003e\n\u003cimg src=\"https:\/\/img.alicdn.com\/imgextra\/i2\/3328530442\/O1CN01E2demh1F8TfaTvftp_!!3328530442.gif\" width=\"375\" height=\"244\"\u003e\u003cbr\u003e\u003cmeta charset=\"utf-8\"\u003e\n\u003cimg src=\"https:\/\/img.alicdn.com\/imgextra\/i2\/3328530442\/O1CN01ZmAlsh1F8TfatzGCC_!!3328530442.gif\" width=\"375\" height=\"277\"\u003e\u003cbr\u003e\u003cimg src=\"https:\/\/cdn.shopify.com\/s\/files\/1\/0441\/9724\/9186\/files\/Mighty_Sealant_Spray_L3-louie_480x480.jpg?v=1596622313\" alt=\"\" width=\"389\" height=\"389\"\u003e\u003cbr\u003e\n\u003cul\u003e\n\u003cul\u003e\n\u003cli style=\"text-align: left;\"\u003eIt PROVIDES \u003cspan style=\"color: #2b00ff;\"\u003e\u003cstrong\u003ea TOUGH but FLEXIBLE LAYER of PROTECTION\u003c\/strong\u003e\u003c\/span\u003e to the APPLIED SURFACE. It is LEAK PROOF and can be APPLIED on WET SURFACES with HIGH BONDING STRENGTH.\u003c\/li\u003e\n\u003c\/ul\u003e\n\u003c\/ul\u003e\n\u003cmeta charset=\"utf-8\"\u003e\n\u003cul\u003e\n\u003cli style=\"text-align: left;\"\u003eIt is TRANSPARENT and has NON-YELLOWING SUBSTANCE.\u003c\/li\u003e\n\u003c\/ul\u003e\n\u003cimg src=\"https:\/\/cdn.shopify.com\/s\/files\/1\/0441\/9724\/9186\/files\/Mighty_Sealant_Spray_L6-louie_480x480.jpg?v=1596622562\" alt=\"\" width=\"401\" height=\"401\"\u003e\u003cbr\u003e\u003cmeta charset=\"utf-8\"\u003e\n\u003cimg src=\"https:\/\/gcdn.giikin.com\/ueditor\/image\/20191028\/1572225268825754.gif\" alt=\"03.gif\" width=\"389\" height=\"217\"\u003e\u003cbr\u003e \u003cbr\u003e\n\u003c\/div\u003e\n\u003cdiv style=\"text-align: center;\"\u003e\n\u003cul\u003e\n\u003cli style=\"text-align: left;\"\u003ePowerful Sealant Spray has \u003cspan style=\"color: #2b00ff;\"\u003e\u003cstrong\u003ea STRONG ADHESIVE ACTION\u003c\/strong\u003e\u003c\/span\u003e that it can \u003cspan style=\"color: #2b00ff;\"\u003e\u003cstrong\u003eEASILY and QUICKLY BIND to MOST SURFACES\u003c\/strong\u003e \u003c\/span\u003ethat is SUBJECTED to and can be PARTICULARLY USEFUL wherein PROTECTION is REQUIRED.\u003c\/li\u003e\n\u003c\/ul\u003e\n\u003cmeta charset=\"utf-8\"\u003e\n\u003cmeta charset=\"utf-8\"\u003e\n\u003cimg src=\"https:\/\/cdn.shopify.com\/s\/files\/1\/0441\/9724\/9186\/files\/Mighty_Sealant_Spray_L2-louie_d9df76eb-ca6c-4350-a585-4e3f6ce4fd81_480x480.jpg?v=1597390322\" width=\"415\" height=\"415\"\u003e\u003cbr\u003e\u003cbr\u003e\u003cmeta charset=\"utf-8\"\u003e\n\u003cimg src=\"https:\/\/gcdn.giikin.com\/ueditor\/image\/20191028\/1572225245923008.gif\" alt=\"01.gif\" width=\"420\" height=\"290\"\u003e\u003cbr\u003e\n\u003cul\u003e\n\u003cli style=\"text-align: left;\"\u003eIt can be APPLIED and PROVIDE the KIND of PROTECTION NEEDED in NO TIME. It is \u003cspan style=\"color: #2b00ff;\"\u003e\u003cstrong\u003eLONG-LASTING and PERMANENT\u003c\/strong\u003e\u003c\/span\u003e.\u003c\/li\u003e\n\u003c\/ul\u003e\n\u003cimg src=\"https:\/\/cdn.shopify.com\/s\/files\/1\/0426\/6894\/9655\/files\/LeakStopSpraySeal_04_1080x_41ffcc97-9e0d-44d7-94d5-565afdd53907_480x480.jpg?v=1597896611\" alt=\"\" width=\"413\" height=\"413\"\u003e\u003cbr\u003e\n\u003cul\u003e\n\u003cli style=\"text-align: left;\"\u003eIt is SUITABLE for SEALING JOINTS and GAPS and LEAKS and can be USED to \u003cspan style=\"color: #2b00ff;\"\u003e\u003cstrong\u003eALL CONSTRUCTION MATERIALS\u003c\/strong\u003e\u003c\/span\u003e. It can be APPLIED to \u003cspan style=\"color: #2b00ff;\"\u003e\u003cstrong\u003ePAINTED and NON-PAINTED SURFACES\u003c\/strong\u003e\u003c\/span\u003e. It is \u003cspan style=\"color: #2b00ff;\"\u003e\u003cstrong\u003eNON-POLLUTING\u003c\/strong\u003e\u003c\/span\u003e. It is ODORLESS. It is \u003cspan style=\"color: #2b00ff;\"\u003e\u003cstrong\u003eSAFE and NON-TOXIC\u003c\/strong\u003e\u003c\/span\u003e.\u003c\/li\u003e\n\u003c\/ul\u003e\n\u003cbr\u003e\u003cmeta charset=\"utf-8\"\u003e\n\u003cimg src=\"https:\/\/cdn.shopify.com\/s\/files\/1\/0441\/9724\/9186\/files\/Mighty_Sealant_Spray_L5-louie_9c633e16-8be0-44a5-89ae-425c8bb4a100_480x480.jpg?v=1597390348\" width=\"421\" height=\"421\"\u003e\n\u003c\/div\u003e\n\u003cdiv style=\"text-align: center;\"\u003e\u003c\/div\u003e\n\u003ch3 style=\"text-align: center;\"\u003e\n\u003cspan style=\"color: #ff2a00;\"\u003e✨✨Usage\u003c\/span\u003e\u003cbr\u003e\u003cimg src=\"https:\/\/cdn.shopifycdn.net\/s\/files\/1\/0279\/2410\/3273\/files\/usage.png?v=1598246170\" alt=\"\" width=\"438\" height=\"392\"\u003e\u003cbr\u003e\u003cbr\u003e\n\u003c\/h3\u003e\n\u003ch3\u003e\u003cspan style=\"color: #ff8000;\"\u003eSPECIFICATIONS:\u003c\/span\u003e\u003c\/h3\u003e\n\u003cul\u003e\n\u003cli\u003eVolume: 30ml \u003c\/li\u003e\n\u003cli\u003eSize: 10.5*2.7cm\u003c\/li\u003e\n\u003cli\u003eWeight: 45g\u003c\/li\u003e\n\u003cli\u003eMaterial: Polymer Copolymer\u003c\/li\u003e\n\u003c\/ul\u003e\n\u003ch3\u003e\u003cspan style=\"color: #ff8000;\"\u003ePACKAGE INCLUDES:\u003c\/span\u003e\u003c\/h3\u003e\n\u003cul\u003e\n\u003cli\u003e\u003cspan style=\"color: #000000;\"\u003e1* Super Strong Bonding Spray\u003c\/span\u003e\u003c\/li\u003e\n\u003c\/ul\u003e\n\u003cmeta charset=\"utf-8\"\u003e\n\u003ch3 style=\"text-align: left;\"\u003e\u003cbr\u003e\u003c\/h3\u003e\n\u003cp\u003e \u003c\/p\u003e\n\u003cul\u003e\u003c\/ul\u003e\n\u003cmeta charset=\"utf-8\"\u003e\n\u003cp style=\"text-align: left;\"\u003e\u003cbr\u003e\u003c\/p\u003e\n\u003ch3 style=\"text-align: center;\"\u003e\n\u003cbr\u003e\u003cbr\u003e\n\u003c\/h3\u003e\n\u003c\/div\u003e\n\u003c\/div\u003e","published_at":"2021-08-18T22:22:08-06:00","created_at":"2021-08-18T22:22:16-06:00","vendor":"comfybear","type":"","tags":["Tools"],"price":1299,"price_min":1299,"price_max":1299,"available":true,"price_varies":false,"compare_at_price":2599,"compare_at_price_min":2599,"compare_at_price_max":2599,"compare_at_price_varies":false,"variants":[{"id":40665447399578,"title":"Default Title","option1":"Default Title","option2":null,"option3":null,"sku":"CP13652-X1998","requires_shipping":true,"taxable":false,"featured_image":null,"available":true,"name":"Super Strong Bonding Spray","public_title":null,"options":["Default Title"],"price":1299,"weight":0,"compare_at_price":2599,"inventory_management":null,"barcode":"","requires_selling_plan":false,"selling_plan_allocations":[]}],"images":["\/\/www.luluwin.co.uk\/cdn\/shop\/products\/SuperStrongBondingSpray_01_800x_775dc45a-9853-450a-929c-0f8bfff9f20c.jpg?v=1629346936","\/\/www.luluwin.co.uk\/cdn\/shop\/products\/LeakStopSpraySeal_04_800x_ddd3a4b3-5c1e-4ef8-bc12-6ba5d925b410.jpg?v=1629346936","\/\/www.luluwin.co.uk\/cdn\/shop\/products\/LeakStopSpraySeal_02_800x_ceb61804-57eb-409c-b505-049f66603677.jpg?v=1629346936","\/\/www.luluwin.co.uk\/cdn\/shop\/products\/LeakStopSpraySeal_03_800x_9eb409ca-cdc6-4919-a5fc-1f51d1574f77.jpg?v=1629346936","\/\/www.luluwin.co.uk\/cdn\/shop\/products\/LeakStopSpraySeal_06_800x_876c3967-33af-4973-ac87-52f9726d4360.jpg?v=1629346936","\/\/www.luluwin.co.uk\/cdn\/shop\/products\/LeakStopSpraySeal_07_800x_3be312a0-a0f4-4941-9d13-854d8a8d9afe.jpg?v=1629346937","\/\/www.luluwin.co.uk\/cdn\/shop\/products\/LeakStopSpraySeal_08_800x_c120fbc7-f3d4-4dad-bd5d-f0ad6c0ed2a1.jpg?v=1629346937","\/\/www.luluwin.co.uk\/cdn\/shop\/products\/LeakStopSpraySeal_00_800x_2e7c4ea2-88fd-4c42-89c3-55a9217b24b7.jpg?v=1629346937"],"featured_image":"\/\/www.luluwin.co.uk\/cdn\/shop\/products\/SuperStrongBondingSpray_01_800x_775dc45a-9853-450a-929c-0f8bfff9f20c.jpg?v=1629346936","options":["Title"],"media":[{"alt":null,"id":23268284334234,"position":1,"preview_image":{"aspect_ratio":1.0,"height":800,"width":800,"src":"\/\/www.luluwin.co.uk\/cdn\/shop\/products\/SuperStrongBondingSpray_01_800x_775dc45a-9853-450a-929c-0f8bfff9f20c.jpg?v=1629346936"},"aspect_ratio":1.0,"height":800,"media_type":"image","src":"\/\/www.luluwin.co.uk\/cdn\/shop\/products\/SuperStrongBondingSpray_01_800x_775dc45a-9853-450a-929c-0f8bfff9f20c.jpg?v=1629346936","width":800},{"alt":null,"id":23268284367002,"position":2,"preview_image":{"aspect_ratio":1.0,"height":800,"width":800,"src":"\/\/www.luluwin.co.uk\/cdn\/shop\/products\/LeakStopSpraySeal_04_800x_ddd3a4b3-5c1e-4ef8-bc12-6ba5d925b410.jpg?v=1629346936"},"aspect_ratio":1.0,"height":800,"media_type":"image","src":"\/\/www.luluwin.co.uk\/cdn\/shop\/products\/LeakStopSpraySeal_04_800x_ddd3a4b3-5c1e-4ef8-bc12-6ba5d925b410.jpg?v=1629346936","width":800},{"alt":null,"id":23268284399770,"position":3,"preview_image":{"aspect_ratio":1.0,"height":800,"width":800,"src":"\/\/www.luluwin.co.uk\/cdn\/shop\/products\/LeakStopSpraySeal_02_800x_ceb61804-57eb-409c-b505-049f66603677.jpg?v=1629346936"},"aspect_ratio":1.0,"height":800,"media_type":"image","src":"\/\/www.luluwin.co.uk\/cdn\/shop\/products\/LeakStopSpraySeal_02_800x_ceb61804-57eb-409c-b505-049f66603677.jpg?v=1629346936","width":800},{"alt":null,"id":23268284432538,"position":4,"preview_image":{"aspect_ratio":1.0,"height":800,"width":800,"src":"\/\/www.luluwin.co.uk\/cdn\/shop\/products\/LeakStopSpraySeal_03_800x_9eb409ca-cdc6-4919-a5fc-1f51d1574f77.jpg?v=1629346936"},"aspect_ratio":1.0,"height":800,"media_type":"image","src":"\/\/www.luluwin.co.uk\/cdn\/shop\/products\/LeakStopSpraySeal_03_800x_9eb409ca-cdc6-4919-a5fc-1f51d1574f77.jpg?v=1629346936","width":800},{"alt":null,"id":23268284465306,"position":5,"preview_image":{"aspect_ratio":1.0,"height":800,"width":800,"src":"\/\/www.luluwin.co.uk\/cdn\/shop\/products\/LeakStopSpraySeal_06_800x_876c3967-33af-4973-ac87-52f9726d4360.jpg?v=1629346936"},"aspect_ratio":1.0,"height":800,"media_type":"image","src":"\/\/www.luluwin.co.uk\/cdn\/shop\/products\/LeakStopSpraySeal_06_800x_876c3967-33af-4973-ac87-52f9726d4360.jpg?v=1629346936","width":800},{"alt":null,"id":23268284498074,"position":6,"preview_image":{"aspect_ratio":1.0,"height":800,"width":800,"src":"\/\/www.luluwin.co.uk\/cdn\/shop\/products\/LeakStopSpraySeal_07_800x_3be312a0-a0f4-4941-9d13-854d8a8d9afe.jpg?v=1629346937"},"aspect_ratio":1.0,"height":800,"media_type":"image","src":"\/\/www.luluwin.co.uk\/cdn\/shop\/products\/LeakStopSpraySeal_07_800x_3be312a0-a0f4-4941-9d13-854d8a8d9afe.jpg?v=1629346937","width":800},{"alt":null,"id":23268284530842,"position":7,"preview_image":{"aspect_ratio":1.0,"height":800,"width":800,"src":"\/\/www.luluwin.co.uk\/cdn\/shop\/products\/LeakStopSpraySeal_08_800x_c120fbc7-f3d4-4dad-bd5d-f0ad6c0ed2a1.jpg?v=1629346937"},"aspect_ratio":1.0,"height":800,"media_type":"image","src":"\/\/www.luluwin.co.uk\/cdn\/shop\/products\/LeakStopSpraySeal_08_800x_c120fbc7-f3d4-4dad-bd5d-f0ad6c0ed2a1.jpg?v=1629346937","width":800},{"alt":null,"id":23268284563610,"position":8,"preview_image":{"aspect_ratio":1.0,"height":800,"width":800,"src":"\/\/www.luluwin.co.uk\/cdn\/shop\/products\/LeakStopSpraySeal_00_800x_2e7c4ea2-88fd-4c42-89c3-55a9217b24b7.jpg?v=1629346937"},"aspect_ratio":1.0,"height":800,"media_type":"image","src":"\/\/www.luluwin.co.uk\/cdn\/shop\/products\/LeakStopSpraySeal_00_800x_2e7c4ea2-88fd-4c42-89c3-55a9217b24b7.jpg?v=1629346937","width":800}],"requires_selling_plan":false,"selling_plan_groups":[],"content":"\u003cdiv class=\"grid__item medium-up--one-half\"\u003e\n\u003cdiv class=\"product-single__meta\"\u003e\n\u003ch1 class=\"product-single__title\"\u003e\u003c\/h1\u003e\n\u003c\/div\u003e\n\u003cdiv class=\"product-single__description rte\"\u003e\n\u003ch2 style=\"text-align: center;\"\u003e\u003cspan style=\"color: #000000;\"\u003e💦Super Strong Bonding Spray\u003c\/span\u003e\u003c\/h2\u003e\n\u003cdiv style=\"text-align: center;\"\u003e😘😘We are happy to offer you a PRODUCT that will EASILY and INSTANTLY SEAL and REPAIR BROKEN SURFACES. Introducing the\u003cmeta charset=\"utf-8\"\u003e\n\u003cstrong\u003eSuper Strong Bonding Spray\u003c\/strong\u003e \u003cstrong\u003e. \u003c\/strong\u003e\n\u003c\/div\u003e\n\u003cdiv style=\"text-align: center;\"\u003e\n\u003cmeta charset=\"utf-8\"\u003e\n\u003cimg src=\"https:\/\/gcdn.giikin.com\/ueditor\/image\/20191028\/1572225256254852.gif\" alt=\"02.gif\" width=\"352\" height=\"242\"\u003e \u003cbr\u003e\u003cimg src=\"https:\/\/cdn.shopify.com\/s\/files\/1\/0441\/9724\/9186\/files\/Mighty_Sealant_Spray_yl_tn2_480x480.jpg?v=1596622522\" alt=\"\" width=\"351\" height=\"438\"\u003e\u003cbr\u003e\n\u003c\/div\u003e\n\u003ch3 style=\"text-align: left;\"\u003e\u003cspan style=\"color: #ff8000;\"\u003eFEATURES:\u003c\/span\u003e\u003c\/h3\u003e\n\u003cdiv style=\"text-align: center;\"\u003e\n\u003cul\u003e\n\u003cli style=\"text-align: left;\"\u003eSuper Strong Bonding Spray  is an INNOVATIVE SPRAY that EFFECTIVELY SEALS, and REPAIRS broken surfaces. It is a WATER-BASED SEALANT that is PAINTABLE and can be USED to\u003cspan style=\"color: #2b00ff;\"\u003e\u003cstrong\u003e WATERPROOF a LARGE VARIETY of SURFACES\u003c\/strong\u003e\u003c\/span\u003e.\u003c\/li\u003e\n\u003c\/ul\u003e\n\u003cmeta charset=\"utf-8\"\u003e\n\u003cimg src=\"https:\/\/img.alicdn.com\/imgextra\/i2\/3328530442\/O1CN01E2demh1F8TfaTvftp_!!3328530442.gif\" width=\"375\" height=\"244\"\u003e\u003cbr\u003e\u003cmeta charset=\"utf-8\"\u003e\n\u003cimg src=\"https:\/\/img.alicdn.com\/imgextra\/i2\/3328530442\/O1CN01ZmAlsh1F8TfatzGCC_!!3328530442.gif\" width=\"375\" height=\"277\"\u003e\u003cbr\u003e\u003cimg src=\"https:\/\/cdn.shopify.com\/s\/files\/1\/0441\/9724\/9186\/files\/Mighty_Sealant_Spray_L3-louie_480x480.jpg?v=1596622313\" alt=\"\" width=\"389\" height=\"389\"\u003e\u003cbr\u003e\n\u003cul\u003e\n\u003cul\u003e\n\u003cli style=\"text-align: left;\"\u003eIt PROVIDES \u003cspan style=\"color: #2b00ff;\"\u003e\u003cstrong\u003ea TOUGH but FLEXIBLE LAYER of PROTECTION\u003c\/strong\u003e\u003c\/span\u003e to the APPLIED SURFACE. It is LEAK PROOF and can be APPLIED on WET SURFACES with HIGH BONDING STRENGTH.\u003c\/li\u003e\n\u003c\/ul\u003e\n\u003c\/ul\u003e\n\u003cmeta charset=\"utf-8\"\u003e\n\u003cul\u003e\n\u003cli style=\"text-align: left;\"\u003eIt is TRANSPARENT and has NON-YELLOWING SUBSTANCE.\u003c\/li\u003e\n\u003c\/ul\u003e\n\u003cimg src=\"https:\/\/cdn.shopify.com\/s\/files\/1\/0441\/9724\/9186\/files\/Mighty_Sealant_Spray_L6-louie_480x480.jpg?v=1596622562\" alt=\"\" width=\"401\" height=\"401\"\u003e\u003cbr\u003e\u003cmeta charset=\"utf-8\"\u003e\n\u003cimg src=\"https:\/\/gcdn.giikin.com\/ueditor\/image\/20191028\/1572225268825754.gif\" alt=\"03.gif\" width=\"389\" height=\"217\"\u003e\u003cbr\u003e \u003cbr\u003e\n\u003c\/div\u003e\n\u003cdiv style=\"text-align: center;\"\u003e\n\u003cul\u003e\n\u003cli style=\"text-align: left;\"\u003ePowerful Sealant Spray has \u003cspan style=\"color: #2b00ff;\"\u003e\u003cstrong\u003ea STRONG ADHESIVE ACTION\u003c\/strong\u003e\u003c\/span\u003e that it can \u003cspan style=\"color: #2b00ff;\"\u003e\u003cstrong\u003eEASILY and QUICKLY BIND to MOST SURFACES\u003c\/strong\u003e \u003c\/span\u003ethat is SUBJECTED to and can be PARTICULARLY USEFUL wherein PROTECTION is REQUIRED.\u003c\/li\u003e\n\u003c\/ul\u003e\n\u003cmeta charset=\"utf-8\"\u003e\n\u003cmeta charset=\"utf-8\"\u003e\n\u003cimg src=\"https:\/\/cdn.shopify.com\/s\/files\/1\/0441\/9724\/9186\/files\/Mighty_Sealant_Spray_L2-louie_d9df76eb-ca6c-4350-a585-4e3f6ce4fd81_480x480.jpg?v=1597390322\" width=\"415\" height=\"415\"\u003e\u003cbr\u003e\u003cbr\u003e\u003cmeta charset=\"utf-8\"\u003e\n\u003cimg src=\"https:\/\/gcdn.giikin.com\/ueditor\/image\/20191028\/1572225245923008.gif\" alt=\"01.gif\" width=\"420\" height=\"290\"\u003e\u003cbr\u003e\n\u003cul\u003e\n\u003cli style=\"text-align: left;\"\u003eIt can be APPLIED and PROVIDE the KIND of PROTECTION NEEDED in NO TIME. It is \u003cspan style=\"color: #2b00ff;\"\u003e\u003cstrong\u003eLONG-LASTING and PERMANENT\u003c\/strong\u003e\u003c\/span\u003e.\u003c\/li\u003e\n\u003c\/ul\u003e\n\u003cimg src=\"https:\/\/cdn.shopify.com\/s\/files\/1\/0426\/6894\/9655\/files\/LeakStopSpraySeal_04_1080x_41ffcc97-9e0d-44d7-94d5-565afdd53907_480x480.jpg?v=1597896611\" alt=\"\" width=\"413\" height=\"413\"\u003e\u003cbr\u003e\n\u003cul\u003e\n\u003cli style=\"text-align: left;\"\u003eIt is SUITABLE for SEALING JOINTS and GAPS and LEAKS and can be USED to \u003cspan style=\"color: #2b00ff;\"\u003e\u003cstrong\u003eALL CONSTRUCTION MATERIALS\u003c\/strong\u003e\u003c\/span\u003e. It can be APPLIED to \u003cspan style=\"color: #2b00ff;\"\u003e\u003cstrong\u003ePAINTED and NON-PAINTED SURFACES\u003c\/strong\u003e\u003c\/span\u003e. It is \u003cspan style=\"color: #2b00ff;\"\u003e\u003cstrong\u003eNON-POLLUTING\u003c\/strong\u003e\u003c\/span\u003e. It is ODORLESS. It is \u003cspan style=\"color: #2b00ff;\"\u003e\u003cstrong\u003eSAFE and NON-TOXIC\u003c\/strong\u003e\u003c\/span\u003e.\u003c\/li\u003e\n\u003c\/ul\u003e\n\u003cbr\u003e\u003cmeta charset=\"utf-8\"\u003e\n\u003cimg src=\"https:\/\/cdn.shopify.com\/s\/files\/1\/0441\/9724\/9186\/files\/Mighty_Sealant_Spray_L5-louie_9c633e16-8be0-44a5-89ae-425c8bb4a100_480x480.jpg?v=1597390348\" width=\"421\" height=\"421\"\u003e\n\u003c\/div\u003e\n\u003cdiv style=\"text-align: center;\"\u003e\u003c\/div\u003e\n\u003ch3 style=\"text-align: center;\"\u003e\n\u003cspan style=\"color: #ff2a00;\"\u003e✨✨Usage\u003c\/span\u003e\u003cbr\u003e\u003cimg src=\"https:\/\/cdn.shopifycdn.net\/s\/files\/1\/0279\/2410\/3273\/files\/usage.png?v=1598246170\" alt=\"\" width=\"438\" height=\"392\"\u003e\u003cbr\u003e\u003cbr\u003e\n\u003c\/h3\u003e\n\u003ch3\u003e\u003cspan style=\"color: #ff8000;\"\u003eSPECIFICATIONS:\u003c\/span\u003e\u003c\/h3\u003e\n\u003cul\u003e\n\u003cli\u003eVolume: 30ml \u003c\/li\u003e\n\u003cli\u003eSize: 10.5*2.7cm\u003c\/li\u003e\n\u003cli\u003eWeight: 45g\u003c\/li\u003e\n\u003cli\u003eMaterial: Polymer Copolymer\u003c\/li\u003e\n\u003c\/ul\u003e\n\u003ch3\u003e\u003cspan style=\"color: #ff8000;\"\u003ePACKAGE INCLUDES:\u003c\/span\u003e\u003c\/h3\u003e\n\u003cul\u003e\n\u003cli\u003e\u003cspan style=\"color: #000000;\"\u003e1* Super Strong Bonding Spray\u003c\/span\u003e\u003c\/li\u003e\n\u003c\/ul\u003e\n\u003cmeta charset=\"utf-8\"\u003e\n\u003ch3 style=\"text-align: left;\"\u003e\u003cbr\u003e\u003c\/h3\u003e\n\u003cp\u003e \u003c\/p\u003e\n\u003cul\u003e\u003c\/ul\u003e\n\u003cmeta charset=\"utf-8\"\u003e\n\u003cp style=\"text-align: left;\"\u003e\u003cbr\u003e\u003c\/p\u003e\n\u003ch3 style=\"text-align: center;\"\u003e\n\u003cbr\u003e\u003cbr\u003e\n\u003c\/h3\u003e\n\u003c\/div\u003e\n\u003c\/div\u003e"}
Super Strong Bonding Spray
Adding product to your cart
💦Super Strong Bonding Spray
😘😘We are happy to offer you a PRODUCT that will EASILY and INSTANTLY SEAL and REPAIR BROKEN SURFACES. Introducing the Super Strong Bonding Spray .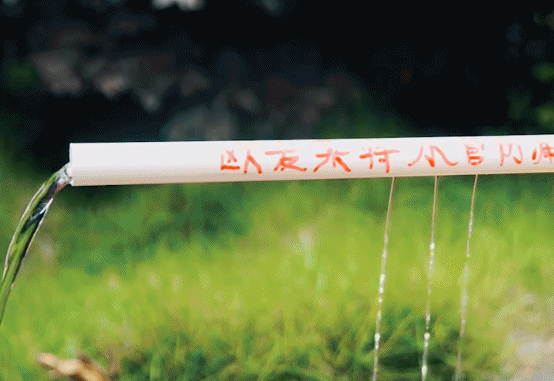 FEATURES:
Super Strong Bonding Spray  is an INNOVATIVE SPRAY that EFFECTIVELY SEALS, and REPAIRS broken surfaces. It is a WATER-BASED SEALANT that is PAINTABLE and can be USED to WATERPROOF a LARGE VARIETY of SURFACES.
It PROVIDES a TOUGH but FLEXIBLE LAYER of PROTECTION to the APPLIED SURFACE. It is LEAK PROOF and can be APPLIED on WET SURFACES with HIGH BONDING STRENGTH.
It is TRANSPARENT and has NON-YELLOWING SUBSTANCE.
Powerful Sealant Spray has a STRONG ADHESIVE ACTION that it can EASILY and QUICKLY BIND to MOST SURFACES that is SUBJECTED to and can be PARTICULARLY USEFUL wherein PROTECTION is REQUIRED.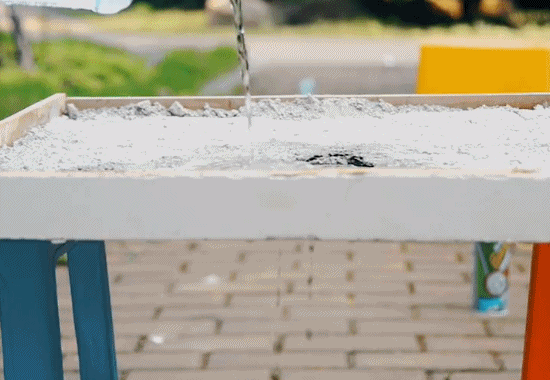 It can be APPLIED and PROVIDE the KIND of PROTECTION NEEDED in NO TIME. It is LONG-LASTING and PERMANENT.
It is SUITABLE for SEALING JOINTS and GAPS and LEAKS and can be USED to ALL CONSTRUCTION MATERIALS. It can be APPLIED to PAINTED and NON-PAINTED SURFACES. It is NON-POLLUTING. It is ODORLESS. It is SAFE and NON-TOXIC.
✨✨Usage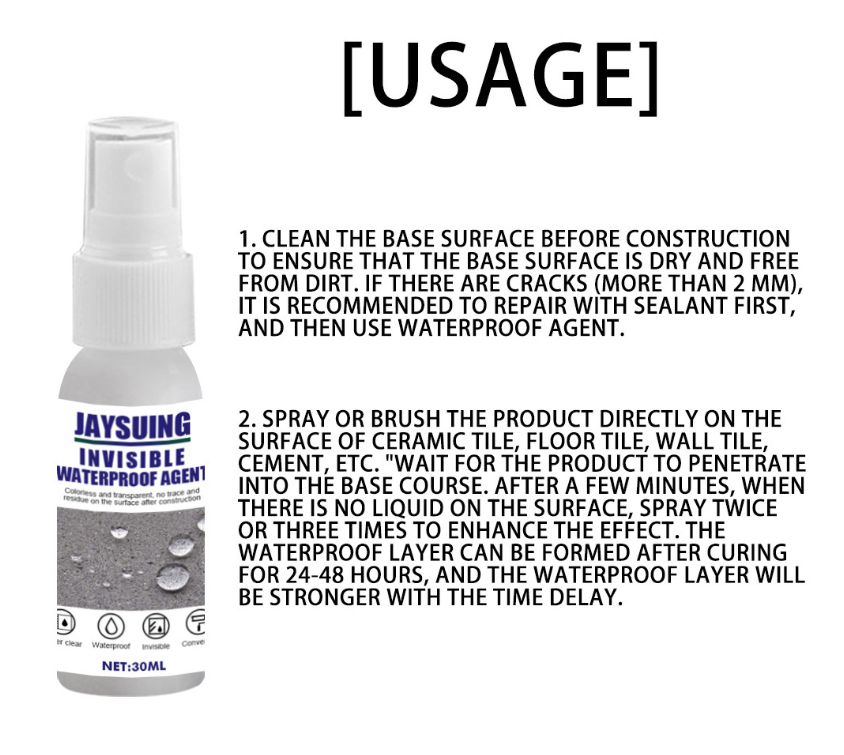 SPECIFICATIONS:
Volume: 30ml 
Size: 10.5*2.7cm
Weight: 45g
Material: Polymer Copolymer
PACKAGE INCLUDES:
1* Super Strong Bonding Spray