{"id":6964995588250,"title":"Stretch Cross Orthotic Slide Sandals","handle":"stretch-cross-orthotic-slide-sandals","description":"\u003cp data-mce-fragment=\"1\"\u003eYou must get one pair of this sandals in summer! It's fashionable and comfortable to wear! You won't regret buying this!\u003c\/p\u003e\n\u003cp data-mce-fragment=\"1\"\u003e \u003cimg src=\"https:\/\/cdn.shopifycdn.net\/s\/files\/1\/0281\/0979\/9533\/products\/7_6c1a4b6a-68bb-4806-b2c8-0672265608e1_480x480.jpg?v=1614231624\" alt=\"\" style=\"display: block; margin-left: auto; margin-right: auto;\" width=\"380\" height=\"379\" data-mce-fragment=\"1\" data-mce-src=\"https:\/\/cdn.shopifycdn.net\/s\/files\/1\/0281\/0979\/9533\/products\/7_6c1a4b6a-68bb-4806-b2c8-0672265608e1_480x480.jpg?v=1614231624\"\u003e\u003c\/p\u003e\n\u003ch3 data-mce-fragment=\"1\"\u003e\u003cspan style=\"color: #ff8000;\" data-mce-fragment=\"1\"\u003eFeature:\u003c\/span\u003e\u003c\/h3\u003e\n\u003cp data-mce-fragment=\"1\"\u003e- Lightweight, non-slip, great shock absorption soles.\u003c\/p\u003e\n\u003cp data-mce-fragment=\"1\"\u003e- Make you walk more steadily \u0026amp; stand for hours, without any strain or imbalance.\u003c\/p\u003e\n\u003cp data-mce-fragment=\"1\"\u003e- Keep your autumntime ensembles easy-breezy when you slip on these lightweight sandals designed with a molded footbed and non-slip grip for maximum support and comfort.\u003c\/p\u003e\n\u003cp data-mce-fragment=\"1\"\u003e- Non-slip, non-marking molded rubber outsole.\u003c\/p\u003e\n\u003cp data-mce-fragment=\"1\"\u003e- Deep heel cupping and High arch support.\u003c\/p\u003e\n\u003ch3 data-mce-fragment=\"1\"\u003e\u003cspan style=\"color: #ff8000;\" data-mce-fragment=\"1\"\u003eSpecification:\u003c\/span\u003e\u003c\/h3\u003e\n\u003cp data-mce-fragment=\"1\"\u003e- Material: Net\u003c\/p\u003e\n\u003cp data-mce-fragment=\"1\"\u003e- Color: Blue, Green, Black, Beige\u003c\/p\u003e\n\u003cp data-mce-fragment=\"1\"\u003e- Size: 35, 36, 37, 38, 39, 40, 41, 42, 43\u003c\/p\u003e\n\u003ch3 data-mce-fragment=\"1\"\u003e\u003cspan style=\"color: #ff8000;\" data-mce-fragment=\"1\"\u003eSize Chart:\u003c\/span\u003e\u003c\/h3\u003e\n\u003cp data-mce-fragment=\"1\"\u003e \u003cimg src=\"https:\/\/cdn.shopifycdn.net\/s\/files\/1\/0281\/0979\/9533\/products\/c397efc275db80573d0516d5f61c9019_480x480.jpg?v=1614231618\" alt=\"\" style=\"display: block; margin-left: auto; margin-right: auto;\" width=\"385\" height=\"394\" data-mce-fragment=\"1\" data-mce-src=\"https:\/\/cdn.shopifycdn.net\/s\/files\/1\/0281\/0979\/9533\/products\/c397efc275db80573d0516d5f61c9019_480x480.jpg?v=1614231618\"\u003e\u003c\/p\u003e\n\u003cp data-mce-fragment=\"1\"\u003e\u003cimg alt=\"\" src=\"https:\/\/cdn.shopifycdn.net\/s\/files\/1\/0281\/0979\/9533\/products\/2_ee51fed1-c79e-4296-a390-018332014039_480x480.jpg?v=1614231618\" style=\"display: block; margin-left: auto; margin-right: auto;\" width=\"455\" height=\"167\"\u003e\u003c\/p\u003e\n\u003ch3 data-mce-fragment=\"1\"\u003e\u003cspan style=\"color: #ff8000;\" data-mce-fragment=\"1\"\u003eNote: \u003c\/span\u003e\u003c\/h3\u003e\n\u003cp data-mce-fragment=\"1\"\u003ePlease allow slight deviation of size due to manual measure.\u003c\/p\u003e\n\u003ch3 data-mce-fragment=\"1\"\u003e\u003cspan style=\"color: #ff8000;\" data-mce-fragment=\"1\"\u003ePackage included:\u003c\/span\u003e\u003c\/h3\u003e\n\u003cp data-mce-fragment=\"1\"\u003e1* Stretch Cross Orthotic Slide Sandals\u003c\/p\u003e","published_at":"2021-08-18T21:37:47-06:00","created_at":"2021-08-18T21:37:57-06:00","vendor":"comfybear","type":"","tags":["Sandals","shoes"],"price":2499,"price_min":2499,"price_max":2499,"available":true,"price_varies":false,"compare_at_price":4999,"compare_at_price_min":4999,"compare_at_price_max":4999,"compare_at_price_varies":false,"variants":[{"id":40665119359130,"title":"Blue \/ 35","option1":"Blue","option2":"35","option3":null,"sku":"SH15922-C008-S035","requires_shipping":true,"taxable":false,"featured_image":{"id":30851592454298,"product_id":6964995588250,"position":3,"created_at":"2021-08-18T21:37:57-06:00","updated_at":"2021-08-18T21:37:57-06:00","alt":null,"width":800,"height":800,"src":"\/\/www.luluwin.co.uk\/cdn\/shop\/products\/1_92d96823-3620-40f7-ad15-678a5b0d5653.jpg?v=1629344277","variant_ids":[40665119359130,40665119391898,40665119424666,40665119457434,40665119490202,40665119522970,40665119555738,40665119588506,40665119621274]},"available":true,"name":"Stretch Cross Orthotic Slide Sandals - Blue \/ 35","public_title":"Blue \/ 35","options":["Blue","35"],"price":2499,"weight":0,"compare_at_price":4999,"inventory_management":null,"barcode":null,"featured_media":{"alt":null,"id":23267532308634,"position":3,"preview_image":{"aspect_ratio":1.0,"height":800,"width":800,"src":"\/\/www.luluwin.co.uk\/cdn\/shop\/products\/1_92d96823-3620-40f7-ad15-678a5b0d5653.jpg?v=1629344277"}},"requires_selling_plan":false,"selling_plan_allocations":[]},{"id":40665119391898,"title":"Blue \/ 36","option1":"Blue","option2":"36","option3":null,"sku":"SH15922-C008-S036","requires_shipping":true,"taxable":false,"featured_image":{"id":30851592454298,"product_id":6964995588250,"position":3,"created_at":"2021-08-18T21:37:57-06:00","updated_at":"2021-08-18T21:37:57-06:00","alt":null,"width":800,"height":800,"src":"\/\/www.luluwin.co.uk\/cdn\/shop\/products\/1_92d96823-3620-40f7-ad15-678a5b0d5653.jpg?v=1629344277","variant_ids":[40665119359130,40665119391898,40665119424666,40665119457434,40665119490202,40665119522970,40665119555738,40665119588506,40665119621274]},"available":true,"name":"Stretch Cross Orthotic Slide Sandals - Blue \/ 36","public_title":"Blue \/ 36","options":["Blue","36"],"price":2499,"weight":0,"compare_at_price":4999,"inventory_management":null,"barcode":null,"featured_media":{"alt":null,"id":23267532308634,"position":3,"preview_image":{"aspect_ratio":1.0,"height":800,"width":800,"src":"\/\/www.luluwin.co.uk\/cdn\/shop\/products\/1_92d96823-3620-40f7-ad15-678a5b0d5653.jpg?v=1629344277"}},"requires_selling_plan":false,"selling_plan_allocations":[]},{"id":40665119424666,"title":"Blue \/ 37","option1":"Blue","option2":"37","option3":null,"sku":"SH15922-C008-S037","requires_shipping":true,"taxable":false,"featured_image":{"id":30851592454298,"product_id":6964995588250,"position":3,"created_at":"2021-08-18T21:37:57-06:00","updated_at":"2021-08-18T21:37:57-06:00","alt":null,"width":800,"height":800,"src":"\/\/www.luluwin.co.uk\/cdn\/shop\/products\/1_92d96823-3620-40f7-ad15-678a5b0d5653.jpg?v=1629344277","variant_ids":[40665119359130,40665119391898,40665119424666,40665119457434,40665119490202,40665119522970,40665119555738,40665119588506,40665119621274]},"available":true,"name":"Stretch Cross Orthotic Slide Sandals - Blue \/ 37","public_title":"Blue \/ 37","options":["Blue","37"],"price":2499,"weight":0,"compare_at_price":4999,"inventory_management":null,"barcode":null,"featured_media":{"alt":null,"id":23267532308634,"position":3,"preview_image":{"aspect_ratio":1.0,"height":800,"width":800,"src":"\/\/www.luluwin.co.uk\/cdn\/shop\/products\/1_92d96823-3620-40f7-ad15-678a5b0d5653.jpg?v=1629344277"}},"requires_selling_plan":false,"selling_plan_allocations":[]},{"id":40665119457434,"title":"Blue \/ 38","option1":"Blue","option2":"38","option3":null,"sku":"SH15922-C008-S038","requires_shipping":true,"taxable":false,"featured_image":{"id":30851592454298,"product_id":6964995588250,"position":3,"created_at":"2021-08-18T21:37:57-06:00","updated_at":"2021-08-18T21:37:57-06:00","alt":null,"width":800,"height":800,"src":"\/\/www.luluwin.co.uk\/cdn\/shop\/products\/1_92d96823-3620-40f7-ad15-678a5b0d5653.jpg?v=1629344277","variant_ids":[40665119359130,40665119391898,40665119424666,40665119457434,40665119490202,40665119522970,40665119555738,40665119588506,40665119621274]},"available":true,"name":"Stretch Cross Orthotic Slide Sandals - Blue \/ 38","public_title":"Blue \/ 38","options":["Blue","38"],"price":2499,"weight":0,"compare_at_price":4999,"inventory_management":null,"barcode":null,"featured_media":{"alt":null,"id":23267532308634,"position":3,"preview_image":{"aspect_ratio":1.0,"height":800,"width":800,"src":"\/\/www.luluwin.co.uk\/cdn\/shop\/products\/1_92d96823-3620-40f7-ad15-678a5b0d5653.jpg?v=1629344277"}},"requires_selling_plan":false,"selling_plan_allocations":[]},{"id":40665119490202,"title":"Blue \/ 39","option1":"Blue","option2":"39","option3":null,"sku":"SH15922-C008-S039","requires_shipping":true,"taxable":false,"featured_image":{"id":30851592454298,"product_id":6964995588250,"position":3,"created_at":"2021-08-18T21:37:57-06:00","updated_at":"2021-08-18T21:37:57-06:00","alt":null,"width":800,"height":800,"src":"\/\/www.luluwin.co.uk\/cdn\/shop\/products\/1_92d96823-3620-40f7-ad15-678a5b0d5653.jpg?v=1629344277","variant_ids":[40665119359130,40665119391898,40665119424666,40665119457434,40665119490202,40665119522970,40665119555738,40665119588506,40665119621274]},"available":true,"name":"Stretch Cross Orthotic Slide Sandals - Blue \/ 39","public_title":"Blue \/ 39","options":["Blue","39"],"price":2499,"weight":0,"compare_at_price":4999,"inventory_management":null,"barcode":null,"featured_media":{"alt":null,"id":23267532308634,"position":3,"preview_image":{"aspect_ratio":1.0,"height":800,"width":800,"src":"\/\/www.luluwin.co.uk\/cdn\/shop\/products\/1_92d96823-3620-40f7-ad15-678a5b0d5653.jpg?v=1629344277"}},"requires_selling_plan":false,"selling_plan_allocations":[]},{"id":40665119522970,"title":"Blue \/ 40","option1":"Blue","option2":"40","option3":null,"sku":"SH15922-C008-S040","requires_shipping":true,"taxable":false,"featured_image":{"id":30851592454298,"product_id":6964995588250,"position":3,"created_at":"2021-08-18T21:37:57-06:00","updated_at":"2021-08-18T21:37:57-06:00","alt":null,"width":800,"height":800,"src":"\/\/www.luluwin.co.uk\/cdn\/shop\/products\/1_92d96823-3620-40f7-ad15-678a5b0d5653.jpg?v=1629344277","variant_ids":[40665119359130,40665119391898,40665119424666,40665119457434,40665119490202,40665119522970,40665119555738,40665119588506,40665119621274]},"available":true,"name":"Stretch Cross Orthotic Slide Sandals - Blue \/ 40","public_title":"Blue \/ 40","options":["Blue","40"],"price":2499,"weight":0,"compare_at_price":4999,"inventory_management":null,"barcode":null,"featured_media":{"alt":null,"id":23267532308634,"position":3,"preview_image":{"aspect_ratio":1.0,"height":800,"width":800,"src":"\/\/www.luluwin.co.uk\/cdn\/shop\/products\/1_92d96823-3620-40f7-ad15-678a5b0d5653.jpg?v=1629344277"}},"requires_selling_plan":false,"selling_plan_allocations":[]},{"id":40665119555738,"title":"Blue \/ 41","option1":"Blue","option2":"41","option3":null,"sku":"SH15922-C008-S041","requires_shipping":true,"taxable":false,"featured_image":{"id":30851592454298,"product_id":6964995588250,"position":3,"created_at":"2021-08-18T21:37:57-06:00","updated_at":"2021-08-18T21:37:57-06:00","alt":null,"width":800,"height":800,"src":"\/\/www.luluwin.co.uk\/cdn\/shop\/products\/1_92d96823-3620-40f7-ad15-678a5b0d5653.jpg?v=1629344277","variant_ids":[40665119359130,40665119391898,40665119424666,40665119457434,40665119490202,40665119522970,40665119555738,40665119588506,40665119621274]},"available":true,"name":"Stretch Cross Orthotic Slide Sandals - Blue \/ 41","public_title":"Blue \/ 41","options":["Blue","41"],"price":2499,"weight":0,"compare_at_price":4999,"inventory_management":null,"barcode":null,"featured_media":{"alt":null,"id":23267532308634,"position":3,"preview_image":{"aspect_ratio":1.0,"height":800,"width":800,"src":"\/\/www.luluwin.co.uk\/cdn\/shop\/products\/1_92d96823-3620-40f7-ad15-678a5b0d5653.jpg?v=1629344277"}},"requires_selling_plan":false,"selling_plan_allocations":[]},{"id":40665119588506,"title":"Blue \/ 42","option1":"Blue","option2":"42","option3":null,"sku":"SH15922-C008-S042","requires_shipping":true,"taxable":false,"featured_image":{"id":30851592454298,"product_id":6964995588250,"position":3,"created_at":"2021-08-18T21:37:57-06:00","updated_at":"2021-08-18T21:37:57-06:00","alt":null,"width":800,"height":800,"src":"\/\/www.luluwin.co.uk\/cdn\/shop\/products\/1_92d96823-3620-40f7-ad15-678a5b0d5653.jpg?v=1629344277","variant_ids":[40665119359130,40665119391898,40665119424666,40665119457434,40665119490202,40665119522970,40665119555738,40665119588506,40665119621274]},"available":true,"name":"Stretch Cross Orthotic Slide Sandals - Blue \/ 42","public_title":"Blue \/ 42","options":["Blue","42"],"price":2499,"weight":0,"compare_at_price":4999,"inventory_management":null,"barcode":null,"featured_media":{"alt":null,"id":23267532308634,"position":3,"preview_image":{"aspect_ratio":1.0,"height":800,"width":800,"src":"\/\/www.luluwin.co.uk\/cdn\/shop\/products\/1_92d96823-3620-40f7-ad15-678a5b0d5653.jpg?v=1629344277"}},"requires_selling_plan":false,"selling_plan_allocations":[]},{"id":40665119621274,"title":"Blue \/ 43","option1":"Blue","option2":"43","option3":null,"sku":"SH15922-C008-S043","requires_shipping":true,"taxable":false,"featured_image":{"id":30851592454298,"product_id":6964995588250,"position":3,"created_at":"2021-08-18T21:37:57-06:00","updated_at":"2021-08-18T21:37:57-06:00","alt":null,"width":800,"height":800,"src":"\/\/www.luluwin.co.uk\/cdn\/shop\/products\/1_92d96823-3620-40f7-ad15-678a5b0d5653.jpg?v=1629344277","variant_ids":[40665119359130,40665119391898,40665119424666,40665119457434,40665119490202,40665119522970,40665119555738,40665119588506,40665119621274]},"available":true,"name":"Stretch Cross Orthotic Slide Sandals - Blue \/ 43","public_title":"Blue \/ 43","options":["Blue","43"],"price":2499,"weight":0,"compare_at_price":4999,"inventory_management":null,"barcode":null,"featured_media":{"alt":null,"id":23267532308634,"position":3,"preview_image":{"aspect_ratio":1.0,"height":800,"width":800,"src":"\/\/www.luluwin.co.uk\/cdn\/shop\/products\/1_92d96823-3620-40f7-ad15-678a5b0d5653.jpg?v=1629344277"}},"requires_selling_plan":false,"selling_plan_allocations":[]},{"id":40665119686810,"title":"Green \/ 35","option1":"Green","option2":"35","option3":null,"sku":"SH15922-C004-S035","requires_shipping":true,"taxable":false,"featured_image":{"id":30851592487066,"product_id":6964995588250,"position":4,"created_at":"2021-08-18T21:37:57-06:00","updated_at":"2021-08-18T21:37:57-06:00","alt":null,"width":800,"height":800,"src":"\/\/www.luluwin.co.uk\/cdn\/shop\/products\/3_a70d293a-14fb-445c-ac8b-a78e7eaff594.jpg?v=1629344277","variant_ids":[40665119686810,40665119719578,40665119785114,40665119817882,40665119850650,40665119883418,40665119916186,40665119948954,40665119981722]},"available":true,"name":"Stretch Cross Orthotic Slide Sandals - Green \/ 35","public_title":"Green \/ 35","options":["Green","35"],"price":2499,"weight":0,"compare_at_price":4999,"inventory_management":null,"barcode":null,"featured_media":{"alt":null,"id":23267532341402,"position":4,"preview_image":{"aspect_ratio":1.0,"height":800,"width":800,"src":"\/\/www.luluwin.co.uk\/cdn\/shop\/products\/3_a70d293a-14fb-445c-ac8b-a78e7eaff594.jpg?v=1629344277"}},"requires_selling_plan":false,"selling_plan_allocations":[]},{"id":40665119719578,"title":"Green \/ 36","option1":"Green","option2":"36","option3":null,"sku":"SH15922-C004-S036","requires_shipping":true,"taxable":false,"featured_image":{"id":30851592487066,"product_id":6964995588250,"position":4,"created_at":"2021-08-18T21:37:57-06:00","updated_at":"2021-08-18T21:37:57-06:00","alt":null,"width":800,"height":800,"src":"\/\/www.luluwin.co.uk\/cdn\/shop\/products\/3_a70d293a-14fb-445c-ac8b-a78e7eaff594.jpg?v=1629344277","variant_ids":[40665119686810,40665119719578,40665119785114,40665119817882,40665119850650,40665119883418,40665119916186,40665119948954,40665119981722]},"available":true,"name":"Stretch Cross Orthotic Slide Sandals - Green \/ 36","public_title":"Green \/ 36","options":["Green","36"],"price":2499,"weight":0,"compare_at_price":4999,"inventory_management":null,"barcode":null,"featured_media":{"alt":null,"id":23267532341402,"position":4,"preview_image":{"aspect_ratio":1.0,"height":800,"width":800,"src":"\/\/www.luluwin.co.uk\/cdn\/shop\/products\/3_a70d293a-14fb-445c-ac8b-a78e7eaff594.jpg?v=1629344277"}},"requires_selling_plan":false,"selling_plan_allocations":[]},{"id":40665119785114,"title":"Green \/ 37","option1":"Green","option2":"37","option3":null,"sku":"SH15922-C004-S037","requires_shipping":true,"taxable":false,"featured_image":{"id":30851592487066,"product_id":6964995588250,"position":4,"created_at":"2021-08-18T21:37:57-06:00","updated_at":"2021-08-18T21:37:57-06:00","alt":null,"width":800,"height":800,"src":"\/\/www.luluwin.co.uk\/cdn\/shop\/products\/3_a70d293a-14fb-445c-ac8b-a78e7eaff594.jpg?v=1629344277","variant_ids":[40665119686810,40665119719578,40665119785114,40665119817882,40665119850650,40665119883418,40665119916186,40665119948954,40665119981722]},"available":true,"name":"Stretch Cross Orthotic Slide Sandals - Green \/ 37","public_title":"Green \/ 37","options":["Green","37"],"price":2499,"weight":0,"compare_at_price":4999,"inventory_management":null,"barcode":null,"featured_media":{"alt":null,"id":23267532341402,"position":4,"preview_image":{"aspect_ratio":1.0,"height":800,"width":800,"src":"\/\/www.luluwin.co.uk\/cdn\/shop\/products\/3_a70d293a-14fb-445c-ac8b-a78e7eaff594.jpg?v=1629344277"}},"requires_selling_plan":false,"selling_plan_allocations":[]},{"id":40665119817882,"title":"Green \/ 38","option1":"Green","option2":"38","option3":null,"sku":"SH15922-C004-S038","requires_shipping":true,"taxable":false,"featured_image":{"id":30851592487066,"product_id":6964995588250,"position":4,"created_at":"2021-08-18T21:37:57-06:00","updated_at":"2021-08-18T21:37:57-06:00","alt":null,"width":800,"height":800,"src":"\/\/www.luluwin.co.uk\/cdn\/shop\/products\/3_a70d293a-14fb-445c-ac8b-a78e7eaff594.jpg?v=1629344277","variant_ids":[40665119686810,40665119719578,40665119785114,40665119817882,40665119850650,40665119883418,40665119916186,40665119948954,40665119981722]},"available":true,"name":"Stretch Cross Orthotic Slide Sandals - Green \/ 38","public_title":"Green \/ 38","options":["Green","38"],"price":2499,"weight":0,"compare_at_price":4999,"inventory_management":null,"barcode":null,"featured_media":{"alt":null,"id":23267532341402,"position":4,"preview_image":{"aspect_ratio":1.0,"height":800,"width":800,"src":"\/\/www.luluwin.co.uk\/cdn\/shop\/products\/3_a70d293a-14fb-445c-ac8b-a78e7eaff594.jpg?v=1629344277"}},"requires_selling_plan":false,"selling_plan_allocations":[]},{"id":40665119850650,"title":"Green \/ 39","option1":"Green","option2":"39","option3":null,"sku":"SH15922-C004-S039","requires_shipping":true,"taxable":false,"featured_image":{"id":30851592487066,"product_id":6964995588250,"position":4,"created_at":"2021-08-18T21:37:57-06:00","updated_at":"2021-08-18T21:37:57-06:00","alt":null,"width":800,"height":800,"src":"\/\/www.luluwin.co.uk\/cdn\/shop\/products\/3_a70d293a-14fb-445c-ac8b-a78e7eaff594.jpg?v=1629344277","variant_ids":[40665119686810,40665119719578,40665119785114,40665119817882,40665119850650,40665119883418,40665119916186,40665119948954,40665119981722]},"available":true,"name":"Stretch Cross Orthotic Slide Sandals - Green \/ 39","public_title":"Green \/ 39","options":["Green","39"],"price":2499,"weight":0,"compare_at_price":4999,"inventory_management":null,"barcode":null,"featured_media":{"alt":null,"id":23267532341402,"position":4,"preview_image":{"aspect_ratio":1.0,"height":800,"width":800,"src":"\/\/www.luluwin.co.uk\/cdn\/shop\/products\/3_a70d293a-14fb-445c-ac8b-a78e7eaff594.jpg?v=1629344277"}},"requires_selling_plan":false,"selling_plan_allocations":[]},{"id":40665119883418,"title":"Green \/ 40","option1":"Green","option2":"40","option3":null,"sku":"SH15922-C004-S040","requires_shipping":true,"taxable":false,"featured_image":{"id":30851592487066,"product_id":6964995588250,"position":4,"created_at":"2021-08-18T21:37:57-06:00","updated_at":"2021-08-18T21:37:57-06:00","alt":null,"width":800,"height":800,"src":"\/\/www.luluwin.co.uk\/cdn\/shop\/products\/3_a70d293a-14fb-445c-ac8b-a78e7eaff594.jpg?v=1629344277","variant_ids":[40665119686810,40665119719578,40665119785114,40665119817882,40665119850650,40665119883418,40665119916186,40665119948954,40665119981722]},"available":true,"name":"Stretch Cross Orthotic Slide Sandals - Green \/ 40","public_title":"Green \/ 40","options":["Green","40"],"price":2499,"weight":0,"compare_at_price":4999,"inventory_management":null,"barcode":null,"featured_media":{"alt":null,"id":23267532341402,"position":4,"preview_image":{"aspect_ratio":1.0,"height":800,"width":800,"src":"\/\/www.luluwin.co.uk\/cdn\/shop\/products\/3_a70d293a-14fb-445c-ac8b-a78e7eaff594.jpg?v=1629344277"}},"requires_selling_plan":false,"selling_plan_allocations":[]},{"id":40665119916186,"title":"Green \/ 41","option1":"Green","option2":"41","option3":null,"sku":"SH15922-C004-S041","requires_shipping":true,"taxable":false,"featured_image":{"id":30851592487066,"product_id":6964995588250,"position":4,"created_at":"2021-08-18T21:37:57-06:00","updated_at":"2021-08-18T21:37:57-06:00","alt":null,"width":800,"height":800,"src":"\/\/www.luluwin.co.uk\/cdn\/shop\/products\/3_a70d293a-14fb-445c-ac8b-a78e7eaff594.jpg?v=1629344277","variant_ids":[40665119686810,40665119719578,40665119785114,40665119817882,40665119850650,40665119883418,40665119916186,40665119948954,40665119981722]},"available":true,"name":"Stretch Cross Orthotic Slide Sandals - Green \/ 41","public_title":"Green \/ 41","options":["Green","41"],"price":2499,"weight":0,"compare_at_price":4999,"inventory_management":null,"barcode":null,"featured_media":{"alt":null,"id":23267532341402,"position":4,"preview_image":{"aspect_ratio":1.0,"height":800,"width":800,"src":"\/\/www.luluwin.co.uk\/cdn\/shop\/products\/3_a70d293a-14fb-445c-ac8b-a78e7eaff594.jpg?v=1629344277"}},"requires_selling_plan":false,"selling_plan_allocations":[]},{"id":40665119948954,"title":"Green \/ 42","option1":"Green","option2":"42","option3":null,"sku":"SH15922-C004-S042","requires_shipping":true,"taxable":false,"featured_image":{"id":30851592487066,"product_id":6964995588250,"position":4,"created_at":"2021-08-18T21:37:57-06:00","updated_at":"2021-08-18T21:37:57-06:00","alt":null,"width":800,"height":800,"src":"\/\/www.luluwin.co.uk\/cdn\/shop\/products\/3_a70d293a-14fb-445c-ac8b-a78e7eaff594.jpg?v=1629344277","variant_ids":[40665119686810,40665119719578,40665119785114,40665119817882,40665119850650,40665119883418,40665119916186,40665119948954,40665119981722]},"available":true,"name":"Stretch Cross Orthotic Slide Sandals - Green \/ 42","public_title":"Green \/ 42","options":["Green","42"],"price":2499,"weight":0,"compare_at_price":4999,"inventory_management":null,"barcode":null,"featured_media":{"alt":null,"id":23267532341402,"position":4,"preview_image":{"aspect_ratio":1.0,"height":800,"width":800,"src":"\/\/www.luluwin.co.uk\/cdn\/shop\/products\/3_a70d293a-14fb-445c-ac8b-a78e7eaff594.jpg?v=1629344277"}},"requires_selling_plan":false,"selling_plan_allocations":[]},{"id":40665119981722,"title":"Green \/ 43","option1":"Green","option2":"43","option3":null,"sku":"SH15922-C004-S043","requires_shipping":true,"taxable":false,"featured_image":{"id":30851592487066,"product_id":6964995588250,"position":4,"created_at":"2021-08-18T21:37:57-06:00","updated_at":"2021-08-18T21:37:57-06:00","alt":null,"width":800,"height":800,"src":"\/\/www.luluwin.co.uk\/cdn\/shop\/products\/3_a70d293a-14fb-445c-ac8b-a78e7eaff594.jpg?v=1629344277","variant_ids":[40665119686810,40665119719578,40665119785114,40665119817882,40665119850650,40665119883418,40665119916186,40665119948954,40665119981722]},"available":true,"name":"Stretch Cross Orthotic Slide Sandals - Green \/ 43","public_title":"Green \/ 43","options":["Green","43"],"price":2499,"weight":0,"compare_at_price":4999,"inventory_management":null,"barcode":null,"featured_media":{"alt":null,"id":23267532341402,"position":4,"preview_image":{"aspect_ratio":1.0,"height":800,"width":800,"src":"\/\/www.luluwin.co.uk\/cdn\/shop\/products\/3_a70d293a-14fb-445c-ac8b-a78e7eaff594.jpg?v=1629344277"}},"requires_selling_plan":false,"selling_plan_allocations":[]},{"id":40665120014490,"title":"Black \/ 35","option1":"Black","option2":"35","option3":null,"sku":"SH15922-C001-S035","requires_shipping":true,"taxable":false,"featured_image":{"id":30851592519834,"product_id":6964995588250,"position":5,"created_at":"2021-08-18T21:37:57-06:00","updated_at":"2021-08-18T21:37:57-06:00","alt":null,"width":800,"height":800,"src":"\/\/www.luluwin.co.uk\/cdn\/shop\/products\/2_7e6531e9-8a2d-4805-afda-8ab10d1e7787.jpg?v=1629344277","variant_ids":[40665120014490,40665120047258,40665120080026,40665120112794,40665120145562,40665120178330,40665120211098,40665120243866,40665120276634]},"available":true,"name":"Stretch Cross Orthotic Slide Sandals - Black \/ 35","public_title":"Black \/ 35","options":["Black","35"],"price":2499,"weight":0,"compare_at_price":4999,"inventory_management":null,"barcode":null,"featured_media":{"alt":null,"id":23267532374170,"position":5,"preview_image":{"aspect_ratio":1.0,"height":800,"width":800,"src":"\/\/www.luluwin.co.uk\/cdn\/shop\/products\/2_7e6531e9-8a2d-4805-afda-8ab10d1e7787.jpg?v=1629344277"}},"requires_selling_plan":false,"selling_plan_allocations":[]},{"id":40665120047258,"title":"Black \/ 36","option1":"Black","option2":"36","option3":null,"sku":"SH15922-C001-S036","requires_shipping":true,"taxable":false,"featured_image":{"id":30851592519834,"product_id":6964995588250,"position":5,"created_at":"2021-08-18T21:37:57-06:00","updated_at":"2021-08-18T21:37:57-06:00","alt":null,"width":800,"height":800,"src":"\/\/www.luluwin.co.uk\/cdn\/shop\/products\/2_7e6531e9-8a2d-4805-afda-8ab10d1e7787.jpg?v=1629344277","variant_ids":[40665120014490,40665120047258,40665120080026,40665120112794,40665120145562,40665120178330,40665120211098,40665120243866,40665120276634]},"available":true,"name":"Stretch Cross Orthotic Slide Sandals - Black \/ 36","public_title":"Black \/ 36","options":["Black","36"],"price":2499,"weight":0,"compare_at_price":4999,"inventory_management":null,"barcode":null,"featured_media":{"alt":null,"id":23267532374170,"position":5,"preview_image":{"aspect_ratio":1.0,"height":800,"width":800,"src":"\/\/www.luluwin.co.uk\/cdn\/shop\/products\/2_7e6531e9-8a2d-4805-afda-8ab10d1e7787.jpg?v=1629344277"}},"requires_selling_plan":false,"selling_plan_allocations":[]},{"id":40665120080026,"title":"Black \/ 37","option1":"Black","option2":"37","option3":null,"sku":"SH15922-C001-S037","requires_shipping":true,"taxable":false,"featured_image":{"id":30851592519834,"product_id":6964995588250,"position":5,"created_at":"2021-08-18T21:37:57-06:00","updated_at":"2021-08-18T21:37:57-06:00","alt":null,"width":800,"height":800,"src":"\/\/www.luluwin.co.uk\/cdn\/shop\/products\/2_7e6531e9-8a2d-4805-afda-8ab10d1e7787.jpg?v=1629344277","variant_ids":[40665120014490,40665120047258,40665120080026,40665120112794,40665120145562,40665120178330,40665120211098,40665120243866,40665120276634]},"available":true,"name":"Stretch Cross Orthotic Slide Sandals - Black \/ 37","public_title":"Black \/ 37","options":["Black","37"],"price":2499,"weight":0,"compare_at_price":4999,"inventory_management":null,"barcode":null,"featured_media":{"alt":null,"id":23267532374170,"position":5,"preview_image":{"aspect_ratio":1.0,"height":800,"width":800,"src":"\/\/www.luluwin.co.uk\/cdn\/shop\/products\/2_7e6531e9-8a2d-4805-afda-8ab10d1e7787.jpg?v=1629344277"}},"requires_selling_plan":false,"selling_plan_allocations":[]},{"id":40665120112794,"title":"Black \/ 38","option1":"Black","option2":"38","option3":null,"sku":"SH15922-C001-S038","requires_shipping":true,"taxable":false,"featured_image":{"id":30851592519834,"product_id":6964995588250,"position":5,"created_at":"2021-08-18T21:37:57-06:00","updated_at":"2021-08-18T21:37:57-06:00","alt":null,"width":800,"height":800,"src":"\/\/www.luluwin.co.uk\/cdn\/shop\/products\/2_7e6531e9-8a2d-4805-afda-8ab10d1e7787.jpg?v=1629344277","variant_ids":[40665120014490,40665120047258,40665120080026,40665120112794,40665120145562,40665120178330,40665120211098,40665120243866,40665120276634]},"available":true,"name":"Stretch Cross Orthotic Slide Sandals - Black \/ 38","public_title":"Black \/ 38","options":["Black","38"],"price":2499,"weight":0,"compare_at_price":4999,"inventory_management":null,"barcode":null,"featured_media":{"alt":null,"id":23267532374170,"position":5,"preview_image":{"aspect_ratio":1.0,"height":800,"width":800,"src":"\/\/www.luluwin.co.uk\/cdn\/shop\/products\/2_7e6531e9-8a2d-4805-afda-8ab10d1e7787.jpg?v=1629344277"}},"requires_selling_plan":false,"selling_plan_allocations":[]},{"id":40665120145562,"title":"Black \/ 39","option1":"Black","option2":"39","option3":null,"sku":"SH15922-C001-S039","requires_shipping":true,"taxable":false,"featured_image":{"id":30851592519834,"product_id":6964995588250,"position":5,"created_at":"2021-08-18T21:37:57-06:00","updated_at":"2021-08-18T21:37:57-06:00","alt":null,"width":800,"height":800,"src":"\/\/www.luluwin.co.uk\/cdn\/shop\/products\/2_7e6531e9-8a2d-4805-afda-8ab10d1e7787.jpg?v=1629344277","variant_ids":[40665120014490,40665120047258,40665120080026,40665120112794,40665120145562,40665120178330,40665120211098,40665120243866,40665120276634]},"available":true,"name":"Stretch Cross Orthotic Slide Sandals - Black \/ 39","public_title":"Black \/ 39","options":["Black","39"],"price":2499,"weight":0,"compare_at_price":4999,"inventory_management":null,"barcode":null,"featured_media":{"alt":null,"id":23267532374170,"position":5,"preview_image":{"aspect_ratio":1.0,"height":800,"width":800,"src":"\/\/www.luluwin.co.uk\/cdn\/shop\/products\/2_7e6531e9-8a2d-4805-afda-8ab10d1e7787.jpg?v=1629344277"}},"requires_selling_plan":false,"selling_plan_allocations":[]},{"id":40665120178330,"title":"Black \/ 40","option1":"Black","option2":"40","option3":null,"sku":"SH15922-C001-S040","requires_shipping":true,"taxable":false,"featured_image":{"id":30851592519834,"product_id":6964995588250,"position":5,"created_at":"2021-08-18T21:37:57-06:00","updated_at":"2021-08-18T21:37:57-06:00","alt":null,"width":800,"height":800,"src":"\/\/www.luluwin.co.uk\/cdn\/shop\/products\/2_7e6531e9-8a2d-4805-afda-8ab10d1e7787.jpg?v=1629344277","variant_ids":[40665120014490,40665120047258,40665120080026,40665120112794,40665120145562,40665120178330,40665120211098,40665120243866,40665120276634]},"available":true,"name":"Stretch Cross Orthotic Slide Sandals - Black \/ 40","public_title":"Black \/ 40","options":["Black","40"],"price":2499,"weight":0,"compare_at_price":4999,"inventory_management":null,"barcode":null,"featured_media":{"alt":null,"id":23267532374170,"position":5,"preview_image":{"aspect_ratio":1.0,"height":800,"width":800,"src":"\/\/www.luluwin.co.uk\/cdn\/shop\/products\/2_7e6531e9-8a2d-4805-afda-8ab10d1e7787.jpg?v=1629344277"}},"requires_selling_plan":false,"selling_plan_allocations":[]},{"id":40665120211098,"title":"Black \/ 41","option1":"Black","option2":"41","option3":null,"sku":"SH15922-C001-S041","requires_shipping":true,"taxable":false,"featured_image":{"id":30851592519834,"product_id":6964995588250,"position":5,"created_at":"2021-08-18T21:37:57-06:00","updated_at":"2021-08-18T21:37:57-06:00","alt":null,"width":800,"height":800,"src":"\/\/www.luluwin.co.uk\/cdn\/shop\/products\/2_7e6531e9-8a2d-4805-afda-8ab10d1e7787.jpg?v=1629344277","variant_ids":[40665120014490,40665120047258,40665120080026,40665120112794,40665120145562,40665120178330,40665120211098,40665120243866,40665120276634]},"available":true,"name":"Stretch Cross Orthotic Slide Sandals - Black \/ 41","public_title":"Black \/ 41","options":["Black","41"],"price":2499,"weight":0,"compare_at_price":4999,"inventory_management":null,"barcode":null,"featured_media":{"alt":null,"id":23267532374170,"position":5,"preview_image":{"aspect_ratio":1.0,"height":800,"width":800,"src":"\/\/www.luluwin.co.uk\/cdn\/shop\/products\/2_7e6531e9-8a2d-4805-afda-8ab10d1e7787.jpg?v=1629344277"}},"requires_selling_plan":false,"selling_plan_allocations":[]},{"id":40665120243866,"title":"Black \/ 42","option1":"Black","option2":"42","option3":null,"sku":"SH15922-C001-S042","requires_shipping":true,"taxable":false,"featured_image":{"id":30851592519834,"product_id":6964995588250,"position":5,"created_at":"2021-08-18T21:37:57-06:00","updated_at":"2021-08-18T21:37:57-06:00","alt":null,"width":800,"height":800,"src":"\/\/www.luluwin.co.uk\/cdn\/shop\/products\/2_7e6531e9-8a2d-4805-afda-8ab10d1e7787.jpg?v=1629344277","variant_ids":[40665120014490,40665120047258,40665120080026,40665120112794,40665120145562,40665120178330,40665120211098,40665120243866,40665120276634]},"available":true,"name":"Stretch Cross Orthotic Slide Sandals - Black \/ 42","public_title":"Black \/ 42","options":["Black","42"],"price":2499,"weight":0,"compare_at_price":4999,"inventory_management":null,"barcode":null,"featured_media":{"alt":null,"id":23267532374170,"position":5,"preview_image":{"aspect_ratio":1.0,"height":800,"width":800,"src":"\/\/www.luluwin.co.uk\/cdn\/shop\/products\/2_7e6531e9-8a2d-4805-afda-8ab10d1e7787.jpg?v=1629344277"}},"requires_selling_plan":false,"selling_plan_allocations":[]},{"id":40665120276634,"title":"Black \/ 43","option1":"Black","option2":"43","option3":null,"sku":"SH15922-C001-S043","requires_shipping":true,"taxable":false,"featured_image":{"id":30851592519834,"product_id":6964995588250,"position":5,"created_at":"2021-08-18T21:37:57-06:00","updated_at":"2021-08-18T21:37:57-06:00","alt":null,"width":800,"height":800,"src":"\/\/www.luluwin.co.uk\/cdn\/shop\/products\/2_7e6531e9-8a2d-4805-afda-8ab10d1e7787.jpg?v=1629344277","variant_ids":[40665120014490,40665120047258,40665120080026,40665120112794,40665120145562,40665120178330,40665120211098,40665120243866,40665120276634]},"available":true,"name":"Stretch Cross Orthotic Slide Sandals - Black \/ 43","public_title":"Black \/ 43","options":["Black","43"],"price":2499,"weight":0,"compare_at_price":4999,"inventory_management":null,"barcode":null,"featured_media":{"alt":null,"id":23267532374170,"position":5,"preview_image":{"aspect_ratio":1.0,"height":800,"width":800,"src":"\/\/www.luluwin.co.uk\/cdn\/shop\/products\/2_7e6531e9-8a2d-4805-afda-8ab10d1e7787.jpg?v=1629344277"}},"requires_selling_plan":false,"selling_plan_allocations":[]},{"id":40665120309402,"title":"Beige \/ 35","option1":"Beige","option2":"35","option3":null,"sku":"SH15922-C010-S035","requires_shipping":true,"taxable":false,"featured_image":{"id":30851592552602,"product_id":6964995588250,"position":6,"created_at":"2021-08-18T21:37:57-06:00","updated_at":"2021-08-18T21:37:57-06:00","alt":null,"width":800,"height":800,"src":"\/\/www.luluwin.co.uk\/cdn\/shop\/products\/4_a58b1da1-091a-4034-ae67-81c5db93730b.jpg?v=1629344277","variant_ids":[40665120309402,40665120342170,40665120374938,40665120407706,40665120473242,40665120506010,40665120538778,40665120571546,40665120604314]},"available":true,"name":"Stretch Cross Orthotic Slide Sandals - Beige \/ 35","public_title":"Beige \/ 35","options":["Beige","35"],"price":2499,"weight":0,"compare_at_price":4999,"inventory_management":null,"barcode":null,"featured_media":{"alt":null,"id":23267532406938,"position":6,"preview_image":{"aspect_ratio":1.0,"height":800,"width":800,"src":"\/\/www.luluwin.co.uk\/cdn\/shop\/products\/4_a58b1da1-091a-4034-ae67-81c5db93730b.jpg?v=1629344277"}},"requires_selling_plan":false,"selling_plan_allocations":[]},{"id":40665120342170,"title":"Beige \/ 36","option1":"Beige","option2":"36","option3":null,"sku":"SH15922-C010-S036","requires_shipping":true,"taxable":false,"featured_image":{"id":30851592552602,"product_id":6964995588250,"position":6,"created_at":"2021-08-18T21:37:57-06:00","updated_at":"2021-08-18T21:37:57-06:00","alt":null,"width":800,"height":800,"src":"\/\/www.luluwin.co.uk\/cdn\/shop\/products\/4_a58b1da1-091a-4034-ae67-81c5db93730b.jpg?v=1629344277","variant_ids":[40665120309402,40665120342170,40665120374938,40665120407706,40665120473242,40665120506010,40665120538778,40665120571546,40665120604314]},"available":true,"name":"Stretch Cross Orthotic Slide Sandals - Beige \/ 36","public_title":"Beige \/ 36","options":["Beige","36"],"price":2499,"weight":0,"compare_at_price":4999,"inventory_management":null,"barcode":null,"featured_media":{"alt":null,"id":23267532406938,"position":6,"preview_image":{"aspect_ratio":1.0,"height":800,"width":800,"src":"\/\/www.luluwin.co.uk\/cdn\/shop\/products\/4_a58b1da1-091a-4034-ae67-81c5db93730b.jpg?v=1629344277"}},"requires_selling_plan":false,"selling_plan_allocations":[]},{"id":40665120374938,"title":"Beige \/ 37","option1":"Beige","option2":"37","option3":null,"sku":"SH15922-C010-S037","requires_shipping":true,"taxable":false,"featured_image":{"id":30851592552602,"product_id":6964995588250,"position":6,"created_at":"2021-08-18T21:37:57-06:00","updated_at":"2021-08-18T21:37:57-06:00","alt":null,"width":800,"height":800,"src":"\/\/www.luluwin.co.uk\/cdn\/shop\/products\/4_a58b1da1-091a-4034-ae67-81c5db93730b.jpg?v=1629344277","variant_ids":[40665120309402,40665120342170,40665120374938,40665120407706,40665120473242,40665120506010,40665120538778,40665120571546,40665120604314]},"available":true,"name":"Stretch Cross Orthotic Slide Sandals - Beige \/ 37","public_title":"Beige \/ 37","options":["Beige","37"],"price":2499,"weight":0,"compare_at_price":4999,"inventory_management":null,"barcode":null,"featured_media":{"alt":null,"id":23267532406938,"position":6,"preview_image":{"aspect_ratio":1.0,"height":800,"width":800,"src":"\/\/www.luluwin.co.uk\/cdn\/shop\/products\/4_a58b1da1-091a-4034-ae67-81c5db93730b.jpg?v=1629344277"}},"requires_selling_plan":false,"selling_plan_allocations":[]},{"id":40665120407706,"title":"Beige \/ 38","option1":"Beige","option2":"38","option3":null,"sku":"SH15922-C010-S038","requires_shipping":true,"taxable":false,"featured_image":{"id":30851592552602,"product_id":6964995588250,"position":6,"created_at":"2021-08-18T21:37:57-06:00","updated_at":"2021-08-18T21:37:57-06:00","alt":null,"width":800,"height":800,"src":"\/\/www.luluwin.co.uk\/cdn\/shop\/products\/4_a58b1da1-091a-4034-ae67-81c5db93730b.jpg?v=1629344277","variant_ids":[40665120309402,40665120342170,40665120374938,40665120407706,40665120473242,40665120506010,40665120538778,40665120571546,40665120604314]},"available":true,"name":"Stretch Cross Orthotic Slide Sandals - Beige \/ 38","public_title":"Beige \/ 38","options":["Beige","38"],"price":2499,"weight":0,"compare_at_price":4999,"inventory_management":null,"barcode":null,"featured_media":{"alt":null,"id":23267532406938,"position":6,"preview_image":{"aspect_ratio":1.0,"height":800,"width":800,"src":"\/\/www.luluwin.co.uk\/cdn\/shop\/products\/4_a58b1da1-091a-4034-ae67-81c5db93730b.jpg?v=1629344277"}},"requires_selling_plan":false,"selling_plan_allocations":[]},{"id":40665120473242,"title":"Beige \/ 39","option1":"Beige","option2":"39","option3":null,"sku":"SH15922-C010-S039","requires_shipping":true,"taxable":false,"featured_image":{"id":30851592552602,"product_id":6964995588250,"position":6,"created_at":"2021-08-18T21:37:57-06:00","updated_at":"2021-08-18T21:37:57-06:00","alt":null,"width":800,"height":800,"src":"\/\/www.luluwin.co.uk\/cdn\/shop\/products\/4_a58b1da1-091a-4034-ae67-81c5db93730b.jpg?v=1629344277","variant_ids":[40665120309402,40665120342170,40665120374938,40665120407706,40665120473242,40665120506010,40665120538778,40665120571546,40665120604314]},"available":true,"name":"Stretch Cross Orthotic Slide Sandals - Beige \/ 39","public_title":"Beige \/ 39","options":["Beige","39"],"price":2499,"weight":0,"compare_at_price":4999,"inventory_management":null,"barcode":null,"featured_media":{"alt":null,"id":23267532406938,"position":6,"preview_image":{"aspect_ratio":1.0,"height":800,"width":800,"src":"\/\/www.luluwin.co.uk\/cdn\/shop\/products\/4_a58b1da1-091a-4034-ae67-81c5db93730b.jpg?v=1629344277"}},"requires_selling_plan":false,"selling_plan_allocations":[]},{"id":40665120506010,"title":"Beige \/ 40","option1":"Beige","option2":"40","option3":null,"sku":"SH15922-C010-S040","requires_shipping":true,"taxable":false,"featured_image":{"id":30851592552602,"product_id":6964995588250,"position":6,"created_at":"2021-08-18T21:37:57-06:00","updated_at":"2021-08-18T21:37:57-06:00","alt":null,"width":800,"height":800,"src":"\/\/www.luluwin.co.uk\/cdn\/shop\/products\/4_a58b1da1-091a-4034-ae67-81c5db93730b.jpg?v=1629344277","variant_ids":[40665120309402,40665120342170,40665120374938,40665120407706,40665120473242,40665120506010,40665120538778,40665120571546,40665120604314]},"available":true,"name":"Stretch Cross Orthotic Slide Sandals - Beige \/ 40","public_title":"Beige \/ 40","options":["Beige","40"],"price":2499,"weight":0,"compare_at_price":4999,"inventory_management":null,"barcode":null,"featured_media":{"alt":null,"id":23267532406938,"position":6,"preview_image":{"aspect_ratio":1.0,"height":800,"width":800,"src":"\/\/www.luluwin.co.uk\/cdn\/shop\/products\/4_a58b1da1-091a-4034-ae67-81c5db93730b.jpg?v=1629344277"}},"requires_selling_plan":false,"selling_plan_allocations":[]},{"id":40665120538778,"title":"Beige \/ 41","option1":"Beige","option2":"41","option3":null,"sku":"SH15922-C010-S041","requires_shipping":true,"taxable":false,"featured_image":{"id":30851592552602,"product_id":6964995588250,"position":6,"created_at":"2021-08-18T21:37:57-06:00","updated_at":"2021-08-18T21:37:57-06:00","alt":null,"width":800,"height":800,"src":"\/\/www.luluwin.co.uk\/cdn\/shop\/products\/4_a58b1da1-091a-4034-ae67-81c5db93730b.jpg?v=1629344277","variant_ids":[40665120309402,40665120342170,40665120374938,40665120407706,40665120473242,40665120506010,40665120538778,40665120571546,40665120604314]},"available":true,"name":"Stretch Cross Orthotic Slide Sandals - Beige \/ 41","public_title":"Beige \/ 41","options":["Beige","41"],"price":2499,"weight":0,"compare_at_price":4999,"inventory_management":null,"barcode":null,"featured_media":{"alt":null,"id":23267532406938,"position":6,"preview_image":{"aspect_ratio":1.0,"height":800,"width":800,"src":"\/\/www.luluwin.co.uk\/cdn\/shop\/products\/4_a58b1da1-091a-4034-ae67-81c5db93730b.jpg?v=1629344277"}},"requires_selling_plan":false,"selling_plan_allocations":[]},{"id":40665120571546,"title":"Beige \/ 42","option1":"Beige","option2":"42","option3":null,"sku":"SH15922-C010-S042","requires_shipping":true,"taxable":false,"featured_image":{"id":30851592552602,"product_id":6964995588250,"position":6,"created_at":"2021-08-18T21:37:57-06:00","updated_at":"2021-08-18T21:37:57-06:00","alt":null,"width":800,"height":800,"src":"\/\/www.luluwin.co.uk\/cdn\/shop\/products\/4_a58b1da1-091a-4034-ae67-81c5db93730b.jpg?v=1629344277","variant_ids":[40665120309402,40665120342170,40665120374938,40665120407706,40665120473242,40665120506010,40665120538778,40665120571546,40665120604314]},"available":true,"name":"Stretch Cross Orthotic Slide Sandals - Beige \/ 42","public_title":"Beige \/ 42","options":["Beige","42"],"price":2499,"weight":0,"compare_at_price":4999,"inventory_management":null,"barcode":null,"featured_media":{"alt":null,"id":23267532406938,"position":6,"preview_image":{"aspect_ratio":1.0,"height":800,"width":800,"src":"\/\/www.luluwin.co.uk\/cdn\/shop\/products\/4_a58b1da1-091a-4034-ae67-81c5db93730b.jpg?v=1629344277"}},"requires_selling_plan":false,"selling_plan_allocations":[]},{"id":40665120604314,"title":"Beige \/ 43","option1":"Beige","option2":"43","option3":null,"sku":"SH15922-C010-S043","requires_shipping":true,"taxable":false,"featured_image":{"id":30851592552602,"product_id":6964995588250,"position":6,"created_at":"2021-08-18T21:37:57-06:00","updated_at":"2021-08-18T21:37:57-06:00","alt":null,"width":800,"height":800,"src":"\/\/www.luluwin.co.uk\/cdn\/shop\/products\/4_a58b1da1-091a-4034-ae67-81c5db93730b.jpg?v=1629344277","variant_ids":[40665120309402,40665120342170,40665120374938,40665120407706,40665120473242,40665120506010,40665120538778,40665120571546,40665120604314]},"available":true,"name":"Stretch Cross Orthotic Slide Sandals - Beige \/ 43","public_title":"Beige \/ 43","options":["Beige","43"],"price":2499,"weight":0,"compare_at_price":4999,"inventory_management":null,"barcode":null,"featured_media":{"alt":null,"id":23267532406938,"position":6,"preview_image":{"aspect_ratio":1.0,"height":800,"width":800,"src":"\/\/www.luluwin.co.uk\/cdn\/shop\/products\/4_a58b1da1-091a-4034-ae67-81c5db93730b.jpg?v=1629344277"}},"requires_selling_plan":false,"selling_plan_allocations":[]}],"images":["\/\/www.luluwin.co.uk\/cdn\/shop\/products\/8_18088eb8-68c9-4dc4-b2cc-72ee56014b31.jpg?v=1629344277","\/\/www.luluwin.co.uk\/cdn\/shop\/products\/7_6c1a4b6a-68bb-4806-b2c8-0672265608e1.jpg?v=1629344277","\/\/www.luluwin.co.uk\/cdn\/shop\/products\/1_92d96823-3620-40f7-ad15-678a5b0d5653.jpg?v=1629344277","\/\/www.luluwin.co.uk\/cdn\/shop\/products\/3_a70d293a-14fb-445c-ac8b-a78e7eaff594.jpg?v=1629344277","\/\/www.luluwin.co.uk\/cdn\/shop\/products\/2_7e6531e9-8a2d-4805-afda-8ab10d1e7787.jpg?v=1629344277","\/\/www.luluwin.co.uk\/cdn\/shop\/products\/4_a58b1da1-091a-4034-ae67-81c5db93730b.jpg?v=1629344277","\/\/www.luluwin.co.uk\/cdn\/shop\/products\/5_7da66bfa-f25b-44dc-944e-c6072db27ded.jpg?v=1629344277","\/\/www.luluwin.co.uk\/cdn\/shop\/products\/6_dca29ff7-1186-47fe-a41c-ae0d19ec1660.jpg?v=1629344277","\/\/www.luluwin.co.uk\/cdn\/shop\/products\/2_ee51fed1-c79e-4296-a390-018332014039.jpg?v=1629344277","\/\/www.luluwin.co.uk\/cdn\/shop\/products\/c397efc275db80573d0516d5f61c9019_534ebbe8-712e-4dd5-a2ab-f142fc1252f3.jpg?v=1629344277"],"featured_image":"\/\/www.luluwin.co.uk\/cdn\/shop\/products\/8_18088eb8-68c9-4dc4-b2cc-72ee56014b31.jpg?v=1629344277","options":["Color","Size"],"media":[{"alt":null,"id":23267532243098,"position":1,"preview_image":{"aspect_ratio":1.0,"height":800,"width":800,"src":"\/\/www.luluwin.co.uk\/cdn\/shop\/products\/8_18088eb8-68c9-4dc4-b2cc-72ee56014b31.jpg?v=1629344277"},"aspect_ratio":1.0,"height":800,"media_type":"image","src":"\/\/www.luluwin.co.uk\/cdn\/shop\/products\/8_18088eb8-68c9-4dc4-b2cc-72ee56014b31.jpg?v=1629344277","width":800},{"alt":null,"id":23267532275866,"position":2,"preview_image":{"aspect_ratio":1.0,"height":800,"width":800,"src":"\/\/www.luluwin.co.uk\/cdn\/shop\/products\/7_6c1a4b6a-68bb-4806-b2c8-0672265608e1.jpg?v=1629344277"},"aspect_ratio":1.0,"height":800,"media_type":"image","src":"\/\/www.luluwin.co.uk\/cdn\/shop\/products\/7_6c1a4b6a-68bb-4806-b2c8-0672265608e1.jpg?v=1629344277","width":800},{"alt":null,"id":23267532308634,"position":3,"preview_image":{"aspect_ratio":1.0,"height":800,"width":800,"src":"\/\/www.luluwin.co.uk\/cdn\/shop\/products\/1_92d96823-3620-40f7-ad15-678a5b0d5653.jpg?v=1629344277"},"aspect_ratio":1.0,"height":800,"media_type":"image","src":"\/\/www.luluwin.co.uk\/cdn\/shop\/products\/1_92d96823-3620-40f7-ad15-678a5b0d5653.jpg?v=1629344277","width":800},{"alt":null,"id":23267532341402,"position":4,"preview_image":{"aspect_ratio":1.0,"height":800,"width":800,"src":"\/\/www.luluwin.co.uk\/cdn\/shop\/products\/3_a70d293a-14fb-445c-ac8b-a78e7eaff594.jpg?v=1629344277"},"aspect_ratio":1.0,"height":800,"media_type":"image","src":"\/\/www.luluwin.co.uk\/cdn\/shop\/products\/3_a70d293a-14fb-445c-ac8b-a78e7eaff594.jpg?v=1629344277","width":800},{"alt":null,"id":23267532374170,"position":5,"preview_image":{"aspect_ratio":1.0,"height":800,"width":800,"src":"\/\/www.luluwin.co.uk\/cdn\/shop\/products\/2_7e6531e9-8a2d-4805-afda-8ab10d1e7787.jpg?v=1629344277"},"aspect_ratio":1.0,"height":800,"media_type":"image","src":"\/\/www.luluwin.co.uk\/cdn\/shop\/products\/2_7e6531e9-8a2d-4805-afda-8ab10d1e7787.jpg?v=1629344277","width":800},{"alt":null,"id":23267532406938,"position":6,"preview_image":{"aspect_ratio":1.0,"height":800,"width":800,"src":"\/\/www.luluwin.co.uk\/cdn\/shop\/products\/4_a58b1da1-091a-4034-ae67-81c5db93730b.jpg?v=1629344277"},"aspect_ratio":1.0,"height":800,"media_type":"image","src":"\/\/www.luluwin.co.uk\/cdn\/shop\/products\/4_a58b1da1-091a-4034-ae67-81c5db93730b.jpg?v=1629344277","width":800},{"alt":null,"id":23267532439706,"position":7,"preview_image":{"aspect_ratio":1.0,"height":800,"width":800,"src":"\/\/www.luluwin.co.uk\/cdn\/shop\/products\/5_7da66bfa-f25b-44dc-944e-c6072db27ded.jpg?v=1629344277"},"aspect_ratio":1.0,"height":800,"media_type":"image","src":"\/\/www.luluwin.co.uk\/cdn\/shop\/products\/5_7da66bfa-f25b-44dc-944e-c6072db27ded.jpg?v=1629344277","width":800},{"alt":null,"id":23267532505242,"position":8,"preview_image":{"aspect_ratio":1.0,"height":800,"width":800,"src":"\/\/www.luluwin.co.uk\/cdn\/shop\/products\/6_dca29ff7-1186-47fe-a41c-ae0d19ec1660.jpg?v=1629344277"},"aspect_ratio":1.0,"height":800,"media_type":"image","src":"\/\/www.luluwin.co.uk\/cdn\/shop\/products\/6_dca29ff7-1186-47fe-a41c-ae0d19ec1660.jpg?v=1629344277","width":800},{"alt":null,"id":23267532538010,"position":9,"preview_image":{"aspect_ratio":2.735,"height":279,"width":763,"src":"\/\/www.luluwin.co.uk\/cdn\/shop\/products\/2_ee51fed1-c79e-4296-a390-018332014039.jpg?v=1629344277"},"aspect_ratio":2.735,"height":279,"media_type":"image","src":"\/\/www.luluwin.co.uk\/cdn\/shop\/products\/2_ee51fed1-c79e-4296-a390-018332014039.jpg?v=1629344277","width":763},{"alt":null,"id":23267532570778,"position":10,"preview_image":{"aspect_ratio":0.979,"height":715,"width":700,"src":"\/\/www.luluwin.co.uk\/cdn\/shop\/products\/c397efc275db80573d0516d5f61c9019_534ebbe8-712e-4dd5-a2ab-f142fc1252f3.jpg?v=1629344277"},"aspect_ratio":0.979,"height":715,"media_type":"image","src":"\/\/www.luluwin.co.uk\/cdn\/shop\/products\/c397efc275db80573d0516d5f61c9019_534ebbe8-712e-4dd5-a2ab-f142fc1252f3.jpg?v=1629344277","width":700}],"requires_selling_plan":false,"selling_plan_groups":[],"content":"\u003cp data-mce-fragment=\"1\"\u003eYou must get one pair of this sandals in summer! It's fashionable and comfortable to wear! You won't regret buying this!\u003c\/p\u003e\n\u003cp data-mce-fragment=\"1\"\u003e \u003cimg src=\"https:\/\/cdn.shopifycdn.net\/s\/files\/1\/0281\/0979\/9533\/products\/7_6c1a4b6a-68bb-4806-b2c8-0672265608e1_480x480.jpg?v=1614231624\" alt=\"\" style=\"display: block; margin-left: auto; margin-right: auto;\" width=\"380\" height=\"379\" data-mce-fragment=\"1\" data-mce-src=\"https:\/\/cdn.shopifycdn.net\/s\/files\/1\/0281\/0979\/9533\/products\/7_6c1a4b6a-68bb-4806-b2c8-0672265608e1_480x480.jpg?v=1614231624\"\u003e\u003c\/p\u003e\n\u003ch3 data-mce-fragment=\"1\"\u003e\u003cspan style=\"color: #ff8000;\" data-mce-fragment=\"1\"\u003eFeature:\u003c\/span\u003e\u003c\/h3\u003e\n\u003cp data-mce-fragment=\"1\"\u003e- Lightweight, non-slip, great shock absorption soles.\u003c\/p\u003e\n\u003cp data-mce-fragment=\"1\"\u003e- Make you walk more steadily \u0026amp; stand for hours, without any strain or imbalance.\u003c\/p\u003e\n\u003cp data-mce-fragment=\"1\"\u003e- Keep your autumntime ensembles easy-breezy when you slip on these lightweight sandals designed with a molded footbed and non-slip grip for maximum support and comfort.\u003c\/p\u003e\n\u003cp data-mce-fragment=\"1\"\u003e- Non-slip, non-marking molded rubber outsole.\u003c\/p\u003e\n\u003cp data-mce-fragment=\"1\"\u003e- Deep heel cupping and High arch support.\u003c\/p\u003e\n\u003ch3 data-mce-fragment=\"1\"\u003e\u003cspan style=\"color: #ff8000;\" data-mce-fragment=\"1\"\u003eSpecification:\u003c\/span\u003e\u003c\/h3\u003e\n\u003cp data-mce-fragment=\"1\"\u003e- Material: Net\u003c\/p\u003e\n\u003cp data-mce-fragment=\"1\"\u003e- Color: Blue, Green, Black, Beige\u003c\/p\u003e\n\u003cp data-mce-fragment=\"1\"\u003e- Size: 35, 36, 37, 38, 39, 40, 41, 42, 43\u003c\/p\u003e\n\u003ch3 data-mce-fragment=\"1\"\u003e\u003cspan style=\"color: #ff8000;\" data-mce-fragment=\"1\"\u003eSize Chart:\u003c\/span\u003e\u003c\/h3\u003e\n\u003cp data-mce-fragment=\"1\"\u003e \u003cimg src=\"https:\/\/cdn.shopifycdn.net\/s\/files\/1\/0281\/0979\/9533\/products\/c397efc275db80573d0516d5f61c9019_480x480.jpg?v=1614231618\" alt=\"\" style=\"display: block; margin-left: auto; margin-right: auto;\" width=\"385\" height=\"394\" data-mce-fragment=\"1\" data-mce-src=\"https:\/\/cdn.shopifycdn.net\/s\/files\/1\/0281\/0979\/9533\/products\/c397efc275db80573d0516d5f61c9019_480x480.jpg?v=1614231618\"\u003e\u003c\/p\u003e\n\u003cp data-mce-fragment=\"1\"\u003e\u003cimg alt=\"\" src=\"https:\/\/cdn.shopifycdn.net\/s\/files\/1\/0281\/0979\/9533\/products\/2_ee51fed1-c79e-4296-a390-018332014039_480x480.jpg?v=1614231618\" style=\"display: block; margin-left: auto; margin-right: auto;\" width=\"455\" height=\"167\"\u003e\u003c\/p\u003e\n\u003ch3 data-mce-fragment=\"1\"\u003e\u003cspan style=\"color: #ff8000;\" data-mce-fragment=\"1\"\u003eNote: \u003c\/span\u003e\u003c\/h3\u003e\n\u003cp data-mce-fragment=\"1\"\u003ePlease allow slight deviation of size due to manual measure.\u003c\/p\u003e\n\u003ch3 data-mce-fragment=\"1\"\u003e\u003cspan style=\"color: #ff8000;\" data-mce-fragment=\"1\"\u003ePackage included:\u003c\/span\u003e\u003c\/h3\u003e\n\u003cp data-mce-fragment=\"1\"\u003e1* Stretch Cross Orthotic Slide Sandals\u003c\/p\u003e"}
Stretch Cross Orthotic Slide Sandals
Adding product to your cart
You must get one pair of this sandals in summer! It's fashionable and comfortable to wear! You won't regret buying this!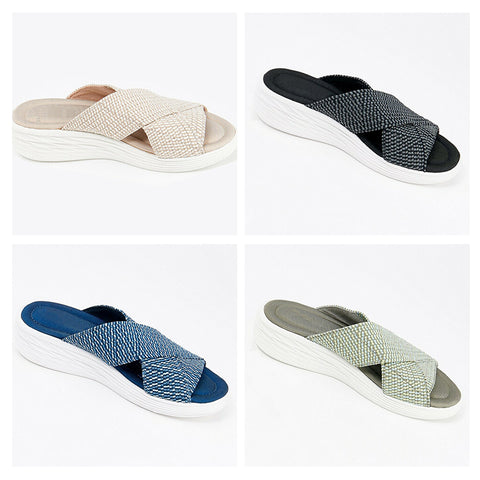 Feature:
- Lightweight, non-slip, great shock absorption soles.
- Make you walk more steadily & stand for hours, without any strain or imbalance.
- Keep your autumntime ensembles easy-breezy when you slip on these lightweight sandals designed with a molded footbed and non-slip grip for maximum support and comfort.
- Non-slip, non-marking molded rubber outsole.
- Deep heel cupping and High arch support.
Specification:
- Material: Net
- Color: Blue, Green, Black, Beige
- Size: 35, 36, 37, 38, 39, 40, 41, 42, 43
Size Chart: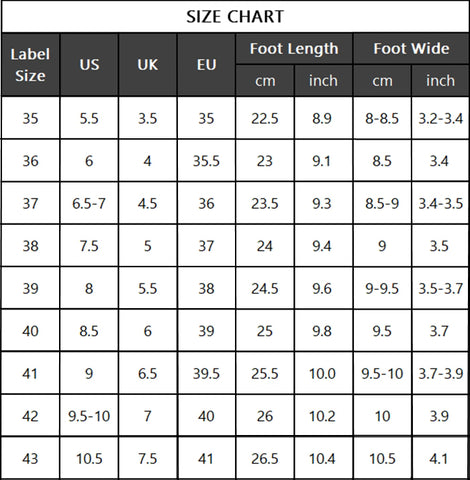 Note: 
Please allow slight deviation of size due to manual measure.
Package included:
1* Stretch Cross Orthotic Slide Sandals