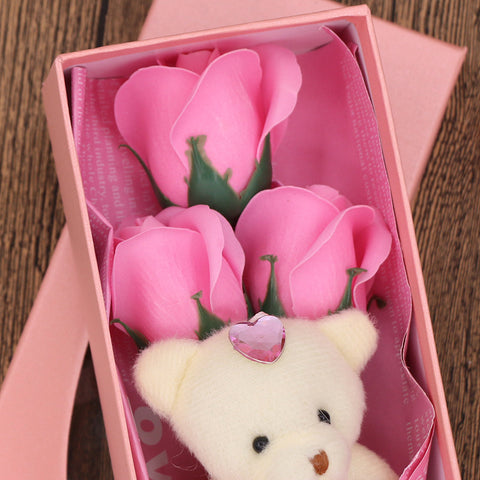 FEATURES:
Creative "I Love You" Gift: Long Lasting Scented roses made from essential oil scented bath soap, a lovely light fragrance smell, with a cute "I Love You" bear ✦ Moreover, these soap roses can be used as a natural diffuser for essential oils to balance the body and mind to help increase the emotional, physical and mental health.
Safe And Healthy: Scented soap roses contain jasmine essential oil, shea butter & vitamin E. The soap roses will have your skin gleaming and leaving you with soft, moisturized skin. This product is 100% safe for even the most sensitive of skins!
Aromatherapy: To release the jasmine oil properties of the roses, place one or more rose petals in the tub filled with water and you're in for an indulging, soothing & relaxing experience. 
What's It For: This unique gift can be given as a gift for Valentine's Day, Anniversaries, Wedding Gifts, Birthdays & more!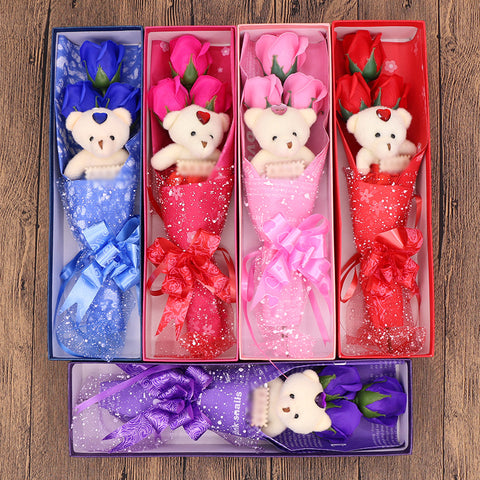 SPECIFICATIONS:
Colour: Red, Pink, Blue, Purple, Rose Red
Package Include: 3 x Roses Soap, 1 x Cute Little Bear, Gift Box Package