{"id":7189862252698,"title":"Reflective Light Bulb Magnet Decorations","handle":"reflective-light-bulb-magnet-decorations","description":"\u003cp style=\"text-align: center;\"\u003e\u003cstrong\u003e🚗 🚗\u003c\/strong\u003e\u003c\/p\u003e\n\u003cp style=\"text-align: center;\"\u003e\u003cspan style=\"color: #4789aa;\"\u003e\u003cstrong\u003eThey shine like real light bulbs in the sun or light. \u003c\/strong\u003e\u003c\/span\u003e\u003cbr data-mce-fragment=\"1\"\u003e\u003cspan style=\"color: #ca3f23;\"\u003e\u003cstrong\u003eThis is a fun way to dress up a car for the holidays.\u003c\/strong\u003e\u003c\/span\u003e\u003c\/p\u003e\n\u003cdiv\u003e\u003cimg data-mce-fragment=\"1\" sizes=\"751px\" srcset=\"https:\/\/img.staticdj.com\/e493d06510e1e9624b10227cdddbee35_900.jpg 48w, https:\/\/img.staticdj.com\/e493d06510e1e9624b10227cdddbee35_900.jpg 180w, https:\/\/img.staticdj.com\/e493d06510e1e9624b10227cdddbee35_900.jpg 540w, https:\/\/img.staticdj.com\/e493d06510e1e9624b10227cdddbee35_900.jpg 720w, https:\/\/img.staticdj.com\/e493d06510e1e9624b10227cdddbee35_900.jpg 900w, https:\/\/img.staticdj.com\/e493d06510e1e9624b10227cdddbee35_900.jpg 1024w, https:\/\/img.staticdj.com\/e493d06510e1e9624b10227cdddbee35_900.jpg 1280w, https:\/\/img.staticdj.com\/e493d06510e1e9624b10227cdddbee35_900.jpg 1366w, https:\/\/img.staticdj.com\/e493d06510e1e9624b10227cdddbee35_900.jpg 1440w, https:\/\/img.staticdj.com\/e493d06510e1e9624b10227cdddbee35_900.jpg 1536w, https:\/\/img.staticdj.com\/e493d06510e1e9624b10227cdddbee35_900.jpg 1600w, https:\/\/img.staticdj.com\/e493d06510e1e9624b10227cdddbee35_900.jpg 1920w, https:\/\/img.staticdj.com\/e493d06510e1e9624b10227cdddbee35_900.jpg 2056w, https:\/\/img.staticdj.com\/e493d06510e1e9624b10227cdddbee35_900.jpg 2560w, https:\/\/img.staticdj.com\/e493d06510e1e9624b10227cdddbee35_900.jpg 2732w, https:\/\/img.staticdj.com\/e493d06510e1e9624b10227cdddbee35_900.jpg 2880w, https:\/\/img.staticdj.com\/e493d06510e1e9624b10227cdddbee35_900.jpg 3072w, https:\/\/img.staticdj.com\/e493d06510e1e9624b10227cdddbee35_900.jpg 3200w, https:\/\/img.staticdj.com\/e493d06510e1e9624b10227cdddbee35_900.jpg 3840w\" alt=\"\" data-sizes=\"auto\" data-srcset=\"https:\/\/img.staticdj.com\/e493d06510e1e9624b10227cdddbee35_900.jpg 48w, https:\/\/img.staticdj.com\/e493d06510e1e9624b10227cdddbee35_900.jpg 180w, https:\/\/img.staticdj.com\/e493d06510e1e9624b10227cdddbee35_900.jpg 540w, https:\/\/img.staticdj.com\/e493d06510e1e9624b10227cdddbee35_900.jpg 720w, https:\/\/img.staticdj.com\/e493d06510e1e9624b10227cdddbee35_900.jpg 900w, https:\/\/img.staticdj.com\/e493d06510e1e9624b10227cdddbee35_900.jpg 1024w, https:\/\/img.staticdj.com\/e493d06510e1e9624b10227cdddbee35_900.jpg 1280w, https:\/\/img.staticdj.com\/e493d06510e1e9624b10227cdddbee35_900.jpg 1366w, https:\/\/img.staticdj.com\/e493d06510e1e9624b10227cdddbee35_900.jpg 1440w, https:\/\/img.staticdj.com\/e493d06510e1e9624b10227cdddbee35_900.jpg 1536w, https:\/\/img.staticdj.com\/e493d06510e1e9624b10227cdddbee35_900.jpg 1600w, https:\/\/img.staticdj.com\/e493d06510e1e9624b10227cdddbee35_900.jpg 1920w, https:\/\/img.staticdj.com\/e493d06510e1e9624b10227cdddbee35_900.jpg 2056w, https:\/\/img.staticdj.com\/e493d06510e1e9624b10227cdddbee35_900.jpg 2560w, https:\/\/img.staticdj.com\/e493d06510e1e9624b10227cdddbee35_900.jpg 2732w, https:\/\/img.staticdj.com\/e493d06510e1e9624b10227cdddbee35_900.jpg 2880w, https:\/\/img.staticdj.com\/e493d06510e1e9624b10227cdddbee35_900.jpg 3072w, https:\/\/img.staticdj.com\/e493d06510e1e9624b10227cdddbee35_900.jpg 3200w, https:\/\/img.staticdj.com\/e493d06510e1e9624b10227cdddbee35_900.jpg 3840w\" style=\"display: block; margin-left: auto; margin-right: auto;\" width=\"429\" height=\"294\"\u003e\u003c\/div\u003e\n\u003cp\u003e \u003c\/p\u003e\n\u003cp\u003e\u003cspan style=\"color: #ca3f23;\"\u003e\u003cem\u003e\u003cstrong\u003eFeature:\u003c\/strong\u003e\u003c\/em\u003e\u003c\/span\u003e\u003cbr data-mce-fragment=\"1\"\u003e\u003c\/p\u003e\n\u003cul\u003e\n\u003cli\u003e💡 \u003cspan style=\"color: #4789aa;\"\u003e\u003cstrong\u003eMade of reflective film and magnetic back.\u003c\/strong\u003e \u003c\/span\u003eThese reflective bulb magnets seem to light up when the headlights are illuminated.\u003c\/li\u003e\n\u003c\/ul\u003e\n\u003cul\u003e\n\u003cli\u003e💡 \u003cspan style=\"color: #4789aa;\"\u003e\u003cstrong\u003eThese magnets can stay in the car well in rain, wind and snow\u003c\/strong\u003e \u003c\/span\u003eor when driving at high speed. Before pasting, please make sure the surface is clean and dry.\u003c\/li\u003e\n\u003c\/ul\u003e\n\u003cp\u003e\u003cimg style=\"display: block; margin-left: auto; margin-right: auto;\" src=\"https:\/\/cdn.shopify.com\/s\/files\/1\/0585\/8669\/3786\/files\/04_ec83a06a-9391-4245-9a8e-25ac591fe918_480x480.jpg?v=1640591350\" alt=\"\" width=\"429\" height=\"429\"\u003e\u003c\/p\u003e\n\u003cul\u003e\n\u003cli\u003e💡 \u003cspan style=\"color: #4789aa;\"\u003e\u003cstrong\u003eSuitable for any metal surface.\u003c\/strong\u003e\u003c\/span\u003e Suitable for your cars, vehicles, jeeps, trucks, trucks, garage doors, refrigerators, mailboxes, metal desks, metal doors, mini refrigerators, school lockers, school buses, magnetic panels, dishwashers, file cabinets, etc.\u003c\/li\u003e\n\u003c\/ul\u003e\n\u003cp\u003e\u003cimg style=\"display: block; margin-left: auto; margin-right: auto;\" src=\"https:\/\/cdn.shopify.com\/s\/files\/1\/0585\/8669\/3786\/files\/07_480x480.jpg?v=1640591367\" alt=\"\" width=\"424\" height=\"424\"\u003e\u003c\/p\u003e\n\u003cul\u003e\n\u003cli\u003e💡 \u003cspan style=\"color: #4789aa;\"\u003e\u003cstrong\u003eEasy to apply, adjust and remove.\u003c\/strong\u003e\u003c\/span\u003e They can be adjusted and removed without leaving any residue.\u003c\/li\u003e\n\u003c\/ul\u003e\n\u003cp\u003e \u003c\/p\u003e\n\u003cp\u003e\u003cspan style=\"color: #ca3f23;\"\u003e\u003cem\u003e\u003cstrong\u003eSpecification:\u003c\/strong\u003e\u003c\/em\u003e\u003c\/span\u003e\u003cbr\u003e\u003c\/p\u003e\n\u003cul\u003e\n\u003cli\u003e\n\u003cstrong\u003eMaterial:\u003c\/strong\u003e reflective film and magnetic back\u003cbr\u003e\n\u003c\/li\u003e\n\u003cli\u003e\n\u003cstrong\u003eColor:\u003c\/strong\u003e \u003cspan data-mce-fragment=\"1\" class=\"VIiyi\" jsaction=\"mouseup:BR6jm\" jsname=\"jqKxS\" lang=\"en\"\u003e\u003cspan data-mce-fragment=\"1\" class=\"JLqJ4b ChMk0b\" data-language-for-alternatives=\"en\" data-language-to-translate-into=\"zh-CN\" data-phrase-index=\"0\" data-number-of-phrases=\"1\" jsaction=\"agoMJf:PFBcW;usxOmf:aWLT7;jhKsnd:P7O7bd,F8DmGf;Q4AGo:Gm7gYd,qAKMYb;uFUCPb:pvnm0e,pfE8Hb,PFBcW;f56efd:dJXsye;EnoYf:KNzws,ZJsZZ,JgVSJc;zdMJQc:cCQNKb,ZJsZZ,zchEXc;Ytrrj:JJDvdc;tNR8yc:GeFvjb;oFN6Ye:hij5Wb;bmeZHc:iURhpf;Oxj3Xe:qAKMYb,yaf12d\" jsname=\"txFAF\" jscontroller=\"Zl5N8\" jsdata=\"uqLsIf;_;$994\" jsmodel=\"SsMkhd\"\u003e\u003cspan data-mce-fragment=\"1\" jsaction=\"click:qtZ4nf,GFf3ac,tMZCfe; contextmenu:Nqw7Te,QP7LD; mouseout:Nqw7Te; mouseover:qtZ4nf,c2aHje\" jsname=\"W297wb\"\u003ecolorful\u003c\/span\u003e\u003c\/span\u003e\u003c\/span\u003e\u003cbr\u003e\n\u003c\/li\u003e\n\u003cli\u003e\u003cspan data-mce-fragment=\"1\" class=\"VIiyi\" jsaction=\"mouseup:BR6jm\" jsname=\"jqKxS\" lang=\"en\"\u003e\u003cspan data-mce-fragment=\"1\" class=\"JLqJ4b ChMk0b\" data-language-for-alternatives=\"en\" data-language-to-translate-into=\"zh-CN\" data-phrase-index=\"0\" data-number-of-phrases=\"1\" jsaction=\"agoMJf:PFBcW;usxOmf:aWLT7;jhKsnd:P7O7bd,F8DmGf;Q4AGo:Gm7gYd,qAKMYb;uFUCPb:pvnm0e,pfE8Hb,PFBcW;f56efd:dJXsye;EnoYf:KNzws,ZJsZZ,JgVSJc;zdMJQc:cCQNKb,ZJsZZ,zchEXc;Ytrrj:JJDvdc;tNR8yc:GeFvjb;oFN6Ye:hij5Wb;bmeZHc:iURhpf;Oxj3Xe:qAKMYb,yaf12d\" jsname=\"txFAF\" jscontroller=\"Zl5N8\" jsdata=\"uqLsIf;_;$994\" jsmodel=\"SsMkhd\"\u003e\u003cspan data-mce-fragment=\"1\" jsaction=\"click:qtZ4nf,GFf3ac,tMZCfe; contextmenu:Nqw7Te,QP7LD; mouseout:Nqw7Te; mouseover:qtZ4nf,c2aHje\" jsname=\"W297wb\"\u003e\u003cstrong\u003e\u003cspan data-number-of-phrases=\"1\" data-phrase-index=\"0\" data-language-to-translate-into=\"zh-CN\" data-language-for-alternatives=\"en\" class=\"JLqJ4b ChMk0b C1N51c\" jsmodel=\"SsMkhd\" jsdata=\"uqLsIf;_;$1229\" jscontroller=\"Zl5N8\" jsname=\"txFAF\" jsaction=\"agoMJf:PFBcW;usxOmf:aWLT7;jhKsnd:P7O7bd,F8DmGf;Q4AGo:Gm7gYd,qAKMYb;uFUCPb:pvnm0e,pfE8Hb,PFBcW;f56efd:dJXsye;EnoYf:KNzws,ZJsZZ,JgVSJc;zdMJQc:cCQNKb,ZJsZZ,zchEXc;Ytrrj:JJDvdc;tNR8yc:GeFvjb;oFN6Ye:hij5Wb;bmeZHc:iURhpf;Oxj3Xe:qAKMYb,yaf12d\"\u003eLength of black line:\u003c\/span\u003e\u003c\/strong\u003e 15cm\/5.9in\u003cbr\u003e\u003c\/span\u003e\u003c\/span\u003e\u003c\/span\u003e\u003c\/li\u003e\n\u003cli\u003e\n\u003cstrong\u003eSmall b\u003cspan data-mce-fragment=\"1\" class=\"VIiyi\" jsaction=\"mouseup:BR6jm\" jsname=\"jqKxS\" lang=\"en\"\u003e\u003cspan data-mce-fragment=\"1\" class=\"JLqJ4b ChMk0b\" data-language-for-alternatives=\"en\" data-language-to-translate-into=\"zh-CN\" data-phrase-index=\"0\" data-number-of-phrases=\"1\" jsaction=\"agoMJf:PFBcW;usxOmf:aWLT7;jhKsnd:P7O7bd,F8DmGf;Q4AGo:Gm7gYd,qAKMYb;uFUCPb:pvnm0e,pfE8Hb,PFBcW;f56efd:dJXsye;EnoYf:KNzws,ZJsZZ,JgVSJc;zdMJQc:cCQNKb,ZJsZZ,zchEXc;Ytrrj:JJDvdc;tNR8yc:GeFvjb;oFN6Ye:hij5Wb;bmeZHc:iURhpf;Oxj3Xe:qAKMYb,yaf12d\" jsname=\"txFAF\" jscontroller=\"Zl5N8\" jsdata=\"uqLsIf;_;$1127\" jsmodel=\"SsMkhd\"\u003eulb\u003c\/span\u003e\u003c\/span\u003e size:\u003c\/strong\u003e 4*7cm\/1.6*2.8in\u003cbr\u003e\n\u003c\/li\u003e\n\u003cli\u003e\n\u003cstrong\u003eBig b\u003cspan data-mce-fragment=\"1\" class=\"VIiyi\" jsname=\"jqKxS\" jsaction=\"mouseup:BR6jm\" lang=\"en\"\u003e\u003cspan data-mce-fragment=\"1\" data-number-of-phrases=\"1\" data-phrase-index=\"0\" data-language-to-translate-into=\"zh-CN\" data-language-for-alternatives=\"en\" class=\"JLqJ4b ChMk0b\" jsmodel=\"SsMkhd\" jsdata=\"uqLsIf;_;$1127\" jscontroller=\"Zl5N8\" jsname=\"txFAF\" jsaction=\"agoMJf:PFBcW;usxOmf:aWLT7;jhKsnd:P7O7bd,F8DmGf;Q4AGo:Gm7gYd,qAKMYb;uFUCPb:pvnm0e,pfE8Hb,PFBcW;f56efd:dJXsye;EnoYf:KNzws,ZJsZZ,JgVSJc;zdMJQc:cCQNKb,ZJsZZ,zchEXc;Ytrrj:JJDvdc;tNR8yc:GeFvjb;oFN6Ye:hij5Wb;bmeZHc:iURhpf;Oxj3Xe:qAKMYb,yaf12d\"\u003eulb\u003c\/span\u003e\u003c\/span\u003e size:\u003c\/strong\u003e 7*13cm\/2.8*5.1in\u003cbr\u003e\n\u003c\/li\u003e\n\u003cli\u003e\n\u003cstrong\u003eEgg b\u003cspan data-mce-fragment=\"1\" class=\"VIiyi\" jsname=\"jqKxS\" jsaction=\"mouseup:BR6jm\" lang=\"en\"\u003e\u003cspan data-mce-fragment=\"1\" data-number-of-phrases=\"1\" data-phrase-index=\"0\" data-language-to-translate-into=\"zh-CN\" data-language-for-alternatives=\"en\" class=\"JLqJ4b ChMk0b\" jsmodel=\"SsMkhd\" jsdata=\"uqLsIf;_;$1127\" jscontroller=\"Zl5N8\" jsname=\"txFAF\" jsaction=\"agoMJf:PFBcW;usxOmf:aWLT7;jhKsnd:P7O7bd,F8DmGf;Q4AGo:Gm7gYd,qAKMYb;uFUCPb:pvnm0e,pfE8Hb,PFBcW;f56efd:dJXsye;EnoYf:KNzws,ZJsZZ,JgVSJc;zdMJQc:cCQNKb,ZJsZZ,zchEXc;Ytrrj:JJDvdc;tNR8yc:GeFvjb;oFN6Ye:hij5Wb;bmeZHc:iURhpf;Oxj3Xe:qAKMYb,yaf12d\"\u003eulb\u003c\/span\u003e\u003c\/span\u003e size: \u003c\/strong\u003e8.5*6cm\/3.3*2.4in\u003c\/li\u003e\n\u003c\/ul\u003e\n\u003cp\u003e \u003c\/p\u003e\n\u003cp\u003e\u003cspan style=\"color: #ca3f23;\"\u003e\u003cem\u003e\u003cstrong\u003ePackage includes:\u003c\/strong\u003e\u003c\/em\u003e\u003c\/span\u003e\u003cbr\u003e\u003c\/p\u003e\n\u003cul\u003e\n\u003cli\u003e1×Reflective Light Bulb Magnet Decoration\u003c\/li\u003e\n\u003c\/ul\u003e","published_at":"2021-12-27T01:59:33-06:00","created_at":"2021-12-27T01:30:14-06:00","vendor":"luluwin","type":"","tags":["Car Accessories","TOYS \u0026 GIFTS"],"price":799,"price_min":799,"price_max":1499,"available":true,"price_varies":true,"compare_at_price":1599,"compare_at_price_min":1599,"compare_at_price_max":2999,"compare_at_price_varies":true,"variants":[{"id":41436958359706,"title":"Small bulb combination ( bulb*6 + black line*2 )","option1":"Small bulb combination ( bulb*6 + black line*2 )","option2":null,"option3":null,"sku":"CP23780-X19159","requires_shipping":true,"taxable":false,"featured_image":{"id":32678036701338,"product_id":7189862252698,"position":6,"created_at":"2021-12-27T01:48:49-06:00","updated_at":"2021-12-27T02:00:00-06:00","alt":null,"width":800,"height":800,"src":"\/\/www.luluwin.co.uk\/cdn\/shop\/products\/02_c8dd1358-d39c-4520-b481-b6969b0456ae.jpg?v=1640592000","variant_ids":[41436958359706]},"available":true,"name":"Reflective Light Bulb Magnet Decorations - Small bulb combination ( bulb*6 + black line*2 )","public_title":"Small bulb combination ( bulb*6 + black line*2 )","options":["Small bulb combination ( bulb*6 + black line*2 )"],"price":799,"weight":0,"compare_at_price":1599,"inventory_management":null,"barcode":"","featured_media":{"alt":null,"id":25110283681946,"position":6,"preview_image":{"aspect_ratio":1.0,"height":800,"width":800,"src":"\/\/www.luluwin.co.uk\/cdn\/shop\/products\/02_c8dd1358-d39c-4520-b481-b6969b0456ae.jpg?v=1640592000"}},"requires_selling_plan":false,"selling_plan_allocations":[]},{"id":41436958392474,"title":"Large bulb combination ( bulb*6 + black line*3 )","option1":"Large bulb combination ( bulb*6 + black line*3 )","option2":null,"option3":null,"sku":"CP23780-X19158","requires_shipping":true,"taxable":false,"featured_image":{"id":32678036897946,"product_id":7189862252698,"position":7,"created_at":"2021-12-27T01:48:49-06:00","updated_at":"2021-12-27T02:00:00-06:00","alt":null,"width":800,"height":800,"src":"\/\/www.luluwin.co.uk\/cdn\/shop\/products\/01_e9882fb7-a4ce-4a03-a2d7-3513d3b0f649.jpg?v=1640592000","variant_ids":[41436958392474]},"available":true,"name":"Reflective Light Bulb Magnet Decorations - Large bulb combination ( bulb*6 + black line*3 )","public_title":"Large bulb combination ( bulb*6 + black line*3 )","options":["Large bulb combination ( bulb*6 + black line*3 )"],"price":999,"weight":0,"compare_at_price":1999,"inventory_management":null,"barcode":"","featured_media":{"alt":null,"id":25110283649178,"position":7,"preview_image":{"aspect_ratio":1.0,"height":800,"width":800,"src":"\/\/www.luluwin.co.uk\/cdn\/shop\/products\/01_e9882fb7-a4ce-4a03-a2d7-3513d3b0f649.jpg?v=1640592000"}},"requires_selling_plan":false,"selling_plan_allocations":[]},{"id":41436958425242,"title":"Egg combination ( egg*12 )","option1":"Egg combination ( egg*12 )","option2":null,"option3":null,"sku":"CP23780-X19160","requires_shipping":true,"taxable":false,"featured_image":{"id":32678036766874,"product_id":7189862252698,"position":8,"created_at":"2021-12-27T01:48:49-06:00","updated_at":"2021-12-27T01:50:46-06:00","alt":null,"width":800,"height":767,"src":"\/\/www.luluwin.co.uk\/cdn\/shop\/products\/03_923a61c8-1ef5-4680-ad59-232dca3886e6.jpg?v=1640591446","variant_ids":[41436958425242]},"available":true,"name":"Reflective Light Bulb Magnet Decorations - Egg combination ( egg*12 )","public_title":"Egg combination ( egg*12 )","options":["Egg combination ( egg*12 )"],"price":1499,"weight":0,"compare_at_price":2999,"inventory_management":null,"barcode":"","featured_media":{"alt":null,"id":25110283714714,"position":8,"preview_image":{"aspect_ratio":1.043,"height":767,"width":800,"src":"\/\/www.luluwin.co.uk\/cdn\/shop\/products\/03_923a61c8-1ef5-4680-ad59-232dca3886e6.jpg?v=1640591446"}},"requires_selling_plan":false,"selling_plan_allocations":[]}],"images":["\/\/www.luluwin.co.uk\/cdn\/shop\/products\/05_f2b83ec3-1c06-465f-ab2d-98868da9445d.jpg?v=1640591451","\/\/www.luluwin.co.uk\/cdn\/shop\/products\/08_241dd1fb-4c2f-4f95-ac81-df29052dd503.jpg?v=1640591451","\/\/www.luluwin.co.uk\/cdn\/shop\/products\/06_b518ac39-36b1-4c2c-931a-88ca5295ce8b.jpg?v=1640591451","\/\/www.luluwin.co.uk\/cdn\/shop\/products\/07_d5e67e11-d566-4d14-9644-9f49167899bb.jpg?v=1640591451","\/\/www.luluwin.co.uk\/cdn\/shop\/products\/04_5c351ae9-e158-486f-a5aa-2e4b44dfbf13.jpg?v=1640591451","\/\/www.luluwin.co.uk\/cdn\/shop\/products\/02_c8dd1358-d39c-4520-b481-b6969b0456ae.jpg?v=1640592000","\/\/www.luluwin.co.uk\/cdn\/shop\/products\/01_e9882fb7-a4ce-4a03-a2d7-3513d3b0f649.jpg?v=1640592000","\/\/www.luluwin.co.uk\/cdn\/shop\/products\/03_923a61c8-1ef5-4680-ad59-232dca3886e6.jpg?v=1640591446"],"featured_image":"\/\/www.luluwin.co.uk\/cdn\/shop\/products\/05_f2b83ec3-1c06-465f-ab2d-98868da9445d.jpg?v=1640591451","options":["Style"],"media":[{"alt":null,"id":25110283780250,"position":1,"preview_image":{"aspect_ratio":1.0,"height":800,"width":800,"src":"\/\/www.luluwin.co.uk\/cdn\/shop\/products\/05_f2b83ec3-1c06-465f-ab2d-98868da9445d.jpg?v=1640591451"},"aspect_ratio":1.0,"height":800,"media_type":"image","src":"\/\/www.luluwin.co.uk\/cdn\/shop\/products\/05_f2b83ec3-1c06-465f-ab2d-98868da9445d.jpg?v=1640591451","width":800},{"alt":null,"id":25110283878554,"position":2,"preview_image":{"aspect_ratio":1.0,"height":800,"width":800,"src":"\/\/www.luluwin.co.uk\/cdn\/shop\/products\/08_241dd1fb-4c2f-4f95-ac81-df29052dd503.jpg?v=1640591451"},"aspect_ratio":1.0,"height":800,"media_type":"image","src":"\/\/www.luluwin.co.uk\/cdn\/shop\/products\/08_241dd1fb-4c2f-4f95-ac81-df29052dd503.jpg?v=1640591451","width":800},{"alt":null,"id":25110283813018,"position":3,"preview_image":{"aspect_ratio":1.0,"height":800,"width":800,"src":"\/\/www.luluwin.co.uk\/cdn\/shop\/products\/06_b518ac39-36b1-4c2c-931a-88ca5295ce8b.jpg?v=1640591451"},"aspect_ratio":1.0,"height":800,"media_type":"image","src":"\/\/www.luluwin.co.uk\/cdn\/shop\/products\/06_b518ac39-36b1-4c2c-931a-88ca5295ce8b.jpg?v=1640591451","width":800},{"alt":null,"id":25110283845786,"position":4,"preview_image":{"aspect_ratio":1.0,"height":800,"width":800,"src":"\/\/www.luluwin.co.uk\/cdn\/shop\/products\/07_d5e67e11-d566-4d14-9644-9f49167899bb.jpg?v=1640591451"},"aspect_ratio":1.0,"height":800,"media_type":"image","src":"\/\/www.luluwin.co.uk\/cdn\/shop\/products\/07_d5e67e11-d566-4d14-9644-9f49167899bb.jpg?v=1640591451","width":800},{"alt":null,"id":25110283747482,"position":5,"preview_image":{"aspect_ratio":1.0,"height":800,"width":800,"src":"\/\/www.luluwin.co.uk\/cdn\/shop\/products\/04_5c351ae9-e158-486f-a5aa-2e4b44dfbf13.jpg?v=1640591451"},"aspect_ratio":1.0,"height":800,"media_type":"image","src":"\/\/www.luluwin.co.uk\/cdn\/shop\/products\/04_5c351ae9-e158-486f-a5aa-2e4b44dfbf13.jpg?v=1640591451","width":800},{"alt":null,"id":25110283681946,"position":6,"preview_image":{"aspect_ratio":1.0,"height":800,"width":800,"src":"\/\/www.luluwin.co.uk\/cdn\/shop\/products\/02_c8dd1358-d39c-4520-b481-b6969b0456ae.jpg?v=1640592000"},"aspect_ratio":1.0,"height":800,"media_type":"image","src":"\/\/www.luluwin.co.uk\/cdn\/shop\/products\/02_c8dd1358-d39c-4520-b481-b6969b0456ae.jpg?v=1640592000","width":800},{"alt":null,"id":25110283649178,"position":7,"preview_image":{"aspect_ratio":1.0,"height":800,"width":800,"src":"\/\/www.luluwin.co.uk\/cdn\/shop\/products\/01_e9882fb7-a4ce-4a03-a2d7-3513d3b0f649.jpg?v=1640592000"},"aspect_ratio":1.0,"height":800,"media_type":"image","src":"\/\/www.luluwin.co.uk\/cdn\/shop\/products\/01_e9882fb7-a4ce-4a03-a2d7-3513d3b0f649.jpg?v=1640592000","width":800},{"alt":null,"id":25110283714714,"position":8,"preview_image":{"aspect_ratio":1.043,"height":767,"width":800,"src":"\/\/www.luluwin.co.uk\/cdn\/shop\/products\/03_923a61c8-1ef5-4680-ad59-232dca3886e6.jpg?v=1640591446"},"aspect_ratio":1.043,"height":767,"media_type":"image","src":"\/\/www.luluwin.co.uk\/cdn\/shop\/products\/03_923a61c8-1ef5-4680-ad59-232dca3886e6.jpg?v=1640591446","width":800}],"requires_selling_plan":false,"selling_plan_groups":[],"content":"\u003cp style=\"text-align: center;\"\u003e\u003cstrong\u003e🚗 🚗\u003c\/strong\u003e\u003c\/p\u003e\n\u003cp style=\"text-align: center;\"\u003e\u003cspan style=\"color: #4789aa;\"\u003e\u003cstrong\u003eThey shine like real light bulbs in the sun or light. \u003c\/strong\u003e\u003c\/span\u003e\u003cbr data-mce-fragment=\"1\"\u003e\u003cspan style=\"color: #ca3f23;\"\u003e\u003cstrong\u003eThis is a fun way to dress up a car for the holidays.\u003c\/strong\u003e\u003c\/span\u003e\u003c\/p\u003e\n\u003cdiv\u003e\u003cimg data-mce-fragment=\"1\" sizes=\"751px\" srcset=\"https:\/\/img.staticdj.com\/e493d06510e1e9624b10227cdddbee35_900.jpg 48w, https:\/\/img.staticdj.com\/e493d06510e1e9624b10227cdddbee35_900.jpg 180w, https:\/\/img.staticdj.com\/e493d06510e1e9624b10227cdddbee35_900.jpg 540w, https:\/\/img.staticdj.com\/e493d06510e1e9624b10227cdddbee35_900.jpg 720w, https:\/\/img.staticdj.com\/e493d06510e1e9624b10227cdddbee35_900.jpg 900w, https:\/\/img.staticdj.com\/e493d06510e1e9624b10227cdddbee35_900.jpg 1024w, https:\/\/img.staticdj.com\/e493d06510e1e9624b10227cdddbee35_900.jpg 1280w, https:\/\/img.staticdj.com\/e493d06510e1e9624b10227cdddbee35_900.jpg 1366w, https:\/\/img.staticdj.com\/e493d06510e1e9624b10227cdddbee35_900.jpg 1440w, https:\/\/img.staticdj.com\/e493d06510e1e9624b10227cdddbee35_900.jpg 1536w, https:\/\/img.staticdj.com\/e493d06510e1e9624b10227cdddbee35_900.jpg 1600w, https:\/\/img.staticdj.com\/e493d06510e1e9624b10227cdddbee35_900.jpg 1920w, https:\/\/img.staticdj.com\/e493d06510e1e9624b10227cdddbee35_900.jpg 2056w, https:\/\/img.staticdj.com\/e493d06510e1e9624b10227cdddbee35_900.jpg 2560w, https:\/\/img.staticdj.com\/e493d06510e1e9624b10227cdddbee35_900.jpg 2732w, https:\/\/img.staticdj.com\/e493d06510e1e9624b10227cdddbee35_900.jpg 2880w, https:\/\/img.staticdj.com\/e493d06510e1e9624b10227cdddbee35_900.jpg 3072w, https:\/\/img.staticdj.com\/e493d06510e1e9624b10227cdddbee35_900.jpg 3200w, https:\/\/img.staticdj.com\/e493d06510e1e9624b10227cdddbee35_900.jpg 3840w\" alt=\"\" data-sizes=\"auto\" data-srcset=\"https:\/\/img.staticdj.com\/e493d06510e1e9624b10227cdddbee35_900.jpg 48w, https:\/\/img.staticdj.com\/e493d06510e1e9624b10227cdddbee35_900.jpg 180w, https:\/\/img.staticdj.com\/e493d06510e1e9624b10227cdddbee35_900.jpg 540w, https:\/\/img.staticdj.com\/e493d06510e1e9624b10227cdddbee35_900.jpg 720w, https:\/\/img.staticdj.com\/e493d06510e1e9624b10227cdddbee35_900.jpg 900w, https:\/\/img.staticdj.com\/e493d06510e1e9624b10227cdddbee35_900.jpg 1024w, https:\/\/img.staticdj.com\/e493d06510e1e9624b10227cdddbee35_900.jpg 1280w, https:\/\/img.staticdj.com\/e493d06510e1e9624b10227cdddbee35_900.jpg 1366w, https:\/\/img.staticdj.com\/e493d06510e1e9624b10227cdddbee35_900.jpg 1440w, https:\/\/img.staticdj.com\/e493d06510e1e9624b10227cdddbee35_900.jpg 1536w, https:\/\/img.staticdj.com\/e493d06510e1e9624b10227cdddbee35_900.jpg 1600w, https:\/\/img.staticdj.com\/e493d06510e1e9624b10227cdddbee35_900.jpg 1920w, https:\/\/img.staticdj.com\/e493d06510e1e9624b10227cdddbee35_900.jpg 2056w, https:\/\/img.staticdj.com\/e493d06510e1e9624b10227cdddbee35_900.jpg 2560w, https:\/\/img.staticdj.com\/e493d06510e1e9624b10227cdddbee35_900.jpg 2732w, https:\/\/img.staticdj.com\/e493d06510e1e9624b10227cdddbee35_900.jpg 2880w, https:\/\/img.staticdj.com\/e493d06510e1e9624b10227cdddbee35_900.jpg 3072w, https:\/\/img.staticdj.com\/e493d06510e1e9624b10227cdddbee35_900.jpg 3200w, https:\/\/img.staticdj.com\/e493d06510e1e9624b10227cdddbee35_900.jpg 3840w\" style=\"display: block; margin-left: auto; margin-right: auto;\" width=\"429\" height=\"294\"\u003e\u003c\/div\u003e\n\u003cp\u003e \u003c\/p\u003e\n\u003cp\u003e\u003cspan style=\"color: #ca3f23;\"\u003e\u003cem\u003e\u003cstrong\u003eFeature:\u003c\/strong\u003e\u003c\/em\u003e\u003c\/span\u003e\u003cbr data-mce-fragment=\"1\"\u003e\u003c\/p\u003e\n\u003cul\u003e\n\u003cli\u003e💡 \u003cspan style=\"color: #4789aa;\"\u003e\u003cstrong\u003eMade of reflective film and magnetic back.\u003c\/strong\u003e \u003c\/span\u003eThese reflective bulb magnets seem to light up when the headlights are illuminated.\u003c\/li\u003e\n\u003c\/ul\u003e\n\u003cul\u003e\n\u003cli\u003e💡 \u003cspan style=\"color: #4789aa;\"\u003e\u003cstrong\u003eThese magnets can stay in the car well in rain, wind and snow\u003c\/strong\u003e \u003c\/span\u003eor when driving at high speed. Before pasting, please make sure the surface is clean and dry.\u003c\/li\u003e\n\u003c\/ul\u003e\n\u003cp\u003e\u003cimg style=\"display: block; margin-left: auto; margin-right: auto;\" src=\"https:\/\/cdn.shopify.com\/s\/files\/1\/0585\/8669\/3786\/files\/04_ec83a06a-9391-4245-9a8e-25ac591fe918_480x480.jpg?v=1640591350\" alt=\"\" width=\"429\" height=\"429\"\u003e\u003c\/p\u003e\n\u003cul\u003e\n\u003cli\u003e💡 \u003cspan style=\"color: #4789aa;\"\u003e\u003cstrong\u003eSuitable for any metal surface.\u003c\/strong\u003e\u003c\/span\u003e Suitable for your cars, vehicles, jeeps, trucks, trucks, garage doors, refrigerators, mailboxes, metal desks, metal doors, mini refrigerators, school lockers, school buses, magnetic panels, dishwashers, file cabinets, etc.\u003c\/li\u003e\n\u003c\/ul\u003e\n\u003cp\u003e\u003cimg style=\"display: block; margin-left: auto; margin-right: auto;\" src=\"https:\/\/cdn.shopify.com\/s\/files\/1\/0585\/8669\/3786\/files\/07_480x480.jpg?v=1640591367\" alt=\"\" width=\"424\" height=\"424\"\u003e\u003c\/p\u003e\n\u003cul\u003e\n\u003cli\u003e💡 \u003cspan style=\"color: #4789aa;\"\u003e\u003cstrong\u003eEasy to apply, adjust and remove.\u003c\/strong\u003e\u003c\/span\u003e They can be adjusted and removed without leaving any residue.\u003c\/li\u003e\n\u003c\/ul\u003e\n\u003cp\u003e \u003c\/p\u003e\n\u003cp\u003e\u003cspan style=\"color: #ca3f23;\"\u003e\u003cem\u003e\u003cstrong\u003eSpecification:\u003c\/strong\u003e\u003c\/em\u003e\u003c\/span\u003e\u003cbr\u003e\u003c\/p\u003e\n\u003cul\u003e\n\u003cli\u003e\n\u003cstrong\u003eMaterial:\u003c\/strong\u003e reflective film and magnetic back\u003cbr\u003e\n\u003c\/li\u003e\n\u003cli\u003e\n\u003cstrong\u003eColor:\u003c\/strong\u003e \u003cspan data-mce-fragment=\"1\" class=\"VIiyi\" jsaction=\"mouseup:BR6jm\" jsname=\"jqKxS\" lang=\"en\"\u003e\u003cspan data-mce-fragment=\"1\" class=\"JLqJ4b ChMk0b\" data-language-for-alternatives=\"en\" data-language-to-translate-into=\"zh-CN\" data-phrase-index=\"0\" data-number-of-phrases=\"1\" jsaction=\"agoMJf:PFBcW;usxOmf:aWLT7;jhKsnd:P7O7bd,F8DmGf;Q4AGo:Gm7gYd,qAKMYb;uFUCPb:pvnm0e,pfE8Hb,PFBcW;f56efd:dJXsye;EnoYf:KNzws,ZJsZZ,JgVSJc;zdMJQc:cCQNKb,ZJsZZ,zchEXc;Ytrrj:JJDvdc;tNR8yc:GeFvjb;oFN6Ye:hij5Wb;bmeZHc:iURhpf;Oxj3Xe:qAKMYb,yaf12d\" jsname=\"txFAF\" jscontroller=\"Zl5N8\" jsdata=\"uqLsIf;_;$994\" jsmodel=\"SsMkhd\"\u003e\u003cspan data-mce-fragment=\"1\" jsaction=\"click:qtZ4nf,GFf3ac,tMZCfe; contextmenu:Nqw7Te,QP7LD; mouseout:Nqw7Te; mouseover:qtZ4nf,c2aHje\" jsname=\"W297wb\"\u003ecolorful\u003c\/span\u003e\u003c\/span\u003e\u003c\/span\u003e\u003cbr\u003e\n\u003c\/li\u003e\n\u003cli\u003e\u003cspan data-mce-fragment=\"1\" class=\"VIiyi\" jsaction=\"mouseup:BR6jm\" jsname=\"jqKxS\" lang=\"en\"\u003e\u003cspan data-mce-fragment=\"1\" class=\"JLqJ4b ChMk0b\" data-language-for-alternatives=\"en\" data-language-to-translate-into=\"zh-CN\" data-phrase-index=\"0\" data-number-of-phrases=\"1\" jsaction=\"agoMJf:PFBcW;usxOmf:aWLT7;jhKsnd:P7O7bd,F8DmGf;Q4AGo:Gm7gYd,qAKMYb;uFUCPb:pvnm0e,pfE8Hb,PFBcW;f56efd:dJXsye;EnoYf:KNzws,ZJsZZ,JgVSJc;zdMJQc:cCQNKb,ZJsZZ,zchEXc;Ytrrj:JJDvdc;tNR8yc:GeFvjb;oFN6Ye:hij5Wb;bmeZHc:iURhpf;Oxj3Xe:qAKMYb,yaf12d\" jsname=\"txFAF\" jscontroller=\"Zl5N8\" jsdata=\"uqLsIf;_;$994\" jsmodel=\"SsMkhd\"\u003e\u003cspan data-mce-fragment=\"1\" jsaction=\"click:qtZ4nf,GFf3ac,tMZCfe; contextmenu:Nqw7Te,QP7LD; mouseout:Nqw7Te; mouseover:qtZ4nf,c2aHje\" jsname=\"W297wb\"\u003e\u003cstrong\u003e\u003cspan data-number-of-phrases=\"1\" data-phrase-index=\"0\" data-language-to-translate-into=\"zh-CN\" data-language-for-alternatives=\"en\" class=\"JLqJ4b ChMk0b C1N51c\" jsmodel=\"SsMkhd\" jsdata=\"uqLsIf;_;$1229\" jscontroller=\"Zl5N8\" jsname=\"txFAF\" jsaction=\"agoMJf:PFBcW;usxOmf:aWLT7;jhKsnd:P7O7bd,F8DmGf;Q4AGo:Gm7gYd,qAKMYb;uFUCPb:pvnm0e,pfE8Hb,PFBcW;f56efd:dJXsye;EnoYf:KNzws,ZJsZZ,JgVSJc;zdMJQc:cCQNKb,ZJsZZ,zchEXc;Ytrrj:JJDvdc;tNR8yc:GeFvjb;oFN6Ye:hij5Wb;bmeZHc:iURhpf;Oxj3Xe:qAKMYb,yaf12d\"\u003eLength of black line:\u003c\/span\u003e\u003c\/strong\u003e 15cm\/5.9in\u003cbr\u003e\u003c\/span\u003e\u003c\/span\u003e\u003c\/span\u003e\u003c\/li\u003e\n\u003cli\u003e\n\u003cstrong\u003eSmall b\u003cspan data-mce-fragment=\"1\" class=\"VIiyi\" jsaction=\"mouseup:BR6jm\" jsname=\"jqKxS\" lang=\"en\"\u003e\u003cspan data-mce-fragment=\"1\" class=\"JLqJ4b ChMk0b\" data-language-for-alternatives=\"en\" data-language-to-translate-into=\"zh-CN\" data-phrase-index=\"0\" data-number-of-phrases=\"1\" jsaction=\"agoMJf:PFBcW;usxOmf:aWLT7;jhKsnd:P7O7bd,F8DmGf;Q4AGo:Gm7gYd,qAKMYb;uFUCPb:pvnm0e,pfE8Hb,PFBcW;f56efd:dJXsye;EnoYf:KNzws,ZJsZZ,JgVSJc;zdMJQc:cCQNKb,ZJsZZ,zchEXc;Ytrrj:JJDvdc;tNR8yc:GeFvjb;oFN6Ye:hij5Wb;bmeZHc:iURhpf;Oxj3Xe:qAKMYb,yaf12d\" jsname=\"txFAF\" jscontroller=\"Zl5N8\" jsdata=\"uqLsIf;_;$1127\" jsmodel=\"SsMkhd\"\u003eulb\u003c\/span\u003e\u003c\/span\u003e size:\u003c\/strong\u003e 4*7cm\/1.6*2.8in\u003cbr\u003e\n\u003c\/li\u003e\n\u003cli\u003e\n\u003cstrong\u003eBig b\u003cspan data-mce-fragment=\"1\" class=\"VIiyi\" jsname=\"jqKxS\" jsaction=\"mouseup:BR6jm\" lang=\"en\"\u003e\u003cspan data-mce-fragment=\"1\" data-number-of-phrases=\"1\" data-phrase-index=\"0\" data-language-to-translate-into=\"zh-CN\" data-language-for-alternatives=\"en\" class=\"JLqJ4b ChMk0b\" jsmodel=\"SsMkhd\" jsdata=\"uqLsIf;_;$1127\" jscontroller=\"Zl5N8\" jsname=\"txFAF\" jsaction=\"agoMJf:PFBcW;usxOmf:aWLT7;jhKsnd:P7O7bd,F8DmGf;Q4AGo:Gm7gYd,qAKMYb;uFUCPb:pvnm0e,pfE8Hb,PFBcW;f56efd:dJXsye;EnoYf:KNzws,ZJsZZ,JgVSJc;zdMJQc:cCQNKb,ZJsZZ,zchEXc;Ytrrj:JJDvdc;tNR8yc:GeFvjb;oFN6Ye:hij5Wb;bmeZHc:iURhpf;Oxj3Xe:qAKMYb,yaf12d\"\u003eulb\u003c\/span\u003e\u003c\/span\u003e size:\u003c\/strong\u003e 7*13cm\/2.8*5.1in\u003cbr\u003e\n\u003c\/li\u003e\n\u003cli\u003e\n\u003cstrong\u003eEgg b\u003cspan data-mce-fragment=\"1\" class=\"VIiyi\" jsname=\"jqKxS\" jsaction=\"mouseup:BR6jm\" lang=\"en\"\u003e\u003cspan data-mce-fragment=\"1\" data-number-of-phrases=\"1\" data-phrase-index=\"0\" data-language-to-translate-into=\"zh-CN\" data-language-for-alternatives=\"en\" class=\"JLqJ4b ChMk0b\" jsmodel=\"SsMkhd\" jsdata=\"uqLsIf;_;$1127\" jscontroller=\"Zl5N8\" jsname=\"txFAF\" jsaction=\"agoMJf:PFBcW;usxOmf:aWLT7;jhKsnd:P7O7bd,F8DmGf;Q4AGo:Gm7gYd,qAKMYb;uFUCPb:pvnm0e,pfE8Hb,PFBcW;f56efd:dJXsye;EnoYf:KNzws,ZJsZZ,JgVSJc;zdMJQc:cCQNKb,ZJsZZ,zchEXc;Ytrrj:JJDvdc;tNR8yc:GeFvjb;oFN6Ye:hij5Wb;bmeZHc:iURhpf;Oxj3Xe:qAKMYb,yaf12d\"\u003eulb\u003c\/span\u003e\u003c\/span\u003e size: \u003c\/strong\u003e8.5*6cm\/3.3*2.4in\u003c\/li\u003e\n\u003c\/ul\u003e\n\u003cp\u003e \u003c\/p\u003e\n\u003cp\u003e\u003cspan style=\"color: #ca3f23;\"\u003e\u003cem\u003e\u003cstrong\u003ePackage includes:\u003c\/strong\u003e\u003c\/em\u003e\u003c\/span\u003e\u003cbr\u003e\u003c\/p\u003e\n\u003cul\u003e\n\u003cli\u003e1×Reflective Light Bulb Magnet Decoration\u003c\/li\u003e\n\u003c\/ul\u003e"}
Reflective Light Bulb Magnet Decorations
Adding product to your cart
🚗 🚗
They shine like real light bulbs in the sun or light.
This is a fun way to dress up a car for the holidays.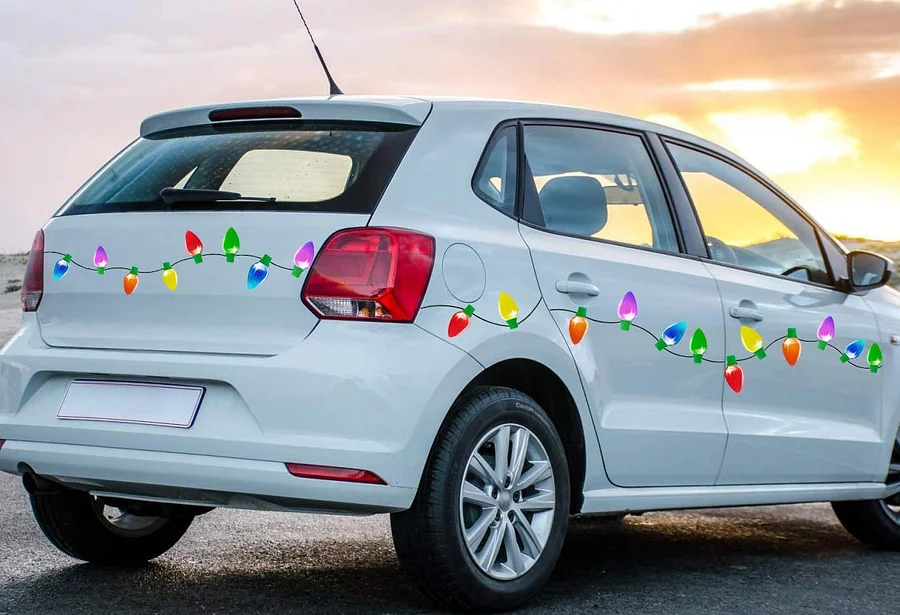 Feature:

💡 Made of reflective film and magnetic back. These reflective bulb magnets seem to light up when the headlights are illuminated.
💡 These magnets can stay in the car well in rain, wind and snow or when driving at high speed. Before pasting, please make sure the surface is clean and dry.
💡 Suitable for any metal surface. Suitable for your cars, vehicles, jeeps, trucks, trucks, garage doors, refrigerators, mailboxes, metal desks, metal doors, mini refrigerators, school lockers, school buses, magnetic panels, dishwashers, file cabinets, etc.
💡 Easy to apply, adjust and remove. They can be adjusted and removed without leaving any residue.
Specification:

Material: reflective film and magnetic back

Color:

colorful




Length of black line:

15cm/5.9in

Small b

ulb

size: 4*7cm/1.6*2.8in

Big b

ulb

size: 7*13cm/2.8*5.1in

Egg b

ulb

size: 8.5*6cm/3.3*2.4in
Package includes:

1×Reflective Light Bulb Magnet Decoration