{"id":6965187444890,"title":"Professional Car Bumper Crack Repair Welding Machine Set","handle":"professional-car-bumper-crack-repair-welding-machine-set","description":"\u003cdiv style=\"text-align: center;\" data-mce-fragment=\"1\"\u003e\u003cspan data-mce-fragment=\"1\" style=\"color: #ff8000;\"\u003e\u003cstrong data-mce-fragment=\"1\"\u003eMelting the Staple in the Plastic Give it Way,\u003c\/strong\u003e\u003cstrong data-mce-fragment=\"1\"\u003eEasy to Use!\u003c\/strong\u003e\u003c\/span\u003e\u003c\/div\u003e\n\u003cdiv data-mce-fragment=\"1\"\u003e\u003cimg class=\"sep-lazyload lazyautosizes lazyloaded\" data-sizes=\"auto\" data-src=\"https:\/\/img.staticdj.com\/931df693eea6e97a61d004a74a036336.gif\" alt=\"\" width=\"374\" height=\"374\" sizes=\"374px\" src=\"https:\/\/img.staticdj.com\/931df693eea6e97a61d004a74a036336.gif\" data-mce-fragment=\"1\" style=\"display: block; margin-left: auto; margin-right: auto;\" data-mce-src=\"https:\/\/img.staticdj.com\/931df693eea6e97a61d004a74a036336.gif\"\u003e\u003c\/div\u003e\n\u003cdiv data-mce-fragment=\"1\"\u003e\n\u003cul\u003e\n\u003cli\u003eThis\u003cspan style=\"color: #ff2a00;\"\u003e \u003cstrong data-mce-fragment=\"1\"\u003ewelding machine\u003c\/strong\u003e\u003c\/span\u003e is easy to use for\u003cspan style=\"color: #ff2a00;\"\u003e \u003cstrong data-mce-fragment=\"1\"\u003erepairing plastic bumpers, motorcycle, lawn mower and other thermoplastic plastics\u003c\/strong\u003e\u003c\/span\u003e, and compared with welding, adhesives, epoxies, etc. \u003c\/li\u003e\n\u003cli\u003e\n\u003cspan data-mce-fragment=\"1\" style=\"color: #ff2a00;\"\u003e\u003cstrong data-mce-fragment=\"1\"\u003eNo training, you can use the staple and have done in a few minutes.\u003c\/strong\u003e\u003c\/span\u003e The repaired kit is very sturdy as just like new.\u003c\/li\u003e\n\u003c\/ul\u003e\n\u003c\/div\u003e\n\u003cdiv data-mce-fragment=\"1\"\u003e\u003cimg class=\"sep-lazyload lazyautosizes lazyloaded\" data-sizes=\"auto\" data-src=\"https:\/\/img.staticdj.com\/a869967a822eaba6bf81c0926558f5af.gif\" alt=\"\" width=\"356\" height=\"356\" sizes=\"356px\" src=\"https:\/\/img.staticdj.com\/a869967a822eaba6bf81c0926558f5af.gif\" data-mce-fragment=\"1\" style=\"display: block; margin-left: auto; margin-right: auto;\" data-mce-src=\"https:\/\/img.staticdj.com\/a869967a822eaba6bf81c0926558f5af.gif\"\u003e\u003c\/div\u003e\n\u003cdiv data-mce-fragment=\"1\"\u003e\u003cspan data-mce-fragment=\"1\" style=\"color: #ff8000;\"\u003e\u003cstrong data-mce-fragment=\"1\"\u003eFuctions:\u003c\/strong\u003e\u003c\/span\u003e\u003c\/div\u003e\n\u003cul data-mce-fragment=\"1\"\u003e\n\u003cli data-mce-fragment=\"1\"\u003e1. Dissolve plastic (free of plant-nail), dissolve packing, repair hole and eliminate cracks.\u003c\/li\u003e\n\u003cli data-mce-fragment=\"1\"\u003e2. Plant-nail. match various repair nails, and repair horizontal, vertical, long and short cracks.\u003c\/li\u003e\n\u003cli data-mce-fragment=\"1\"\u003e3. Hot smoothing. Heat and smoonth the plastic, and dissolve it, the intensity and appearance is increased.\u003c\/li\u003e\n\u003cli data-mce-fragment=\"1\"\u003e4.Thermal cutting.\u003c\/li\u003e\n\u003c\/ul\u003e\n\u003cp data-mce-fragment=\"1\"\u003e\u003cimg height=\"243\" width=\"365\" style=\"display: block; margin-left: auto; margin-right: auto;\" class=\"sep-lazyload lazyautosizes lazyloaded\" data-sizes=\"auto\" data-src=\"https:\/\/img.staticdj.com\/17260cd5fd6e37648a7ed38f683396f6.gif\" sizes=\"1080px\" src=\"https:\/\/img.staticdj.com\/17260cd5fd6e37648a7ed38f683396f6.gif\" data-mce-fragment=\"1\" data-mce-src=\"https:\/\/img.staticdj.com\/17260cd5fd6e37648a7ed38f683396f6.gif\"\u003e\u003c\/p\u003e\n\u003cdiv data-mce-fragment=\"1\"\u003e\u003cspan style=\"color: #ff8000;\" data-mce-fragment=\"1\"\u003e\u003cstrong data-mce-fragment=\"1\"\u003eFeatures:\u003c\/strong\u003e\u003c\/span\u003e\u003c\/div\u003e\n\u003cdiv data-mce-fragment=\"1\"\u003e\n\u003cul class=\"a-unordered-list a-vertical a-spacing-mini\" data-mce-fragment=\"1\"\u003e\n\u003cli data-mce-fragment=\"1\"\u003e\u003cspan class=\"a-list-item\" data-mce-fragment=\"1\"\u003e\u003cspan data-mce-fragment=\"1\"\u003e\u003cspan style=\"color: #000000;\"\u003e\u003cstrong data-mce-fragment=\"1\"\u003eInstant Repair:\u003c\/strong\u003e\u003c\/span\u003e \u003c\/span\u003eRestore your broken parts, prolong its service life. \u003cstrong data-mce-fragment=\"1\"\u003eStrong for shock and twist after repairing.\u003c\/strong\u003e\u003c\/span\u003e\u003c\/li\u003e\n\u003cli data-mce-fragment=\"1\"\u003e\u003cspan class=\"a-list-item\" data-mce-fragment=\"1\"\u003e\u003cspan data-mce-fragment=\"1\"\u003e\u003cspan style=\"color: #000000;\"\u003e\u003cstrong data-mce-fragment=\"1\"\u003eWide Application:\u003c\/strong\u003e\u003c\/span\u003e \u003c\/span\u003eSuitable for repairing \u003cstrong data-mce-fragment=\"1\"\u003ebumper, dashboard, lamp holder, plastic ring, radiator, car and motorcycle\u003c\/strong\u003e\u003cspan data-mce-fragment=\"1\"\u003e \u003c\/span\u003eplastic device.\u003c\/span\u003e\u003c\/li\u003e\n\u003c\/ul\u003e\n\u003cp data-mce-fragment=\"1\"\u003e\u003cimg style=\"display: block; margin-left: auto; margin-right: auto;\" class=\"sep-lazyload lazyautosizes lazyloaded\" data-sizes=\"auto\" alt=\"\" width=\"440\" height=\"439\" data-srcset=\"https:\/\/img.staticdj.com\/b3713f3c467a34621af416750d4dc458_48.jpg 48w, https:\/\/img.staticdj.com\/b3713f3c467a34621af416750d4dc458_180.jpg 180w, https:\/\/img.staticdj.com\/b3713f3c467a34621af416750d4dc458_360.jpg 360w, https:\/\/img.staticdj.com\/b3713f3c467a34621af416750d4dc458_540.jpg 540w, https:\/\/img.staticdj.com\/b3713f3c467a34621af416750d4dc458_720.jpg 720w, https:\/\/img.staticdj.com\/b3713f3c467a34621af416750d4dc458_900.jpg 900w, https:\/\/img.staticdj.com\/b3713f3c467a34621af416750d4dc458_1024.jpg 1024w, https:\/\/img.staticdj.com\/b3713f3c467a34621af416750d4dc458_1280.jpg 1280w, https:\/\/img.staticdj.com\/b3713f3c467a34621af416750d4dc458_1366.jpg 1366w, https:\/\/img.staticdj.com\/b3713f3c467a34621af416750d4dc458_1440.jpg 1440w, https:\/\/img.staticdj.com\/b3713f3c467a34621af416750d4dc458_1536.jpg 1536w, https:\/\/img.staticdj.com\/b3713f3c467a34621af416750d4dc458_1600.jpg 1600w, https:\/\/img.staticdj.com\/b3713f3c467a34621af416750d4dc458_1920.jpg 1920w, https:\/\/img.staticdj.com\/b3713f3c467a34621af416750d4dc458_2056.jpg 2056w, https:\/\/img.staticdj.com\/b3713f3c467a34621af416750d4dc458_2560.jpg 2560w, https:\/\/img.staticdj.com\/b3713f3c467a34621af416750d4dc458_2732.jpg 2732w, https:\/\/img.staticdj.com\/b3713f3c467a34621af416750d4dc458_2880.jpg 2880w, https:\/\/img.staticdj.com\/b3713f3c467a34621af416750d4dc458_3072.jpg 3072w, https:\/\/img.staticdj.com\/b3713f3c467a34621af416750d4dc458_3200.jpg 3200w, https:\/\/img.staticdj.com\/b3713f3c467a34621af416750d4dc458_3840.jpg 3840w\" sizes=\"640px\" srcset=\"https:\/\/img.staticdj.com\/b3713f3c467a34621af416750d4dc458_48.jpg 48w, https:\/\/img.staticdj.com\/b3713f3c467a34621af416750d4dc458_180.jpg 180w, https:\/\/img.staticdj.com\/b3713f3c467a34621af416750d4dc458_360.jpg 360w, https:\/\/img.staticdj.com\/b3713f3c467a34621af416750d4dc458_540.jpg 540w, https:\/\/img.staticdj.com\/b3713f3c467a34621af416750d4dc458_720.jpg 720w, https:\/\/img.staticdj.com\/b3713f3c467a34621af416750d4dc458_900.jpg 900w, https:\/\/img.staticdj.com\/b3713f3c467a34621af416750d4dc458_1024.jpg 1024w, https:\/\/img.staticdj.com\/b3713f3c467a34621af416750d4dc458_1280.jpg 1280w, https:\/\/img.staticdj.com\/b3713f3c467a34621af416750d4dc458_1366.jpg 1366w, https:\/\/img.staticdj.com\/b3713f3c467a34621af416750d4dc458_1440.jpg 1440w, https:\/\/img.staticdj.com\/b3713f3c467a34621af416750d4dc458_1536.jpg 1536w, https:\/\/img.staticdj.com\/b3713f3c467a34621af416750d4dc458_1600.jpg 1600w, https:\/\/img.staticdj.com\/b3713f3c467a34621af416750d4dc458_1920.jpg 1920w, https:\/\/img.staticdj.com\/b3713f3c467a34621af416750d4dc458_2056.jpg 2056w, https:\/\/img.staticdj.com\/b3713f3c467a34621af416750d4dc458_2560.jpg 2560w, https:\/\/img.staticdj.com\/b3713f3c467a34621af416750d4dc458_2732.jpg 2732w, https:\/\/img.staticdj.com\/b3713f3c467a34621af416750d4dc458_2880.jpg 2880w, https:\/\/img.staticdj.com\/b3713f3c467a34621af416750d4dc458_3072.jpg 3072w, https:\/\/img.staticdj.com\/b3713f3c467a34621af416750d4dc458_3200.jpg 3200w, https:\/\/img.staticdj.com\/b3713f3c467a34621af416750d4dc458_3840.jpg 3840w\" data-mce-fragment=\"1\"\u003e\u003c\/p\u003e\n\u003cul class=\"a-unordered-list a-vertical a-spacing-mini\" data-mce-fragment=\"1\"\u003e\n\u003cli data-mce-fragment=\"1\"\u003e\u003cspan class=\"a-list-item\" data-mce-fragment=\"1\"\u003e\u003cspan data-mce-fragment=\"1\" style=\"color: #000000;\"\u003e\u003cstrong data-mce-fragment=\"1\"\u003eComfortable Handle:\u003c\/strong\u003e\u003c\/span\u003e The rubber handle has a comfortable grip and \u003cstrong data-mce-fragment=\"1\"\u003ewill not feel tired for a long time holding.\u003c\/strong\u003e Quick and easy operation.\u003c\/span\u003e\u003c\/li\u003e\n\u003c\/ul\u003e\n\u003cp data-mce-fragment=\"1\"\u003e\u003cimg style=\"display: block; margin-left: auto; margin-right: auto;\" class=\"sep-lazyload lazyautosizes lazyloaded\" data-sizes=\"auto\" alt=\"\" width=\"442\" height=\"442\" data-srcset=\"https:\/\/img.staticdj.com\/4f55bb93f26a1a3d091d21d05afb492a_48.jpg 48w, https:\/\/img.staticdj.com\/4f55bb93f26a1a3d091d21d05afb492a_180.jpg 180w, https:\/\/img.staticdj.com\/4f55bb93f26a1a3d091d21d05afb492a_360.jpg 360w, https:\/\/img.staticdj.com\/4f55bb93f26a1a3d091d21d05afb492a_540.jpg 540w, https:\/\/img.staticdj.com\/4f55bb93f26a1a3d091d21d05afb492a_720.jpg 720w, https:\/\/img.staticdj.com\/4f55bb93f26a1a3d091d21d05afb492a_900.jpg 900w, https:\/\/img.staticdj.com\/4f55bb93f26a1a3d091d21d05afb492a_1024.jpg 1024w, https:\/\/img.staticdj.com\/4f55bb93f26a1a3d091d21d05afb492a_1280.jpg 1280w, https:\/\/img.staticdj.com\/4f55bb93f26a1a3d091d21d05afb492a_1366.jpg 1366w, https:\/\/img.staticdj.com\/4f55bb93f26a1a3d091d21d05afb492a_1440.jpg 1440w, https:\/\/img.staticdj.com\/4f55bb93f26a1a3d091d21d05afb492a_1536.jpg 1536w, https:\/\/img.staticdj.com\/4f55bb93f26a1a3d091d21d05afb492a_1600.jpg 1600w, https:\/\/img.staticdj.com\/4f55bb93f26a1a3d091d21d05afb492a_1920.jpg 1920w, https:\/\/img.staticdj.com\/4f55bb93f26a1a3d091d21d05afb492a_2056.jpg 2056w, https:\/\/img.staticdj.com\/4f55bb93f26a1a3d091d21d05afb492a_2560.jpg 2560w, https:\/\/img.staticdj.com\/4f55bb93f26a1a3d091d21d05afb492a_2732.jpg 2732w, https:\/\/img.staticdj.com\/4f55bb93f26a1a3d091d21d05afb492a_2880.jpg 2880w, https:\/\/img.staticdj.com\/4f55bb93f26a1a3d091d21d05afb492a_3072.jpg 3072w, https:\/\/img.staticdj.com\/4f55bb93f26a1a3d091d21d05afb492a_3200.jpg 3200w, https:\/\/img.staticdj.com\/4f55bb93f26a1a3d091d21d05afb492a_3840.jpg 3840w\" sizes=\"442px\" srcset=\"https:\/\/img.staticdj.com\/4f55bb93f26a1a3d091d21d05afb492a_48.jpg 48w, https:\/\/img.staticdj.com\/4f55bb93f26a1a3d091d21d05afb492a_180.jpg 180w, https:\/\/img.staticdj.com\/4f55bb93f26a1a3d091d21d05afb492a_360.jpg 360w, https:\/\/img.staticdj.com\/4f55bb93f26a1a3d091d21d05afb492a_540.jpg 540w, https:\/\/img.staticdj.com\/4f55bb93f26a1a3d091d21d05afb492a_720.jpg 720w, https:\/\/img.staticdj.com\/4f55bb93f26a1a3d091d21d05afb492a_900.jpg 900w, https:\/\/img.staticdj.com\/4f55bb93f26a1a3d091d21d05afb492a_1024.jpg 1024w, https:\/\/img.staticdj.com\/4f55bb93f26a1a3d091d21d05afb492a_1280.jpg 1280w, https:\/\/img.staticdj.com\/4f55bb93f26a1a3d091d21d05afb492a_1366.jpg 1366w, https:\/\/img.staticdj.com\/4f55bb93f26a1a3d091d21d05afb492a_1440.jpg 1440w, https:\/\/img.staticdj.com\/4f55bb93f26a1a3d091d21d05afb492a_1536.jpg 1536w, https:\/\/img.staticdj.com\/4f55bb93f26a1a3d091d21d05afb492a_1600.jpg 1600w, https:\/\/img.staticdj.com\/4f55bb93f26a1a3d091d21d05afb492a_1920.jpg 1920w, https:\/\/img.staticdj.com\/4f55bb93f26a1a3d091d21d05afb492a_2056.jpg 2056w, https:\/\/img.staticdj.com\/4f55bb93f26a1a3d091d21d05afb492a_2560.jpg 2560w, https:\/\/img.staticdj.com\/4f55bb93f26a1a3d091d21d05afb492a_2732.jpg 2732w, https:\/\/img.staticdj.com\/4f55bb93f26a1a3d091d21d05afb492a_2880.jpg 2880w, https:\/\/img.staticdj.com\/4f55bb93f26a1a3d091d21d05afb492a_3072.jpg 3072w, https:\/\/img.staticdj.com\/4f55bb93f26a1a3d091d21d05afb492a_3200.jpg 3200w, https:\/\/img.staticdj.com\/4f55bb93f26a1a3d091d21d05afb492a_3840.jpg 3840w\" data-mce-fragment=\"1\"\u003e\u003c\/p\u003e\n\u003cul class=\"a-unordered-list a-vertical a-spacing-mini\" data-mce-fragment=\"1\"\u003e\n\u003cli data-mce-fragment=\"1\"\u003e\u003cspan class=\"a-list-item\" data-mce-fragment=\"1\"\u003e\u003cspan style=\"color: #000000;\"\u003e\u003cstrong data-mce-fragment=\"1\"\u003eEasy to Use:\u003c\/strong\u003e \u003c\/span\u003eVarious types of nails to meet your different needs. \u003cstrong data-mce-fragment=\"1\"\u003eNo training required. Learn to use in seconds.\u003c\/strong\u003e\u003c\/span\u003e\u003c\/li\u003e\n\u003c\/ul\u003e\n\u003cp data-mce-fragment=\"1\"\u003e\u003cspan class=\"a-list-item\" data-mce-fragment=\"1\"\u003e\u003cstrong data-mce-fragment=\"1\"\u003e\u003cimg style=\"display: block; margin-left: auto; margin-right: auto;\" class=\"sep-lazyload lazyautosizes ls-is-cached lazyloaded\" data-sizes=\"auto\" sizes=\"491px\" srcset=\"https:\/\/img.staticdj.com\/37d5beebd763f514f6b7734a153a1992_48.png 48w, https:\/\/img.staticdj.com\/37d5beebd763f514f6b7734a153a1992_180.png 180w, https:\/\/img.staticdj.com\/37d5beebd763f514f6b7734a153a1992_360.png 360w, https:\/\/img.staticdj.com\/37d5beebd763f514f6b7734a153a1992_540.png 540w, https:\/\/img.staticdj.com\/37d5beebd763f514f6b7734a153a1992_720.png 720w, https:\/\/img.staticdj.com\/37d5beebd763f514f6b7734a153a1992_900.png 900w, https:\/\/img.staticdj.com\/37d5beebd763f514f6b7734a153a1992_1024.png 1024w, https:\/\/img.staticdj.com\/37d5beebd763f514f6b7734a153a1992_1280.png 1280w, https:\/\/img.staticdj.com\/37d5beebd763f514f6b7734a153a1992_1366.png 1366w, https:\/\/img.staticdj.com\/37d5beebd763f514f6b7734a153a1992_1440.png 1440w, https:\/\/img.staticdj.com\/37d5beebd763f514f6b7734a153a1992_1536.png 1536w, https:\/\/img.staticdj.com\/37d5beebd763f514f6b7734a153a1992_1600.png 1600w, https:\/\/img.staticdj.com\/37d5beebd763f514f6b7734a153a1992_1920.png 1920w, https:\/\/img.staticdj.com\/37d5beebd763f514f6b7734a153a1992_2056.png 2056w, https:\/\/img.staticdj.com\/37d5beebd763f514f6b7734a153a1992_2560.png 2560w, https:\/\/img.staticdj.com\/37d5beebd763f514f6b7734a153a1992_2732.png 2732w, https:\/\/img.staticdj.com\/37d5beebd763f514f6b7734a153a1992_2880.png 2880w, https:\/\/img.staticdj.com\/37d5beebd763f514f6b7734a153a1992_3072.png 3072w, https:\/\/img.staticdj.com\/37d5beebd763f514f6b7734a153a1992_3200.png 3200w, https:\/\/img.staticdj.com\/37d5beebd763f514f6b7734a153a1992_3840.png 3840w\" alt=\"\" width=\"440\" height=\"440\" data-srcset=\"https:\/\/img.staticdj.com\/37d5beebd763f514f6b7734a153a1992_48.png 48w, https:\/\/img.staticdj.com\/37d5beebd763f514f6b7734a153a1992_180.png 180w, https:\/\/img.staticdj.com\/37d5beebd763f514f6b7734a153a1992_360.png 360w, https:\/\/img.staticdj.com\/37d5beebd763f514f6b7734a153a1992_540.png 540w, https:\/\/img.staticdj.com\/37d5beebd763f514f6b7734a153a1992_720.png 720w, https:\/\/img.staticdj.com\/37d5beebd763f514f6b7734a153a1992_900.png 900w, https:\/\/img.staticdj.com\/37d5beebd763f514f6b7734a153a1992_1024.png 1024w, https:\/\/img.staticdj.com\/37d5beebd763f514f6b7734a153a1992_1280.png 1280w, https:\/\/img.staticdj.com\/37d5beebd763f514f6b7734a153a1992_1366.png 1366w, https:\/\/img.staticdj.com\/37d5beebd763f514f6b7734a153a1992_1440.png 1440w, https:\/\/img.staticdj.com\/37d5beebd763f514f6b7734a153a1992_1536.png 1536w, https:\/\/img.staticdj.com\/37d5beebd763f514f6b7734a153a1992_1600.png 1600w, https:\/\/img.staticdj.com\/37d5beebd763f514f6b7734a153a1992_1920.png 1920w, https:\/\/img.staticdj.com\/37d5beebd763f514f6b7734a153a1992_2056.png 2056w, https:\/\/img.staticdj.com\/37d5beebd763f514f6b7734a153a1992_2560.png 2560w, https:\/\/img.staticdj.com\/37d5beebd763f514f6b7734a153a1992_2732.png 2732w, https:\/\/img.staticdj.com\/37d5beebd763f514f6b7734a153a1992_2880.png 2880w, https:\/\/img.staticdj.com\/37d5beebd763f514f6b7734a153a1992_3072.png 3072w, https:\/\/img.staticdj.com\/37d5beebd763f514f6b7734a153a1992_3200.png 3200w, https:\/\/img.staticdj.com\/37d5beebd763f514f6b7734a153a1992_3840.png 3840w\" data-mce-fragment=\"1\"\u003e\u003c\/strong\u003e\u003c\/span\u003e\u003c\/p\u003e\n\u003c\/div\u003e\n\u003cdiv data-mce-fragment=\"1\"\u003e\u003cspan style=\"color: #ff8000;\" data-mce-fragment=\"1\"\u003e\u003cstrong data-mce-fragment=\"1\"\u003eSpecifications:\u003c\/strong\u003e\u003c\/span\u003e\u003c\/div\u003e\n\u003cdiv data-mce-fragment=\"1\"\u003e\n\u003cul data-mce-fragment=\"1\"\u003e\n\u003cli data-mce-fragment=\"1\"\u003eMaterial: ABS + stainless steel\u003c\/li\u003e\n\u003cli data-mce-fragment=\"1\"\u003ePlug: US Plug \/ EU Plug \u003c\/li\u003e\n\u003cli data-mce-fragment=\"1\"\u003eVoltage: 110V\/220V\u003c\/li\u003e\n\u003cli data-mce-fragment=\"1\"\u003ePower: 50W\u003c\/li\u003e\n\u003cli data-mce-fragment=\"1\"\u003eColor: Red\/Blue\/Yellow\u003c\/li\u003e\n\u003cli data-mce-fragment=\"1\"\u003eCable Length: 1.5m\u003c\/li\u003e\n\u003c\/ul\u003e\n\u003c\/div\u003e\n\u003cdiv data-mce-fragment=\"1\"\u003e\u003cspan style=\"color: #ff8000;\" data-mce-fragment=\"1\"\u003e\u003cstrong data-mce-fragment=\"1\"\u003ePackage Includes:\u003c\/strong\u003e\u003c\/span\u003e\u003c\/div\u003e\n\u003cdiv data-mce-fragment=\"1\"\u003e\n\u003cul data-mce-fragment=\"1\"\u003e\n\u003cli data-mce-fragment=\"1\"\u003e1 * Plastics Welding Machine\u003c\/li\u003e\n\u003cli data-mce-fragment=\"1\"\u003e50 * Flat Staples\u003c\/li\u003e\n\u003cli data-mce-fragment=\"1\"\u003e50 * Outside Corner Staples\u003c\/li\u003e\n\u003cli data-mce-fragment=\"1\"\u003e50 * Inside Corner Staples\u003c\/li\u003e\n\u003cli data-mce-fragment=\"1\"\u003e50 * Wave Staples\u003c\/li\u003e\n\u003cli data-mce-fragment=\"1\"\u003e1 * Plier\u003c\/li\u003e\n\u003cli data-mce-fragment=\"1\"\u003e1 * Utility Knife\u003c\/li\u003e\n\u003cli data-mce-fragment=\"1\"\u003e1 * Carry Case\u003c\/li\u003e\n\u003c\/ul\u003e\n\u003c\/div\u003e","published_at":"2021-08-18T22:51:20-06:00","created_at":"2021-08-18T22:51:31-06:00","vendor":"comfybear","type":"","tags":["Tools"],"price":6499,"price_min":6499,"price_max":6499,"available":true,"price_varies":false,"compare_at_price":12999,"compare_at_price_min":12999,"compare_at_price_max":12999,"compare_at_price_varies":false,"variants":[{"id":40665664520346,"title":"EU Plug \/ YELLOW","option1":"EU Plug","option2":"YELLOW","option3":null,"sku":"GJ14256-C003-X0059","requires_shipping":true,"taxable":false,"featured_image":{"id":30852819255450,"product_id":6965187444890,"position":11,"created_at":"2021-08-18T22:51:32-06:00","updated_at":"2021-08-18T22:51:32-06:00","alt":null,"width":800,"height":800,"src":"\/\/www.luluwin.co.uk\/cdn\/shop\/products\/11_d1c36048-a46f-40d9-b9c6-2ea296c9aa37.jpg?v=1629348692","variant_ids":[40665664520346]},"available":true,"name":"Professional Car Bumper Crack Repair Welding Machine Set - EU Plug \/ YELLOW","public_title":"EU Plug \/ YELLOW","options":["EU Plug","YELLOW"],"price":6499,"weight":0,"compare_at_price":12999,"inventory_management":null,"barcode":"","featured_media":{"alt":null,"id":23268770480282,"position":11,"preview_image":{"aspect_ratio":1.0,"height":800,"width":800,"src":"\/\/www.luluwin.co.uk\/cdn\/shop\/products\/11_d1c36048-a46f-40d9-b9c6-2ea296c9aa37.jpg?v=1629348692"}},"requires_selling_plan":false,"selling_plan_allocations":[]},{"id":40665664553114,"title":"EU Plug \/ BLUE","option1":"EU Plug","option2":"BLUE","option3":null,"sku":"GJ14256-C008-X0059","requires_shipping":true,"taxable":false,"featured_image":{"id":30852819288218,"product_id":6965187444890,"position":12,"created_at":"2021-08-18T22:51:32-06:00","updated_at":"2021-08-18T22:51:32-06:00","alt":null,"width":800,"height":800,"src":"\/\/www.luluwin.co.uk\/cdn\/shop\/products\/12_2e0146ff-abbe-453f-abca-6c1c0ae352f0.jpg?v=1629348692","variant_ids":[40665664553114]},"available":true,"name":"Professional Car Bumper Crack Repair Welding Machine Set - EU Plug \/ BLUE","public_title":"EU Plug \/ BLUE","options":["EU Plug","BLUE"],"price":6499,"weight":0,"compare_at_price":12999,"inventory_management":null,"barcode":"","featured_media":{"alt":null,"id":23268770513050,"position":12,"preview_image":{"aspect_ratio":1.0,"height":800,"width":800,"src":"\/\/www.luluwin.co.uk\/cdn\/shop\/products\/12_2e0146ff-abbe-453f-abca-6c1c0ae352f0.jpg?v=1629348692"}},"requires_selling_plan":false,"selling_plan_allocations":[]},{"id":40665664585882,"title":"EU Plug \/ RED","option1":"EU Plug","option2":"RED","option3":null,"sku":"GJ14256-C002-X0059","requires_shipping":true,"taxable":false,"featured_image":{"id":30852819222682,"product_id":6965187444890,"position":10,"created_at":"2021-08-18T22:51:32-06:00","updated_at":"2021-08-18T22:51:32-06:00","alt":null,"width":800,"height":800,"src":"\/\/www.luluwin.co.uk\/cdn\/shop\/products\/10_6082aa87-5c16-4836-bed8-5941735ea9ea.jpg?v=1629348692","variant_ids":[40665664585882]},"available":true,"name":"Professional Car Bumper Crack Repair Welding Machine Set - EU Plug \/ RED","public_title":"EU Plug \/ RED","options":["EU Plug","RED"],"price":6499,"weight":0,"compare_at_price":12999,"inventory_management":null,"barcode":"","featured_media":{"alt":null,"id":23268770447514,"position":10,"preview_image":{"aspect_ratio":1.0,"height":800,"width":800,"src":"\/\/www.luluwin.co.uk\/cdn\/shop\/products\/10_6082aa87-5c16-4836-bed8-5941735ea9ea.jpg?v=1629348692"}},"requires_selling_plan":false,"selling_plan_allocations":[]},{"id":40665664618650,"title":"US Plug \/ YELLOW","option1":"US Plug","option2":"YELLOW","option3":null,"sku":"GJ14256-C003-X4433","requires_shipping":true,"taxable":false,"featured_image":{"id":30852819157146,"product_id":6965187444890,"position":8,"created_at":"2021-08-18T22:51:32-06:00","updated_at":"2021-08-18T22:51:32-06:00","alt":null,"width":800,"height":800,"src":"\/\/www.luluwin.co.uk\/cdn\/shop\/products\/8_88db09b8-6898-4fea-9dd6-d6958256e487.jpg?v=1629348692","variant_ids":[40665664618650]},"available":true,"name":"Professional Car Bumper Crack Repair Welding Machine Set - US Plug \/ YELLOW","public_title":"US Plug \/ YELLOW","options":["US Plug","YELLOW"],"price":6499,"weight":0,"compare_at_price":12999,"inventory_management":null,"barcode":"","featured_media":{"alt":null,"id":23268770381978,"position":8,"preview_image":{"aspect_ratio":1.0,"height":800,"width":800,"src":"\/\/www.luluwin.co.uk\/cdn\/shop\/products\/8_88db09b8-6898-4fea-9dd6-d6958256e487.jpg?v=1629348692"}},"requires_selling_plan":false,"selling_plan_allocations":[]},{"id":40665664651418,"title":"US Plug \/ BLUE","option1":"US Plug","option2":"BLUE","option3":null,"sku":"GJ14256-C008-X4433","requires_shipping":true,"taxable":false,"featured_image":{"id":30852819189914,"product_id":6965187444890,"position":9,"created_at":"2021-08-18T22:51:32-06:00","updated_at":"2021-08-18T22:51:32-06:00","alt":null,"width":800,"height":800,"src":"\/\/www.luluwin.co.uk\/cdn\/shop\/products\/9_f4d30bc6-55f3-4749-8f3f-6b4435dfe988.jpg?v=1629348692","variant_ids":[40665664651418]},"available":true,"name":"Professional Car Bumper Crack Repair Welding Machine Set - US Plug \/ BLUE","public_title":"US Plug \/ BLUE","options":["US Plug","BLUE"],"price":6499,"weight":0,"compare_at_price":12999,"inventory_management":null,"barcode":"","featured_media":{"alt":null,"id":23268770414746,"position":9,"preview_image":{"aspect_ratio":1.0,"height":800,"width":800,"src":"\/\/www.luluwin.co.uk\/cdn\/shop\/products\/9_f4d30bc6-55f3-4749-8f3f-6b4435dfe988.jpg?v=1629348692"}},"requires_selling_plan":false,"selling_plan_allocations":[]},{"id":40665664684186,"title":"US Plug \/ RED","option1":"US Plug","option2":"RED","option3":null,"sku":"GJ14256-C002-X4433","requires_shipping":true,"taxable":false,"featured_image":{"id":30852819124378,"product_id":6965187444890,"position":7,"created_at":"2021-08-18T22:51:32-06:00","updated_at":"2021-08-18T22:51:32-06:00","alt":null,"width":800,"height":800,"src":"\/\/www.luluwin.co.uk\/cdn\/shop\/products\/7_cdeced0d-630c-42d8-b724-164127b02d9f.jpg?v=1629348692","variant_ids":[40665664684186]},"available":true,"name":"Professional Car Bumper Crack Repair Welding Machine Set - US Plug \/ RED","public_title":"US Plug \/ RED","options":["US Plug","RED"],"price":6499,"weight":0,"compare_at_price":12999,"inventory_management":null,"barcode":"","featured_media":{"alt":null,"id":23268770349210,"position":7,"preview_image":{"aspect_ratio":1.0,"height":800,"width":800,"src":"\/\/www.luluwin.co.uk\/cdn\/shop\/products\/7_cdeced0d-630c-42d8-b724-164127b02d9f.jpg?v=1629348692"}},"requires_selling_plan":false,"selling_plan_allocations":[]}],"images":["\/\/www.luluwin.co.uk\/cdn\/shop\/products\/1_4b620bbf-9415-48dc-a7ea-e0a22d117ecc.jpg?v=1629348692","\/\/www.luluwin.co.uk\/cdn\/shop\/products\/222222222.jpg?v=1629348692","\/\/www.luluwin.co.uk\/cdn\/shop\/products\/3_604227c3-8053-4304-9cfb-4f0d2a7ab330.jpg?v=1629348692","\/\/www.luluwin.co.uk\/cdn\/shop\/products\/4_ba9e4c40-e0f7-4242-aa49-3de664744714.jpg?v=1629348692","\/\/www.luluwin.co.uk\/cdn\/shop\/products\/5_940d80c7-8c26-4642-9314-1d589daa210e.jpg?v=1629348692","\/\/www.luluwin.co.uk\/cdn\/shop\/products\/11111.jpg?v=1629348692","\/\/www.luluwin.co.uk\/cdn\/shop\/products\/7_cdeced0d-630c-42d8-b724-164127b02d9f.jpg?v=1629348692","\/\/www.luluwin.co.uk\/cdn\/shop\/products\/8_88db09b8-6898-4fea-9dd6-d6958256e487.jpg?v=1629348692","\/\/www.luluwin.co.uk\/cdn\/shop\/products\/9_f4d30bc6-55f3-4749-8f3f-6b4435dfe988.jpg?v=1629348692","\/\/www.luluwin.co.uk\/cdn\/shop\/products\/10_6082aa87-5c16-4836-bed8-5941735ea9ea.jpg?v=1629348692","\/\/www.luluwin.co.uk\/cdn\/shop\/products\/11_d1c36048-a46f-40d9-b9c6-2ea296c9aa37.jpg?v=1629348692","\/\/www.luluwin.co.uk\/cdn\/shop\/products\/12_2e0146ff-abbe-453f-abca-6c1c0ae352f0.jpg?v=1629348692"],"featured_image":"\/\/www.luluwin.co.uk\/cdn\/shop\/products\/1_4b620bbf-9415-48dc-a7ea-e0a22d117ecc.jpg?v=1629348692","options":["Style","Color"],"media":[{"alt":null,"id":23268770152602,"position":1,"preview_image":{"aspect_ratio":1.0,"height":800,"width":800,"src":"\/\/www.luluwin.co.uk\/cdn\/shop\/products\/1_4b620bbf-9415-48dc-a7ea-e0a22d117ecc.jpg?v=1629348692"},"aspect_ratio":1.0,"height":800,"media_type":"image","src":"\/\/www.luluwin.co.uk\/cdn\/shop\/products\/1_4b620bbf-9415-48dc-a7ea-e0a22d117ecc.jpg?v=1629348692","width":800},{"alt":null,"id":23268770185370,"position":2,"preview_image":{"aspect_ratio":1.0,"height":800,"width":800,"src":"\/\/www.luluwin.co.uk\/cdn\/shop\/products\/222222222.jpg?v=1629348692"},"aspect_ratio":1.0,"height":800,"media_type":"image","src":"\/\/www.luluwin.co.uk\/cdn\/shop\/products\/222222222.jpg?v=1629348692","width":800},{"alt":null,"id":23268770218138,"position":3,"preview_image":{"aspect_ratio":1.0,"height":800,"width":800,"src":"\/\/www.luluwin.co.uk\/cdn\/shop\/products\/3_604227c3-8053-4304-9cfb-4f0d2a7ab330.jpg?v=1629348692"},"aspect_ratio":1.0,"height":800,"media_type":"image","src":"\/\/www.luluwin.co.uk\/cdn\/shop\/products\/3_604227c3-8053-4304-9cfb-4f0d2a7ab330.jpg?v=1629348692","width":800},{"alt":null,"id":23268770250906,"position":4,"preview_image":{"aspect_ratio":1.0,"height":800,"width":800,"src":"\/\/www.luluwin.co.uk\/cdn\/shop\/products\/4_ba9e4c40-e0f7-4242-aa49-3de664744714.jpg?v=1629348692"},"aspect_ratio":1.0,"height":800,"media_type":"image","src":"\/\/www.luluwin.co.uk\/cdn\/shop\/products\/4_ba9e4c40-e0f7-4242-aa49-3de664744714.jpg?v=1629348692","width":800},{"alt":null,"id":23268770283674,"position":5,"preview_image":{"aspect_ratio":1.0,"height":800,"width":800,"src":"\/\/www.luluwin.co.uk\/cdn\/shop\/products\/5_940d80c7-8c26-4642-9314-1d589daa210e.jpg?v=1629348692"},"aspect_ratio":1.0,"height":800,"media_type":"image","src":"\/\/www.luluwin.co.uk\/cdn\/shop\/products\/5_940d80c7-8c26-4642-9314-1d589daa210e.jpg?v=1629348692","width":800},{"alt":null,"id":23268770316442,"position":6,"preview_image":{"aspect_ratio":1.0,"height":800,"width":800,"src":"\/\/www.luluwin.co.uk\/cdn\/shop\/products\/11111.jpg?v=1629348692"},"aspect_ratio":1.0,"height":800,"media_type":"image","src":"\/\/www.luluwin.co.uk\/cdn\/shop\/products\/11111.jpg?v=1629348692","width":800},{"alt":null,"id":23268770349210,"position":7,"preview_image":{"aspect_ratio":1.0,"height":800,"width":800,"src":"\/\/www.luluwin.co.uk\/cdn\/shop\/products\/7_cdeced0d-630c-42d8-b724-164127b02d9f.jpg?v=1629348692"},"aspect_ratio":1.0,"height":800,"media_type":"image","src":"\/\/www.luluwin.co.uk\/cdn\/shop\/products\/7_cdeced0d-630c-42d8-b724-164127b02d9f.jpg?v=1629348692","width":800},{"alt":null,"id":23268770381978,"position":8,"preview_image":{"aspect_ratio":1.0,"height":800,"width":800,"src":"\/\/www.luluwin.co.uk\/cdn\/shop\/products\/8_88db09b8-6898-4fea-9dd6-d6958256e487.jpg?v=1629348692"},"aspect_ratio":1.0,"height":800,"media_type":"image","src":"\/\/www.luluwin.co.uk\/cdn\/shop\/products\/8_88db09b8-6898-4fea-9dd6-d6958256e487.jpg?v=1629348692","width":800},{"alt":null,"id":23268770414746,"position":9,"preview_image":{"aspect_ratio":1.0,"height":800,"width":800,"src":"\/\/www.luluwin.co.uk\/cdn\/shop\/products\/9_f4d30bc6-55f3-4749-8f3f-6b4435dfe988.jpg?v=1629348692"},"aspect_ratio":1.0,"height":800,"media_type":"image","src":"\/\/www.luluwin.co.uk\/cdn\/shop\/products\/9_f4d30bc6-55f3-4749-8f3f-6b4435dfe988.jpg?v=1629348692","width":800},{"alt":null,"id":23268770447514,"position":10,"preview_image":{"aspect_ratio":1.0,"height":800,"width":800,"src":"\/\/www.luluwin.co.uk\/cdn\/shop\/products\/10_6082aa87-5c16-4836-bed8-5941735ea9ea.jpg?v=1629348692"},"aspect_ratio":1.0,"height":800,"media_type":"image","src":"\/\/www.luluwin.co.uk\/cdn\/shop\/products\/10_6082aa87-5c16-4836-bed8-5941735ea9ea.jpg?v=1629348692","width":800},{"alt":null,"id":23268770480282,"position":11,"preview_image":{"aspect_ratio":1.0,"height":800,"width":800,"src":"\/\/www.luluwin.co.uk\/cdn\/shop\/products\/11_d1c36048-a46f-40d9-b9c6-2ea296c9aa37.jpg?v=1629348692"},"aspect_ratio":1.0,"height":800,"media_type":"image","src":"\/\/www.luluwin.co.uk\/cdn\/shop\/products\/11_d1c36048-a46f-40d9-b9c6-2ea296c9aa37.jpg?v=1629348692","width":800},{"alt":null,"id":23268770513050,"position":12,"preview_image":{"aspect_ratio":1.0,"height":800,"width":800,"src":"\/\/www.luluwin.co.uk\/cdn\/shop\/products\/12_2e0146ff-abbe-453f-abca-6c1c0ae352f0.jpg?v=1629348692"},"aspect_ratio":1.0,"height":800,"media_type":"image","src":"\/\/www.luluwin.co.uk\/cdn\/shop\/products\/12_2e0146ff-abbe-453f-abca-6c1c0ae352f0.jpg?v=1629348692","width":800}],"requires_selling_plan":false,"selling_plan_groups":[],"content":"\u003cdiv style=\"text-align: center;\" data-mce-fragment=\"1\"\u003e\u003cspan data-mce-fragment=\"1\" style=\"color: #ff8000;\"\u003e\u003cstrong data-mce-fragment=\"1\"\u003eMelting the Staple in the Plastic Give it Way,\u003c\/strong\u003e\u003cstrong data-mce-fragment=\"1\"\u003eEasy to Use!\u003c\/strong\u003e\u003c\/span\u003e\u003c\/div\u003e\n\u003cdiv data-mce-fragment=\"1\"\u003e\u003cimg class=\"sep-lazyload lazyautosizes lazyloaded\" data-sizes=\"auto\" data-src=\"https:\/\/img.staticdj.com\/931df693eea6e97a61d004a74a036336.gif\" alt=\"\" width=\"374\" height=\"374\" sizes=\"374px\" src=\"https:\/\/img.staticdj.com\/931df693eea6e97a61d004a74a036336.gif\" data-mce-fragment=\"1\" style=\"display: block; margin-left: auto; margin-right: auto;\" data-mce-src=\"https:\/\/img.staticdj.com\/931df693eea6e97a61d004a74a036336.gif\"\u003e\u003c\/div\u003e\n\u003cdiv data-mce-fragment=\"1\"\u003e\n\u003cul\u003e\n\u003cli\u003eThis\u003cspan style=\"color: #ff2a00;\"\u003e \u003cstrong data-mce-fragment=\"1\"\u003ewelding machine\u003c\/strong\u003e\u003c\/span\u003e is easy to use for\u003cspan style=\"color: #ff2a00;\"\u003e \u003cstrong data-mce-fragment=\"1\"\u003erepairing plastic bumpers, motorcycle, lawn mower and other thermoplastic plastics\u003c\/strong\u003e\u003c\/span\u003e, and compared with welding, adhesives, epoxies, etc. \u003c\/li\u003e\n\u003cli\u003e\n\u003cspan data-mce-fragment=\"1\" style=\"color: #ff2a00;\"\u003e\u003cstrong data-mce-fragment=\"1\"\u003eNo training, you can use the staple and have done in a few minutes.\u003c\/strong\u003e\u003c\/span\u003e The repaired kit is very sturdy as just like new.\u003c\/li\u003e\n\u003c\/ul\u003e\n\u003c\/div\u003e\n\u003cdiv data-mce-fragment=\"1\"\u003e\u003cimg class=\"sep-lazyload lazyautosizes lazyloaded\" data-sizes=\"auto\" data-src=\"https:\/\/img.staticdj.com\/a869967a822eaba6bf81c0926558f5af.gif\" alt=\"\" width=\"356\" height=\"356\" sizes=\"356px\" src=\"https:\/\/img.staticdj.com\/a869967a822eaba6bf81c0926558f5af.gif\" data-mce-fragment=\"1\" style=\"display: block; margin-left: auto; margin-right: auto;\" data-mce-src=\"https:\/\/img.staticdj.com\/a869967a822eaba6bf81c0926558f5af.gif\"\u003e\u003c\/div\u003e\n\u003cdiv data-mce-fragment=\"1\"\u003e\u003cspan data-mce-fragment=\"1\" style=\"color: #ff8000;\"\u003e\u003cstrong data-mce-fragment=\"1\"\u003eFuctions:\u003c\/strong\u003e\u003c\/span\u003e\u003c\/div\u003e\n\u003cul data-mce-fragment=\"1\"\u003e\n\u003cli data-mce-fragment=\"1\"\u003e1. Dissolve plastic (free of plant-nail), dissolve packing, repair hole and eliminate cracks.\u003c\/li\u003e\n\u003cli data-mce-fragment=\"1\"\u003e2. Plant-nail. match various repair nails, and repair horizontal, vertical, long and short cracks.\u003c\/li\u003e\n\u003cli data-mce-fragment=\"1\"\u003e3. Hot smoothing. Heat and smoonth the plastic, and dissolve it, the intensity and appearance is increased.\u003c\/li\u003e\n\u003cli data-mce-fragment=\"1\"\u003e4.Thermal cutting.\u003c\/li\u003e\n\u003c\/ul\u003e\n\u003cp data-mce-fragment=\"1\"\u003e\u003cimg height=\"243\" width=\"365\" style=\"display: block; margin-left: auto; margin-right: auto;\" class=\"sep-lazyload lazyautosizes lazyloaded\" data-sizes=\"auto\" data-src=\"https:\/\/img.staticdj.com\/17260cd5fd6e37648a7ed38f683396f6.gif\" sizes=\"1080px\" src=\"https:\/\/img.staticdj.com\/17260cd5fd6e37648a7ed38f683396f6.gif\" data-mce-fragment=\"1\" data-mce-src=\"https:\/\/img.staticdj.com\/17260cd5fd6e37648a7ed38f683396f6.gif\"\u003e\u003c\/p\u003e\n\u003cdiv data-mce-fragment=\"1\"\u003e\u003cspan style=\"color: #ff8000;\" data-mce-fragment=\"1\"\u003e\u003cstrong data-mce-fragment=\"1\"\u003eFeatures:\u003c\/strong\u003e\u003c\/span\u003e\u003c\/div\u003e\n\u003cdiv data-mce-fragment=\"1\"\u003e\n\u003cul class=\"a-unordered-list a-vertical a-spacing-mini\" data-mce-fragment=\"1\"\u003e\n\u003cli data-mce-fragment=\"1\"\u003e\u003cspan class=\"a-list-item\" data-mce-fragment=\"1\"\u003e\u003cspan data-mce-fragment=\"1\"\u003e\u003cspan style=\"color: #000000;\"\u003e\u003cstrong data-mce-fragment=\"1\"\u003eInstant Repair:\u003c\/strong\u003e\u003c\/span\u003e \u003c\/span\u003eRestore your broken parts, prolong its service life. \u003cstrong data-mce-fragment=\"1\"\u003eStrong for shock and twist after repairing.\u003c\/strong\u003e\u003c\/span\u003e\u003c\/li\u003e\n\u003cli data-mce-fragment=\"1\"\u003e\u003cspan class=\"a-list-item\" data-mce-fragment=\"1\"\u003e\u003cspan data-mce-fragment=\"1\"\u003e\u003cspan style=\"color: #000000;\"\u003e\u003cstrong data-mce-fragment=\"1\"\u003eWide Application:\u003c\/strong\u003e\u003c\/span\u003e \u003c\/span\u003eSuitable for repairing \u003cstrong data-mce-fragment=\"1\"\u003ebumper, dashboard, lamp holder, plastic ring, radiator, car and motorcycle\u003c\/strong\u003e\u003cspan data-mce-fragment=\"1\"\u003e \u003c\/span\u003eplastic device.\u003c\/span\u003e\u003c\/li\u003e\n\u003c\/ul\u003e\n\u003cp data-mce-fragment=\"1\"\u003e\u003cimg style=\"display: block; margin-left: auto; margin-right: auto;\" class=\"sep-lazyload lazyautosizes lazyloaded\" data-sizes=\"auto\" alt=\"\" width=\"440\" height=\"439\" data-srcset=\"https:\/\/img.staticdj.com\/b3713f3c467a34621af416750d4dc458_48.jpg 48w, https:\/\/img.staticdj.com\/b3713f3c467a34621af416750d4dc458_180.jpg 180w, https:\/\/img.staticdj.com\/b3713f3c467a34621af416750d4dc458_360.jpg 360w, https:\/\/img.staticdj.com\/b3713f3c467a34621af416750d4dc458_540.jpg 540w, https:\/\/img.staticdj.com\/b3713f3c467a34621af416750d4dc458_720.jpg 720w, https:\/\/img.staticdj.com\/b3713f3c467a34621af416750d4dc458_900.jpg 900w, https:\/\/img.staticdj.com\/b3713f3c467a34621af416750d4dc458_1024.jpg 1024w, https:\/\/img.staticdj.com\/b3713f3c467a34621af416750d4dc458_1280.jpg 1280w, https:\/\/img.staticdj.com\/b3713f3c467a34621af416750d4dc458_1366.jpg 1366w, https:\/\/img.staticdj.com\/b3713f3c467a34621af416750d4dc458_1440.jpg 1440w, https:\/\/img.staticdj.com\/b3713f3c467a34621af416750d4dc458_1536.jpg 1536w, https:\/\/img.staticdj.com\/b3713f3c467a34621af416750d4dc458_1600.jpg 1600w, https:\/\/img.staticdj.com\/b3713f3c467a34621af416750d4dc458_1920.jpg 1920w, https:\/\/img.staticdj.com\/b3713f3c467a34621af416750d4dc458_2056.jpg 2056w, https:\/\/img.staticdj.com\/b3713f3c467a34621af416750d4dc458_2560.jpg 2560w, https:\/\/img.staticdj.com\/b3713f3c467a34621af416750d4dc458_2732.jpg 2732w, https:\/\/img.staticdj.com\/b3713f3c467a34621af416750d4dc458_2880.jpg 2880w, https:\/\/img.staticdj.com\/b3713f3c467a34621af416750d4dc458_3072.jpg 3072w, https:\/\/img.staticdj.com\/b3713f3c467a34621af416750d4dc458_3200.jpg 3200w, https:\/\/img.staticdj.com\/b3713f3c467a34621af416750d4dc458_3840.jpg 3840w\" sizes=\"640px\" srcset=\"https:\/\/img.staticdj.com\/b3713f3c467a34621af416750d4dc458_48.jpg 48w, https:\/\/img.staticdj.com\/b3713f3c467a34621af416750d4dc458_180.jpg 180w, https:\/\/img.staticdj.com\/b3713f3c467a34621af416750d4dc458_360.jpg 360w, https:\/\/img.staticdj.com\/b3713f3c467a34621af416750d4dc458_540.jpg 540w, https:\/\/img.staticdj.com\/b3713f3c467a34621af416750d4dc458_720.jpg 720w, https:\/\/img.staticdj.com\/b3713f3c467a34621af416750d4dc458_900.jpg 900w, https:\/\/img.staticdj.com\/b3713f3c467a34621af416750d4dc458_1024.jpg 1024w, https:\/\/img.staticdj.com\/b3713f3c467a34621af416750d4dc458_1280.jpg 1280w, https:\/\/img.staticdj.com\/b3713f3c467a34621af416750d4dc458_1366.jpg 1366w, https:\/\/img.staticdj.com\/b3713f3c467a34621af416750d4dc458_1440.jpg 1440w, https:\/\/img.staticdj.com\/b3713f3c467a34621af416750d4dc458_1536.jpg 1536w, https:\/\/img.staticdj.com\/b3713f3c467a34621af416750d4dc458_1600.jpg 1600w, https:\/\/img.staticdj.com\/b3713f3c467a34621af416750d4dc458_1920.jpg 1920w, https:\/\/img.staticdj.com\/b3713f3c467a34621af416750d4dc458_2056.jpg 2056w, https:\/\/img.staticdj.com\/b3713f3c467a34621af416750d4dc458_2560.jpg 2560w, https:\/\/img.staticdj.com\/b3713f3c467a34621af416750d4dc458_2732.jpg 2732w, https:\/\/img.staticdj.com\/b3713f3c467a34621af416750d4dc458_2880.jpg 2880w, https:\/\/img.staticdj.com\/b3713f3c467a34621af416750d4dc458_3072.jpg 3072w, https:\/\/img.staticdj.com\/b3713f3c467a34621af416750d4dc458_3200.jpg 3200w, https:\/\/img.staticdj.com\/b3713f3c467a34621af416750d4dc458_3840.jpg 3840w\" data-mce-fragment=\"1\"\u003e\u003c\/p\u003e\n\u003cul class=\"a-unordered-list a-vertical a-spacing-mini\" data-mce-fragment=\"1\"\u003e\n\u003cli data-mce-fragment=\"1\"\u003e\u003cspan class=\"a-list-item\" data-mce-fragment=\"1\"\u003e\u003cspan data-mce-fragment=\"1\" style=\"color: #000000;\"\u003e\u003cstrong data-mce-fragment=\"1\"\u003eComfortable Handle:\u003c\/strong\u003e\u003c\/span\u003e The rubber handle has a comfortable grip and \u003cstrong data-mce-fragment=\"1\"\u003ewill not feel tired for a long time holding.\u003c\/strong\u003e Quick and easy operation.\u003c\/span\u003e\u003c\/li\u003e\n\u003c\/ul\u003e\n\u003cp data-mce-fragment=\"1\"\u003e\u003cimg style=\"display: block; margin-left: auto; margin-right: auto;\" class=\"sep-lazyload lazyautosizes lazyloaded\" data-sizes=\"auto\" alt=\"\" width=\"442\" height=\"442\" data-srcset=\"https:\/\/img.staticdj.com\/4f55bb93f26a1a3d091d21d05afb492a_48.jpg 48w, https:\/\/img.staticdj.com\/4f55bb93f26a1a3d091d21d05afb492a_180.jpg 180w, https:\/\/img.staticdj.com\/4f55bb93f26a1a3d091d21d05afb492a_360.jpg 360w, https:\/\/img.staticdj.com\/4f55bb93f26a1a3d091d21d05afb492a_540.jpg 540w, https:\/\/img.staticdj.com\/4f55bb93f26a1a3d091d21d05afb492a_720.jpg 720w, https:\/\/img.staticdj.com\/4f55bb93f26a1a3d091d21d05afb492a_900.jpg 900w, https:\/\/img.staticdj.com\/4f55bb93f26a1a3d091d21d05afb492a_1024.jpg 1024w, https:\/\/img.staticdj.com\/4f55bb93f26a1a3d091d21d05afb492a_1280.jpg 1280w, https:\/\/img.staticdj.com\/4f55bb93f26a1a3d091d21d05afb492a_1366.jpg 1366w, https:\/\/img.staticdj.com\/4f55bb93f26a1a3d091d21d05afb492a_1440.jpg 1440w, https:\/\/img.staticdj.com\/4f55bb93f26a1a3d091d21d05afb492a_1536.jpg 1536w, https:\/\/img.staticdj.com\/4f55bb93f26a1a3d091d21d05afb492a_1600.jpg 1600w, https:\/\/img.staticdj.com\/4f55bb93f26a1a3d091d21d05afb492a_1920.jpg 1920w, https:\/\/img.staticdj.com\/4f55bb93f26a1a3d091d21d05afb492a_2056.jpg 2056w, https:\/\/img.staticdj.com\/4f55bb93f26a1a3d091d21d05afb492a_2560.jpg 2560w, https:\/\/img.staticdj.com\/4f55bb93f26a1a3d091d21d05afb492a_2732.jpg 2732w, https:\/\/img.staticdj.com\/4f55bb93f26a1a3d091d21d05afb492a_2880.jpg 2880w, https:\/\/img.staticdj.com\/4f55bb93f26a1a3d091d21d05afb492a_3072.jpg 3072w, https:\/\/img.staticdj.com\/4f55bb93f26a1a3d091d21d05afb492a_3200.jpg 3200w, https:\/\/img.staticdj.com\/4f55bb93f26a1a3d091d21d05afb492a_3840.jpg 3840w\" sizes=\"442px\" srcset=\"https:\/\/img.staticdj.com\/4f55bb93f26a1a3d091d21d05afb492a_48.jpg 48w, https:\/\/img.staticdj.com\/4f55bb93f26a1a3d091d21d05afb492a_180.jpg 180w, https:\/\/img.staticdj.com\/4f55bb93f26a1a3d091d21d05afb492a_360.jpg 360w, https:\/\/img.staticdj.com\/4f55bb93f26a1a3d091d21d05afb492a_540.jpg 540w, https:\/\/img.staticdj.com\/4f55bb93f26a1a3d091d21d05afb492a_720.jpg 720w, https:\/\/img.staticdj.com\/4f55bb93f26a1a3d091d21d05afb492a_900.jpg 900w, https:\/\/img.staticdj.com\/4f55bb93f26a1a3d091d21d05afb492a_1024.jpg 1024w, https:\/\/img.staticdj.com\/4f55bb93f26a1a3d091d21d05afb492a_1280.jpg 1280w, https:\/\/img.staticdj.com\/4f55bb93f26a1a3d091d21d05afb492a_1366.jpg 1366w, https:\/\/img.staticdj.com\/4f55bb93f26a1a3d091d21d05afb492a_1440.jpg 1440w, https:\/\/img.staticdj.com\/4f55bb93f26a1a3d091d21d05afb492a_1536.jpg 1536w, https:\/\/img.staticdj.com\/4f55bb93f26a1a3d091d21d05afb492a_1600.jpg 1600w, https:\/\/img.staticdj.com\/4f55bb93f26a1a3d091d21d05afb492a_1920.jpg 1920w, https:\/\/img.staticdj.com\/4f55bb93f26a1a3d091d21d05afb492a_2056.jpg 2056w, https:\/\/img.staticdj.com\/4f55bb93f26a1a3d091d21d05afb492a_2560.jpg 2560w, https:\/\/img.staticdj.com\/4f55bb93f26a1a3d091d21d05afb492a_2732.jpg 2732w, https:\/\/img.staticdj.com\/4f55bb93f26a1a3d091d21d05afb492a_2880.jpg 2880w, https:\/\/img.staticdj.com\/4f55bb93f26a1a3d091d21d05afb492a_3072.jpg 3072w, https:\/\/img.staticdj.com\/4f55bb93f26a1a3d091d21d05afb492a_3200.jpg 3200w, https:\/\/img.staticdj.com\/4f55bb93f26a1a3d091d21d05afb492a_3840.jpg 3840w\" data-mce-fragment=\"1\"\u003e\u003c\/p\u003e\n\u003cul class=\"a-unordered-list a-vertical a-spacing-mini\" data-mce-fragment=\"1\"\u003e\n\u003cli data-mce-fragment=\"1\"\u003e\u003cspan class=\"a-list-item\" data-mce-fragment=\"1\"\u003e\u003cspan style=\"color: #000000;\"\u003e\u003cstrong data-mce-fragment=\"1\"\u003eEasy to Use:\u003c\/strong\u003e \u003c\/span\u003eVarious types of nails to meet your different needs. \u003cstrong data-mce-fragment=\"1\"\u003eNo training required. Learn to use in seconds.\u003c\/strong\u003e\u003c\/span\u003e\u003c\/li\u003e\n\u003c\/ul\u003e\n\u003cp data-mce-fragment=\"1\"\u003e\u003cspan class=\"a-list-item\" data-mce-fragment=\"1\"\u003e\u003cstrong data-mce-fragment=\"1\"\u003e\u003cimg style=\"display: block; margin-left: auto; margin-right: auto;\" class=\"sep-lazyload lazyautosizes ls-is-cached lazyloaded\" data-sizes=\"auto\" sizes=\"491px\" srcset=\"https:\/\/img.staticdj.com\/37d5beebd763f514f6b7734a153a1992_48.png 48w, https:\/\/img.staticdj.com\/37d5beebd763f514f6b7734a153a1992_180.png 180w, https:\/\/img.staticdj.com\/37d5beebd763f514f6b7734a153a1992_360.png 360w, https:\/\/img.staticdj.com\/37d5beebd763f514f6b7734a153a1992_540.png 540w, https:\/\/img.staticdj.com\/37d5beebd763f514f6b7734a153a1992_720.png 720w, https:\/\/img.staticdj.com\/37d5beebd763f514f6b7734a153a1992_900.png 900w, https:\/\/img.staticdj.com\/37d5beebd763f514f6b7734a153a1992_1024.png 1024w, https:\/\/img.staticdj.com\/37d5beebd763f514f6b7734a153a1992_1280.png 1280w, https:\/\/img.staticdj.com\/37d5beebd763f514f6b7734a153a1992_1366.png 1366w, https:\/\/img.staticdj.com\/37d5beebd763f514f6b7734a153a1992_1440.png 1440w, https:\/\/img.staticdj.com\/37d5beebd763f514f6b7734a153a1992_1536.png 1536w, https:\/\/img.staticdj.com\/37d5beebd763f514f6b7734a153a1992_1600.png 1600w, https:\/\/img.staticdj.com\/37d5beebd763f514f6b7734a153a1992_1920.png 1920w, https:\/\/img.staticdj.com\/37d5beebd763f514f6b7734a153a1992_2056.png 2056w, https:\/\/img.staticdj.com\/37d5beebd763f514f6b7734a153a1992_2560.png 2560w, https:\/\/img.staticdj.com\/37d5beebd763f514f6b7734a153a1992_2732.png 2732w, https:\/\/img.staticdj.com\/37d5beebd763f514f6b7734a153a1992_2880.png 2880w, https:\/\/img.staticdj.com\/37d5beebd763f514f6b7734a153a1992_3072.png 3072w, https:\/\/img.staticdj.com\/37d5beebd763f514f6b7734a153a1992_3200.png 3200w, https:\/\/img.staticdj.com\/37d5beebd763f514f6b7734a153a1992_3840.png 3840w\" alt=\"\" width=\"440\" height=\"440\" data-srcset=\"https:\/\/img.staticdj.com\/37d5beebd763f514f6b7734a153a1992_48.png 48w, https:\/\/img.staticdj.com\/37d5beebd763f514f6b7734a153a1992_180.png 180w, https:\/\/img.staticdj.com\/37d5beebd763f514f6b7734a153a1992_360.png 360w, https:\/\/img.staticdj.com\/37d5beebd763f514f6b7734a153a1992_540.png 540w, https:\/\/img.staticdj.com\/37d5beebd763f514f6b7734a153a1992_720.png 720w, https:\/\/img.staticdj.com\/37d5beebd763f514f6b7734a153a1992_900.png 900w, https:\/\/img.staticdj.com\/37d5beebd763f514f6b7734a153a1992_1024.png 1024w, https:\/\/img.staticdj.com\/37d5beebd763f514f6b7734a153a1992_1280.png 1280w, https:\/\/img.staticdj.com\/37d5beebd763f514f6b7734a153a1992_1366.png 1366w, https:\/\/img.staticdj.com\/37d5beebd763f514f6b7734a153a1992_1440.png 1440w, https:\/\/img.staticdj.com\/37d5beebd763f514f6b7734a153a1992_1536.png 1536w, https:\/\/img.staticdj.com\/37d5beebd763f514f6b7734a153a1992_1600.png 1600w, https:\/\/img.staticdj.com\/37d5beebd763f514f6b7734a153a1992_1920.png 1920w, https:\/\/img.staticdj.com\/37d5beebd763f514f6b7734a153a1992_2056.png 2056w, https:\/\/img.staticdj.com\/37d5beebd763f514f6b7734a153a1992_2560.png 2560w, https:\/\/img.staticdj.com\/37d5beebd763f514f6b7734a153a1992_2732.png 2732w, https:\/\/img.staticdj.com\/37d5beebd763f514f6b7734a153a1992_2880.png 2880w, https:\/\/img.staticdj.com\/37d5beebd763f514f6b7734a153a1992_3072.png 3072w, https:\/\/img.staticdj.com\/37d5beebd763f514f6b7734a153a1992_3200.png 3200w, https:\/\/img.staticdj.com\/37d5beebd763f514f6b7734a153a1992_3840.png 3840w\" data-mce-fragment=\"1\"\u003e\u003c\/strong\u003e\u003c\/span\u003e\u003c\/p\u003e\n\u003c\/div\u003e\n\u003cdiv data-mce-fragment=\"1\"\u003e\u003cspan style=\"color: #ff8000;\" data-mce-fragment=\"1\"\u003e\u003cstrong data-mce-fragment=\"1\"\u003eSpecifications:\u003c\/strong\u003e\u003c\/span\u003e\u003c\/div\u003e\n\u003cdiv data-mce-fragment=\"1\"\u003e\n\u003cul data-mce-fragment=\"1\"\u003e\n\u003cli data-mce-fragment=\"1\"\u003eMaterial: ABS + stainless steel\u003c\/li\u003e\n\u003cli data-mce-fragment=\"1\"\u003ePlug: US Plug \/ EU Plug \u003c\/li\u003e\n\u003cli data-mce-fragment=\"1\"\u003eVoltage: 110V\/220V\u003c\/li\u003e\n\u003cli data-mce-fragment=\"1\"\u003ePower: 50W\u003c\/li\u003e\n\u003cli data-mce-fragment=\"1\"\u003eColor: Red\/Blue\/Yellow\u003c\/li\u003e\n\u003cli data-mce-fragment=\"1\"\u003eCable Length: 1.5m\u003c\/li\u003e\n\u003c\/ul\u003e\n\u003c\/div\u003e\n\u003cdiv data-mce-fragment=\"1\"\u003e\u003cspan style=\"color: #ff8000;\" data-mce-fragment=\"1\"\u003e\u003cstrong data-mce-fragment=\"1\"\u003ePackage Includes:\u003c\/strong\u003e\u003c\/span\u003e\u003c\/div\u003e\n\u003cdiv data-mce-fragment=\"1\"\u003e\n\u003cul data-mce-fragment=\"1\"\u003e\n\u003cli data-mce-fragment=\"1\"\u003e1 * Plastics Welding Machine\u003c\/li\u003e\n\u003cli data-mce-fragment=\"1\"\u003e50 * Flat Staples\u003c\/li\u003e\n\u003cli data-mce-fragment=\"1\"\u003e50 * Outside Corner Staples\u003c\/li\u003e\n\u003cli data-mce-fragment=\"1\"\u003e50 * Inside Corner Staples\u003c\/li\u003e\n\u003cli data-mce-fragment=\"1\"\u003e50 * Wave Staples\u003c\/li\u003e\n\u003cli data-mce-fragment=\"1\"\u003e1 * Plier\u003c\/li\u003e\n\u003cli data-mce-fragment=\"1\"\u003e1 * Utility Knife\u003c\/li\u003e\n\u003cli data-mce-fragment=\"1\"\u003e1 * Carry Case\u003c\/li\u003e\n\u003c\/ul\u003e\n\u003c\/div\u003e"}
Professional Car Bumper Crack Repair Welding Machine Set
Adding product to your cart
Melting the Staple in the Plastic Give it Way,Easy to Use!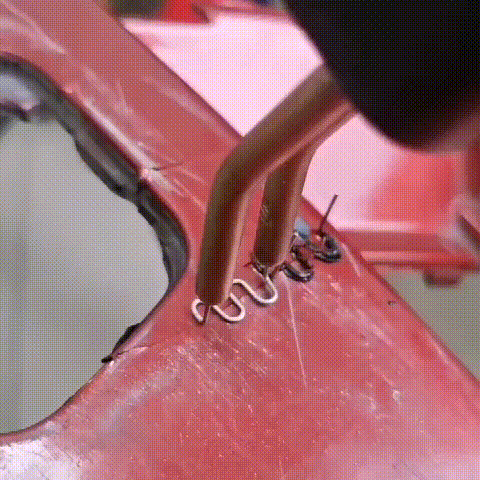 This welding machine is easy to use for repairing plastic bumpers, motorcycle, lawn mower and other thermoplastic plastics, and compared with welding, adhesives, epoxies, etc. 
No training, you can use the staple and have done in a few minutes. The repaired kit is very sturdy as just like new.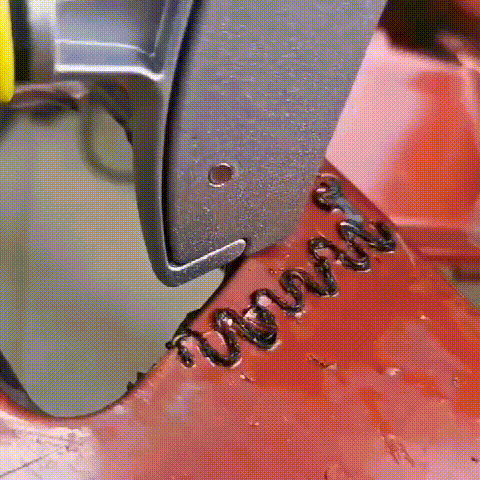 Fuctions:
1. Dissolve plastic (free of plant-nail), dissolve packing, repair hole and eliminate cracks.
2. Plant-nail. match various repair nails, and repair horizontal, vertical, long and short cracks.
3. Hot smoothing. Heat and smoonth the plastic, and dissolve it, the intensity and appearance is increased.
4.Thermal cutting.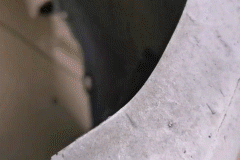 Features:
Instant Repair: Restore your broken parts, prolong its service life. Strong for shock and twist after repairing.
Wide Application: Suitable for repairing bumper, dashboard, lamp holder, plastic ring, radiator, car and motorcycle

 

plastic device.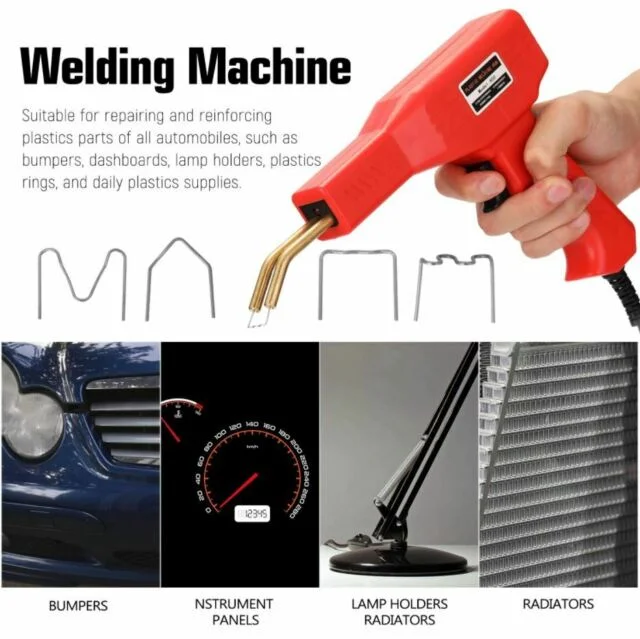 Comfortable Handle: The rubber handle has a comfortable grip and will not feel tired for a long time holding. Quick and easy operation.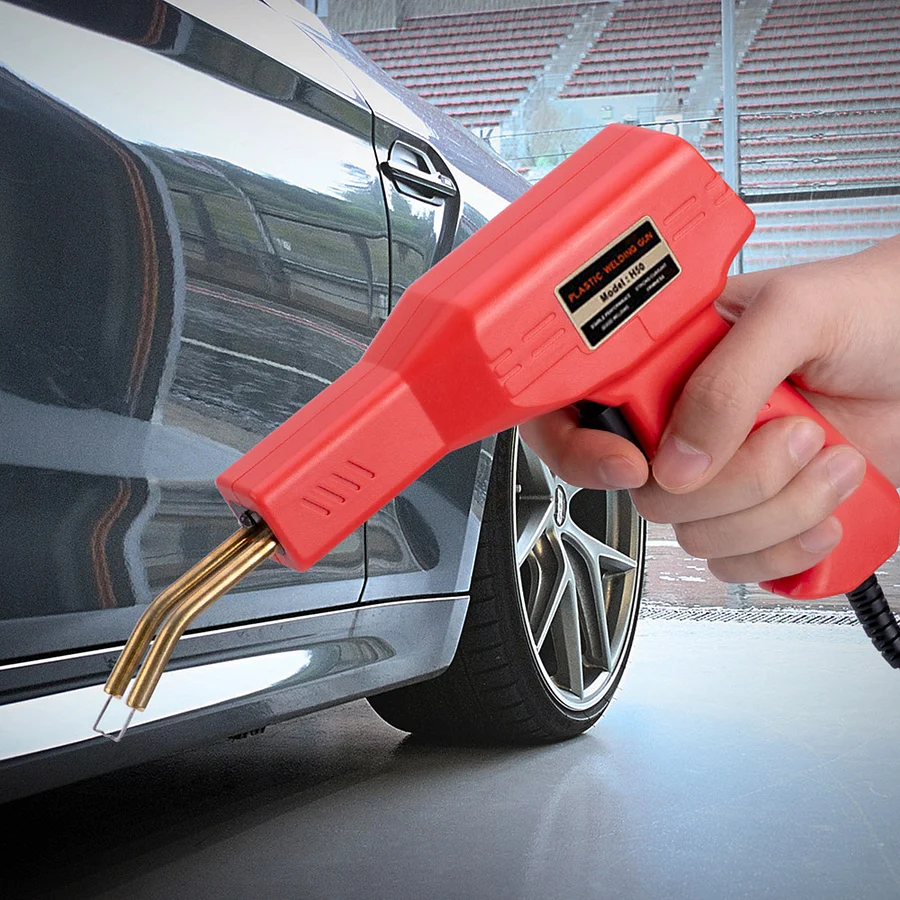 Easy to Use: Various types of nails to meet your different needs. No training required. Learn to use in seconds.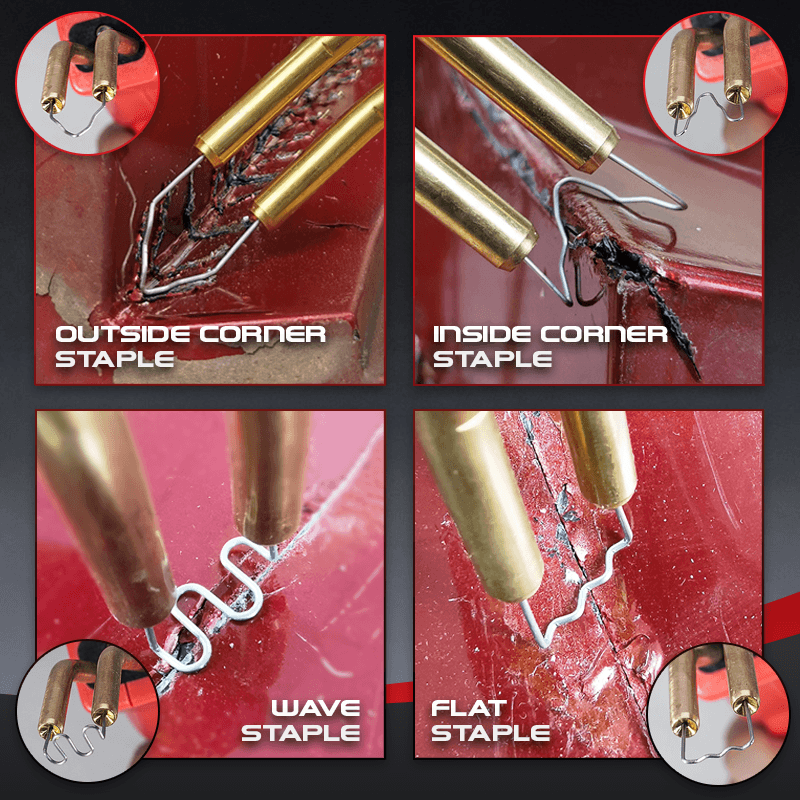 Specifications:
Material: ABS + stainless steel
Plug: US Plug / EU Plug 
Voltage: 110V/220V
Power: 50W
Color: Red/Blue/Yellow
Cable Length: 1.5m
Package Includes:
1 * Plastics Welding Machine
50 * Flat Staples
50 * Outside Corner Staples
50 * Inside Corner Staples
50 * Wave Staples
1 * Plier
1 * Utility Knife
1 * Carry Case