{"id":6965304328346,"title":"Portable Cosmetic Storage Case","handle":"portable-cosmetic-storage-case","description":"\u003c!-- Build time: 2019-11-14 14:45:41 --\u003e \u003c!--\n * @Description: listing build template\n --\u003e\n\u003cstyle\u003e\u003c!--\n.listing-build-item table {\n width: 100% !important;\n margin: 5px 0 !important;\n border-collapse: collapse !important;\n table-layout: initial;\n }\n\n .listing-build-item table ul li,\n .listing-build-item table dl dd,\n .listing-build-item table dl dt {\n list-style:outside none !important;\n margin:0 !important;\n }\n\n .listing-build-item table ul,\n .listing-build-item table dl {\n margin-left: 0 !important;\n }\n\n .listing-build-item table tr\u003etd,\n .listing-build-item table tr\u003eth {\n padding: 10px 14px !important;\n font-size: 14px !important;\n border: 1px solid #cbcbcb !important;\n background-clip: padding-box !important;\n position: relative !important;\n letter-spacing:initial !important;\n text-align: left !important;\n }\n\n .listing-build-item table tr\u003eth {\n font-weight: 600 !important;\n }\n\n .listing-build-item h3 {\n color: #000 !important;\n font-size: 20px !important;\n font-weight: 600 !important;\n margin: 0 !important;\n padding: 10px 0 !important;\n text-align: left !important;\n }\n .listing-build-item table th,.listing-build-item h5{\n color:#000 !important;\n }\n .listing-build-item ul li,\n .listing-build-item dl dd,\n .listing-build-item dl dt {\n list-style: disc outside !important;\n margin: 0 0 3px 18px !important;\n padding:0;\n }\n\n\n .listing-build-item {\n margin-bottom: 30px !important;\n }\n\n .listing-build-item ul,\n .listing-build-item dl {\n margin: 0 !important;\n padding:0 !important;\n list-style:outside none !important\n }\n\n .listing-build-item .img-box {\n margin: 10px 0 !important;\n }\n\n .listing-build-item .img-box img {\n height: auto !important;\n max-width: 100% !important;\n margin: 0 !important;\n padding: 0 !important;\n display: block !important;\n }\n @media screen and (min-width: 992px){\n .listing-build-item table tr\u003eth {\n width: 180px !important;\n }\n }\n @media screen and (max-width: 750px){\n .listing-build-item table tr\u003eth {\n width: 100px !important;\n }\n }\n\n .listing-build-item tr:first-child th:after,\n .listing-build-item tr:first-child td:after {\n border: initial !important;\n }\n\n .listing-build-item ul\u003eli:last-child,\n .listing-build-item ul.features\u003eli:last-child,\n .listing-build-item ul\u003eli.package-row:last-child {\n margin-bottom: 0 !important;\n }\n .listing-build-item ul.features li,.listing-build-item ul li.package-row{\n margin-bottom:7px !important;\n }\n .listing-build-item h5{\n margin: 20px 0 5px 0 !important;\n font-weight: 600 !important;\n text-align: left !important;\n }\n .listing-build-item strong{\n font-weight: 600 !important;\n }\n--\u003e\u003c\/style\u003e\n\u003c!-- BEGIN features --\u003e\n\u003cdiv class=\"listing-build-item\"\u003e\u003cspan style=\"color: #ae4cc2;\"\u003eThis is a very practical and compact bag. It fits well in a Suitcase, holds plenty and could hang in all sorts of places. You can change the internal compartments due to the adjustable padded dividers. The Cosmetic Storage case is made of premium nylon fabric, making it waterproof, very durable and lightweight to carry.\u003c\/span\u003e\u003c\/div\u003e\n\u003cdiv class=\"listing-build-item\"\u003e\u003cspan style=\"color: #ae4cc2;\"\u003e\u003cimg src=\"https:\/\/media.giphy.com\/media\/IhJHQTEVN4v5e4vxOg\/giphy.gif\" style=\"display: block; margin-left: auto; margin-right: auto;\" width=\"436\" height=\"436\"\u003e\u003c\/span\u003e\u003c\/div\u003e\n\u003ch3\u003e\u003cspan style=\"color: #a70ca7;\"\u003eMain Features\u003c\/span\u003e\u003c\/h3\u003e\n\u003cul class=\"features\"\u003e\n\u003cli\u003e\n\u003cp\u003e\u003cstrong\u003eDURABLE \u0026amp; STYLISH\u003c\/strong\u003e\u003c\/p\u003e\n\u003cp\u003eHigh-quality wear-resistant, easy-cleaning, and quick-drying oxford exterior; long-lasting selected zipper; classic solid black design comes simple and elegant\u003c\/p\u003e\n\u003c\/li\u003e\n\u003cli\u003e\n\u003cp\u003e\u003cstrong\u003eUNIQUE DESIGN\u003c\/strong\u003e\u003c\/p\u003e\n\u003cp\u003eYou can DIY your internal compartments by the 6 adjustable dividers, and storage cosmetic by type, easy to find makeup what you need\u003c\/p\u003e\n\u003c\/li\u003e\n\u003cli\u003e\n\u003cp\u003e\u003cstrong\u003eEASY TO CARRY\u003c\/strong\u003e\u003c\/p\u003e\n\u003cp\u003eMini size weighs 1.9 pounds, easy to carry and put in a suitcase, perfect for travel.\u003c\/p\u003e\n\u003c\/li\u003e\n\u003c\/ul\u003e\n\u003c!-- END features --\u003e \u003c!-- BEGIN usage_scene --\u003e\n\u003ch3\u003e\u003cspan style=\"color: #a40aa4;\"\u003e\u003cimg src=\"https:\/\/media.giphy.com\/media\/S4ATgcuKCkfAqsmQlh\/giphy.gif\" style=\"display: block; margin-left: auto; margin-right: auto;\" width=\"463\" height=\"463\"\u003e\u003c\/span\u003e\u003c\/h3\u003e\n\u003ch3\u003e\u003cspan style=\"color: #a40aa4;\"\u003eUsage Scenarios\u003c\/span\u003e\u003c\/h3\u003e\n\u003cul\u003e\n\u003cli\u003eThe Case can storage your lipstick, lip gloss, makeup brushes, eyeshadow, makeup palettes, hairbrushes, skincare products, nail polish, nail art tools, shampoo, etc.\u003c\/li\u003e\n\u003c\/ul\u003e\n\u003c!-- END usage_scene --\u003e \u003c!-- BEGIN using_text --\u003e \u003c!-- END using_text --\u003e \u003c!-- BEGIN specification --\u003e\n\u003cdiv class=\"listing-build-item\"\u003e\n\u003ch3\u003e\u003cspan style=\"color: #a90aa9;\"\u003eSpecifications\u003c\/span\u003e\u003c\/h3\u003e\n\u003ctable style=\"width: 647px;\"\u003e\n\u003c!-- BEGIN specification_material --\u003e\n\u003ctbody\u003e\n\u003ctr\u003e\n\u003cth scope=\"row\" class=\"specification-th\" style=\"width: 231px;\"\u003eMaterials\u003c\/th\u003e\n\u003ctd class=\"specification-td\" style=\"width: 358px;\"\u003e\n\u003cul\u003e\n\u003cli\u003eFabric Material: Oxford Cloth\u003c\/li\u003e\n\u003cli\u003eDivider \u0026amp; Internal Case Material: EVA\u003c\/li\u003e\n\u003c\/ul\u003e\n\u003c\/td\u003e\n\u003c\/tr\u003e\n\u003c!-- END specification_material --\u003e \u003c!-- BEGIN specification_custom_attribute --\u003e \u003c!-- END specification_custom_attribute --\u003e \u003c!-- BEGIN specification_models --\u003e \u003c!-- END specification_models --\u003e \u003c!-- BEGIN specification_colors --\u003e\n\u003ctr\u003e\n\u003cth scope=\"row\" style=\"width: 231px;\"\u003eColors\u003c\/th\u003e\n\u003ctd style=\"width: 358px;\"\u003e\n\u003cul\u003e\n\u003cli\u003eBlack\u003c\/li\u003e\n\u003cli\u003eRose-red\u003c\/li\u003e\n\u003c\/ul\u003e\n\u003c\/td\u003e\n\u003c\/tr\u003e\n\u003c!-- END specification_colors --\u003e \u003c!-- BEGIN specification_size --\u003e \u003c!-- END specification_size --\u003e \u003c!-- BEGIN specification_weight --\u003e\n\u003ctr\u003e\n\u003cth scope=\"row\" style=\"width: 231px;\"\u003eProduct Weight\u003c\/th\u003e\n\u003ctd style=\"width: 358px;\"\u003e\n\u003cul\u003e\n\u003cli\u003e680g\u003c\/li\u003e\n\u003c\/ul\u003e\n\u003c\/td\u003e\n\u003c\/tr\u003e\n\u003c!-- END specification_weight --\u003e \u003c!-- BEGIN specification_weight --\u003e \u003c!-- END specification_weight --\u003e \u003c!-- BEGIN specification_many_package --\u003e\n\u003ctr\u003e\n\u003cth scope=\"row\" style=\"width: 231px;\"\u003ePackage Contents\u003c\/th\u003e\n\u003ctd style=\"width: 358px;\"\u003e\n\u003cul\u003e\n\u003cli\u003ePortable Cosmetic Storage Case × 1\u003c\/li\u003e\n\u003c\/ul\u003e\n\u003c\/td\u003e\n\u003c\/tr\u003e\n\u003c!-- END specification_one_package --\u003e\n\u003c\/tbody\u003e\n\u003c\/table\u003e\n\u003ch3 class=\"img-box\"\u003e\u003cspan style=\"color: #a90ba9;\"\u003e\u003cstrong\u003eSize Reference\u003c\/strong\u003e\u003c\/span\u003e\u003c\/h3\u003e\n\u003cp class=\"img-box\"\u003e\u003cimg src=\"https:\/\/cdn.shopify.com\/s\/files\/1\/0274\/6538\/4014\/products\/1_2f578b52-a9c0-4927-bdeb-bb84bd38ffdc_480x480.jpg?v=1584685357\" alt=\"\" style=\"display: block; margin-left: auto; margin-right: auto;\"\u003e\u003c\/p\u003e\n\u003c!-- END specification_size_img --\u003e\n\u003c\/div\u003e\n\u003c!-- END specification --\u003e \u003c!-- BEGIN note --\u003e\n\u003cdiv class=\"listing-build-item\"\u003e\n\u003ch3\u003e\u003cspan style=\"color: #ab0cab;\"\u003eNotes\u003c\/span\u003e\u003c\/h3\u003e\n\u003cul\u003e\n\u003c!-- BEGIN note_apply --\u003e \u003c!-- END note_apply --\u003e \u003c!-- BEGIN note_other --\u003e\n\u003cli\u003e\u003cspan style=\"color: #c92808;\"\u003e\u003cem\u003eDue to manual measurements, please allow slight measurement deviations.\u003c\/em\u003e\u003c\/span\u003e\u003c\/li\u003e\n\u003cli\u003e\u003cspan style=\"color: #c92808;\"\u003e\u003cem\u003eDue to the different display and lighting effects, the actual color of the item may be slightly different from the color displayed on the picture.\u003c\/em\u003e\u003c\/span\u003e\u003c\/li\u003e\n\u003c!-- END note_other --\u003e\n\u003c\/ul\u003e\n\u003c\/div\u003e\n\u003c!-- END note --\u003e","published_at":"2021-08-19T00:00:07-06:00","created_at":"2021-08-19T00:00:18-06:00","vendor":"Comfybear","type":"bag","tags":["Bags","Storage \u0026 Organizer"],"price":2699,"price_min":2699,"price_max":2699,"available":true,"price_varies":false,"compare_at_price":0,"compare_at_price_min":0,"compare_at_price_max":0,"compare_at_price_varies":false,"variants":[{"id":40666456752282,"title":"ROSE RED","option1":"ROSE RED","option2":null,"option3":null,"sku":"HT361-1","requires_shipping":true,"taxable":false,"featured_image":null,"available":true,"name":"Portable Cosmetic Storage Case - ROSE RED","public_title":"ROSE RED","options":["ROSE RED"],"price":2699,"weight":0,"compare_at_price":0,"inventory_management":null,"barcode":null,"requires_selling_plan":false,"selling_plan_allocations":[]},{"id":40666456785050,"title":"BLACK","option1":"BLACK","option2":null,"option3":null,"sku":"HT361-2","requires_shipping":true,"taxable":false,"featured_image":null,"available":true,"name":"Portable Cosmetic Storage Case - BLACK","public_title":"BLACK","options":["BLACK"],"price":2699,"weight":0,"compare_at_price":0,"inventory_management":null,"barcode":null,"requires_selling_plan":false,"selling_plan_allocations":[]}],"images":["\/\/www.luluwin.co.uk\/cdn\/shop\/products\/1_4abf4485-e05e-42d5-8e5f-a02e6558d132.jpg?v=1629352819","\/\/www.luluwin.co.uk\/cdn\/shop\/products\/2_30345eff-92ad-4045-8e5c-eff716bc7200.jpg?v=1629352819","\/\/www.luluwin.co.uk\/cdn\/shop\/products\/3_13ce719c-556b-4a65-9778-b12bf74bf990.jpg?v=1629352819","\/\/www.luluwin.co.uk\/cdn\/shop\/products\/4_41ef3792-f890-4515-b82e-8f2a20898850.jpg?v=1629352819","\/\/www.luluwin.co.uk\/cdn\/shop\/products\/6_66e41ac6-2fc2-4fb4-817f-816d8ecf555a.jpg?v=1629352819","\/\/www.luluwin.co.uk\/cdn\/shop\/products\/7_e19e6bff-9d22-4bc2-a587-a30ef2dcf727.jpg?v=1629352819","\/\/www.luluwin.co.uk\/cdn\/shop\/products\/8_e5de2218-2388-423d-9208-2fd12936a202.jpg?v=1629352819","\/\/www.luluwin.co.uk\/cdn\/shop\/products\/1_2f578b52-a9c0-4927-bdeb-bb84bd38ffdc.jpg?v=1629352819","\/\/www.luluwin.co.uk\/cdn\/shop\/products\/1_cc368ad2-6953-4bfe-9538-c955889eacac.png?v=1629352819","\/\/www.luluwin.co.uk\/cdn\/shop\/products\/1_8578c8cc-40d3-4102-b1d1-9e05e3854b81.png?v=1629352819"],"featured_image":"\/\/www.luluwin.co.uk\/cdn\/shop\/products\/1_4abf4485-e05e-42d5-8e5f-a02e6558d132.jpg?v=1629352819","options":["Color"],"media":[{"alt":null,"id":23269811552410,"position":1,"preview_image":{"aspect_ratio":1.0,"height":800,"width":800,"src":"\/\/www.luluwin.co.uk\/cdn\/shop\/products\/1_4abf4485-e05e-42d5-8e5f-a02e6558d132.jpg?v=1629352819"},"aspect_ratio":1.0,"height":800,"media_type":"image","src":"\/\/www.luluwin.co.uk\/cdn\/shop\/products\/1_4abf4485-e05e-42d5-8e5f-a02e6558d132.jpg?v=1629352819","width":800},{"alt":null,"id":23269811585178,"position":2,"preview_image":{"aspect_ratio":1.0,"height":800,"width":800,"src":"\/\/www.luluwin.co.uk\/cdn\/shop\/products\/2_30345eff-92ad-4045-8e5c-eff716bc7200.jpg?v=1629352819"},"aspect_ratio":1.0,"height":800,"media_type":"image","src":"\/\/www.luluwin.co.uk\/cdn\/shop\/products\/2_30345eff-92ad-4045-8e5c-eff716bc7200.jpg?v=1629352819","width":800},{"alt":null,"id":23269811617946,"position":3,"preview_image":{"aspect_ratio":1.0,"height":800,"width":800,"src":"\/\/www.luluwin.co.uk\/cdn\/shop\/products\/3_13ce719c-556b-4a65-9778-b12bf74bf990.jpg?v=1629352819"},"aspect_ratio":1.0,"height":800,"media_type":"image","src":"\/\/www.luluwin.co.uk\/cdn\/shop\/products\/3_13ce719c-556b-4a65-9778-b12bf74bf990.jpg?v=1629352819","width":800},{"alt":null,"id":23269811650714,"position":4,"preview_image":{"aspect_ratio":1.0,"height":800,"width":800,"src":"\/\/www.luluwin.co.uk\/cdn\/shop\/products\/4_41ef3792-f890-4515-b82e-8f2a20898850.jpg?v=1629352819"},"aspect_ratio":1.0,"height":800,"media_type":"image","src":"\/\/www.luluwin.co.uk\/cdn\/shop\/products\/4_41ef3792-f890-4515-b82e-8f2a20898850.jpg?v=1629352819","width":800},{"alt":null,"id":23269811683482,"position":5,"preview_image":{"aspect_ratio":1.0,"height":800,"width":800,"src":"\/\/www.luluwin.co.uk\/cdn\/shop\/products\/6_66e41ac6-2fc2-4fb4-817f-816d8ecf555a.jpg?v=1629352819"},"aspect_ratio":1.0,"height":800,"media_type":"image","src":"\/\/www.luluwin.co.uk\/cdn\/shop\/products\/6_66e41ac6-2fc2-4fb4-817f-816d8ecf555a.jpg?v=1629352819","width":800},{"alt":null,"id":23269811716250,"position":6,"preview_image":{"aspect_ratio":1.0,"height":800,"width":800,"src":"\/\/www.luluwin.co.uk\/cdn\/shop\/products\/7_e19e6bff-9d22-4bc2-a587-a30ef2dcf727.jpg?v=1629352819"},"aspect_ratio":1.0,"height":800,"media_type":"image","src":"\/\/www.luluwin.co.uk\/cdn\/shop\/products\/7_e19e6bff-9d22-4bc2-a587-a30ef2dcf727.jpg?v=1629352819","width":800},{"alt":null,"id":23269811749018,"position":7,"preview_image":{"aspect_ratio":1.0,"height":800,"width":800,"src":"\/\/www.luluwin.co.uk\/cdn\/shop\/products\/8_e5de2218-2388-423d-9208-2fd12936a202.jpg?v=1629352819"},"aspect_ratio":1.0,"height":800,"media_type":"image","src":"\/\/www.luluwin.co.uk\/cdn\/shop\/products\/8_e5de2218-2388-423d-9208-2fd12936a202.jpg?v=1629352819","width":800},{"alt":null,"id":23269811781786,"position":8,"preview_image":{"aspect_ratio":1.0,"height":460,"width":460,"src":"\/\/www.luluwin.co.uk\/cdn\/shop\/products\/1_2f578b52-a9c0-4927-bdeb-bb84bd38ffdc.jpg?v=1629352819"},"aspect_ratio":1.0,"height":460,"media_type":"image","src":"\/\/www.luluwin.co.uk\/cdn\/shop\/products\/1_2f578b52-a9c0-4927-bdeb-bb84bd38ffdc.jpg?v=1629352819","width":460},{"alt":null,"id":23269811814554,"position":9,"preview_image":{"aspect_ratio":1.0,"height":1030,"width":1030,"src":"\/\/www.luluwin.co.uk\/cdn\/shop\/products\/1_cc368ad2-6953-4bfe-9538-c955889eacac.png?v=1629352819"},"aspect_ratio":1.0,"height":1030,"media_type":"image","src":"\/\/www.luluwin.co.uk\/cdn\/shop\/products\/1_cc368ad2-6953-4bfe-9538-c955889eacac.png?v=1629352819","width":1030},{"alt":null,"id":23269811847322,"position":10,"preview_image":{"aspect_ratio":1.0,"height":1030,"width":1030,"src":"\/\/www.luluwin.co.uk\/cdn\/shop\/products\/1_8578c8cc-40d3-4102-b1d1-9e05e3854b81.png?v=1629352819"},"aspect_ratio":1.0,"height":1030,"media_type":"image","src":"\/\/www.luluwin.co.uk\/cdn\/shop\/products\/1_8578c8cc-40d3-4102-b1d1-9e05e3854b81.png?v=1629352819","width":1030}],"requires_selling_plan":false,"selling_plan_groups":[],"content":"\u003c!-- Build time: 2019-11-14 14:45:41 --\u003e \u003c!--\n * @Description: listing build template\n --\u003e\n\u003cstyle\u003e\u003c!--\n.listing-build-item table {\n width: 100% !important;\n margin: 5px 0 !important;\n border-collapse: collapse !important;\n table-layout: initial;\n }\n\n .listing-build-item table ul li,\n .listing-build-item table dl dd,\n .listing-build-item table dl dt {\n list-style:outside none !important;\n margin:0 !important;\n }\n\n .listing-build-item table ul,\n .listing-build-item table dl {\n margin-left: 0 !important;\n }\n\n .listing-build-item table tr\u003etd,\n .listing-build-item table tr\u003eth {\n padding: 10px 14px !important;\n font-size: 14px !important;\n border: 1px solid #cbcbcb !important;\n background-clip: padding-box !important;\n position: relative !important;\n letter-spacing:initial !important;\n text-align: left !important;\n }\n\n .listing-build-item table tr\u003eth {\n font-weight: 600 !important;\n }\n\n .listing-build-item h3 {\n color: #000 !important;\n font-size: 20px !important;\n font-weight: 600 !important;\n margin: 0 !important;\n padding: 10px 0 !important;\n text-align: left !important;\n }\n .listing-build-item table th,.listing-build-item h5{\n color:#000 !important;\n }\n .listing-build-item ul li,\n .listing-build-item dl dd,\n .listing-build-item dl dt {\n list-style: disc outside !important;\n margin: 0 0 3px 18px !important;\n padding:0;\n }\n\n\n .listing-build-item {\n margin-bottom: 30px !important;\n }\n\n .listing-build-item ul,\n .listing-build-item dl {\n margin: 0 !important;\n padding:0 !important;\n list-style:outside none !important\n }\n\n .listing-build-item .img-box {\n margin: 10px 0 !important;\n }\n\n .listing-build-item .img-box img {\n height: auto !important;\n max-width: 100% !important;\n margin: 0 !important;\n padding: 0 !important;\n display: block !important;\n }\n @media screen and (min-width: 992px){\n .listing-build-item table tr\u003eth {\n width: 180px !important;\n }\n }\n @media screen and (max-width: 750px){\n .listing-build-item table tr\u003eth {\n width: 100px !important;\n }\n }\n\n .listing-build-item tr:first-child th:after,\n .listing-build-item tr:first-child td:after {\n border: initial !important;\n }\n\n .listing-build-item ul\u003eli:last-child,\n .listing-build-item ul.features\u003eli:last-child,\n .listing-build-item ul\u003eli.package-row:last-child {\n margin-bottom: 0 !important;\n }\n .listing-build-item ul.features li,.listing-build-item ul li.package-row{\n margin-bottom:7px !important;\n }\n .listing-build-item h5{\n margin: 20px 0 5px 0 !important;\n font-weight: 600 !important;\n text-align: left !important;\n }\n .listing-build-item strong{\n font-weight: 600 !important;\n }\n--\u003e\u003c\/style\u003e\n\u003c!-- BEGIN features --\u003e\n\u003cdiv class=\"listing-build-item\"\u003e\u003cspan style=\"color: #ae4cc2;\"\u003eThis is a very practical and compact bag. It fits well in a Suitcase, holds plenty and could hang in all sorts of places. You can change the internal compartments due to the adjustable padded dividers. The Cosmetic Storage case is made of premium nylon fabric, making it waterproof, very durable and lightweight to carry.\u003c\/span\u003e\u003c\/div\u003e\n\u003cdiv class=\"listing-build-item\"\u003e\u003cspan style=\"color: #ae4cc2;\"\u003e\u003cimg src=\"https:\/\/media.giphy.com\/media\/IhJHQTEVN4v5e4vxOg\/giphy.gif\" style=\"display: block; margin-left: auto; margin-right: auto;\" width=\"436\" height=\"436\"\u003e\u003c\/span\u003e\u003c\/div\u003e\n\u003ch3\u003e\u003cspan style=\"color: #a70ca7;\"\u003eMain Features\u003c\/span\u003e\u003c\/h3\u003e\n\u003cul class=\"features\"\u003e\n\u003cli\u003e\n\u003cp\u003e\u003cstrong\u003eDURABLE \u0026amp; STYLISH\u003c\/strong\u003e\u003c\/p\u003e\n\u003cp\u003eHigh-quality wear-resistant, easy-cleaning, and quick-drying oxford exterior; long-lasting selected zipper; classic solid black design comes simple and elegant\u003c\/p\u003e\n\u003c\/li\u003e\n\u003cli\u003e\n\u003cp\u003e\u003cstrong\u003eUNIQUE DESIGN\u003c\/strong\u003e\u003c\/p\u003e\n\u003cp\u003eYou can DIY your internal compartments by the 6 adjustable dividers, and storage cosmetic by type, easy to find makeup what you need\u003c\/p\u003e\n\u003c\/li\u003e\n\u003cli\u003e\n\u003cp\u003e\u003cstrong\u003eEASY TO CARRY\u003c\/strong\u003e\u003c\/p\u003e\n\u003cp\u003eMini size weighs 1.9 pounds, easy to carry and put in a suitcase, perfect for travel.\u003c\/p\u003e\n\u003c\/li\u003e\n\u003c\/ul\u003e\n\u003c!-- END features --\u003e \u003c!-- BEGIN usage_scene --\u003e\n\u003ch3\u003e\u003cspan style=\"color: #a40aa4;\"\u003e\u003cimg src=\"https:\/\/media.giphy.com\/media\/S4ATgcuKCkfAqsmQlh\/giphy.gif\" style=\"display: block; margin-left: auto; margin-right: auto;\" width=\"463\" height=\"463\"\u003e\u003c\/span\u003e\u003c\/h3\u003e\n\u003ch3\u003e\u003cspan style=\"color: #a40aa4;\"\u003eUsage Scenarios\u003c\/span\u003e\u003c\/h3\u003e\n\u003cul\u003e\n\u003cli\u003eThe Case can storage your lipstick, lip gloss, makeup brushes, eyeshadow, makeup palettes, hairbrushes, skincare products, nail polish, nail art tools, shampoo, etc.\u003c\/li\u003e\n\u003c\/ul\u003e\n\u003c!-- END usage_scene --\u003e \u003c!-- BEGIN using_text --\u003e \u003c!-- END using_text --\u003e \u003c!-- BEGIN specification --\u003e\n\u003cdiv class=\"listing-build-item\"\u003e\n\u003ch3\u003e\u003cspan style=\"color: #a90aa9;\"\u003eSpecifications\u003c\/span\u003e\u003c\/h3\u003e\n\u003ctable style=\"width: 647px;\"\u003e\n\u003c!-- BEGIN specification_material --\u003e\n\u003ctbody\u003e\n\u003ctr\u003e\n\u003cth scope=\"row\" class=\"specification-th\" style=\"width: 231px;\"\u003eMaterials\u003c\/th\u003e\n\u003ctd class=\"specification-td\" style=\"width: 358px;\"\u003e\n\u003cul\u003e\n\u003cli\u003eFabric Material: Oxford Cloth\u003c\/li\u003e\n\u003cli\u003eDivider \u0026amp; Internal Case Material: EVA\u003c\/li\u003e\n\u003c\/ul\u003e\n\u003c\/td\u003e\n\u003c\/tr\u003e\n\u003c!-- END specification_material --\u003e \u003c!-- BEGIN specification_custom_attribute --\u003e \u003c!-- END specification_custom_attribute --\u003e \u003c!-- BEGIN specification_models --\u003e \u003c!-- END specification_models --\u003e \u003c!-- BEGIN specification_colors --\u003e\n\u003ctr\u003e\n\u003cth scope=\"row\" style=\"width: 231px;\"\u003eColors\u003c\/th\u003e\n\u003ctd style=\"width: 358px;\"\u003e\n\u003cul\u003e\n\u003cli\u003eBlack\u003c\/li\u003e\n\u003cli\u003eRose-red\u003c\/li\u003e\n\u003c\/ul\u003e\n\u003c\/td\u003e\n\u003c\/tr\u003e\n\u003c!-- END specification_colors --\u003e \u003c!-- BEGIN specification_size --\u003e \u003c!-- END specification_size --\u003e \u003c!-- BEGIN specification_weight --\u003e\n\u003ctr\u003e\n\u003cth scope=\"row\" style=\"width: 231px;\"\u003eProduct Weight\u003c\/th\u003e\n\u003ctd style=\"width: 358px;\"\u003e\n\u003cul\u003e\n\u003cli\u003e680g\u003c\/li\u003e\n\u003c\/ul\u003e\n\u003c\/td\u003e\n\u003c\/tr\u003e\n\u003c!-- END specification_weight --\u003e \u003c!-- BEGIN specification_weight --\u003e \u003c!-- END specification_weight --\u003e \u003c!-- BEGIN specification_many_package --\u003e\n\u003ctr\u003e\n\u003cth scope=\"row\" style=\"width: 231px;\"\u003ePackage Contents\u003c\/th\u003e\n\u003ctd style=\"width: 358px;\"\u003e\n\u003cul\u003e\n\u003cli\u003ePortable Cosmetic Storage Case × 1\u003c\/li\u003e\n\u003c\/ul\u003e\n\u003c\/td\u003e\n\u003c\/tr\u003e\n\u003c!-- END specification_one_package --\u003e\n\u003c\/tbody\u003e\n\u003c\/table\u003e\n\u003ch3 class=\"img-box\"\u003e\u003cspan style=\"color: #a90ba9;\"\u003e\u003cstrong\u003eSize Reference\u003c\/strong\u003e\u003c\/span\u003e\u003c\/h3\u003e\n\u003cp class=\"img-box\"\u003e\u003cimg src=\"https:\/\/cdn.shopify.com\/s\/files\/1\/0274\/6538\/4014\/products\/1_2f578b52-a9c0-4927-bdeb-bb84bd38ffdc_480x480.jpg?v=1584685357\" alt=\"\" style=\"display: block; margin-left: auto; margin-right: auto;\"\u003e\u003c\/p\u003e\n\u003c!-- END specification_size_img --\u003e\n\u003c\/div\u003e\n\u003c!-- END specification --\u003e \u003c!-- BEGIN note --\u003e\n\u003cdiv class=\"listing-build-item\"\u003e\n\u003ch3\u003e\u003cspan style=\"color: #ab0cab;\"\u003eNotes\u003c\/span\u003e\u003c\/h3\u003e\n\u003cul\u003e\n\u003c!-- BEGIN note_apply --\u003e \u003c!-- END note_apply --\u003e \u003c!-- BEGIN note_other --\u003e\n\u003cli\u003e\u003cspan style=\"color: #c92808;\"\u003e\u003cem\u003eDue to manual measurements, please allow slight measurement deviations.\u003c\/em\u003e\u003c\/span\u003e\u003c\/li\u003e\n\u003cli\u003e\u003cspan style=\"color: #c92808;\"\u003e\u003cem\u003eDue to the different display and lighting effects, the actual color of the item may be slightly different from the color displayed on the picture.\u003c\/em\u003e\u003c\/span\u003e\u003c\/li\u003e\n\u003c!-- END note_other --\u003e\n\u003c\/ul\u003e\n\u003c\/div\u003e\n\u003c!-- END note --\u003e"}
Portable Cosmetic Storage Case
Adding product to your cart
This is a very practical and compact bag. It fits well in a Suitcase, holds plenty and could hang in all sorts of places. You can change the internal compartments due to the adjustable padded dividers. The Cosmetic Storage case is made of premium nylon fabric, making it waterproof, very durable and lightweight to carry.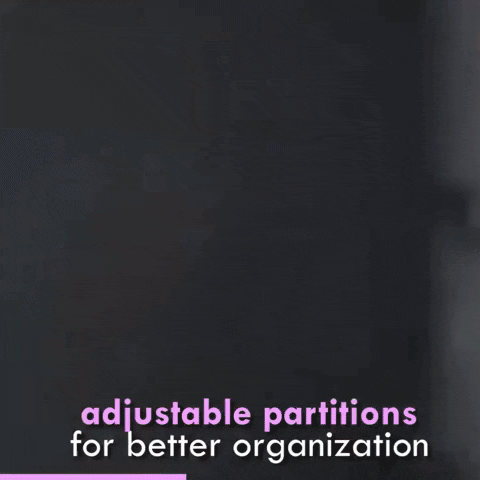 Main Features
DURABLE & STYLISH

High-quality wear-resistant, easy-cleaning, and quick-drying oxford exterior; long-lasting selected zipper; classic solid black design comes simple and elegant

UNIQUE DESIGN

You can DIY your internal compartments by the 6 adjustable dividers, and storage cosmetic by type, easy to find makeup what you need

EASY TO CARRY

Mini size weighs 1.9 pounds, easy to carry and put in a suitcase, perfect for travel.

Usage Scenarios
The Case can storage your lipstick, lip gloss, makeup brushes, eyeshadow, makeup palettes, hairbrushes, skincare products, nail polish, nail art tools, shampoo, etc.
Specifications
Materials

Fabric Material: Oxford Cloth
Divider & Internal Case Material: EVA

Colors
Product Weight
Package Contents

Portable Cosmetic Storage Case × 1
Size Reference
Notes
Due to manual measurements, please allow slight measurement deviations.
Due to the different display and lighting effects, the actual color of the item may be slightly different from the color displayed on the picture.