{"id":7761682563226,"title":"Ninja Disguise T-shirt","handle":"ninja-disguise-t-shirt-1","description":"\u003ch3 style=\"text-align: center;\"\u003e🙍‍♂\u003cspan style=\"color: #ff8000;\"\u003eNinja Disguise T-shirt\u003c\/span\u003e\n\u003c\/h3\u003e\n\u003cp\u003e\u003cimg style=\"display: block; margin-left: auto; margin-right: auto;\" src=\"https:\/\/cdn.hotishop.com\/image\/1f43995c642cc0d8ac2a2c361adb10ccbdc2e9a1.gif\"\u003e\u003c\/p\u003e\n\u003cdiv class=\"tlid-input input\"\u003e\n\u003cdiv class=\"source-wrap\"\u003e\n\u003cdiv class=\"input-full-height-wrapper tlid-input-full-height-wrapper\"\u003e\n\u003cdiv class=\"source-input\"\u003e\n\u003cdiv class=\"source-footer-wrap source-or-target-footer\"\u003e\n\u003cdiv class=\"character-count tlid-character-count\"\u003e\n\u003cdiv style=\"text-align: center;\" class=\"cc-ctr normal\"\u003e\n\u003cstrong\u003e😂🤣\"Just flip it over your head and BOOM! Instant Ninja Warrior!\"\u003c\/strong\u003e\u003cbr\u003e\n\u003c\/div\u003e\n\u003cdiv style=\"text-align: center;\" class=\"cc-ctr normal\"\u003e\u003cstrong\u003e\u003cimg height=\"294\" width=\"394\" src=\"https:\/\/cdn.shopify.com\/s\/files\/1\/0438\/4092\/9942\/products\/image_6c6ec7f1-0236-4991-bd82-7d0ef57b4f48_1024x1024@2x.jpg?v=1597659367\"\u003e\u003c\/strong\u003e\u003c\/div\u003e\n\u003cdiv style=\"text-align: left;\" class=\"cc-ctr normal\"\u003eWhile it may be a little bit of a stretch in this day and age. Still, it's always good to be prepared. Just in case you've never watched any classic Kung Fu movies on Saturday afternoons, the best way to avoid a Ninja is to blend in and hide.\u003cbr\u003e\u003cimg style=\"display: block; margin-left: auto; margin-right: auto;\" src=\"https:\/\/cdn.hotishop.com\/image\/070bf50d5f0ae7d76daa137e306aa74000fe44f9.gif\" data-mce-src=\"https:\/\/cdn.hotishop.com\/image\/070bf50d5f0ae7d76daa137e306aa74000fe44f9.gif\" data-mce-fragment=\"1\"\u003eNinja's work in the shadows. In order to elude them, you must blend in with your surroundings.\u003c\/div\u003e\n\u003cdiv style=\"text-align: left;\" class=\"cc-ctr normal\"\u003e\u003cimg style=\"display: block; margin-left: auto; margin-right: auto;\" src=\"https:\/\/cdn.hotishop.com\/image\/2022\/07\/f30af21f74b1bacf1e02d1a38bcc01e161831348bb1ce2b844062d90e0ba9811.gif\"\u003e\u003c\/div\u003e\n\u003cdiv style=\"text-align: left;\" class=\"cc-ctr normal\"\u003e\n\u003cp\u003e😂You could also become a Ninja yourself. Yes, that may sound like a bit of a stretch, but with this t-shirt, it's more attainable than you may think.\u003c\/p\u003e\n\u003cp\u003e\u003cimg style=\"display: block; margin-left: auto; margin-right: auto;\" src=\"https:\/\/cdn.hotishop.com\/image\/82fd7816467ffb8c6beededf9959383c99013d2e.png\"\u003e\u003c\/p\u003e\n\u003cp\u003e😎Our Ninja Disguise flip up t-shirt is the perfect way to attend to your INNER Ninja.\u003cstrong\u003e\u003cem\u003e\u003cbr\u003e\u003c\/em\u003e\u003c\/strong\u003e\u003c\/p\u003e\n\u003ch3\u003e\u003cspan style=\"color: #ff8000;\"\u003eSpecifications:\u003c\/span\u003e\u003c\/h3\u003e\n\u003cul\u003e\n\u003cli\u003e\u003cspan style=\"color: #000000;\"\u003eMaterial: Good quality cotton\u003c\/span\u003e\u003c\/li\u003e\n\u003cli\u003e\u003cspan style=\"color: #000000;\"\u003eCleaning Time: Suitable for washing machine (15 ° C, 20 minutes program)\u003c\/span\u003e\u003c\/li\u003e\n\u003cli\u003e\u003cspan style=\"color: #000000;\"\u003eColor: Black \/ Grey\u003c\/span\u003e\u003c\/li\u003e\n\u003cli\u003e\u003cspan style=\"color: #000000;\"\u003e\u003cstrong\u003eSize chart\u003c\/strong\u003e\u003c\/span\u003e\u003c\/li\u003e\n\u003c\/ul\u003e\n\u003cp\u003e\u003cimg src=\"https:\/\/cdn.shopify.com\/s\/files\/1\/0572\/7662\/9167\/files\/7eaf42a72fdcaf927d9b8d8bc4e0864d_ccb9f9b5-2f73-4e6b-b9bc-911144b0cc85_480x480.png?v=1679489734\" alt=\"\" style=\"display: block; margin-left: auto; margin-right: auto;\" data-mce-fragment=\"1\" data-mce-src=\"https:\/\/cdn.shopify.com\/s\/files\/1\/0572\/7662\/9167\/files\/7eaf42a72fdcaf927d9b8d8bc4e0864d_ccb9f9b5-2f73-4e6b-b9bc-911144b0cc85_480x480.png?v=1679489734\"\u003e\u003c\/p\u003e\n\u003ch3\u003e\u003cspan style=\"color: #ff8000;\"\u003ePackage includes:\u003c\/span\u003e\u003c\/h3\u003e\n\u003cul\u003e\n\u003cli\u003e\u003cspan style=\"color: #000000;\"\u003e1* Ninja Disguise T-shirt\u003c\/span\u003e\u003c\/li\u003e\n\u003c\/ul\u003e\n\u003c\/div\u003e\n\u003cdiv style=\"text-align: center;\" class=\"cc-ctr normal\"\u003e\u003cstrong\u003e\u003c\/strong\u003e\u003c\/div\u003e\n\u003c\/div\u003e\n\u003c\/div\u003e\n\u003c\/div\u003e\n\u003c\/div\u003e\n\u003c\/div\u003e\n\u003c\/div\u003e","published_at":"2023-03-23T23:27:03-06:00","created_at":"2023-03-23T23:27:10-06:00","vendor":"luluwin","type":"","tags":["t-shirt"],"price":1999,"price_min":1999,"price_max":1999,"available":true,"price_varies":false,"compare_at_price":2999,"compare_at_price_min":2999,"compare_at_price_max":2999,"compare_at_price_varies":false,"variants":[{"id":43447980228762,"title":"Black \/ S","option1":"Black","option2":"S","option3":null,"sku":"TS13402-C001-S00S","requires_shipping":true,"taxable":false,"featured_image":{"id":36661198291098,"product_id":7761682563226,"position":8,"created_at":"2023-03-23T23:27:24-06:00","updated_at":"2023-03-23T23:27:24-06:00","alt":null,"width":800,"height":800,"src":"\/\/www.luluwin.co.uk\/cdn\/shop\/products\/4_649627e4-2b65-441b-b314-67fb4ae1261a.jpg?v=1679635644","variant_ids":[43447980228762,43447980261530,43447980294298,43447980327066,43447980359834,43447980392602]},"available":true,"name":"Ninja Disguise T-shirt - Black \/ S","public_title":"Black \/ S","options":["Black","S"],"price":1999,"weight":0,"compare_at_price":2999,"inventory_management":null,"barcode":null,"featured_media":{"alt":null,"id":29169193484442,"position":8,"preview_image":{"aspect_ratio":1.0,"height":800,"width":800,"src":"\/\/www.luluwin.co.uk\/cdn\/shop\/products\/4_649627e4-2b65-441b-b314-67fb4ae1261a.jpg?v=1679635644"}},"requires_selling_plan":false,"selling_plan_allocations":[]},{"id":43447980261530,"title":"Black \/ M","option1":"Black","option2":"M","option3":null,"sku":"TS13402-C001-S00M","requires_shipping":true,"taxable":false,"featured_image":{"id":36661198291098,"product_id":7761682563226,"position":8,"created_at":"2023-03-23T23:27:24-06:00","updated_at":"2023-03-23T23:27:24-06:00","alt":null,"width":800,"height":800,"src":"\/\/www.luluwin.co.uk\/cdn\/shop\/products\/4_649627e4-2b65-441b-b314-67fb4ae1261a.jpg?v=1679635644","variant_ids":[43447980228762,43447980261530,43447980294298,43447980327066,43447980359834,43447980392602]},"available":true,"name":"Ninja Disguise T-shirt - Black \/ M","public_title":"Black \/ M","options":["Black","M"],"price":1999,"weight":0,"compare_at_price":2999,"inventory_management":null,"barcode":null,"featured_media":{"alt":null,"id":29169193484442,"position":8,"preview_image":{"aspect_ratio":1.0,"height":800,"width":800,"src":"\/\/www.luluwin.co.uk\/cdn\/shop\/products\/4_649627e4-2b65-441b-b314-67fb4ae1261a.jpg?v=1679635644"}},"requires_selling_plan":false,"selling_plan_allocations":[]},{"id":43447980294298,"title":"Black \/ L","option1":"Black","option2":"L","option3":null,"sku":"TS13402-C001-S00L","requires_shipping":true,"taxable":false,"featured_image":{"id":36661198291098,"product_id":7761682563226,"position":8,"created_at":"2023-03-23T23:27:24-06:00","updated_at":"2023-03-23T23:27:24-06:00","alt":null,"width":800,"height":800,"src":"\/\/www.luluwin.co.uk\/cdn\/shop\/products\/4_649627e4-2b65-441b-b314-67fb4ae1261a.jpg?v=1679635644","variant_ids":[43447980228762,43447980261530,43447980294298,43447980327066,43447980359834,43447980392602]},"available":true,"name":"Ninja Disguise T-shirt - Black \/ L","public_title":"Black \/ L","options":["Black","L"],"price":1999,"weight":0,"compare_at_price":2999,"inventory_management":null,"barcode":null,"featured_media":{"alt":null,"id":29169193484442,"position":8,"preview_image":{"aspect_ratio":1.0,"height":800,"width":800,"src":"\/\/www.luluwin.co.uk\/cdn\/shop\/products\/4_649627e4-2b65-441b-b314-67fb4ae1261a.jpg?v=1679635644"}},"requires_selling_plan":false,"selling_plan_allocations":[]},{"id":43447980327066,"title":"Black \/ XL","option1":"Black","option2":"XL","option3":null,"sku":"TS13402-C001-S00X","requires_shipping":true,"taxable":false,"featured_image":{"id":36661198291098,"product_id":7761682563226,"position":8,"created_at":"2023-03-23T23:27:24-06:00","updated_at":"2023-03-23T23:27:24-06:00","alt":null,"width":800,"height":800,"src":"\/\/www.luluwin.co.uk\/cdn\/shop\/products\/4_649627e4-2b65-441b-b314-67fb4ae1261a.jpg?v=1679635644","variant_ids":[43447980228762,43447980261530,43447980294298,43447980327066,43447980359834,43447980392602]},"available":true,"name":"Ninja Disguise T-shirt - Black \/ XL","public_title":"Black \/ XL","options":["Black","XL"],"price":1999,"weight":0,"compare_at_price":2999,"inventory_management":null,"barcode":null,"featured_media":{"alt":null,"id":29169193484442,"position":8,"preview_image":{"aspect_ratio":1.0,"height":800,"width":800,"src":"\/\/www.luluwin.co.uk\/cdn\/shop\/products\/4_649627e4-2b65-441b-b314-67fb4ae1261a.jpg?v=1679635644"}},"requires_selling_plan":false,"selling_plan_allocations":[]},{"id":43447980359834,"title":"Black \/ 2XL","option1":"Black","option2":"2XL","option3":null,"sku":"TS13402-C001-S02X","requires_shipping":true,"taxable":false,"featured_image":{"id":36661198291098,"product_id":7761682563226,"position":8,"created_at":"2023-03-23T23:27:24-06:00","updated_at":"2023-03-23T23:27:24-06:00","alt":null,"width":800,"height":800,"src":"\/\/www.luluwin.co.uk\/cdn\/shop\/products\/4_649627e4-2b65-441b-b314-67fb4ae1261a.jpg?v=1679635644","variant_ids":[43447980228762,43447980261530,43447980294298,43447980327066,43447980359834,43447980392602]},"available":true,"name":"Ninja Disguise T-shirt - Black \/ 2XL","public_title":"Black \/ 2XL","options":["Black","2XL"],"price":1999,"weight":0,"compare_at_price":2999,"inventory_management":null,"barcode":null,"featured_media":{"alt":null,"id":29169193484442,"position":8,"preview_image":{"aspect_ratio":1.0,"height":800,"width":800,"src":"\/\/www.luluwin.co.uk\/cdn\/shop\/products\/4_649627e4-2b65-441b-b314-67fb4ae1261a.jpg?v=1679635644"}},"requires_selling_plan":false,"selling_plan_allocations":[]},{"id":43447980392602,"title":"Black \/ 3XL","option1":"Black","option2":"3XL","option3":null,"sku":"TS13402-C001-S03X","requires_shipping":true,"taxable":false,"featured_image":{"id":36661198291098,"product_id":7761682563226,"position":8,"created_at":"2023-03-23T23:27:24-06:00","updated_at":"2023-03-23T23:27:24-06:00","alt":null,"width":800,"height":800,"src":"\/\/www.luluwin.co.uk\/cdn\/shop\/products\/4_649627e4-2b65-441b-b314-67fb4ae1261a.jpg?v=1679635644","variant_ids":[43447980228762,43447980261530,43447980294298,43447980327066,43447980359834,43447980392602]},"available":true,"name":"Ninja Disguise T-shirt - Black \/ 3XL","public_title":"Black \/ 3XL","options":["Black","3XL"],"price":1999,"weight":0,"compare_at_price":2999,"inventory_management":null,"barcode":null,"featured_media":{"alt":null,"id":29169193484442,"position":8,"preview_image":{"aspect_ratio":1.0,"height":800,"width":800,"src":"\/\/www.luluwin.co.uk\/cdn\/shop\/products\/4_649627e4-2b65-441b-b314-67fb4ae1261a.jpg?v=1679635644"}},"requires_selling_plan":false,"selling_plan_allocations":[]},{"id":43447980425370,"title":"Grey \/ S","option1":"Grey","option2":"S","option3":null,"sku":"TS13402-C006-S00S","requires_shipping":true,"taxable":false,"featured_image":{"id":36661198258330,"product_id":7761682563226,"position":7,"created_at":"2023-03-23T23:27:22-06:00","updated_at":"2023-03-23T23:27:22-06:00","alt":null,"width":800,"height":800,"src":"\/\/www.luluwin.co.uk\/cdn\/shop\/products\/3_d6c367dc-7285-4126-b8a5-02eb30ce4c2c.jpg?v=1679635642","variant_ids":[43447980425370,43447980458138,43447980490906,43447980523674,43447980556442,43447980589210]},"available":true,"name":"Ninja Disguise T-shirt - Grey \/ S","public_title":"Grey \/ S","options":["Grey","S"],"price":1999,"weight":0,"compare_at_price":2999,"inventory_management":null,"barcode":null,"featured_media":{"alt":null,"id":29169193451674,"position":7,"preview_image":{"aspect_ratio":1.0,"height":800,"width":800,"src":"\/\/www.luluwin.co.uk\/cdn\/shop\/products\/3_d6c367dc-7285-4126-b8a5-02eb30ce4c2c.jpg?v=1679635642"}},"requires_selling_plan":false,"selling_plan_allocations":[]},{"id":43447980458138,"title":"Grey \/ M","option1":"Grey","option2":"M","option3":null,"sku":"TS13402-C006-S00M","requires_shipping":true,"taxable":false,"featured_image":{"id":36661198258330,"product_id":7761682563226,"position":7,"created_at":"2023-03-23T23:27:22-06:00","updated_at":"2023-03-23T23:27:22-06:00","alt":null,"width":800,"height":800,"src":"\/\/www.luluwin.co.uk\/cdn\/shop\/products\/3_d6c367dc-7285-4126-b8a5-02eb30ce4c2c.jpg?v=1679635642","variant_ids":[43447980425370,43447980458138,43447980490906,43447980523674,43447980556442,43447980589210]},"available":true,"name":"Ninja Disguise T-shirt - Grey \/ M","public_title":"Grey \/ M","options":["Grey","M"],"price":1999,"weight":0,"compare_at_price":2999,"inventory_management":null,"barcode":null,"featured_media":{"alt":null,"id":29169193451674,"position":7,"preview_image":{"aspect_ratio":1.0,"height":800,"width":800,"src":"\/\/www.luluwin.co.uk\/cdn\/shop\/products\/3_d6c367dc-7285-4126-b8a5-02eb30ce4c2c.jpg?v=1679635642"}},"requires_selling_plan":false,"selling_plan_allocations":[]},{"id":43447980490906,"title":"Grey \/ L","option1":"Grey","option2":"L","option3":null,"sku":"TS13402-C006-S00L","requires_shipping":true,"taxable":false,"featured_image":{"id":36661198258330,"product_id":7761682563226,"position":7,"created_at":"2023-03-23T23:27:22-06:00","updated_at":"2023-03-23T23:27:22-06:00","alt":null,"width":800,"height":800,"src":"\/\/www.luluwin.co.uk\/cdn\/shop\/products\/3_d6c367dc-7285-4126-b8a5-02eb30ce4c2c.jpg?v=1679635642","variant_ids":[43447980425370,43447980458138,43447980490906,43447980523674,43447980556442,43447980589210]},"available":true,"name":"Ninja Disguise T-shirt - Grey \/ L","public_title":"Grey \/ L","options":["Grey","L"],"price":1999,"weight":0,"compare_at_price":2999,"inventory_management":null,"barcode":null,"featured_media":{"alt":null,"id":29169193451674,"position":7,"preview_image":{"aspect_ratio":1.0,"height":800,"width":800,"src":"\/\/www.luluwin.co.uk\/cdn\/shop\/products\/3_d6c367dc-7285-4126-b8a5-02eb30ce4c2c.jpg?v=1679635642"}},"requires_selling_plan":false,"selling_plan_allocations":[]},{"id":43447980523674,"title":"Grey \/ XL","option1":"Grey","option2":"XL","option3":null,"sku":"TS13402-C006-S00X","requires_shipping":true,"taxable":false,"featured_image":{"id":36661198258330,"product_id":7761682563226,"position":7,"created_at":"2023-03-23T23:27:22-06:00","updated_at":"2023-03-23T23:27:22-06:00","alt":null,"width":800,"height":800,"src":"\/\/www.luluwin.co.uk\/cdn\/shop\/products\/3_d6c367dc-7285-4126-b8a5-02eb30ce4c2c.jpg?v=1679635642","variant_ids":[43447980425370,43447980458138,43447980490906,43447980523674,43447980556442,43447980589210]},"available":true,"name":"Ninja Disguise T-shirt - Grey \/ XL","public_title":"Grey \/ XL","options":["Grey","XL"],"price":1999,"weight":0,"compare_at_price":2999,"inventory_management":null,"barcode":null,"featured_media":{"alt":null,"id":29169193451674,"position":7,"preview_image":{"aspect_ratio":1.0,"height":800,"width":800,"src":"\/\/www.luluwin.co.uk\/cdn\/shop\/products\/3_d6c367dc-7285-4126-b8a5-02eb30ce4c2c.jpg?v=1679635642"}},"requires_selling_plan":false,"selling_plan_allocations":[]},{"id":43447980556442,"title":"Grey \/ 2XL","option1":"Grey","option2":"2XL","option3":null,"sku":"TS13402-C006-S02X","requires_shipping":true,"taxable":false,"featured_image":{"id":36661198258330,"product_id":7761682563226,"position":7,"created_at":"2023-03-23T23:27:22-06:00","updated_at":"2023-03-23T23:27:22-06:00","alt":null,"width":800,"height":800,"src":"\/\/www.luluwin.co.uk\/cdn\/shop\/products\/3_d6c367dc-7285-4126-b8a5-02eb30ce4c2c.jpg?v=1679635642","variant_ids":[43447980425370,43447980458138,43447980490906,43447980523674,43447980556442,43447980589210]},"available":true,"name":"Ninja Disguise T-shirt - Grey \/ 2XL","public_title":"Grey \/ 2XL","options":["Grey","2XL"],"price":1999,"weight":0,"compare_at_price":2999,"inventory_management":null,"barcode":null,"featured_media":{"alt":null,"id":29169193451674,"position":7,"preview_image":{"aspect_ratio":1.0,"height":800,"width":800,"src":"\/\/www.luluwin.co.uk\/cdn\/shop\/products\/3_d6c367dc-7285-4126-b8a5-02eb30ce4c2c.jpg?v=1679635642"}},"requires_selling_plan":false,"selling_plan_allocations":[]},{"id":43447980589210,"title":"Grey \/ 3XL","option1":"Grey","option2":"3XL","option3":null,"sku":"TS13402-C006-S03X","requires_shipping":true,"taxable":false,"featured_image":{"id":36661198258330,"product_id":7761682563226,"position":7,"created_at":"2023-03-23T23:27:22-06:00","updated_at":"2023-03-23T23:27:22-06:00","alt":null,"width":800,"height":800,"src":"\/\/www.luluwin.co.uk\/cdn\/shop\/products\/3_d6c367dc-7285-4126-b8a5-02eb30ce4c2c.jpg?v=1679635642","variant_ids":[43447980425370,43447980458138,43447980490906,43447980523674,43447980556442,43447980589210]},"available":true,"name":"Ninja Disguise T-shirt - Grey \/ 3XL","public_title":"Grey \/ 3XL","options":["Grey","3XL"],"price":1999,"weight":0,"compare_at_price":2999,"inventory_management":null,"barcode":null,"featured_media":{"alt":null,"id":29169193451674,"position":7,"preview_image":{"aspect_ratio":1.0,"height":800,"width":800,"src":"\/\/www.luluwin.co.uk\/cdn\/shop\/products\/3_d6c367dc-7285-4126-b8a5-02eb30ce4c2c.jpg?v=1679635642"}},"requires_selling_plan":false,"selling_plan_allocations":[]}],"images":["\/\/www.luluwin.co.uk\/cdn\/shop\/products\/1_2630e1ca-20ff-423f-9878-40a4eba85d26.jpg?v=1679635630","\/\/www.luluwin.co.uk\/cdn\/shop\/products\/2_ac243820-be2b-4f95-b64d-c15619bb075d.jpg?v=1679635630","\/\/www.luluwin.co.uk\/cdn\/shop\/products\/5_3ce8b84b-a0a8-44ee-b652-48d0e920abac.jpg?v=1679635630","\/\/www.luluwin.co.uk\/cdn\/shop\/products\/6_73e99bdd-040d-482c-a249-4a4d4068b118.jpg?v=1679635630","\/\/www.luluwin.co.uk\/cdn\/shop\/products\/7_37c5af2b-d45a-4548-8e6b-11e870451943.jpg?v=1679635630","\/\/www.luluwin.co.uk\/cdn\/shop\/products\/8_3498aaef-556a-424b-be77-eb71b55c5bdb.jpg?v=1679635630","\/\/www.luluwin.co.uk\/cdn\/shop\/products\/3_d6c367dc-7285-4126-b8a5-02eb30ce4c2c.jpg?v=1679635642","\/\/www.luluwin.co.uk\/cdn\/shop\/products\/4_649627e4-2b65-441b-b314-67fb4ae1261a.jpg?v=1679635644"],"featured_image":"\/\/www.luluwin.co.uk\/cdn\/shop\/products\/1_2630e1ca-20ff-423f-9878-40a4eba85d26.jpg?v=1679635630","options":["Color","Size"],"media":[{"alt":null,"id":29169192665242,"position":1,"preview_image":{"aspect_ratio":1.0,"height":800,"width":800,"src":"\/\/www.luluwin.co.uk\/cdn\/shop\/products\/1_2630e1ca-20ff-423f-9878-40a4eba85d26.jpg?v=1679635630"},"aspect_ratio":1.0,"height":800,"media_type":"image","src":"\/\/www.luluwin.co.uk\/cdn\/shop\/products\/1_2630e1ca-20ff-423f-9878-40a4eba85d26.jpg?v=1679635630","width":800},{"alt":null,"id":29169192698010,"position":2,"preview_image":{"aspect_ratio":1.0,"height":800,"width":800,"src":"\/\/www.luluwin.co.uk\/cdn\/shop\/products\/2_ac243820-be2b-4f95-b64d-c15619bb075d.jpg?v=1679635630"},"aspect_ratio":1.0,"height":800,"media_type":"image","src":"\/\/www.luluwin.co.uk\/cdn\/shop\/products\/2_ac243820-be2b-4f95-b64d-c15619bb075d.jpg?v=1679635630","width":800},{"alt":null,"id":29169192730778,"position":3,"preview_image":{"aspect_ratio":1.0,"height":800,"width":800,"src":"\/\/www.luluwin.co.uk\/cdn\/shop\/products\/5_3ce8b84b-a0a8-44ee-b652-48d0e920abac.jpg?v=1679635630"},"aspect_ratio":1.0,"height":800,"media_type":"image","src":"\/\/www.luluwin.co.uk\/cdn\/shop\/products\/5_3ce8b84b-a0a8-44ee-b652-48d0e920abac.jpg?v=1679635630","width":800},{"alt":null,"id":29169192763546,"position":4,"preview_image":{"aspect_ratio":1.0,"height":800,"width":800,"src":"\/\/www.luluwin.co.uk\/cdn\/shop\/products\/6_73e99bdd-040d-482c-a249-4a4d4068b118.jpg?v=1679635630"},"aspect_ratio":1.0,"height":800,"media_type":"image","src":"\/\/www.luluwin.co.uk\/cdn\/shop\/products\/6_73e99bdd-040d-482c-a249-4a4d4068b118.jpg?v=1679635630","width":800},{"alt":null,"id":29169192796314,"position":5,"preview_image":{"aspect_ratio":1.0,"height":800,"width":800,"src":"\/\/www.luluwin.co.uk\/cdn\/shop\/products\/7_37c5af2b-d45a-4548-8e6b-11e870451943.jpg?v=1679635630"},"aspect_ratio":1.0,"height":800,"media_type":"image","src":"\/\/www.luluwin.co.uk\/cdn\/shop\/products\/7_37c5af2b-d45a-4548-8e6b-11e870451943.jpg?v=1679635630","width":800},{"alt":null,"id":29169192829082,"position":6,"preview_image":{"aspect_ratio":1.0,"height":800,"width":800,"src":"\/\/www.luluwin.co.uk\/cdn\/shop\/products\/8_3498aaef-556a-424b-be77-eb71b55c5bdb.jpg?v=1679635630"},"aspect_ratio":1.0,"height":800,"media_type":"image","src":"\/\/www.luluwin.co.uk\/cdn\/shop\/products\/8_3498aaef-556a-424b-be77-eb71b55c5bdb.jpg?v=1679635630","width":800},{"alt":null,"id":29169193451674,"position":7,"preview_image":{"aspect_ratio":1.0,"height":800,"width":800,"src":"\/\/www.luluwin.co.uk\/cdn\/shop\/products\/3_d6c367dc-7285-4126-b8a5-02eb30ce4c2c.jpg?v=1679635642"},"aspect_ratio":1.0,"height":800,"media_type":"image","src":"\/\/www.luluwin.co.uk\/cdn\/shop\/products\/3_d6c367dc-7285-4126-b8a5-02eb30ce4c2c.jpg?v=1679635642","width":800},{"alt":null,"id":29169193484442,"position":8,"preview_image":{"aspect_ratio":1.0,"height":800,"width":800,"src":"\/\/www.luluwin.co.uk\/cdn\/shop\/products\/4_649627e4-2b65-441b-b314-67fb4ae1261a.jpg?v=1679635644"},"aspect_ratio":1.0,"height":800,"media_type":"image","src":"\/\/www.luluwin.co.uk\/cdn\/shop\/products\/4_649627e4-2b65-441b-b314-67fb4ae1261a.jpg?v=1679635644","width":800}],"requires_selling_plan":false,"selling_plan_groups":[],"content":"\u003ch3 style=\"text-align: center;\"\u003e🙍‍♂\u003cspan style=\"color: #ff8000;\"\u003eNinja Disguise T-shirt\u003c\/span\u003e\n\u003c\/h3\u003e\n\u003cp\u003e\u003cimg style=\"display: block; margin-left: auto; margin-right: auto;\" src=\"https:\/\/cdn.hotishop.com\/image\/1f43995c642cc0d8ac2a2c361adb10ccbdc2e9a1.gif\"\u003e\u003c\/p\u003e\n\u003cdiv class=\"tlid-input input\"\u003e\n\u003cdiv class=\"source-wrap\"\u003e\n\u003cdiv class=\"input-full-height-wrapper tlid-input-full-height-wrapper\"\u003e\n\u003cdiv class=\"source-input\"\u003e\n\u003cdiv class=\"source-footer-wrap source-or-target-footer\"\u003e\n\u003cdiv class=\"character-count tlid-character-count\"\u003e\n\u003cdiv style=\"text-align: center;\" class=\"cc-ctr normal\"\u003e\n\u003cstrong\u003e😂🤣\"Just flip it over your head and BOOM! Instant Ninja Warrior!\"\u003c\/strong\u003e\u003cbr\u003e\n\u003c\/div\u003e\n\u003cdiv style=\"text-align: center;\" class=\"cc-ctr normal\"\u003e\u003cstrong\u003e\u003cimg height=\"294\" width=\"394\" src=\"https:\/\/cdn.shopify.com\/s\/files\/1\/0438\/4092\/9942\/products\/image_6c6ec7f1-0236-4991-bd82-7d0ef57b4f48_1024x1024@2x.jpg?v=1597659367\"\u003e\u003c\/strong\u003e\u003c\/div\u003e\n\u003cdiv style=\"text-align: left;\" class=\"cc-ctr normal\"\u003eWhile it may be a little bit of a stretch in this day and age. Still, it's always good to be prepared. Just in case you've never watched any classic Kung Fu movies on Saturday afternoons, the best way to avoid a Ninja is to blend in and hide.\u003cbr\u003e\u003cimg style=\"display: block; margin-left: auto; margin-right: auto;\" src=\"https:\/\/cdn.hotishop.com\/image\/070bf50d5f0ae7d76daa137e306aa74000fe44f9.gif\" data-mce-src=\"https:\/\/cdn.hotishop.com\/image\/070bf50d5f0ae7d76daa137e306aa74000fe44f9.gif\" data-mce-fragment=\"1\"\u003eNinja's work in the shadows. In order to elude them, you must blend in with your surroundings.\u003c\/div\u003e\n\u003cdiv style=\"text-align: left;\" class=\"cc-ctr normal\"\u003e\u003cimg style=\"display: block; margin-left: auto; margin-right: auto;\" src=\"https:\/\/cdn.hotishop.com\/image\/2022\/07\/f30af21f74b1bacf1e02d1a38bcc01e161831348bb1ce2b844062d90e0ba9811.gif\"\u003e\u003c\/div\u003e\n\u003cdiv style=\"text-align: left;\" class=\"cc-ctr normal\"\u003e\n\u003cp\u003e😂You could also become a Ninja yourself. Yes, that may sound like a bit of a stretch, but with this t-shirt, it's more attainable than you may think.\u003c\/p\u003e\n\u003cp\u003e\u003cimg style=\"display: block; margin-left: auto; margin-right: auto;\" src=\"https:\/\/cdn.hotishop.com\/image\/82fd7816467ffb8c6beededf9959383c99013d2e.png\"\u003e\u003c\/p\u003e\n\u003cp\u003e😎Our Ninja Disguise flip up t-shirt is the perfect way to attend to your INNER Ninja.\u003cstrong\u003e\u003cem\u003e\u003cbr\u003e\u003c\/em\u003e\u003c\/strong\u003e\u003c\/p\u003e\n\u003ch3\u003e\u003cspan style=\"color: #ff8000;\"\u003eSpecifications:\u003c\/span\u003e\u003c\/h3\u003e\n\u003cul\u003e\n\u003cli\u003e\u003cspan style=\"color: #000000;\"\u003eMaterial: Good quality cotton\u003c\/span\u003e\u003c\/li\u003e\n\u003cli\u003e\u003cspan style=\"color: #000000;\"\u003eCleaning Time: Suitable for washing machine (15 ° C, 20 minutes program)\u003c\/span\u003e\u003c\/li\u003e\n\u003cli\u003e\u003cspan style=\"color: #000000;\"\u003eColor: Black \/ Grey\u003c\/span\u003e\u003c\/li\u003e\n\u003cli\u003e\u003cspan style=\"color: #000000;\"\u003e\u003cstrong\u003eSize chart\u003c\/strong\u003e\u003c\/span\u003e\u003c\/li\u003e\n\u003c\/ul\u003e\n\u003cp\u003e\u003cimg src=\"https:\/\/cdn.shopify.com\/s\/files\/1\/0572\/7662\/9167\/files\/7eaf42a72fdcaf927d9b8d8bc4e0864d_ccb9f9b5-2f73-4e6b-b9bc-911144b0cc85_480x480.png?v=1679489734\" alt=\"\" style=\"display: block; margin-left: auto; margin-right: auto;\" data-mce-fragment=\"1\" data-mce-src=\"https:\/\/cdn.shopify.com\/s\/files\/1\/0572\/7662\/9167\/files\/7eaf42a72fdcaf927d9b8d8bc4e0864d_ccb9f9b5-2f73-4e6b-b9bc-911144b0cc85_480x480.png?v=1679489734\"\u003e\u003c\/p\u003e\n\u003ch3\u003e\u003cspan style=\"color: #ff8000;\"\u003ePackage includes:\u003c\/span\u003e\u003c\/h3\u003e\n\u003cul\u003e\n\u003cli\u003e\u003cspan style=\"color: #000000;\"\u003e1* Ninja Disguise T-shirt\u003c\/span\u003e\u003c\/li\u003e\n\u003c\/ul\u003e\n\u003c\/div\u003e\n\u003cdiv style=\"text-align: center;\" class=\"cc-ctr normal\"\u003e\u003cstrong\u003e\u003c\/strong\u003e\u003c\/div\u003e\n\u003c\/div\u003e\n\u003c\/div\u003e\n\u003c\/div\u003e\n\u003c\/div\u003e\n\u003c\/div\u003e\n\u003c\/div\u003e"}
Ninja Disguise T-shirt
Adding product to your cart
🙍‍♂
Ninja Disguise T-shirt
😂🤣"Just flip it over your head and BOOM! Instant Ninja Warrior!"

While it may be a little bit of a stretch in this day and age. Still, it's always good to be prepared. Just in case you've never watched any classic Kung Fu movies on Saturday afternoons, the best way to avoid a Ninja is to blend in and hide.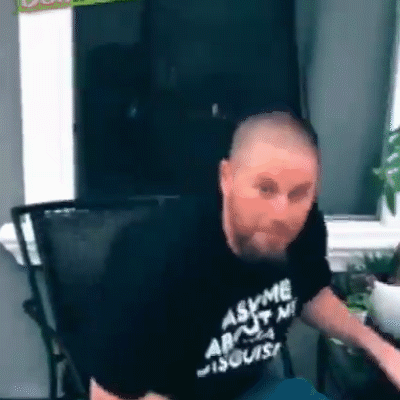 Ninja's work in the shadows. In order to elude them, you must blend in with your surroundings.
😂You could also become a Ninja yourself. Yes, that may sound like a bit of a stretch, but with this t-shirt, it's more attainable than you may think.
😎Our Ninja Disguise flip up t-shirt is the perfect way to attend to your INNER Ninja.

Specifications:
Material: Good quality cotton

Cleaning Time: Suitable for washing machine (15 ° C, 20 minutes program)

Color: Black / Grey

Size chart
Package includes:
1* Ninja Disguise T-shirt