Mobile Phone Bracket Waterproof Bag
SECURE AND STURDY
The special designed mounting clamp is featured with metal penetrating axis and quick-locking buckle which make the installation firm and easy.
SHOCKPROOF & SCRATCH-PROOF
The cradles and pad are made of silicone, which could protect cellphone out of scratches or abrasion, reduce vibration and grasp your phone more tightly.
360° ADJUSTABLE ANGLES
The spherical joint of bracket not only can adjust the tilt angle front and back, but also the phone can be rotated 360 degrees horizontally to meet more usage needs.
WIDE COMPATIBILITY
It is universal to fit 6.5 inches mobile phones.
EASY-TO-USE
It can be installed easily without any tools. After installation, you can enjoy a free and easy riding.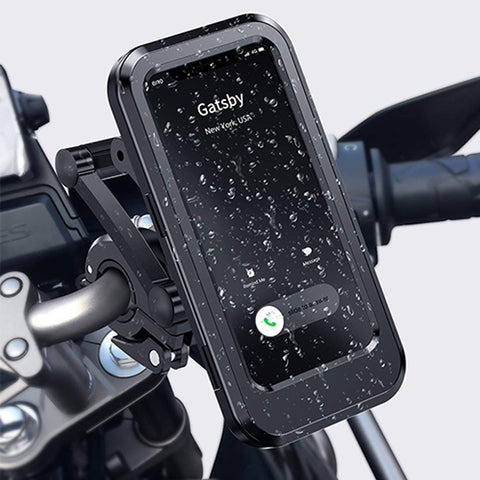 FEATURES:

1. Large size design, suitable for most models within 6.5 inches on the market

2. Built-in sealing ring, effectively cope with most rainy conditions

3. Multi-axis folding base, free to adjust various angles

4. Built-in magnet, can effectively fix the phone without shifting

5. With a window design on the back of the case, you can take out the phone and take pictures

SPECIFICATIONS:
Model Number : HL-69
Applicable Model: Mobile phones within 6.5 inches
Function: Rainproof (not soaking underwater), 360-degree rotation, foldable bracket, simple and practical
1*shell
1*bicycle mounting base,
1*magnet guide
1*small wrench
1*box