{"id":6965279817882,"title":"Magic Practice Copybook","handle":"magic-practice-copybook","description":"\u003cdiv class=\"rte\" itemprop=\"description\"\u003e\n\u003cimg src=\"https:\/\/i.giphy.com\/media\/EcjplRW7av90YEd6OS\/giphy.webp\" style=\"display: block; margin-left: auto; margin-right: auto;\" width=\"381\" height=\"381\" data-mce-fragment=\"1\" data-mce-src=\"https:\/\/i.giphy.com\/media\/EcjplRW7av90YEd6OS\/giphy.webp\"\u003e\n\u003cdiv class=\"text___3JGYJ\" data-mce-fragment=\"1\" itemprop=\"description\"\u003e\n\u003cp\u003e\u003cbr\u003e\u003c\/p\u003e\n\u003cp\u003e\u003cspan style=\"color: #e16862;\"\u003e\u003cstrong\u003eFEATURES\u003c\/strong\u003e\u003c\/span\u003e\u003c\/p\u003e\n\u003c\/div\u003e\n\u003cul\u003e\n\u003cli\u003e\n\u003cp\u003e\u003cspan data-mce-fragment=\"1\"\u003e\u003cspan style=\"color: #000000;\"\u003eThis is an English handwriting pen copybook. \u003c\/span\u003eIt emphasizes the skill training of writing, enabling readers to \u003cspan style=\"color: #00aaff;\"\u003e\u003cem\u003e\u003cstrong\u003egrasp English handwriting skills\u003c\/strong\u003e\u003c\/em\u003e\u003c\/span\u003e through training and to write beautiful English words.\u003c\/span\u003e\u003c\/p\u003e\n\u003c\/li\u003e\n\u003c\/ul\u003e\n\u003cp\u003e\u003cspan data-mce-fragment=\"1\"\u003e\u003cimg height=\"381\" width=\"381\" src=\"https:\/\/i.giphy.com\/media\/DY0yScWdAdalKBazbu\/giphy.webp\" style=\"display: block; margin-left: auto; margin-right: auto;\"\u003e\u003c\/span\u003e\u003c\/p\u003e\n\u003cul\u003e\n\u003cli\u003e\n\u003cp\u003eCopybooks can help children or adults \u003cspan style=\"color: #00aaff;\"\u003e\u003cstrong\u003e\u003cem\u003epractice different font of handwriting\u003c\/em\u003e\u003c\/strong\u003e\u003c\/span\u003e and build their own style.\u003c\/p\u003e\n\u003c\/li\u003e\n\u003c\/ul\u003e\n\u003cul\u003e\n\u003cli\u003e\n\u003cp\u003e\u003cspan style=\"color: #00aaff;\"\u003e\u003cspan style=\"color: #000000;\"\u003eHandwriting\u003c\/span\u003e\u003cem\u003e \u003cstrong data-mce-fragment=\"1\"\u003eautomatically disappear after dry\u003c\/strong\u003e,\u003c\/em\u003e\u003c\/span\u003e\u003cspan data-mce-fragment=\"1\"\u003e \u003c\/span\u003egreat for \u003cspan style=\"color: #00aaff;\"\u003e\u003cstrong\u003e\u003cem\u003erepeatedly practice\u003c\/em\u003e\u003c\/strong\u003e\u003c\/span\u003e. If you want to learn calligraphy, a copybook is a must-have. Handwriting Copybook only, other accessories demo in the picture is not included.\u003c\/p\u003e\n\u003c\/li\u003e\n\u003c\/ul\u003e\n\u003cp\u003e\u003cimg height=\"429\" width=\"429\" src=\"https:\/\/cdn.shopify.com\/s\/files\/1\/0615\/7529\/9329\/files\/cp_b_2_480x480.jpg?v=1644332199\" style=\"display: block; margin-left: auto; margin-right: auto;\"\u003e\u003c\/p\u003e\n\u003cul\u003e\n\u003cli\u003e\n\u003cp\u003e\u003cspan style=\"color: #000000;\"\u003ePracticed these characters well, \u003c\/span\u003eit could satisfy the requirements of daily life, work and study.\u003c\/p\u003e\n\u003c\/li\u003e\n\u003c\/ul\u003e\n\u003cp\u003e\u003cimg alt=\"Keep children interested in practicing writing and learn English effectively.\" src=\"https:\/\/m.media-amazon.com\/images\/S\/aplus-media-library-service-media\/d86bc27b-6b87-4e50-9441-969b83b6c015.__CR0,0,970,600_PT0_SX970_V1___.jpg\" width=\"429\" height=\"265\" style=\"display: block; margin-left: auto; margin-right: auto;\"\u003e\u003c\/p\u003e\n\u003cul\u003e\n\u003cli\u003e\n\u003cp\u003e\u003cspan style=\"color: #000000;\"\u003eThe paper is \u003cspan style=\"color: #00aaff;\"\u003e\u003cstrong\u003e\u003cem\u003ethick and not easy to smudge\u003c\/em\u003e\u003c\/strong\u003e\u003c\/span\u003e.\u003c\/span\u003e\u003c\/p\u003e\n\u003c\/li\u003e\n\u003cli\u003e\n\u003cp\u003e\u003cspan style=\"color: #000000;\"\u003eIdeal for Calligraphic Letter Writing.\u003c\/span\u003e\u003c\/p\u003e\n\u003c\/li\u003e\n\u003c\/ul\u003e\n\u003cp\u003e\u003cspan style=\"color: #000000;\"\u003e\u003cimg style=\"display: block; margin-left: auto; margin-right: auto;\" height=\"429\" width=\"429\" src=\"https:\/\/cdn.shopifycdn.net\/s\/files\/1\/0274\/6538\/4014\/files\/3_9f75cb52-0356-42cc-a879-d9b9f5acdcb2_480x480.jpg?v=1602651950\" alt=\"\"\u003e\u003c\/span\u003e\u003c\/p\u003e\n\u003c\/div\u003e\n\u003cdiv class=\"rte\" itemprop=\"description\"\u003e\u003cstrong\u003e\u003c\/strong\u003e\u003c\/div\u003e\n\u003cdiv class=\"rte\" itemprop=\"description\"\u003e\n\u003cstrong\u003e\u003cbr\u003e\u003c\/strong\u003e\u003cspan style=\"color: #ff8000;\"\u003e\u003cstrong\u003e\u003c\/strong\u003e\u003c\/span\u003e\u003cspan style=\"color: #e16862;\"\u003e\u003cstrong\u003ePRACTICE COPYBOOK\u003c\/strong\u003e\u003c\/span\u003e\n\u003cul\u003e\n\u003cli\u003e\n\u003cstrong\u003eMaterial:\u003c\/strong\u003e White cardboard\u003c\/li\u003e\n\u003cli\u003e\n\u003cstrong\u003eStyle:\u003c\/strong\u003e Alphabet; Numbers; Drawing;Addition \u0026amp; Subtraction\u003c\/li\u003e\n\u003cli\u003e\n\u003cstrong\u003eSize:\u003c\/strong\u003e \u003cspan data-mce-fragment=\"1\"\u003e5.1in*7.3in\u003c\/span\u003e\n\u003c\/li\u003e\n\u003cli\u003e\n\u003cstrong\u003ePages:\u003c\/strong\u003e16\u003c\/li\u003e\n\u003c\/ul\u003e\n\u003cp\u003e\u003cimg src=\"https:\/\/images-na.ssl-images-amazon.com\/images\/I\/71c9hwpYLYL._AC_SL1500_.jpg\" width=\"429\" height=\"491\" style=\"display: block; margin-left: auto; margin-right: auto;\"\u003e\u003c\/p\u003e\n\u003cspan style=\"color: #e16862;\"\u003e\u003cstrong\u003eMAGIC PEN SET\u003c\/strong\u003e\u003c\/span\u003e\n\u003cul\u003e\n\u003cli\u003e\n\u003cstrong\u003eAuto Fade \u003c\/strong\u003e\u003cbr\u003e\n\u003c\/li\u003e\n\u003cli\u003e\n\u003cstrong\u003eWriting Width:\u003c\/strong\u003e 0.5mm\u003c\/li\u003e\n\u003cli\u003e\n\u003cstrong\u003eColour:\u003c\/strong\u003e Black\u003c\/li\u003e\n\u003cli\u003e\n\u003cstrong\u003ePackage Include: \u003c\/strong\u003e1*MAGIC PEN SET or 4* BOOKS+1*MAGIC PEN SET or 1*BOOK+1*MAGIC PEN SET or \u003cspan data-mce-fragment=\"1\"\u003e 8* BOOKS+2*MAGIC PEN SET\u003c\/span\u003e\n\u003c\/li\u003e\n\u003c\/ul\u003e\n\u003cstrong\u003e\u003cspan style=\"color: #ff2a00;\"\u003eNOTE:\u003c\/span\u003e\u003cbr\u003e\u003c\/strong\u003e\n\u003cul\u003e\n\u003cli\u003eCopybooks\u003cspan style=\"color: #ff2a00;\"\u003e\u003cstrong\u003e must be used with\u003c\/strong\u003e\u003c\/span\u003e magic pen to be reused.\u003c\/li\u003e\n\u003cli\u003eDue to the different monitor and light effect, the actual color of the item might be slightly different from the color showed in the pictures.\u003c\/li\u003e\n\u003c\/ul\u003e\n\u003c\/div\u003e\n\u003cdiv style=\"position: absolute; left: 438px; top: 1432px;\" id=\"gtx-trans\"\u003e\n\u003cdiv class=\"gtx-trans-icon\"\u003e\u003c\/div\u003e\n\u003c\/div\u003e","published_at":"2021-08-18T23:38:43-06:00","created_at":"2021-08-18T23:38:52-06:00","vendor":"comfybear","type":"","tags":["For Kids"],"price":999,"price_min":999,"price_max":3499,"available":true,"price_varies":true,"compare_at_price":1999,"compare_at_price_min":1999,"compare_at_price_max":6999,"compare_at_price_varies":true,"variants":[{"id":40666366017690,"title":"ADDITION \u0026 SUBTRACTION SET(WITH 1*MAGIC PEN SET)","option1":"ADDITION \u0026 SUBTRACTION SET(WITH 1*MAGIC PEN SET)","option2":null,"option3":null,"sku":"CP14345-Z01338","requires_shipping":true,"taxable":false,"featured_image":{"id":30853508432026,"product_id":6965279817882,"position":9,"created_at":"2021-08-18T23:38:53-06:00","updated_at":"2021-12-15T00:23:24-06:00","alt":null,"width":800,"height":800,"src":"\/\/www.luluwin.co.uk\/cdn\/shop\/products\/12_f732e6ce-2a3d-4427-aacf-f7af24a113ba.jpg?v=1639549404","variant_ids":[40666366017690]},"available":true,"name":"Magic Practice Copybook - ADDITION \u0026 SUBTRACTION SET(WITH 1*MAGIC PEN SET)","public_title":"ADDITION \u0026 SUBTRACTION SET(WITH 1*MAGIC PEN SET)","options":["ADDITION \u0026 SUBTRACTION SET(WITH 1*MAGIC PEN SET)"],"price":999,"weight":0,"compare_at_price":1999,"inventory_management":null,"barcode":"","featured_media":{"alt":null,"id":23269462769818,"position":9,"preview_image":{"aspect_ratio":1.0,"height":800,"width":800,"src":"\/\/www.luluwin.co.uk\/cdn\/shop\/products\/12_f732e6ce-2a3d-4427-aacf-f7af24a113ba.jpg?v=1639549404"}},"requires_selling_plan":false,"selling_plan_allocations":[]},{"id":40666366050458,"title":"ALPHABET SET(WITN 1*MAGIC PEN SET)","option1":"ALPHABET SET(WITN 1*MAGIC PEN SET)","option2":null,"option3":null,"sku":"CP14345-Z01336","requires_shipping":true,"taxable":false,"featured_image":{"id":30853508530330,"product_id":6965279817882,"position":10,"created_at":"2021-08-18T23:38:53-06:00","updated_at":"2021-12-15T00:23:24-06:00","alt":null,"width":800,"height":800,"src":"\/\/www.luluwin.co.uk\/cdn\/shop\/products\/13_177c3e15-f1e6-4d79-8bb1-615b94b0145f.jpg?v=1639549404","variant_ids":[40666366050458]},"available":true,"name":"Magic Practice Copybook - ALPHABET SET(WITN 1*MAGIC PEN SET)","public_title":"ALPHABET SET(WITN 1*MAGIC PEN SET)","options":["ALPHABET SET(WITN 1*MAGIC PEN SET)"],"price":999,"weight":0,"compare_at_price":1999,"inventory_management":null,"barcode":"","featured_media":{"alt":null,"id":23269462802586,"position":10,"preview_image":{"aspect_ratio":1.0,"height":800,"width":800,"src":"\/\/www.luluwin.co.uk\/cdn\/shop\/products\/13_177c3e15-f1e6-4d79-8bb1-615b94b0145f.jpg?v=1639549404"}},"requires_selling_plan":false,"selling_plan_allocations":[]},{"id":40666366083226,"title":"DRAWING SET(WITH 1*MAGIC PEN SET)","option1":"DRAWING SET(WITH 1*MAGIC PEN SET)","option2":null,"option3":null,"sku":"CP14345-Z01337","requires_shipping":true,"taxable":false,"featured_image":{"id":30853508399258,"product_id":6965279817882,"position":11,"created_at":"2021-08-18T23:38:53-06:00","updated_at":"2021-12-15T00:23:24-06:00","alt":null,"width":800,"height":800,"src":"\/\/www.luluwin.co.uk\/cdn\/shop\/products\/11_e1e378e2-a42c-432f-8db8-e3e918d0a3cb.jpg?v=1639549404","variant_ids":[40666366083226]},"available":true,"name":"Magic Practice Copybook - DRAWING SET(WITH 1*MAGIC PEN SET)","public_title":"DRAWING SET(WITH 1*MAGIC PEN SET)","options":["DRAWING SET(WITH 1*MAGIC PEN SET)"],"price":999,"weight":0,"compare_at_price":1999,"inventory_management":null,"barcode":"","featured_media":{"alt":null,"id":23269462737050,"position":11,"preview_image":{"aspect_ratio":1.0,"height":800,"width":800,"src":"\/\/www.luluwin.co.uk\/cdn\/shop\/products\/11_e1e378e2-a42c-432f-8db8-e3e918d0a3cb.jpg?v=1639549404"}},"requires_selling_plan":false,"selling_plan_allocations":[]},{"id":40666366115994,"title":"NUMBER 0-100 SET(WITH 1*MAGIC PEN SET)","option1":"NUMBER 0-100 SET(WITH 1*MAGIC PEN SET)","option2":null,"option3":null,"sku":"CP14345-Z01339","requires_shipping":true,"taxable":false,"featured_image":{"id":30853508595866,"product_id":6965279817882,"position":12,"created_at":"2021-08-18T23:38:53-06:00","updated_at":"2021-12-15T00:23:24-06:00","alt":null,"width":800,"height":800,"src":"\/\/www.luluwin.co.uk\/cdn\/shop\/products\/14_e4cf0033-c275-4047-8ad9-f29d283dad31.jpg?v=1639549404","variant_ids":[40666366115994]},"available":true,"name":"Magic Practice Copybook - NUMBER 0-100 SET(WITH 1*MAGIC PEN SET)","public_title":"NUMBER 0-100 SET(WITH 1*MAGIC PEN SET)","options":["NUMBER 0-100 SET(WITH 1*MAGIC PEN SET)"],"price":999,"weight":0,"compare_at_price":1999,"inventory_management":null,"barcode":"","featured_media":{"alt":null,"id":23269462835354,"position":12,"preview_image":{"aspect_ratio":1.0,"height":800,"width":800,"src":"\/\/www.luluwin.co.uk\/cdn\/shop\/products\/14_e4cf0033-c275-4047-8ad9-f29d283dad31.jpg?v=1639549404"}},"requires_selling_plan":false,"selling_plan_allocations":[]},{"id":40666366214298,"title":"1*MAGIC PEN SET (BUY THIS SEPARATELY WITHOUT DELIVERY)","option1":"1*MAGIC PEN SET (BUY THIS SEPARATELY WITHOUT DELIVERY)","option2":null,"option3":null,"sku":"CP14052-X6984","requires_shipping":true,"taxable":false,"featured_image":{"id":30853508628634,"product_id":6965279817882,"position":13,"created_at":"2021-08-18T23:38:53-06:00","updated_at":"2021-12-15T00:23:24-06:00","alt":null,"width":800,"height":800,"src":"\/\/www.luluwin.co.uk\/cdn\/shop\/products\/1_33ee1e1e-3749-401e-bab6-cb2e52ce4669.jpg?v=1639549404","variant_ids":[40666366214298]},"available":true,"name":"Magic Practice Copybook - 1*MAGIC PEN SET (BUY THIS SEPARATELY WITHOUT DELIVERY)","public_title":"1*MAGIC PEN SET (BUY THIS SEPARATELY WITHOUT DELIVERY)","options":["1*MAGIC PEN SET (BUY THIS SEPARATELY WITHOUT DELIVERY)"],"price":999,"weight":0,"compare_at_price":1999,"inventory_management":null,"barcode":"","featured_media":{"alt":null,"id":23269462868122,"position":13,"preview_image":{"aspect_ratio":1.0,"height":800,"width":800,"src":"\/\/www.luluwin.co.uk\/cdn\/shop\/products\/1_33ee1e1e-3749-401e-bab6-cb2e52ce4669.jpg?v=1639549404"}},"requires_selling_plan":false,"selling_plan_allocations":[]},{"id":40666366148762,"title":"COMBINATION SET (4* BOOKS+1*MAGIC PEN SET)","option1":"COMBINATION SET (4* BOOKS+1*MAGIC PEN SET)","option2":null,"option3":null,"sku":"CP14345-Z01335","requires_shipping":true,"taxable":false,"featured_image":{"id":30853508137114,"product_id":6965279817882,"position":14,"created_at":"2021-08-18T23:38:53-06:00","updated_at":"2021-12-15T00:23:24-06:00","alt":null,"width":800,"height":800,"src":"\/\/www.luluwin.co.uk\/cdn\/shop\/products\/2_7125972d-a298-4821-ae5a-58bb3adb8237.jpg?v=1639549404","variant_ids":[40666366148762,40666366181530]},"available":true,"name":"Magic Practice Copybook - COMBINATION SET (4* BOOKS+1*MAGIC PEN SET)","public_title":"COMBINATION SET (4* BOOKS+1*MAGIC PEN SET)","options":["COMBINATION SET (4* BOOKS+1*MAGIC PEN SET)"],"price":1999,"weight":0,"compare_at_price":3999,"inventory_management":null,"barcode":"","featured_media":{"alt":null,"id":23269462474906,"position":14,"preview_image":{"aspect_ratio":1.0,"height":800,"width":800,"src":"\/\/www.luluwin.co.uk\/cdn\/shop\/products\/2_7125972d-a298-4821-ae5a-58bb3adb8237.jpg?v=1639549404"}},"requires_selling_plan":false,"selling_plan_allocations":[]},{"id":40666366181530,"title":"2*COMBINATION SET (8* BOOKS+2*MAGIC PEN SET)","option1":"2*COMBINATION SET (8* BOOKS+2*MAGIC PEN SET)","option2":null,"option3":null,"sku":"CP14345-X9485","requires_shipping":true,"taxable":false,"featured_image":{"id":30853508137114,"product_id":6965279817882,"position":14,"created_at":"2021-08-18T23:38:53-06:00","updated_at":"2021-12-15T00:23:24-06:00","alt":null,"width":800,"height":800,"src":"\/\/www.luluwin.co.uk\/cdn\/shop\/products\/2_7125972d-a298-4821-ae5a-58bb3adb8237.jpg?v=1639549404","variant_ids":[40666366148762,40666366181530]},"available":true,"name":"Magic Practice Copybook - 2*COMBINATION SET (8* BOOKS+2*MAGIC PEN SET)","public_title":"2*COMBINATION SET (8* BOOKS+2*MAGIC PEN SET)","options":["2*COMBINATION SET (8* BOOKS+2*MAGIC PEN SET)"],"price":3499,"weight":0,"compare_at_price":6999,"inventory_management":null,"barcode":"","featured_media":{"alt":null,"id":23269462474906,"position":14,"preview_image":{"aspect_ratio":1.0,"height":800,"width":800,"src":"\/\/www.luluwin.co.uk\/cdn\/shop\/products\/2_7125972d-a298-4821-ae5a-58bb3adb8237.jpg?v=1639549404"}},"requires_selling_plan":false,"selling_plan_allocations":[]}],"images":["\/\/www.luluwin.co.uk\/cdn\/shop\/products\/1_caaf1fba-d855-4db1-b45f-5a34eb1bd111.jpg?v=1638000078","\/\/www.luluwin.co.uk\/cdn\/shop\/products\/6_c76f31c4-b3d0-486b-b080-418b928d43be.jpg?v=1638000078","\/\/www.luluwin.co.uk\/cdn\/shop\/products\/7_609fa708-d4d0-4fac-b703-016babff09c9.jpg?v=1638000078","\/\/www.luluwin.co.uk\/cdn\/shop\/products\/5_a3bd6ded-cb13-47d3-b05a-a7eb79c4b511.jpg?v=1638000078","\/\/www.luluwin.co.uk\/cdn\/shop\/products\/8_080b673b-1ab9-4bcd-b9cd-032b837d9fb9.jpg?v=1638000078","\/\/www.luluwin.co.uk\/cdn\/shop\/products\/3_9b1d80af-c392-4c61-9835-75482cd65107.jpg?v=1639549380","\/\/www.luluwin.co.uk\/cdn\/shop\/products\/4_39d98940-210c-4118-9cf5-d9de3c892073.jpg?v=1639549380","\/\/www.luluwin.co.uk\/cdn\/shop\/products\/10_250e3013-be4d-4ba1-9d02-aa00a9207f83.jpg?v=1639549380","\/\/www.luluwin.co.uk\/cdn\/shop\/products\/12_f732e6ce-2a3d-4427-aacf-f7af24a113ba.jpg?v=1639549404","\/\/www.luluwin.co.uk\/cdn\/shop\/products\/13_177c3e15-f1e6-4d79-8bb1-615b94b0145f.jpg?v=1639549404","\/\/www.luluwin.co.uk\/cdn\/shop\/products\/11_e1e378e2-a42c-432f-8db8-e3e918d0a3cb.jpg?v=1639549404","\/\/www.luluwin.co.uk\/cdn\/shop\/products\/14_e4cf0033-c275-4047-8ad9-f29d283dad31.jpg?v=1639549404","\/\/www.luluwin.co.uk\/cdn\/shop\/products\/1_33ee1e1e-3749-401e-bab6-cb2e52ce4669.jpg?v=1639549404","\/\/www.luluwin.co.uk\/cdn\/shop\/products\/2_7125972d-a298-4821-ae5a-58bb3adb8237.jpg?v=1639549404","\/\/www.luluwin.co.uk\/cdn\/shop\/products\/9_f1c1dba5-677d-49cb-8a35-ae44608e5de6.jpg?v=1639549404","\/\/www.luluwin.co.uk\/cdn\/shop\/products\/copybook2_1024x1024_2x_9c2d5073-2f12-425f-be48-44818e31ed86.jpg?v=1645684959","\/\/www.luluwin.co.uk\/cdn\/shop\/products\/copybook2_1024x1024_2x_6e2d8251-0a15-4059-a41b-a2fbcefe7012.jpg?v=1645684973","\/\/www.luluwin.co.uk\/cdn\/shop\/products\/copybook2_1024x1024_2x_a8724ff2-f558-46e2-8591-a4d582f3719f.jpg?v=1645685283"],"featured_image":"\/\/www.luluwin.co.uk\/cdn\/shop\/products\/1_caaf1fba-d855-4db1-b45f-5a34eb1bd111.jpg?v=1638000078","options":["STYLE"],"media":[{"alt":null,"id":23269462409370,"position":1,"preview_image":{"aspect_ratio":1.0,"height":800,"width":800,"src":"\/\/www.luluwin.co.uk\/cdn\/shop\/products\/1_caaf1fba-d855-4db1-b45f-5a34eb1bd111.jpg?v=1638000078"},"aspect_ratio":1.0,"height":800,"media_type":"image","src":"\/\/www.luluwin.co.uk\/cdn\/shop\/products\/1_caaf1fba-d855-4db1-b45f-5a34eb1bd111.jpg?v=1638000078","width":800},{"alt":null,"id":23269462638746,"position":2,"preview_image":{"aspect_ratio":1.0,"height":800,"width":800,"src":"\/\/www.luluwin.co.uk\/cdn\/shop\/products\/6_c76f31c4-b3d0-486b-b080-418b928d43be.jpg?v=1638000078"},"aspect_ratio":1.0,"height":800,"media_type":"image","src":"\/\/www.luluwin.co.uk\/cdn\/shop\/products\/6_c76f31c4-b3d0-486b-b080-418b928d43be.jpg?v=1638000078","width":800},{"alt":null,"id":23269462671514,"position":3,"preview_image":{"aspect_ratio":1.0,"height":800,"width":800,"src":"\/\/www.luluwin.co.uk\/cdn\/shop\/products\/7_609fa708-d4d0-4fac-b703-016babff09c9.jpg?v=1638000078"},"aspect_ratio":1.0,"height":800,"media_type":"image","src":"\/\/www.luluwin.co.uk\/cdn\/shop\/products\/7_609fa708-d4d0-4fac-b703-016babff09c9.jpg?v=1638000078","width":800},{"alt":null,"id":23269462605978,"position":4,"preview_image":{"aspect_ratio":1.0,"height":800,"width":800,"src":"\/\/www.luluwin.co.uk\/cdn\/shop\/products\/5_a3bd6ded-cb13-47d3-b05a-a7eb79c4b511.jpg?v=1638000078"},"aspect_ratio":1.0,"height":800,"media_type":"image","src":"\/\/www.luluwin.co.uk\/cdn\/shop\/products\/5_a3bd6ded-cb13-47d3-b05a-a7eb79c4b511.jpg?v=1638000078","width":800},{"alt":null,"id":23269462704282,"position":5,"preview_image":{"aspect_ratio":1.0,"height":800,"width":800,"src":"\/\/www.luluwin.co.uk\/cdn\/shop\/products\/8_080b673b-1ab9-4bcd-b9cd-032b837d9fb9.jpg?v=1638000078"},"aspect_ratio":1.0,"height":800,"media_type":"image","src":"\/\/www.luluwin.co.uk\/cdn\/shop\/products\/8_080b673b-1ab9-4bcd-b9cd-032b837d9fb9.jpg?v=1638000078","width":800},{"alt":null,"id":23269462507674,"position":6,"preview_image":{"aspect_ratio":1.0,"height":800,"width":800,"src":"\/\/www.luluwin.co.uk\/cdn\/shop\/products\/3_9b1d80af-c392-4c61-9835-75482cd65107.jpg?v=1639549380"},"aspect_ratio":1.0,"height":800,"media_type":"image","src":"\/\/www.luluwin.co.uk\/cdn\/shop\/products\/3_9b1d80af-c392-4c61-9835-75482cd65107.jpg?v=1639549380","width":800},{"alt":null,"id":23269462540442,"position":7,"preview_image":{"aspect_ratio":1.0,"height":800,"width":800,"src":"\/\/www.luluwin.co.uk\/cdn\/shop\/products\/4_39d98940-210c-4118-9cf5-d9de3c892073.jpg?v=1639549380"},"aspect_ratio":1.0,"height":800,"media_type":"image","src":"\/\/www.luluwin.co.uk\/cdn\/shop\/products\/4_39d98940-210c-4118-9cf5-d9de3c892073.jpg?v=1639549380","width":800},{"alt":null,"id":23269462573210,"position":8,"preview_image":{"aspect_ratio":1.0,"height":800,"width":800,"src":"\/\/www.luluwin.co.uk\/cdn\/shop\/products\/10_250e3013-be4d-4ba1-9d02-aa00a9207f83.jpg?v=1639549380"},"aspect_ratio":1.0,"height":800,"media_type":"image","src":"\/\/www.luluwin.co.uk\/cdn\/shop\/products\/10_250e3013-be4d-4ba1-9d02-aa00a9207f83.jpg?v=1639549380","width":800},{"alt":null,"id":23269462769818,"position":9,"preview_image":{"aspect_ratio":1.0,"height":800,"width":800,"src":"\/\/www.luluwin.co.uk\/cdn\/shop\/products\/12_f732e6ce-2a3d-4427-aacf-f7af24a113ba.jpg?v=1639549404"},"aspect_ratio":1.0,"height":800,"media_type":"image","src":"\/\/www.luluwin.co.uk\/cdn\/shop\/products\/12_f732e6ce-2a3d-4427-aacf-f7af24a113ba.jpg?v=1639549404","width":800},{"alt":null,"id":23269462802586,"position":10,"preview_image":{"aspect_ratio":1.0,"height":800,"width":800,"src":"\/\/www.luluwin.co.uk\/cdn\/shop\/products\/13_177c3e15-f1e6-4d79-8bb1-615b94b0145f.jpg?v=1639549404"},"aspect_ratio":1.0,"height":800,"media_type":"image","src":"\/\/www.luluwin.co.uk\/cdn\/shop\/products\/13_177c3e15-f1e6-4d79-8bb1-615b94b0145f.jpg?v=1639549404","width":800},{"alt":null,"id":23269462737050,"position":11,"preview_image":{"aspect_ratio":1.0,"height":800,"width":800,"src":"\/\/www.luluwin.co.uk\/cdn\/shop\/products\/11_e1e378e2-a42c-432f-8db8-e3e918d0a3cb.jpg?v=1639549404"},"aspect_ratio":1.0,"height":800,"media_type":"image","src":"\/\/www.luluwin.co.uk\/cdn\/shop\/products\/11_e1e378e2-a42c-432f-8db8-e3e918d0a3cb.jpg?v=1639549404","width":800},{"alt":null,"id":23269462835354,"position":12,"preview_image":{"aspect_ratio":1.0,"height":800,"width":800,"src":"\/\/www.luluwin.co.uk\/cdn\/shop\/products\/14_e4cf0033-c275-4047-8ad9-f29d283dad31.jpg?v=1639549404"},"aspect_ratio":1.0,"height":800,"media_type":"image","src":"\/\/www.luluwin.co.uk\/cdn\/shop\/products\/14_e4cf0033-c275-4047-8ad9-f29d283dad31.jpg?v=1639549404","width":800},{"alt":null,"id":23269462868122,"position":13,"preview_image":{"aspect_ratio":1.0,"height":800,"width":800,"src":"\/\/www.luluwin.co.uk\/cdn\/shop\/products\/1_33ee1e1e-3749-401e-bab6-cb2e52ce4669.jpg?v=1639549404"},"aspect_ratio":1.0,"height":800,"media_type":"image","src":"\/\/www.luluwin.co.uk\/cdn\/shop\/products\/1_33ee1e1e-3749-401e-bab6-cb2e52ce4669.jpg?v=1639549404","width":800},{"alt":null,"id":23269462474906,"position":14,"preview_image":{"aspect_ratio":1.0,"height":800,"width":800,"src":"\/\/www.luluwin.co.uk\/cdn\/shop\/products\/2_7125972d-a298-4821-ae5a-58bb3adb8237.jpg?v=1639549404"},"aspect_ratio":1.0,"height":800,"media_type":"image","src":"\/\/www.luluwin.co.uk\/cdn\/shop\/products\/2_7125972d-a298-4821-ae5a-58bb3adb8237.jpg?v=1639549404","width":800},{"alt":null,"id":23269462442138,"position":15,"preview_image":{"aspect_ratio":1.0,"height":800,"width":800,"src":"\/\/www.luluwin.co.uk\/cdn\/shop\/products\/9_f1c1dba5-677d-49cb-8a35-ae44608e5de6.jpg?v=1639549404"},"aspect_ratio":1.0,"height":800,"media_type":"image","src":"\/\/www.luluwin.co.uk\/cdn\/shop\/products\/9_f1c1dba5-677d-49cb-8a35-ae44608e5de6.jpg?v=1639549404","width":800},{"alt":null,"id":25624265883802,"position":16,"preview_image":{"aspect_ratio":1.0,"height":1500,"width":1500,"src":"\/\/www.luluwin.co.uk\/cdn\/shop\/products\/copybook2_1024x1024_2x_9c2d5073-2f12-425f-be48-44818e31ed86.jpg?v=1645684959"},"aspect_ratio":1.0,"height":1500,"media_type":"image","src":"\/\/www.luluwin.co.uk\/cdn\/shop\/products\/copybook2_1024x1024_2x_9c2d5073-2f12-425f-be48-44818e31ed86.jpg?v=1645684959","width":1500},{"alt":null,"id":25624267391130,"position":17,"preview_image":{"aspect_ratio":1.0,"height":1500,"width":1500,"src":"\/\/www.luluwin.co.uk\/cdn\/shop\/products\/copybook2_1024x1024_2x_6e2d8251-0a15-4059-a41b-a2fbcefe7012.jpg?v=1645684973"},"aspect_ratio":1.0,"height":1500,"media_type":"image","src":"\/\/www.luluwin.co.uk\/cdn\/shop\/products\/copybook2_1024x1024_2x_6e2d8251-0a15-4059-a41b-a2fbcefe7012.jpg?v=1645684973","width":1500},{"alt":null,"id":25624292655258,"position":18,"preview_image":{"aspect_ratio":1.0,"height":1500,"width":1500,"src":"\/\/www.luluwin.co.uk\/cdn\/shop\/products\/copybook2_1024x1024_2x_a8724ff2-f558-46e2-8591-a4d582f3719f.jpg?v=1645685283"},"aspect_ratio":1.0,"height":1500,"media_type":"image","src":"\/\/www.luluwin.co.uk\/cdn\/shop\/products\/copybook2_1024x1024_2x_a8724ff2-f558-46e2-8591-a4d582f3719f.jpg?v=1645685283","width":1500}],"requires_selling_plan":false,"selling_plan_groups":[],"content":"\u003cdiv class=\"rte\" itemprop=\"description\"\u003e\n\u003cimg src=\"https:\/\/i.giphy.com\/media\/EcjplRW7av90YEd6OS\/giphy.webp\" style=\"display: block; margin-left: auto; margin-right: auto;\" width=\"381\" height=\"381\" data-mce-fragment=\"1\" data-mce-src=\"https:\/\/i.giphy.com\/media\/EcjplRW7av90YEd6OS\/giphy.webp\"\u003e\n\u003cdiv class=\"text___3JGYJ\" data-mce-fragment=\"1\" itemprop=\"description\"\u003e\n\u003cp\u003e\u003cbr\u003e\u003c\/p\u003e\n\u003cp\u003e\u003cspan style=\"color: #e16862;\"\u003e\u003cstrong\u003eFEATURES\u003c\/strong\u003e\u003c\/span\u003e\u003c\/p\u003e\n\u003c\/div\u003e\n\u003cul\u003e\n\u003cli\u003e\n\u003cp\u003e\u003cspan data-mce-fragment=\"1\"\u003e\u003cspan style=\"color: #000000;\"\u003eThis is an English handwriting pen copybook. \u003c\/span\u003eIt emphasizes the skill training of writing, enabling readers to \u003cspan style=\"color: #00aaff;\"\u003e\u003cem\u003e\u003cstrong\u003egrasp English handwriting skills\u003c\/strong\u003e\u003c\/em\u003e\u003c\/span\u003e through training and to write beautiful English words.\u003c\/span\u003e\u003c\/p\u003e\n\u003c\/li\u003e\n\u003c\/ul\u003e\n\u003cp\u003e\u003cspan data-mce-fragment=\"1\"\u003e\u003cimg height=\"381\" width=\"381\" src=\"https:\/\/i.giphy.com\/media\/DY0yScWdAdalKBazbu\/giphy.webp\" style=\"display: block; margin-left: auto; margin-right: auto;\"\u003e\u003c\/span\u003e\u003c\/p\u003e\n\u003cul\u003e\n\u003cli\u003e\n\u003cp\u003eCopybooks can help children or adults \u003cspan style=\"color: #00aaff;\"\u003e\u003cstrong\u003e\u003cem\u003epractice different font of handwriting\u003c\/em\u003e\u003c\/strong\u003e\u003c\/span\u003e and build their own style.\u003c\/p\u003e\n\u003c\/li\u003e\n\u003c\/ul\u003e\n\u003cul\u003e\n\u003cli\u003e\n\u003cp\u003e\u003cspan style=\"color: #00aaff;\"\u003e\u003cspan style=\"color: #000000;\"\u003eHandwriting\u003c\/span\u003e\u003cem\u003e \u003cstrong data-mce-fragment=\"1\"\u003eautomatically disappear after dry\u003c\/strong\u003e,\u003c\/em\u003e\u003c\/span\u003e\u003cspan data-mce-fragment=\"1\"\u003e \u003c\/span\u003egreat for \u003cspan style=\"color: #00aaff;\"\u003e\u003cstrong\u003e\u003cem\u003erepeatedly practice\u003c\/em\u003e\u003c\/strong\u003e\u003c\/span\u003e. If you want to learn calligraphy, a copybook is a must-have. Handwriting Copybook only, other accessories demo in the picture is not included.\u003c\/p\u003e\n\u003c\/li\u003e\n\u003c\/ul\u003e\n\u003cp\u003e\u003cimg height=\"429\" width=\"429\" src=\"https:\/\/cdn.shopify.com\/s\/files\/1\/0615\/7529\/9329\/files\/cp_b_2_480x480.jpg?v=1644332199\" style=\"display: block; margin-left: auto; margin-right: auto;\"\u003e\u003c\/p\u003e\n\u003cul\u003e\n\u003cli\u003e\n\u003cp\u003e\u003cspan style=\"color: #000000;\"\u003ePracticed these characters well, \u003c\/span\u003eit could satisfy the requirements of daily life, work and study.\u003c\/p\u003e\n\u003c\/li\u003e\n\u003c\/ul\u003e\n\u003cp\u003e\u003cimg alt=\"Keep children interested in practicing writing and learn English effectively.\" src=\"https:\/\/m.media-amazon.com\/images\/S\/aplus-media-library-service-media\/d86bc27b-6b87-4e50-9441-969b83b6c015.__CR0,0,970,600_PT0_SX970_V1___.jpg\" width=\"429\" height=\"265\" style=\"display: block; margin-left: auto; margin-right: auto;\"\u003e\u003c\/p\u003e\n\u003cul\u003e\n\u003cli\u003e\n\u003cp\u003e\u003cspan style=\"color: #000000;\"\u003eThe paper is \u003cspan style=\"color: #00aaff;\"\u003e\u003cstrong\u003e\u003cem\u003ethick and not easy to smudge\u003c\/em\u003e\u003c\/strong\u003e\u003c\/span\u003e.\u003c\/span\u003e\u003c\/p\u003e\n\u003c\/li\u003e\n\u003cli\u003e\n\u003cp\u003e\u003cspan style=\"color: #000000;\"\u003eIdeal for Calligraphic Letter Writing.\u003c\/span\u003e\u003c\/p\u003e\n\u003c\/li\u003e\n\u003c\/ul\u003e\n\u003cp\u003e\u003cspan style=\"color: #000000;\"\u003e\u003cimg style=\"display: block; margin-left: auto; margin-right: auto;\" height=\"429\" width=\"429\" src=\"https:\/\/cdn.shopifycdn.net\/s\/files\/1\/0274\/6538\/4014\/files\/3_9f75cb52-0356-42cc-a879-d9b9f5acdcb2_480x480.jpg?v=1602651950\" alt=\"\"\u003e\u003c\/span\u003e\u003c\/p\u003e\n\u003c\/div\u003e\n\u003cdiv class=\"rte\" itemprop=\"description\"\u003e\u003cstrong\u003e\u003c\/strong\u003e\u003c\/div\u003e\n\u003cdiv class=\"rte\" itemprop=\"description\"\u003e\n\u003cstrong\u003e\u003cbr\u003e\u003c\/strong\u003e\u003cspan style=\"color: #ff8000;\"\u003e\u003cstrong\u003e\u003c\/strong\u003e\u003c\/span\u003e\u003cspan style=\"color: #e16862;\"\u003e\u003cstrong\u003ePRACTICE COPYBOOK\u003c\/strong\u003e\u003c\/span\u003e\n\u003cul\u003e\n\u003cli\u003e\n\u003cstrong\u003eMaterial:\u003c\/strong\u003e White cardboard\u003c\/li\u003e\n\u003cli\u003e\n\u003cstrong\u003eStyle:\u003c\/strong\u003e Alphabet; Numbers; Drawing;Addition \u0026amp; Subtraction\u003c\/li\u003e\n\u003cli\u003e\n\u003cstrong\u003eSize:\u003c\/strong\u003e \u003cspan data-mce-fragment=\"1\"\u003e5.1in*7.3in\u003c\/span\u003e\n\u003c\/li\u003e\n\u003cli\u003e\n\u003cstrong\u003ePages:\u003c\/strong\u003e16\u003c\/li\u003e\n\u003c\/ul\u003e\n\u003cp\u003e\u003cimg src=\"https:\/\/images-na.ssl-images-amazon.com\/images\/I\/71c9hwpYLYL._AC_SL1500_.jpg\" width=\"429\" height=\"491\" style=\"display: block; margin-left: auto; margin-right: auto;\"\u003e\u003c\/p\u003e\n\u003cspan style=\"color: #e16862;\"\u003e\u003cstrong\u003eMAGIC PEN SET\u003c\/strong\u003e\u003c\/span\u003e\n\u003cul\u003e\n\u003cli\u003e\n\u003cstrong\u003eAuto Fade \u003c\/strong\u003e\u003cbr\u003e\n\u003c\/li\u003e\n\u003cli\u003e\n\u003cstrong\u003eWriting Width:\u003c\/strong\u003e 0.5mm\u003c\/li\u003e\n\u003cli\u003e\n\u003cstrong\u003eColour:\u003c\/strong\u003e Black\u003c\/li\u003e\n\u003cli\u003e\n\u003cstrong\u003ePackage Include: \u003c\/strong\u003e1*MAGIC PEN SET or 4* BOOKS+1*MAGIC PEN SET or 1*BOOK+1*MAGIC PEN SET or \u003cspan data-mce-fragment=\"1\"\u003e 8* BOOKS+2*MAGIC PEN SET\u003c\/span\u003e\n\u003c\/li\u003e\n\u003c\/ul\u003e\n\u003cstrong\u003e\u003cspan style=\"color: #ff2a00;\"\u003eNOTE:\u003c\/span\u003e\u003cbr\u003e\u003c\/strong\u003e\n\u003cul\u003e\n\u003cli\u003eCopybooks\u003cspan style=\"color: #ff2a00;\"\u003e\u003cstrong\u003e must be used with\u003c\/strong\u003e\u003c\/span\u003e magic pen to be reused.\u003c\/li\u003e\n\u003cli\u003eDue to the different monitor and light effect, the actual color of the item might be slightly different from the color showed in the pictures.\u003c\/li\u003e\n\u003c\/ul\u003e\n\u003c\/div\u003e\n\u003cdiv style=\"position: absolute; left: 438px; top: 1432px;\" id=\"gtx-trans\"\u003e\n\u003cdiv class=\"gtx-trans-icon\"\u003e\u003c\/div\u003e\n\u003c\/div\u003e"}
Magic Practice Copybook
Adding product to your cart
This is an English handwriting pen copybook. It emphasizes the skill training of writing, enabling readers to grasp English handwriting skills through training and to write beautiful English words.
Copybooks can help children or adults practice different font of handwriting and build their own style.
Handwriting automatically disappear after dry, great for repeatedly practice. If you want to learn calligraphy, a copybook is a must-have. Handwriting Copybook only, other accessories demo in the picture is not included.
Practiced these characters well, it could satisfy the requirements of daily life, work and study.
The paper is thick and not easy to smudge.

Ideal for Calligraphic Letter Writing.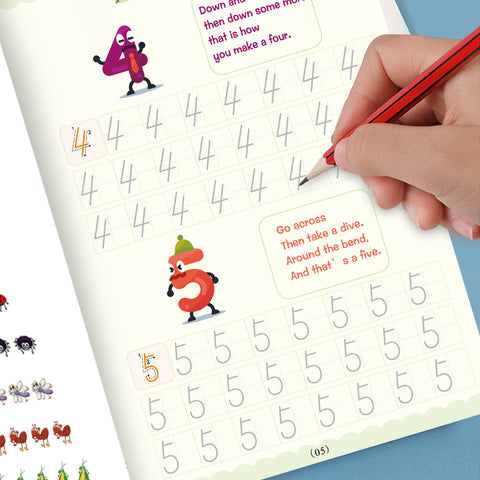 PRACTICE COPYBOOK
Material: White cardboard
Style: Alphabet; Numbers; Drawing;Addition & Subtraction
Size: 

5.1in*7.3in

Pages:16
MAGIC PEN SET
Auto Fade 

Writing Width: 0.5mm
Colour: Black
Package Include: 1*MAGIC PEN SET or 4* BOOKS+1*MAGIC PEN SET or 1*BOOK+1*MAGIC PEN SET or 

 8* BOOKS+2*MAGIC PEN SET
NOTE:
Copybooks must be used with magic pen to be reused.
Due to the different monitor and light effect, the actual color of the item might be slightly different from the color showed in the pictures.