{"id":7708023685274,"title":"High Waist Tummy Control Panties","handle":"high-waist-tummy-control-panties","description":"\u003ch4 style=\"text-align: center;\" data-mce-fragment=\"1\"\u003e\u003cstrong\u003e\u003cspan style=\"font-weight: 400;\" data-mce-style=\"font-weight: 400;\" data-mce-fragment=\"1\"\u003eFeel confident and comfortable with our belly-smoothing undergarments!💖\u003c\/span\u003e\u003c\/strong\u003e\u003c\/h4\u003e\n\u003ch4 style=\"text-align: center;\"\u003e\u003cimg height=\"350\" width=\"350\" src=\"https:\/\/cdn.cloudfastin.top\/image\/d19b0f0e8195f8ecd6f96aba10a58d881eefcaf0.webp\" data-mce-src=\"https:\/\/cdn.cloudfastin.top\/image\/d19b0f0e8195f8ecd6f96aba10a58d881eefcaf0.webp\" data-mce-fragment=\"1\"\u003e\u003c\/h4\u003e\n\u003ch4 style=\"text-align: left;\" data-mce-fragment=\"1\"\u003e\u003cspan style=\"color: #af3b29;\"\u003e\u003cstrong\u003e-Shape your waist and belly, making you look like the person you always wanted to be. 🌟\u003c\/strong\u003e\u003c\/span\u003e\u003c\/h4\u003e\n\u003ch4 style=\"text-align: left;\" data-mce-fragment=\"1\"\u003e\u003cstrong\u003e-Supports and shapes the buttocks without creating visible panty lines. 🍑\u003c\/strong\u003e\u003c\/h4\u003e\n\u003ch4 style=\"text-align: left;\" data-mce-fragment=\"1\"\u003e\u003cspan style=\"color: #ff8000;\"\u003e\u003cstrong\u003e-Unlock a much greater variety of stunning outfits! 👗\u003c\/strong\u003e\u003c\/span\u003e\u003c\/h4\u003e\n\u003ch4 style=\"text-align: left;\" data-mce-fragment=\"1\"\u003e\u003cstrong\u003e-Boost your confidence! 😎\u003c\/strong\u003e\u003c\/h4\u003e\n\u003ch4 style=\"text-align: left;\" data-mce-fragment=\"1\"\u003e\u003cspan style=\"color: #af3b29;\"\u003e\u003cstrong\u003e-Always look your best! 😍\u003c\/strong\u003e\u003c\/span\u003e\u003c\/h4\u003e\n\u003ch4\u003e\u003cimg height=\"351\" width=\"351\" style=\"display: block; margin-left: auto; margin-right: auto;\" src=\"https:\/\/cdn.cloudfastin.top\/image\/b7e6c9377f6a8fd2dd8ab4f39aaf309c7ec395fd.webp\" data-mce-src=\"https:\/\/cdn.cloudfastin.top\/image\/b7e6c9377f6a8fd2dd8ab4f39aaf309c7ec395fd.webp\" data-mce-fragment=\"1\"\u003e\u003c\/h4\u003e\n\u003ch3 data-mce-fragment=\"1\"\u003e\u003cspan style=\"color: #8b5a22;\"\u003e\u003cstrong\u003eFEATURES\u003c\/strong\u003e\u003c\/span\u003e\u003c\/h3\u003e\n\u003cul\u003e\n\u003cli\u003e\u003cspan style=\"font-weight: 400;\" data-mce-style=\"font-weight: 400;\" data-mce-fragment=\"1\"\u003eWhether you're playing sports, running errands or relaxing at home, you'll feel confident and comfortable in our underwear. \u003c\/span\u003e\u003c\/li\u003e\n\u003c\/ul\u003e\n\u003cdiv\u003e\u003cimg src=\"https:\/\/cdn.shopifycdn.net\/s\/files\/1\/0040\/2728\/5539\/files\/5_23f0aa05-22f2-45a8-a440-f857b70f3721_480x480.png?v=1676627068\" alt=\"\" style=\"display: block; margin-left: auto; margin-right: auto;\" data-mce-fragment=\"1\" data-mce-src=\"https:\/\/cdn.shopifycdn.net\/s\/files\/1\/0040\/2728\/5539\/files\/5_23f0aa05-22f2-45a8-a440-f857b70f3721_480x480.png?v=1676627068\"\u003e\u003c\/div\u003e\n\u003cul\u003e\n\u003cli\u003e\u003cspan style=\"font-weight: 400;\" data-mce-style=\"font-weight: 400;\" data-mce-fragment=\"1\"\u003eDon't put off comfort any longer with the size that suits you best.\u003c\/span\u003e\u003c\/li\u003e\n\u003c\/ul\u003e\n\u003cdiv\u003e\u003cimg src=\"https:\/\/cdn.shopifycdn.net\/s\/files\/1\/0040\/2728\/5539\/files\/2_2f7eef63-7582-4050-8488-33f66640aea8_480x480.png?v=1676627081\" alt=\"\" style=\"display: block; margin-left: auto; margin-right: auto;\" data-mce-fragment=\"1\" data-mce-src=\"https:\/\/cdn.shopifycdn.net\/s\/files\/1\/0040\/2728\/5539\/files\/2_2f7eef63-7582-4050-8488-33f66640aea8_480x480.png?v=1676627081\"\u003e\u003c\/div\u003e\n\u003cul\u003e\n\u003cli\u003e\u003cspan style=\"font-weight: 400;\" data-mce-style=\"font-weight: 400;\" data-mce-fragment=\"1\"\u003eSay hello to your comfortable everyday styler, which you'll never leave home without.\u003c\/span\u003e\u003c\/li\u003e\n\u003c\/ul\u003e\n\u003cdiv\u003e\u003cimg src=\"https:\/\/cdn.shopifycdn.net\/s\/files\/1\/0040\/2728\/5539\/files\/3_a6066667-8fc7-4510-8a2e-0f22b46c7aec_480x480.png?v=1676627094\" alt=\"\" style=\"display: block; margin-left: auto; margin-right: auto;\" data-mce-fragment=\"1\" data-mce-src=\"https:\/\/cdn.shopifycdn.net\/s\/files\/1\/0040\/2728\/5539\/files\/3_a6066667-8fc7-4510-8a2e-0f22b46c7aec_480x480.png?v=1676627094\"\u003e\u003c\/div\u003e\n\u003cul\u003e\n\u003cli\u003e\u003cspan style=\"font-weight: 400;\" data-mce-style=\"font-weight: 400;\" data-mce-fragment=\"1\"\u003eThe double layer of microfiber in the abdominal area provides maximum control while remaining soft and smooth to prevent discomfort and irritation.\u003c\/span\u003e\u003c\/li\u003e\n\u003c\/ul\u003e\n\u003ch3 data-mce-fragment=\"1\"\u003e\u003cspan style=\"color: #8b5a22;\"\u003e\u003cstrong\u003eSPECIFICATIONS\u003c\/strong\u003e\u003c\/span\u003e\u003c\/h3\u003e\n\u003cul\u003e\n\u003cli\u003e\u003cspan style=\"font-weight: 400;\" data-mce-style=\"font-weight: 400;\" data-mce-fragment=\"1\"\u003e\u003cstrong\u003eMaterial\u003c\/strong\u003e: Nylon\u003c\/span\u003e\u003c\/li\u003e\n\u003cli\u003e\u003cspan style=\"font-weight: 400;\" data-mce-style=\"font-weight: 400;\" data-mce-fragment=\"1\"\u003e\u003cstrong\u003eColor\u003c\/strong\u003e: light gray, light green, lotus root powder, black, skin color\u003c\/span\u003e\u003c\/li\u003e\n\u003cli\u003e\u003cspan style=\"font-weight: 400;\" data-mce-style=\"font-weight: 400;\" data-mce-fragment=\"1\"\u003e\u003cstrong\u003eWeight\u003c\/strong\u003e: 50g \/ 0.11lb\u003c\/span\u003e\u003c\/li\u003e\n\u003cli\u003e\u003cspan style=\"font-weight: 400;\" data-mce-style=\"font-weight: 400;\" data-mce-fragment=\"1\"\u003e\u003cstrong\u003eSize chart\u003c\/strong\u003e:\u003c\/span\u003e\u003c\/li\u003e\n\u003c\/ul\u003e\n\u003ctable style=\"width: 96.4392%;\" data-mce-fragment=\"1\"\u003e\n\u003ctbody data-mce-fragment=\"1\"\u003e\n\u003ctr data-mce-fragment=\"1\"\u003e\n\u003ctd style=\"width: 17%; text-align: center;\" data-mce-fragment=\"1\"\u003e\u003cstrong\u003e Size\u003c\/strong\u003e\u003c\/td\u003e\n\u003ctd style=\"width: 29.9107%; text-align: center;\" data-mce-fragment=\"1\"\u003e\u003cstrong\u003eRecommended weight\u003c\/strong\u003e\u003c\/td\u003e\n\u003ctd style=\"width: 27.0893%; text-align: center;\" data-mce-fragment=\"1\"\u003e\u003cstrong\u003eWaistline\u003c\/strong\u003e\u003c\/td\u003e\n\u003ctd style=\"width: 47%; text-align: center;\" data-mce-fragment=\"1\"\u003e\u003cstrong\u003eHips\u003c\/strong\u003e\u003c\/td\u003e\n\u003c\/tr\u003e\n\u003ctr style=\"text-align: center;\" data-mce-fragment=\"1\"\u003e\n\u003ctd style=\"width: 17%;\" data-mce-fragment=\"1\"\u003eM\u003c\/td\u003e\n\u003ctd style=\"width: 29.9107%;\" data-mce-fragment=\"1\"\u003e40-50kg\u003c\/td\u003e\n\u003ctd style=\"width: 27.0893%;\" data-mce-fragment=\"1\"\u003e59.9-69.9cm\u003c\/td\u003e\n\u003ctd style=\"width: 47%;\" data-mce-fragment=\"1\"\u003e81-85cm\u003c\/td\u003e\n\u003c\/tr\u003e\n\u003ctr style=\"text-align: center;\" data-mce-fragment=\"1\"\u003e\n\u003ctd style=\"width: 17%;\" data-mce-fragment=\"1\"\u003eL\u003c\/td\u003e\n\u003ctd style=\"width: 29.9107%;\" data-mce-fragment=\"1\"\u003e50-60kg\u003c\/td\u003e\n\u003ctd style=\"width: 27.0893%;\" data-mce-fragment=\"1\"\u003e69.9-79.9cm\u003c\/td\u003e\n\u003ctd style=\"width: 47%;\" data-mce-fragment=\"1\"\u003e85-92cm\u003c\/td\u003e\n\u003c\/tr\u003e\n\u003ctr data-mce-fragment=\"1\"\u003e\n\u003ctd style=\"width: 17%; text-align: center;\" data-mce-fragment=\"1\"\u003eXL\u003c\/td\u003e\n\u003ctd style=\"width: 29.9107%; text-align: center;\" data-mce-fragment=\"1\"\u003e60-70kg\u003c\/td\u003e\n\u003ctd style=\"width: 27.0893%; text-align: center;\" data-mce-fragment=\"1\"\u003e79.9-93.9cm\u003c\/td\u003e\n\u003ctd style=\"width: 47%; text-align: center;\" data-mce-fragment=\"1\"\u003e92-100cm\u003c\/td\u003e\n\u003c\/tr\u003e\n\u003c\/tbody\u003e\n\u003c\/table\u003e\n\u003cbr data-mce-fragment=\"1\"\u003e\n\u003ch3 data-mce-fragment=\"1\"\u003e\u003cspan style=\"color: #8b5a22;\"\u003e\u003cstrong\u003ePACKAGE INCLUDED \u003c\/strong\u003e\u003c\/span\u003e\u003c\/h3\u003e\n\u003cul\u003e\n\u003cli\u003e\u003cspan style=\"font-weight: 400;\" data-mce-style=\"font-weight: 400;\" data-mce-fragment=\"1\"\u003e1 pair × High Waist Tummy Control Panties\u003c\/span\u003e\u003c\/li\u003e\n\u003c\/ul\u003e","published_at":"2023-02-19T23:59:44-06:00","created_at":"2023-02-20T00:00:03-06:00","vendor":"luluwin","type":"","tags":["clothing","clothing \u0026 accessories","women's clothing"],"price":799,"price_min":799,"price_max":799,"available":true,"price_varies":false,"compare_at_price":1499,"compare_at_price_min":1499,"compare_at_price_max":1499,"compare_at_price_varies":false,"variants":[{"id":43341320519834,"title":"light gray \/ M","option1":"light gray","option2":"M","option3":null,"sku":"UN17370-C025-S00M","requires_shipping":true,"taxable":false,"featured_image":{"id":36455974863002,"product_id":7708023685274,"position":13,"created_at":"2023-02-20T00:00:10-06:00","updated_at":"2023-02-20T00:00:10-06:00","alt":null,"width":800,"height":800,"src":"\/\/www.luluwin.co.uk\/cdn\/shop\/products\/2_5d30713a-6a00-4887-96cb-3539fefffe7f.png?v=1676872810","variant_ids":[43341320519834,43341320552602,43341320585370]},"available":true,"name":"High Waist Tummy Control Panties - light gray \/ M","public_title":"light gray \/ M","options":["light gray","M"],"price":799,"weight":0,"compare_at_price":1499,"inventory_management":null,"barcode":null,"featured_media":{"alt":null,"id":28951179690138,"position":13,"preview_image":{"aspect_ratio":1.0,"height":800,"width":800,"src":"\/\/www.luluwin.co.uk\/cdn\/shop\/products\/2_5d30713a-6a00-4887-96cb-3539fefffe7f.png?v=1676872810"}},"requires_selling_plan":false,"selling_plan_allocations":[]},{"id":43341320552602,"title":"light gray \/ L","option1":"light gray","option2":"L","option3":null,"sku":"UN17370-C025-S00L","requires_shipping":true,"taxable":false,"featured_image":{"id":36455974863002,"product_id":7708023685274,"position":13,"created_at":"2023-02-20T00:00:10-06:00","updated_at":"2023-02-20T00:00:10-06:00","alt":null,"width":800,"height":800,"src":"\/\/www.luluwin.co.uk\/cdn\/shop\/products\/2_5d30713a-6a00-4887-96cb-3539fefffe7f.png?v=1676872810","variant_ids":[43341320519834,43341320552602,43341320585370]},"available":true,"name":"High Waist Tummy Control Panties - light gray \/ L","public_title":"light gray \/ L","options":["light gray","L"],"price":799,"weight":0,"compare_at_price":1499,"inventory_management":null,"barcode":null,"featured_media":{"alt":null,"id":28951179690138,"position":13,"preview_image":{"aspect_ratio":1.0,"height":800,"width":800,"src":"\/\/www.luluwin.co.uk\/cdn\/shop\/products\/2_5d30713a-6a00-4887-96cb-3539fefffe7f.png?v=1676872810"}},"requires_selling_plan":false,"selling_plan_allocations":[]},{"id":43341320585370,"title":"light gray \/ XL","option1":"light gray","option2":"XL","option3":null,"sku":"UN17370-C025-S00X","requires_shipping":true,"taxable":false,"featured_image":{"id":36455974863002,"product_id":7708023685274,"position":13,"created_at":"2023-02-20T00:00:10-06:00","updated_at":"2023-02-20T00:00:10-06:00","alt":null,"width":800,"height":800,"src":"\/\/www.luluwin.co.uk\/cdn\/shop\/products\/2_5d30713a-6a00-4887-96cb-3539fefffe7f.png?v=1676872810","variant_ids":[43341320519834,43341320552602,43341320585370]},"available":true,"name":"High Waist Tummy Control Panties - light gray \/ XL","public_title":"light gray \/ XL","options":["light gray","XL"],"price":799,"weight":0,"compare_at_price":1499,"inventory_management":null,"barcode":null,"featured_media":{"alt":null,"id":28951179690138,"position":13,"preview_image":{"aspect_ratio":1.0,"height":800,"width":800,"src":"\/\/www.luluwin.co.uk\/cdn\/shop\/products\/2_5d30713a-6a00-4887-96cb-3539fefffe7f.png?v=1676872810"}},"requires_selling_plan":false,"selling_plan_allocations":[]},{"id":43341320618138,"title":"light green \/ M","option1":"light green","option2":"M","option3":null,"sku":"UN17370-C079-S00M","requires_shipping":true,"taxable":false,"featured_image":{"id":36455974928538,"product_id":7708023685274,"position":15,"created_at":"2023-02-20T00:00:14-06:00","updated_at":"2023-02-20T00:00:14-06:00","alt":null,"width":800,"height":800,"src":"\/\/www.luluwin.co.uk\/cdn\/shop\/products\/845698aaf0480dee65e404307020f294_aa228a76-df5e-4aa7-81af-d9ef2c8b00b4.png?v=1676872814","variant_ids":[43341320618138,43341320650906,43341320683674]},"available":true,"name":"High Waist Tummy Control Panties - light green \/ M","public_title":"light green \/ M","options":["light green","M"],"price":799,"weight":0,"compare_at_price":1499,"inventory_management":null,"barcode":null,"featured_media":{"alt":null,"id":28951179821210,"position":15,"preview_image":{"aspect_ratio":1.0,"height":800,"width":800,"src":"\/\/www.luluwin.co.uk\/cdn\/shop\/products\/845698aaf0480dee65e404307020f294_aa228a76-df5e-4aa7-81af-d9ef2c8b00b4.png?v=1676872814"}},"requires_selling_plan":false,"selling_plan_allocations":[]},{"id":43341320650906,"title":"light green \/ L","option1":"light green","option2":"L","option3":null,"sku":"UN17370-C079-S00L","requires_shipping":true,"taxable":false,"featured_image":{"id":36455974928538,"product_id":7708023685274,"position":15,"created_at":"2023-02-20T00:00:14-06:00","updated_at":"2023-02-20T00:00:14-06:00","alt":null,"width":800,"height":800,"src":"\/\/www.luluwin.co.uk\/cdn\/shop\/products\/845698aaf0480dee65e404307020f294_aa228a76-df5e-4aa7-81af-d9ef2c8b00b4.png?v=1676872814","variant_ids":[43341320618138,43341320650906,43341320683674]},"available":true,"name":"High Waist Tummy Control Panties - light green \/ L","public_title":"light green \/ L","options":["light green","L"],"price":799,"weight":0,"compare_at_price":1499,"inventory_management":null,"barcode":null,"featured_media":{"alt":null,"id":28951179821210,"position":15,"preview_image":{"aspect_ratio":1.0,"height":800,"width":800,"src":"\/\/www.luluwin.co.uk\/cdn\/shop\/products\/845698aaf0480dee65e404307020f294_aa228a76-df5e-4aa7-81af-d9ef2c8b00b4.png?v=1676872814"}},"requires_selling_plan":false,"selling_plan_allocations":[]},{"id":43341320683674,"title":"light green \/ XL","option1":"light green","option2":"XL","option3":null,"sku":"UN17370-C079-S00X","requires_shipping":true,"taxable":false,"featured_image":{"id":36455974928538,"product_id":7708023685274,"position":15,"created_at":"2023-02-20T00:00:14-06:00","updated_at":"2023-02-20T00:00:14-06:00","alt":null,"width":800,"height":800,"src":"\/\/www.luluwin.co.uk\/cdn\/shop\/products\/845698aaf0480dee65e404307020f294_aa228a76-df5e-4aa7-81af-d9ef2c8b00b4.png?v=1676872814","variant_ids":[43341320618138,43341320650906,43341320683674]},"available":true,"name":"High Waist Tummy Control Panties - light green \/ XL","public_title":"light green \/ XL","options":["light green","XL"],"price":799,"weight":0,"compare_at_price":1499,"inventory_management":null,"barcode":null,"featured_media":{"alt":null,"id":28951179821210,"position":15,"preview_image":{"aspect_ratio":1.0,"height":800,"width":800,"src":"\/\/www.luluwin.co.uk\/cdn\/shop\/products\/845698aaf0480dee65e404307020f294_aa228a76-df5e-4aa7-81af-d9ef2c8b00b4.png?v=1676872814"}},"requires_selling_plan":false,"selling_plan_allocations":[]},{"id":43341320716442,"title":"lotus root powder \/ M","option1":"lotus root powder","option2":"M","option3":null,"sku":"UN17370-C136-S00M","requires_shipping":true,"taxable":false,"featured_image":{"id":36455974895770,"product_id":7708023685274,"position":14,"created_at":"2023-02-20T00:00:12-06:00","updated_at":"2023-02-20T00:00:12-06:00","alt":null,"width":800,"height":800,"src":"\/\/www.luluwin.co.uk\/cdn\/shop\/products\/3_6e3b8756-694e-42e8-822e-0f9ee78d85bd.png?v=1676872812","variant_ids":[43341320716442,43341320749210,43341320781978]},"available":true,"name":"High Waist Tummy Control Panties - lotus root powder \/ M","public_title":"lotus root powder \/ M","options":["lotus root powder","M"],"price":799,"weight":0,"compare_at_price":1499,"inventory_management":null,"barcode":null,"featured_media":{"alt":null,"id":28951179722906,"position":14,"preview_image":{"aspect_ratio":1.0,"height":800,"width":800,"src":"\/\/www.luluwin.co.uk\/cdn\/shop\/products\/3_6e3b8756-694e-42e8-822e-0f9ee78d85bd.png?v=1676872812"}},"requires_selling_plan":false,"selling_plan_allocations":[]},{"id":43341320749210,"title":"lotus root powder \/ L","option1":"lotus root powder","option2":"L","option3":null,"sku":"UN17370-C136-S00L","requires_shipping":true,"taxable":false,"featured_image":{"id":36455974895770,"product_id":7708023685274,"position":14,"created_at":"2023-02-20T00:00:12-06:00","updated_at":"2023-02-20T00:00:12-06:00","alt":null,"width":800,"height":800,"src":"\/\/www.luluwin.co.uk\/cdn\/shop\/products\/3_6e3b8756-694e-42e8-822e-0f9ee78d85bd.png?v=1676872812","variant_ids":[43341320716442,43341320749210,43341320781978]},"available":true,"name":"High Waist Tummy Control Panties - lotus root powder \/ L","public_title":"lotus root powder \/ L","options":["lotus root powder","L"],"price":799,"weight":0,"compare_at_price":1499,"inventory_management":null,"barcode":null,"featured_media":{"alt":null,"id":28951179722906,"position":14,"preview_image":{"aspect_ratio":1.0,"height":800,"width":800,"src":"\/\/www.luluwin.co.uk\/cdn\/shop\/products\/3_6e3b8756-694e-42e8-822e-0f9ee78d85bd.png?v=1676872812"}},"requires_selling_plan":false,"selling_plan_allocations":[]},{"id":43341320781978,"title":"lotus root powder \/ XL","option1":"lotus root powder","option2":"XL","option3":null,"sku":"UN17370-C136-S00X","requires_shipping":true,"taxable":false,"featured_image":{"id":36455974895770,"product_id":7708023685274,"position":14,"created_at":"2023-02-20T00:00:12-06:00","updated_at":"2023-02-20T00:00:12-06:00","alt":null,"width":800,"height":800,"src":"\/\/www.luluwin.co.uk\/cdn\/shop\/products\/3_6e3b8756-694e-42e8-822e-0f9ee78d85bd.png?v=1676872812","variant_ids":[43341320716442,43341320749210,43341320781978]},"available":true,"name":"High Waist Tummy Control Panties - lotus root powder \/ XL","public_title":"lotus root powder \/ XL","options":["lotus root powder","XL"],"price":799,"weight":0,"compare_at_price":1499,"inventory_management":null,"barcode":null,"featured_media":{"alt":null,"id":28951179722906,"position":14,"preview_image":{"aspect_ratio":1.0,"height":800,"width":800,"src":"\/\/www.luluwin.co.uk\/cdn\/shop\/products\/3_6e3b8756-694e-42e8-822e-0f9ee78d85bd.png?v=1676872812"}},"requires_selling_plan":false,"selling_plan_allocations":[]},{"id":43341320814746,"title":"black \/ M","option1":"black","option2":"M","option3":null,"sku":"UN17370-C001-S00M","requires_shipping":true,"taxable":false,"featured_image":{"id":36455974600858,"product_id":7708023685274,"position":12,"created_at":"2023-02-20T00:00:08-06:00","updated_at":"2023-02-20T00:00:08-06:00","alt":null,"width":800,"height":800,"src":"\/\/www.luluwin.co.uk\/cdn\/shop\/products\/4_28b22a2a-c305-43b5-9481-a12975309bc2.png?v=1676872808","variant_ids":[43341320814746,43341320847514,43341320880282]},"available":true,"name":"High Waist Tummy Control Panties - black \/ M","public_title":"black \/ M","options":["black","M"],"price":799,"weight":0,"compare_at_price":1499,"inventory_management":null,"barcode":null,"featured_media":{"alt":null,"id":28951179427994,"position":12,"preview_image":{"aspect_ratio":1.0,"height":800,"width":800,"src":"\/\/www.luluwin.co.uk\/cdn\/shop\/products\/4_28b22a2a-c305-43b5-9481-a12975309bc2.png?v=1676872808"}},"requires_selling_plan":false,"selling_plan_allocations":[]},{"id":43341320847514,"title":"black \/ L","option1":"black","option2":"L","option3":null,"sku":"UN17370-C001-S00L","requires_shipping":true,"taxable":false,"featured_image":{"id":36455974600858,"product_id":7708023685274,"position":12,"created_at":"2023-02-20T00:00:08-06:00","updated_at":"2023-02-20T00:00:08-06:00","alt":null,"width":800,"height":800,"src":"\/\/www.luluwin.co.uk\/cdn\/shop\/products\/4_28b22a2a-c305-43b5-9481-a12975309bc2.png?v=1676872808","variant_ids":[43341320814746,43341320847514,43341320880282]},"available":true,"name":"High Waist Tummy Control Panties - black \/ L","public_title":"black \/ L","options":["black","L"],"price":799,"weight":0,"compare_at_price":1499,"inventory_management":null,"barcode":null,"featured_media":{"alt":null,"id":28951179427994,"position":12,"preview_image":{"aspect_ratio":1.0,"height":800,"width":800,"src":"\/\/www.luluwin.co.uk\/cdn\/shop\/products\/4_28b22a2a-c305-43b5-9481-a12975309bc2.png?v=1676872808"}},"requires_selling_plan":false,"selling_plan_allocations":[]},{"id":43341320880282,"title":"black \/ XL","option1":"black","option2":"XL","option3":null,"sku":"UN17370-C001-S00X","requires_shipping":true,"taxable":false,"featured_image":{"id":36455974600858,"product_id":7708023685274,"position":12,"created_at":"2023-02-20T00:00:08-06:00","updated_at":"2023-02-20T00:00:08-06:00","alt":null,"width":800,"height":800,"src":"\/\/www.luluwin.co.uk\/cdn\/shop\/products\/4_28b22a2a-c305-43b5-9481-a12975309bc2.png?v=1676872808","variant_ids":[43341320814746,43341320847514,43341320880282]},"available":true,"name":"High Waist Tummy Control Panties - black \/ XL","public_title":"black \/ XL","options":["black","XL"],"price":799,"weight":0,"compare_at_price":1499,"inventory_management":null,"barcode":null,"featured_media":{"alt":null,"id":28951179427994,"position":12,"preview_image":{"aspect_ratio":1.0,"height":800,"width":800,"src":"\/\/www.luluwin.co.uk\/cdn\/shop\/products\/4_28b22a2a-c305-43b5-9481-a12975309bc2.png?v=1676872808"}},"requires_selling_plan":false,"selling_plan_allocations":[]},{"id":43341320913050,"title":"skin color \/ M","option1":"skin color","option2":"M","option3":null,"sku":"UN17370-C083-S00M","requires_shipping":true,"taxable":false,"featured_image":{"id":36455975190682,"product_id":7708023685274,"position":16,"created_at":"2023-02-20T00:00:16-06:00","updated_at":"2023-02-20T00:00:16-06:00","alt":null,"width":800,"height":800,"src":"\/\/www.luluwin.co.uk\/cdn\/shop\/products\/1_4c558e6a-0e6d-4f4e-bf16-9ed00b764de6.png?v=1676872816","variant_ids":[43341320913050,43341320945818,43341320978586]},"available":true,"name":"High Waist Tummy Control Panties - skin color \/ M","public_title":"skin color \/ M","options":["skin color","M"],"price":799,"weight":0,"compare_at_price":1499,"inventory_management":null,"barcode":null,"featured_media":{"alt":null,"id":28951180017818,"position":16,"preview_image":{"aspect_ratio":1.0,"height":800,"width":800,"src":"\/\/www.luluwin.co.uk\/cdn\/shop\/products\/1_4c558e6a-0e6d-4f4e-bf16-9ed00b764de6.png?v=1676872816"}},"requires_selling_plan":false,"selling_plan_allocations":[]},{"id":43341320945818,"title":"skin color \/ L","option1":"skin color","option2":"L","option3":null,"sku":"UN17370-C083-S00L","requires_shipping":true,"taxable":false,"featured_image":{"id":36455975190682,"product_id":7708023685274,"position":16,"created_at":"2023-02-20T00:00:16-06:00","updated_at":"2023-02-20T00:00:16-06:00","alt":null,"width":800,"height":800,"src":"\/\/www.luluwin.co.uk\/cdn\/shop\/products\/1_4c558e6a-0e6d-4f4e-bf16-9ed00b764de6.png?v=1676872816","variant_ids":[43341320913050,43341320945818,43341320978586]},"available":true,"name":"High Waist Tummy Control Panties - skin color \/ L","public_title":"skin color \/ L","options":["skin color","L"],"price":799,"weight":0,"compare_at_price":1499,"inventory_management":null,"barcode":null,"featured_media":{"alt":null,"id":28951180017818,"position":16,"preview_image":{"aspect_ratio":1.0,"height":800,"width":800,"src":"\/\/www.luluwin.co.uk\/cdn\/shop\/products\/1_4c558e6a-0e6d-4f4e-bf16-9ed00b764de6.png?v=1676872816"}},"requires_selling_plan":false,"selling_plan_allocations":[]},{"id":43341320978586,"title":"skin color \/ XL","option1":"skin color","option2":"XL","option3":null,"sku":"UN17370-C083-S00X","requires_shipping":true,"taxable":false,"featured_image":{"id":36455975190682,"product_id":7708023685274,"position":16,"created_at":"2023-02-20T00:00:16-06:00","updated_at":"2023-02-20T00:00:16-06:00","alt":null,"width":800,"height":800,"src":"\/\/www.luluwin.co.uk\/cdn\/shop\/products\/1_4c558e6a-0e6d-4f4e-bf16-9ed00b764de6.png?v=1676872816","variant_ids":[43341320913050,43341320945818,43341320978586]},"available":true,"name":"High Waist Tummy Control Panties - skin color \/ XL","public_title":"skin color \/ XL","options":["skin color","XL"],"price":799,"weight":0,"compare_at_price":1499,"inventory_management":null,"barcode":null,"featured_media":{"alt":null,"id":28951180017818,"position":16,"preview_image":{"aspect_ratio":1.0,"height":800,"width":800,"src":"\/\/www.luluwin.co.uk\/cdn\/shop\/products\/1_4c558e6a-0e6d-4f4e-bf16-9ed00b764de6.png?v=1676872816"}},"requires_selling_plan":false,"selling_plan_allocations":[]}],"images":["\/\/www.luluwin.co.uk\/cdn\/shop\/products\/1_d581eac4-5ca8-41ba-a88f-a2ee51229050.png?v=1676872803","\/\/www.luluwin.co.uk\/cdn\/shop\/products\/3_cb1b6d0b-d0d2-421c-9e58-afd675436511.png?v=1676872803","\/\/www.luluwin.co.uk\/cdn\/shop\/products\/4_a5a73131-5d0e-487a-bc4b-051803701823.png?v=1676872803","\/\/www.luluwin.co.uk\/cdn\/shop\/products\/7_0e64e2ef-b275-4a04-988d-18dfae0f0a60.png?v=1676872803","\/\/www.luluwin.co.uk\/cdn\/shop\/products\/3_234335d6-91b8-4d6c-9771-437d7fa8ad16.png?v=1676872803","\/\/www.luluwin.co.uk\/cdn\/shop\/products\/2_987c7585-6e8f-45fb-abc5-3b563fc11c52.png?v=1676872803","\/\/www.luluwin.co.uk\/cdn\/shop\/products\/5_92129c35-29f7-4648-8636-32b7a57079eb.png?v=1676872803","\/\/www.luluwin.co.uk\/cdn\/shop\/products\/1_3749e9a4-feeb-4d0e-b133-68969944adc0.png?v=1676872804","\/\/www.luluwin.co.uk\/cdn\/shop\/products\/4_37cb1d93-8643-4dd6-9faa-5f9cd930f08f.png?v=1676872804","\/\/www.luluwin.co.uk\/cdn\/shop\/products\/7_91cd1168-ccb8-4ac8-9097-39ed1b6b68fc.png?v=1676872804","\/\/www.luluwin.co.uk\/cdn\/shop\/products\/8_6fdc457a-6f3c-4c67-8834-09b3b766db8f.png?v=1676872804","\/\/www.luluwin.co.uk\/cdn\/shop\/products\/4_28b22a2a-c305-43b5-9481-a12975309bc2.png?v=1676872808","\/\/www.luluwin.co.uk\/cdn\/shop\/products\/2_5d30713a-6a00-4887-96cb-3539fefffe7f.png?v=1676872810","\/\/www.luluwin.co.uk\/cdn\/shop\/products\/3_6e3b8756-694e-42e8-822e-0f9ee78d85bd.png?v=1676872812","\/\/www.luluwin.co.uk\/cdn\/shop\/products\/845698aaf0480dee65e404307020f294_aa228a76-df5e-4aa7-81af-d9ef2c8b00b4.png?v=1676872814","\/\/www.luluwin.co.uk\/cdn\/shop\/products\/1_4c558e6a-0e6d-4f4e-bf16-9ed00b764de6.png?v=1676872816"],"featured_image":"\/\/www.luluwin.co.uk\/cdn\/shop\/products\/1_d581eac4-5ca8-41ba-a88f-a2ee51229050.png?v=1676872803","options":["Color","Size"],"media":[{"alt":null,"id":28951179002010,"position":1,"preview_image":{"aspect_ratio":1.0,"height":800,"width":800,"src":"\/\/www.luluwin.co.uk\/cdn\/shop\/products\/1_d581eac4-5ca8-41ba-a88f-a2ee51229050.png?v=1676872803"},"aspect_ratio":1.0,"height":800,"media_type":"image","src":"\/\/www.luluwin.co.uk\/cdn\/shop\/products\/1_d581eac4-5ca8-41ba-a88f-a2ee51229050.png?v=1676872803","width":800},{"alt":null,"id":28951179034778,"position":2,"preview_image":{"aspect_ratio":1.0,"height":800,"width":800,"src":"\/\/www.luluwin.co.uk\/cdn\/shop\/products\/3_cb1b6d0b-d0d2-421c-9e58-afd675436511.png?v=1676872803"},"aspect_ratio":1.0,"height":800,"media_type":"image","src":"\/\/www.luluwin.co.uk\/cdn\/shop\/products\/3_cb1b6d0b-d0d2-421c-9e58-afd675436511.png?v=1676872803","width":800},{"alt":null,"id":28951179067546,"position":3,"preview_image":{"aspect_ratio":1.0,"height":800,"width":800,"src":"\/\/www.luluwin.co.uk\/cdn\/shop\/products\/4_a5a73131-5d0e-487a-bc4b-051803701823.png?v=1676872803"},"aspect_ratio":1.0,"height":800,"media_type":"image","src":"\/\/www.luluwin.co.uk\/cdn\/shop\/products\/4_a5a73131-5d0e-487a-bc4b-051803701823.png?v=1676872803","width":800},{"alt":null,"id":28951179100314,"position":4,"preview_image":{"aspect_ratio":1.0,"height":800,"width":800,"src":"\/\/www.luluwin.co.uk\/cdn\/shop\/products\/7_0e64e2ef-b275-4a04-988d-18dfae0f0a60.png?v=1676872803"},"aspect_ratio":1.0,"height":800,"media_type":"image","src":"\/\/www.luluwin.co.uk\/cdn\/shop\/products\/7_0e64e2ef-b275-4a04-988d-18dfae0f0a60.png?v=1676872803","width":800},{"alt":null,"id":28951179133082,"position":5,"preview_image":{"aspect_ratio":1.0,"height":800,"width":800,"src":"\/\/www.luluwin.co.uk\/cdn\/shop\/products\/3_234335d6-91b8-4d6c-9771-437d7fa8ad16.png?v=1676872803"},"aspect_ratio":1.0,"height":800,"media_type":"image","src":"\/\/www.luluwin.co.uk\/cdn\/shop\/products\/3_234335d6-91b8-4d6c-9771-437d7fa8ad16.png?v=1676872803","width":800},{"alt":null,"id":28951179165850,"position":6,"preview_image":{"aspect_ratio":1.0,"height":800,"width":800,"src":"\/\/www.luluwin.co.uk\/cdn\/shop\/products\/2_987c7585-6e8f-45fb-abc5-3b563fc11c52.png?v=1676872803"},"aspect_ratio":1.0,"height":800,"media_type":"image","src":"\/\/www.luluwin.co.uk\/cdn\/shop\/products\/2_987c7585-6e8f-45fb-abc5-3b563fc11c52.png?v=1676872803","width":800},{"alt":null,"id":28951179198618,"position":7,"preview_image":{"aspect_ratio":1.0,"height":800,"width":800,"src":"\/\/www.luluwin.co.uk\/cdn\/shop\/products\/5_92129c35-29f7-4648-8636-32b7a57079eb.png?v=1676872803"},"aspect_ratio":1.0,"height":800,"media_type":"image","src":"\/\/www.luluwin.co.uk\/cdn\/shop\/products\/5_92129c35-29f7-4648-8636-32b7a57079eb.png?v=1676872803","width":800},{"alt":null,"id":28951179231386,"position":8,"preview_image":{"aspect_ratio":1.0,"height":800,"width":800,"src":"\/\/www.luluwin.co.uk\/cdn\/shop\/products\/1_3749e9a4-feeb-4d0e-b133-68969944adc0.png?v=1676872804"},"aspect_ratio":1.0,"height":800,"media_type":"image","src":"\/\/www.luluwin.co.uk\/cdn\/shop\/products\/1_3749e9a4-feeb-4d0e-b133-68969944adc0.png?v=1676872804","width":800},{"alt":null,"id":28951179264154,"position":9,"preview_image":{"aspect_ratio":1.0,"height":800,"width":800,"src":"\/\/www.luluwin.co.uk\/cdn\/shop\/products\/4_37cb1d93-8643-4dd6-9faa-5f9cd930f08f.png?v=1676872804"},"aspect_ratio":1.0,"height":800,"media_type":"image","src":"\/\/www.luluwin.co.uk\/cdn\/shop\/products\/4_37cb1d93-8643-4dd6-9faa-5f9cd930f08f.png?v=1676872804","width":800},{"alt":null,"id":28951179296922,"position":10,"preview_image":{"aspect_ratio":1.0,"height":800,"width":800,"src":"\/\/www.luluwin.co.uk\/cdn\/shop\/products\/7_91cd1168-ccb8-4ac8-9097-39ed1b6b68fc.png?v=1676872804"},"aspect_ratio":1.0,"height":800,"media_type":"image","src":"\/\/www.luluwin.co.uk\/cdn\/shop\/products\/7_91cd1168-ccb8-4ac8-9097-39ed1b6b68fc.png?v=1676872804","width":800},{"alt":null,"id":28951179329690,"position":11,"preview_image":{"aspect_ratio":1.0,"height":800,"width":800,"src":"\/\/www.luluwin.co.uk\/cdn\/shop\/products\/8_6fdc457a-6f3c-4c67-8834-09b3b766db8f.png?v=1676872804"},"aspect_ratio":1.0,"height":800,"media_type":"image","src":"\/\/www.luluwin.co.uk\/cdn\/shop\/products\/8_6fdc457a-6f3c-4c67-8834-09b3b766db8f.png?v=1676872804","width":800},{"alt":null,"id":28951179427994,"position":12,"preview_image":{"aspect_ratio":1.0,"height":800,"width":800,"src":"\/\/www.luluwin.co.uk\/cdn\/shop\/products\/4_28b22a2a-c305-43b5-9481-a12975309bc2.png?v=1676872808"},"aspect_ratio":1.0,"height":800,"media_type":"image","src":"\/\/www.luluwin.co.uk\/cdn\/shop\/products\/4_28b22a2a-c305-43b5-9481-a12975309bc2.png?v=1676872808","width":800},{"alt":null,"id":28951179690138,"position":13,"preview_image":{"aspect_ratio":1.0,"height":800,"width":800,"src":"\/\/www.luluwin.co.uk\/cdn\/shop\/products\/2_5d30713a-6a00-4887-96cb-3539fefffe7f.png?v=1676872810"},"aspect_ratio":1.0,"height":800,"media_type":"image","src":"\/\/www.luluwin.co.uk\/cdn\/shop\/products\/2_5d30713a-6a00-4887-96cb-3539fefffe7f.png?v=1676872810","width":800},{"alt":null,"id":28951179722906,"position":14,"preview_image":{"aspect_ratio":1.0,"height":800,"width":800,"src":"\/\/www.luluwin.co.uk\/cdn\/shop\/products\/3_6e3b8756-694e-42e8-822e-0f9ee78d85bd.png?v=1676872812"},"aspect_ratio":1.0,"height":800,"media_type":"image","src":"\/\/www.luluwin.co.uk\/cdn\/shop\/products\/3_6e3b8756-694e-42e8-822e-0f9ee78d85bd.png?v=1676872812","width":800},{"alt":null,"id":28951179821210,"position":15,"preview_image":{"aspect_ratio":1.0,"height":800,"width":800,"src":"\/\/www.luluwin.co.uk\/cdn\/shop\/products\/845698aaf0480dee65e404307020f294_aa228a76-df5e-4aa7-81af-d9ef2c8b00b4.png?v=1676872814"},"aspect_ratio":1.0,"height":800,"media_type":"image","src":"\/\/www.luluwin.co.uk\/cdn\/shop\/products\/845698aaf0480dee65e404307020f294_aa228a76-df5e-4aa7-81af-d9ef2c8b00b4.png?v=1676872814","width":800},{"alt":null,"id":28951180017818,"position":16,"preview_image":{"aspect_ratio":1.0,"height":800,"width":800,"src":"\/\/www.luluwin.co.uk\/cdn\/shop\/products\/1_4c558e6a-0e6d-4f4e-bf16-9ed00b764de6.png?v=1676872816"},"aspect_ratio":1.0,"height":800,"media_type":"image","src":"\/\/www.luluwin.co.uk\/cdn\/shop\/products\/1_4c558e6a-0e6d-4f4e-bf16-9ed00b764de6.png?v=1676872816","width":800}],"requires_selling_plan":false,"selling_plan_groups":[],"content":"\u003ch4 style=\"text-align: center;\" data-mce-fragment=\"1\"\u003e\u003cstrong\u003e\u003cspan style=\"font-weight: 400;\" data-mce-style=\"font-weight: 400;\" data-mce-fragment=\"1\"\u003eFeel confident and comfortable with our belly-smoothing undergarments!💖\u003c\/span\u003e\u003c\/strong\u003e\u003c\/h4\u003e\n\u003ch4 style=\"text-align: center;\"\u003e\u003cimg height=\"350\" width=\"350\" src=\"https:\/\/cdn.cloudfastin.top\/image\/d19b0f0e8195f8ecd6f96aba10a58d881eefcaf0.webp\" data-mce-src=\"https:\/\/cdn.cloudfastin.top\/image\/d19b0f0e8195f8ecd6f96aba10a58d881eefcaf0.webp\" data-mce-fragment=\"1\"\u003e\u003c\/h4\u003e\n\u003ch4 style=\"text-align: left;\" data-mce-fragment=\"1\"\u003e\u003cspan style=\"color: #af3b29;\"\u003e\u003cstrong\u003e-Shape your waist and belly, making you look like the person you always wanted to be. 🌟\u003c\/strong\u003e\u003c\/span\u003e\u003c\/h4\u003e\n\u003ch4 style=\"text-align: left;\" data-mce-fragment=\"1\"\u003e\u003cstrong\u003e-Supports and shapes the buttocks without creating visible panty lines. 🍑\u003c\/strong\u003e\u003c\/h4\u003e\n\u003ch4 style=\"text-align: left;\" data-mce-fragment=\"1\"\u003e\u003cspan style=\"color: #ff8000;\"\u003e\u003cstrong\u003e-Unlock a much greater variety of stunning outfits! 👗\u003c\/strong\u003e\u003c\/span\u003e\u003c\/h4\u003e\n\u003ch4 style=\"text-align: left;\" data-mce-fragment=\"1\"\u003e\u003cstrong\u003e-Boost your confidence! 😎\u003c\/strong\u003e\u003c\/h4\u003e\n\u003ch4 style=\"text-align: left;\" data-mce-fragment=\"1\"\u003e\u003cspan style=\"color: #af3b29;\"\u003e\u003cstrong\u003e-Always look your best! 😍\u003c\/strong\u003e\u003c\/span\u003e\u003c\/h4\u003e\n\u003ch4\u003e\u003cimg height=\"351\" width=\"351\" style=\"display: block; margin-left: auto; margin-right: auto;\" src=\"https:\/\/cdn.cloudfastin.top\/image\/b7e6c9377f6a8fd2dd8ab4f39aaf309c7ec395fd.webp\" data-mce-src=\"https:\/\/cdn.cloudfastin.top\/image\/b7e6c9377f6a8fd2dd8ab4f39aaf309c7ec395fd.webp\" data-mce-fragment=\"1\"\u003e\u003c\/h4\u003e\n\u003ch3 data-mce-fragment=\"1\"\u003e\u003cspan style=\"color: #8b5a22;\"\u003e\u003cstrong\u003eFEATURES\u003c\/strong\u003e\u003c\/span\u003e\u003c\/h3\u003e\n\u003cul\u003e\n\u003cli\u003e\u003cspan style=\"font-weight: 400;\" data-mce-style=\"font-weight: 400;\" data-mce-fragment=\"1\"\u003eWhether you're playing sports, running errands or relaxing at home, you'll feel confident and comfortable in our underwear. \u003c\/span\u003e\u003c\/li\u003e\n\u003c\/ul\u003e\n\u003cdiv\u003e\u003cimg src=\"https:\/\/cdn.shopifycdn.net\/s\/files\/1\/0040\/2728\/5539\/files\/5_23f0aa05-22f2-45a8-a440-f857b70f3721_480x480.png?v=1676627068\" alt=\"\" style=\"display: block; margin-left: auto; margin-right: auto;\" data-mce-fragment=\"1\" data-mce-src=\"https:\/\/cdn.shopifycdn.net\/s\/files\/1\/0040\/2728\/5539\/files\/5_23f0aa05-22f2-45a8-a440-f857b70f3721_480x480.png?v=1676627068\"\u003e\u003c\/div\u003e\n\u003cul\u003e\n\u003cli\u003e\u003cspan style=\"font-weight: 400;\" data-mce-style=\"font-weight: 400;\" data-mce-fragment=\"1\"\u003eDon't put off comfort any longer with the size that suits you best.\u003c\/span\u003e\u003c\/li\u003e\n\u003c\/ul\u003e\n\u003cdiv\u003e\u003cimg src=\"https:\/\/cdn.shopifycdn.net\/s\/files\/1\/0040\/2728\/5539\/files\/2_2f7eef63-7582-4050-8488-33f66640aea8_480x480.png?v=1676627081\" alt=\"\" style=\"display: block; margin-left: auto; margin-right: auto;\" data-mce-fragment=\"1\" data-mce-src=\"https:\/\/cdn.shopifycdn.net\/s\/files\/1\/0040\/2728\/5539\/files\/2_2f7eef63-7582-4050-8488-33f66640aea8_480x480.png?v=1676627081\"\u003e\u003c\/div\u003e\n\u003cul\u003e\n\u003cli\u003e\u003cspan style=\"font-weight: 400;\" data-mce-style=\"font-weight: 400;\" data-mce-fragment=\"1\"\u003eSay hello to your comfortable everyday styler, which you'll never leave home without.\u003c\/span\u003e\u003c\/li\u003e\n\u003c\/ul\u003e\n\u003cdiv\u003e\u003cimg src=\"https:\/\/cdn.shopifycdn.net\/s\/files\/1\/0040\/2728\/5539\/files\/3_a6066667-8fc7-4510-8a2e-0f22b46c7aec_480x480.png?v=1676627094\" alt=\"\" style=\"display: block; margin-left: auto; margin-right: auto;\" data-mce-fragment=\"1\" data-mce-src=\"https:\/\/cdn.shopifycdn.net\/s\/files\/1\/0040\/2728\/5539\/files\/3_a6066667-8fc7-4510-8a2e-0f22b46c7aec_480x480.png?v=1676627094\"\u003e\u003c\/div\u003e\n\u003cul\u003e\n\u003cli\u003e\u003cspan style=\"font-weight: 400;\" data-mce-style=\"font-weight: 400;\" data-mce-fragment=\"1\"\u003eThe double layer of microfiber in the abdominal area provides maximum control while remaining soft and smooth to prevent discomfort and irritation.\u003c\/span\u003e\u003c\/li\u003e\n\u003c\/ul\u003e\n\u003ch3 data-mce-fragment=\"1\"\u003e\u003cspan style=\"color: #8b5a22;\"\u003e\u003cstrong\u003eSPECIFICATIONS\u003c\/strong\u003e\u003c\/span\u003e\u003c\/h3\u003e\n\u003cul\u003e\n\u003cli\u003e\u003cspan style=\"font-weight: 400;\" data-mce-style=\"font-weight: 400;\" data-mce-fragment=\"1\"\u003e\u003cstrong\u003eMaterial\u003c\/strong\u003e: Nylon\u003c\/span\u003e\u003c\/li\u003e\n\u003cli\u003e\u003cspan style=\"font-weight: 400;\" data-mce-style=\"font-weight: 400;\" data-mce-fragment=\"1\"\u003e\u003cstrong\u003eColor\u003c\/strong\u003e: light gray, light green, lotus root powder, black, skin color\u003c\/span\u003e\u003c\/li\u003e\n\u003cli\u003e\u003cspan style=\"font-weight: 400;\" data-mce-style=\"font-weight: 400;\" data-mce-fragment=\"1\"\u003e\u003cstrong\u003eWeight\u003c\/strong\u003e: 50g \/ 0.11lb\u003c\/span\u003e\u003c\/li\u003e\n\u003cli\u003e\u003cspan style=\"font-weight: 400;\" data-mce-style=\"font-weight: 400;\" data-mce-fragment=\"1\"\u003e\u003cstrong\u003eSize chart\u003c\/strong\u003e:\u003c\/span\u003e\u003c\/li\u003e\n\u003c\/ul\u003e\n\u003ctable style=\"width: 96.4392%;\" data-mce-fragment=\"1\"\u003e\n\u003ctbody data-mce-fragment=\"1\"\u003e\n\u003ctr data-mce-fragment=\"1\"\u003e\n\u003ctd style=\"width: 17%; text-align: center;\" data-mce-fragment=\"1\"\u003e\u003cstrong\u003e Size\u003c\/strong\u003e\u003c\/td\u003e\n\u003ctd style=\"width: 29.9107%; text-align: center;\" data-mce-fragment=\"1\"\u003e\u003cstrong\u003eRecommended weight\u003c\/strong\u003e\u003c\/td\u003e\n\u003ctd style=\"width: 27.0893%; text-align: center;\" data-mce-fragment=\"1\"\u003e\u003cstrong\u003eWaistline\u003c\/strong\u003e\u003c\/td\u003e\n\u003ctd style=\"width: 47%; text-align: center;\" data-mce-fragment=\"1\"\u003e\u003cstrong\u003eHips\u003c\/strong\u003e\u003c\/td\u003e\n\u003c\/tr\u003e\n\u003ctr style=\"text-align: center;\" data-mce-fragment=\"1\"\u003e\n\u003ctd style=\"width: 17%;\" data-mce-fragment=\"1\"\u003eM\u003c\/td\u003e\n\u003ctd style=\"width: 29.9107%;\" data-mce-fragment=\"1\"\u003e40-50kg\u003c\/td\u003e\n\u003ctd style=\"width: 27.0893%;\" data-mce-fragment=\"1\"\u003e59.9-69.9cm\u003c\/td\u003e\n\u003ctd style=\"width: 47%;\" data-mce-fragment=\"1\"\u003e81-85cm\u003c\/td\u003e\n\u003c\/tr\u003e\n\u003ctr style=\"text-align: center;\" data-mce-fragment=\"1\"\u003e\n\u003ctd style=\"width: 17%;\" data-mce-fragment=\"1\"\u003eL\u003c\/td\u003e\n\u003ctd style=\"width: 29.9107%;\" data-mce-fragment=\"1\"\u003e50-60kg\u003c\/td\u003e\n\u003ctd style=\"width: 27.0893%;\" data-mce-fragment=\"1\"\u003e69.9-79.9cm\u003c\/td\u003e\n\u003ctd style=\"width: 47%;\" data-mce-fragment=\"1\"\u003e85-92cm\u003c\/td\u003e\n\u003c\/tr\u003e\n\u003ctr data-mce-fragment=\"1\"\u003e\n\u003ctd style=\"width: 17%; text-align: center;\" data-mce-fragment=\"1\"\u003eXL\u003c\/td\u003e\n\u003ctd style=\"width: 29.9107%; text-align: center;\" data-mce-fragment=\"1\"\u003e60-70kg\u003c\/td\u003e\n\u003ctd style=\"width: 27.0893%; text-align: center;\" data-mce-fragment=\"1\"\u003e79.9-93.9cm\u003c\/td\u003e\n\u003ctd style=\"width: 47%; text-align: center;\" data-mce-fragment=\"1\"\u003e92-100cm\u003c\/td\u003e\n\u003c\/tr\u003e\n\u003c\/tbody\u003e\n\u003c\/table\u003e\n\u003cbr data-mce-fragment=\"1\"\u003e\n\u003ch3 data-mce-fragment=\"1\"\u003e\u003cspan style=\"color: #8b5a22;\"\u003e\u003cstrong\u003ePACKAGE INCLUDED \u003c\/strong\u003e\u003c\/span\u003e\u003c\/h3\u003e\n\u003cul\u003e\n\u003cli\u003e\u003cspan style=\"font-weight: 400;\" data-mce-style=\"font-weight: 400;\" data-mce-fragment=\"1\"\u003e1 pair × High Waist Tummy Control Panties\u003c\/span\u003e\u003c\/li\u003e\n\u003c\/ul\u003e"}
High Waist Tummy Control Panties
Adding product to your cart
Feel confident and comfortable with our belly-smoothing undergarments!💖

-Shape your waist and belly, making you look like the person you always wanted to be. 🌟
-Supports and shapes the buttocks without creating visible panty lines. 🍑
-Unlock a much greater variety of stunning outfits! 👗
-Boost your confidence! 😎
-Always look your best! 😍

FEATURES
Whether you're playing sports, running errands or relaxing at home, you'll feel confident and comfortable in our underwear.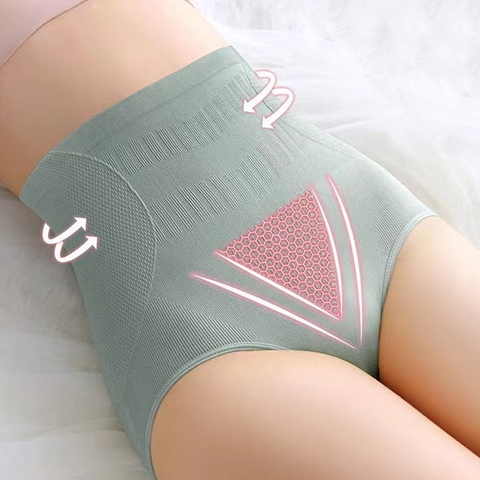 Don't put off comfort any longer with the size that suits you best.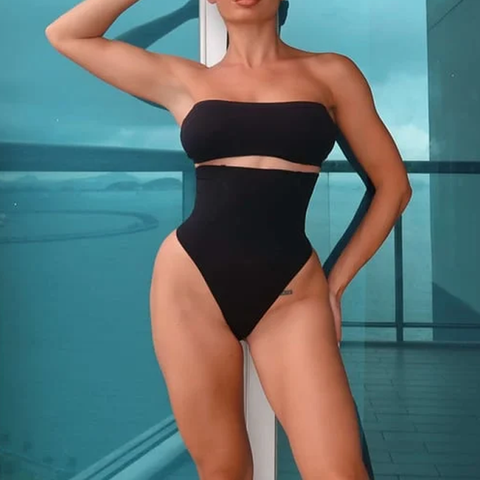 Say hello to your comfortable everyday styler, which you'll never leave home without.
The double layer of microfiber in the abdominal area provides maximum control while remaining soft and smooth to prevent discomfort and irritation.
SPECIFICATIONS
Material: Nylon
Color: light gray, light green, lotus root powder, black, skin color
Weight: 50g / 0.11lb
Size chart:
| | | | |
| --- | --- | --- | --- |
|  Size | Recommended weight | Waistline | Hips |
| M | 40-50kg | 59.9-69.9cm | 81-85cm |
| L | 50-60kg | 69.9-79.9cm | 85-92cm |
| XL | 60-70kg | 79.9-93.9cm | 92-100cm |
PACKAGE INCLUDED 
1 pair × High Waist Tummy Control Panties