{"id":6965117386906,"title":"High-grade Invisible Magnet Button (5 Sets)","handle":"high-grade-invisible-magnet-button-5-sets","description":"\u003cdiv data-mce-fragment=\"1\" class=\"listing-build-item\"\u003e\n\u003ch3 data-mce-fragment=\"1\"\u003e\n\u003cspan style=\"color: #ff8000;\"\u003eMAIN FEATURES\u003c\/span\u003e\u003cbr\u003e\n\u003c\/h3\u003e\n\u003cul data-mce-fragment=\"1\" class=\"features\"\u003e\n\u003cli data-mce-fragment=\"1\"\u003e\n\u003cstrong data-mce-fragment=\"1\"\u003eHigh-quality materials:\u003c\/strong\u003ethese buttons are made of high-quality nylon, with excellent burr-free effect, smooth and delicate, and high gloss.\u003c\/li\u003e\n\u003cli data-mce-fragment=\"1\"\u003e\n\u003cstrong data-mce-fragment=\"1\"\u003eDesign:\u003c\/strong\u003e\u003cspan data-mce-fragment=\"1\"\u003e \u003c\/span\u003eStrong magnetic force, can fit tightly, not easy to loosen, and hold firmly. There are also a variety of color options to meet your different matching requirements.\u003c\/li\u003e\n\u003cli data-mce-fragment=\"1\"\u003e\n\u003cstrong data-mce-fragment=\"1\"\u003eEasy to use:\u003c\/strong\u003e\u003cspan data-mce-fragment=\"1\"\u003e \u003c\/span\u003eThe snap buckle is stitched to the position that needs to be fixed, and the two parts can be easily connected together for fixing.\u003c\/li\u003e\n\u003cli data-mce-fragment=\"1\"\u003e\n\u003cstrong data-mce-fragment=\"1\"\u003eApplication:\u003c\/strong\u003e\u003cspan data-mce-fragment=\"1\"\u003e \u003c\/span\u003eThis snap button suit is suitable for clothing, coats, hats, jeans, shoes, jackets, jumpsuits, windbreakers, backpacks, leather crafts, DIY, etc.\u003c\/li\u003e\n\u003c\/ul\u003e\n\u003cp\u003e\u003cimg data-mce-fragment=\"1\" style=\"display: block; margin-left: auto; margin-right: auto;\" height=\"327\" width=\"327\" alt=\"\" src=\"https:\/\/cdn.shopifycdn.net\/s\/files\/1\/0253\/3611\/9344\/files\/2-min_480x480.jpg?v=1602578765\" data-mce-src=\"https:\/\/cdn.shopifycdn.net\/s\/files\/1\/0253\/3611\/9344\/files\/2-min_480x480.jpg?v=1602578765\"\u003e\u003c\/p\u003e\n\u003c\/div\u003e\n\u003cdiv data-mce-fragment=\"1\" class=\"listing-build-item\"\u003e\n\u003ch3 data-mce-fragment=\"1\"\u003e\u003cspan style=\"color: #ff8000;\"\u003eSPECIFICATIONS\u003c\/span\u003e\u003c\/h3\u003e\n\u003cul\u003e\n\u003cli\u003e\n\u003cstrong\u003eMaterial:\u003c\/strong\u003e Nylon\u003c\/li\u003e\n\u003cli\u003e\n\u003cstrong\u003eButton\u003c\/strong\u003e Diameter: 21\/25mm\u003c\/li\u003e\n\u003cli\u003e\n\u003cstrong\u003eColor:\u003c\/strong\u003e red, yellow, gray, coffee, black, white\u003c\/li\u003e\n\u003cli\u003e\n\u003cstrong\u003ePackage:\u003c\/strong\u003e \u003cspan style=\"color: #ff2a00;\"\u003e\u003cstrong\u003e5 sets\/10 PCs\u003c\/strong\u003e\u003c\/span\u003e of High-grade Invisible Magnet Button\u003c\/li\u003e\n\u003c\/ul\u003e\n\u003c\/div\u003e\n\u003cdiv data-mce-fragment=\"1\" class=\"listing-build-item\"\u003e\n\u003ch3 data-mce-fragment=\"1\"\u003e\u003cspan style=\"color: #ff8000;\"\u003eNOTE\u003c\/span\u003e\u003c\/h3\u003e\n\u003cul data-mce-fragment=\"1\"\u003e\n\u003cli data-mce-fragment=\"1\"\u003eDue to manual measurements, please allow slight measurement deviations.\u003c\/li\u003e\n\u003cli data-mce-fragment=\"1\"\u003eDue to the different display and lighting effects, the actual color of the item may be slightly different from the color displayed in the picture.\u003c\/li\u003e\n\u003c\/ul\u003e\n\u003c\/div\u003e","published_at":"2021-08-18T22:28:39-06:00","created_at":"2021-08-18T22:28:47-06:00","vendor":"Comfybear","type":"Gadgets","tags":["CLOTHING \u0026 ACCESSORIES"],"price":999,"price_min":999,"price_max":1099,"available":true,"price_varies":true,"compare_at_price":1999,"compare_at_price_min":1999,"compare_at_price_max":2199,"compare_at_price_varies":true,"variants":[{"id":40665496518810,"title":"21mm \/ red \/ 5 sets (10 pcs)","option1":"21mm","option2":"red","option3":"5 sets (10 pcs)","sku":"CP15367-C002-E055-X8527","requires_shipping":true,"taxable":false,"featured_image":null,"available":true,"name":"High-grade Invisible Magnet Button (5 Sets) - 21mm \/ red \/ 5 sets (10 pcs)","public_title":"21mm \/ red \/ 5 sets (10 pcs)","options":["21mm","red","5 sets (10 pcs)"],"price":999,"weight":0,"compare_at_price":1999,"inventory_management":null,"barcode":null,"requires_selling_plan":false,"selling_plan_allocations":[]},{"id":40665496551578,"title":"21mm \/ yellow \/ 5 sets (10 pcs)","option1":"21mm","option2":"yellow","option3":"5 sets (10 pcs)","sku":"CP15367-C003-E055-X8527","requires_shipping":true,"taxable":false,"featured_image":null,"available":true,"name":"High-grade Invisible Magnet Button (5 Sets) - 21mm \/ yellow \/ 5 sets (10 pcs)","public_title":"21mm \/ yellow \/ 5 sets (10 pcs)","options":["21mm","yellow","5 sets (10 pcs)"],"price":999,"weight":0,"compare_at_price":1999,"inventory_management":null,"barcode":null,"requires_selling_plan":false,"selling_plan_allocations":[]},{"id":40665496584346,"title":"21mm \/ gray \/ 5 sets (10 pcs)","option1":"21mm","option2":"gray","option3":"5 sets (10 pcs)","sku":"CP15367-C006-E055-X8527","requires_shipping":true,"taxable":false,"featured_image":null,"available":true,"name":"High-grade Invisible Magnet Button (5 Sets) - 21mm \/ gray \/ 5 sets (10 pcs)","public_title":"21mm \/ gray \/ 5 sets (10 pcs)","options":["21mm","gray","5 sets (10 pcs)"],"price":999,"weight":0,"compare_at_price":1999,"inventory_management":null,"barcode":null,"requires_selling_plan":false,"selling_plan_allocations":[]},{"id":40665496617114,"title":"21mm \/ coffee \/ 5 sets (10 pcs)","option1":"21mm","option2":"coffee","option3":"5 sets (10 pcs)","sku":"CP15367-C015-E055-X8527","requires_shipping":true,"taxable":false,"featured_image":null,"available":true,"name":"High-grade Invisible Magnet Button (5 Sets) - 21mm \/ coffee \/ 5 sets (10 pcs)","public_title":"21mm \/ coffee \/ 5 sets (10 pcs)","options":["21mm","coffee","5 sets (10 pcs)"],"price":999,"weight":0,"compare_at_price":1999,"inventory_management":null,"barcode":null,"requires_selling_plan":false,"selling_plan_allocations":[]},{"id":40665496649882,"title":"21mm \/ black \/ 5 sets (10 pcs)","option1":"21mm","option2":"black","option3":"5 sets (10 pcs)","sku":"CP15367-C001-E055-X8527","requires_shipping":true,"taxable":false,"featured_image":null,"available":true,"name":"High-grade Invisible Magnet Button (5 Sets) - 21mm \/ black \/ 5 sets (10 pcs)","public_title":"21mm \/ black \/ 5 sets (10 pcs)","options":["21mm","black","5 sets (10 pcs)"],"price":999,"weight":0,"compare_at_price":1999,"inventory_management":null,"barcode":null,"requires_selling_plan":false,"selling_plan_allocations":[]},{"id":40665496682650,"title":"21mm \/ white \/ 5 sets (10 pcs)","option1":"21mm","option2":"white","option3":"5 sets (10 pcs)","sku":"CP15367-C005-E055-X8527","requires_shipping":true,"taxable":false,"featured_image":null,"available":true,"name":"High-grade Invisible Magnet Button (5 Sets) - 21mm \/ white \/ 5 sets (10 pcs)","public_title":"21mm \/ white \/ 5 sets (10 pcs)","options":["21mm","white","5 sets (10 pcs)"],"price":999,"weight":0,"compare_at_price":1999,"inventory_management":null,"barcode":null,"requires_selling_plan":false,"selling_plan_allocations":[]},{"id":40665496715418,"title":"25mm \/ red \/ 5 sets (10 pcs)","option1":"25mm","option2":"red","option3":"5 sets (10 pcs)","sku":"CP15367-C002-E055-X1774","requires_shipping":true,"taxable":false,"featured_image":null,"available":true,"name":"High-grade Invisible Magnet Button (5 Sets) - 25mm \/ red \/ 5 sets (10 pcs)","public_title":"25mm \/ red \/ 5 sets (10 pcs)","options":["25mm","red","5 sets (10 pcs)"],"price":1099,"weight":0,"compare_at_price":2199,"inventory_management":null,"barcode":null,"requires_selling_plan":false,"selling_plan_allocations":[]},{"id":40665496748186,"title":"25mm \/ yellow \/ 5 sets (10 pcs)","option1":"25mm","option2":"yellow","option3":"5 sets (10 pcs)","sku":"CP15367-C003-E055-X1774","requires_shipping":true,"taxable":false,"featured_image":null,"available":true,"name":"High-grade Invisible Magnet Button (5 Sets) - 25mm \/ yellow \/ 5 sets (10 pcs)","public_title":"25mm \/ yellow \/ 5 sets (10 pcs)","options":["25mm","yellow","5 sets (10 pcs)"],"price":1099,"weight":0,"compare_at_price":2199,"inventory_management":null,"barcode":null,"requires_selling_plan":false,"selling_plan_allocations":[]},{"id":40665496780954,"title":"25mm \/ gray \/ 5 sets (10 pcs)","option1":"25mm","option2":"gray","option3":"5 sets (10 pcs)","sku":"CP15367-C006-E055-X1774","requires_shipping":true,"taxable":false,"featured_image":null,"available":true,"name":"High-grade Invisible Magnet Button (5 Sets) - 25mm \/ gray \/ 5 sets (10 pcs)","public_title":"25mm \/ gray \/ 5 sets (10 pcs)","options":["25mm","gray","5 sets (10 pcs)"],"price":1099,"weight":0,"compare_at_price":2199,"inventory_management":null,"barcode":null,"requires_selling_plan":false,"selling_plan_allocations":[]},{"id":40665496813722,"title":"25mm \/ coffee \/ 5 sets (10 pcs)","option1":"25mm","option2":"coffee","option3":"5 sets (10 pcs)","sku":"CP15367-C015-E055-X1774","requires_shipping":true,"taxable":false,"featured_image":null,"available":true,"name":"High-grade Invisible Magnet Button (5 Sets) - 25mm \/ coffee \/ 5 sets (10 pcs)","public_title":"25mm \/ coffee \/ 5 sets (10 pcs)","options":["25mm","coffee","5 sets (10 pcs)"],"price":1099,"weight":0,"compare_at_price":2199,"inventory_management":null,"barcode":null,"requires_selling_plan":false,"selling_plan_allocations":[]},{"id":40665496846490,"title":"25mm \/ black \/ 5 sets (10 pcs)","option1":"25mm","option2":"black","option3":"5 sets (10 pcs)","sku":"CP15367-C001-E055-X1774","requires_shipping":true,"taxable":false,"featured_image":null,"available":true,"name":"High-grade Invisible Magnet Button (5 Sets) - 25mm \/ black \/ 5 sets (10 pcs)","public_title":"25mm \/ black \/ 5 sets (10 pcs)","options":["25mm","black","5 sets (10 pcs)"],"price":1099,"weight":0,"compare_at_price":2199,"inventory_management":null,"barcode":null,"requires_selling_plan":false,"selling_plan_allocations":[]},{"id":40665496879258,"title":"25mm \/ white \/ 5 sets (10 pcs)","option1":"25mm","option2":"white","option3":"5 sets (10 pcs)","sku":"CP15367-C005-E055-X1774","requires_shipping":true,"taxable":false,"featured_image":null,"available":true,"name":"High-grade Invisible Magnet Button (5 Sets) - 25mm \/ white \/ 5 sets (10 pcs)","public_title":"25mm \/ white \/ 5 sets (10 pcs)","options":["25mm","white","5 sets (10 pcs)"],"price":1099,"weight":0,"compare_at_price":2199,"inventory_management":null,"barcode":null,"requires_selling_plan":false,"selling_plan_allocations":[]}],"images":["\/\/www.luluwin.co.uk\/cdn\/shop\/products\/1_862cc0a5-c7e9-4735-ae84-79f0bca3cb47.jpg?v=1629347327","\/\/www.luluwin.co.uk\/cdn\/shop\/products\/8_f32e8031-3064-460c-aa91-347bb7b51ca0.jpg?v=1629347327","\/\/www.luluwin.co.uk\/cdn\/shop\/products\/2_cf0664a5-e558-481b-925f-37e751695db9.jpg?v=1629347327","\/\/www.luluwin.co.uk\/cdn\/shop\/products\/3_216b4f56-b10d-4af8-8b75-6251d306ca68.jpg?v=1629347327","\/\/www.luluwin.co.uk\/cdn\/shop\/products\/4_744cf953-c092-4b2b-9c46-fa5f295ef8cc.jpg?v=1629347327","\/\/www.luluwin.co.uk\/cdn\/shop\/products\/5_59f9a060-399d-4fad-9dd7-ee138ab69092.jpg?v=1629347327","\/\/www.luluwin.co.uk\/cdn\/shop\/products\/6_e3a72217-c834-4c15-b2f4-90f42eda87b7.jpg?v=1629347327","\/\/www.luluwin.co.uk\/cdn\/shop\/products\/7_b4180c48-57ba-4a62-94b9-8988bdfdee4a.jpg?v=1629347327"],"featured_image":"\/\/www.luluwin.co.uk\/cdn\/shop\/products\/1_862cc0a5-c7e9-4735-ae84-79f0bca3cb47.jpg?v=1629347327","options":["Size","Color","qty"],"media":[{"alt":null,"id":23268386603162,"position":1,"preview_image":{"aspect_ratio":1.0,"height":800,"width":800,"src":"\/\/www.luluwin.co.uk\/cdn\/shop\/products\/1_862cc0a5-c7e9-4735-ae84-79f0bca3cb47.jpg?v=1629347327"},"aspect_ratio":1.0,"height":800,"media_type":"image","src":"\/\/www.luluwin.co.uk\/cdn\/shop\/products\/1_862cc0a5-c7e9-4735-ae84-79f0bca3cb47.jpg?v=1629347327","width":800},{"alt":null,"id":23268386635930,"position":2,"preview_image":{"aspect_ratio":1.0,"height":800,"width":800,"src":"\/\/www.luluwin.co.uk\/cdn\/shop\/products\/8_f32e8031-3064-460c-aa91-347bb7b51ca0.jpg?v=1629347327"},"aspect_ratio":1.0,"height":800,"media_type":"image","src":"\/\/www.luluwin.co.uk\/cdn\/shop\/products\/8_f32e8031-3064-460c-aa91-347bb7b51ca0.jpg?v=1629347327","width":800},{"alt":null,"id":23268386668698,"position":3,"preview_image":{"aspect_ratio":1.0,"height":800,"width":800,"src":"\/\/www.luluwin.co.uk\/cdn\/shop\/products\/2_cf0664a5-e558-481b-925f-37e751695db9.jpg?v=1629347327"},"aspect_ratio":1.0,"height":800,"media_type":"image","src":"\/\/www.luluwin.co.uk\/cdn\/shop\/products\/2_cf0664a5-e558-481b-925f-37e751695db9.jpg?v=1629347327","width":800},{"alt":null,"id":23268386701466,"position":4,"preview_image":{"aspect_ratio":1.0,"height":800,"width":800,"src":"\/\/www.luluwin.co.uk\/cdn\/shop\/products\/3_216b4f56-b10d-4af8-8b75-6251d306ca68.jpg?v=1629347327"},"aspect_ratio":1.0,"height":800,"media_type":"image","src":"\/\/www.luluwin.co.uk\/cdn\/shop\/products\/3_216b4f56-b10d-4af8-8b75-6251d306ca68.jpg?v=1629347327","width":800},{"alt":null,"id":23268386734234,"position":5,"preview_image":{"aspect_ratio":1.0,"height":800,"width":800,"src":"\/\/www.luluwin.co.uk\/cdn\/shop\/products\/4_744cf953-c092-4b2b-9c46-fa5f295ef8cc.jpg?v=1629347327"},"aspect_ratio":1.0,"height":800,"media_type":"image","src":"\/\/www.luluwin.co.uk\/cdn\/shop\/products\/4_744cf953-c092-4b2b-9c46-fa5f295ef8cc.jpg?v=1629347327","width":800},{"alt":null,"id":23268386767002,"position":6,"preview_image":{"aspect_ratio":1.0,"height":800,"width":800,"src":"\/\/www.luluwin.co.uk\/cdn\/shop\/products\/5_59f9a060-399d-4fad-9dd7-ee138ab69092.jpg?v=1629347327"},"aspect_ratio":1.0,"height":800,"media_type":"image","src":"\/\/www.luluwin.co.uk\/cdn\/shop\/products\/5_59f9a060-399d-4fad-9dd7-ee138ab69092.jpg?v=1629347327","width":800},{"alt":null,"id":23268386799770,"position":7,"preview_image":{"aspect_ratio":1.0,"height":800,"width":800,"src":"\/\/www.luluwin.co.uk\/cdn\/shop\/products\/6_e3a72217-c834-4c15-b2f4-90f42eda87b7.jpg?v=1629347327"},"aspect_ratio":1.0,"height":800,"media_type":"image","src":"\/\/www.luluwin.co.uk\/cdn\/shop\/products\/6_e3a72217-c834-4c15-b2f4-90f42eda87b7.jpg?v=1629347327","width":800},{"alt":null,"id":23268386832538,"position":8,"preview_image":{"aspect_ratio":1.0,"height":800,"width":800,"src":"\/\/www.luluwin.co.uk\/cdn\/shop\/products\/7_b4180c48-57ba-4a62-94b9-8988bdfdee4a.jpg?v=1629347327"},"aspect_ratio":1.0,"height":800,"media_type":"image","src":"\/\/www.luluwin.co.uk\/cdn\/shop\/products\/7_b4180c48-57ba-4a62-94b9-8988bdfdee4a.jpg?v=1629347327","width":800}],"requires_selling_plan":false,"selling_plan_groups":[],"content":"\u003cdiv data-mce-fragment=\"1\" class=\"listing-build-item\"\u003e\n\u003ch3 data-mce-fragment=\"1\"\u003e\n\u003cspan style=\"color: #ff8000;\"\u003eMAIN FEATURES\u003c\/span\u003e\u003cbr\u003e\n\u003c\/h3\u003e\n\u003cul data-mce-fragment=\"1\" class=\"features\"\u003e\n\u003cli data-mce-fragment=\"1\"\u003e\n\u003cstrong data-mce-fragment=\"1\"\u003eHigh-quality materials:\u003c\/strong\u003ethese buttons are made of high-quality nylon, with excellent burr-free effect, smooth and delicate, and high gloss.\u003c\/li\u003e\n\u003cli data-mce-fragment=\"1\"\u003e\n\u003cstrong data-mce-fragment=\"1\"\u003eDesign:\u003c\/strong\u003e\u003cspan data-mce-fragment=\"1\"\u003e \u003c\/span\u003eStrong magnetic force, can fit tightly, not easy to loosen, and hold firmly. There are also a variety of color options to meet your different matching requirements.\u003c\/li\u003e\n\u003cli data-mce-fragment=\"1\"\u003e\n\u003cstrong data-mce-fragment=\"1\"\u003eEasy to use:\u003c\/strong\u003e\u003cspan data-mce-fragment=\"1\"\u003e \u003c\/span\u003eThe snap buckle is stitched to the position that needs to be fixed, and the two parts can be easily connected together for fixing.\u003c\/li\u003e\n\u003cli data-mce-fragment=\"1\"\u003e\n\u003cstrong data-mce-fragment=\"1\"\u003eApplication:\u003c\/strong\u003e\u003cspan data-mce-fragment=\"1\"\u003e \u003c\/span\u003eThis snap button suit is suitable for clothing, coats, hats, jeans, shoes, jackets, jumpsuits, windbreakers, backpacks, leather crafts, DIY, etc.\u003c\/li\u003e\n\u003c\/ul\u003e\n\u003cp\u003e\u003cimg data-mce-fragment=\"1\" style=\"display: block; margin-left: auto; margin-right: auto;\" height=\"327\" width=\"327\" alt=\"\" src=\"https:\/\/cdn.shopifycdn.net\/s\/files\/1\/0253\/3611\/9344\/files\/2-min_480x480.jpg?v=1602578765\" data-mce-src=\"https:\/\/cdn.shopifycdn.net\/s\/files\/1\/0253\/3611\/9344\/files\/2-min_480x480.jpg?v=1602578765\"\u003e\u003c\/p\u003e\n\u003c\/div\u003e\n\u003cdiv data-mce-fragment=\"1\" class=\"listing-build-item\"\u003e\n\u003ch3 data-mce-fragment=\"1\"\u003e\u003cspan style=\"color: #ff8000;\"\u003eSPECIFICATIONS\u003c\/span\u003e\u003c\/h3\u003e\n\u003cul\u003e\n\u003cli\u003e\n\u003cstrong\u003eMaterial:\u003c\/strong\u003e Nylon\u003c\/li\u003e\n\u003cli\u003e\n\u003cstrong\u003eButton\u003c\/strong\u003e Diameter: 21\/25mm\u003c\/li\u003e\n\u003cli\u003e\n\u003cstrong\u003eColor:\u003c\/strong\u003e red, yellow, gray, coffee, black, white\u003c\/li\u003e\n\u003cli\u003e\n\u003cstrong\u003ePackage:\u003c\/strong\u003e \u003cspan style=\"color: #ff2a00;\"\u003e\u003cstrong\u003e5 sets\/10 PCs\u003c\/strong\u003e\u003c\/span\u003e of High-grade Invisible Magnet Button\u003c\/li\u003e\n\u003c\/ul\u003e\n\u003c\/div\u003e\n\u003cdiv data-mce-fragment=\"1\" class=\"listing-build-item\"\u003e\n\u003ch3 data-mce-fragment=\"1\"\u003e\u003cspan style=\"color: #ff8000;\"\u003eNOTE\u003c\/span\u003e\u003c\/h3\u003e\n\u003cul data-mce-fragment=\"1\"\u003e\n\u003cli data-mce-fragment=\"1\"\u003eDue to manual measurements, please allow slight measurement deviations.\u003c\/li\u003e\n\u003cli data-mce-fragment=\"1\"\u003eDue to the different display and lighting effects, the actual color of the item may be slightly different from the color displayed in the picture.\u003c\/li\u003e\n\u003c\/ul\u003e\n\u003c\/div\u003e"}
High-grade Invisible Magnet Button (5 Sets)
Adding product to your cart
MAIN FEATURES
High-quality materials:these buttons are made of high-quality nylon, with excellent burr-free effect, smooth and delicate, and high gloss.
Design:

 

Strong magnetic force, can fit tightly, not easy to loosen, and hold firmly. There are also a variety of color options to meet your different matching requirements.
Easy to use:

 

The snap buckle is stitched to the position that needs to be fixed, and the two parts can be easily connected together for fixing.
Application:

 

This snap button suit is suitable for clothing, coats, hats, jeans, shoes, jackets, jumpsuits, windbreakers, backpacks, leather crafts, DIY, etc.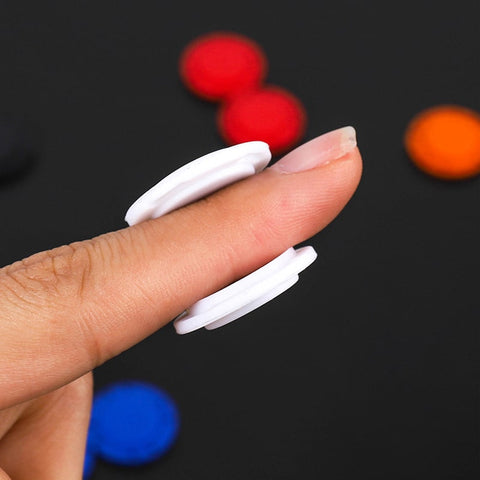 SPECIFICATIONS
Material: Nylon
Button Diameter: 21/25mm
Color: red, yellow, gray, coffee, black, white
Package: 5 sets/10 PCs of High-grade Invisible Magnet Button
NOTE
Due to manual measurements, please allow slight measurement deviations.
Due to the different display and lighting effects, the actual color of the item may be slightly different from the color displayed in the picture.