{"id":7350188081306,"title":"Fruit Grape Drop Earring Hook","handle":"fruit-grape-drop-earring-hook","description":"\u003ch4\u003e\u003cspan style=\"color: #4f3ea5;\"\u003e\u003cstrong\u003eFeature:\u003c\/strong\u003e\u003c\/span\u003e\u003c\/h4\u003e\n\u003cul\u003e\n\u003cli\u003e🍇\u003cspan style=\"color: #77ad40;\"\u003e\u003cstrong\u003e Grape Drop Earrings:\u003c\/strong\u003e\u003c\/span\u003e Crafted with lovely fruit shapes, colors and luster. Looks like real grapes! Great for casual and everyday wear.\u003c\/li\u003e\n\u003c\/ul\u003e\n\u003cp\u003e\u003cimg style=\"display: block; margin-left: auto; margin-right: auto;\" src=\"https:\/\/cdn.shopifycdn.net\/s\/files\/1\/0585\/8669\/3786\/files\/1-_6_480x480.png?v=1653902557\" alt=\"\" width=\"399\" height=\"399\"\u003e\u003c\/p\u003e\n\u003cul\u003e\n\u003cli\u003e🍇\u003cspan style=\"color: #77ad40;\"\u003e\u003cstrong\u003e Geometric Crystal Grapes:\u003c\/strong\u003e \u003c\/span\u003eA stylish accessory for any occasion. Best choice for dance parties, graduations, dates, weddings and anniversaries.\u003c\/li\u003e\n\u003c\/ul\u003e\n\u003cp\u003e\u003cimg style=\"display: block; margin-left: auto; margin-right: auto;\" src=\"https:\/\/cdn.shopifycdn.net\/s\/files\/1\/0585\/8669\/3786\/files\/1-_13_480x480.png?v=1653902584\" alt=\"\" width=\"401\" height=\"401\"\u003e\u003c\/p\u003e\n\u003cul\u003e\n\u003cli\u003e🍇 \u003cspan style=\"color: #77ad40;\"\u003e\u003cstrong\u003eStylish Stunning:\u003c\/strong\u003e \u003c\/span\u003eThese extraordinary Crystal Grape Drop Hook Earrings exude a simple and elegant beauty, available in trendy colors that never go out of style!\u003c\/li\u003e\n\u003c\/ul\u003e\n\u003ch4\u003e\u003cimg style=\"display: block; margin-left: auto; margin-right: auto;\" alt=\"\" src=\"https:\/\/cdn.shopifycdn.net\/s\/files\/1\/0585\/8669\/3786\/files\/1-_12_480x480.png?v=1653902617\" data-mce-src=\"https:\/\/cdn.shopifycdn.net\/s\/files\/1\/0585\/8669\/3786\/files\/1-_12_480x480.png?v=1653902617\" data-mce-fragment=\"1\" width=\"402\" height=\"402\"\u003e\u003c\/h4\u003e\n\u003ch4\u003e\n\u003cspan style=\"color: #4f3ea5;\"\u003e\u003cstrong\u003eSpecification:\u003c\/strong\u003e\u003c\/span\u003e\u003cbr\u003e\n\u003c\/h4\u003e\n\u003cul\u003e\n\u003cli\u003e\n\u003cstrong\u003eMaterial:\u003c\/strong\u003e \u003cspan class=\"VIiyi\" data-mce-fragment=\"1\" jsaction=\"mouseup:BR6jm\" jsname=\"jqKxS\" lang=\"en\"\u003e\u003cspan class=\"JLqJ4b ChMk0b C1N51c\" data-language-for-alternatives=\"en\" data-language-to-translate-into=\"zh-CN\" data-phrase-index=\"0\" data-number-of-phrases=\"1\" data-mce-fragment=\"1\" jsaction=\"agoMJf:PFBcW;usxOmf:aWLT7;jhKsnd:P7O7bd,F8DmGf;Q4AGo:Gm7gYd,qAKMYb;uFUCPb:pvnm0e,pfE8Hb,PFBcW;f56efd:dJXsye;EnoYf:KNzws,ZJsZZ,JgVSJc;zdMJQc:cCQNKb,ZJsZZ,zchEXc;Ytrrj:JJDvdc;tNR8yc:GeFvjb;oFN6Ye:hij5Wb;bmeZHc:iURhpf;Oxj3Xe:qAKMYb,yaf12d\" jsname=\"txFAF\" jscontroller=\"Zl5N8\" jsdata=\"uqLsIf;_;$70\" jsmodel=\"SsMkhd\"\u003e\u003cspan class=\"Q4iAWc\" data-mce-fragment=\"1\" jsaction=\"click:qtZ4nf,GFf3ac,tMZCfe; contextmenu:Nqw7Te,QP7LD; mouseout:Nqw7Te; mouseover:qtZ4nf,c2aHje\" jsname=\"W297wb\"\u003ealloy\u003c\/span\u003e\u003c\/span\u003e\u003c\/span\u003e\u003cbr\u003e\n\u003c\/li\u003e\n\u003cli\u003e\n\u003cstrong\u003eColor:\u003c\/strong\u003e \u003cspan class=\"VIiyi\" data-mce-fragment=\"1\" jsaction=\"mouseup:BR6jm\" jsname=\"jqKxS\" lang=\"en\"\u003e\u003cspan class=\"JLqJ4b ChMk0b C1N51c\" data-language-for-alternatives=\"en\" data-language-to-translate-into=\"zh-CN\" data-phrase-index=\"0\" data-number-of-phrases=\"1\" data-mce-fragment=\"1\" jsaction=\"agoMJf:PFBcW;usxOmf:aWLT7;jhKsnd:P7O7bd,F8DmGf;Q4AGo:Gm7gYd,qAKMYb;uFUCPb:pvnm0e,pfE8Hb,PFBcW;f56efd:dJXsye;EnoYf:KNzws,ZJsZZ,JgVSJc;zdMJQc:cCQNKb,ZJsZZ,zchEXc;Ytrrj:JJDvdc;tNR8yc:GeFvjb;oFN6Ye:hij5Wb;bmeZHc:iURhpf;Oxj3Xe:qAKMYb,yaf12d\" jsname=\"txFAF\" jscontroller=\"Zl5N8\" jsdata=\"uqLsIf;_;$122\" jsmodel=\"SsMkhd\"\u003e\u003cspan class=\"Q4iAWc\" data-mce-fragment=\"1\" jsaction=\"click:qtZ4nf,GFf3ac,tMZCfe; contextmenu:Nqw7Te,QP7LD; mouseout:Nqw7Te; mouseover:qtZ4nf,c2aHje\" jsname=\"W297wb\"\u003eas shown\u003c\/span\u003e\u003c\/span\u003e\u003c\/span\u003e\u003cbr\u003e\n\u003c\/li\u003e\n\u003cli\u003e\n\u003cstrong\u003eSize:\u003c\/strong\u003e 1.5*4.9cm\/0.6*1.9in\u003cbr\u003e\n\u003c\/li\u003e\n\u003c\/ul\u003e\n\u003ch4\u003e\n\u003cimg src=\"https:\/\/cdn.shopifycdn.net\/s\/files\/1\/0585\/8669\/3786\/files\/chicun_480x480.png?v=1653902639\" alt=\"\" style=\"display: block; margin-left: auto; margin-right: auto;\" data-mce-fragment=\"1\" data-mce-src=\"https:\/\/cdn.shopifycdn.net\/s\/files\/1\/0585\/8669\/3786\/files\/chicun_480x480.png?v=1653902639\" width=\"320\" height=\"320\"\u003e\u003cspan style=\"color: #4f3ea5;\"\u003e\u003cstrong\u003ePackage includes:\u003c\/strong\u003e\u003c\/span\u003e\u003cbr\u003e\n\u003c\/h4\u003e\n\u003cul\u003e\n\u003cli\u003e1 Pair ×Fruit Grape Drop Earring Hook\u003c\/li\u003e\n\u003c\/ul\u003e","published_at":"2022-05-30T03:22:38-06:00","created_at":"2022-05-30T02:08:47-06:00","vendor":"luluwin","type":"","tags":["CLOTHING \u0026 ACCESSORIES"],"price":999,"price_min":999,"price_max":999,"available":true,"price_varies":false,"compare_at_price":1999,"compare_at_price_min":1999,"compare_at_price_max":1999,"compare_at_price_varies":false,"variants":[{"id":42032267755674,"title":"hook","option1":"hook","option2":null,"option3":null,"sku":"CP31604-X25075","requires_shipping":true,"taxable":false,"featured_image":{"id":33946153025690,"product_id":7350188081306,"position":6,"created_at":"2022-05-30T03:19:04-06:00","updated_at":"2022-05-30T03:19:34-06:00","alt":null,"width":600,"height":600,"src":"\/\/www.luluwin.co.uk\/cdn\/shop\/products\/1-_3_ecf9dde6-44d2-425a-b163-5d86ead3b2bf.png?v=1653902374","variant_ids":[42032267755674]},"available":true,"name":"Fruit Grape Drop Earring Hook - hook","public_title":"hook","options":["hook"],"price":999,"weight":0,"compare_at_price":1999,"inventory_management":null,"barcode":"","featured_media":{"alt":null,"id":26397508075674,"position":6,"preview_image":{"aspect_ratio":1.0,"height":600,"width":600,"src":"\/\/www.luluwin.co.uk\/cdn\/shop\/products\/1-_3_ecf9dde6-44d2-425a-b163-5d86ead3b2bf.png?v=1653902374"}},"requires_selling_plan":false,"selling_plan_allocations":[]},{"id":42032267821210,"title":"clip","option1":"clip","option2":null,"option3":null,"sku":"CP31604-X25076","requires_shipping":true,"taxable":false,"featured_image":{"id":33946176946330,"product_id":7350188081306,"position":8,"created_at":"2022-05-30T03:21:29-06:00","updated_at":"2022-05-30T03:21:30-06:00","alt":null,"width":600,"height":600,"src":"\/\/www.luluwin.co.uk\/cdn\/shop\/products\/1-_12_c3a22016-d4e6-4508-81fd-170afc321eac.png?v=1653902490","variant_ids":[42032267821210]},"available":true,"name":"Fruit Grape Drop Earring Hook - clip","public_title":"clip","options":["clip"],"price":999,"weight":0,"compare_at_price":1999,"inventory_management":null,"barcode":"","featured_media":{"alt":null,"id":26397532946586,"position":8,"preview_image":{"aspect_ratio":1.0,"height":600,"width":600,"src":"\/\/www.luluwin.co.uk\/cdn\/shop\/products\/1-_12_c3a22016-d4e6-4508-81fd-170afc321eac.png?v=1653902490"}},"requires_selling_plan":false,"selling_plan_allocations":[]}],"images":["\/\/www.luluwin.co.uk\/cdn\/shop\/products\/1-_9.png?v=1653902374","\/\/www.luluwin.co.uk\/cdn\/shop\/products\/1-_11_215f5c76-3b33-4b50-a2c2-15d33943e526.png?v=1653902374","\/\/www.luluwin.co.uk\/cdn\/shop\/products\/1-_13_a8574db4-f79b-482d-8407-22d518b46055.png?v=1653902374","\/\/www.luluwin.co.uk\/cdn\/shop\/products\/1-_1_c0119ca3-8401-4b29-b128-cec6e9fe250f.png?v=1653902374","\/\/www.luluwin.co.uk\/cdn\/shop\/products\/1-_8_d4b57daf-08b6-4b03-b8d7-3fe9de873b58.png?v=1653902374","\/\/www.luluwin.co.uk\/cdn\/shop\/products\/1-_3_ecf9dde6-44d2-425a-b163-5d86ead3b2bf.png?v=1653902374","\/\/www.luluwin.co.uk\/cdn\/shop\/products\/1-_5_4a907307-504b-4e37-9652-6c82ac98c068.png?v=1653902374","\/\/www.luluwin.co.uk\/cdn\/shop\/products\/1-_12_c3a22016-d4e6-4508-81fd-170afc321eac.png?v=1653902490"],"featured_image":"\/\/www.luluwin.co.uk\/cdn\/shop\/products\/1-_9.png?v=1653902374","options":["Style"],"media":[{"alt":null,"id":26397508239514,"position":1,"preview_image":{"aspect_ratio":1.0,"height":600,"width":600,"src":"\/\/www.luluwin.co.uk\/cdn\/shop\/products\/1-_9.png?v=1653902374"},"aspect_ratio":1.0,"height":600,"media_type":"image","src":"\/\/www.luluwin.co.uk\/cdn\/shop\/products\/1-_9.png?v=1653902374","width":600},{"alt":null,"id":26397508305050,"position":2,"preview_image":{"aspect_ratio":1.0,"height":600,"width":600,"src":"\/\/www.luluwin.co.uk\/cdn\/shop\/products\/1-_11_215f5c76-3b33-4b50-a2c2-15d33943e526.png?v=1653902374"},"aspect_ratio":1.0,"height":600,"media_type":"image","src":"\/\/www.luluwin.co.uk\/cdn\/shop\/products\/1-_11_215f5c76-3b33-4b50-a2c2-15d33943e526.png?v=1653902374","width":600},{"alt":null,"id":26397508370586,"position":3,"preview_image":{"aspect_ratio":1.0,"height":600,"width":600,"src":"\/\/www.luluwin.co.uk\/cdn\/shop\/products\/1-_13_a8574db4-f79b-482d-8407-22d518b46055.png?v=1653902374"},"aspect_ratio":1.0,"height":600,"media_type":"image","src":"\/\/www.luluwin.co.uk\/cdn\/shop\/products\/1-_13_a8574db4-f79b-482d-8407-22d518b46055.png?v=1653902374","width":600},{"alt":null,"id":26397508010138,"position":4,"preview_image":{"aspect_ratio":1.0,"height":600,"width":600,"src":"\/\/www.luluwin.co.uk\/cdn\/shop\/products\/1-_1_c0119ca3-8401-4b29-b128-cec6e9fe250f.png?v=1653902374"},"aspect_ratio":1.0,"height":600,"media_type":"image","src":"\/\/www.luluwin.co.uk\/cdn\/shop\/products\/1-_1_c0119ca3-8401-4b29-b128-cec6e9fe250f.png?v=1653902374","width":600},{"alt":null,"id":26397508206746,"position":5,"preview_image":{"aspect_ratio":1.0,"height":600,"width":600,"src":"\/\/www.luluwin.co.uk\/cdn\/shop\/products\/1-_8_d4b57daf-08b6-4b03-b8d7-3fe9de873b58.png?v=1653902374"},"aspect_ratio":1.0,"height":600,"media_type":"image","src":"\/\/www.luluwin.co.uk\/cdn\/shop\/products\/1-_8_d4b57daf-08b6-4b03-b8d7-3fe9de873b58.png?v=1653902374","width":600},{"alt":null,"id":26397508075674,"position":6,"preview_image":{"aspect_ratio":1.0,"height":600,"width":600,"src":"\/\/www.luluwin.co.uk\/cdn\/shop\/products\/1-_3_ecf9dde6-44d2-425a-b163-5d86ead3b2bf.png?v=1653902374"},"aspect_ratio":1.0,"height":600,"media_type":"image","src":"\/\/www.luluwin.co.uk\/cdn\/shop\/products\/1-_3_ecf9dde6-44d2-425a-b163-5d86ead3b2bf.png?v=1653902374","width":600},{"alt":null,"id":26397508108442,"position":7,"preview_image":{"aspect_ratio":1.0,"height":600,"width":600,"src":"\/\/www.luluwin.co.uk\/cdn\/shop\/products\/1-_5_4a907307-504b-4e37-9652-6c82ac98c068.png?v=1653902374"},"aspect_ratio":1.0,"height":600,"media_type":"image","src":"\/\/www.luluwin.co.uk\/cdn\/shop\/products\/1-_5_4a907307-504b-4e37-9652-6c82ac98c068.png?v=1653902374","width":600},{"alt":null,"id":26397532946586,"position":8,"preview_image":{"aspect_ratio":1.0,"height":600,"width":600,"src":"\/\/www.luluwin.co.uk\/cdn\/shop\/products\/1-_12_c3a22016-d4e6-4508-81fd-170afc321eac.png?v=1653902490"},"aspect_ratio":1.0,"height":600,"media_type":"image","src":"\/\/www.luluwin.co.uk\/cdn\/shop\/products\/1-_12_c3a22016-d4e6-4508-81fd-170afc321eac.png?v=1653902490","width":600}],"requires_selling_plan":false,"selling_plan_groups":[],"content":"\u003ch4\u003e\u003cspan style=\"color: #4f3ea5;\"\u003e\u003cstrong\u003eFeature:\u003c\/strong\u003e\u003c\/span\u003e\u003c\/h4\u003e\n\u003cul\u003e\n\u003cli\u003e🍇\u003cspan style=\"color: #77ad40;\"\u003e\u003cstrong\u003e Grape Drop Earrings:\u003c\/strong\u003e\u003c\/span\u003e Crafted with lovely fruit shapes, colors and luster. Looks like real grapes! Great for casual and everyday wear.\u003c\/li\u003e\n\u003c\/ul\u003e\n\u003cp\u003e\u003cimg style=\"display: block; margin-left: auto; margin-right: auto;\" src=\"https:\/\/cdn.shopifycdn.net\/s\/files\/1\/0585\/8669\/3786\/files\/1-_6_480x480.png?v=1653902557\" alt=\"\" width=\"399\" height=\"399\"\u003e\u003c\/p\u003e\n\u003cul\u003e\n\u003cli\u003e🍇\u003cspan style=\"color: #77ad40;\"\u003e\u003cstrong\u003e Geometric Crystal Grapes:\u003c\/strong\u003e \u003c\/span\u003eA stylish accessory for any occasion. Best choice for dance parties, graduations, dates, weddings and anniversaries.\u003c\/li\u003e\n\u003c\/ul\u003e\n\u003cp\u003e\u003cimg style=\"display: block; margin-left: auto; margin-right: auto;\" src=\"https:\/\/cdn.shopifycdn.net\/s\/files\/1\/0585\/8669\/3786\/files\/1-_13_480x480.png?v=1653902584\" alt=\"\" width=\"401\" height=\"401\"\u003e\u003c\/p\u003e\n\u003cul\u003e\n\u003cli\u003e🍇 \u003cspan style=\"color: #77ad40;\"\u003e\u003cstrong\u003eStylish Stunning:\u003c\/strong\u003e \u003c\/span\u003eThese extraordinary Crystal Grape Drop Hook Earrings exude a simple and elegant beauty, available in trendy colors that never go out of style!\u003c\/li\u003e\n\u003c\/ul\u003e\n\u003ch4\u003e\u003cimg style=\"display: block; margin-left: auto; margin-right: auto;\" alt=\"\" src=\"https:\/\/cdn.shopifycdn.net\/s\/files\/1\/0585\/8669\/3786\/files\/1-_12_480x480.png?v=1653902617\" data-mce-src=\"https:\/\/cdn.shopifycdn.net\/s\/files\/1\/0585\/8669\/3786\/files\/1-_12_480x480.png?v=1653902617\" data-mce-fragment=\"1\" width=\"402\" height=\"402\"\u003e\u003c\/h4\u003e\n\u003ch4\u003e\n\u003cspan style=\"color: #4f3ea5;\"\u003e\u003cstrong\u003eSpecification:\u003c\/strong\u003e\u003c\/span\u003e\u003cbr\u003e\n\u003c\/h4\u003e\n\u003cul\u003e\n\u003cli\u003e\n\u003cstrong\u003eMaterial:\u003c\/strong\u003e \u003cspan class=\"VIiyi\" data-mce-fragment=\"1\" jsaction=\"mouseup:BR6jm\" jsname=\"jqKxS\" lang=\"en\"\u003e\u003cspan class=\"JLqJ4b ChMk0b C1N51c\" data-language-for-alternatives=\"en\" data-language-to-translate-into=\"zh-CN\" data-phrase-index=\"0\" data-number-of-phrases=\"1\" data-mce-fragment=\"1\" jsaction=\"agoMJf:PFBcW;usxOmf:aWLT7;jhKsnd:P7O7bd,F8DmGf;Q4AGo:Gm7gYd,qAKMYb;uFUCPb:pvnm0e,pfE8Hb,PFBcW;f56efd:dJXsye;EnoYf:KNzws,ZJsZZ,JgVSJc;zdMJQc:cCQNKb,ZJsZZ,zchEXc;Ytrrj:JJDvdc;tNR8yc:GeFvjb;oFN6Ye:hij5Wb;bmeZHc:iURhpf;Oxj3Xe:qAKMYb,yaf12d\" jsname=\"txFAF\" jscontroller=\"Zl5N8\" jsdata=\"uqLsIf;_;$70\" jsmodel=\"SsMkhd\"\u003e\u003cspan class=\"Q4iAWc\" data-mce-fragment=\"1\" jsaction=\"click:qtZ4nf,GFf3ac,tMZCfe; contextmenu:Nqw7Te,QP7LD; mouseout:Nqw7Te; mouseover:qtZ4nf,c2aHje\" jsname=\"W297wb\"\u003ealloy\u003c\/span\u003e\u003c\/span\u003e\u003c\/span\u003e\u003cbr\u003e\n\u003c\/li\u003e\n\u003cli\u003e\n\u003cstrong\u003eColor:\u003c\/strong\u003e \u003cspan class=\"VIiyi\" data-mce-fragment=\"1\" jsaction=\"mouseup:BR6jm\" jsname=\"jqKxS\" lang=\"en\"\u003e\u003cspan class=\"JLqJ4b ChMk0b C1N51c\" data-language-for-alternatives=\"en\" data-language-to-translate-into=\"zh-CN\" data-phrase-index=\"0\" data-number-of-phrases=\"1\" data-mce-fragment=\"1\" jsaction=\"agoMJf:PFBcW;usxOmf:aWLT7;jhKsnd:P7O7bd,F8DmGf;Q4AGo:Gm7gYd,qAKMYb;uFUCPb:pvnm0e,pfE8Hb,PFBcW;f56efd:dJXsye;EnoYf:KNzws,ZJsZZ,JgVSJc;zdMJQc:cCQNKb,ZJsZZ,zchEXc;Ytrrj:JJDvdc;tNR8yc:GeFvjb;oFN6Ye:hij5Wb;bmeZHc:iURhpf;Oxj3Xe:qAKMYb,yaf12d\" jsname=\"txFAF\" jscontroller=\"Zl5N8\" jsdata=\"uqLsIf;_;$122\" jsmodel=\"SsMkhd\"\u003e\u003cspan class=\"Q4iAWc\" data-mce-fragment=\"1\" jsaction=\"click:qtZ4nf,GFf3ac,tMZCfe; contextmenu:Nqw7Te,QP7LD; mouseout:Nqw7Te; mouseover:qtZ4nf,c2aHje\" jsname=\"W297wb\"\u003eas shown\u003c\/span\u003e\u003c\/span\u003e\u003c\/span\u003e\u003cbr\u003e\n\u003c\/li\u003e\n\u003cli\u003e\n\u003cstrong\u003eSize:\u003c\/strong\u003e 1.5*4.9cm\/0.6*1.9in\u003cbr\u003e\n\u003c\/li\u003e\n\u003c\/ul\u003e\n\u003ch4\u003e\n\u003cimg src=\"https:\/\/cdn.shopifycdn.net\/s\/files\/1\/0585\/8669\/3786\/files\/chicun_480x480.png?v=1653902639\" alt=\"\" style=\"display: block; margin-left: auto; margin-right: auto;\" data-mce-fragment=\"1\" data-mce-src=\"https:\/\/cdn.shopifycdn.net\/s\/files\/1\/0585\/8669\/3786\/files\/chicun_480x480.png?v=1653902639\" width=\"320\" height=\"320\"\u003e\u003cspan style=\"color: #4f3ea5;\"\u003e\u003cstrong\u003ePackage includes:\u003c\/strong\u003e\u003c\/span\u003e\u003cbr\u003e\n\u003c\/h4\u003e\n\u003cul\u003e\n\u003cli\u003e1 Pair ×Fruit Grape Drop Earring Hook\u003c\/li\u003e\n\u003c\/ul\u003e"}
Fruit Grape Drop Earring Hook
Adding product to your cart
Feature:
🍇 Grape Drop Earrings: Crafted with lovely fruit shapes, colors and luster. Looks like real grapes! Great for casual and everyday wear.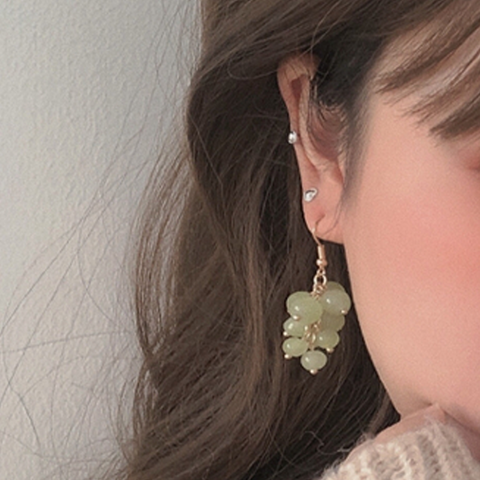 🍇 Geometric Crystal Grapes: A stylish accessory for any occasion. Best choice for dance parties, graduations, dates, weddings and anniversaries.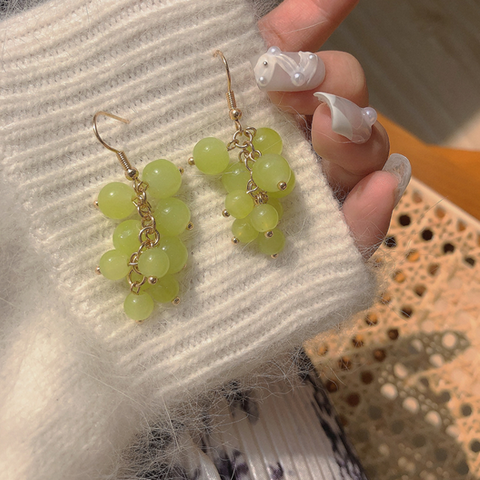 🍇 Stylish Stunning: These extraordinary Crystal Grape Drop Hook Earrings exude a simple and elegant beauty, available in trendy colors that never go out of style!

Specification:

Material:

alloy



Color:

as shown



Size: 1.5*4.9cm/0.6*1.9in

Package includes:

1 Pair ×Fruit Grape Drop Earring Hook