{"id":7526577799322,"title":"Fake Fur Big Shawl Cloak Scarf","handle":"fake-fur-big-shawl-cloak-scarf","description":"\u003ch4 style=\"text-align: center;\" data-mce-fragment=\"1\"\u003e\u003cspan style=\"color: #295c94;\"\u003e\u003cstrong\u003eOne size fits all, simply wrap around the shoulders. \u003c\/strong\u003e\u003c\/span\u003e\u003c\/h4\u003e\n\u003ch4\u003e\u003cimg src=\"https:\/\/cdn.shopifycdn.net\/s\/files\/1\/0653\/0308\/5296\/products\/fm1_999dc0ed-5e4b-43e4-9927-5523b0ec91f3_480x480.jpg?v=1665210588\" alt=\"\" style=\"display: block; margin-left: auto; margin-right: auto;\" width=\"399\" height=\"399\" data-mce-fragment=\"1\" data-mce-src=\"https:\/\/cdn.shopifycdn.net\/s\/files\/1\/0653\/0308\/5296\/products\/fm1_999dc0ed-5e4b-43e4-9927-5523b0ec91f3_480x480.jpg?v=1665210588\"\u003e\u003c\/h4\u003e\n\u003ch3 data-mce-fragment=\"1\"\u003e\u003cspan style=\"color: #2ea38e;\"\u003e\u003cstrong\u003eFEATURES\u003c\/strong\u003e\u003c\/span\u003e\u003c\/h3\u003e\n\u003cul\u003e\n\u003cli\u003e\u003cspan style=\"font-weight: 400;\" data-mce-style=\"font-weight: 400;\" data-mce-fragment=\"1\"\u003e\u003cspan style=\"color: #ab8436;\"\u003e\u003cstrong\u003eHigh quality flattering soft touch plush and faux fur\u003c\/strong\u003e\u003c\/span\u003e which is sophisticated and stylish, keep you warm, make you look luxurious, beautiful, cozy and soft shawl, you can tighten your style as you need.\u003c\/span\u003e\u003c\/li\u003e\n\u003c\/ul\u003e\n\u003cdiv\u003e\u003cimg src=\"https:\/\/cdn.shopifycdn.net\/s\/files\/1\/0653\/0308\/5296\/products\/67bfe7e5bd4b2dbc85cba8e82ae1885d_480x480.jpg?v=1665210588\" alt=\"\" style=\"display: block; margin-left: auto; margin-right: auto;\" width=\"400\" height=\"400\" data-mce-fragment=\"1\" data-mce-src=\"https:\/\/cdn.shopifycdn.net\/s\/files\/1\/0653\/0308\/5296\/products\/67bfe7e5bd4b2dbc85cba8e82ae1885d_480x480.jpg?v=1665210588\"\u003e\u003c\/div\u003e\n\u003cul\u003e\n\u003cli\u003e\u003cspan style=\"font-weight: 400;\" data-mce-style=\"font-weight: 400;\" data-mce-fragment=\"1\"\u003e\u003cspan style=\"color: #ab8436;\"\u003e\u003cstrong\u003eMatching dresses, jewelry, clutches, headpieces, dress shoes, accessories, etc.\u003c\/strong\u003e\u003c\/span\u003e Not only adds extra warmth, but also makes sure you look gorgeous and stunning. \u003c\/span\u003e\u003c\/li\u003e\n\u003c\/ul\u003e\n\u003cdiv\u003e\u003cimg src=\"https:\/\/cdn.shopifycdn.net\/s\/files\/1\/0653\/0308\/5296\/products\/41cfafe18989db0564623381d310ac27_480x480.jpg?v=1665210588\" alt=\"\" style=\"display: block; margin-left: auto; margin-right: auto;\" width=\"399\" height=\"399\" data-mce-fragment=\"1\" data-mce-src=\"https:\/\/cdn.shopifycdn.net\/s\/files\/1\/0653\/0308\/5296\/products\/41cfafe18989db0564623381d310ac27_480x480.jpg?v=1665210588\"\u003e\u003c\/div\u003e\n\u003cul\u003e\n\u003cli\u003e\u003cspan style=\"font-weight: 400;\" data-mce-style=\"font-weight: 400;\" data-mce-fragment=\"1\"\u003e\u003cspan style=\"color: #ab8436;\"\u003e\u003cstrong\u003eLightweight, warm and stylish shawl cape,\u003c\/strong\u003e \u003c\/span\u003ecapable of serving as an ideal gift for yourself, your lover and your friends at birthdays Christmas and Halloween.\u003c\/span\u003e\u003c\/li\u003e\n\u003c\/ul\u003e\n\u003cdiv\u003e\u003cimg src=\"https:\/\/cdn.shopifycdn.net\/s\/files\/1\/0653\/0308\/5296\/products\/5dc9dad9b2b1be9c4a295ccb638668ce_480x480.jpg?v=1665210588\" alt=\"\" style=\"display: block; margin-left: auto; margin-right: auto;\" width=\"399\" height=\"399\" data-mce-fragment=\"1\" data-mce-src=\"https:\/\/cdn.shopifycdn.net\/s\/files\/1\/0653\/0308\/5296\/products\/5dc9dad9b2b1be9c4a295ccb638668ce_480x480.jpg?v=1665210588\"\u003e\u003c\/div\u003e\n\u003ch3 data-mce-fragment=\"1\"\u003e\u003cspan style=\"color: #2ea38e;\"\u003e\u003cstrong\u003eSPECIFICATIONS\u003c\/strong\u003e\u003c\/span\u003e\u003c\/h3\u003e\n\u003cul\u003e\n\u003cli\u003e\u003cspan style=\"font-weight: 400;\" data-mce-style=\"font-weight: 400;\" data-mce-fragment=\"1\"\u003e\u003cstrong\u003eMaterial\u003c\/strong\u003e: acrylic\/faux wool\u003c\/span\u003e\u003c\/li\u003e\n\u003cli\u003e\u003cspan style=\"font-weight: 400;\" data-mce-style=\"font-weight: 400;\" data-mce-fragment=\"1\"\u003e\u003cstrong\u003eColor\u003c\/strong\u003e: fur, black fox, creamy white, red super soft, burgundy black tip, gray black tip, beige, light blue jacquard, black jade fox, vanilla\u003c\/span\u003e\u003c\/li\u003e\n\u003cli\u003e\u003cspan style=\"font-weight: 400;\" data-mce-style=\"font-weight: 400;\" data-mce-fragment=\"1\"\u003e\u003cstrong\u003eWeight\u003c\/strong\u003e: 600g \/ 1.3lb\u003c\/span\u003e\u003c\/li\u003e\n\u003cli\u003e\u003cspan style=\"font-weight: 400;\" data-mce-style=\"font-weight: 400;\" data-mce-fragment=\"1\"\u003e\u003cstrong\u003eLength\u003c\/strong\u003e: 165cm \/ 64.9in\u003c\/span\u003e\u003c\/li\u003e\n\u003cli\u003e\u003cspan style=\"font-weight: 400;\" data-mce-style=\"font-weight: 400;\" data-mce-fragment=\"1\"\u003e\u003cstrong\u003eWidth\u003c\/strong\u003e: 28-30cm \/ 11.0-11.8in\u003c\/span\u003e\u003c\/li\u003e\n\u003c\/ul\u003e\n\u003ch3 data-mce-fragment=\"1\"\u003e\u003cspan style=\"color: #2ea38e;\"\u003e\u003cstrong\u003ePACKAGE INCLUDED\u003c\/strong\u003e\u003c\/span\u003e\u003c\/h3\u003e\n\u003cul\u003e\n\u003cli\u003e\u003cspan style=\"font-weight: 400;\" data-mce-style=\"font-weight: 400;\" data-mce-fragment=\"1\"\u003e1 × Fake Fur Big Shawl Cloak Scarf\u003c\/span\u003e\u003c\/li\u003e\n\u003c\/ul\u003e","published_at":"2022-10-08T20:55:53-06:00","created_at":"2022-10-08T20:55:54-06:00","vendor":"luluwin","type":"","tags":["clothing \u0026 accessories","women's clothing"],"price":2999,"price_min":2999,"price_max":2999,"available":true,"price_varies":false,"compare_at_price":5999,"compare_at_price_min":5999,"compare_at_price_max":5999,"compare_at_price_varies":false,"variants":[{"id":42627429400730,"title":"fur","option1":"fur","option2":null,"option3":null,"sku":"SC38722-X30197","requires_shipping":true,"taxable":false,"featured_image":{"id":35203695902874,"product_id":7526577799322,"position":11,"created_at":"2022-10-08T20:56:11-06:00","updated_at":"2022-10-08T20:56:11-06:00","alt":null,"width":800,"height":800,"src":"\/\/www.luluwin.co.uk\/cdn\/shop\/products\/5dc9dad9b2b1be9c4a295ccb638668ce.jpg?v=1665284171","variant_ids":[42627429400730]},"available":true,"name":"Fake Fur Big Shawl Cloak Scarf - fur","public_title":"fur","options":["fur"],"price":2999,"weight":0,"compare_at_price":5999,"inventory_management":null,"barcode":null,"featured_media":{"alt":null,"id":27675983642778,"position":11,"preview_image":{"aspect_ratio":1.0,"height":800,"width":800,"src":"\/\/www.luluwin.co.uk\/cdn\/shop\/products\/5dc9dad9b2b1be9c4a295ccb638668ce.jpg?v=1665284171"}},"requires_selling_plan":false,"selling_plan_allocations":[]},{"id":42627429433498,"title":"black fox","option1":"black fox","option2":null,"option3":null,"sku":"SC38722-X30198","requires_shipping":true,"taxable":false,"featured_image":{"id":35203695149210,"product_id":7526577799322,"position":8,"created_at":"2022-10-08T20:56:06-06:00","updated_at":"2022-10-08T20:56:06-06:00","alt":null,"width":800,"height":800,"src":"\/\/www.luluwin.co.uk\/cdn\/shop\/products\/884f5c85e9e1d889509441fcb9228578.jpg?v=1665284166","variant_ids":[42627429433498]},"available":true,"name":"Fake Fur Big Shawl Cloak Scarf - black fox","public_title":"black fox","options":["black fox"],"price":2999,"weight":0,"compare_at_price":5999,"inventory_management":null,"barcode":null,"featured_media":{"alt":null,"id":27675982889114,"position":8,"preview_image":{"aspect_ratio":1.0,"height":800,"width":800,"src":"\/\/www.luluwin.co.uk\/cdn\/shop\/products\/884f5c85e9e1d889509441fcb9228578.jpg?v=1665284166"}},"requires_selling_plan":false,"selling_plan_allocations":[]},{"id":42627429466266,"title":"creamy white","option1":"creamy white","option2":null,"option3":null,"sku":"SC38722-X30199","requires_shipping":true,"taxable":false,"featured_image":{"id":35203695968410,"product_id":7526577799322,"position":12,"created_at":"2022-10-08T20:56:13-06:00","updated_at":"2022-10-08T20:56:13-06:00","alt":null,"width":800,"height":800,"src":"\/\/www.luluwin.co.uk\/cdn\/shop\/products\/9bfabc46287d241c0594388a442e0f23.jpg?v=1665284173","variant_ids":[42627429466266]},"available":true,"name":"Fake Fur Big Shawl Cloak Scarf - creamy white","public_title":"creamy white","options":["creamy white"],"price":2999,"weight":0,"compare_at_price":5999,"inventory_management":null,"barcode":null,"featured_media":{"alt":null,"id":27675983708314,"position":12,"preview_image":{"aspect_ratio":1.0,"height":800,"width":800,"src":"\/\/www.luluwin.co.uk\/cdn\/shop\/products\/9bfabc46287d241c0594388a442e0f23.jpg?v=1665284173"}},"requires_selling_plan":false,"selling_plan_allocations":[]},{"id":42627429499034,"title":"red super soft","option1":"red super soft","option2":null,"option3":null,"sku":"SC38722-X30200","requires_shipping":true,"taxable":false,"featured_image":{"id":35203695018138,"product_id":7526577799322,"position":7,"created_at":"2022-10-08T20:56:05-06:00","updated_at":"2022-10-08T20:56:05-06:00","alt":null,"width":800,"height":800,"src":"\/\/www.luluwin.co.uk\/cdn\/shop\/products\/cd5044bdab5bae45dbdd798daeee8aaf.jpg?v=1665284165","variant_ids":[42627429499034]},"available":true,"name":"Fake Fur Big Shawl Cloak Scarf - red super soft","public_title":"red super soft","options":["red super soft"],"price":2999,"weight":0,"compare_at_price":5999,"inventory_management":null,"barcode":null,"featured_media":{"alt":null,"id":27675982561434,"position":7,"preview_image":{"aspect_ratio":1.0,"height":800,"width":800,"src":"\/\/www.luluwin.co.uk\/cdn\/shop\/products\/cd5044bdab5bae45dbdd798daeee8aaf.jpg?v=1665284165"}},"requires_selling_plan":false,"selling_plan_allocations":[]},{"id":42627429531802,"title":"burgundy black tip","option1":"burgundy black tip","option2":null,"option3":null,"sku":"SC38722-X30201","requires_shipping":true,"taxable":false,"featured_image":{"id":35203694723226,"product_id":7526577799322,"position":5,"created_at":"2022-10-08T20:56:01-06:00","updated_at":"2022-10-08T20:56:01-06:00","alt":null,"width":800,"height":800,"src":"\/\/www.luluwin.co.uk\/cdn\/shop\/products\/d9f3ccd72f1790a178288fc5fde942e8.jpg?v=1665284161","variant_ids":[42627429531802]},"available":true,"name":"Fake Fur Big Shawl Cloak Scarf - burgundy black tip","public_title":"burgundy black tip","options":["burgundy black tip"],"price":2999,"weight":0,"compare_at_price":5999,"inventory_management":null,"barcode":null,"featured_media":{"alt":null,"id":27675982463130,"position":5,"preview_image":{"aspect_ratio":1.0,"height":800,"width":800,"src":"\/\/www.luluwin.co.uk\/cdn\/shop\/products\/d9f3ccd72f1790a178288fc5fde942e8.jpg?v=1665284161"}},"requires_selling_plan":false,"selling_plan_allocations":[]},{"id":42627429564570,"title":"gray black tip","option1":"gray black tip","option2":null,"option3":null,"sku":"SC38722-X30202","requires_shipping":true,"taxable":false,"featured_image":{"id":35203694592154,"product_id":7526577799322,"position":3,"created_at":"2022-10-08T20:55:57-06:00","updated_at":"2022-10-08T20:55:57-06:00","alt":null,"width":800,"height":800,"src":"\/\/www.luluwin.co.uk\/cdn\/shop\/products\/3fee352c5129c0b41084e283801a217e.jpg?v=1665284157","variant_ids":[42627429564570]},"available":true,"name":"Fake Fur Big Shawl Cloak Scarf - gray black tip","public_title":"gray black tip","options":["gray black tip"],"price":2999,"weight":0,"compare_at_price":5999,"inventory_management":null,"barcode":null,"featured_media":{"alt":null,"id":27675982299290,"position":3,"preview_image":{"aspect_ratio":1.0,"height":800,"width":800,"src":"\/\/www.luluwin.co.uk\/cdn\/shop\/products\/3fee352c5129c0b41084e283801a217e.jpg?v=1665284157"}},"requires_selling_plan":false,"selling_plan_allocations":[]},{"id":42627429597338,"title":"beige","option1":"beige","option2":null,"option3":null,"sku":"SC38722-X30203","requires_shipping":true,"taxable":false,"featured_image":{"id":35203694657690,"product_id":7526577799322,"position":4,"created_at":"2022-10-08T20:55:59-06:00","updated_at":"2022-10-08T20:55:59-06:00","alt":null,"width":800,"height":800,"src":"\/\/www.luluwin.co.uk\/cdn\/shop\/products\/67bfe7e5bd4b2dbc85cba8e82ae1885d.jpg?v=1665284159","variant_ids":[42627429597338]},"available":true,"name":"Fake Fur Big Shawl Cloak Scarf - beige","public_title":"beige","options":["beige"],"price":2999,"weight":0,"compare_at_price":5999,"inventory_management":null,"barcode":null,"featured_media":{"alt":null,"id":27675982397594,"position":4,"preview_image":{"aspect_ratio":1.0,"height":800,"width":800,"src":"\/\/www.luluwin.co.uk\/cdn\/shop\/products\/67bfe7e5bd4b2dbc85cba8e82ae1885d.jpg?v=1665284159"}},"requires_selling_plan":false,"selling_plan_allocations":[]},{"id":42627429630106,"title":"light blue jacquard","option1":"light blue jacquard","option2":null,"option3":null,"sku":"SC38722-X30204","requires_shipping":true,"taxable":false,"featured_image":{"id":35203695313050,"product_id":7526577799322,"position":9,"created_at":"2022-10-08T20:56:08-06:00","updated_at":"2022-10-08T20:56:08-06:00","alt":null,"width":800,"height":800,"src":"\/\/www.luluwin.co.uk\/cdn\/shop\/products\/9046397abcdfabc42aa099b1cc62722b.jpg?v=1665284168","variant_ids":[42627429630106]},"available":true,"name":"Fake Fur Big Shawl Cloak Scarf - light blue jacquard","public_title":"light blue jacquard","options":["light blue jacquard"],"price":2999,"weight":0,"compare_at_price":5999,"inventory_management":null,"barcode":null,"featured_media":{"alt":null,"id":27675983052954,"position":9,"preview_image":{"aspect_ratio":1.0,"height":800,"width":800,"src":"\/\/www.luluwin.co.uk\/cdn\/shop\/products\/9046397abcdfabc42aa099b1cc62722b.jpg?v=1665284168"}},"requires_selling_plan":false,"selling_plan_allocations":[]},{"id":42627429662874,"title":"black jade fox","option1":"black jade fox","option2":null,"option3":null,"sku":"SC38722-X30205","requires_shipping":true,"taxable":false,"featured_image":{"id":35203694788762,"product_id":7526577799322,"position":6,"created_at":"2022-10-08T20:56:03-06:00","updated_at":"2022-10-08T20:56:03-06:00","alt":null,"width":800,"height":800,"src":"\/\/www.luluwin.co.uk\/cdn\/shop\/products\/41cfafe18989db0564623381d310ac27.jpg?v=1665284163","variant_ids":[42627429662874]},"available":true,"name":"Fake Fur Big Shawl Cloak Scarf - black jade fox","public_title":"black jade fox","options":["black jade fox"],"price":2999,"weight":0,"compare_at_price":5999,"inventory_management":null,"barcode":null,"featured_media":{"alt":null,"id":27675982528666,"position":6,"preview_image":{"aspect_ratio":1.0,"height":800,"width":800,"src":"\/\/www.luluwin.co.uk\/cdn\/shop\/products\/41cfafe18989db0564623381d310ac27.jpg?v=1665284163"}},"requires_selling_plan":false,"selling_plan_allocations":[]},{"id":42627429695642,"title":"vanilla","option1":"vanilla","option2":null,"option3":null,"sku":"SC38722-X30206","requires_shipping":true,"taxable":false,"featured_image":{"id":35203695837338,"product_id":7526577799322,"position":10,"created_at":"2022-10-08T20:56:10-06:00","updated_at":"2022-10-08T20:56:10-06:00","alt":null,"width":800,"height":800,"src":"\/\/www.luluwin.co.uk\/cdn\/shop\/products\/0e9aa016d85ccd867f55c8ba2646af53.jpg?v=1665284170","variant_ids":[42627429695642]},"available":true,"name":"Fake Fur Big Shawl Cloak Scarf - vanilla","public_title":"vanilla","options":["vanilla"],"price":2999,"weight":0,"compare_at_price":5999,"inventory_management":null,"barcode":null,"featured_media":{"alt":null,"id":27675983577242,"position":10,"preview_image":{"aspect_ratio":1.0,"height":800,"width":800,"src":"\/\/www.luluwin.co.uk\/cdn\/shop\/products\/0e9aa016d85ccd867f55c8ba2646af53.jpg?v=1665284170"}},"requires_selling_plan":false,"selling_plan_allocations":[]}],"images":["\/\/www.luluwin.co.uk\/cdn\/shop\/products\/fm1_999dc0ed-5e4b-43e4-9927-5523b0ec91f3.jpg?v=1665284154","\/\/www.luluwin.co.uk\/cdn\/shop\/products\/fm2_94beac44-07b4-4027-bccb-2ac80899e6bf.jpg?v=1665284154","\/\/www.luluwin.co.uk\/cdn\/shop\/products\/3fee352c5129c0b41084e283801a217e.jpg?v=1665284157","\/\/www.luluwin.co.uk\/cdn\/shop\/products\/67bfe7e5bd4b2dbc85cba8e82ae1885d.jpg?v=1665284159","\/\/www.luluwin.co.uk\/cdn\/shop\/products\/d9f3ccd72f1790a178288fc5fde942e8.jpg?v=1665284161","\/\/www.luluwin.co.uk\/cdn\/shop\/products\/41cfafe18989db0564623381d310ac27.jpg?v=1665284163","\/\/www.luluwin.co.uk\/cdn\/shop\/products\/cd5044bdab5bae45dbdd798daeee8aaf.jpg?v=1665284165","\/\/www.luluwin.co.uk\/cdn\/shop\/products\/884f5c85e9e1d889509441fcb9228578.jpg?v=1665284166","\/\/www.luluwin.co.uk\/cdn\/shop\/products\/9046397abcdfabc42aa099b1cc62722b.jpg?v=1665284168","\/\/www.luluwin.co.uk\/cdn\/shop\/products\/0e9aa016d85ccd867f55c8ba2646af53.jpg?v=1665284170","\/\/www.luluwin.co.uk\/cdn\/shop\/products\/5dc9dad9b2b1be9c4a295ccb638668ce.jpg?v=1665284171","\/\/www.luluwin.co.uk\/cdn\/shop\/products\/9bfabc46287d241c0594388a442e0f23.jpg?v=1665284173"],"featured_image":"\/\/www.luluwin.co.uk\/cdn\/shop\/products\/fm1_999dc0ed-5e4b-43e4-9927-5523b0ec91f3.jpg?v=1665284154","options":["Color"],"media":[{"alt":null,"id":27675981938842,"position":1,"preview_image":{"aspect_ratio":1.0,"height":800,"width":800,"src":"\/\/www.luluwin.co.uk\/cdn\/shop\/products\/fm1_999dc0ed-5e4b-43e4-9927-5523b0ec91f3.jpg?v=1665284154"},"aspect_ratio":1.0,"height":800,"media_type":"image","src":"\/\/www.luluwin.co.uk\/cdn\/shop\/products\/fm1_999dc0ed-5e4b-43e4-9927-5523b0ec91f3.jpg?v=1665284154","width":800},{"alt":null,"id":27675981971610,"position":2,"preview_image":{"aspect_ratio":1.0,"height":800,"width":800,"src":"\/\/www.luluwin.co.uk\/cdn\/shop\/products\/fm2_94beac44-07b4-4027-bccb-2ac80899e6bf.jpg?v=1665284154"},"aspect_ratio":1.0,"height":800,"media_type":"image","src":"\/\/www.luluwin.co.uk\/cdn\/shop\/products\/fm2_94beac44-07b4-4027-bccb-2ac80899e6bf.jpg?v=1665284154","width":800},{"alt":null,"id":27675982299290,"position":3,"preview_image":{"aspect_ratio":1.0,"height":800,"width":800,"src":"\/\/www.luluwin.co.uk\/cdn\/shop\/products\/3fee352c5129c0b41084e283801a217e.jpg?v=1665284157"},"aspect_ratio":1.0,"height":800,"media_type":"image","src":"\/\/www.luluwin.co.uk\/cdn\/shop\/products\/3fee352c5129c0b41084e283801a217e.jpg?v=1665284157","width":800},{"alt":null,"id":27675982397594,"position":4,"preview_image":{"aspect_ratio":1.0,"height":800,"width":800,"src":"\/\/www.luluwin.co.uk\/cdn\/shop\/products\/67bfe7e5bd4b2dbc85cba8e82ae1885d.jpg?v=1665284159"},"aspect_ratio":1.0,"height":800,"media_type":"image","src":"\/\/www.luluwin.co.uk\/cdn\/shop\/products\/67bfe7e5bd4b2dbc85cba8e82ae1885d.jpg?v=1665284159","width":800},{"alt":null,"id":27675982463130,"position":5,"preview_image":{"aspect_ratio":1.0,"height":800,"width":800,"src":"\/\/www.luluwin.co.uk\/cdn\/shop\/products\/d9f3ccd72f1790a178288fc5fde942e8.jpg?v=1665284161"},"aspect_ratio":1.0,"height":800,"media_type":"image","src":"\/\/www.luluwin.co.uk\/cdn\/shop\/products\/d9f3ccd72f1790a178288fc5fde942e8.jpg?v=1665284161","width":800},{"alt":null,"id":27675982528666,"position":6,"preview_image":{"aspect_ratio":1.0,"height":800,"width":800,"src":"\/\/www.luluwin.co.uk\/cdn\/shop\/products\/41cfafe18989db0564623381d310ac27.jpg?v=1665284163"},"aspect_ratio":1.0,"height":800,"media_type":"image","src":"\/\/www.luluwin.co.uk\/cdn\/shop\/products\/41cfafe18989db0564623381d310ac27.jpg?v=1665284163","width":800},{"alt":null,"id":27675982561434,"position":7,"preview_image":{"aspect_ratio":1.0,"height":800,"width":800,"src":"\/\/www.luluwin.co.uk\/cdn\/shop\/products\/cd5044bdab5bae45dbdd798daeee8aaf.jpg?v=1665284165"},"aspect_ratio":1.0,"height":800,"media_type":"image","src":"\/\/www.luluwin.co.uk\/cdn\/shop\/products\/cd5044bdab5bae45dbdd798daeee8aaf.jpg?v=1665284165","width":800},{"alt":null,"id":27675982889114,"position":8,"preview_image":{"aspect_ratio":1.0,"height":800,"width":800,"src":"\/\/www.luluwin.co.uk\/cdn\/shop\/products\/884f5c85e9e1d889509441fcb9228578.jpg?v=1665284166"},"aspect_ratio":1.0,"height":800,"media_type":"image","src":"\/\/www.luluwin.co.uk\/cdn\/shop\/products\/884f5c85e9e1d889509441fcb9228578.jpg?v=1665284166","width":800},{"alt":null,"id":27675983052954,"position":9,"preview_image":{"aspect_ratio":1.0,"height":800,"width":800,"src":"\/\/www.luluwin.co.uk\/cdn\/shop\/products\/9046397abcdfabc42aa099b1cc62722b.jpg?v=1665284168"},"aspect_ratio":1.0,"height":800,"media_type":"image","src":"\/\/www.luluwin.co.uk\/cdn\/shop\/products\/9046397abcdfabc42aa099b1cc62722b.jpg?v=1665284168","width":800},{"alt":null,"id":27675983577242,"position":10,"preview_image":{"aspect_ratio":1.0,"height":800,"width":800,"src":"\/\/www.luluwin.co.uk\/cdn\/shop\/products\/0e9aa016d85ccd867f55c8ba2646af53.jpg?v=1665284170"},"aspect_ratio":1.0,"height":800,"media_type":"image","src":"\/\/www.luluwin.co.uk\/cdn\/shop\/products\/0e9aa016d85ccd867f55c8ba2646af53.jpg?v=1665284170","width":800},{"alt":null,"id":27675983642778,"position":11,"preview_image":{"aspect_ratio":1.0,"height":800,"width":800,"src":"\/\/www.luluwin.co.uk\/cdn\/shop\/products\/5dc9dad9b2b1be9c4a295ccb638668ce.jpg?v=1665284171"},"aspect_ratio":1.0,"height":800,"media_type":"image","src":"\/\/www.luluwin.co.uk\/cdn\/shop\/products\/5dc9dad9b2b1be9c4a295ccb638668ce.jpg?v=1665284171","width":800},{"alt":null,"id":27675983708314,"position":12,"preview_image":{"aspect_ratio":1.0,"height":800,"width":800,"src":"\/\/www.luluwin.co.uk\/cdn\/shop\/products\/9bfabc46287d241c0594388a442e0f23.jpg?v=1665284173"},"aspect_ratio":1.0,"height":800,"media_type":"image","src":"\/\/www.luluwin.co.uk\/cdn\/shop\/products\/9bfabc46287d241c0594388a442e0f23.jpg?v=1665284173","width":800}],"requires_selling_plan":false,"selling_plan_groups":[],"content":"\u003ch4 style=\"text-align: center;\" data-mce-fragment=\"1\"\u003e\u003cspan style=\"color: #295c94;\"\u003e\u003cstrong\u003eOne size fits all, simply wrap around the shoulders. \u003c\/strong\u003e\u003c\/span\u003e\u003c\/h4\u003e\n\u003ch4\u003e\u003cimg src=\"https:\/\/cdn.shopifycdn.net\/s\/files\/1\/0653\/0308\/5296\/products\/fm1_999dc0ed-5e4b-43e4-9927-5523b0ec91f3_480x480.jpg?v=1665210588\" alt=\"\" style=\"display: block; margin-left: auto; margin-right: auto;\" width=\"399\" height=\"399\" data-mce-fragment=\"1\" data-mce-src=\"https:\/\/cdn.shopifycdn.net\/s\/files\/1\/0653\/0308\/5296\/products\/fm1_999dc0ed-5e4b-43e4-9927-5523b0ec91f3_480x480.jpg?v=1665210588\"\u003e\u003c\/h4\u003e\n\u003ch3 data-mce-fragment=\"1\"\u003e\u003cspan style=\"color: #2ea38e;\"\u003e\u003cstrong\u003eFEATURES\u003c\/strong\u003e\u003c\/span\u003e\u003c\/h3\u003e\n\u003cul\u003e\n\u003cli\u003e\u003cspan style=\"font-weight: 400;\" data-mce-style=\"font-weight: 400;\" data-mce-fragment=\"1\"\u003e\u003cspan style=\"color: #ab8436;\"\u003e\u003cstrong\u003eHigh quality flattering soft touch plush and faux fur\u003c\/strong\u003e\u003c\/span\u003e which is sophisticated and stylish, keep you warm, make you look luxurious, beautiful, cozy and soft shawl, you can tighten your style as you need.\u003c\/span\u003e\u003c\/li\u003e\n\u003c\/ul\u003e\n\u003cdiv\u003e\u003cimg src=\"https:\/\/cdn.shopifycdn.net\/s\/files\/1\/0653\/0308\/5296\/products\/67bfe7e5bd4b2dbc85cba8e82ae1885d_480x480.jpg?v=1665210588\" alt=\"\" style=\"display: block; margin-left: auto; margin-right: auto;\" width=\"400\" height=\"400\" data-mce-fragment=\"1\" data-mce-src=\"https:\/\/cdn.shopifycdn.net\/s\/files\/1\/0653\/0308\/5296\/products\/67bfe7e5bd4b2dbc85cba8e82ae1885d_480x480.jpg?v=1665210588\"\u003e\u003c\/div\u003e\n\u003cul\u003e\n\u003cli\u003e\u003cspan style=\"font-weight: 400;\" data-mce-style=\"font-weight: 400;\" data-mce-fragment=\"1\"\u003e\u003cspan style=\"color: #ab8436;\"\u003e\u003cstrong\u003eMatching dresses, jewelry, clutches, headpieces, dress shoes, accessories, etc.\u003c\/strong\u003e\u003c\/span\u003e Not only adds extra warmth, but also makes sure you look gorgeous and stunning. \u003c\/span\u003e\u003c\/li\u003e\n\u003c\/ul\u003e\n\u003cdiv\u003e\u003cimg src=\"https:\/\/cdn.shopifycdn.net\/s\/files\/1\/0653\/0308\/5296\/products\/41cfafe18989db0564623381d310ac27_480x480.jpg?v=1665210588\" alt=\"\" style=\"display: block; margin-left: auto; margin-right: auto;\" width=\"399\" height=\"399\" data-mce-fragment=\"1\" data-mce-src=\"https:\/\/cdn.shopifycdn.net\/s\/files\/1\/0653\/0308\/5296\/products\/41cfafe18989db0564623381d310ac27_480x480.jpg?v=1665210588\"\u003e\u003c\/div\u003e\n\u003cul\u003e\n\u003cli\u003e\u003cspan style=\"font-weight: 400;\" data-mce-style=\"font-weight: 400;\" data-mce-fragment=\"1\"\u003e\u003cspan style=\"color: #ab8436;\"\u003e\u003cstrong\u003eLightweight, warm and stylish shawl cape,\u003c\/strong\u003e \u003c\/span\u003ecapable of serving as an ideal gift for yourself, your lover and your friends at birthdays Christmas and Halloween.\u003c\/span\u003e\u003c\/li\u003e\n\u003c\/ul\u003e\n\u003cdiv\u003e\u003cimg src=\"https:\/\/cdn.shopifycdn.net\/s\/files\/1\/0653\/0308\/5296\/products\/5dc9dad9b2b1be9c4a295ccb638668ce_480x480.jpg?v=1665210588\" alt=\"\" style=\"display: block; margin-left: auto; margin-right: auto;\" width=\"399\" height=\"399\" data-mce-fragment=\"1\" data-mce-src=\"https:\/\/cdn.shopifycdn.net\/s\/files\/1\/0653\/0308\/5296\/products\/5dc9dad9b2b1be9c4a295ccb638668ce_480x480.jpg?v=1665210588\"\u003e\u003c\/div\u003e\n\u003ch3 data-mce-fragment=\"1\"\u003e\u003cspan style=\"color: #2ea38e;\"\u003e\u003cstrong\u003eSPECIFICATIONS\u003c\/strong\u003e\u003c\/span\u003e\u003c\/h3\u003e\n\u003cul\u003e\n\u003cli\u003e\u003cspan style=\"font-weight: 400;\" data-mce-style=\"font-weight: 400;\" data-mce-fragment=\"1\"\u003e\u003cstrong\u003eMaterial\u003c\/strong\u003e: acrylic\/faux wool\u003c\/span\u003e\u003c\/li\u003e\n\u003cli\u003e\u003cspan style=\"font-weight: 400;\" data-mce-style=\"font-weight: 400;\" data-mce-fragment=\"1\"\u003e\u003cstrong\u003eColor\u003c\/strong\u003e: fur, black fox, creamy white, red super soft, burgundy black tip, gray black tip, beige, light blue jacquard, black jade fox, vanilla\u003c\/span\u003e\u003c\/li\u003e\n\u003cli\u003e\u003cspan style=\"font-weight: 400;\" data-mce-style=\"font-weight: 400;\" data-mce-fragment=\"1\"\u003e\u003cstrong\u003eWeight\u003c\/strong\u003e: 600g \/ 1.3lb\u003c\/span\u003e\u003c\/li\u003e\n\u003cli\u003e\u003cspan style=\"font-weight: 400;\" data-mce-style=\"font-weight: 400;\" data-mce-fragment=\"1\"\u003e\u003cstrong\u003eLength\u003c\/strong\u003e: 165cm \/ 64.9in\u003c\/span\u003e\u003c\/li\u003e\n\u003cli\u003e\u003cspan style=\"font-weight: 400;\" data-mce-style=\"font-weight: 400;\" data-mce-fragment=\"1\"\u003e\u003cstrong\u003eWidth\u003c\/strong\u003e: 28-30cm \/ 11.0-11.8in\u003c\/span\u003e\u003c\/li\u003e\n\u003c\/ul\u003e\n\u003ch3 data-mce-fragment=\"1\"\u003e\u003cspan style=\"color: #2ea38e;\"\u003e\u003cstrong\u003ePACKAGE INCLUDED\u003c\/strong\u003e\u003c\/span\u003e\u003c\/h3\u003e\n\u003cul\u003e\n\u003cli\u003e\u003cspan style=\"font-weight: 400;\" data-mce-style=\"font-weight: 400;\" data-mce-fragment=\"1\"\u003e1 × Fake Fur Big Shawl Cloak Scarf\u003c\/span\u003e\u003c\/li\u003e\n\u003c\/ul\u003e"}
Fake Fur Big Shawl Cloak Scarf
Adding product to your cart
One size fits all, simply wrap around the shoulders. 

FEATURES
High quality flattering soft touch plush and faux fur which is sophisticated and stylish, keep you warm, make you look luxurious, beautiful, cozy and soft shawl, you can tighten your style as you need.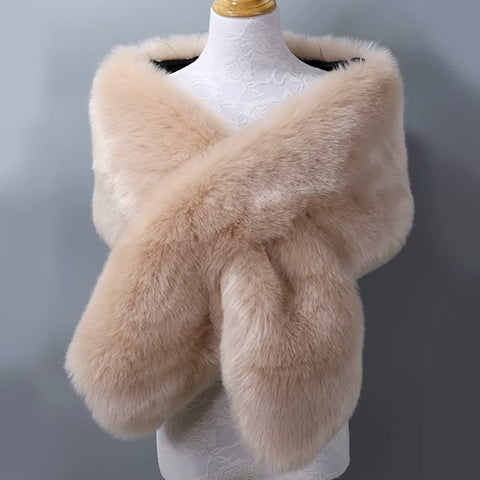 Matching dresses, jewelry, clutches, headpieces, dress shoes, accessories, etc. Not only adds extra warmth, but also makes sure you look gorgeous and stunning.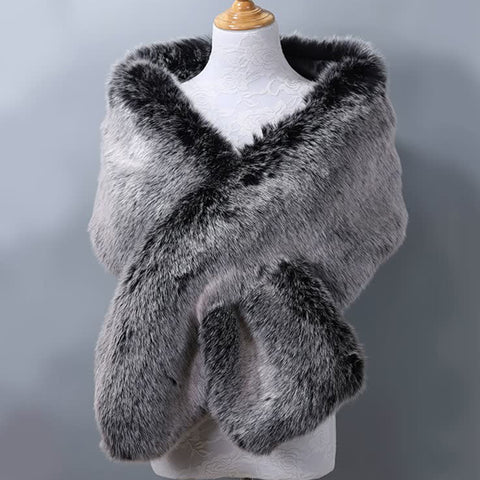 Lightweight, warm and stylish shawl cape, capable of serving as an ideal gift for yourself, your lover and your friends at birthdays Christmas and Halloween.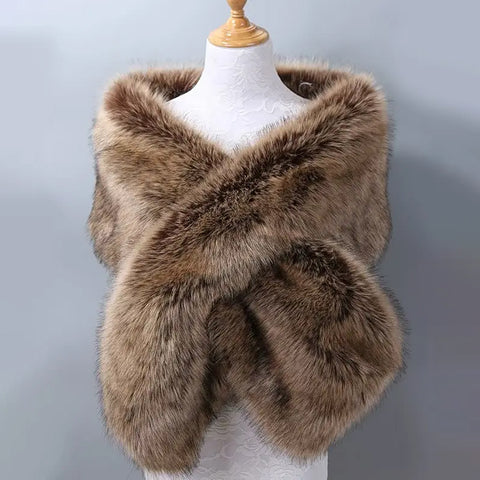 SPECIFICATIONS
Material: acrylic/faux wool
Color: fur, black fox, creamy white, red super soft, burgundy black tip, gray black tip, beige, light blue jacquard, black jade fox, vanilla
Weight: 600g / 1.3lb
Length: 165cm / 64.9in
Width: 28-30cm / 11.0-11.8in
PACKAGE INCLUDED
1 × Fake Fur Big Shawl Cloak Scarf