{"id":7838682316954,"title":"Elegant Solid Color Slit Shirt Dress","handle":"elegant-solid-color-slit-shirt-dress","description":"\u003ch4 style=\"text-align: center;\"\u003e\u003cstrong\u003e\u003cspan class=\"HwtZe\" jsname=\"jqKxS\" jsaction=\"mouseup:Sxi9L,BR6jm; mousedown:qjlr0e\" lang=\"en\"\u003e\u003cspan class=\"jCAhz ChMk0b C1N51c\" jscontroller=\"Gn4SMb\" jsname=\"txFAF\" jsaction=\"agoMJf:PFBcW;MZfLnc:P7O7bd;nt4Alf:pvnm0e,pfE8Hb,PFBcW;B01qod:dJXsye;H1e5u:iXtTIf;lYIUJf:hij5Wb;bmeZHc:iURhpf;Oxj3Xe:qAKMYb,yaf12d\"\u003e\u003cspan class=\"ryNqvb\" jsname=\"W297wb\" jsaction=\"click:E6Tfl,GFf3ac,tMZCfe; contextmenu:Nqw7Te,QP7LD; mouseout:Nqw7Te; mouseover:E6Tfl,c2aHje\"\u003e😊 🙂\u003c\/span\u003e\u003c\/span\u003e\u003c\/span\u003e\u003c\/strong\u003e\u003c\/h4\u003e\n\u003ch4 style=\"text-align: center;\"\u003e\u003cspan style=\"color: #ff8000;\"\u003e\u003cstrong\u003e\u003cspan class=\"HwtZe\" jsname=\"jqKxS\" jsaction=\"mouseup:Sxi9L,BR6jm; mousedown:qjlr0e\" lang=\"en\"\u003e\u003cspan class=\"jCAhz ChMk0b C1N51c\" jscontroller=\"Gn4SMb\" jsname=\"txFAF\" jsaction=\"agoMJf:PFBcW;MZfLnc:P7O7bd;nt4Alf:pvnm0e,pfE8Hb,PFBcW;B01qod:dJXsye;H1e5u:iXtTIf;lYIUJf:hij5Wb;bmeZHc:iURhpf;Oxj3Xe:qAKMYb,yaf12d\"\u003e\u003cspan class=\"ryNqvb\" jsname=\"W297wb\" jsaction=\"click:E6Tfl,GFf3ac,tMZCfe; contextmenu:Nqw7Te,QP7LD; mouseout:Nqw7Te; mouseover:E6Tfl,c2aHje\"\u003eA long shirt dress for summer\u003c\/span\u003e\u003c\/span\u003e\u003c\/span\u003e\u003c\/strong\u003e\u003c\/span\u003e\u003c\/h4\u003e\n\u003cp\u003e\u003cspan style=\"color: #ff8000;\"\u003e\u003cstrong\u003e\u003cspan class=\"HwtZe\" jsname=\"jqKxS\" jsaction=\"mouseup:Sxi9L,BR6jm; mousedown:qjlr0e\" lang=\"en\"\u003e\u003cspan class=\"jCAhz ChMk0b C1N51c\" jscontroller=\"Gn4SMb\" jsname=\"txFAF\" jsaction=\"agoMJf:PFBcW;MZfLnc:P7O7bd;nt4Alf:pvnm0e,pfE8Hb,PFBcW;B01qod:dJXsye;H1e5u:iXtTIf;lYIUJf:hij5Wb;bmeZHc:iURhpf;Oxj3Xe:qAKMYb,yaf12d\"\u003e\u003cspan class=\"ryNqvb\" jsname=\"W297wb\" jsaction=\"click:E6Tfl,GFf3ac,tMZCfe; contextmenu:Nqw7Te,QP7LD; mouseout:Nqw7Te; mouseover:E6Tfl,c2aHje\"\u003e\u003cimg alt=\"\" src=\"https:\/\/cdn.shopifycdn.net\/s\/files\/1\/0567\/8507\/6432\/files\/1_fb30ffd0-a5e4-4e8c-ba31-6e5fcd2f40c7_480x480.jpg?v=1685611842\" style=\"display: block; margin-left: auto; margin-right: auto;\" width=\"429\" height=\"429\"\u003e\u003c\/span\u003e\u003c\/span\u003e\u003c\/span\u003e\u003c\/strong\u003e\u003c\/span\u003e\u003c\/p\u003e\n\u003ch4\u003e\u003cspan style=\"color: #ff8000;\"\u003e\u003cstrong\u003eFEATURE:\u003c\/strong\u003e\u003c\/span\u003e\u003c\/h4\u003e\n\u003cul\u003e\n\u003cli\u003e💡 Casual shirt dress features long sleeve, button-down and loose fit. \u003cspan style=\"color: #ffbb00;\"\u003e\u003cstrong\u003eSimple, chic, elegant and flattering.\u003c\/strong\u003e\u003c\/span\u003e\n\u003c\/li\u003e\n\u003c\/ul\u003e\n\u003cp\u003e\u003cimg alt=\"\" src=\"https:\/\/cdn.shopifycdn.net\/s\/files\/1\/0567\/8507\/6432\/files\/DR51095_0003__11_dfbf2ac4-6c1b-4409-8004-78ac88a01070_480x480.jpg?v=1685611855\" style=\"display: block; margin-left: auto; margin-right: auto;\" width=\"429\" height=\"429\"\u003e\u003c\/p\u003e\n\u003cul\u003e\n\u003cli\u003e💡 Sexy side split design of the cover up is \u003cspan style=\"color: #ffbb00;\"\u003e\u003cstrong\u003eeye-catching\u003c\/strong\u003e\u003c\/span\u003e and perfect to show your body shape.\u003c\/li\u003e\n\u003c\/ul\u003e\n\u003cp\u003e\u003cimg alt=\"\" src=\"https:\/\/cdn.shopifycdn.net\/s\/files\/1\/0567\/8507\/6432\/files\/DR51095_0005__9_9506f05c-cee2-49ea-8bf6-16a5d6acea88_480x480.jpg?v=1685611873\" style=\"display: block; margin-left: auto; margin-right: auto;\" width=\"435\" height=\"435\"\u003e\u003c\/p\u003e\n\u003cul\u003e\n\u003cli\u003e💡 It is suitable to wear the\u003cspan style=\"color: #ffbb00;\"\u003e\u003cstrong\u003e long cover up\u003c\/strong\u003e\u003c\/span\u003e for daily occasions like home, party, date, seaside, beach, shopping, travelling and so on.\u003c\/li\u003e\n\u003c\/ul\u003e\n\u003cp\u003e \u003c\/p\u003e\n\u003ch4\u003e\n\u003cspan style=\"color: #ff8000;\"\u003e\u003cstrong\u003eSPECIFICATION:\u003c\/strong\u003e\u003c\/span\u003e\u003cbr\u003e\n\u003c\/h4\u003e\n\u003cul\u003e\n\u003cli\u003e\n\u003cstrong\u003eMaterial:\u003c\/strong\u003e \u003cspan class=\"HwtZe\" data-mce-fragment=\"1\" jsaction=\"mouseup:Sxi9L,BR6jm; mousedown:qjlr0e\" jsname=\"jqKxS\" lang=\"en\"\u003e\u003cspan class=\"jCAhz ChMk0b\" data-mce-fragment=\"1\" jsaction=\"agoMJf:PFBcW;MZfLnc:P7O7bd;nt4Alf:pvnm0e,pfE8Hb,PFBcW;B01qod:dJXsye;H1e5u:iXtTIf;lYIUJf:hij5Wb;bmeZHc:iURhpf;Oxj3Xe:qAKMYb,yaf12d\" jsname=\"txFAF\" jscontroller=\"Gn4SMb\"\u003e\u003cspan class=\"ryNqvb\" data-mce-fragment=\"1\" jsaction=\"click:E6Tfl,GFf3ac,tMZCfe; contextmenu:Nqw7Te,QP7LD; mouseout:Nqw7Te; mouseover:E6Tfl,c2aHje\" jsname=\"W297wb\"\u003ecotton\u003c\/span\u003e\u003c\/span\u003e\u003c\/span\u003e\n\u003c\/li\u003e\n\u003cli\u003e\n\u003cstrong\u003eColor:\u003c\/strong\u003e b\u003cspan class=\"HwtZe\" data-mce-fragment=\"1\" jsaction=\"mouseup:Sxi9L,BR6jm; mousedown:qjlr0e\" jsname=\"jqKxS\" lang=\"en\"\u003e\u003cspan class=\"jCAhz ChMk0b\" data-mce-fragment=\"1\" jsaction=\"agoMJf:PFBcW;MZfLnc:P7O7bd;nt4Alf:pvnm0e,pfE8Hb,PFBcW;B01qod:dJXsye;H1e5u:iXtTIf;lYIUJf:hij5Wb;bmeZHc:iURhpf;Oxj3Xe:qAKMYb,yaf12d\" jsname=\"txFAF\" jscontroller=\"Gn4SMb\"\u003e\u003cspan class=\"ryNqvb\" data-mce-fragment=\"1\" jsaction=\"click:E6Tfl,GFf3ac,tMZCfe; contextmenu:Nqw7Te,QP7LD; mouseout:Nqw7Te; mouseover:E6Tfl,c2aHje\" jsname=\"W297wb\"\u003eeige, white, blue, light blue, yellow, red, gray, dark blue\u003c\/span\u003e\u003c\/span\u003e\u003c\/span\u003e\u003cbr\u003e\n\u003c\/li\u003e\n\u003cli\u003e\u003cstrong\u003eSize(cm):\u003c\/strong\u003e\u003c\/li\u003e\n\u003c\/ul\u003e\n\u003ctable style=\"width: 309px; margin-left: auto; margin-right: auto;\" height=\"228\"\u003e\n\u003ctbody\u003e\n\u003ctr\u003e\n\u003ctd style=\"width: 59px; text-align: center;\"\u003e\u003cstrong\u003eSize\u003c\/strong\u003e\u003c\/td\u003e\n\u003ctd style=\"width: 72px; text-align: center;\"\u003e\u003cstrong\u003eBust\u003c\/strong\u003e\u003c\/td\u003e\n\u003ctd style=\"width: 66px; text-align: center;\"\u003e\u003cstrong\u003e\u003cspan class=\"HwtZe\" jsname=\"jqKxS\" jsaction=\"mouseup:Sxi9L,BR6jm; mousedown:qjlr0e\" lang=\"en\"\u003e\u003cspan class=\"jCAhz ChMk0b\" jscontroller=\"Gn4SMb\" jsname=\"txFAF\" jsaction=\"agoMJf:PFBcW;MZfLnc:P7O7bd;nt4Alf:pvnm0e,pfE8Hb,PFBcW;B01qod:dJXsye;H1e5u:iXtTIf;lYIUJf:hij5Wb;bmeZHc:iURhpf;Oxj3Xe:qAKMYb,yaf12d\"\u003e\u003cspan class=\"ryNqvb\" jsname=\"W297wb\" jsaction=\"click:E6Tfl,GFf3ac,tMZCfe; contextmenu:Nqw7Te,QP7LD; mouseout:Nqw7Te; mouseover:E6Tfl,c2aHje\"\u003eSleeve\u003c\/span\u003e\u003c\/span\u003e\u003c\/span\u003e\u003c\/strong\u003e\u003c\/td\u003e\n\u003ctd style=\"width: 78px; text-align: center;\"\u003e\u003cstrong\u003e L\u003cspan class=\"HwtZe\" data-mce-fragment=\"1\" jsaction=\"mouseup:Sxi9L,BR6jm; mousedown:qjlr0e\" jsname=\"jqKxS\" lang=\"en\"\u003e\u003cspan class=\"jCAhz ChMk0b\" data-mce-fragment=\"1\" jsaction=\"agoMJf:PFBcW;MZfLnc:P7O7bd;nt4Alf:pvnm0e,pfE8Hb,PFBcW;B01qod:dJXsye;H1e5u:iXtTIf;lYIUJf:hij5Wb;bmeZHc:iURhpf;Oxj3Xe:qAKMYb,yaf12d\" jsname=\"txFAF\" jscontroller=\"Gn4SMb\"\u003e\u003cspan class=\"ryNqvb\" data-mce-fragment=\"1\" jsaction=\"click:E6Tfl,GFf3ac,tMZCfe; contextmenu:Nqw7Te,QP7LD; mouseout:Nqw7Te; mouseover:E6Tfl,c2aHje\" jsname=\"W297wb\"\u003eength\u003c\/span\u003e\u003c\/span\u003e\u003c\/span\u003e\u003c\/strong\u003e\u003c\/td\u003e\n\u003c\/tr\u003e\n\u003ctr\u003e\n\u003ctd style=\"width: 59px; text-align: center;\"\u003e\u003cstrong\u003eS\u003c\/strong\u003e\u003c\/td\u003e\n\u003ctd style=\"width: 72px; text-align: center;\"\u003e98\u003c\/td\u003e\n\u003ctd style=\"width: 66px; text-align: center;\"\u003e47\u003c\/td\u003e\n\u003ctd style=\"width: 78px; text-align: center;\"\u003e113\u003c\/td\u003e\n\u003c\/tr\u003e\n\u003ctr\u003e\n\u003ctd style=\"width: 59px; text-align: center;\"\u003e\u003cstrong\u003eM\u003c\/strong\u003e\u003c\/td\u003e\n\u003ctd style=\"width: 72px; text-align: center;\"\u003e101\u003c\/td\u003e\n\u003ctd style=\"width: 66px; text-align: center;\"\u003e48\u003c\/td\u003e\n\u003ctd style=\"width: 78px; text-align: center;\"\u003e114\u003c\/td\u003e\n\u003c\/tr\u003e\n\u003ctr\u003e\n\u003ctd style=\"width: 59px; text-align: center;\"\u003e\u003cstrong\u003eL\u003c\/strong\u003e\u003c\/td\u003e\n\u003ctd style=\"width: 72px; text-align: center;\"\u003e104\u003c\/td\u003e\n\u003ctd style=\"width: 66px; text-align: center;\"\u003e49\u003c\/td\u003e\n\u003ctd style=\"width: 78px; text-align: center;\"\u003e115\u003c\/td\u003e\n\u003c\/tr\u003e\n\u003ctr\u003e\n\u003ctd style=\"width: 59px; text-align: center;\"\u003e\u003cstrong\u003eXL\u003c\/strong\u003e\u003c\/td\u003e\n\u003ctd style=\"width: 72px; text-align: center;\"\u003e107\u003c\/td\u003e\n\u003ctd style=\"width: 66px; text-align: center;\"\u003e50\u003c\/td\u003e\n\u003ctd style=\"width: 78px; text-align: center;\"\u003e116\u003c\/td\u003e\n\u003c\/tr\u003e\n\u003ctr\u003e\n\u003ctd style=\"width: 59px; text-align: center;\"\u003e\u003cstrong\u003e2XL\u003c\/strong\u003e\u003c\/td\u003e\n\u003ctd style=\"width: 72px; text-align: center;\"\u003e110\u003c\/td\u003e\n\u003ctd style=\"width: 66px; text-align: center;\"\u003e51\u003c\/td\u003e\n\u003ctd style=\"width: 78px; text-align: center;\"\u003e117\u003c\/td\u003e\n\u003c\/tr\u003e\n\u003ctr\u003e\n\u003ctd style=\"width: 59px; text-align: center;\"\u003e\u003cstrong\u003e3XL\u003c\/strong\u003e\u003c\/td\u003e\n\u003ctd style=\"width: 72px; text-align: center;\"\u003e113\u003c\/td\u003e\n\u003ctd style=\"width: 66px; text-align: center;\"\u003e52\u003c\/td\u003e\n\u003ctd style=\"width: 78px; text-align: center;\"\u003e118\u003c\/td\u003e\n\u003c\/tr\u003e\n\u003ctr\u003e\n\u003ctd style=\"width: 59px; text-align: center;\"\u003e\u003cstrong\u003e4XL\u003c\/strong\u003e\u003c\/td\u003e\n\u003ctd style=\"width: 72px; text-align: center;\"\u003e116\u003c\/td\u003e\n\u003ctd style=\"width: 66px; text-align: center;\"\u003e53\u003c\/td\u003e\n\u003ctd style=\"width: 78px; text-align: center;\"\u003e119\u003c\/td\u003e\n\u003c\/tr\u003e\n\u003ctr\u003e\n\u003ctd style=\"width: 59px; text-align: center;\"\u003e\u003cstrong\u003e5XL\u003c\/strong\u003e\u003c\/td\u003e\n\u003ctd style=\"width: 72px; text-align: center;\"\u003e119\u003c\/td\u003e\n\u003ctd style=\"width: 66px; text-align: center;\"\u003e54\u003cbr\u003e\n\u003c\/td\u003e\n\u003ctd style=\"width: 78px; text-align: center;\"\u003e120\u003c\/td\u003e\n\u003c\/tr\u003e\n\u003c\/tbody\u003e\n\u003c\/table\u003e\n\u003ch4\u003e\n\u003cbr\u003e\u003cspan style=\"color: #ff8000;\"\u003e\u003cstrong\u003ePACKAGE INCLUDES:\u003c\/strong\u003e\u003c\/span\u003e\u003cbr\u003e\n\u003c\/h4\u003e\n\u003cul\u003e\n\u003cli\u003e1×Elegant Solid Color Slit Shirt Dress\u003c\/li\u003e\n\u003c\/ul\u003e","published_at":"2023-06-05T01:58:44-06:00","created_at":"2023-06-05T01:58:51-06:00","vendor":"luluwin","type":"","tags":["women's clothing"],"price":1599,"price_min":1599,"price_max":1599,"available":true,"price_varies":false,"compare_at_price":null,"compare_at_price_min":0,"compare_at_price_max":0,"compare_at_price_varies":false,"variants":[{"id":43630205632666,"title":"beige \/ S","option1":"beige","option2":"S","option3":null,"sku":"DR51095-C057-S00S","requires_shipping":true,"taxable":false,"featured_image":{"id":37086057005210,"product_id":7838682316954,"position":9,"created_at":"2023-06-05T01:59:00-06:00","updated_at":"2023-06-05T01:59:00-06:00","alt":null,"width":800,"height":800,"src":"\/\/www.luluwin.co.uk\/cdn\/shop\/files\/DR51095_0007__8.jpg?v=1685951940","variant_ids":[43630205632666,43630205665434,43630205698202,43630205730970,43630205763738,43630205796506,43630205829274,43630205862042]},"available":true,"name":"Elegant Solid Color Slit Shirt Dress - beige \/ S","public_title":"beige \/ S","options":["beige","S"],"price":1599,"weight":0,"compare_at_price":null,"inventory_management":null,"barcode":null,"featured_media":{"alt":null,"id":29615872966810,"position":9,"preview_image":{"aspect_ratio":1.0,"height":800,"width":800,"src":"\/\/www.luluwin.co.uk\/cdn\/shop\/files\/DR51095_0007__8.jpg?v=1685951940"}},"requires_selling_plan":false,"selling_plan_allocations":[]},{"id":43630205665434,"title":"beige \/ M","option1":"beige","option2":"M","option3":null,"sku":"DR51095-C057-S00M","requires_shipping":true,"taxable":false,"featured_image":{"id":37086057005210,"product_id":7838682316954,"position":9,"created_at":"2023-06-05T01:59:00-06:00","updated_at":"2023-06-05T01:59:00-06:00","alt":null,"width":800,"height":800,"src":"\/\/www.luluwin.co.uk\/cdn\/shop\/files\/DR51095_0007__8.jpg?v=1685951940","variant_ids":[43630205632666,43630205665434,43630205698202,43630205730970,43630205763738,43630205796506,43630205829274,43630205862042]},"available":true,"name":"Elegant Solid Color Slit Shirt Dress - beige \/ M","public_title":"beige \/ M","options":["beige","M"],"price":1599,"weight":0,"compare_at_price":null,"inventory_management":null,"barcode":null,"featured_media":{"alt":null,"id":29615872966810,"position":9,"preview_image":{"aspect_ratio":1.0,"height":800,"width":800,"src":"\/\/www.luluwin.co.uk\/cdn\/shop\/files\/DR51095_0007__8.jpg?v=1685951940"}},"requires_selling_plan":false,"selling_plan_allocations":[]},{"id":43630205698202,"title":"beige \/ L","option1":"beige","option2":"L","option3":null,"sku":"DR51095-C057-S00L","requires_shipping":true,"taxable":false,"featured_image":{"id":37086057005210,"product_id":7838682316954,"position":9,"created_at":"2023-06-05T01:59:00-06:00","updated_at":"2023-06-05T01:59:00-06:00","alt":null,"width":800,"height":800,"src":"\/\/www.luluwin.co.uk\/cdn\/shop\/files\/DR51095_0007__8.jpg?v=1685951940","variant_ids":[43630205632666,43630205665434,43630205698202,43630205730970,43630205763738,43630205796506,43630205829274,43630205862042]},"available":true,"name":"Elegant Solid Color Slit Shirt Dress - beige \/ L","public_title":"beige \/ L","options":["beige","L"],"price":1599,"weight":0,"compare_at_price":null,"inventory_management":null,"barcode":null,"featured_media":{"alt":null,"id":29615872966810,"position":9,"preview_image":{"aspect_ratio":1.0,"height":800,"width":800,"src":"\/\/www.luluwin.co.uk\/cdn\/shop\/files\/DR51095_0007__8.jpg?v=1685951940"}},"requires_selling_plan":false,"selling_plan_allocations":[]},{"id":43630205730970,"title":"beige \/ XL","option1":"beige","option2":"XL","option3":null,"sku":"DR51095-C057-S00X","requires_shipping":true,"taxable":false,"featured_image":{"id":37086057005210,"product_id":7838682316954,"position":9,"created_at":"2023-06-05T01:59:00-06:00","updated_at":"2023-06-05T01:59:00-06:00","alt":null,"width":800,"height":800,"src":"\/\/www.luluwin.co.uk\/cdn\/shop\/files\/DR51095_0007__8.jpg?v=1685951940","variant_ids":[43630205632666,43630205665434,43630205698202,43630205730970,43630205763738,43630205796506,43630205829274,43630205862042]},"available":true,"name":"Elegant Solid Color Slit Shirt Dress - beige \/ XL","public_title":"beige \/ XL","options":["beige","XL"],"price":1599,"weight":0,"compare_at_price":null,"inventory_management":null,"barcode":null,"featured_media":{"alt":null,"id":29615872966810,"position":9,"preview_image":{"aspect_ratio":1.0,"height":800,"width":800,"src":"\/\/www.luluwin.co.uk\/cdn\/shop\/files\/DR51095_0007__8.jpg?v=1685951940"}},"requires_selling_plan":false,"selling_plan_allocations":[]},{"id":43630205763738,"title":"beige \/ 2XL","option1":"beige","option2":"2XL","option3":null,"sku":"DR51095-C057-S02X","requires_shipping":true,"taxable":false,"featured_image":{"id":37086057005210,"product_id":7838682316954,"position":9,"created_at":"2023-06-05T01:59:00-06:00","updated_at":"2023-06-05T01:59:00-06:00","alt":null,"width":800,"height":800,"src":"\/\/www.luluwin.co.uk\/cdn\/shop\/files\/DR51095_0007__8.jpg?v=1685951940","variant_ids":[43630205632666,43630205665434,43630205698202,43630205730970,43630205763738,43630205796506,43630205829274,43630205862042]},"available":true,"name":"Elegant Solid Color Slit Shirt Dress - beige \/ 2XL","public_title":"beige \/ 2XL","options":["beige","2XL"],"price":1599,"weight":0,"compare_at_price":null,"inventory_management":null,"barcode":null,"featured_media":{"alt":null,"id":29615872966810,"position":9,"preview_image":{"aspect_ratio":1.0,"height":800,"width":800,"src":"\/\/www.luluwin.co.uk\/cdn\/shop\/files\/DR51095_0007__8.jpg?v=1685951940"}},"requires_selling_plan":false,"selling_plan_allocations":[]},{"id":43630205796506,"title":"beige \/ 3XL","option1":"beige","option2":"3XL","option3":null,"sku":"DR51095-C057-S03X","requires_shipping":true,"taxable":false,"featured_image":{"id":37086057005210,"product_id":7838682316954,"position":9,"created_at":"2023-06-05T01:59:00-06:00","updated_at":"2023-06-05T01:59:00-06:00","alt":null,"width":800,"height":800,"src":"\/\/www.luluwin.co.uk\/cdn\/shop\/files\/DR51095_0007__8.jpg?v=1685951940","variant_ids":[43630205632666,43630205665434,43630205698202,43630205730970,43630205763738,43630205796506,43630205829274,43630205862042]},"available":true,"name":"Elegant Solid Color Slit Shirt Dress - beige \/ 3XL","public_title":"beige \/ 3XL","options":["beige","3XL"],"price":1599,"weight":0,"compare_at_price":null,"inventory_management":null,"barcode":null,"featured_media":{"alt":null,"id":29615872966810,"position":9,"preview_image":{"aspect_ratio":1.0,"height":800,"width":800,"src":"\/\/www.luluwin.co.uk\/cdn\/shop\/files\/DR51095_0007__8.jpg?v=1685951940"}},"requires_selling_plan":false,"selling_plan_allocations":[]},{"id":43630205829274,"title":"beige \/ 4XL","option1":"beige","option2":"4XL","option3":null,"sku":"DR51095-C057-S04X","requires_shipping":true,"taxable":false,"featured_image":{"id":37086057005210,"product_id":7838682316954,"position":9,"created_at":"2023-06-05T01:59:00-06:00","updated_at":"2023-06-05T01:59:00-06:00","alt":null,"width":800,"height":800,"src":"\/\/www.luluwin.co.uk\/cdn\/shop\/files\/DR51095_0007__8.jpg?v=1685951940","variant_ids":[43630205632666,43630205665434,43630205698202,43630205730970,43630205763738,43630205796506,43630205829274,43630205862042]},"available":true,"name":"Elegant Solid Color Slit Shirt Dress - beige \/ 4XL","public_title":"beige \/ 4XL","options":["beige","4XL"],"price":1599,"weight":0,"compare_at_price":null,"inventory_management":null,"barcode":null,"featured_media":{"alt":null,"id":29615872966810,"position":9,"preview_image":{"aspect_ratio":1.0,"height":800,"width":800,"src":"\/\/www.luluwin.co.uk\/cdn\/shop\/files\/DR51095_0007__8.jpg?v=1685951940"}},"requires_selling_plan":false,"selling_plan_allocations":[]},{"id":43630205862042,"title":"beige \/ 5XL","option1":"beige","option2":"5XL","option3":null,"sku":"DR51095-C057-S05X","requires_shipping":true,"taxable":false,"featured_image":{"id":37086057005210,"product_id":7838682316954,"position":9,"created_at":"2023-06-05T01:59:00-06:00","updated_at":"2023-06-05T01:59:00-06:00","alt":null,"width":800,"height":800,"src":"\/\/www.luluwin.co.uk\/cdn\/shop\/files\/DR51095_0007__8.jpg?v=1685951940","variant_ids":[43630205632666,43630205665434,43630205698202,43630205730970,43630205763738,43630205796506,43630205829274,43630205862042]},"available":true,"name":"Elegant Solid Color Slit Shirt Dress - beige \/ 5XL","public_title":"beige \/ 5XL","options":["beige","5XL"],"price":1599,"weight":0,"compare_at_price":null,"inventory_management":null,"barcode":null,"featured_media":{"alt":null,"id":29615872966810,"position":9,"preview_image":{"aspect_ratio":1.0,"height":800,"width":800,"src":"\/\/www.luluwin.co.uk\/cdn\/shop\/files\/DR51095_0007__8.jpg?v=1685951940"}},"requires_selling_plan":false,"selling_plan_allocations":[]},{"id":43630205894810,"title":"white \/ S","option1":"white","option2":"S","option3":null,"sku":"DR51095-C005-S00S","requires_shipping":true,"taxable":false,"featured_image":{"id":37086057332890,"product_id":7838682316954,"position":10,"created_at":"2023-06-05T01:59:02-06:00","updated_at":"2023-06-05T01:59:02-06:00","alt":null,"width":800,"height":800,"src":"\/\/www.luluwin.co.uk\/cdn\/shop\/files\/DR51095_0006__5.jpg?v=1685951942","variant_ids":[43630205894810,43630205927578,43630205960346,43630205993114,43630206025882,43630206058650,43630206091418,43630206124186]},"available":true,"name":"Elegant Solid Color Slit Shirt Dress - white \/ S","public_title":"white \/ S","options":["white","S"],"price":1599,"weight":0,"compare_at_price":null,"inventory_management":null,"barcode":null,"featured_media":{"alt":null,"id":29615873360026,"position":10,"preview_image":{"aspect_ratio":1.0,"height":800,"width":800,"src":"\/\/www.luluwin.co.uk\/cdn\/shop\/files\/DR51095_0006__5.jpg?v=1685951942"}},"requires_selling_plan":false,"selling_plan_allocations":[]},{"id":43630205927578,"title":"white \/ M","option1":"white","option2":"M","option3":null,"sku":"DR51095-C005-S00M","requires_shipping":true,"taxable":false,"featured_image":{"id":37086057332890,"product_id":7838682316954,"position":10,"created_at":"2023-06-05T01:59:02-06:00","updated_at":"2023-06-05T01:59:02-06:00","alt":null,"width":800,"height":800,"src":"\/\/www.luluwin.co.uk\/cdn\/shop\/files\/DR51095_0006__5.jpg?v=1685951942","variant_ids":[43630205894810,43630205927578,43630205960346,43630205993114,43630206025882,43630206058650,43630206091418,43630206124186]},"available":true,"name":"Elegant Solid Color Slit Shirt Dress - white \/ M","public_title":"white \/ M","options":["white","M"],"price":1599,"weight":0,"compare_at_price":null,"inventory_management":null,"barcode":null,"featured_media":{"alt":null,"id":29615873360026,"position":10,"preview_image":{"aspect_ratio":1.0,"height":800,"width":800,"src":"\/\/www.luluwin.co.uk\/cdn\/shop\/files\/DR51095_0006__5.jpg?v=1685951942"}},"requires_selling_plan":false,"selling_plan_allocations":[]},{"id":43630205960346,"title":"white \/ L","option1":"white","option2":"L","option3":null,"sku":"DR51095-C005-S00L","requires_shipping":true,"taxable":false,"featured_image":{"id":37086057332890,"product_id":7838682316954,"position":10,"created_at":"2023-06-05T01:59:02-06:00","updated_at":"2023-06-05T01:59:02-06:00","alt":null,"width":800,"height":800,"src":"\/\/www.luluwin.co.uk\/cdn\/shop\/files\/DR51095_0006__5.jpg?v=1685951942","variant_ids":[43630205894810,43630205927578,43630205960346,43630205993114,43630206025882,43630206058650,43630206091418,43630206124186]},"available":true,"name":"Elegant Solid Color Slit Shirt Dress - white \/ L","public_title":"white \/ L","options":["white","L"],"price":1599,"weight":0,"compare_at_price":null,"inventory_management":null,"barcode":null,"featured_media":{"alt":null,"id":29615873360026,"position":10,"preview_image":{"aspect_ratio":1.0,"height":800,"width":800,"src":"\/\/www.luluwin.co.uk\/cdn\/shop\/files\/DR51095_0006__5.jpg?v=1685951942"}},"requires_selling_plan":false,"selling_plan_allocations":[]},{"id":43630205993114,"title":"white \/ XL","option1":"white","option2":"XL","option3":null,"sku":"DR51095-C005-S00X","requires_shipping":true,"taxable":false,"featured_image":{"id":37086057332890,"product_id":7838682316954,"position":10,"created_at":"2023-06-05T01:59:02-06:00","updated_at":"2023-06-05T01:59:02-06:00","alt":null,"width":800,"height":800,"src":"\/\/www.luluwin.co.uk\/cdn\/shop\/files\/DR51095_0006__5.jpg?v=1685951942","variant_ids":[43630205894810,43630205927578,43630205960346,43630205993114,43630206025882,43630206058650,43630206091418,43630206124186]},"available":true,"name":"Elegant Solid Color Slit Shirt Dress - white \/ XL","public_title":"white \/ XL","options":["white","XL"],"price":1599,"weight":0,"compare_at_price":null,"inventory_management":null,"barcode":null,"featured_media":{"alt":null,"id":29615873360026,"position":10,"preview_image":{"aspect_ratio":1.0,"height":800,"width":800,"src":"\/\/www.luluwin.co.uk\/cdn\/shop\/files\/DR51095_0006__5.jpg?v=1685951942"}},"requires_selling_plan":false,"selling_plan_allocations":[]},{"id":43630206025882,"title":"white \/ 2XL","option1":"white","option2":"2XL","option3":null,"sku":"DR51095-C005-S02X","requires_shipping":true,"taxable":false,"featured_image":{"id":37086057332890,"product_id":7838682316954,"position":10,"created_at":"2023-06-05T01:59:02-06:00","updated_at":"2023-06-05T01:59:02-06:00","alt":null,"width":800,"height":800,"src":"\/\/www.luluwin.co.uk\/cdn\/shop\/files\/DR51095_0006__5.jpg?v=1685951942","variant_ids":[43630205894810,43630205927578,43630205960346,43630205993114,43630206025882,43630206058650,43630206091418,43630206124186]},"available":true,"name":"Elegant Solid Color Slit Shirt Dress - white \/ 2XL","public_title":"white \/ 2XL","options":["white","2XL"],"price":1599,"weight":0,"compare_at_price":null,"inventory_management":null,"barcode":null,"featured_media":{"alt":null,"id":29615873360026,"position":10,"preview_image":{"aspect_ratio":1.0,"height":800,"width":800,"src":"\/\/www.luluwin.co.uk\/cdn\/shop\/files\/DR51095_0006__5.jpg?v=1685951942"}},"requires_selling_plan":false,"selling_plan_allocations":[]},{"id":43630206058650,"title":"white \/ 3XL","option1":"white","option2":"3XL","option3":null,"sku":"DR51095-C005-S03X","requires_shipping":true,"taxable":false,"featured_image":{"id":37086057332890,"product_id":7838682316954,"position":10,"created_at":"2023-06-05T01:59:02-06:00","updated_at":"2023-06-05T01:59:02-06:00","alt":null,"width":800,"height":800,"src":"\/\/www.luluwin.co.uk\/cdn\/shop\/files\/DR51095_0006__5.jpg?v=1685951942","variant_ids":[43630205894810,43630205927578,43630205960346,43630205993114,43630206025882,43630206058650,43630206091418,43630206124186]},"available":true,"name":"Elegant Solid Color Slit Shirt Dress - white \/ 3XL","public_title":"white \/ 3XL","options":["white","3XL"],"price":1599,"weight":0,"compare_at_price":null,"inventory_management":null,"barcode":null,"featured_media":{"alt":null,"id":29615873360026,"position":10,"preview_image":{"aspect_ratio":1.0,"height":800,"width":800,"src":"\/\/www.luluwin.co.uk\/cdn\/shop\/files\/DR51095_0006__5.jpg?v=1685951942"}},"requires_selling_plan":false,"selling_plan_allocations":[]},{"id":43630206091418,"title":"white \/ 4XL","option1":"white","option2":"4XL","option3":null,"sku":"DR51095-C005-S04X","requires_shipping":true,"taxable":false,"featured_image":{"id":37086057332890,"product_id":7838682316954,"position":10,"created_at":"2023-06-05T01:59:02-06:00","updated_at":"2023-06-05T01:59:02-06:00","alt":null,"width":800,"height":800,"src":"\/\/www.luluwin.co.uk\/cdn\/shop\/files\/DR51095_0006__5.jpg?v=1685951942","variant_ids":[43630205894810,43630205927578,43630205960346,43630205993114,43630206025882,43630206058650,43630206091418,43630206124186]},"available":true,"name":"Elegant Solid Color Slit Shirt Dress - white \/ 4XL","public_title":"white \/ 4XL","options":["white","4XL"],"price":1599,"weight":0,"compare_at_price":null,"inventory_management":null,"barcode":null,"featured_media":{"alt":null,"id":29615873360026,"position":10,"preview_image":{"aspect_ratio":1.0,"height":800,"width":800,"src":"\/\/www.luluwin.co.uk\/cdn\/shop\/files\/DR51095_0006__5.jpg?v=1685951942"}},"requires_selling_plan":false,"selling_plan_allocations":[]},{"id":43630206124186,"title":"white \/ 5XL","option1":"white","option2":"5XL","option3":null,"sku":"DR51095-C005-S05X","requires_shipping":true,"taxable":false,"featured_image":{"id":37086057332890,"product_id":7838682316954,"position":10,"created_at":"2023-06-05T01:59:02-06:00","updated_at":"2023-06-05T01:59:02-06:00","alt":null,"width":800,"height":800,"src":"\/\/www.luluwin.co.uk\/cdn\/shop\/files\/DR51095_0006__5.jpg?v=1685951942","variant_ids":[43630205894810,43630205927578,43630205960346,43630205993114,43630206025882,43630206058650,43630206091418,43630206124186]},"available":true,"name":"Elegant Solid Color Slit Shirt Dress - white \/ 5XL","public_title":"white \/ 5XL","options":["white","5XL"],"price":1599,"weight":0,"compare_at_price":null,"inventory_management":null,"barcode":null,"featured_media":{"alt":null,"id":29615873360026,"position":10,"preview_image":{"aspect_ratio":1.0,"height":800,"width":800,"src":"\/\/www.luluwin.co.uk\/cdn\/shop\/files\/DR51095_0006__5.jpg?v=1685951942"}},"requires_selling_plan":false,"selling_plan_allocations":[]},{"id":43630206156954,"title":"blue \/ S","option1":"blue","option2":"S","option3":null,"sku":"DR51095-C1145-S00S","requires_shipping":true,"taxable":false,"featured_image":{"id":37086058971290,"product_id":7838682316954,"position":14,"created_at":"2023-06-05T01:59:11-06:00","updated_at":"2023-06-05T01:59:11-06:00","alt":null,"width":800,"height":800,"src":"\/\/www.luluwin.co.uk\/cdn\/shop\/files\/DR51095_0005__9.jpg?v=1685951951","variant_ids":[43630206156954,43630206189722,43630206222490,43630206255258,43630206288026,43630206320794,43630206353562,43630206386330]},"available":true,"name":"Elegant Solid Color Slit Shirt Dress - blue \/ S","public_title":"blue \/ S","options":["blue","S"],"price":1599,"weight":0,"compare_at_price":null,"inventory_management":null,"barcode":null,"featured_media":{"alt":null,"id":29615874932890,"position":14,"preview_image":{"aspect_ratio":1.0,"height":800,"width":800,"src":"\/\/www.luluwin.co.uk\/cdn\/shop\/files\/DR51095_0005__9.jpg?v=1685951951"}},"requires_selling_plan":false,"selling_plan_allocations":[]},{"id":43630206189722,"title":"blue \/ M","option1":"blue","option2":"M","option3":null,"sku":"DR51095-C1145-S00M","requires_shipping":true,"taxable":false,"featured_image":{"id":37086058971290,"product_id":7838682316954,"position":14,"created_at":"2023-06-05T01:59:11-06:00","updated_at":"2023-06-05T01:59:11-06:00","alt":null,"width":800,"height":800,"src":"\/\/www.luluwin.co.uk\/cdn\/shop\/files\/DR51095_0005__9.jpg?v=1685951951","variant_ids":[43630206156954,43630206189722,43630206222490,43630206255258,43630206288026,43630206320794,43630206353562,43630206386330]},"available":true,"name":"Elegant Solid Color Slit Shirt Dress - blue \/ M","public_title":"blue \/ M","options":["blue","M"],"price":1599,"weight":0,"compare_at_price":null,"inventory_management":null,"barcode":null,"featured_media":{"alt":null,"id":29615874932890,"position":14,"preview_image":{"aspect_ratio":1.0,"height":800,"width":800,"src":"\/\/www.luluwin.co.uk\/cdn\/shop\/files\/DR51095_0005__9.jpg?v=1685951951"}},"requires_selling_plan":false,"selling_plan_allocations":[]},{"id":43630206222490,"title":"blue \/ L","option1":"blue","option2":"L","option3":null,"sku":"DR51095-C1145-S00L","requires_shipping":true,"taxable":false,"featured_image":{"id":37086058971290,"product_id":7838682316954,"position":14,"created_at":"2023-06-05T01:59:11-06:00","updated_at":"2023-06-05T01:59:11-06:00","alt":null,"width":800,"height":800,"src":"\/\/www.luluwin.co.uk\/cdn\/shop\/files\/DR51095_0005__9.jpg?v=1685951951","variant_ids":[43630206156954,43630206189722,43630206222490,43630206255258,43630206288026,43630206320794,43630206353562,43630206386330]},"available":true,"name":"Elegant Solid Color Slit Shirt Dress - blue \/ L","public_title":"blue \/ L","options":["blue","L"],"price":1599,"weight":0,"compare_at_price":null,"inventory_management":null,"barcode":null,"featured_media":{"alt":null,"id":29615874932890,"position":14,"preview_image":{"aspect_ratio":1.0,"height":800,"width":800,"src":"\/\/www.luluwin.co.uk\/cdn\/shop\/files\/DR51095_0005__9.jpg?v=1685951951"}},"requires_selling_plan":false,"selling_plan_allocations":[]},{"id":43630206255258,"title":"blue \/ XL","option1":"blue","option2":"XL","option3":null,"sku":"DR51095-C1145-S00X","requires_shipping":true,"taxable":false,"featured_image":{"id":37086058971290,"product_id":7838682316954,"position":14,"created_at":"2023-06-05T01:59:11-06:00","updated_at":"2023-06-05T01:59:11-06:00","alt":null,"width":800,"height":800,"src":"\/\/www.luluwin.co.uk\/cdn\/shop\/files\/DR51095_0005__9.jpg?v=1685951951","variant_ids":[43630206156954,43630206189722,43630206222490,43630206255258,43630206288026,43630206320794,43630206353562,43630206386330]},"available":true,"name":"Elegant Solid Color Slit Shirt Dress - blue \/ XL","public_title":"blue \/ XL","options":["blue","XL"],"price":1599,"weight":0,"compare_at_price":null,"inventory_management":null,"barcode":null,"featured_media":{"alt":null,"id":29615874932890,"position":14,"preview_image":{"aspect_ratio":1.0,"height":800,"width":800,"src":"\/\/www.luluwin.co.uk\/cdn\/shop\/files\/DR51095_0005__9.jpg?v=1685951951"}},"requires_selling_plan":false,"selling_plan_allocations":[]},{"id":43630206288026,"title":"blue \/ 2XL","option1":"blue","option2":"2XL","option3":null,"sku":"DR51095-C1145-S02X","requires_shipping":true,"taxable":false,"featured_image":{"id":37086058971290,"product_id":7838682316954,"position":14,"created_at":"2023-06-05T01:59:11-06:00","updated_at":"2023-06-05T01:59:11-06:00","alt":null,"width":800,"height":800,"src":"\/\/www.luluwin.co.uk\/cdn\/shop\/files\/DR51095_0005__9.jpg?v=1685951951","variant_ids":[43630206156954,43630206189722,43630206222490,43630206255258,43630206288026,43630206320794,43630206353562,43630206386330]},"available":true,"name":"Elegant Solid Color Slit Shirt Dress - blue \/ 2XL","public_title":"blue \/ 2XL","options":["blue","2XL"],"price":1599,"weight":0,"compare_at_price":null,"inventory_management":null,"barcode":null,"featured_media":{"alt":null,"id":29615874932890,"position":14,"preview_image":{"aspect_ratio":1.0,"height":800,"width":800,"src":"\/\/www.luluwin.co.uk\/cdn\/shop\/files\/DR51095_0005__9.jpg?v=1685951951"}},"requires_selling_plan":false,"selling_plan_allocations":[]},{"id":43630206320794,"title":"blue \/ 3XL","option1":"blue","option2":"3XL","option3":null,"sku":"DR51095-C1145-S03X","requires_shipping":true,"taxable":false,"featured_image":{"id":37086058971290,"product_id":7838682316954,"position":14,"created_at":"2023-06-05T01:59:11-06:00","updated_at":"2023-06-05T01:59:11-06:00","alt":null,"width":800,"height":800,"src":"\/\/www.luluwin.co.uk\/cdn\/shop\/files\/DR51095_0005__9.jpg?v=1685951951","variant_ids":[43630206156954,43630206189722,43630206222490,43630206255258,43630206288026,43630206320794,43630206353562,43630206386330]},"available":true,"name":"Elegant Solid Color Slit Shirt Dress - blue \/ 3XL","public_title":"blue \/ 3XL","options":["blue","3XL"],"price":1599,"weight":0,"compare_at_price":null,"inventory_management":null,"barcode":null,"featured_media":{"alt":null,"id":29615874932890,"position":14,"preview_image":{"aspect_ratio":1.0,"height":800,"width":800,"src":"\/\/www.luluwin.co.uk\/cdn\/shop\/files\/DR51095_0005__9.jpg?v=1685951951"}},"requires_selling_plan":false,"selling_plan_allocations":[]},{"id":43630206353562,"title":"blue \/ 4XL","option1":"blue","option2":"4XL","option3":null,"sku":"DR51095-C1145-S04X","requires_shipping":true,"taxable":false,"featured_image":{"id":37086058971290,"product_id":7838682316954,"position":14,"created_at":"2023-06-05T01:59:11-06:00","updated_at":"2023-06-05T01:59:11-06:00","alt":null,"width":800,"height":800,"src":"\/\/www.luluwin.co.uk\/cdn\/shop\/files\/DR51095_0005__9.jpg?v=1685951951","variant_ids":[43630206156954,43630206189722,43630206222490,43630206255258,43630206288026,43630206320794,43630206353562,43630206386330]},"available":true,"name":"Elegant Solid Color Slit Shirt Dress - blue \/ 4XL","public_title":"blue \/ 4XL","options":["blue","4XL"],"price":1599,"weight":0,"compare_at_price":null,"inventory_management":null,"barcode":null,"featured_media":{"alt":null,"id":29615874932890,"position":14,"preview_image":{"aspect_ratio":1.0,"height":800,"width":800,"src":"\/\/www.luluwin.co.uk\/cdn\/shop\/files\/DR51095_0005__9.jpg?v=1685951951"}},"requires_selling_plan":false,"selling_plan_allocations":[]},{"id":43630206386330,"title":"blue \/ 5XL","option1":"blue","option2":"5XL","option3":null,"sku":"DR51095-C1145-S05X","requires_shipping":true,"taxable":false,"featured_image":{"id":37086058971290,"product_id":7838682316954,"position":14,"created_at":"2023-06-05T01:59:11-06:00","updated_at":"2023-06-05T01:59:11-06:00","alt":null,"width":800,"height":800,"src":"\/\/www.luluwin.co.uk\/cdn\/shop\/files\/DR51095_0005__9.jpg?v=1685951951","variant_ids":[43630206156954,43630206189722,43630206222490,43630206255258,43630206288026,43630206320794,43630206353562,43630206386330]},"available":true,"name":"Elegant Solid Color Slit Shirt Dress - blue \/ 5XL","public_title":"blue \/ 5XL","options":["blue","5XL"],"price":1599,"weight":0,"compare_at_price":null,"inventory_management":null,"barcode":null,"featured_media":{"alt":null,"id":29615874932890,"position":14,"preview_image":{"aspect_ratio":1.0,"height":800,"width":800,"src":"\/\/www.luluwin.co.uk\/cdn\/shop\/files\/DR51095_0005__9.jpg?v=1685951951"}},"requires_selling_plan":false,"selling_plan_allocations":[]},{"id":43630206419098,"title":"light blue \/ S","option1":"light blue","option2":"S","option3":null,"sku":"DR51095-C044-S00S","requires_shipping":true,"taxable":false,"featured_image":{"id":37086057889946,"product_id":7838682316954,"position":11,"created_at":"2023-06-05T01:59:05-06:00","updated_at":"2023-06-05T01:59:05-06:00","alt":null,"width":800,"height":800,"src":"\/\/www.luluwin.co.uk\/cdn\/shop\/files\/DR51095_0004__10.jpg?v=1685951945","variant_ids":[43630206419098,43630206451866,43630206484634,43630206517402,43630206550170,43630206582938,43630206615706,43630206648474]},"available":true,"name":"Elegant Solid Color Slit Shirt Dress - light blue \/ S","public_title":"light blue \/ S","options":["light blue","S"],"price":1599,"weight":0,"compare_at_price":null,"inventory_management":null,"barcode":null,"featured_media":{"alt":null,"id":29615873851546,"position":11,"preview_image":{"aspect_ratio":1.0,"height":800,"width":800,"src":"\/\/www.luluwin.co.uk\/cdn\/shop\/files\/DR51095_0004__10.jpg?v=1685951945"}},"requires_selling_plan":false,"selling_plan_allocations":[]},{"id":43630206451866,"title":"light blue \/ M","option1":"light blue","option2":"M","option3":null,"sku":"DR51095-C044-S00M","requires_shipping":true,"taxable":false,"featured_image":{"id":37086057889946,"product_id":7838682316954,"position":11,"created_at":"2023-06-05T01:59:05-06:00","updated_at":"2023-06-05T01:59:05-06:00","alt":null,"width":800,"height":800,"src":"\/\/www.luluwin.co.uk\/cdn\/shop\/files\/DR51095_0004__10.jpg?v=1685951945","variant_ids":[43630206419098,43630206451866,43630206484634,43630206517402,43630206550170,43630206582938,43630206615706,43630206648474]},"available":true,"name":"Elegant Solid Color Slit Shirt Dress - light blue \/ M","public_title":"light blue \/ M","options":["light blue","M"],"price":1599,"weight":0,"compare_at_price":null,"inventory_management":null,"barcode":null,"featured_media":{"alt":null,"id":29615873851546,"position":11,"preview_image":{"aspect_ratio":1.0,"height":800,"width":800,"src":"\/\/www.luluwin.co.uk\/cdn\/shop\/files\/DR51095_0004__10.jpg?v=1685951945"}},"requires_selling_plan":false,"selling_plan_allocations":[]},{"id":43630206484634,"title":"light blue \/ L","option1":"light blue","option2":"L","option3":null,"sku":"DR51095-C044-S00L","requires_shipping":true,"taxable":false,"featured_image":{"id":37086057889946,"product_id":7838682316954,"position":11,"created_at":"2023-06-05T01:59:05-06:00","updated_at":"2023-06-05T01:59:05-06:00","alt":null,"width":800,"height":800,"src":"\/\/www.luluwin.co.uk\/cdn\/shop\/files\/DR51095_0004__10.jpg?v=1685951945","variant_ids":[43630206419098,43630206451866,43630206484634,43630206517402,43630206550170,43630206582938,43630206615706,43630206648474]},"available":true,"name":"Elegant Solid Color Slit Shirt Dress - light blue \/ L","public_title":"light blue \/ L","options":["light blue","L"],"price":1599,"weight":0,"compare_at_price":null,"inventory_management":null,"barcode":null,"featured_media":{"alt":null,"id":29615873851546,"position":11,"preview_image":{"aspect_ratio":1.0,"height":800,"width":800,"src":"\/\/www.luluwin.co.uk\/cdn\/shop\/files\/DR51095_0004__10.jpg?v=1685951945"}},"requires_selling_plan":false,"selling_plan_allocations":[]},{"id":43630206517402,"title":"light blue \/ XL","option1":"light blue","option2":"XL","option3":null,"sku":"DR51095-C044-S00X","requires_shipping":true,"taxable":false,"featured_image":{"id":37086057889946,"product_id":7838682316954,"position":11,"created_at":"2023-06-05T01:59:05-06:00","updated_at":"2023-06-05T01:59:05-06:00","alt":null,"width":800,"height":800,"src":"\/\/www.luluwin.co.uk\/cdn\/shop\/files\/DR51095_0004__10.jpg?v=1685951945","variant_ids":[43630206419098,43630206451866,43630206484634,43630206517402,43630206550170,43630206582938,43630206615706,43630206648474]},"available":true,"name":"Elegant Solid Color Slit Shirt Dress - light blue \/ XL","public_title":"light blue \/ XL","options":["light blue","XL"],"price":1599,"weight":0,"compare_at_price":null,"inventory_management":null,"barcode":null,"featured_media":{"alt":null,"id":29615873851546,"position":11,"preview_image":{"aspect_ratio":1.0,"height":800,"width":800,"src":"\/\/www.luluwin.co.uk\/cdn\/shop\/files\/DR51095_0004__10.jpg?v=1685951945"}},"requires_selling_plan":false,"selling_plan_allocations":[]},{"id":43630206550170,"title":"light blue \/ 2XL","option1":"light blue","option2":"2XL","option3":null,"sku":"DR51095-C044-S02X","requires_shipping":true,"taxable":false,"featured_image":{"id":37086057889946,"product_id":7838682316954,"position":11,"created_at":"2023-06-05T01:59:05-06:00","updated_at":"2023-06-05T01:59:05-06:00","alt":null,"width":800,"height":800,"src":"\/\/www.luluwin.co.uk\/cdn\/shop\/files\/DR51095_0004__10.jpg?v=1685951945","variant_ids":[43630206419098,43630206451866,43630206484634,43630206517402,43630206550170,43630206582938,43630206615706,43630206648474]},"available":true,"name":"Elegant Solid Color Slit Shirt Dress - light blue \/ 2XL","public_title":"light blue \/ 2XL","options":["light blue","2XL"],"price":1599,"weight":0,"compare_at_price":null,"inventory_management":null,"barcode":null,"featured_media":{"alt":null,"id":29615873851546,"position":11,"preview_image":{"aspect_ratio":1.0,"height":800,"width":800,"src":"\/\/www.luluwin.co.uk\/cdn\/shop\/files\/DR51095_0004__10.jpg?v=1685951945"}},"requires_selling_plan":false,"selling_plan_allocations":[]},{"id":43630206582938,"title":"light blue \/ 3XL","option1":"light blue","option2":"3XL","option3":null,"sku":"DR51095-C044-S03X","requires_shipping":true,"taxable":false,"featured_image":{"id":37086057889946,"product_id":7838682316954,"position":11,"created_at":"2023-06-05T01:59:05-06:00","updated_at":"2023-06-05T01:59:05-06:00","alt":null,"width":800,"height":800,"src":"\/\/www.luluwin.co.uk\/cdn\/shop\/files\/DR51095_0004__10.jpg?v=1685951945","variant_ids":[43630206419098,43630206451866,43630206484634,43630206517402,43630206550170,43630206582938,43630206615706,43630206648474]},"available":true,"name":"Elegant Solid Color Slit Shirt Dress - light blue \/ 3XL","public_title":"light blue \/ 3XL","options":["light blue","3XL"],"price":1599,"weight":0,"compare_at_price":null,"inventory_management":null,"barcode":null,"featured_media":{"alt":null,"id":29615873851546,"position":11,"preview_image":{"aspect_ratio":1.0,"height":800,"width":800,"src":"\/\/www.luluwin.co.uk\/cdn\/shop\/files\/DR51095_0004__10.jpg?v=1685951945"}},"requires_selling_plan":false,"selling_plan_allocations":[]},{"id":43630206615706,"title":"light blue \/ 4XL","option1":"light blue","option2":"4XL","option3":null,"sku":"DR51095-C044-S04X","requires_shipping":true,"taxable":false,"featured_image":{"id":37086057889946,"product_id":7838682316954,"position":11,"created_at":"2023-06-05T01:59:05-06:00","updated_at":"2023-06-05T01:59:05-06:00","alt":null,"width":800,"height":800,"src":"\/\/www.luluwin.co.uk\/cdn\/shop\/files\/DR51095_0004__10.jpg?v=1685951945","variant_ids":[43630206419098,43630206451866,43630206484634,43630206517402,43630206550170,43630206582938,43630206615706,43630206648474]},"available":true,"name":"Elegant Solid Color Slit Shirt Dress - light blue \/ 4XL","public_title":"light blue \/ 4XL","options":["light blue","4XL"],"price":1599,"weight":0,"compare_at_price":null,"inventory_management":null,"barcode":null,"featured_media":{"alt":null,"id":29615873851546,"position":11,"preview_image":{"aspect_ratio":1.0,"height":800,"width":800,"src":"\/\/www.luluwin.co.uk\/cdn\/shop\/files\/DR51095_0004__10.jpg?v=1685951945"}},"requires_selling_plan":false,"selling_plan_allocations":[]},{"id":43630206648474,"title":"light blue \/ 5XL","option1":"light blue","option2":"5XL","option3":null,"sku":"DR51095-C044-S05X","requires_shipping":true,"taxable":false,"featured_image":{"id":37086057889946,"product_id":7838682316954,"position":11,"created_at":"2023-06-05T01:59:05-06:00","updated_at":"2023-06-05T01:59:05-06:00","alt":null,"width":800,"height":800,"src":"\/\/www.luluwin.co.uk\/cdn\/shop\/files\/DR51095_0004__10.jpg?v=1685951945","variant_ids":[43630206419098,43630206451866,43630206484634,43630206517402,43630206550170,43630206582938,43630206615706,43630206648474]},"available":true,"name":"Elegant Solid Color Slit Shirt Dress - light blue \/ 5XL","public_title":"light blue \/ 5XL","options":["light blue","5XL"],"price":1599,"weight":0,"compare_at_price":null,"inventory_management":null,"barcode":null,"featured_media":{"alt":null,"id":29615873851546,"position":11,"preview_image":{"aspect_ratio":1.0,"height":800,"width":800,"src":"\/\/www.luluwin.co.uk\/cdn\/shop\/files\/DR51095_0004__10.jpg?v=1685951945"}},"requires_selling_plan":false,"selling_plan_allocations":[]},{"id":43630206681242,"title":"yellow \/ S","option1":"yellow","option2":"S","option3":null,"sku":"DR51095-C003-S00S","requires_shipping":true,"taxable":false,"featured_image":{"id":37086056382618,"product_id":7838682316954,"position":8,"created_at":"2023-06-05T01:58:58-06:00","updated_at":"2023-06-05T01:58:58-06:00","alt":null,"width":800,"height":800,"src":"\/\/www.luluwin.co.uk\/cdn\/shop\/files\/DR51095_0011__1.jpg?v=1685951938","variant_ids":[43630206681242,43630206714010,43630206746778,43630206779546,43630206812314,43630206845082,43630206877850,43630206910618]},"available":true,"name":"Elegant Solid Color Slit Shirt Dress - yellow \/ S","public_title":"yellow \/ S","options":["yellow","S"],"price":1599,"weight":0,"compare_at_price":null,"inventory_management":null,"barcode":null,"featured_media":{"alt":null,"id":29615872311450,"position":8,"preview_image":{"aspect_ratio":1.0,"height":800,"width":800,"src":"\/\/www.luluwin.co.uk\/cdn\/shop\/files\/DR51095_0011__1.jpg?v=1685951938"}},"requires_selling_plan":false,"selling_plan_allocations":[]},{"id":43630206714010,"title":"yellow \/ M","option1":"yellow","option2":"M","option3":null,"sku":"DR51095-C003-S00M","requires_shipping":true,"taxable":false,"featured_image":{"id":37086056382618,"product_id":7838682316954,"position":8,"created_at":"2023-06-05T01:58:58-06:00","updated_at":"2023-06-05T01:58:58-06:00","alt":null,"width":800,"height":800,"src":"\/\/www.luluwin.co.uk\/cdn\/shop\/files\/DR51095_0011__1.jpg?v=1685951938","variant_ids":[43630206681242,43630206714010,43630206746778,43630206779546,43630206812314,43630206845082,43630206877850,43630206910618]},"available":true,"name":"Elegant Solid Color Slit Shirt Dress - yellow \/ M","public_title":"yellow \/ M","options":["yellow","M"],"price":1599,"weight":0,"compare_at_price":null,"inventory_management":null,"barcode":null,"featured_media":{"alt":null,"id":29615872311450,"position":8,"preview_image":{"aspect_ratio":1.0,"height":800,"width":800,"src":"\/\/www.luluwin.co.uk\/cdn\/shop\/files\/DR51095_0011__1.jpg?v=1685951938"}},"requires_selling_plan":false,"selling_plan_allocations":[]},{"id":43630206746778,"title":"yellow \/ L","option1":"yellow","option2":"L","option3":null,"sku":"DR51095-C003-S00L","requires_shipping":true,"taxable":false,"featured_image":{"id":37086056382618,"product_id":7838682316954,"position":8,"created_at":"2023-06-05T01:58:58-06:00","updated_at":"2023-06-05T01:58:58-06:00","alt":null,"width":800,"height":800,"src":"\/\/www.luluwin.co.uk\/cdn\/shop\/files\/DR51095_0011__1.jpg?v=1685951938","variant_ids":[43630206681242,43630206714010,43630206746778,43630206779546,43630206812314,43630206845082,43630206877850,43630206910618]},"available":true,"name":"Elegant Solid Color Slit Shirt Dress - yellow \/ L","public_title":"yellow \/ L","options":["yellow","L"],"price":1599,"weight":0,"compare_at_price":null,"inventory_management":null,"barcode":null,"featured_media":{"alt":null,"id":29615872311450,"position":8,"preview_image":{"aspect_ratio":1.0,"height":800,"width":800,"src":"\/\/www.luluwin.co.uk\/cdn\/shop\/files\/DR51095_0011__1.jpg?v=1685951938"}},"requires_selling_plan":false,"selling_plan_allocations":[]},{"id":43630206779546,"title":"yellow \/ XL","option1":"yellow","option2":"XL","option3":null,"sku":"DR51095-C003-S00X","requires_shipping":true,"taxable":false,"featured_image":{"id":37086056382618,"product_id":7838682316954,"position":8,"created_at":"2023-06-05T01:58:58-06:00","updated_at":"2023-06-05T01:58:58-06:00","alt":null,"width":800,"height":800,"src":"\/\/www.luluwin.co.uk\/cdn\/shop\/files\/DR51095_0011__1.jpg?v=1685951938","variant_ids":[43630206681242,43630206714010,43630206746778,43630206779546,43630206812314,43630206845082,43630206877850,43630206910618]},"available":true,"name":"Elegant Solid Color Slit Shirt Dress - yellow \/ XL","public_title":"yellow \/ XL","options":["yellow","XL"],"price":1599,"weight":0,"compare_at_price":null,"inventory_management":null,"barcode":null,"featured_media":{"alt":null,"id":29615872311450,"position":8,"preview_image":{"aspect_ratio":1.0,"height":800,"width":800,"src":"\/\/www.luluwin.co.uk\/cdn\/shop\/files\/DR51095_0011__1.jpg?v=1685951938"}},"requires_selling_plan":false,"selling_plan_allocations":[]},{"id":43630206812314,"title":"yellow \/ 2XL","option1":"yellow","option2":"2XL","option3":null,"sku":"DR51095-C003-S02X","requires_shipping":true,"taxable":false,"featured_image":{"id":37086056382618,"product_id":7838682316954,"position":8,"created_at":"2023-06-05T01:58:58-06:00","updated_at":"2023-06-05T01:58:58-06:00","alt":null,"width":800,"height":800,"src":"\/\/www.luluwin.co.uk\/cdn\/shop\/files\/DR51095_0011__1.jpg?v=1685951938","variant_ids":[43630206681242,43630206714010,43630206746778,43630206779546,43630206812314,43630206845082,43630206877850,43630206910618]},"available":true,"name":"Elegant Solid Color Slit Shirt Dress - yellow \/ 2XL","public_title":"yellow \/ 2XL","options":["yellow","2XL"],"price":1599,"weight":0,"compare_at_price":null,"inventory_management":null,"barcode":null,"featured_media":{"alt":null,"id":29615872311450,"position":8,"preview_image":{"aspect_ratio":1.0,"height":800,"width":800,"src":"\/\/www.luluwin.co.uk\/cdn\/shop\/files\/DR51095_0011__1.jpg?v=1685951938"}},"requires_selling_plan":false,"selling_plan_allocations":[]},{"id":43630206845082,"title":"yellow \/ 3XL","option1":"yellow","option2":"3XL","option3":null,"sku":"DR51095-C003-S03X","requires_shipping":true,"taxable":false,"featured_image":{"id":37086056382618,"product_id":7838682316954,"position":8,"created_at":"2023-06-05T01:58:58-06:00","updated_at":"2023-06-05T01:58:58-06:00","alt":null,"width":800,"height":800,"src":"\/\/www.luluwin.co.uk\/cdn\/shop\/files\/DR51095_0011__1.jpg?v=1685951938","variant_ids":[43630206681242,43630206714010,43630206746778,43630206779546,43630206812314,43630206845082,43630206877850,43630206910618]},"available":true,"name":"Elegant Solid Color Slit Shirt Dress - yellow \/ 3XL","public_title":"yellow \/ 3XL","options":["yellow","3XL"],"price":1599,"weight":0,"compare_at_price":null,"inventory_management":null,"barcode":null,"featured_media":{"alt":null,"id":29615872311450,"position":8,"preview_image":{"aspect_ratio":1.0,"height":800,"width":800,"src":"\/\/www.luluwin.co.uk\/cdn\/shop\/files\/DR51095_0011__1.jpg?v=1685951938"}},"requires_selling_plan":false,"selling_plan_allocations":[]},{"id":43630206877850,"title":"yellow \/ 4XL","option1":"yellow","option2":"4XL","option3":null,"sku":"DR51095-C003-S04X","requires_shipping":true,"taxable":false,"featured_image":{"id":37086056382618,"product_id":7838682316954,"position":8,"created_at":"2023-06-05T01:58:58-06:00","updated_at":"2023-06-05T01:58:58-06:00","alt":null,"width":800,"height":800,"src":"\/\/www.luluwin.co.uk\/cdn\/shop\/files\/DR51095_0011__1.jpg?v=1685951938","variant_ids":[43630206681242,43630206714010,43630206746778,43630206779546,43630206812314,43630206845082,43630206877850,43630206910618]},"available":true,"name":"Elegant Solid Color Slit Shirt Dress - yellow \/ 4XL","public_title":"yellow \/ 4XL","options":["yellow","4XL"],"price":1599,"weight":0,"compare_at_price":null,"inventory_management":null,"barcode":null,"featured_media":{"alt":null,"id":29615872311450,"position":8,"preview_image":{"aspect_ratio":1.0,"height":800,"width":800,"src":"\/\/www.luluwin.co.uk\/cdn\/shop\/files\/DR51095_0011__1.jpg?v=1685951938"}},"requires_selling_plan":false,"selling_plan_allocations":[]},{"id":43630206910618,"title":"yellow \/ 5XL","option1":"yellow","option2":"5XL","option3":null,"sku":"DR51095-C003-S05X","requires_shipping":true,"taxable":false,"featured_image":{"id":37086056382618,"product_id":7838682316954,"position":8,"created_at":"2023-06-05T01:58:58-06:00","updated_at":"2023-06-05T01:58:58-06:00","alt":null,"width":800,"height":800,"src":"\/\/www.luluwin.co.uk\/cdn\/shop\/files\/DR51095_0011__1.jpg?v=1685951938","variant_ids":[43630206681242,43630206714010,43630206746778,43630206779546,43630206812314,43630206845082,43630206877850,43630206910618]},"available":true,"name":"Elegant Solid Color Slit Shirt Dress - yellow \/ 5XL","public_title":"yellow \/ 5XL","options":["yellow","5XL"],"price":1599,"weight":0,"compare_at_price":null,"inventory_management":null,"barcode":null,"featured_media":{"alt":null,"id":29615872311450,"position":8,"preview_image":{"aspect_ratio":1.0,"height":800,"width":800,"src":"\/\/www.luluwin.co.uk\/cdn\/shop\/files\/DR51095_0011__1.jpg?v=1685951938"}},"requires_selling_plan":false,"selling_plan_allocations":[]},{"id":43630206943386,"title":"red \/ S","option1":"red","option2":"S","option3":null,"sku":"DR51095-C002-S00S","requires_shipping":true,"taxable":false,"featured_image":{"id":37086055989402,"product_id":7838682316954,"position":7,"created_at":"2023-06-05T01:58:56-06:00","updated_at":"2023-06-05T01:58:56-06:00","alt":null,"width":800,"height":800,"src":"\/\/www.luluwin.co.uk\/cdn\/shop\/files\/DR51095_0010__2.jpg?v=1685951936","variant_ids":[43630206943386,43630206976154,43630207008922,43630207041690,43630207074458,43630207107226,43630207139994,43630207172762]},"available":true,"name":"Elegant Solid Color Slit Shirt Dress - red \/ S","public_title":"red \/ S","options":["red","S"],"price":1599,"weight":0,"compare_at_price":null,"inventory_management":null,"barcode":null,"featured_media":{"alt":null,"id":29615872049306,"position":7,"preview_image":{"aspect_ratio":1.0,"height":800,"width":800,"src":"\/\/www.luluwin.co.uk\/cdn\/shop\/files\/DR51095_0010__2.jpg?v=1685951936"}},"requires_selling_plan":false,"selling_plan_allocations":[]},{"id":43630206976154,"title":"red \/ M","option1":"red","option2":"M","option3":null,"sku":"DR51095-C002-S00M","requires_shipping":true,"taxable":false,"featured_image":{"id":37086055989402,"product_id":7838682316954,"position":7,"created_at":"2023-06-05T01:58:56-06:00","updated_at":"2023-06-05T01:58:56-06:00","alt":null,"width":800,"height":800,"src":"\/\/www.luluwin.co.uk\/cdn\/shop\/files\/DR51095_0010__2.jpg?v=1685951936","variant_ids":[43630206943386,43630206976154,43630207008922,43630207041690,43630207074458,43630207107226,43630207139994,43630207172762]},"available":true,"name":"Elegant Solid Color Slit Shirt Dress - red \/ M","public_title":"red \/ M","options":["red","M"],"price":1599,"weight":0,"compare_at_price":null,"inventory_management":null,"barcode":null,"featured_media":{"alt":null,"id":29615872049306,"position":7,"preview_image":{"aspect_ratio":1.0,"height":800,"width":800,"src":"\/\/www.luluwin.co.uk\/cdn\/shop\/files\/DR51095_0010__2.jpg?v=1685951936"}},"requires_selling_plan":false,"selling_plan_allocations":[]},{"id":43630207008922,"title":"red \/ L","option1":"red","option2":"L","option3":null,"sku":"DR51095-C002-S00L","requires_shipping":true,"taxable":false,"featured_image":{"id":37086055989402,"product_id":7838682316954,"position":7,"created_at":"2023-06-05T01:58:56-06:00","updated_at":"2023-06-05T01:58:56-06:00","alt":null,"width":800,"height":800,"src":"\/\/www.luluwin.co.uk\/cdn\/shop\/files\/DR51095_0010__2.jpg?v=1685951936","variant_ids":[43630206943386,43630206976154,43630207008922,43630207041690,43630207074458,43630207107226,43630207139994,43630207172762]},"available":true,"name":"Elegant Solid Color Slit Shirt Dress - red \/ L","public_title":"red \/ L","options":["red","L"],"price":1599,"weight":0,"compare_at_price":null,"inventory_management":null,"barcode":null,"featured_media":{"alt":null,"id":29615872049306,"position":7,"preview_image":{"aspect_ratio":1.0,"height":800,"width":800,"src":"\/\/www.luluwin.co.uk\/cdn\/shop\/files\/DR51095_0010__2.jpg?v=1685951936"}},"requires_selling_plan":false,"selling_plan_allocations":[]},{"id":43630207041690,"title":"red \/ XL","option1":"red","option2":"XL","option3":null,"sku":"DR51095-C002-S00X","requires_shipping":true,"taxable":false,"featured_image":{"id":37086055989402,"product_id":7838682316954,"position":7,"created_at":"2023-06-05T01:58:56-06:00","updated_at":"2023-06-05T01:58:56-06:00","alt":null,"width":800,"height":800,"src":"\/\/www.luluwin.co.uk\/cdn\/shop\/files\/DR51095_0010__2.jpg?v=1685951936","variant_ids":[43630206943386,43630206976154,43630207008922,43630207041690,43630207074458,43630207107226,43630207139994,43630207172762]},"available":true,"name":"Elegant Solid Color Slit Shirt Dress - red \/ XL","public_title":"red \/ XL","options":["red","XL"],"price":1599,"weight":0,"compare_at_price":null,"inventory_management":null,"barcode":null,"featured_media":{"alt":null,"id":29615872049306,"position":7,"preview_image":{"aspect_ratio":1.0,"height":800,"width":800,"src":"\/\/www.luluwin.co.uk\/cdn\/shop\/files\/DR51095_0010__2.jpg?v=1685951936"}},"requires_selling_plan":false,"selling_plan_allocations":[]},{"id":43630207074458,"title":"red \/ 2XL","option1":"red","option2":"2XL","option3":null,"sku":"DR51095-C002-S02X","requires_shipping":true,"taxable":false,"featured_image":{"id":37086055989402,"product_id":7838682316954,"position":7,"created_at":"2023-06-05T01:58:56-06:00","updated_at":"2023-06-05T01:58:56-06:00","alt":null,"width":800,"height":800,"src":"\/\/www.luluwin.co.uk\/cdn\/shop\/files\/DR51095_0010__2.jpg?v=1685951936","variant_ids":[43630206943386,43630206976154,43630207008922,43630207041690,43630207074458,43630207107226,43630207139994,43630207172762]},"available":true,"name":"Elegant Solid Color Slit Shirt Dress - red \/ 2XL","public_title":"red \/ 2XL","options":["red","2XL"],"price":1599,"weight":0,"compare_at_price":null,"inventory_management":null,"barcode":null,"featured_media":{"alt":null,"id":29615872049306,"position":7,"preview_image":{"aspect_ratio":1.0,"height":800,"width":800,"src":"\/\/www.luluwin.co.uk\/cdn\/shop\/files\/DR51095_0010__2.jpg?v=1685951936"}},"requires_selling_plan":false,"selling_plan_allocations":[]},{"id":43630207107226,"title":"red \/ 3XL","option1":"red","option2":"3XL","option3":null,"sku":"DR51095-C002-S03X","requires_shipping":true,"taxable":false,"featured_image":{"id":37086055989402,"product_id":7838682316954,"position":7,"created_at":"2023-06-05T01:58:56-06:00","updated_at":"2023-06-05T01:58:56-06:00","alt":null,"width":800,"height":800,"src":"\/\/www.luluwin.co.uk\/cdn\/shop\/files\/DR51095_0010__2.jpg?v=1685951936","variant_ids":[43630206943386,43630206976154,43630207008922,43630207041690,43630207074458,43630207107226,43630207139994,43630207172762]},"available":true,"name":"Elegant Solid Color Slit Shirt Dress - red \/ 3XL","public_title":"red \/ 3XL","options":["red","3XL"],"price":1599,"weight":0,"compare_at_price":null,"inventory_management":null,"barcode":null,"featured_media":{"alt":null,"id":29615872049306,"position":7,"preview_image":{"aspect_ratio":1.0,"height":800,"width":800,"src":"\/\/www.luluwin.co.uk\/cdn\/shop\/files\/DR51095_0010__2.jpg?v=1685951936"}},"requires_selling_plan":false,"selling_plan_allocations":[]},{"id":43630207139994,"title":"red \/ 4XL","option1":"red","option2":"4XL","option3":null,"sku":"DR51095-C002-S04X","requires_shipping":true,"taxable":false,"featured_image":{"id":37086055989402,"product_id":7838682316954,"position":7,"created_at":"2023-06-05T01:58:56-06:00","updated_at":"2023-06-05T01:58:56-06:00","alt":null,"width":800,"height":800,"src":"\/\/www.luluwin.co.uk\/cdn\/shop\/files\/DR51095_0010__2.jpg?v=1685951936","variant_ids":[43630206943386,43630206976154,43630207008922,43630207041690,43630207074458,43630207107226,43630207139994,43630207172762]},"available":true,"name":"Elegant Solid Color Slit Shirt Dress - red \/ 4XL","public_title":"red \/ 4XL","options":["red","4XL"],"price":1599,"weight":0,"compare_at_price":null,"inventory_management":null,"barcode":null,"featured_media":{"alt":null,"id":29615872049306,"position":7,"preview_image":{"aspect_ratio":1.0,"height":800,"width":800,"src":"\/\/www.luluwin.co.uk\/cdn\/shop\/files\/DR51095_0010__2.jpg?v=1685951936"}},"requires_selling_plan":false,"selling_plan_allocations":[]},{"id":43630207172762,"title":"red \/ 5XL","option1":"red","option2":"5XL","option3":null,"sku":"DR51095-C002-S05X","requires_shipping":true,"taxable":false,"featured_image":{"id":37086055989402,"product_id":7838682316954,"position":7,"created_at":"2023-06-05T01:58:56-06:00","updated_at":"2023-06-05T01:58:56-06:00","alt":null,"width":800,"height":800,"src":"\/\/www.luluwin.co.uk\/cdn\/shop\/files\/DR51095_0010__2.jpg?v=1685951936","variant_ids":[43630206943386,43630206976154,43630207008922,43630207041690,43630207074458,43630207107226,43630207139994,43630207172762]},"available":true,"name":"Elegant Solid Color Slit Shirt Dress - red \/ 5XL","public_title":"red \/ 5XL","options":["red","5XL"],"price":1599,"weight":0,"compare_at_price":null,"inventory_management":null,"barcode":null,"featured_media":{"alt":null,"id":29615872049306,"position":7,"preview_image":{"aspect_ratio":1.0,"height":800,"width":800,"src":"\/\/www.luluwin.co.uk\/cdn\/shop\/files\/DR51095_0010__2.jpg?v=1685951936"}},"requires_selling_plan":false,"selling_plan_allocations":[]},{"id":43630207205530,"title":"gray \/ S","option1":"gray","option2":"S","option3":null,"sku":"DR51095-C006-S00S","requires_shipping":true,"taxable":false,"featured_image":{"id":37086058283162,"product_id":7838682316954,"position":12,"created_at":"2023-06-05T01:59:07-06:00","updated_at":"2023-06-05T01:59:07-06:00","alt":null,"width":800,"height":800,"src":"\/\/www.luluwin.co.uk\/cdn\/shop\/files\/DR51095_0009__3.jpg?v=1685951947","variant_ids":[43630207205530,43630207238298,43630207271066,43630207303834,43630207336602,43630207369370,43630207402138,43630207434906]},"available":true,"name":"Elegant Solid Color Slit Shirt Dress - gray \/ S","public_title":"gray \/ S","options":["gray","S"],"price":1599,"weight":0,"compare_at_price":null,"inventory_management":null,"barcode":null,"featured_media":{"alt":null,"id":29615874277530,"position":12,"preview_image":{"aspect_ratio":1.0,"height":800,"width":800,"src":"\/\/www.luluwin.co.uk\/cdn\/shop\/files\/DR51095_0009__3.jpg?v=1685951947"}},"requires_selling_plan":false,"selling_plan_allocations":[]},{"id":43630207238298,"title":"gray \/ M","option1":"gray","option2":"M","option3":null,"sku":"DR51095-C006-S00M","requires_shipping":true,"taxable":false,"featured_image":{"id":37086058283162,"product_id":7838682316954,"position":12,"created_at":"2023-06-05T01:59:07-06:00","updated_at":"2023-06-05T01:59:07-06:00","alt":null,"width":800,"height":800,"src":"\/\/www.luluwin.co.uk\/cdn\/shop\/files\/DR51095_0009__3.jpg?v=1685951947","variant_ids":[43630207205530,43630207238298,43630207271066,43630207303834,43630207336602,43630207369370,43630207402138,43630207434906]},"available":true,"name":"Elegant Solid Color Slit Shirt Dress - gray \/ M","public_title":"gray \/ M","options":["gray","M"],"price":1599,"weight":0,"compare_at_price":null,"inventory_management":null,"barcode":null,"featured_media":{"alt":null,"id":29615874277530,"position":12,"preview_image":{"aspect_ratio":1.0,"height":800,"width":800,"src":"\/\/www.luluwin.co.uk\/cdn\/shop\/files\/DR51095_0009__3.jpg?v=1685951947"}},"requires_selling_plan":false,"selling_plan_allocations":[]},{"id":43630207271066,"title":"gray \/ L","option1":"gray","option2":"L","option3":null,"sku":"DR51095-C006-S00L","requires_shipping":true,"taxable":false,"featured_image":{"id":37086058283162,"product_id":7838682316954,"position":12,"created_at":"2023-06-05T01:59:07-06:00","updated_at":"2023-06-05T01:59:07-06:00","alt":null,"width":800,"height":800,"src":"\/\/www.luluwin.co.uk\/cdn\/shop\/files\/DR51095_0009__3.jpg?v=1685951947","variant_ids":[43630207205530,43630207238298,43630207271066,43630207303834,43630207336602,43630207369370,43630207402138,43630207434906]},"available":true,"name":"Elegant Solid Color Slit Shirt Dress - gray \/ L","public_title":"gray \/ L","options":["gray","L"],"price":1599,"weight":0,"compare_at_price":null,"inventory_management":null,"barcode":null,"featured_media":{"alt":null,"id":29615874277530,"position":12,"preview_image":{"aspect_ratio":1.0,"height":800,"width":800,"src":"\/\/www.luluwin.co.uk\/cdn\/shop\/files\/DR51095_0009__3.jpg?v=1685951947"}},"requires_selling_plan":false,"selling_plan_allocations":[]},{"id":43630207303834,"title":"gray \/ XL","option1":"gray","option2":"XL","option3":null,"sku":"DR51095-C006-S00X","requires_shipping":true,"taxable":false,"featured_image":{"id":37086058283162,"product_id":7838682316954,"position":12,"created_at":"2023-06-05T01:59:07-06:00","updated_at":"2023-06-05T01:59:07-06:00","alt":null,"width":800,"height":800,"src":"\/\/www.luluwin.co.uk\/cdn\/shop\/files\/DR51095_0009__3.jpg?v=1685951947","variant_ids":[43630207205530,43630207238298,43630207271066,43630207303834,43630207336602,43630207369370,43630207402138,43630207434906]},"available":true,"name":"Elegant Solid Color Slit Shirt Dress - gray \/ XL","public_title":"gray \/ XL","options":["gray","XL"],"price":1599,"weight":0,"compare_at_price":null,"inventory_management":null,"barcode":null,"featured_media":{"alt":null,"id":29615874277530,"position":12,"preview_image":{"aspect_ratio":1.0,"height":800,"width":800,"src":"\/\/www.luluwin.co.uk\/cdn\/shop\/files\/DR51095_0009__3.jpg?v=1685951947"}},"requires_selling_plan":false,"selling_plan_allocations":[]},{"id":43630207336602,"title":"gray \/ 2XL","option1":"gray","option2":"2XL","option3":null,"sku":"DR51095-C006-S02X","requires_shipping":true,"taxable":false,"featured_image":{"id":37086058283162,"product_id":7838682316954,"position":12,"created_at":"2023-06-05T01:59:07-06:00","updated_at":"2023-06-05T01:59:07-06:00","alt":null,"width":800,"height":800,"src":"\/\/www.luluwin.co.uk\/cdn\/shop\/files\/DR51095_0009__3.jpg?v=1685951947","variant_ids":[43630207205530,43630207238298,43630207271066,43630207303834,43630207336602,43630207369370,43630207402138,43630207434906]},"available":true,"name":"Elegant Solid Color Slit Shirt Dress - gray \/ 2XL","public_title":"gray \/ 2XL","options":["gray","2XL"],"price":1599,"weight":0,"compare_at_price":null,"inventory_management":null,"barcode":null,"featured_media":{"alt":null,"id":29615874277530,"position":12,"preview_image":{"aspect_ratio":1.0,"height":800,"width":800,"src":"\/\/www.luluwin.co.uk\/cdn\/shop\/files\/DR51095_0009__3.jpg?v=1685951947"}},"requires_selling_plan":false,"selling_plan_allocations":[]},{"id":43630207369370,"title":"gray \/ 3XL","option1":"gray","option2":"3XL","option3":null,"sku":"DR51095-C006-S03X","requires_shipping":true,"taxable":false,"featured_image":{"id":37086058283162,"product_id":7838682316954,"position":12,"created_at":"2023-06-05T01:59:07-06:00","updated_at":"2023-06-05T01:59:07-06:00","alt":null,"width":800,"height":800,"src":"\/\/www.luluwin.co.uk\/cdn\/shop\/files\/DR51095_0009__3.jpg?v=1685951947","variant_ids":[43630207205530,43630207238298,43630207271066,43630207303834,43630207336602,43630207369370,43630207402138,43630207434906]},"available":true,"name":"Elegant Solid Color Slit Shirt Dress - gray \/ 3XL","public_title":"gray \/ 3XL","options":["gray","3XL"],"price":1599,"weight":0,"compare_at_price":null,"inventory_management":null,"barcode":null,"featured_media":{"alt":null,"id":29615874277530,"position":12,"preview_image":{"aspect_ratio":1.0,"height":800,"width":800,"src":"\/\/www.luluwin.co.uk\/cdn\/shop\/files\/DR51095_0009__3.jpg?v=1685951947"}},"requires_selling_plan":false,"selling_plan_allocations":[]},{"id":43630207402138,"title":"gray \/ 4XL","option1":"gray","option2":"4XL","option3":null,"sku":"DR51095-C006-S04X","requires_shipping":true,"taxable":false,"featured_image":{"id":37086058283162,"product_id":7838682316954,"position":12,"created_at":"2023-06-05T01:59:07-06:00","updated_at":"2023-06-05T01:59:07-06:00","alt":null,"width":800,"height":800,"src":"\/\/www.luluwin.co.uk\/cdn\/shop\/files\/DR51095_0009__3.jpg?v=1685951947","variant_ids":[43630207205530,43630207238298,43630207271066,43630207303834,43630207336602,43630207369370,43630207402138,43630207434906]},"available":true,"name":"Elegant Solid Color Slit Shirt Dress - gray \/ 4XL","public_title":"gray \/ 4XL","options":["gray","4XL"],"price":1599,"weight":0,"compare_at_price":null,"inventory_management":null,"barcode":null,"featured_media":{"alt":null,"id":29615874277530,"position":12,"preview_image":{"aspect_ratio":1.0,"height":800,"width":800,"src":"\/\/www.luluwin.co.uk\/cdn\/shop\/files\/DR51095_0009__3.jpg?v=1685951947"}},"requires_selling_plan":false,"selling_plan_allocations":[]},{"id":43630207434906,"title":"gray \/ 5XL","option1":"gray","option2":"5XL","option3":null,"sku":"DR51095-C006-S05X","requires_shipping":true,"taxable":false,"featured_image":{"id":37086058283162,"product_id":7838682316954,"position":12,"created_at":"2023-06-05T01:59:07-06:00","updated_at":"2023-06-05T01:59:07-06:00","alt":null,"width":800,"height":800,"src":"\/\/www.luluwin.co.uk\/cdn\/shop\/files\/DR51095_0009__3.jpg?v=1685951947","variant_ids":[43630207205530,43630207238298,43630207271066,43630207303834,43630207336602,43630207369370,43630207402138,43630207434906]},"available":true,"name":"Elegant Solid Color Slit Shirt Dress - gray \/ 5XL","public_title":"gray \/ 5XL","options":["gray","5XL"],"price":1599,"weight":0,"compare_at_price":null,"inventory_management":null,"barcode":null,"featured_media":{"alt":null,"id":29615874277530,"position":12,"preview_image":{"aspect_ratio":1.0,"height":800,"width":800,"src":"\/\/www.luluwin.co.uk\/cdn\/shop\/files\/DR51095_0009__3.jpg?v=1685951947"}},"requires_selling_plan":false,"selling_plan_allocations":[]},{"id":43630207467674,"title":"dark blue \/ S","option1":"dark blue","option2":"S","option3":null,"sku":"DR51095-C029-S00S","requires_shipping":true,"taxable":false,"featured_image":{"id":37086058545306,"product_id":7838682316954,"position":13,"created_at":"2023-06-05T01:59:09-06:00","updated_at":"2023-06-05T01:59:09-06:00","alt":null,"width":800,"height":800,"src":"\/\/www.luluwin.co.uk\/cdn\/shop\/files\/DR51095_0008__4.jpg?v=1685951949","variant_ids":[43630207467674,43630207500442,43630207533210,43630207565978,43630207598746,43630207631514,43630207664282,43630207697050]},"available":true,"name":"Elegant Solid Color Slit Shirt Dress - dark blue \/ S","public_title":"dark blue \/ S","options":["dark blue","S"],"price":1599,"weight":0,"compare_at_price":null,"inventory_management":null,"barcode":null,"featured_media":{"alt":null,"id":29615874506906,"position":13,"preview_image":{"aspect_ratio":1.0,"height":800,"width":800,"src":"\/\/www.luluwin.co.uk\/cdn\/shop\/files\/DR51095_0008__4.jpg?v=1685951949"}},"requires_selling_plan":false,"selling_plan_allocations":[]},{"id":43630207500442,"title":"dark blue \/ M","option1":"dark blue","option2":"M","option3":null,"sku":"DR51095-C029-S00M","requires_shipping":true,"taxable":false,"featured_image":{"id":37086058545306,"product_id":7838682316954,"position":13,"created_at":"2023-06-05T01:59:09-06:00","updated_at":"2023-06-05T01:59:09-06:00","alt":null,"width":800,"height":800,"src":"\/\/www.luluwin.co.uk\/cdn\/shop\/files\/DR51095_0008__4.jpg?v=1685951949","variant_ids":[43630207467674,43630207500442,43630207533210,43630207565978,43630207598746,43630207631514,43630207664282,43630207697050]},"available":true,"name":"Elegant Solid Color Slit Shirt Dress - dark blue \/ M","public_title":"dark blue \/ M","options":["dark blue","M"],"price":1599,"weight":0,"compare_at_price":null,"inventory_management":null,"barcode":null,"featured_media":{"alt":null,"id":29615874506906,"position":13,"preview_image":{"aspect_ratio":1.0,"height":800,"width":800,"src":"\/\/www.luluwin.co.uk\/cdn\/shop\/files\/DR51095_0008__4.jpg?v=1685951949"}},"requires_selling_plan":false,"selling_plan_allocations":[]},{"id":43630207533210,"title":"dark blue \/ L","option1":"dark blue","option2":"L","option3":null,"sku":"DR51095-C029-S00L","requires_shipping":true,"taxable":false,"featured_image":{"id":37086058545306,"product_id":7838682316954,"position":13,"created_at":"2023-06-05T01:59:09-06:00","updated_at":"2023-06-05T01:59:09-06:00","alt":null,"width":800,"height":800,"src":"\/\/www.luluwin.co.uk\/cdn\/shop\/files\/DR51095_0008__4.jpg?v=1685951949","variant_ids":[43630207467674,43630207500442,43630207533210,43630207565978,43630207598746,43630207631514,43630207664282,43630207697050]},"available":true,"name":"Elegant Solid Color Slit Shirt Dress - dark blue \/ L","public_title":"dark blue \/ L","options":["dark blue","L"],"price":1599,"weight":0,"compare_at_price":null,"inventory_management":null,"barcode":null,"featured_media":{"alt":null,"id":29615874506906,"position":13,"preview_image":{"aspect_ratio":1.0,"height":800,"width":800,"src":"\/\/www.luluwin.co.uk\/cdn\/shop\/files\/DR51095_0008__4.jpg?v=1685951949"}},"requires_selling_plan":false,"selling_plan_allocations":[]},{"id":43630207565978,"title":"dark blue \/ XL","option1":"dark blue","option2":"XL","option3":null,"sku":"DR51095-C029-S00X","requires_shipping":true,"taxable":false,"featured_image":{"id":37086058545306,"product_id":7838682316954,"position":13,"created_at":"2023-06-05T01:59:09-06:00","updated_at":"2023-06-05T01:59:09-06:00","alt":null,"width":800,"height":800,"src":"\/\/www.luluwin.co.uk\/cdn\/shop\/files\/DR51095_0008__4.jpg?v=1685951949","variant_ids":[43630207467674,43630207500442,43630207533210,43630207565978,43630207598746,43630207631514,43630207664282,43630207697050]},"available":true,"name":"Elegant Solid Color Slit Shirt Dress - dark blue \/ XL","public_title":"dark blue \/ XL","options":["dark blue","XL"],"price":1599,"weight":0,"compare_at_price":null,"inventory_management":null,"barcode":null,"featured_media":{"alt":null,"id":29615874506906,"position":13,"preview_image":{"aspect_ratio":1.0,"height":800,"width":800,"src":"\/\/www.luluwin.co.uk\/cdn\/shop\/files\/DR51095_0008__4.jpg?v=1685951949"}},"requires_selling_plan":false,"selling_plan_allocations":[]},{"id":43630207598746,"title":"dark blue \/ 2XL","option1":"dark blue","option2":"2XL","option3":null,"sku":"DR51095-C029-S02X","requires_shipping":true,"taxable":false,"featured_image":{"id":37086058545306,"product_id":7838682316954,"position":13,"created_at":"2023-06-05T01:59:09-06:00","updated_at":"2023-06-05T01:59:09-06:00","alt":null,"width":800,"height":800,"src":"\/\/www.luluwin.co.uk\/cdn\/shop\/files\/DR51095_0008__4.jpg?v=1685951949","variant_ids":[43630207467674,43630207500442,43630207533210,43630207565978,43630207598746,43630207631514,43630207664282,43630207697050]},"available":true,"name":"Elegant Solid Color Slit Shirt Dress - dark blue \/ 2XL","public_title":"dark blue \/ 2XL","options":["dark blue","2XL"],"price":1599,"weight":0,"compare_at_price":null,"inventory_management":null,"barcode":null,"featured_media":{"alt":null,"id":29615874506906,"position":13,"preview_image":{"aspect_ratio":1.0,"height":800,"width":800,"src":"\/\/www.luluwin.co.uk\/cdn\/shop\/files\/DR51095_0008__4.jpg?v=1685951949"}},"requires_selling_plan":false,"selling_plan_allocations":[]},{"id":43630207631514,"title":"dark blue \/ 3XL","option1":"dark blue","option2":"3XL","option3":null,"sku":"DR51095-C029-S03X","requires_shipping":true,"taxable":false,"featured_image":{"id":37086058545306,"product_id":7838682316954,"position":13,"created_at":"2023-06-05T01:59:09-06:00","updated_at":"2023-06-05T01:59:09-06:00","alt":null,"width":800,"height":800,"src":"\/\/www.luluwin.co.uk\/cdn\/shop\/files\/DR51095_0008__4.jpg?v=1685951949","variant_ids":[43630207467674,43630207500442,43630207533210,43630207565978,43630207598746,43630207631514,43630207664282,43630207697050]},"available":true,"name":"Elegant Solid Color Slit Shirt Dress - dark blue \/ 3XL","public_title":"dark blue \/ 3XL","options":["dark blue","3XL"],"price":1599,"weight":0,"compare_at_price":null,"inventory_management":null,"barcode":null,"featured_media":{"alt":null,"id":29615874506906,"position":13,"preview_image":{"aspect_ratio":1.0,"height":800,"width":800,"src":"\/\/www.luluwin.co.uk\/cdn\/shop\/files\/DR51095_0008__4.jpg?v=1685951949"}},"requires_selling_plan":false,"selling_plan_allocations":[]},{"id":43630207664282,"title":"dark blue \/ 4XL","option1":"dark blue","option2":"4XL","option3":null,"sku":"DR51095-C029-S04X","requires_shipping":true,"taxable":false,"featured_image":{"id":37086058545306,"product_id":7838682316954,"position":13,"created_at":"2023-06-05T01:59:09-06:00","updated_at":"2023-06-05T01:59:09-06:00","alt":null,"width":800,"height":800,"src":"\/\/www.luluwin.co.uk\/cdn\/shop\/files\/DR51095_0008__4.jpg?v=1685951949","variant_ids":[43630207467674,43630207500442,43630207533210,43630207565978,43630207598746,43630207631514,43630207664282,43630207697050]},"available":true,"name":"Elegant Solid Color Slit Shirt Dress - dark blue \/ 4XL","public_title":"dark blue \/ 4XL","options":["dark blue","4XL"],"price":1599,"weight":0,"compare_at_price":null,"inventory_management":null,"barcode":null,"featured_media":{"alt":null,"id":29615874506906,"position":13,"preview_image":{"aspect_ratio":1.0,"height":800,"width":800,"src":"\/\/www.luluwin.co.uk\/cdn\/shop\/files\/DR51095_0008__4.jpg?v=1685951949"}},"requires_selling_plan":false,"selling_plan_allocations":[]},{"id":43630207697050,"title":"dark blue \/ 5XL","option1":"dark blue","option2":"5XL","option3":null,"sku":"DR51095-C029-S05X","requires_shipping":true,"taxable":false,"featured_image":{"id":37086058545306,"product_id":7838682316954,"position":13,"created_at":"2023-06-05T01:59:09-06:00","updated_at":"2023-06-05T01:59:09-06:00","alt":null,"width":800,"height":800,"src":"\/\/www.luluwin.co.uk\/cdn\/shop\/files\/DR51095_0008__4.jpg?v=1685951949","variant_ids":[43630207467674,43630207500442,43630207533210,43630207565978,43630207598746,43630207631514,43630207664282,43630207697050]},"available":true,"name":"Elegant Solid Color Slit Shirt Dress - dark blue \/ 5XL","public_title":"dark blue \/ 5XL","options":["dark blue","5XL"],"price":1599,"weight":0,"compare_at_price":null,"inventory_management":null,"barcode":null,"featured_media":{"alt":null,"id":29615874506906,"position":13,"preview_image":{"aspect_ratio":1.0,"height":800,"width":800,"src":"\/\/www.luluwin.co.uk\/cdn\/shop\/files\/DR51095_0008__4.jpg?v=1685951949"}},"requires_selling_plan":false,"selling_plan_allocations":[]}],"images":["\/\/www.luluwin.co.uk\/cdn\/shop\/products\/2_95a0b400-d1b2-44f1-981f-cbb14a9958e6.jpg?v=1685951931","\/\/www.luluwin.co.uk\/cdn\/shop\/products\/1_26412f51-b849-4e79-b06f-762f29a434e9.jpg?v=1685951931","\/\/www.luluwin.co.uk\/cdn\/shop\/products\/DR51095_0003__11.jpg?v=1685951931","\/\/www.luluwin.co.uk\/cdn\/shop\/products\/DR51095_0001__13.jpg?v=1685951931","\/\/www.luluwin.co.uk\/cdn\/shop\/products\/b8421501ceee8ed8defa49d79fc692df_0b8d0d57-b8e0-42b1-8f08-97f0f98cec25.jpg?v=1685951931","\/\/www.luluwin.co.uk\/cdn\/shop\/products\/DR51095_0002__12.jpg?v=1685951931","\/\/www.luluwin.co.uk\/cdn\/shop\/files\/DR51095_0010__2.jpg?v=1685951936","\/\/www.luluwin.co.uk\/cdn\/shop\/files\/DR51095_0011__1.jpg?v=1685951938","\/\/www.luluwin.co.uk\/cdn\/shop\/files\/DR51095_0007__8.jpg?v=1685951940","\/\/www.luluwin.co.uk\/cdn\/shop\/files\/DR51095_0006__5.jpg?v=1685951942","\/\/www.luluwin.co.uk\/cdn\/shop\/files\/DR51095_0004__10.jpg?v=1685951945","\/\/www.luluwin.co.uk\/cdn\/shop\/files\/DR51095_0009__3.jpg?v=1685951947","\/\/www.luluwin.co.uk\/cdn\/shop\/files\/DR51095_0008__4.jpg?v=1685951949","\/\/www.luluwin.co.uk\/cdn\/shop\/files\/DR51095_0005__9.jpg?v=1685951951"],"featured_image":"\/\/www.luluwin.co.uk\/cdn\/shop\/products\/2_95a0b400-d1b2-44f1-981f-cbb14a9958e6.jpg?v=1685951931","options":["Color","Size"],"media":[{"alt":null,"id":29615870738586,"position":1,"preview_image":{"aspect_ratio":1.0,"height":800,"width":800,"src":"\/\/www.luluwin.co.uk\/cdn\/shop\/products\/2_95a0b400-d1b2-44f1-981f-cbb14a9958e6.jpg?v=1685951931"},"aspect_ratio":1.0,"height":800,"media_type":"image","src":"\/\/www.luluwin.co.uk\/cdn\/shop\/products\/2_95a0b400-d1b2-44f1-981f-cbb14a9958e6.jpg?v=1685951931","width":800},{"alt":null,"id":29615870771354,"position":2,"preview_image":{"aspect_ratio":1.0,"height":800,"width":800,"src":"\/\/www.luluwin.co.uk\/cdn\/shop\/products\/1_26412f51-b849-4e79-b06f-762f29a434e9.jpg?v=1685951931"},"aspect_ratio":1.0,"height":800,"media_type":"image","src":"\/\/www.luluwin.co.uk\/cdn\/shop\/products\/1_26412f51-b849-4e79-b06f-762f29a434e9.jpg?v=1685951931","width":800},{"alt":null,"id":29615870804122,"position":3,"preview_image":{"aspect_ratio":1.0,"height":800,"width":800,"src":"\/\/www.luluwin.co.uk\/cdn\/shop\/products\/DR51095_0003__11.jpg?v=1685951931"},"aspect_ratio":1.0,"height":800,"media_type":"image","src":"\/\/www.luluwin.co.uk\/cdn\/shop\/products\/DR51095_0003__11.jpg?v=1685951931","width":800},{"alt":null,"id":29615870836890,"position":4,"preview_image":{"aspect_ratio":1.0,"height":800,"width":800,"src":"\/\/www.luluwin.co.uk\/cdn\/shop\/products\/DR51095_0001__13.jpg?v=1685951931"},"aspect_ratio":1.0,"height":800,"media_type":"image","src":"\/\/www.luluwin.co.uk\/cdn\/shop\/products\/DR51095_0001__13.jpg?v=1685951931","width":800},{"alt":null,"id":29615870869658,"position":5,"preview_image":{"aspect_ratio":1.0,"height":800,"width":800,"src":"\/\/www.luluwin.co.uk\/cdn\/shop\/products\/b8421501ceee8ed8defa49d79fc692df_0b8d0d57-b8e0-42b1-8f08-97f0f98cec25.jpg?v=1685951931"},"aspect_ratio":1.0,"height":800,"media_type":"image","src":"\/\/www.luluwin.co.uk\/cdn\/shop\/products\/b8421501ceee8ed8defa49d79fc692df_0b8d0d57-b8e0-42b1-8f08-97f0f98cec25.jpg?v=1685951931","width":800},{"alt":null,"id":29615870902426,"position":6,"preview_image":{"aspect_ratio":1.0,"height":800,"width":800,"src":"\/\/www.luluwin.co.uk\/cdn\/shop\/products\/DR51095_0002__12.jpg?v=1685951931"},"aspect_ratio":1.0,"height":800,"media_type":"image","src":"\/\/www.luluwin.co.uk\/cdn\/shop\/products\/DR51095_0002__12.jpg?v=1685951931","width":800},{"alt":null,"id":29615872049306,"position":7,"preview_image":{"aspect_ratio":1.0,"height":800,"width":800,"src":"\/\/www.luluwin.co.uk\/cdn\/shop\/files\/DR51095_0010__2.jpg?v=1685951936"},"aspect_ratio":1.0,"height":800,"media_type":"image","src":"\/\/www.luluwin.co.uk\/cdn\/shop\/files\/DR51095_0010__2.jpg?v=1685951936","width":800},{"alt":null,"id":29615872311450,"position":8,"preview_image":{"aspect_ratio":1.0,"height":800,"width":800,"src":"\/\/www.luluwin.co.uk\/cdn\/shop\/files\/DR51095_0011__1.jpg?v=1685951938"},"aspect_ratio":1.0,"height":800,"media_type":"image","src":"\/\/www.luluwin.co.uk\/cdn\/shop\/files\/DR51095_0011__1.jpg?v=1685951938","width":800},{"alt":null,"id":29615872966810,"position":9,"preview_image":{"aspect_ratio":1.0,"height":800,"width":800,"src":"\/\/www.luluwin.co.uk\/cdn\/shop\/files\/DR51095_0007__8.jpg?v=1685951940"},"aspect_ratio":1.0,"height":800,"media_type":"image","src":"\/\/www.luluwin.co.uk\/cdn\/shop\/files\/DR51095_0007__8.jpg?v=1685951940","width":800},{"alt":null,"id":29615873360026,"position":10,"preview_image":{"aspect_ratio":1.0,"height":800,"width":800,"src":"\/\/www.luluwin.co.uk\/cdn\/shop\/files\/DR51095_0006__5.jpg?v=1685951942"},"aspect_ratio":1.0,"height":800,"media_type":"image","src":"\/\/www.luluwin.co.uk\/cdn\/shop\/files\/DR51095_0006__5.jpg?v=1685951942","width":800},{"alt":null,"id":29615873851546,"position":11,"preview_image":{"aspect_ratio":1.0,"height":800,"width":800,"src":"\/\/www.luluwin.co.uk\/cdn\/shop\/files\/DR51095_0004__10.jpg?v=1685951945"},"aspect_ratio":1.0,"height":800,"media_type":"image","src":"\/\/www.luluwin.co.uk\/cdn\/shop\/files\/DR51095_0004__10.jpg?v=1685951945","width":800},{"alt":null,"id":29615874277530,"position":12,"preview_image":{"aspect_ratio":1.0,"height":800,"width":800,"src":"\/\/www.luluwin.co.uk\/cdn\/shop\/files\/DR51095_0009__3.jpg?v=1685951947"},"aspect_ratio":1.0,"height":800,"media_type":"image","src":"\/\/www.luluwin.co.uk\/cdn\/shop\/files\/DR51095_0009__3.jpg?v=1685951947","width":800},{"alt":null,"id":29615874506906,"position":13,"preview_image":{"aspect_ratio":1.0,"height":800,"width":800,"src":"\/\/www.luluwin.co.uk\/cdn\/shop\/files\/DR51095_0008__4.jpg?v=1685951949"},"aspect_ratio":1.0,"height":800,"media_type":"image","src":"\/\/www.luluwin.co.uk\/cdn\/shop\/files\/DR51095_0008__4.jpg?v=1685951949","width":800},{"alt":null,"id":29615874932890,"position":14,"preview_image":{"aspect_ratio":1.0,"height":800,"width":800,"src":"\/\/www.luluwin.co.uk\/cdn\/shop\/files\/DR51095_0005__9.jpg?v=1685951951"},"aspect_ratio":1.0,"height":800,"media_type":"image","src":"\/\/www.luluwin.co.uk\/cdn\/shop\/files\/DR51095_0005__9.jpg?v=1685951951","width":800}],"requires_selling_plan":false,"selling_plan_groups":[],"content":"\u003ch4 style=\"text-align: center;\"\u003e\u003cstrong\u003e\u003cspan class=\"HwtZe\" jsname=\"jqKxS\" jsaction=\"mouseup:Sxi9L,BR6jm; mousedown:qjlr0e\" lang=\"en\"\u003e\u003cspan class=\"jCAhz ChMk0b C1N51c\" jscontroller=\"Gn4SMb\" jsname=\"txFAF\" jsaction=\"agoMJf:PFBcW;MZfLnc:P7O7bd;nt4Alf:pvnm0e,pfE8Hb,PFBcW;B01qod:dJXsye;H1e5u:iXtTIf;lYIUJf:hij5Wb;bmeZHc:iURhpf;Oxj3Xe:qAKMYb,yaf12d\"\u003e\u003cspan class=\"ryNqvb\" jsname=\"W297wb\" jsaction=\"click:E6Tfl,GFf3ac,tMZCfe; contextmenu:Nqw7Te,QP7LD; mouseout:Nqw7Te; mouseover:E6Tfl,c2aHje\"\u003e😊 🙂\u003c\/span\u003e\u003c\/span\u003e\u003c\/span\u003e\u003c\/strong\u003e\u003c\/h4\u003e\n\u003ch4 style=\"text-align: center;\"\u003e\u003cspan style=\"color: #ff8000;\"\u003e\u003cstrong\u003e\u003cspan class=\"HwtZe\" jsname=\"jqKxS\" jsaction=\"mouseup:Sxi9L,BR6jm; mousedown:qjlr0e\" lang=\"en\"\u003e\u003cspan class=\"jCAhz ChMk0b C1N51c\" jscontroller=\"Gn4SMb\" jsname=\"txFAF\" jsaction=\"agoMJf:PFBcW;MZfLnc:P7O7bd;nt4Alf:pvnm0e,pfE8Hb,PFBcW;B01qod:dJXsye;H1e5u:iXtTIf;lYIUJf:hij5Wb;bmeZHc:iURhpf;Oxj3Xe:qAKMYb,yaf12d\"\u003e\u003cspan class=\"ryNqvb\" jsname=\"W297wb\" jsaction=\"click:E6Tfl,GFf3ac,tMZCfe; contextmenu:Nqw7Te,QP7LD; mouseout:Nqw7Te; mouseover:E6Tfl,c2aHje\"\u003eA long shirt dress for summer\u003c\/span\u003e\u003c\/span\u003e\u003c\/span\u003e\u003c\/strong\u003e\u003c\/span\u003e\u003c\/h4\u003e\n\u003cp\u003e\u003cspan style=\"color: #ff8000;\"\u003e\u003cstrong\u003e\u003cspan class=\"HwtZe\" jsname=\"jqKxS\" jsaction=\"mouseup:Sxi9L,BR6jm; mousedown:qjlr0e\" lang=\"en\"\u003e\u003cspan class=\"jCAhz ChMk0b C1N51c\" jscontroller=\"Gn4SMb\" jsname=\"txFAF\" jsaction=\"agoMJf:PFBcW;MZfLnc:P7O7bd;nt4Alf:pvnm0e,pfE8Hb,PFBcW;B01qod:dJXsye;H1e5u:iXtTIf;lYIUJf:hij5Wb;bmeZHc:iURhpf;Oxj3Xe:qAKMYb,yaf12d\"\u003e\u003cspan class=\"ryNqvb\" jsname=\"W297wb\" jsaction=\"click:E6Tfl,GFf3ac,tMZCfe; contextmenu:Nqw7Te,QP7LD; mouseout:Nqw7Te; mouseover:E6Tfl,c2aHje\"\u003e\u003cimg alt=\"\" src=\"https:\/\/cdn.shopifycdn.net\/s\/files\/1\/0567\/8507\/6432\/files\/1_fb30ffd0-a5e4-4e8c-ba31-6e5fcd2f40c7_480x480.jpg?v=1685611842\" style=\"display: block; margin-left: auto; margin-right: auto;\" width=\"429\" height=\"429\"\u003e\u003c\/span\u003e\u003c\/span\u003e\u003c\/span\u003e\u003c\/strong\u003e\u003c\/span\u003e\u003c\/p\u003e\n\u003ch4\u003e\u003cspan style=\"color: #ff8000;\"\u003e\u003cstrong\u003eFEATURE:\u003c\/strong\u003e\u003c\/span\u003e\u003c\/h4\u003e\n\u003cul\u003e\n\u003cli\u003e💡 Casual shirt dress features long sleeve, button-down and loose fit. \u003cspan style=\"color: #ffbb00;\"\u003e\u003cstrong\u003eSimple, chic, elegant and flattering.\u003c\/strong\u003e\u003c\/span\u003e\n\u003c\/li\u003e\n\u003c\/ul\u003e\n\u003cp\u003e\u003cimg alt=\"\" src=\"https:\/\/cdn.shopifycdn.net\/s\/files\/1\/0567\/8507\/6432\/files\/DR51095_0003__11_dfbf2ac4-6c1b-4409-8004-78ac88a01070_480x480.jpg?v=1685611855\" style=\"display: block; margin-left: auto; margin-right: auto;\" width=\"429\" height=\"429\"\u003e\u003c\/p\u003e\n\u003cul\u003e\n\u003cli\u003e💡 Sexy side split design of the cover up is \u003cspan style=\"color: #ffbb00;\"\u003e\u003cstrong\u003eeye-catching\u003c\/strong\u003e\u003c\/span\u003e and perfect to show your body shape.\u003c\/li\u003e\n\u003c\/ul\u003e\n\u003cp\u003e\u003cimg alt=\"\" src=\"https:\/\/cdn.shopifycdn.net\/s\/files\/1\/0567\/8507\/6432\/files\/DR51095_0005__9_9506f05c-cee2-49ea-8bf6-16a5d6acea88_480x480.jpg?v=1685611873\" style=\"display: block; margin-left: auto; margin-right: auto;\" width=\"435\" height=\"435\"\u003e\u003c\/p\u003e\n\u003cul\u003e\n\u003cli\u003e💡 It is suitable to wear the\u003cspan style=\"color: #ffbb00;\"\u003e\u003cstrong\u003e long cover up\u003c\/strong\u003e\u003c\/span\u003e for daily occasions like home, party, date, seaside, beach, shopping, travelling and so on.\u003c\/li\u003e\n\u003c\/ul\u003e\n\u003cp\u003e \u003c\/p\u003e\n\u003ch4\u003e\n\u003cspan style=\"color: #ff8000;\"\u003e\u003cstrong\u003eSPECIFICATION:\u003c\/strong\u003e\u003c\/span\u003e\u003cbr\u003e\n\u003c\/h4\u003e\n\u003cul\u003e\n\u003cli\u003e\n\u003cstrong\u003eMaterial:\u003c\/strong\u003e \u003cspan class=\"HwtZe\" data-mce-fragment=\"1\" jsaction=\"mouseup:Sxi9L,BR6jm; mousedown:qjlr0e\" jsname=\"jqKxS\" lang=\"en\"\u003e\u003cspan class=\"jCAhz ChMk0b\" data-mce-fragment=\"1\" jsaction=\"agoMJf:PFBcW;MZfLnc:P7O7bd;nt4Alf:pvnm0e,pfE8Hb,PFBcW;B01qod:dJXsye;H1e5u:iXtTIf;lYIUJf:hij5Wb;bmeZHc:iURhpf;Oxj3Xe:qAKMYb,yaf12d\" jsname=\"txFAF\" jscontroller=\"Gn4SMb\"\u003e\u003cspan class=\"ryNqvb\" data-mce-fragment=\"1\" jsaction=\"click:E6Tfl,GFf3ac,tMZCfe; contextmenu:Nqw7Te,QP7LD; mouseout:Nqw7Te; mouseover:E6Tfl,c2aHje\" jsname=\"W297wb\"\u003ecotton\u003c\/span\u003e\u003c\/span\u003e\u003c\/span\u003e\n\u003c\/li\u003e\n\u003cli\u003e\n\u003cstrong\u003eColor:\u003c\/strong\u003e b\u003cspan class=\"HwtZe\" data-mce-fragment=\"1\" jsaction=\"mouseup:Sxi9L,BR6jm; mousedown:qjlr0e\" jsname=\"jqKxS\" lang=\"en\"\u003e\u003cspan class=\"jCAhz ChMk0b\" data-mce-fragment=\"1\" jsaction=\"agoMJf:PFBcW;MZfLnc:P7O7bd;nt4Alf:pvnm0e,pfE8Hb,PFBcW;B01qod:dJXsye;H1e5u:iXtTIf;lYIUJf:hij5Wb;bmeZHc:iURhpf;Oxj3Xe:qAKMYb,yaf12d\" jsname=\"txFAF\" jscontroller=\"Gn4SMb\"\u003e\u003cspan class=\"ryNqvb\" data-mce-fragment=\"1\" jsaction=\"click:E6Tfl,GFf3ac,tMZCfe; contextmenu:Nqw7Te,QP7LD; mouseout:Nqw7Te; mouseover:E6Tfl,c2aHje\" jsname=\"W297wb\"\u003eeige, white, blue, light blue, yellow, red, gray, dark blue\u003c\/span\u003e\u003c\/span\u003e\u003c\/span\u003e\u003cbr\u003e\n\u003c\/li\u003e\n\u003cli\u003e\u003cstrong\u003eSize(cm):\u003c\/strong\u003e\u003c\/li\u003e\n\u003c\/ul\u003e\n\u003ctable style=\"width: 309px; margin-left: auto; margin-right: auto;\" height=\"228\"\u003e\n\u003ctbody\u003e\n\u003ctr\u003e\n\u003ctd style=\"width: 59px; text-align: center;\"\u003e\u003cstrong\u003eSize\u003c\/strong\u003e\u003c\/td\u003e\n\u003ctd style=\"width: 72px; text-align: center;\"\u003e\u003cstrong\u003eBust\u003c\/strong\u003e\u003c\/td\u003e\n\u003ctd style=\"width: 66px; text-align: center;\"\u003e\u003cstrong\u003e\u003cspan class=\"HwtZe\" jsname=\"jqKxS\" jsaction=\"mouseup:Sxi9L,BR6jm; mousedown:qjlr0e\" lang=\"en\"\u003e\u003cspan class=\"jCAhz ChMk0b\" jscontroller=\"Gn4SMb\" jsname=\"txFAF\" jsaction=\"agoMJf:PFBcW;MZfLnc:P7O7bd;nt4Alf:pvnm0e,pfE8Hb,PFBcW;B01qod:dJXsye;H1e5u:iXtTIf;lYIUJf:hij5Wb;bmeZHc:iURhpf;Oxj3Xe:qAKMYb,yaf12d\"\u003e\u003cspan class=\"ryNqvb\" jsname=\"W297wb\" jsaction=\"click:E6Tfl,GFf3ac,tMZCfe; contextmenu:Nqw7Te,QP7LD; mouseout:Nqw7Te; mouseover:E6Tfl,c2aHje\"\u003eSleeve\u003c\/span\u003e\u003c\/span\u003e\u003c\/span\u003e\u003c\/strong\u003e\u003c\/td\u003e\n\u003ctd style=\"width: 78px; text-align: center;\"\u003e\u003cstrong\u003e L\u003cspan class=\"HwtZe\" data-mce-fragment=\"1\" jsaction=\"mouseup:Sxi9L,BR6jm; mousedown:qjlr0e\" jsname=\"jqKxS\" lang=\"en\"\u003e\u003cspan class=\"jCAhz ChMk0b\" data-mce-fragment=\"1\" jsaction=\"agoMJf:PFBcW;MZfLnc:P7O7bd;nt4Alf:pvnm0e,pfE8Hb,PFBcW;B01qod:dJXsye;H1e5u:iXtTIf;lYIUJf:hij5Wb;bmeZHc:iURhpf;Oxj3Xe:qAKMYb,yaf12d\" jsname=\"txFAF\" jscontroller=\"Gn4SMb\"\u003e\u003cspan class=\"ryNqvb\" data-mce-fragment=\"1\" jsaction=\"click:E6Tfl,GFf3ac,tMZCfe; contextmenu:Nqw7Te,QP7LD; mouseout:Nqw7Te; mouseover:E6Tfl,c2aHje\" jsname=\"W297wb\"\u003eength\u003c\/span\u003e\u003c\/span\u003e\u003c\/span\u003e\u003c\/strong\u003e\u003c\/td\u003e\n\u003c\/tr\u003e\n\u003ctr\u003e\n\u003ctd style=\"width: 59px; text-align: center;\"\u003e\u003cstrong\u003eS\u003c\/strong\u003e\u003c\/td\u003e\n\u003ctd style=\"width: 72px; text-align: center;\"\u003e98\u003c\/td\u003e\n\u003ctd style=\"width: 66px; text-align: center;\"\u003e47\u003c\/td\u003e\n\u003ctd style=\"width: 78px; text-align: center;\"\u003e113\u003c\/td\u003e\n\u003c\/tr\u003e\n\u003ctr\u003e\n\u003ctd style=\"width: 59px; text-align: center;\"\u003e\u003cstrong\u003eM\u003c\/strong\u003e\u003c\/td\u003e\n\u003ctd style=\"width: 72px; text-align: center;\"\u003e101\u003c\/td\u003e\n\u003ctd style=\"width: 66px; text-align: center;\"\u003e48\u003c\/td\u003e\n\u003ctd style=\"width: 78px; text-align: center;\"\u003e114\u003c\/td\u003e\n\u003c\/tr\u003e\n\u003ctr\u003e\n\u003ctd style=\"width: 59px; text-align: center;\"\u003e\u003cstrong\u003eL\u003c\/strong\u003e\u003c\/td\u003e\n\u003ctd style=\"width: 72px; text-align: center;\"\u003e104\u003c\/td\u003e\n\u003ctd style=\"width: 66px; text-align: center;\"\u003e49\u003c\/td\u003e\n\u003ctd style=\"width: 78px; text-align: center;\"\u003e115\u003c\/td\u003e\n\u003c\/tr\u003e\n\u003ctr\u003e\n\u003ctd style=\"width: 59px; text-align: center;\"\u003e\u003cstrong\u003eXL\u003c\/strong\u003e\u003c\/td\u003e\n\u003ctd style=\"width: 72px; text-align: center;\"\u003e107\u003c\/td\u003e\n\u003ctd style=\"width: 66px; text-align: center;\"\u003e50\u003c\/td\u003e\n\u003ctd style=\"width: 78px; text-align: center;\"\u003e116\u003c\/td\u003e\n\u003c\/tr\u003e\n\u003ctr\u003e\n\u003ctd style=\"width: 59px; text-align: center;\"\u003e\u003cstrong\u003e2XL\u003c\/strong\u003e\u003c\/td\u003e\n\u003ctd style=\"width: 72px; text-align: center;\"\u003e110\u003c\/td\u003e\n\u003ctd style=\"width: 66px; text-align: center;\"\u003e51\u003c\/td\u003e\n\u003ctd style=\"width: 78px; text-align: center;\"\u003e117\u003c\/td\u003e\n\u003c\/tr\u003e\n\u003ctr\u003e\n\u003ctd style=\"width: 59px; text-align: center;\"\u003e\u003cstrong\u003e3XL\u003c\/strong\u003e\u003c\/td\u003e\n\u003ctd style=\"width: 72px; text-align: center;\"\u003e113\u003c\/td\u003e\n\u003ctd style=\"width: 66px; text-align: center;\"\u003e52\u003c\/td\u003e\n\u003ctd style=\"width: 78px; text-align: center;\"\u003e118\u003c\/td\u003e\n\u003c\/tr\u003e\n\u003ctr\u003e\n\u003ctd style=\"width: 59px; text-align: center;\"\u003e\u003cstrong\u003e4XL\u003c\/strong\u003e\u003c\/td\u003e\n\u003ctd style=\"width: 72px; text-align: center;\"\u003e116\u003c\/td\u003e\n\u003ctd style=\"width: 66px; text-align: center;\"\u003e53\u003c\/td\u003e\n\u003ctd style=\"width: 78px; text-align: center;\"\u003e119\u003c\/td\u003e\n\u003c\/tr\u003e\n\u003ctr\u003e\n\u003ctd style=\"width: 59px; text-align: center;\"\u003e\u003cstrong\u003e5XL\u003c\/strong\u003e\u003c\/td\u003e\n\u003ctd style=\"width: 72px; text-align: center;\"\u003e119\u003c\/td\u003e\n\u003ctd style=\"width: 66px; text-align: center;\"\u003e54\u003cbr\u003e\n\u003c\/td\u003e\n\u003ctd style=\"width: 78px; text-align: center;\"\u003e120\u003c\/td\u003e\n\u003c\/tr\u003e\n\u003c\/tbody\u003e\n\u003c\/table\u003e\n\u003ch4\u003e\n\u003cbr\u003e\u003cspan style=\"color: #ff8000;\"\u003e\u003cstrong\u003ePACKAGE INCLUDES:\u003c\/strong\u003e\u003c\/span\u003e\u003cbr\u003e\n\u003c\/h4\u003e\n\u003cul\u003e\n\u003cli\u003e1×Elegant Solid Color Slit Shirt Dress\u003c\/li\u003e\n\u003c\/ul\u003e"}
Elegant Solid Color Slit Shirt Dress
Adding product to your cart
😊 🙂
A long shirt dress for summer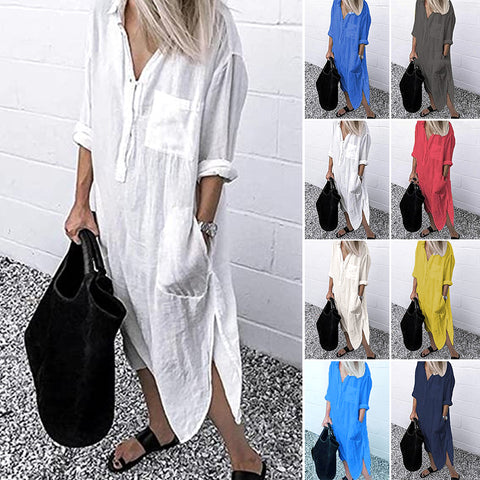 FEATURE:
💡 Casual shirt dress features long sleeve, button-down and loose fit. Simple, chic, elegant and flattering.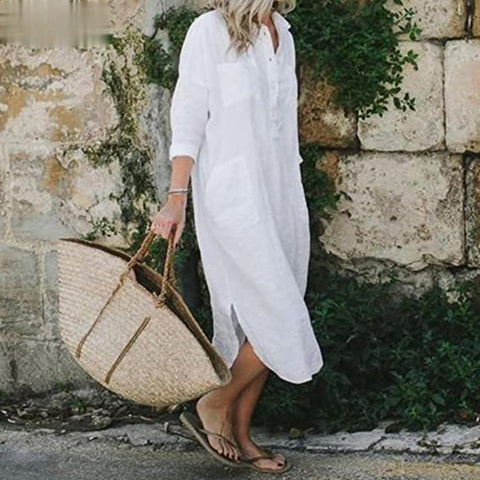 💡 Sexy side split design of the cover up is eye-catching and perfect to show your body shape.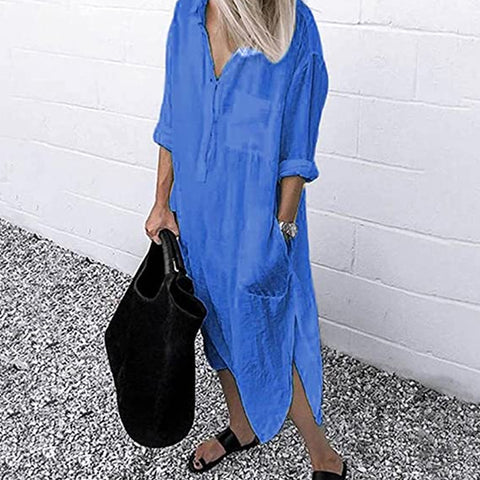 💡 It is suitable to wear the long cover up for daily occasions like home, party, date, seaside, beach, shopping, travelling and so on.
SPECIFICATION:

Material:

cotton

Color: b

eige, white, blue, light blue, yellow, red, gray, dark blue



Size(cm):
Size
Bust

Sleeve

 L

ength

S
98
47
113
M
101
48
114
L
104
49
115
XL
107
50
116
2XL
110
51
117
3XL
113
52
118
4XL
116
53
119
5XL
119
54

120

PACKAGE INCLUDES:

1×Elegant Solid Color Slit Shirt Dress