🍩COOK YOUR DELICIOUS HOME-MADE DONUTS NOW!!🍩
Great news for all donuts lovers out there!

 

Now making your favorite comfort food comes handy at home.

 

This Donuts Maker does not require professional skills for you to create pro-looking donuts.
Warm tip- Coat the mouth and inner surface of the donuts maker with some oil for smoother release of the dough.
This easy-to-do donut maker is every donut lover's dream! It allows you to dispense dough in even sizes so it saves you so much time and effort; you'll get a good bite of that donut in no time!
Enjoy home-made treats with professional "O" donut quality! 
From now on you won't need to grab the sweet snack from that expensive shop anymore because you can do it at home even without professional skills! Surprise your family and friends and take amazing photos for the gram!
Made of
premium ABS materials
, it is non-toxic and practical to use.
Ideal for donuts lovers who would like to have them at home.Enjoy whatever flavors your like freely!
Specifications:
Material: PP + Stainless Steel
Size: diameter: 9.5 cm/3.74";
Height: 18 cm/7.09".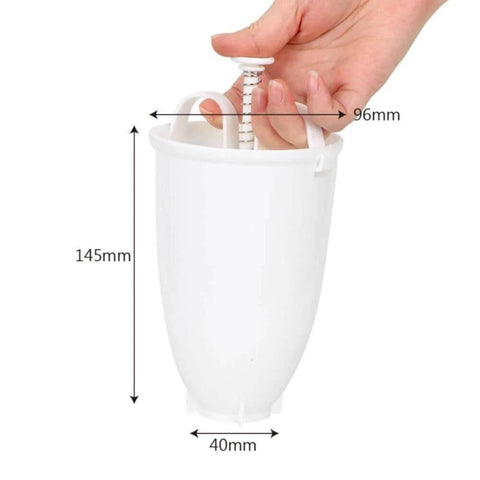 Referen recipe. (Only for suggestion, you can adjust it according to your own taste)
Step1-Eggs+Melted butter+Vanilla+Milk. Beat thoroughly for 30 seconds
Step2-Flour+baking powder+Sugar+(Optional-Salsa ground cloves+Nutmeg)
Step3-Mix the material of step1 and 2 together. Beat them until smooth.
Rest the batter for 30minutes
Load up and start making your favorite donuts!

Warm tip-Hold the dispenser close to the surface of the oil so that the batter can keep in beautiful shape. Wear heat-resistant gloves for safer operation.
🍩COOK YOUR DELICIOUS HOME-MADE DONUTS NOW!!🍩
PACKAGE INCLUDED: