{"id":6964982612122,"title":"Creative Stone Tree Ornaments","handle":"creative-stone-tree-ornaments","description":"\u003cspan style=\"color: #ff8000;\"\u003e\u003cstrong\u003eFeature:\u003c\/strong\u003e\u003c\/span\u003e\u003cbr data-mce-fragment=\"1\"\u003e\n\u003cul\u003e\n\u003cli\u003eTranquility is a choice. So is anxiety. The entire world around us may be in turmoil but if we want to be peaceful within, we can be.\u003c\/li\u003e\n\u003cli\u003eOur Stone Tree is like an endless, warm ocean for your soul and its leaves are soothing like ocean waves. This water-like crystal washes away stress and fear, leaving room for peace and tranquility in their absence.\u003c\/li\u003e\n\u003c\/ul\u003e\n\u003cp\u003e\u003cimg alt=\"\" src=\"https:\/\/cdn.shopifycdn.net\/s\/files\/1\/0274\/6538\/4014\/files\/2_be9ec731-f273-45de-a481-7595df88978f_480x480.jpg?v=1614922878\" style=\"display: block; margin-left: auto; margin-right: auto;\" width=\"383\" height=\"383\"\u003e\u003c\/p\u003e\n\u003cul\u003e\n\u003cli\u003eTree of Life Symbol: growth, deep grounding, fertility.Anytime you need it, touch these delicate leaves as a reminder to open your heart instead of letting hotheaded emotions take the lead.\u003c\/li\u003e\n\u003c\/ul\u003e\n\u003cdiv\u003e\u003cimg src=\"https:\/\/cdn.shopifycdn.net\/s\/files\/1\/0274\/6538\/4014\/files\/19_480x480.jpg?v=1614922808\" alt=\"\" style=\"display: block; margin-left: auto; margin-right: auto;\" width=\"391\" height=\"391\" data-mce-fragment=\"1\" data-mce-src=\"https:\/\/cdn.shopifycdn.net\/s\/files\/1\/0274\/6538\/4014\/files\/19_480x480.jpg?v=1614922808\"\u003e\u003c\/div\u003e\n\u003cspan style=\"color: #ff8000;\"\u003e\u003cstrong\u003eSpecification:\u003c\/strong\u003e\u003c\/span\u003e\u003cbr data-mce-fragment=\"1\"\u003e\n\u003cul\u003e\n\u003cli\u003eMaterial: crystal,hand-wrapped copper wire\u003c\/li\u003e\n\u003cli\u003eAgate Base: balance, grounding, harmony, stability.\u003c\/li\u003e\n\u003cli\u003eSince it is all about natural material when it comes to the tree base, each and every one is unique in terms of shape, color and size.\u003c\/li\u003e\n\u003c\/ul\u003e\n\u003cp\u003e\u003cimg alt=\"\" src=\"https:\/\/cdn.shopifycdn.net\/s\/files\/1\/0274\/6538\/4014\/files\/20_480x480.jpg?v=1614922829\" style=\"display: block; margin-left: auto; margin-right: auto;\" width=\"391\" height=\"392\"\u003e\u003c\/p\u003e\n\u003cp\u003e\u003cspan style=\"color: #ff8000;\"\u003e\u003cstrong\u003ePackage includes:\u003c\/strong\u003e\u003c\/span\u003e\u003c\/p\u003e\n\u003cp\u003e1×Creative Stone Tree Ornament\u003c\/p\u003e","published_at":"2021-08-18T21:33:57-06:00","created_at":"2021-08-18T21:34:11-06:00","vendor":"comfybear","type":"","tags":["gift ideas"],"price":4999,"price_min":4999,"price_max":4999,"available":true,"price_varies":false,"compare_at_price":9999,"compare_at_price_min":9999,"compare_at_price_max":9999,"compare_at_price_varies":false,"variants":[{"id":40665086034074,"title":"A","option1":"A","option2":null,"option3":null,"sku":"CP16071-X9413","requires_shipping":true,"taxable":false,"featured_image":{"id":30851533865114,"product_id":6964982612122,"position":9,"created_at":"2021-08-18T21:34:12-06:00","updated_at":"2021-08-18T21:34:12-06:00","alt":null,"width":800,"height":800,"src":"\/\/www.luluwin.co.uk\/cdn\/shop\/products\/9_83c9533d-46c1-4e7d-ae52-da33039aeb44.jpg?v=1629344052","variant_ids":[40665086034074]},"available":true,"name":"Creative Stone Tree Ornaments - A","public_title":"A","options":["A"],"price":4999,"weight":0,"compare_at_price":9999,"inventory_management":null,"barcode":"","featured_media":{"alt":null,"id":23267472769178,"position":9,"preview_image":{"aspect_ratio":1.0,"height":800,"width":800,"src":"\/\/www.luluwin.co.uk\/cdn\/shop\/products\/9_83c9533d-46c1-4e7d-ae52-da33039aeb44.jpg?v=1629344052"}},"requires_selling_plan":false,"selling_plan_allocations":[]},{"id":40665086066842,"title":"B","option1":"B","option2":null,"option3":null,"sku":"CP16071-X9414","requires_shipping":true,"taxable":false,"featured_image":{"id":30851533963418,"product_id":6964982612122,"position":12,"created_at":"2021-08-18T21:34:12-06:00","updated_at":"2021-08-18T21:34:12-06:00","alt":null,"width":800,"height":800,"src":"\/\/www.luluwin.co.uk\/cdn\/shop\/products\/12_a56ae0cf-bcc9-457d-96d8-e1d171d3b48a.jpg?v=1629344052","variant_ids":[40665086066842]},"available":true,"name":"Creative Stone Tree Ornaments - B","public_title":"B","options":["B"],"price":4999,"weight":0,"compare_at_price":9999,"inventory_management":null,"barcode":"","featured_media":{"alt":null,"id":23267472867482,"position":12,"preview_image":{"aspect_ratio":1.0,"height":800,"width":800,"src":"\/\/www.luluwin.co.uk\/cdn\/shop\/products\/12_a56ae0cf-bcc9-457d-96d8-e1d171d3b48a.jpg?v=1629344052"}},"requires_selling_plan":false,"selling_plan_allocations":[]},{"id":40665086099610,"title":"C","option1":"C","option2":null,"option3":null,"sku":"CP16071-X9415","requires_shipping":true,"taxable":false,"featured_image":{"id":30851533996186,"product_id":6964982612122,"position":13,"created_at":"2021-08-18T21:34:12-06:00","updated_at":"2021-08-18T21:34:12-06:00","alt":null,"width":800,"height":800,"src":"\/\/www.luluwin.co.uk\/cdn\/shop\/products\/13_1111964a-8825-41ba-92f7-19e1df7c982c.jpg?v=1629344052","variant_ids":[40665086099610]},"available":true,"name":"Creative Stone Tree Ornaments - C","public_title":"C","options":["C"],"price":4999,"weight":0,"compare_at_price":9999,"inventory_management":null,"barcode":"","featured_media":{"alt":null,"id":23267472900250,"position":13,"preview_image":{"aspect_ratio":1.0,"height":800,"width":800,"src":"\/\/www.luluwin.co.uk\/cdn\/shop\/products\/13_1111964a-8825-41ba-92f7-19e1df7c982c.jpg?v=1629344052"}},"requires_selling_plan":false,"selling_plan_allocations":[]},{"id":40665086165146,"title":"D","option1":"D","option2":null,"option3":null,"sku":"CP16071-X9416","requires_shipping":true,"taxable":false,"featured_image":{"id":30851533930650,"product_id":6964982612122,"position":11,"created_at":"2021-08-18T21:34:12-06:00","updated_at":"2021-08-18T21:34:12-06:00","alt":null,"width":800,"height":800,"src":"\/\/www.luluwin.co.uk\/cdn\/shop\/products\/11_6f6c5983-42d2-4947-b028-80a0b692d614.jpg?v=1629344052","variant_ids":[40665086165146]},"available":true,"name":"Creative Stone Tree Ornaments - D","public_title":"D","options":["D"],"price":4999,"weight":0,"compare_at_price":9999,"inventory_management":null,"barcode":"","featured_media":{"alt":null,"id":23267472834714,"position":11,"preview_image":{"aspect_ratio":1.0,"height":800,"width":800,"src":"\/\/www.luluwin.co.uk\/cdn\/shop\/products\/11_6f6c5983-42d2-4947-b028-80a0b692d614.jpg?v=1629344052"}},"requires_selling_plan":false,"selling_plan_allocations":[]},{"id":40665086197914,"title":"E","option1":"E","option2":null,"option3":null,"sku":"CP16071-X9417","requires_shipping":true,"taxable":false,"featured_image":{"id":30851533701274,"product_id":6964982612122,"position":4,"created_at":"2021-08-18T21:34:12-06:00","updated_at":"2021-08-18T21:34:12-06:00","alt":null,"width":800,"height":800,"src":"\/\/www.luluwin.co.uk\/cdn\/shop\/products\/4_cec9221b-78bd-4923-8d9f-98c138400c51.jpg?v=1629344052","variant_ids":[40665086197914]},"available":true,"name":"Creative Stone Tree Ornaments - E","public_title":"E","options":["E"],"price":4999,"weight":0,"compare_at_price":9999,"inventory_management":null,"barcode":"","featured_media":{"alt":null,"id":23267472605338,"position":4,"preview_image":{"aspect_ratio":1.0,"height":800,"width":800,"src":"\/\/www.luluwin.co.uk\/cdn\/shop\/products\/4_cec9221b-78bd-4923-8d9f-98c138400c51.jpg?v=1629344052"}},"requires_selling_plan":false,"selling_plan_allocations":[]},{"id":40665086230682,"title":"F","option1":"F","option2":null,"option3":null,"sku":"CP16071-X9418","requires_shipping":true,"taxable":false,"featured_image":{"id":30851534094490,"product_id":6964982612122,"position":16,"created_at":"2021-08-18T21:34:12-06:00","updated_at":"2021-08-18T21:34:12-06:00","alt":null,"width":800,"height":800,"src":"\/\/www.luluwin.co.uk\/cdn\/shop\/products\/16_8e3a8133-296a-4f2d-9664-dd09f3d39b50.jpg?v=1629344052","variant_ids":[40665086230682]},"available":true,"name":"Creative Stone Tree Ornaments - F","public_title":"F","options":["F"],"price":4999,"weight":0,"compare_at_price":9999,"inventory_management":null,"barcode":"","featured_media":{"alt":null,"id":23267472998554,"position":16,"preview_image":{"aspect_ratio":1.0,"height":800,"width":800,"src":"\/\/www.luluwin.co.uk\/cdn\/shop\/products\/16_8e3a8133-296a-4f2d-9664-dd09f3d39b50.jpg?v=1629344052"}},"requires_selling_plan":false,"selling_plan_allocations":[]},{"id":40665086263450,"title":"G","option1":"G","option2":null,"option3":null,"sku":"CP16071-X9419","requires_shipping":true,"taxable":false,"featured_image":{"id":30851533668506,"product_id":6964982612122,"position":3,"created_at":"2021-08-18T21:34:12-06:00","updated_at":"2021-08-18T21:34:12-06:00","alt":null,"width":800,"height":800,"src":"\/\/www.luluwin.co.uk\/cdn\/shop\/products\/3_8ead7995-ff0d-4c0d-88be-32c7b88ba2b7.jpg?v=1629344052","variant_ids":[40665086263450]},"available":true,"name":"Creative Stone Tree Ornaments - G","public_title":"G","options":["G"],"price":4999,"weight":0,"compare_at_price":9999,"inventory_management":null,"barcode":"","featured_media":{"alt":null,"id":23267472572570,"position":3,"preview_image":{"aspect_ratio":1.0,"height":800,"width":800,"src":"\/\/www.luluwin.co.uk\/cdn\/shop\/products\/3_8ead7995-ff0d-4c0d-88be-32c7b88ba2b7.jpg?v=1629344052"}},"requires_selling_plan":false,"selling_plan_allocations":[]},{"id":40665086296218,"title":"H","option1":"H","option2":null,"option3":null,"sku":"CP16071-X9420","requires_shipping":true,"taxable":false,"featured_image":{"id":30851533635738,"product_id":6964982612122,"position":2,"created_at":"2021-08-18T21:34:12-06:00","updated_at":"2021-08-18T21:34:12-06:00","alt":null,"width":800,"height":800,"src":"\/\/www.luluwin.co.uk\/cdn\/shop\/products\/2_b41e3e16-49ce-4ea4-91df-f9b1c5090a12.jpg?v=1629344052","variant_ids":[40665086296218]},"available":true,"name":"Creative Stone Tree Ornaments - H","public_title":"H","options":["H"],"price":4999,"weight":0,"compare_at_price":9999,"inventory_management":null,"barcode":"","featured_media":{"alt":null,"id":23267472539802,"position":2,"preview_image":{"aspect_ratio":1.0,"height":800,"width":800,"src":"\/\/www.luluwin.co.uk\/cdn\/shop\/products\/2_b41e3e16-49ce-4ea4-91df-f9b1c5090a12.jpg?v=1629344052"}},"requires_selling_plan":false,"selling_plan_allocations":[]},{"id":40665086328986,"title":"I","option1":"I","option2":null,"option3":null,"sku":"CP16071-X9421","requires_shipping":true,"taxable":false,"featured_image":{"id":30851533766810,"product_id":6964982612122,"position":6,"created_at":"2021-08-18T21:34:12-06:00","updated_at":"2021-08-18T21:34:12-06:00","alt":null,"width":800,"height":800,"src":"\/\/www.luluwin.co.uk\/cdn\/shop\/products\/6_bd087d3f-a83c-4b1b-ad9b-d6953953bb43.jpg?v=1629344052","variant_ids":[40665086328986]},"available":true,"name":"Creative Stone Tree Ornaments - I","public_title":"I","options":["I"],"price":4999,"weight":0,"compare_at_price":9999,"inventory_management":null,"barcode":"","featured_media":{"alt":null,"id":23267472670874,"position":6,"preview_image":{"aspect_ratio":1.0,"height":800,"width":800,"src":"\/\/www.luluwin.co.uk\/cdn\/shop\/products\/6_bd087d3f-a83c-4b1b-ad9b-d6953953bb43.jpg?v=1629344052"}},"requires_selling_plan":false,"selling_plan_allocations":[]},{"id":40665086361754,"title":"J","option1":"J","option2":null,"option3":null,"sku":"CP16071-X9422","requires_shipping":true,"taxable":false,"featured_image":{"id":30851533799578,"product_id":6964982612122,"position":7,"created_at":"2021-08-18T21:34:12-06:00","updated_at":"2021-08-18T21:34:12-06:00","alt":null,"width":800,"height":800,"src":"\/\/www.luluwin.co.uk\/cdn\/shop\/products\/7_2e5dce47-0778-450d-86c0-8d5bf1523b8a.jpg?v=1629344052","variant_ids":[40665086361754]},"available":true,"name":"Creative Stone Tree Ornaments - J","public_title":"J","options":["J"],"price":4999,"weight":0,"compare_at_price":9999,"inventory_management":null,"barcode":"","featured_media":{"alt":null,"id":23267472703642,"position":7,"preview_image":{"aspect_ratio":1.0,"height":800,"width":800,"src":"\/\/www.luluwin.co.uk\/cdn\/shop\/products\/7_2e5dce47-0778-450d-86c0-8d5bf1523b8a.jpg?v=1629344052"}},"requires_selling_plan":false,"selling_plan_allocations":[]},{"id":40665086394522,"title":"K","option1":"K","option2":null,"option3":null,"sku":"CP16071-X9423","requires_shipping":true,"taxable":false,"featured_image":{"id":30851534028954,"product_id":6964982612122,"position":14,"created_at":"2021-08-18T21:34:12-06:00","updated_at":"2021-08-18T21:34:12-06:00","alt":null,"width":800,"height":800,"src":"\/\/www.luluwin.co.uk\/cdn\/shop\/products\/14_c095d927-59e2-4657-a3e0-9f55d97c86bb.jpg?v=1629344052","variant_ids":[40665086394522]},"available":true,"name":"Creative Stone Tree Ornaments - K","public_title":"K","options":["K"],"price":4999,"weight":0,"compare_at_price":9999,"inventory_management":null,"barcode":"","featured_media":{"alt":null,"id":23267472933018,"position":14,"preview_image":{"aspect_ratio":1.0,"height":800,"width":800,"src":"\/\/www.luluwin.co.uk\/cdn\/shop\/products\/14_c095d927-59e2-4657-a3e0-9f55d97c86bb.jpg?v=1629344052"}},"requires_selling_plan":false,"selling_plan_allocations":[]},{"id":40665086427290,"title":"L","option1":"L","option2":null,"option3":null,"sku":"CP16071-X9424","requires_shipping":true,"taxable":false,"featured_image":{"id":30851533897882,"product_id":6964982612122,"position":10,"created_at":"2021-08-18T21:34:12-06:00","updated_at":"2021-08-18T21:34:12-06:00","alt":null,"width":800,"height":800,"src":"\/\/www.luluwin.co.uk\/cdn\/shop\/products\/10_9ac3489a-7fb5-4899-b1c6-85b4dfe2772b.jpg?v=1629344052","variant_ids":[40665086427290]},"available":true,"name":"Creative Stone Tree Ornaments - L","public_title":"L","options":["L"],"price":4999,"weight":0,"compare_at_price":9999,"inventory_management":null,"barcode":"","featured_media":{"alt":null,"id":23267472801946,"position":10,"preview_image":{"aspect_ratio":1.0,"height":800,"width":800,"src":"\/\/www.luluwin.co.uk\/cdn\/shop\/products\/10_9ac3489a-7fb5-4899-b1c6-85b4dfe2772b.jpg?v=1629344052"}},"requires_selling_plan":false,"selling_plan_allocations":[]},{"id":40665086460058,"title":"M","option1":"M","option2":null,"option3":null,"sku":"CP16071-X9425","requires_shipping":true,"taxable":false,"featured_image":{"id":30851534061722,"product_id":6964982612122,"position":15,"created_at":"2021-08-18T21:34:12-06:00","updated_at":"2021-08-18T21:34:12-06:00","alt":null,"width":800,"height":800,"src":"\/\/www.luluwin.co.uk\/cdn\/shop\/products\/15_39e36745-fd37-4892-9c2c-ec9cfc8f0cfe.jpg?v=1629344052","variant_ids":[40665086460058]},"available":true,"name":"Creative Stone Tree Ornaments - M","public_title":"M","options":["M"],"price":4999,"weight":0,"compare_at_price":9999,"inventory_management":null,"barcode":"","featured_media":{"alt":null,"id":23267472965786,"position":15,"preview_image":{"aspect_ratio":1.0,"height":800,"width":800,"src":"\/\/www.luluwin.co.uk\/cdn\/shop\/products\/15_39e36745-fd37-4892-9c2c-ec9cfc8f0cfe.jpg?v=1629344052"}},"requires_selling_plan":false,"selling_plan_allocations":[]},{"id":40665086492826,"title":"N","option1":"N","option2":null,"option3":null,"sku":"CP16071-X9426","requires_shipping":true,"taxable":false,"featured_image":{"id":30851533734042,"product_id":6964982612122,"position":5,"created_at":"2021-08-18T21:34:12-06:00","updated_at":"2021-08-18T21:34:12-06:00","alt":null,"width":800,"height":800,"src":"\/\/www.luluwin.co.uk\/cdn\/shop\/products\/5_f85e7928-e819-4d6b-8234-873ce0ef2019.jpg?v=1629344052","variant_ids":[40665086492826]},"available":true,"name":"Creative Stone Tree Ornaments - N","public_title":"N","options":["N"],"price":4999,"weight":0,"compare_at_price":9999,"inventory_management":null,"barcode":"","featured_media":{"alt":null,"id":23267472638106,"position":5,"preview_image":{"aspect_ratio":1.0,"height":800,"width":800,"src":"\/\/www.luluwin.co.uk\/cdn\/shop\/products\/5_f85e7928-e819-4d6b-8234-873ce0ef2019.jpg?v=1629344052"}},"requires_selling_plan":false,"selling_plan_allocations":[]},{"id":40665086525594,"title":"O","option1":"O","option2":null,"option3":null,"sku":"CP16071-X9428","requires_shipping":true,"taxable":false,"featured_image":{"id":30851534127258,"product_id":6964982612122,"position":17,"created_at":"2021-08-18T21:34:12-06:00","updated_at":"2021-08-18T21:34:12-06:00","alt":null,"width":800,"height":800,"src":"\/\/www.luluwin.co.uk\/cdn\/shop\/products\/17_367c603a-3187-412c-90c6-13d994f1aabb.jpg?v=1629344052","variant_ids":[40665086525594]},"available":true,"name":"Creative Stone Tree Ornaments - O","public_title":"O","options":["O"],"price":4999,"weight":0,"compare_at_price":9999,"inventory_management":null,"barcode":"","featured_media":{"alt":null,"id":23267473031322,"position":17,"preview_image":{"aspect_ratio":1.0,"height":800,"width":800,"src":"\/\/www.luluwin.co.uk\/cdn\/shop\/products\/17_367c603a-3187-412c-90c6-13d994f1aabb.jpg?v=1629344052"}},"requires_selling_plan":false,"selling_plan_allocations":[]},{"id":40665086558362,"title":"P","option1":"P","option2":null,"option3":null,"sku":"CP16071-X9427","requires_shipping":true,"taxable":false,"featured_image":{"id":30851533832346,"product_id":6964982612122,"position":8,"created_at":"2021-08-18T21:34:12-06:00","updated_at":"2021-08-18T21:34:12-06:00","alt":null,"width":800,"height":800,"src":"\/\/www.luluwin.co.uk\/cdn\/shop\/products\/8_68051dfe-612a-413b-bbe5-85b080d62897.jpg?v=1629344052","variant_ids":[40665086558362]},"available":true,"name":"Creative Stone Tree Ornaments - P","public_title":"P","options":["P"],"price":4999,"weight":0,"compare_at_price":9999,"inventory_management":null,"barcode":"","featured_media":{"alt":null,"id":23267472736410,"position":8,"preview_image":{"aspect_ratio":1.0,"height":800,"width":800,"src":"\/\/www.luluwin.co.uk\/cdn\/shop\/products\/8_68051dfe-612a-413b-bbe5-85b080d62897.jpg?v=1629344052"}},"requires_selling_plan":false,"selling_plan_allocations":[]},{"id":40665086591130,"title":"Q","option1":"Q","option2":null,"option3":null,"sku":"CP16071-X9429","requires_shipping":true,"taxable":false,"featured_image":{"id":30851534160026,"product_id":6964982612122,"position":18,"created_at":"2021-08-18T21:34:12-06:00","updated_at":"2021-08-18T21:34:12-06:00","alt":null,"width":800,"height":800,"src":"\/\/www.luluwin.co.uk\/cdn\/shop\/products\/18_4d85610a-1f69-4df2-b5f9-e265e803dbeb.jpg?v=1629344052","variant_ids":[40665086591130]},"available":true,"name":"Creative Stone Tree Ornaments - Q","public_title":"Q","options":["Q"],"price":4999,"weight":0,"compare_at_price":9999,"inventory_management":null,"barcode":"","featured_media":{"alt":null,"id":23267473064090,"position":18,"preview_image":{"aspect_ratio":1.0,"height":800,"width":800,"src":"\/\/www.luluwin.co.uk\/cdn\/shop\/products\/18_4d85610a-1f69-4df2-b5f9-e265e803dbeb.jpg?v=1629344052"}},"requires_selling_plan":false,"selling_plan_allocations":[]},{"id":40665086623898,"title":"R","option1":"R","option2":null,"option3":null,"sku":"CP16071-X9412","requires_shipping":true,"taxable":false,"featured_image":{"id":30851533602970,"product_id":6964982612122,"position":1,"created_at":"2021-08-18T21:34:12-06:00","updated_at":"2021-08-18T21:34:12-06:00","alt":null,"width":800,"height":800,"src":"\/\/www.luluwin.co.uk\/cdn\/shop\/products\/1_93f7bc63-549f-4c9e-b98a-bb6402541e1b.jpg?v=1629344052","variant_ids":[40665086623898]},"available":true,"name":"Creative Stone Tree Ornaments - R","public_title":"R","options":["R"],"price":4999,"weight":0,"compare_at_price":9999,"inventory_management":null,"barcode":"","featured_media":{"alt":null,"id":23267472507034,"position":1,"preview_image":{"aspect_ratio":1.0,"height":800,"width":800,"src":"\/\/www.luluwin.co.uk\/cdn\/shop\/products\/1_93f7bc63-549f-4c9e-b98a-bb6402541e1b.jpg?v=1629344052"}},"requires_selling_plan":false,"selling_plan_allocations":[]}],"images":["\/\/www.luluwin.co.uk\/cdn\/shop\/products\/1_93f7bc63-549f-4c9e-b98a-bb6402541e1b.jpg?v=1629344052","\/\/www.luluwin.co.uk\/cdn\/shop\/products\/2_b41e3e16-49ce-4ea4-91df-f9b1c5090a12.jpg?v=1629344052","\/\/www.luluwin.co.uk\/cdn\/shop\/products\/3_8ead7995-ff0d-4c0d-88be-32c7b88ba2b7.jpg?v=1629344052","\/\/www.luluwin.co.uk\/cdn\/shop\/products\/4_cec9221b-78bd-4923-8d9f-98c138400c51.jpg?v=1629344052","\/\/www.luluwin.co.uk\/cdn\/shop\/products\/5_f85e7928-e819-4d6b-8234-873ce0ef2019.jpg?v=1629344052","\/\/www.luluwin.co.uk\/cdn\/shop\/products\/6_bd087d3f-a83c-4b1b-ad9b-d6953953bb43.jpg?v=1629344052","\/\/www.luluwin.co.uk\/cdn\/shop\/products\/7_2e5dce47-0778-450d-86c0-8d5bf1523b8a.jpg?v=1629344052","\/\/www.luluwin.co.uk\/cdn\/shop\/products\/8_68051dfe-612a-413b-bbe5-85b080d62897.jpg?v=1629344052","\/\/www.luluwin.co.uk\/cdn\/shop\/products\/9_83c9533d-46c1-4e7d-ae52-da33039aeb44.jpg?v=1629344052","\/\/www.luluwin.co.uk\/cdn\/shop\/products\/10_9ac3489a-7fb5-4899-b1c6-85b4dfe2772b.jpg?v=1629344052","\/\/www.luluwin.co.uk\/cdn\/shop\/products\/11_6f6c5983-42d2-4947-b028-80a0b692d614.jpg?v=1629344052","\/\/www.luluwin.co.uk\/cdn\/shop\/products\/12_a56ae0cf-bcc9-457d-96d8-e1d171d3b48a.jpg?v=1629344052","\/\/www.luluwin.co.uk\/cdn\/shop\/products\/13_1111964a-8825-41ba-92f7-19e1df7c982c.jpg?v=1629344052","\/\/www.luluwin.co.uk\/cdn\/shop\/products\/14_c095d927-59e2-4657-a3e0-9f55d97c86bb.jpg?v=1629344052","\/\/www.luluwin.co.uk\/cdn\/shop\/products\/15_39e36745-fd37-4892-9c2c-ec9cfc8f0cfe.jpg?v=1629344052","\/\/www.luluwin.co.uk\/cdn\/shop\/products\/16_8e3a8133-296a-4f2d-9664-dd09f3d39b50.jpg?v=1629344052","\/\/www.luluwin.co.uk\/cdn\/shop\/products\/17_367c603a-3187-412c-90c6-13d994f1aabb.jpg?v=1629344052","\/\/www.luluwin.co.uk\/cdn\/shop\/products\/18_4d85610a-1f69-4df2-b5f9-e265e803dbeb.jpg?v=1629344052","\/\/www.luluwin.co.uk\/cdn\/shop\/products\/19_879cc3f1-599f-4ccf-a02d-e6ae32ab5210.jpg?v=1629344052","\/\/www.luluwin.co.uk\/cdn\/shop\/products\/20_2e98470f-2135-4c18-b474-c2b3ee87eac5.jpg?v=1629344052"],"featured_image":"\/\/www.luluwin.co.uk\/cdn\/shop\/products\/1_93f7bc63-549f-4c9e-b98a-bb6402541e1b.jpg?v=1629344052","options":["Style"],"media":[{"alt":null,"id":23267472507034,"position":1,"preview_image":{"aspect_ratio":1.0,"height":800,"width":800,"src":"\/\/www.luluwin.co.uk\/cdn\/shop\/products\/1_93f7bc63-549f-4c9e-b98a-bb6402541e1b.jpg?v=1629344052"},"aspect_ratio":1.0,"height":800,"media_type":"image","src":"\/\/www.luluwin.co.uk\/cdn\/shop\/products\/1_93f7bc63-549f-4c9e-b98a-bb6402541e1b.jpg?v=1629344052","width":800},{"alt":null,"id":23267472539802,"position":2,"preview_image":{"aspect_ratio":1.0,"height":800,"width":800,"src":"\/\/www.luluwin.co.uk\/cdn\/shop\/products\/2_b41e3e16-49ce-4ea4-91df-f9b1c5090a12.jpg?v=1629344052"},"aspect_ratio":1.0,"height":800,"media_type":"image","src":"\/\/www.luluwin.co.uk\/cdn\/shop\/products\/2_b41e3e16-49ce-4ea4-91df-f9b1c5090a12.jpg?v=1629344052","width":800},{"alt":null,"id":23267472572570,"position":3,"preview_image":{"aspect_ratio":1.0,"height":800,"width":800,"src":"\/\/www.luluwin.co.uk\/cdn\/shop\/products\/3_8ead7995-ff0d-4c0d-88be-32c7b88ba2b7.jpg?v=1629344052"},"aspect_ratio":1.0,"height":800,"media_type":"image","src":"\/\/www.luluwin.co.uk\/cdn\/shop\/products\/3_8ead7995-ff0d-4c0d-88be-32c7b88ba2b7.jpg?v=1629344052","width":800},{"alt":null,"id":23267472605338,"position":4,"preview_image":{"aspect_ratio":1.0,"height":800,"width":800,"src":"\/\/www.luluwin.co.uk\/cdn\/shop\/products\/4_cec9221b-78bd-4923-8d9f-98c138400c51.jpg?v=1629344052"},"aspect_ratio":1.0,"height":800,"media_type":"image","src":"\/\/www.luluwin.co.uk\/cdn\/shop\/products\/4_cec9221b-78bd-4923-8d9f-98c138400c51.jpg?v=1629344052","width":800},{"alt":null,"id":23267472638106,"position":5,"preview_image":{"aspect_ratio":1.0,"height":800,"width":800,"src":"\/\/www.luluwin.co.uk\/cdn\/shop\/products\/5_f85e7928-e819-4d6b-8234-873ce0ef2019.jpg?v=1629344052"},"aspect_ratio":1.0,"height":800,"media_type":"image","src":"\/\/www.luluwin.co.uk\/cdn\/shop\/products\/5_f85e7928-e819-4d6b-8234-873ce0ef2019.jpg?v=1629344052","width":800},{"alt":null,"id":23267472670874,"position":6,"preview_image":{"aspect_ratio":1.0,"height":800,"width":800,"src":"\/\/www.luluwin.co.uk\/cdn\/shop\/products\/6_bd087d3f-a83c-4b1b-ad9b-d6953953bb43.jpg?v=1629344052"},"aspect_ratio":1.0,"height":800,"media_type":"image","src":"\/\/www.luluwin.co.uk\/cdn\/shop\/products\/6_bd087d3f-a83c-4b1b-ad9b-d6953953bb43.jpg?v=1629344052","width":800},{"alt":null,"id":23267472703642,"position":7,"preview_image":{"aspect_ratio":1.0,"height":800,"width":800,"src":"\/\/www.luluwin.co.uk\/cdn\/shop\/products\/7_2e5dce47-0778-450d-86c0-8d5bf1523b8a.jpg?v=1629344052"},"aspect_ratio":1.0,"height":800,"media_type":"image","src":"\/\/www.luluwin.co.uk\/cdn\/shop\/products\/7_2e5dce47-0778-450d-86c0-8d5bf1523b8a.jpg?v=1629344052","width":800},{"alt":null,"id":23267472736410,"position":8,"preview_image":{"aspect_ratio":1.0,"height":800,"width":800,"src":"\/\/www.luluwin.co.uk\/cdn\/shop\/products\/8_68051dfe-612a-413b-bbe5-85b080d62897.jpg?v=1629344052"},"aspect_ratio":1.0,"height":800,"media_type":"image","src":"\/\/www.luluwin.co.uk\/cdn\/shop\/products\/8_68051dfe-612a-413b-bbe5-85b080d62897.jpg?v=1629344052","width":800},{"alt":null,"id":23267472769178,"position":9,"preview_image":{"aspect_ratio":1.0,"height":800,"width":800,"src":"\/\/www.luluwin.co.uk\/cdn\/shop\/products\/9_83c9533d-46c1-4e7d-ae52-da33039aeb44.jpg?v=1629344052"},"aspect_ratio":1.0,"height":800,"media_type":"image","src":"\/\/www.luluwin.co.uk\/cdn\/shop\/products\/9_83c9533d-46c1-4e7d-ae52-da33039aeb44.jpg?v=1629344052","width":800},{"alt":null,"id":23267472801946,"position":10,"preview_image":{"aspect_ratio":1.0,"height":800,"width":800,"src":"\/\/www.luluwin.co.uk\/cdn\/shop\/products\/10_9ac3489a-7fb5-4899-b1c6-85b4dfe2772b.jpg?v=1629344052"},"aspect_ratio":1.0,"height":800,"media_type":"image","src":"\/\/www.luluwin.co.uk\/cdn\/shop\/products\/10_9ac3489a-7fb5-4899-b1c6-85b4dfe2772b.jpg?v=1629344052","width":800},{"alt":null,"id":23267472834714,"position":11,"preview_image":{"aspect_ratio":1.0,"height":800,"width":800,"src":"\/\/www.luluwin.co.uk\/cdn\/shop\/products\/11_6f6c5983-42d2-4947-b028-80a0b692d614.jpg?v=1629344052"},"aspect_ratio":1.0,"height":800,"media_type":"image","src":"\/\/www.luluwin.co.uk\/cdn\/shop\/products\/11_6f6c5983-42d2-4947-b028-80a0b692d614.jpg?v=1629344052","width":800},{"alt":null,"id":23267472867482,"position":12,"preview_image":{"aspect_ratio":1.0,"height":800,"width":800,"src":"\/\/www.luluwin.co.uk\/cdn\/shop\/products\/12_a56ae0cf-bcc9-457d-96d8-e1d171d3b48a.jpg?v=1629344052"},"aspect_ratio":1.0,"height":800,"media_type":"image","src":"\/\/www.luluwin.co.uk\/cdn\/shop\/products\/12_a56ae0cf-bcc9-457d-96d8-e1d171d3b48a.jpg?v=1629344052","width":800},{"alt":null,"id":23267472900250,"position":13,"preview_image":{"aspect_ratio":1.0,"height":800,"width":800,"src":"\/\/www.luluwin.co.uk\/cdn\/shop\/products\/13_1111964a-8825-41ba-92f7-19e1df7c982c.jpg?v=1629344052"},"aspect_ratio":1.0,"height":800,"media_type":"image","src":"\/\/www.luluwin.co.uk\/cdn\/shop\/products\/13_1111964a-8825-41ba-92f7-19e1df7c982c.jpg?v=1629344052","width":800},{"alt":null,"id":23267472933018,"position":14,"preview_image":{"aspect_ratio":1.0,"height":800,"width":800,"src":"\/\/www.luluwin.co.uk\/cdn\/shop\/products\/14_c095d927-59e2-4657-a3e0-9f55d97c86bb.jpg?v=1629344052"},"aspect_ratio":1.0,"height":800,"media_type":"image","src":"\/\/www.luluwin.co.uk\/cdn\/shop\/products\/14_c095d927-59e2-4657-a3e0-9f55d97c86bb.jpg?v=1629344052","width":800},{"alt":null,"id":23267472965786,"position":15,"preview_image":{"aspect_ratio":1.0,"height":800,"width":800,"src":"\/\/www.luluwin.co.uk\/cdn\/shop\/products\/15_39e36745-fd37-4892-9c2c-ec9cfc8f0cfe.jpg?v=1629344052"},"aspect_ratio":1.0,"height":800,"media_type":"image","src":"\/\/www.luluwin.co.uk\/cdn\/shop\/products\/15_39e36745-fd37-4892-9c2c-ec9cfc8f0cfe.jpg?v=1629344052","width":800},{"alt":null,"id":23267472998554,"position":16,"preview_image":{"aspect_ratio":1.0,"height":800,"width":800,"src":"\/\/www.luluwin.co.uk\/cdn\/shop\/products\/16_8e3a8133-296a-4f2d-9664-dd09f3d39b50.jpg?v=1629344052"},"aspect_ratio":1.0,"height":800,"media_type":"image","src":"\/\/www.luluwin.co.uk\/cdn\/shop\/products\/16_8e3a8133-296a-4f2d-9664-dd09f3d39b50.jpg?v=1629344052","width":800},{"alt":null,"id":23267473031322,"position":17,"preview_image":{"aspect_ratio":1.0,"height":800,"width":800,"src":"\/\/www.luluwin.co.uk\/cdn\/shop\/products\/17_367c603a-3187-412c-90c6-13d994f1aabb.jpg?v=1629344052"},"aspect_ratio":1.0,"height":800,"media_type":"image","src":"\/\/www.luluwin.co.uk\/cdn\/shop\/products\/17_367c603a-3187-412c-90c6-13d994f1aabb.jpg?v=1629344052","width":800},{"alt":null,"id":23267473064090,"position":18,"preview_image":{"aspect_ratio":1.0,"height":800,"width":800,"src":"\/\/www.luluwin.co.uk\/cdn\/shop\/products\/18_4d85610a-1f69-4df2-b5f9-e265e803dbeb.jpg?v=1629344052"},"aspect_ratio":1.0,"height":800,"media_type":"image","src":"\/\/www.luluwin.co.uk\/cdn\/shop\/products\/18_4d85610a-1f69-4df2-b5f9-e265e803dbeb.jpg?v=1629344052","width":800},{"alt":null,"id":23267473096858,"position":19,"preview_image":{"aspect_ratio":1.0,"height":800,"width":800,"src":"\/\/www.luluwin.co.uk\/cdn\/shop\/products\/19_879cc3f1-599f-4ccf-a02d-e6ae32ab5210.jpg?v=1629344052"},"aspect_ratio":1.0,"height":800,"media_type":"image","src":"\/\/www.luluwin.co.uk\/cdn\/shop\/products\/19_879cc3f1-599f-4ccf-a02d-e6ae32ab5210.jpg?v=1629344052","width":800},{"alt":null,"id":23267473129626,"position":20,"preview_image":{"aspect_ratio":1.0,"height":800,"width":800,"src":"\/\/www.luluwin.co.uk\/cdn\/shop\/products\/20_2e98470f-2135-4c18-b474-c2b3ee87eac5.jpg?v=1629344052"},"aspect_ratio":1.0,"height":800,"media_type":"image","src":"\/\/www.luluwin.co.uk\/cdn\/shop\/products\/20_2e98470f-2135-4c18-b474-c2b3ee87eac5.jpg?v=1629344052","width":800}],"requires_selling_plan":false,"selling_plan_groups":[],"content":"\u003cspan style=\"color: #ff8000;\"\u003e\u003cstrong\u003eFeature:\u003c\/strong\u003e\u003c\/span\u003e\u003cbr data-mce-fragment=\"1\"\u003e\n\u003cul\u003e\n\u003cli\u003eTranquility is a choice. So is anxiety. The entire world around us may be in turmoil but if we want to be peaceful within, we can be.\u003c\/li\u003e\n\u003cli\u003eOur Stone Tree is like an endless, warm ocean for your soul and its leaves are soothing like ocean waves. This water-like crystal washes away stress and fear, leaving room for peace and tranquility in their absence.\u003c\/li\u003e\n\u003c\/ul\u003e\n\u003cp\u003e\u003cimg alt=\"\" src=\"https:\/\/cdn.shopifycdn.net\/s\/files\/1\/0274\/6538\/4014\/files\/2_be9ec731-f273-45de-a481-7595df88978f_480x480.jpg?v=1614922878\" style=\"display: block; margin-left: auto; margin-right: auto;\" width=\"383\" height=\"383\"\u003e\u003c\/p\u003e\n\u003cul\u003e\n\u003cli\u003eTree of Life Symbol: growth, deep grounding, fertility.Anytime you need it, touch these delicate leaves as a reminder to open your heart instead of letting hotheaded emotions take the lead.\u003c\/li\u003e\n\u003c\/ul\u003e\n\u003cdiv\u003e\u003cimg src=\"https:\/\/cdn.shopifycdn.net\/s\/files\/1\/0274\/6538\/4014\/files\/19_480x480.jpg?v=1614922808\" alt=\"\" style=\"display: block; margin-left: auto; margin-right: auto;\" width=\"391\" height=\"391\" data-mce-fragment=\"1\" data-mce-src=\"https:\/\/cdn.shopifycdn.net\/s\/files\/1\/0274\/6538\/4014\/files\/19_480x480.jpg?v=1614922808\"\u003e\u003c\/div\u003e\n\u003cspan style=\"color: #ff8000;\"\u003e\u003cstrong\u003eSpecification:\u003c\/strong\u003e\u003c\/span\u003e\u003cbr data-mce-fragment=\"1\"\u003e\n\u003cul\u003e\n\u003cli\u003eMaterial: crystal,hand-wrapped copper wire\u003c\/li\u003e\n\u003cli\u003eAgate Base: balance, grounding, harmony, stability.\u003c\/li\u003e\n\u003cli\u003eSince it is all about natural material when it comes to the tree base, each and every one is unique in terms of shape, color and size.\u003c\/li\u003e\n\u003c\/ul\u003e\n\u003cp\u003e\u003cimg alt=\"\" src=\"https:\/\/cdn.shopifycdn.net\/s\/files\/1\/0274\/6538\/4014\/files\/20_480x480.jpg?v=1614922829\" style=\"display: block; margin-left: auto; margin-right: auto;\" width=\"391\" height=\"392\"\u003e\u003c\/p\u003e\n\u003cp\u003e\u003cspan style=\"color: #ff8000;\"\u003e\u003cstrong\u003ePackage includes:\u003c\/strong\u003e\u003c\/span\u003e\u003c\/p\u003e\n\u003cp\u003e1×Creative Stone Tree Ornament\u003c\/p\u003e"}
Creative Stone Tree Ornaments
Adding product to your cart
Feature:
Tranquility is a choice. So is anxiety. The entire world around us may be in turmoil but if we want to be peaceful within, we can be.
Our Stone Tree is like an endless, warm ocean for your soul and its leaves are soothing like ocean waves. This water-like crystal washes away stress and fear, leaving room for peace and tranquility in their absence.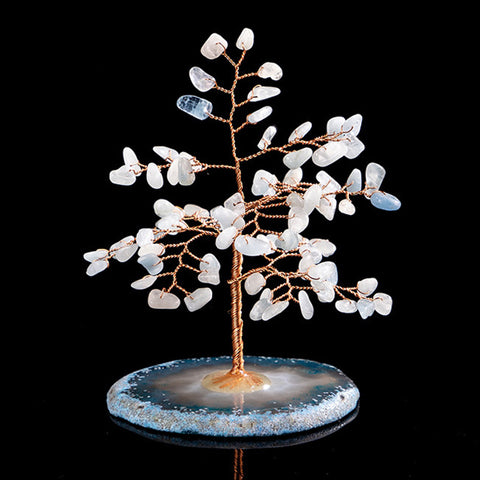 Tree of Life Symbol: growth, deep grounding, fertility.Anytime you need it, touch these delicate leaves as a reminder to open your heart instead of letting hotheaded emotions take the lead.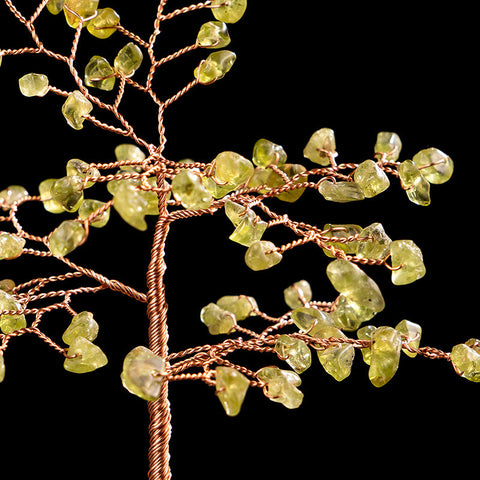 Specification:
Material: crystal,hand-wrapped copper wire
Agate Base: balance, grounding, harmony, stability.
Since it is all about natural material when it comes to the tree base, each and every one is unique in terms of shape, color and size.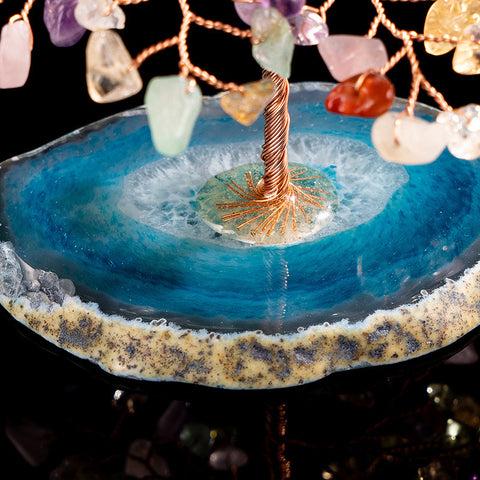 Package includes:
1×Creative Stone Tree Ornament