{"id":6965054079130,"title":"Chairs Stacking Tower Balancing Game","handle":"chairs-stacking-tower-balancing-game","description":"\u003ch4 class=\"a-spacing-mini\" data-mce-fragment=\"1\"\u003e\u003cspan style=\"color: #ff8000;\"\u003e\u003cem data-mce-fragment=\"1\"\u003e\u003cstrong data-mce-fragment=\"1\"\u003eChildren can practice their hand-eye coordination and hand-on skills A great developmental toy for beginners.\u003c\/strong\u003e\u003c\/em\u003e\u003c\/span\u003e\u003c\/h4\u003e\n\u003cp data-mce-fragment=\"1\"\u003e\u003cimg style=\"display: block; margin-left: auto; margin-right: auto;\" srcset=\"https:\/\/img.staticdj.com\/11781d16802c00aecdc5000e6f0a27e8_180.jpeg 180w, https:\/\/img.staticdj.com\/11781d16802c00aecdc5000e6f0a27e8_360.jpeg 360w, https:\/\/img.staticdj.com\/11781d16802c00aecdc5000e6f0a27e8_540.jpeg 540w, https:\/\/img.staticdj.com\/11781d16802c00aecdc5000e6f0a27e8_720.jpeg 720w, https:\/\/img.staticdj.com\/11781d16802c00aecdc5000e6f0a27e8_900.jpeg 900w, https:\/\/img.staticdj.com\/11781d16802c00aecdc5000e6f0a27e8_1080.jpeg 1080w, https:\/\/img.staticdj.com\/11781d16802c00aecdc5000e6f0a27e8_1296.jpeg 1296w, https:\/\/img.staticdj.com\/11781d16802c00aecdc5000e6f0a27e8_1512.jpeg 1512w, https:\/\/img.staticdj.com\/11781d16802c00aecdc5000e6f0a27e8_1728.jpeg 1728w, https:\/\/img.staticdj.com\/11781d16802c00aecdc5000e6f0a27e8_1944.jpeg 1944w, https:\/\/img.staticdj.com\/11781d16802c00aecdc5000e6f0a27e8_2160.jpeg 2160w, https:\/\/img.staticdj.com\/11781d16802c00aecdc5000e6f0a27e8_2376.jpeg 2376w, https:\/\/img.staticdj.com\/11781d16802c00aecdc5000e6f0a27e8_2592.jpeg 2592w, https:\/\/img.staticdj.com\/11781d16802c00aecdc5000e6f0a27e8_2808.jpeg 2808w, https:\/\/img.staticdj.com\/11781d16802c00aecdc5000e6f0a27e8_3024.jpeg 3024w\" sizes=\"483px\" data-srcset=\"https:\/\/img.staticdj.com\/11781d16802c00aecdc5000e6f0a27e8_180.jpeg 180w, https:\/\/img.staticdj.com\/11781d16802c00aecdc5000e6f0a27e8_360.jpeg 360w, https:\/\/img.staticdj.com\/11781d16802c00aecdc5000e6f0a27e8_540.jpeg 540w, https:\/\/img.staticdj.com\/11781d16802c00aecdc5000e6f0a27e8_720.jpeg 720w, https:\/\/img.staticdj.com\/11781d16802c00aecdc5000e6f0a27e8_900.jpeg 900w, https:\/\/img.staticdj.com\/11781d16802c00aecdc5000e6f0a27e8_1080.jpeg 1080w, https:\/\/img.staticdj.com\/11781d16802c00aecdc5000e6f0a27e8_1296.jpeg 1296w, https:\/\/img.staticdj.com\/11781d16802c00aecdc5000e6f0a27e8_1512.jpeg 1512w, https:\/\/img.staticdj.com\/11781d16802c00aecdc5000e6f0a27e8_1728.jpeg 1728w, https:\/\/img.staticdj.com\/11781d16802c00aecdc5000e6f0a27e8_1944.jpeg 1944w, https:\/\/img.staticdj.com\/11781d16802c00aecdc5000e6f0a27e8_2160.jpeg 2160w, https:\/\/img.staticdj.com\/11781d16802c00aecdc5000e6f0a27e8_2376.jpeg 2376w, https:\/\/img.staticdj.com\/11781d16802c00aecdc5000e6f0a27e8_2592.jpeg 2592w, https:\/\/img.staticdj.com\/11781d16802c00aecdc5000e6f0a27e8_2808.jpeg 2808w, https:\/\/img.staticdj.com\/11781d16802c00aecdc5000e6f0a27e8_3024.jpeg 3024w\" data-aspect-ratio=\"0.62\" height=\"303\" width=\"488\" alt=\"kid play the stacking chairs\" data-sizes=\"auto\" class=\"a-spacing-base sep-lazyload lazyautosizes lazyloaded\" data-mce-fragment=\"1\"\u003e\u003c\/p\u003e\n\u003cul\u003e\n\u003cli\u003eStacking chairs is a fun family game. There are so many ways to stack the chairs and the game is much harder than it looks.\u003c\/li\u003e\n\u003cli\u003eThis board game is for players of all ages! The game develops creative thinking, cooperation, and fine motor skills!\u003c\/li\u003e\n\u003cli\u003eEach player takes a turn stacking the chairs, focusing on balancing and position to prevent the chairs front falling down.\u003c\/li\u003e\n\u003cli\u003eTraining child's coordinates observance ability to think, sense capacity, visual and grasp capacity etc.\u003c\/li\u003e\n\u003cli\u003eCleverly designed, entertaining multiple children to play at a time, Promotes friendship, communication and logic between players. Suit for home, nursery, playroom, schools, travel, and other child-friendly play area.\u003c\/li\u003e\n\u003cli\u003eIt adds a festive and cheery element to your kid's parties and events, they can mix and match colors or trade with friends, and have a totally enjoyable party time experience\u003c\/li\u003e\n\u003cli\u003eGreat gift or party favor for kids.\u003c\/li\u003e\n\u003c\/ul\u003e\n\u003ch4 class=\"a-spacing-mini\" data-mce-fragment=\"1\"\u003e\n\u003cspan style=\"color: #ff8000;\"\u003e\u003cem data-mce-fragment=\"1\"\u003e\u003cstrong data-mce-fragment=\"1\"\u003eDevelop the patience to get along with kids \u0026amp; enhance the emotional communication with children.\u003c\/strong\u003e\u003c\/em\u003e\u003c\/span\u003e\u003cimg style=\"display: block; margin-left: auto; margin-right: auto;\" srcset=\"https:\/\/img.staticdj.com\/b9930c28fb1fb5dbf4af61bb85eb010d_180.jpeg 180w, https:\/\/img.staticdj.com\/b9930c28fb1fb5dbf4af61bb85eb010d_360.jpeg 360w, https:\/\/img.staticdj.com\/b9930c28fb1fb5dbf4af61bb85eb010d_540.jpeg 540w, https:\/\/img.staticdj.com\/b9930c28fb1fb5dbf4af61bb85eb010d_720.jpeg 720w, https:\/\/img.staticdj.com\/b9930c28fb1fb5dbf4af61bb85eb010d_900.jpeg 900w, https:\/\/img.staticdj.com\/b9930c28fb1fb5dbf4af61bb85eb010d_1080.jpeg 1080w, https:\/\/img.staticdj.com\/b9930c28fb1fb5dbf4af61bb85eb010d_1296.jpeg 1296w, https:\/\/img.staticdj.com\/b9930c28fb1fb5dbf4af61bb85eb010d_1512.jpeg 1512w, https:\/\/img.staticdj.com\/b9930c28fb1fb5dbf4af61bb85eb010d_1728.jpeg 1728w, https:\/\/img.staticdj.com\/b9930c28fb1fb5dbf4af61bb85eb010d_1944.jpeg 1944w, https:\/\/img.staticdj.com\/b9930c28fb1fb5dbf4af61bb85eb010d_2160.jpeg 2160w, https:\/\/img.staticdj.com\/b9930c28fb1fb5dbf4af61bb85eb010d_2376.jpeg 2376w, https:\/\/img.staticdj.com\/b9930c28fb1fb5dbf4af61bb85eb010d_2592.jpeg 2592w, https:\/\/img.staticdj.com\/b9930c28fb1fb5dbf4af61bb85eb010d_2808.jpeg 2808w, https:\/\/img.staticdj.com\/b9930c28fb1fb5dbf4af61bb85eb010d_3024.jpeg 3024w\" sizes=\"483px\" data-srcset=\"https:\/\/img.staticdj.com\/b9930c28fb1fb5dbf4af61bb85eb010d_180.jpeg 180w, https:\/\/img.staticdj.com\/b9930c28fb1fb5dbf4af61bb85eb010d_360.jpeg 360w, https:\/\/img.staticdj.com\/b9930c28fb1fb5dbf4af61bb85eb010d_540.jpeg 540w, https:\/\/img.staticdj.com\/b9930c28fb1fb5dbf4af61bb85eb010d_720.jpeg 720w, https:\/\/img.staticdj.com\/b9930c28fb1fb5dbf4af61bb85eb010d_900.jpeg 900w, https:\/\/img.staticdj.com\/b9930c28fb1fb5dbf4af61bb85eb010d_1080.jpeg 1080w, https:\/\/img.staticdj.com\/b9930c28fb1fb5dbf4af61bb85eb010d_1296.jpeg 1296w, https:\/\/img.staticdj.com\/b9930c28fb1fb5dbf4af61bb85eb010d_1512.jpeg 1512w, https:\/\/img.staticdj.com\/b9930c28fb1fb5dbf4af61bb85eb010d_1728.jpeg 1728w, https:\/\/img.staticdj.com\/b9930c28fb1fb5dbf4af61bb85eb010d_1944.jpeg 1944w, https:\/\/img.staticdj.com\/b9930c28fb1fb5dbf4af61bb85eb010d_2160.jpeg 2160w, https:\/\/img.staticdj.com\/b9930c28fb1fb5dbf4af61bb85eb010d_2376.jpeg 2376w, https:\/\/img.staticdj.com\/b9930c28fb1fb5dbf4af61bb85eb010d_2592.jpeg 2592w, https:\/\/img.staticdj.com\/b9930c28fb1fb5dbf4af61bb85eb010d_2808.jpeg 2808w, https:\/\/img.staticdj.com\/b9930c28fb1fb5dbf4af61bb85eb010d_3024.jpeg 3024w\" data-aspect-ratio=\"0.62\" height=\"296\" width=\"477\" alt=\"parents\" data-sizes=\"auto\" class=\"a-spacing-base sep-lazyload lazyautosizes lazyloaded\" data-mce-fragment=\"1\"\u003e\n\u003c\/h4\u003e\n\u003ch4 class=\"a-spacing-mini\" data-mce-fragment=\"1\"\u003e\u003cspan style=\"color: #ff8000;\"\u003e\u003cem data-mce-fragment=\"1\"\u003e\u003cstrong data-mce-fragment=\"1\"\u003eGreat for social gatherings and party games\u003c\/strong\u003e\u003c\/em\u003e\u003c\/span\u003e\u003c\/h4\u003e\n\u003ch4 class=\"a-spacing-mini\" data-mce-fragment=\"1\"\u003e\u003cimg style=\"display: block; margin-left: auto; margin-right: auto;\" srcset=\"https:\/\/img.staticdj.com\/d5bb8a5cfc6b2b61fba0d0a10c46df71_180.jpeg 180w, https:\/\/img.staticdj.com\/d5bb8a5cfc6b2b61fba0d0a10c46df71_360.jpeg 360w, https:\/\/img.staticdj.com\/d5bb8a5cfc6b2b61fba0d0a10c46df71_540.jpeg 540w, https:\/\/img.staticdj.com\/d5bb8a5cfc6b2b61fba0d0a10c46df71_720.jpeg 720w, https:\/\/img.staticdj.com\/d5bb8a5cfc6b2b61fba0d0a10c46df71_900.jpeg 900w, https:\/\/img.staticdj.com\/d5bb8a5cfc6b2b61fba0d0a10c46df71_1080.jpeg 1080w, https:\/\/img.staticdj.com\/d5bb8a5cfc6b2b61fba0d0a10c46df71_1296.jpeg 1296w, https:\/\/img.staticdj.com\/d5bb8a5cfc6b2b61fba0d0a10c46df71_1512.jpeg 1512w, https:\/\/img.staticdj.com\/d5bb8a5cfc6b2b61fba0d0a10c46df71_1728.jpeg 1728w, https:\/\/img.staticdj.com\/d5bb8a5cfc6b2b61fba0d0a10c46df71_1944.jpeg 1944w, https:\/\/img.staticdj.com\/d5bb8a5cfc6b2b61fba0d0a10c46df71_2160.jpeg 2160w, https:\/\/img.staticdj.com\/d5bb8a5cfc6b2b61fba0d0a10c46df71_2376.jpeg 2376w, https:\/\/img.staticdj.com\/d5bb8a5cfc6b2b61fba0d0a10c46df71_2592.jpeg 2592w, https:\/\/img.staticdj.com\/d5bb8a5cfc6b2b61fba0d0a10c46df71_2808.jpeg 2808w, https:\/\/img.staticdj.com\/d5bb8a5cfc6b2b61fba0d0a10c46df71_3024.jpeg 3024w\" sizes=\"483px\" data-srcset=\"https:\/\/img.staticdj.com\/d5bb8a5cfc6b2b61fba0d0a10c46df71_180.jpeg 180w, https:\/\/img.staticdj.com\/d5bb8a5cfc6b2b61fba0d0a10c46df71_360.jpeg 360w, https:\/\/img.staticdj.com\/d5bb8a5cfc6b2b61fba0d0a10c46df71_540.jpeg 540w, https:\/\/img.staticdj.com\/d5bb8a5cfc6b2b61fba0d0a10c46df71_720.jpeg 720w, https:\/\/img.staticdj.com\/d5bb8a5cfc6b2b61fba0d0a10c46df71_900.jpeg 900w, https:\/\/img.staticdj.com\/d5bb8a5cfc6b2b61fba0d0a10c46df71_1080.jpeg 1080w, https:\/\/img.staticdj.com\/d5bb8a5cfc6b2b61fba0d0a10c46df71_1296.jpeg 1296w, https:\/\/img.staticdj.com\/d5bb8a5cfc6b2b61fba0d0a10c46df71_1512.jpeg 1512w, https:\/\/img.staticdj.com\/d5bb8a5cfc6b2b61fba0d0a10c46df71_1728.jpeg 1728w, https:\/\/img.staticdj.com\/d5bb8a5cfc6b2b61fba0d0a10c46df71_1944.jpeg 1944w, https:\/\/img.staticdj.com\/d5bb8a5cfc6b2b61fba0d0a10c46df71_2160.jpeg 2160w, https:\/\/img.staticdj.com\/d5bb8a5cfc6b2b61fba0d0a10c46df71_2376.jpeg 2376w, https:\/\/img.staticdj.com\/d5bb8a5cfc6b2b61fba0d0a10c46df71_2592.jpeg 2592w, https:\/\/img.staticdj.com\/d5bb8a5cfc6b2b61fba0d0a10c46df71_2808.jpeg 2808w, https:\/\/img.staticdj.com\/d5bb8a5cfc6b2b61fba0d0a10c46df71_3024.jpeg 3024w\" data-aspect-ratio=\"0.62\" height=\"294\" width=\"474\" alt=\"afternoon tea\" data-sizes=\"auto\" class=\"a-spacing-base sep-lazyload lazyautosizes lazyloaded\" data-mce-fragment=\"1\"\u003e\u003c\/h4\u003e\n\u003cul\u003e\n\u003cli\u003ePerfect for interactive.It's fun for the afternoon tea with your friend\u003c\/li\u003e\n\u003cli\u003eYou can enjoy immense hours of fun trying to stack all of the mini plastic chairs, without falling or dropping in mid-way, so that the pile remains steady and stable If one drops, you lose and it's your partners go.\u003c\/li\u003e\n\u003c\/ul\u003e\n\u003cp class=\"a-spacing-base\" data-mce-fragment=\"1\"\u003e\u003cspan style=\"color: #ff2a00;\"\u003eWatch out: One wrong move and the whole structure could fall!\u003c\/span\u003e\u003c\/p\u003e\n\u003ch4 class=\"a-spacing-base\" data-mce-fragment=\"1\"\u003e\u003cspan style=\"color: #ff8000;\"\u003e\u003cem data-mce-fragment=\"1\"\u003e\u003cstrong data-mce-fragment=\"1\"\u003eIt is recommended to buy multiple pieces, and many people can participate in the game.\u003c\/strong\u003e\u003c\/em\u003e\u003c\/span\u003e\u003c\/h4\u003e\n\u003cdiv class=\"apm-eventhirdcol apm-floatleft\" data-mce-fragment=\"1\"\u003e\n\u003cp data-mce-fragment=\"1\"\u003e\u003cimg style=\"display: block; margin-left: auto; margin-right: auto;\" srcset=\"https:\/\/img.staticdj.com\/dededcfea3128b39df4f7f536cfa00da_180.jpg 180w, https:\/\/img.staticdj.com\/dededcfea3128b39df4f7f536cfa00da_360.jpg 360w, https:\/\/img.staticdj.com\/dededcfea3128b39df4f7f536cfa00da_540.jpg 540w, https:\/\/img.staticdj.com\/dededcfea3128b39df4f7f536cfa00da_720.jpg 720w, https:\/\/img.staticdj.com\/dededcfea3128b39df4f7f536cfa00da_900.jpg 900w, https:\/\/img.staticdj.com\/dededcfea3128b39df4f7f536cfa00da_1080.jpg 1080w, https:\/\/img.staticdj.com\/dededcfea3128b39df4f7f536cfa00da_1296.jpg 1296w, https:\/\/img.staticdj.com\/dededcfea3128b39df4f7f536cfa00da_1512.jpg 1512w, https:\/\/img.staticdj.com\/dededcfea3128b39df4f7f536cfa00da_1728.jpg 1728w, https:\/\/img.staticdj.com\/dededcfea3128b39df4f7f536cfa00da_1944.jpg 1944w, https:\/\/img.staticdj.com\/dededcfea3128b39df4f7f536cfa00da_2160.jpg 2160w, https:\/\/img.staticdj.com\/dededcfea3128b39df4f7f536cfa00da_2376.jpg 2376w, https:\/\/img.staticdj.com\/dededcfea3128b39df4f7f536cfa00da_2592.jpg 2592w, https:\/\/img.staticdj.com\/dededcfea3128b39df4f7f536cfa00da_2808.jpg 2808w, https:\/\/img.staticdj.com\/dededcfea3128b39df4f7f536cfa00da_3024.jpg 3024w\" sizes=\"483px\" data-srcset=\"https:\/\/img.staticdj.com\/dededcfea3128b39df4f7f536cfa00da_180.jpg 180w, https:\/\/img.staticdj.com\/dededcfea3128b39df4f7f536cfa00da_360.jpg 360w, https:\/\/img.staticdj.com\/dededcfea3128b39df4f7f536cfa00da_540.jpg 540w, https:\/\/img.staticdj.com\/dededcfea3128b39df4f7f536cfa00da_720.jpg 720w, https:\/\/img.staticdj.com\/dededcfea3128b39df4f7f536cfa00da_900.jpg 900w, https:\/\/img.staticdj.com\/dededcfea3128b39df4f7f536cfa00da_1080.jpg 1080w, https:\/\/img.staticdj.com\/dededcfea3128b39df4f7f536cfa00da_1296.jpg 1296w, https:\/\/img.staticdj.com\/dededcfea3128b39df4f7f536cfa00da_1512.jpg 1512w, https:\/\/img.staticdj.com\/dededcfea3128b39df4f7f536cfa00da_1728.jpg 1728w, https:\/\/img.staticdj.com\/dededcfea3128b39df4f7f536cfa00da_1944.jpg 1944w, https:\/\/img.staticdj.com\/dededcfea3128b39df4f7f536cfa00da_2160.jpg 2160w, https:\/\/img.staticdj.com\/dededcfea3128b39df4f7f536cfa00da_2376.jpg 2376w, https:\/\/img.staticdj.com\/dededcfea3128b39df4f7f536cfa00da_2592.jpg 2592w, https:\/\/img.staticdj.com\/dededcfea3128b39df4f7f536cfa00da_2808.jpg 2808w, https:\/\/img.staticdj.com\/dededcfea3128b39df4f7f536cfa00da_3024.jpg 3024w\" height=\"385\" width=\"385\" alt=\"\" data-sizes=\"auto\" class=\"sep-lazyload lazyautosizes lazyloaded\" data-mce-fragment=\"1\"\u003e\u003c\/p\u003e\n\u003cp data-mce-fragment=\"1\"\u003e\u003cspan style=\"color: #ff8000;\"\u003e\u003cstrong\u003eSpecification:\u003c\/strong\u003e\u003c\/span\u003e\u003c\/p\u003e\n\u003cul\u003e\n\u003cli\u003eSize:\u003cspan data-mce-fragment=\"1\"\u003e5.1*2.8CM ×18PCS\u003c\/span\u003e\n\u003c\/li\u003e\n\u003cli\u003e\u003cspan data-mce-fragment=\"1\"\u003ePackage Size: 15*20.5*3.5CM\u003c\/span\u003e\u003c\/li\u003e\n\u003cli\u003eMaterial:Plastic\u003c\/li\u003e\n\u003cli\u003eNumber of Pieces:18PCS\u003c\/li\u003e\n\u003cli\u003eRecommended age:3 years and up\u003c\/li\u003e\n\u003c\/ul\u003e\n\u003cp\u003e\u003cimg alt=\"\" src=\"https:\/\/cdn.shopifycdn.net\/s\/files\/1\/0274\/6538\/4014\/files\/9f51552b11f9d48d1aa47638aceefcfb_480x480.jpg?v=1611297517\" style=\"display: block; margin-left: auto; margin-right: auto;\" width=\"422\" height=\"422\"\u003e\u003c\/p\u003e\n\u003c\/div\u003e","published_at":"2021-08-18T22:02:06-06:00","created_at":"2021-08-18T22:02:18-06:00","vendor":"comfybear","type":"","tags":["For Kids","gift ideas","TOYS \u0026 GIFTS"],"price":999,"price_min":999,"price_max":1999,"available":true,"price_varies":true,"compare_at_price":1999,"compare_at_price_min":1999,"compare_at_price_max":3999,"compare_at_price_varies":true,"variants":[{"id":40665313476762,"title":"One set","option1":"One set","option2":null,"option3":null,"sku":"TY15714-E033","requires_shipping":true,"taxable":false,"featured_image":null,"available":true,"name":"Chairs Stacking Tower Balancing Game - One set","public_title":"One set","options":["One set"],"price":999,"weight":0,"compare_at_price":1999,"inventory_management":null,"barcode":"","requires_selling_plan":false,"selling_plan_allocations":[]},{"id":40665313509530,"title":"Two sets","option1":"Two sets","option2":null,"option3":null,"sku":"TY15714-Z01787","requires_shipping":true,"taxable":false,"featured_image":null,"available":true,"name":"Chairs Stacking Tower Balancing Game - Two sets","public_title":"Two sets","options":["Two sets"],"price":1499,"weight":0,"compare_at_price":2999,"inventory_management":null,"barcode":"","requires_selling_plan":false,"selling_plan_allocations":[]},{"id":40665313542298,"title":"Three sets","option1":"Three sets","option2":null,"option3":null,"sku":"TY15714-Z01788","requires_shipping":true,"taxable":false,"featured_image":null,"available":true,"name":"Chairs Stacking Tower Balancing Game - Three sets","public_title":"Three sets","options":["Three sets"],"price":1999,"weight":0,"compare_at_price":3999,"inventory_management":null,"barcode":"","requires_selling_plan":false,"selling_plan_allocations":[]}],"images":["\/\/www.luluwin.co.uk\/cdn\/shop\/products\/1_54bab490-df3f-498c-993f-bc67642832ee.jpg?v=1629345738","\/\/www.luluwin.co.uk\/cdn\/shop\/products\/4_d67e337f-4ec2-47c3-a310-f0c3025eab82.jpg?v=1629345738","\/\/www.luluwin.co.uk\/cdn\/shop\/products\/5_3c249326-25f3-417f-9ab8-099c0c2333ce.jpg?v=1629345738","\/\/www.luluwin.co.uk\/cdn\/shop\/products\/8_050308de-6a47-43d1-ac7a-22b647b5fa2c.jpg?v=1629345738","\/\/www.luluwin.co.uk\/cdn\/shop\/products\/11_ec76afa3-3fac-4aa6-ab35-400987c5dd8e.jpg?v=1629345738","\/\/www.luluwin.co.uk\/cdn\/shop\/products\/10_cd2f2108-a415-47de-a35d-635373eae7b3.jpg?v=1629345738","\/\/www.luluwin.co.uk\/cdn\/shop\/products\/12_ab61d0b5-689b-4b15-8f76-2e565c5f2c3c.jpg?v=1629345738","\/\/www.luluwin.co.uk\/cdn\/shop\/products\/9f51552b11f9d48d1aa47638aceefcfb.jpg?v=1629345738","\/\/www.luluwin.co.uk\/cdn\/shop\/products\/6_b2a51b4d-9551-42ec-942e-1b0c52e07187.jpg?v=1629345738","\/\/www.luluwin.co.uk\/cdn\/shop\/products\/7_bdac4c43-c5c1-460f-8f0d-e459dc3b47f9.jpg?v=1629345738","\/\/www.luluwin.co.uk\/cdn\/shop\/products\/9.1_95bf2af4-b86c-4b42-b098-e3b11a13ac05.jpg?v=1629345738","\/\/www.luluwin.co.uk\/cdn\/shop\/products\/3_38a4372e-e05a-45c0-957b-467ff9a64283.jpg?v=1629345738"],"featured_image":"\/\/www.luluwin.co.uk\/cdn\/shop\/products\/1_54bab490-df3f-498c-993f-bc67642832ee.jpg?v=1629345738","options":["Quantity"],"media":[{"alt":null,"id":23267960553626,"position":1,"preview_image":{"aspect_ratio":1.0,"height":800,"width":800,"src":"\/\/www.luluwin.co.uk\/cdn\/shop\/products\/1_54bab490-df3f-498c-993f-bc67642832ee.jpg?v=1629345738"},"aspect_ratio":1.0,"height":800,"media_type":"image","src":"\/\/www.luluwin.co.uk\/cdn\/shop\/products\/1_54bab490-df3f-498c-993f-bc67642832ee.jpg?v=1629345738","width":800},{"alt":null,"id":23267960586394,"position":2,"preview_image":{"aspect_ratio":1.0,"height":800,"width":800,"src":"\/\/www.luluwin.co.uk\/cdn\/shop\/products\/4_d67e337f-4ec2-47c3-a310-f0c3025eab82.jpg?v=1629345738"},"aspect_ratio":1.0,"height":800,"media_type":"image","src":"\/\/www.luluwin.co.uk\/cdn\/shop\/products\/4_d67e337f-4ec2-47c3-a310-f0c3025eab82.jpg?v=1629345738","width":800},{"alt":null,"id":23267960651930,"position":3,"preview_image":{"aspect_ratio":1.0,"height":800,"width":800,"src":"\/\/www.luluwin.co.uk\/cdn\/shop\/products\/5_3c249326-25f3-417f-9ab8-099c0c2333ce.jpg?v=1629345738"},"aspect_ratio":1.0,"height":800,"media_type":"image","src":"\/\/www.luluwin.co.uk\/cdn\/shop\/products\/5_3c249326-25f3-417f-9ab8-099c0c2333ce.jpg?v=1629345738","width":800},{"alt":null,"id":23267960717466,"position":4,"preview_image":{"aspect_ratio":1.0,"height":800,"width":800,"src":"\/\/www.luluwin.co.uk\/cdn\/shop\/products\/8_050308de-6a47-43d1-ac7a-22b647b5fa2c.jpg?v=1629345738"},"aspect_ratio":1.0,"height":800,"media_type":"image","src":"\/\/www.luluwin.co.uk\/cdn\/shop\/products\/8_050308de-6a47-43d1-ac7a-22b647b5fa2c.jpg?v=1629345738","width":800},{"alt":null,"id":23267960750234,"position":5,"preview_image":{"aspect_ratio":1.0,"height":800,"width":800,"src":"\/\/www.luluwin.co.uk\/cdn\/shop\/products\/11_ec76afa3-3fac-4aa6-ab35-400987c5dd8e.jpg?v=1629345738"},"aspect_ratio":1.0,"height":800,"media_type":"image","src":"\/\/www.luluwin.co.uk\/cdn\/shop\/products\/11_ec76afa3-3fac-4aa6-ab35-400987c5dd8e.jpg?v=1629345738","width":800},{"alt":null,"id":23267960783002,"position":6,"preview_image":{"aspect_ratio":1.0,"height":800,"width":800,"src":"\/\/www.luluwin.co.uk\/cdn\/shop\/products\/10_cd2f2108-a415-47de-a35d-635373eae7b3.jpg?v=1629345738"},"aspect_ratio":1.0,"height":800,"media_type":"image","src":"\/\/www.luluwin.co.uk\/cdn\/shop\/products\/10_cd2f2108-a415-47de-a35d-635373eae7b3.jpg?v=1629345738","width":800},{"alt":null,"id":23267960815770,"position":7,"preview_image":{"aspect_ratio":1.0,"height":800,"width":800,"src":"\/\/www.luluwin.co.uk\/cdn\/shop\/products\/12_ab61d0b5-689b-4b15-8f76-2e565c5f2c3c.jpg?v=1629345738"},"aspect_ratio":1.0,"height":800,"media_type":"image","src":"\/\/www.luluwin.co.uk\/cdn\/shop\/products\/12_ab61d0b5-689b-4b15-8f76-2e565c5f2c3c.jpg?v=1629345738","width":800},{"alt":null,"id":23267960848538,"position":8,"preview_image":{"aspect_ratio":1.0,"height":800,"width":800,"src":"\/\/www.luluwin.co.uk\/cdn\/shop\/products\/9f51552b11f9d48d1aa47638aceefcfb.jpg?v=1629345738"},"aspect_ratio":1.0,"height":800,"media_type":"image","src":"\/\/www.luluwin.co.uk\/cdn\/shop\/products\/9f51552b11f9d48d1aa47638aceefcfb.jpg?v=1629345738","width":800},{"alt":null,"id":23267960881306,"position":9,"preview_image":{"aspect_ratio":1.0,"height":800,"width":800,"src":"\/\/www.luluwin.co.uk\/cdn\/shop\/products\/6_b2a51b4d-9551-42ec-942e-1b0c52e07187.jpg?v=1629345738"},"aspect_ratio":1.0,"height":800,"media_type":"image","src":"\/\/www.luluwin.co.uk\/cdn\/shop\/products\/6_b2a51b4d-9551-42ec-942e-1b0c52e07187.jpg?v=1629345738","width":800},{"alt":null,"id":23267960914074,"position":10,"preview_image":{"aspect_ratio":1.0,"height":800,"width":800,"src":"\/\/www.luluwin.co.uk\/cdn\/shop\/products\/7_bdac4c43-c5c1-460f-8f0d-e459dc3b47f9.jpg?v=1629345738"},"aspect_ratio":1.0,"height":800,"media_type":"image","src":"\/\/www.luluwin.co.uk\/cdn\/shop\/products\/7_bdac4c43-c5c1-460f-8f0d-e459dc3b47f9.jpg?v=1629345738","width":800},{"alt":null,"id":23267960946842,"position":11,"preview_image":{"aspect_ratio":1.0,"height":800,"width":800,"src":"\/\/www.luluwin.co.uk\/cdn\/shop\/products\/9.1_95bf2af4-b86c-4b42-b098-e3b11a13ac05.jpg?v=1629345738"},"aspect_ratio":1.0,"height":800,"media_type":"image","src":"\/\/www.luluwin.co.uk\/cdn\/shop\/products\/9.1_95bf2af4-b86c-4b42-b098-e3b11a13ac05.jpg?v=1629345738","width":800},{"alt":null,"id":23267960979610,"position":12,"preview_image":{"aspect_ratio":1.0,"height":800,"width":800,"src":"\/\/www.luluwin.co.uk\/cdn\/shop\/products\/3_38a4372e-e05a-45c0-957b-467ff9a64283.jpg?v=1629345738"},"aspect_ratio":1.0,"height":800,"media_type":"image","src":"\/\/www.luluwin.co.uk\/cdn\/shop\/products\/3_38a4372e-e05a-45c0-957b-467ff9a64283.jpg?v=1629345738","width":800}],"requires_selling_plan":false,"selling_plan_groups":[],"content":"\u003ch4 class=\"a-spacing-mini\" data-mce-fragment=\"1\"\u003e\u003cspan style=\"color: #ff8000;\"\u003e\u003cem data-mce-fragment=\"1\"\u003e\u003cstrong data-mce-fragment=\"1\"\u003eChildren can practice their hand-eye coordination and hand-on skills A great developmental toy for beginners.\u003c\/strong\u003e\u003c\/em\u003e\u003c\/span\u003e\u003c\/h4\u003e\n\u003cp data-mce-fragment=\"1\"\u003e\u003cimg style=\"display: block; margin-left: auto; margin-right: auto;\" srcset=\"https:\/\/img.staticdj.com\/11781d16802c00aecdc5000e6f0a27e8_180.jpeg 180w, https:\/\/img.staticdj.com\/11781d16802c00aecdc5000e6f0a27e8_360.jpeg 360w, https:\/\/img.staticdj.com\/11781d16802c00aecdc5000e6f0a27e8_540.jpeg 540w, https:\/\/img.staticdj.com\/11781d16802c00aecdc5000e6f0a27e8_720.jpeg 720w, https:\/\/img.staticdj.com\/11781d16802c00aecdc5000e6f0a27e8_900.jpeg 900w, https:\/\/img.staticdj.com\/11781d16802c00aecdc5000e6f0a27e8_1080.jpeg 1080w, https:\/\/img.staticdj.com\/11781d16802c00aecdc5000e6f0a27e8_1296.jpeg 1296w, https:\/\/img.staticdj.com\/11781d16802c00aecdc5000e6f0a27e8_1512.jpeg 1512w, https:\/\/img.staticdj.com\/11781d16802c00aecdc5000e6f0a27e8_1728.jpeg 1728w, https:\/\/img.staticdj.com\/11781d16802c00aecdc5000e6f0a27e8_1944.jpeg 1944w, https:\/\/img.staticdj.com\/11781d16802c00aecdc5000e6f0a27e8_2160.jpeg 2160w, https:\/\/img.staticdj.com\/11781d16802c00aecdc5000e6f0a27e8_2376.jpeg 2376w, https:\/\/img.staticdj.com\/11781d16802c00aecdc5000e6f0a27e8_2592.jpeg 2592w, https:\/\/img.staticdj.com\/11781d16802c00aecdc5000e6f0a27e8_2808.jpeg 2808w, https:\/\/img.staticdj.com\/11781d16802c00aecdc5000e6f0a27e8_3024.jpeg 3024w\" sizes=\"483px\" data-srcset=\"https:\/\/img.staticdj.com\/11781d16802c00aecdc5000e6f0a27e8_180.jpeg 180w, https:\/\/img.staticdj.com\/11781d16802c00aecdc5000e6f0a27e8_360.jpeg 360w, https:\/\/img.staticdj.com\/11781d16802c00aecdc5000e6f0a27e8_540.jpeg 540w, https:\/\/img.staticdj.com\/11781d16802c00aecdc5000e6f0a27e8_720.jpeg 720w, https:\/\/img.staticdj.com\/11781d16802c00aecdc5000e6f0a27e8_900.jpeg 900w, https:\/\/img.staticdj.com\/11781d16802c00aecdc5000e6f0a27e8_1080.jpeg 1080w, https:\/\/img.staticdj.com\/11781d16802c00aecdc5000e6f0a27e8_1296.jpeg 1296w, https:\/\/img.staticdj.com\/11781d16802c00aecdc5000e6f0a27e8_1512.jpeg 1512w, https:\/\/img.staticdj.com\/11781d16802c00aecdc5000e6f0a27e8_1728.jpeg 1728w, https:\/\/img.staticdj.com\/11781d16802c00aecdc5000e6f0a27e8_1944.jpeg 1944w, https:\/\/img.staticdj.com\/11781d16802c00aecdc5000e6f0a27e8_2160.jpeg 2160w, https:\/\/img.staticdj.com\/11781d16802c00aecdc5000e6f0a27e8_2376.jpeg 2376w, https:\/\/img.staticdj.com\/11781d16802c00aecdc5000e6f0a27e8_2592.jpeg 2592w, https:\/\/img.staticdj.com\/11781d16802c00aecdc5000e6f0a27e8_2808.jpeg 2808w, https:\/\/img.staticdj.com\/11781d16802c00aecdc5000e6f0a27e8_3024.jpeg 3024w\" data-aspect-ratio=\"0.62\" height=\"303\" width=\"488\" alt=\"kid play the stacking chairs\" data-sizes=\"auto\" class=\"a-spacing-base sep-lazyload lazyautosizes lazyloaded\" data-mce-fragment=\"1\"\u003e\u003c\/p\u003e\n\u003cul\u003e\n\u003cli\u003eStacking chairs is a fun family game. There are so many ways to stack the chairs and the game is much harder than it looks.\u003c\/li\u003e\n\u003cli\u003eThis board game is for players of all ages! The game develops creative thinking, cooperation, and fine motor skills!\u003c\/li\u003e\n\u003cli\u003eEach player takes a turn stacking the chairs, focusing on balancing and position to prevent the chairs front falling down.\u003c\/li\u003e\n\u003cli\u003eTraining child's coordinates observance ability to think, sense capacity, visual and grasp capacity etc.\u003c\/li\u003e\n\u003cli\u003eCleverly designed, entertaining multiple children to play at a time, Promotes friendship, communication and logic between players. Suit for home, nursery, playroom, schools, travel, and other child-friendly play area.\u003c\/li\u003e\n\u003cli\u003eIt adds a festive and cheery element to your kid's parties and events, they can mix and match colors or trade with friends, and have a totally enjoyable party time experience\u003c\/li\u003e\n\u003cli\u003eGreat gift or party favor for kids.\u003c\/li\u003e\n\u003c\/ul\u003e\n\u003ch4 class=\"a-spacing-mini\" data-mce-fragment=\"1\"\u003e\n\u003cspan style=\"color: #ff8000;\"\u003e\u003cem data-mce-fragment=\"1\"\u003e\u003cstrong data-mce-fragment=\"1\"\u003eDevelop the patience to get along with kids \u0026amp; enhance the emotional communication with children.\u003c\/strong\u003e\u003c\/em\u003e\u003c\/span\u003e\u003cimg style=\"display: block; margin-left: auto; margin-right: auto;\" srcset=\"https:\/\/img.staticdj.com\/b9930c28fb1fb5dbf4af61bb85eb010d_180.jpeg 180w, https:\/\/img.staticdj.com\/b9930c28fb1fb5dbf4af61bb85eb010d_360.jpeg 360w, https:\/\/img.staticdj.com\/b9930c28fb1fb5dbf4af61bb85eb010d_540.jpeg 540w, https:\/\/img.staticdj.com\/b9930c28fb1fb5dbf4af61bb85eb010d_720.jpeg 720w, https:\/\/img.staticdj.com\/b9930c28fb1fb5dbf4af61bb85eb010d_900.jpeg 900w, https:\/\/img.staticdj.com\/b9930c28fb1fb5dbf4af61bb85eb010d_1080.jpeg 1080w, https:\/\/img.staticdj.com\/b9930c28fb1fb5dbf4af61bb85eb010d_1296.jpeg 1296w, https:\/\/img.staticdj.com\/b9930c28fb1fb5dbf4af61bb85eb010d_1512.jpeg 1512w, https:\/\/img.staticdj.com\/b9930c28fb1fb5dbf4af61bb85eb010d_1728.jpeg 1728w, https:\/\/img.staticdj.com\/b9930c28fb1fb5dbf4af61bb85eb010d_1944.jpeg 1944w, https:\/\/img.staticdj.com\/b9930c28fb1fb5dbf4af61bb85eb010d_2160.jpeg 2160w, https:\/\/img.staticdj.com\/b9930c28fb1fb5dbf4af61bb85eb010d_2376.jpeg 2376w, https:\/\/img.staticdj.com\/b9930c28fb1fb5dbf4af61bb85eb010d_2592.jpeg 2592w, https:\/\/img.staticdj.com\/b9930c28fb1fb5dbf4af61bb85eb010d_2808.jpeg 2808w, https:\/\/img.staticdj.com\/b9930c28fb1fb5dbf4af61bb85eb010d_3024.jpeg 3024w\" sizes=\"483px\" data-srcset=\"https:\/\/img.staticdj.com\/b9930c28fb1fb5dbf4af61bb85eb010d_180.jpeg 180w, https:\/\/img.staticdj.com\/b9930c28fb1fb5dbf4af61bb85eb010d_360.jpeg 360w, https:\/\/img.staticdj.com\/b9930c28fb1fb5dbf4af61bb85eb010d_540.jpeg 540w, https:\/\/img.staticdj.com\/b9930c28fb1fb5dbf4af61bb85eb010d_720.jpeg 720w, https:\/\/img.staticdj.com\/b9930c28fb1fb5dbf4af61bb85eb010d_900.jpeg 900w, https:\/\/img.staticdj.com\/b9930c28fb1fb5dbf4af61bb85eb010d_1080.jpeg 1080w, https:\/\/img.staticdj.com\/b9930c28fb1fb5dbf4af61bb85eb010d_1296.jpeg 1296w, https:\/\/img.staticdj.com\/b9930c28fb1fb5dbf4af61bb85eb010d_1512.jpeg 1512w, https:\/\/img.staticdj.com\/b9930c28fb1fb5dbf4af61bb85eb010d_1728.jpeg 1728w, https:\/\/img.staticdj.com\/b9930c28fb1fb5dbf4af61bb85eb010d_1944.jpeg 1944w, https:\/\/img.staticdj.com\/b9930c28fb1fb5dbf4af61bb85eb010d_2160.jpeg 2160w, https:\/\/img.staticdj.com\/b9930c28fb1fb5dbf4af61bb85eb010d_2376.jpeg 2376w, https:\/\/img.staticdj.com\/b9930c28fb1fb5dbf4af61bb85eb010d_2592.jpeg 2592w, https:\/\/img.staticdj.com\/b9930c28fb1fb5dbf4af61bb85eb010d_2808.jpeg 2808w, https:\/\/img.staticdj.com\/b9930c28fb1fb5dbf4af61bb85eb010d_3024.jpeg 3024w\" data-aspect-ratio=\"0.62\" height=\"296\" width=\"477\" alt=\"parents\" data-sizes=\"auto\" class=\"a-spacing-base sep-lazyload lazyautosizes lazyloaded\" data-mce-fragment=\"1\"\u003e\n\u003c\/h4\u003e\n\u003ch4 class=\"a-spacing-mini\" data-mce-fragment=\"1\"\u003e\u003cspan style=\"color: #ff8000;\"\u003e\u003cem data-mce-fragment=\"1\"\u003e\u003cstrong data-mce-fragment=\"1\"\u003eGreat for social gatherings and party games\u003c\/strong\u003e\u003c\/em\u003e\u003c\/span\u003e\u003c\/h4\u003e\n\u003ch4 class=\"a-spacing-mini\" data-mce-fragment=\"1\"\u003e\u003cimg style=\"display: block; margin-left: auto; margin-right: auto;\" srcset=\"https:\/\/img.staticdj.com\/d5bb8a5cfc6b2b61fba0d0a10c46df71_180.jpeg 180w, https:\/\/img.staticdj.com\/d5bb8a5cfc6b2b61fba0d0a10c46df71_360.jpeg 360w, https:\/\/img.staticdj.com\/d5bb8a5cfc6b2b61fba0d0a10c46df71_540.jpeg 540w, https:\/\/img.staticdj.com\/d5bb8a5cfc6b2b61fba0d0a10c46df71_720.jpeg 720w, https:\/\/img.staticdj.com\/d5bb8a5cfc6b2b61fba0d0a10c46df71_900.jpeg 900w, https:\/\/img.staticdj.com\/d5bb8a5cfc6b2b61fba0d0a10c46df71_1080.jpeg 1080w, https:\/\/img.staticdj.com\/d5bb8a5cfc6b2b61fba0d0a10c46df71_1296.jpeg 1296w, https:\/\/img.staticdj.com\/d5bb8a5cfc6b2b61fba0d0a10c46df71_1512.jpeg 1512w, https:\/\/img.staticdj.com\/d5bb8a5cfc6b2b61fba0d0a10c46df71_1728.jpeg 1728w, https:\/\/img.staticdj.com\/d5bb8a5cfc6b2b61fba0d0a10c46df71_1944.jpeg 1944w, https:\/\/img.staticdj.com\/d5bb8a5cfc6b2b61fba0d0a10c46df71_2160.jpeg 2160w, https:\/\/img.staticdj.com\/d5bb8a5cfc6b2b61fba0d0a10c46df71_2376.jpeg 2376w, https:\/\/img.staticdj.com\/d5bb8a5cfc6b2b61fba0d0a10c46df71_2592.jpeg 2592w, https:\/\/img.staticdj.com\/d5bb8a5cfc6b2b61fba0d0a10c46df71_2808.jpeg 2808w, https:\/\/img.staticdj.com\/d5bb8a5cfc6b2b61fba0d0a10c46df71_3024.jpeg 3024w\" sizes=\"483px\" data-srcset=\"https:\/\/img.staticdj.com\/d5bb8a5cfc6b2b61fba0d0a10c46df71_180.jpeg 180w, https:\/\/img.staticdj.com\/d5bb8a5cfc6b2b61fba0d0a10c46df71_360.jpeg 360w, https:\/\/img.staticdj.com\/d5bb8a5cfc6b2b61fba0d0a10c46df71_540.jpeg 540w, https:\/\/img.staticdj.com\/d5bb8a5cfc6b2b61fba0d0a10c46df71_720.jpeg 720w, https:\/\/img.staticdj.com\/d5bb8a5cfc6b2b61fba0d0a10c46df71_900.jpeg 900w, https:\/\/img.staticdj.com\/d5bb8a5cfc6b2b61fba0d0a10c46df71_1080.jpeg 1080w, https:\/\/img.staticdj.com\/d5bb8a5cfc6b2b61fba0d0a10c46df71_1296.jpeg 1296w, https:\/\/img.staticdj.com\/d5bb8a5cfc6b2b61fba0d0a10c46df71_1512.jpeg 1512w, https:\/\/img.staticdj.com\/d5bb8a5cfc6b2b61fba0d0a10c46df71_1728.jpeg 1728w, https:\/\/img.staticdj.com\/d5bb8a5cfc6b2b61fba0d0a10c46df71_1944.jpeg 1944w, https:\/\/img.staticdj.com\/d5bb8a5cfc6b2b61fba0d0a10c46df71_2160.jpeg 2160w, https:\/\/img.staticdj.com\/d5bb8a5cfc6b2b61fba0d0a10c46df71_2376.jpeg 2376w, https:\/\/img.staticdj.com\/d5bb8a5cfc6b2b61fba0d0a10c46df71_2592.jpeg 2592w, https:\/\/img.staticdj.com\/d5bb8a5cfc6b2b61fba0d0a10c46df71_2808.jpeg 2808w, https:\/\/img.staticdj.com\/d5bb8a5cfc6b2b61fba0d0a10c46df71_3024.jpeg 3024w\" data-aspect-ratio=\"0.62\" height=\"294\" width=\"474\" alt=\"afternoon tea\" data-sizes=\"auto\" class=\"a-spacing-base sep-lazyload lazyautosizes lazyloaded\" data-mce-fragment=\"1\"\u003e\u003c\/h4\u003e\n\u003cul\u003e\n\u003cli\u003ePerfect for interactive.It's fun for the afternoon tea with your friend\u003c\/li\u003e\n\u003cli\u003eYou can enjoy immense hours of fun trying to stack all of the mini plastic chairs, without falling or dropping in mid-way, so that the pile remains steady and stable If one drops, you lose and it's your partners go.\u003c\/li\u003e\n\u003c\/ul\u003e\n\u003cp class=\"a-spacing-base\" data-mce-fragment=\"1\"\u003e\u003cspan style=\"color: #ff2a00;\"\u003eWatch out: One wrong move and the whole structure could fall!\u003c\/span\u003e\u003c\/p\u003e\n\u003ch4 class=\"a-spacing-base\" data-mce-fragment=\"1\"\u003e\u003cspan style=\"color: #ff8000;\"\u003e\u003cem data-mce-fragment=\"1\"\u003e\u003cstrong data-mce-fragment=\"1\"\u003eIt is recommended to buy multiple pieces, and many people can participate in the game.\u003c\/strong\u003e\u003c\/em\u003e\u003c\/span\u003e\u003c\/h4\u003e\n\u003cdiv class=\"apm-eventhirdcol apm-floatleft\" data-mce-fragment=\"1\"\u003e\n\u003cp data-mce-fragment=\"1\"\u003e\u003cimg style=\"display: block; margin-left: auto; margin-right: auto;\" srcset=\"https:\/\/img.staticdj.com\/dededcfea3128b39df4f7f536cfa00da_180.jpg 180w, https:\/\/img.staticdj.com\/dededcfea3128b39df4f7f536cfa00da_360.jpg 360w, https:\/\/img.staticdj.com\/dededcfea3128b39df4f7f536cfa00da_540.jpg 540w, https:\/\/img.staticdj.com\/dededcfea3128b39df4f7f536cfa00da_720.jpg 720w, https:\/\/img.staticdj.com\/dededcfea3128b39df4f7f536cfa00da_900.jpg 900w, https:\/\/img.staticdj.com\/dededcfea3128b39df4f7f536cfa00da_1080.jpg 1080w, https:\/\/img.staticdj.com\/dededcfea3128b39df4f7f536cfa00da_1296.jpg 1296w, https:\/\/img.staticdj.com\/dededcfea3128b39df4f7f536cfa00da_1512.jpg 1512w, https:\/\/img.staticdj.com\/dededcfea3128b39df4f7f536cfa00da_1728.jpg 1728w, https:\/\/img.staticdj.com\/dededcfea3128b39df4f7f536cfa00da_1944.jpg 1944w, https:\/\/img.staticdj.com\/dededcfea3128b39df4f7f536cfa00da_2160.jpg 2160w, https:\/\/img.staticdj.com\/dededcfea3128b39df4f7f536cfa00da_2376.jpg 2376w, https:\/\/img.staticdj.com\/dededcfea3128b39df4f7f536cfa00da_2592.jpg 2592w, https:\/\/img.staticdj.com\/dededcfea3128b39df4f7f536cfa00da_2808.jpg 2808w, https:\/\/img.staticdj.com\/dededcfea3128b39df4f7f536cfa00da_3024.jpg 3024w\" sizes=\"483px\" data-srcset=\"https:\/\/img.staticdj.com\/dededcfea3128b39df4f7f536cfa00da_180.jpg 180w, https:\/\/img.staticdj.com\/dededcfea3128b39df4f7f536cfa00da_360.jpg 360w, https:\/\/img.staticdj.com\/dededcfea3128b39df4f7f536cfa00da_540.jpg 540w, https:\/\/img.staticdj.com\/dededcfea3128b39df4f7f536cfa00da_720.jpg 720w, https:\/\/img.staticdj.com\/dededcfea3128b39df4f7f536cfa00da_900.jpg 900w, https:\/\/img.staticdj.com\/dededcfea3128b39df4f7f536cfa00da_1080.jpg 1080w, https:\/\/img.staticdj.com\/dededcfea3128b39df4f7f536cfa00da_1296.jpg 1296w, https:\/\/img.staticdj.com\/dededcfea3128b39df4f7f536cfa00da_1512.jpg 1512w, https:\/\/img.staticdj.com\/dededcfea3128b39df4f7f536cfa00da_1728.jpg 1728w, https:\/\/img.staticdj.com\/dededcfea3128b39df4f7f536cfa00da_1944.jpg 1944w, https:\/\/img.staticdj.com\/dededcfea3128b39df4f7f536cfa00da_2160.jpg 2160w, https:\/\/img.staticdj.com\/dededcfea3128b39df4f7f536cfa00da_2376.jpg 2376w, https:\/\/img.staticdj.com\/dededcfea3128b39df4f7f536cfa00da_2592.jpg 2592w, https:\/\/img.staticdj.com\/dededcfea3128b39df4f7f536cfa00da_2808.jpg 2808w, https:\/\/img.staticdj.com\/dededcfea3128b39df4f7f536cfa00da_3024.jpg 3024w\" height=\"385\" width=\"385\" alt=\"\" data-sizes=\"auto\" class=\"sep-lazyload lazyautosizes lazyloaded\" data-mce-fragment=\"1\"\u003e\u003c\/p\u003e\n\u003cp data-mce-fragment=\"1\"\u003e\u003cspan style=\"color: #ff8000;\"\u003e\u003cstrong\u003eSpecification:\u003c\/strong\u003e\u003c\/span\u003e\u003c\/p\u003e\n\u003cul\u003e\n\u003cli\u003eSize:\u003cspan data-mce-fragment=\"1\"\u003e5.1*2.8CM ×18PCS\u003c\/span\u003e\n\u003c\/li\u003e\n\u003cli\u003e\u003cspan data-mce-fragment=\"1\"\u003ePackage Size: 15*20.5*3.5CM\u003c\/span\u003e\u003c\/li\u003e\n\u003cli\u003eMaterial:Plastic\u003c\/li\u003e\n\u003cli\u003eNumber of Pieces:18PCS\u003c\/li\u003e\n\u003cli\u003eRecommended age:3 years and up\u003c\/li\u003e\n\u003c\/ul\u003e\n\u003cp\u003e\u003cimg alt=\"\" src=\"https:\/\/cdn.shopifycdn.net\/s\/files\/1\/0274\/6538\/4014\/files\/9f51552b11f9d48d1aa47638aceefcfb_480x480.jpg?v=1611297517\" style=\"display: block; margin-left: auto; margin-right: auto;\" width=\"422\" height=\"422\"\u003e\u003c\/p\u003e\n\u003c\/div\u003e"}
Chairs Stacking Tower Balancing Game
Adding product to your cart
Children can practice their hand-eye coordination and hand-on skills A great developmental toy for beginners.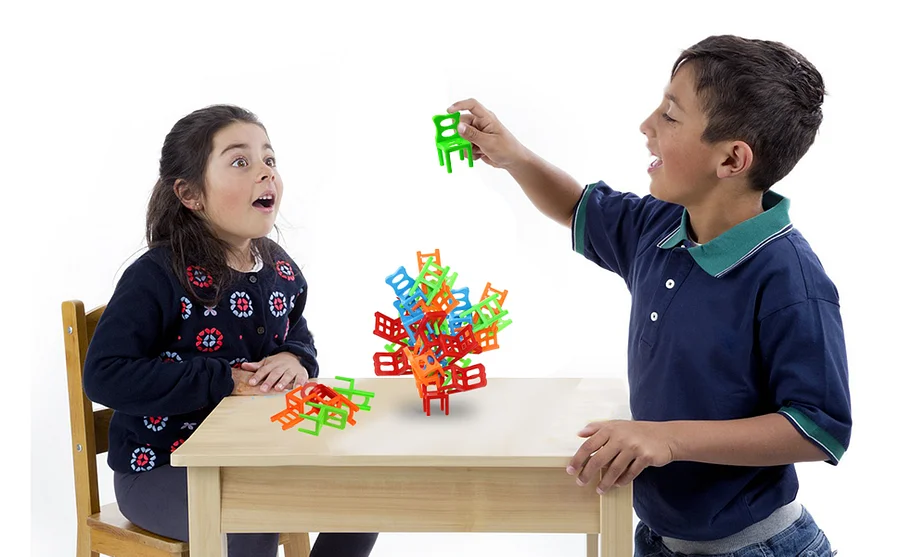 Stacking chairs is a fun family game. There are so many ways to stack the chairs and the game is much harder than it looks.
This board game is for players of all ages! The game develops creative thinking, cooperation, and fine motor skills!
Each player takes a turn stacking the chairs, focusing on balancing and position to prevent the chairs front falling down.
Training child's coordinates observance ability to think, sense capacity, visual and grasp capacity etc.
Cleverly designed, entertaining multiple children to play at a time, Promotes friendship, communication and logic between players. Suit for home, nursery, playroom, schools, travel, and other child-friendly play area.
It adds a festive and cheery element to your kid's parties and events, they can mix and match colors or trade with friends, and have a totally enjoyable party time experience
Great gift or party favor for kids.
Develop the patience to get along with kids & enhance the emotional communication with children.
Great for social gatherings and party games

Perfect for interactive.It's fun for the afternoon tea with your friend
You can enjoy immense hours of fun trying to stack all of the mini plastic chairs, without falling or dropping in mid-way, so that the pile remains steady and stable If one drops, you lose and it's your partners go.
Watch out: One wrong move and the whole structure could fall!
It is recommended to buy multiple pieces, and many people can participate in the game.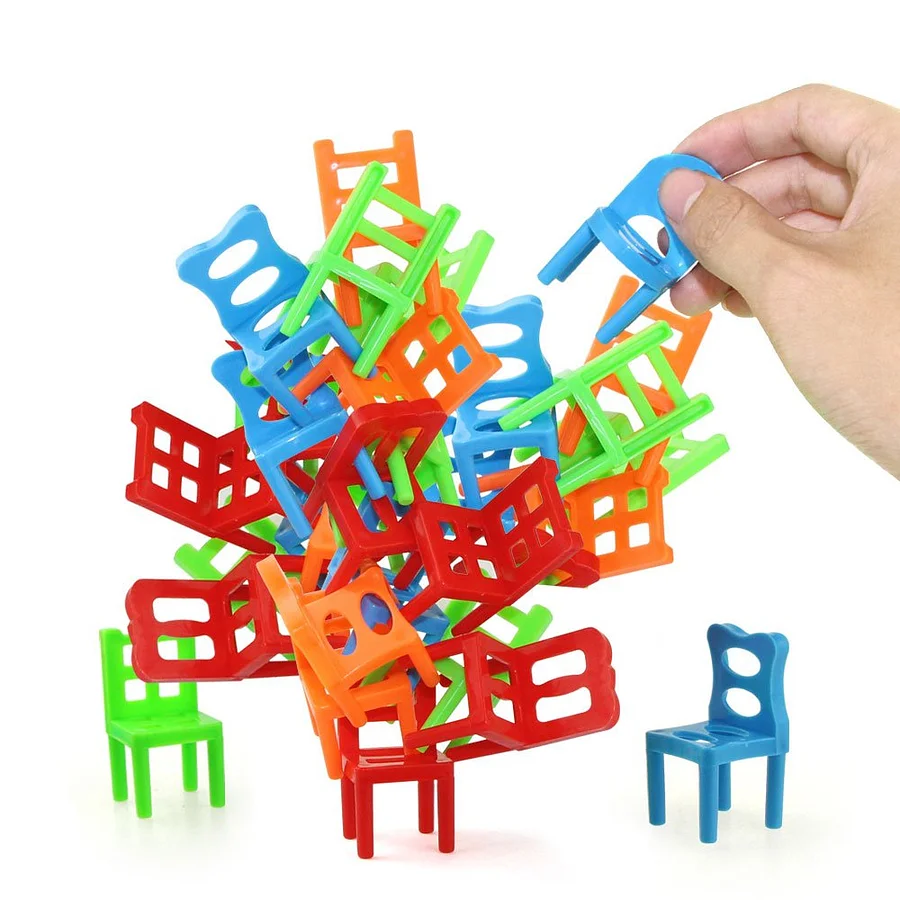 Specification:
Size:

5.1*2.8CM ×18PCS

Package Size: 15*20.5*3.5CM

Material:Plastic
Number of Pieces:18PCS
Recommended age:3 years and up