{"id":7548300558490,"title":"Cat Needle Threader","handle":"cat-needle-threader","description":"\u003cp data-mce-fragment=\"1\"\u003e\u003cspan data-mce-fragment=\"1\" style=\"color: #ff8000;\"\u003e\u003cstrong data-mce-fragment=\"1\"\u003eFEATURES\u003c\/strong\u003e\u003c\/span\u003e\u003c\/p\u003e\n\u003cdiv\u003e\n\u003cul\u003e\n\u003cli\u003e\u003cspan\u003e😻\u003cstrong\u003e\u003cspan style=\"color: #b8a7cf;\"\u003eThread your needles easily with the cutest needle threaders on the market!\u003c\/span\u003e \u003c\/strong\u003eA threader minder is a needle threader that doubles as a needle minder. Each threader is made with fine, strong wire compatible with almost all needle eye sizes.\u003c\/span\u003e\u003c\/li\u003e\n\u003c\/ul\u003e\n\u003c\/div\u003e\n\u003cdiv\u003e\n\u003cspan\u003e\u003cimg src=\"https:\/\/img-va.myshopline.com\/image\/store\/2000283284\/1650441738136\/92f56650fcd64c51b0ffddf7b6359a0d.jpg?w=800\u0026amp;h=800\" alt=\"\" width=\"484\" height=\"484\" data-src=\"https:\/\/img-va.myshopline.com\/image\/store\/2000283284\/1650441738136\/92f56650fcd64c51b0ffddf7b6359a0d.jpg?w=800\u0026amp;h=800\" data-loaded=\"true\" style=\"display: block; margin-left: auto; margin-right: auto;\"\u003e\u003c\/span\u003e\u003cbr\u003e\n\u003cul\u003e\n\u003cli\u003e\u003cspan\u003e⭐Choices include a brown cat, a calico cat, a black and white cat, a grey cat, a white cat with Siamese Markings, and a pink cat in an adorable hanging position.\u003c\/span\u003e\u003c\/li\u003e\n\u003c\/ul\u003e\n\u003c\/div\u003e\n\u003cdiv\u003e\u003cspan\u003e\u003cimg src=\"https:\/\/img-va.myshopline.com\/image\/store\/2000283284\/1650441738136\/0dc961955d53403a99f01e2f96d2385b.jpg?w=800\u0026amp;h=800\" alt=\"\" width=\"500\" height=\"500\" data-src=\"https:\/\/img-va.myshopline.com\/image\/store\/2000283284\/1650441738136\/0dc961955d53403a99f01e2f96d2385b.jpg?w=800\u0026amp;h=800\" data-loaded=\"true\" style=\"display: block; margin-left: auto; margin-right: auto;\"\u003e\u003c\/span\u003e\u003c\/div\u003e\n\u003cdiv\u003e\n\u003cul\u003e\n\u003cli\u003e\u003cspan\u003e💕\u003cspan style=\"color: #b8a7cf;\"\u003e\u003cstrong\u003eNot only are these threaders beautiful, but they are also more durable than most fine wire threaders. \u003c\/strong\u003e\u003c\/span\u003eThese threaders make the perfect gift for the cat-loving cross-stitcher, embroiderer, sewist, seamstress, or sewer in your life.\u003c\/span\u003e\u003c\/li\u003e\n\u003c\/ul\u003e\n\u003c\/div\u003e\n\u003cdiv\u003e\u003cspan\u003e\u003cimg src=\"https:\/\/img-va.myshopline.com\/image\/store\/2000283284\/1650441738136\/d511eb8fc45e48539108f13fe25e473b.jpg?w=800\u0026amp;h=800\" alt=\"\" width=\"490\" height=\"490\" data-src=\"https:\/\/img-va.myshopline.com\/image\/store\/2000283284\/1650441738136\/d511eb8fc45e48539108f13fe25e473b.jpg?w=800\u0026amp;h=800\" data-loaded=\"true\" style=\"display: block; margin-left: auto; margin-right: auto;\"\u003e\u003c\/span\u003e\u003c\/div\u003e\n\u003cp data-mce-fragment=\"1\"\u003e\u003cspan data-mce-fragment=\"1\" style=\"color: #ff8000;\"\u003e\u003cstrong data-mce-fragment=\"1\"\u003eSPECIFICATIONS\u003c\/strong\u003e\u003c\/span\u003e\u003cspan data-mce-fragment=\"1\"\u003e\u003c\/span\u003e\u003cspan data-mce-fragment=\"1\"\u003e\u003c\/span\u003e\u003c\/p\u003e\n\u003cul data-mce-fragment=\"1\"\u003e\n\u003cli data-mce-fragment=\"1\"\u003e\n\u003cp data-mce-fragment=\"1\"\u003e\u003cstrong data-mce-fragment=\"1\"\u003eMaterial:\u003c\/strong\u003e\u003cspan data-mce-fragment=\"1\"\u003e Alloy\u003c\/span\u003e\u003c\/p\u003e\n\u003c\/li\u003e\n\u003cli data-mce-fragment=\"1\"\u003e\n\u003cp data-mce-fragment=\"1\"\u003e\u003cstrong data-mce-fragment=\"1\"\u003eWeight:\u003c\/strong\u003e\u003cspan data-mce-fragment=\"1\"\u003e 1.2\u003c\/span\u003eg\u003c\/p\u003e\n\u003c\/li\u003e\n\u003cli data-mce-fragment=\"1\"\u003e\n\u003cp data-mce-fragment=\"1\"\u003e\u003cstrong data-mce-fragment=\"1\"\u003e\u003cspan data-mce-fragment=\"1\" class=\"Polaris-TextStyle--variationStrong_rpyvj\"\u003eColor:\u003c\/span\u003e\u003c\/strong\u003e\u003cspan data-mce-fragment=\"1\" class=\"Polaris-TextStyle--variationStrong_rpyvj\"\u003e\u003cspan data-mce-fragment=\"1\"\u003e \u003cspan data-mce-fragment=\"1\" class=\"Polaris-Badge_2qgie\"\u003eWhite, \u003c\/span\u003e\u003cspan data-mce-fragment=\"1\" class=\"Polaris-Badge_2qgie\"\u003eBlack, \u003c\/span\u003e\u003cspan data-mce-fragment=\"1\" class=\"Polaris-Badge_2qgie\"\u003eGray, \u003c\/span\u003e\u003cspan data-mce-fragment=\"1\" class=\"Polaris-Badge_2qgie\"\u003eYellow, \u003c\/span\u003e\u003cspan data-mce-fragment=\"1\" class=\"Polaris-Badge_2qgie\"\u003eOrange, \u003c\/span\u003e\u003cspan data-mce-fragment=\"1\" class=\"Polaris-Badge_2qgie\"\u003ePink\u003c\/span\u003e\u003c\/span\u003e\u003c\/span\u003e\u003c\/p\u003e\n\u003c\/li\u003e\n\u003cli data-mce-fragment=\"1\"\u003e\n\u003cp data-mce-fragment=\"1\"\u003e\u003cspan data-mce-fragment=\"1\"\u003e\u003cstrong data-mce-fragment=\"1\"\u003eSize:\u003c\/strong\u003e 2.5*1.1cm\/0.98*0.43in\u003c\/span\u003e\u003c\/p\u003e\n\u003c\/li\u003e\n\u003c\/ul\u003e\n\u003cul data-mce-fragment=\"1\"\u003e\u003c\/ul\u003e\n\u003cul data-mce-fragment=\"1\"\u003e\u003c\/ul\u003e\n\u003cul data-mce-fragment=\"1\"\u003e\u003c\/ul\u003e\n\u003cul data-mce-fragment=\"1\"\u003e\u003c\/ul\u003e\n\u003cul data-mce-fragment=\"1\"\u003e\u003c\/ul\u003e\n\u003cul data-mce-fragment=\"1\"\u003e\u003c\/ul\u003e\n\u003cspan data-mce-fragment=\"1\" style=\"color: #ff8000;\"\u003e\u003cstrong data-mce-fragment=\"1\"\u003ePACKAGE\u003c\/strong\u003e\u003c\/span\u003e\u003cspan data-mce-fragment=\"1\"\u003e\u003c\/span\u003e\u003cspan data-mce-fragment=\"1\"\u003e\u003c\/span\u003e\u003cspan data-mce-fragment=\"1\"\u003e\u003c\/span\u003e\u003cspan data-mce-fragment=\"1\"\u003e\u003c\/span\u003e\u003cspan data-mce-fragment=\"1\"\u003e\u003c\/span\u003e\u003cspan data-mce-fragment=\"1\"\u003e\u003c\/span\u003e\u003cspan data-mce-fragment=\"1\"\u003e\u003c\/span\u003e\u003cspan data-mce-fragment=\"1\"\u003e\u003c\/span\u003e\u003cspan data-mce-fragment=\"1\"\u003e\u003c\/span\u003e\u003cspan data-mce-fragment=\"1\"\u003e\u003c\/span\u003e\u003cspan data-mce-fragment=\"1\"\u003e\u003c\/span\u003e\u003cspan data-mce-fragment=\"1\"\u003e\u003c\/span\u003e\u003cspan data-mce-fragment=\"1\"\u003e\u003c\/span\u003e\u003cspan data-mce-fragment=\"1\"\u003e\u003c\/span\u003e\u003cspan data-mce-fragment=\"1\"\u003e\u003c\/span\u003e\n\u003cul data-mce-fragment=\"1\"\u003e\n\u003cli data-mce-fragment=\"1\"\u003e1 Pair * Cat Needle Threader\u003c\/li\u003e\n\u003c\/ul\u003e\n\u003cspan data-mce-fragment=\"1\" style=\"color: #ff8000;\"\u003e\u003cstrong data-mce-fragment=\"1\"\u003eNOTE\u003c\/strong\u003e\u003c\/span\u003e\u003cspan data-mce-fragment=\"1\"\u003e\u003c\/span\u003e\u003cspan data-mce-fragment=\"1\"\u003e\u003c\/span\u003e\u003cspan data-mce-fragment=\"1\"\u003e\u003c\/span\u003e\u003cspan data-mce-fragment=\"1\"\u003e\u003c\/span\u003e\u003cspan data-mce-fragment=\"1\"\u003e\u003c\/span\u003e\u003cspan data-mce-fragment=\"1\"\u003e\u003c\/span\u003e\u003cspan data-mce-fragment=\"1\"\u003e\u003c\/span\u003e\u003cspan data-mce-fragment=\"1\"\u003e\u003c\/span\u003e\u003cspan data-mce-fragment=\"1\"\u003e\u003c\/span\u003e\u003cspan data-mce-fragment=\"1\"\u003e\u003c\/span\u003e\u003cspan data-mce-fragment=\"1\"\u003e\u003c\/span\u003e\u003cspan data-mce-fragment=\"1\"\u003e\u003c\/span\u003e\u003cspan data-mce-fragment=\"1\"\u003e\u003c\/span\u003e\u003cspan data-mce-fragment=\"1\"\u003e\u003c\/span\u003e\u003cspan data-mce-fragment=\"1\"\u003e\u003c\/span\u003e\n\u003cul data-mce-fragment=\"1\"\u003e\n\u003cli data-mce-fragment=\"1\"\u003e\n\u003cp data-mce-fragment=\"1\"\u003e\u003cspan data-mce-fragment=\"1\"\u003ePlease allow slight measurement deviations due to manual measurement.\u003c\/span\u003e\u003c\/p\u003e\n\u003c\/li\u003e\n\u003cli data-mce-fragment=\"1\"\u003e\n\u003cp data-mce-fragment=\"1\"\u003e\u003cspan data-mce-fragment=\"1\"\u003eDue to the different monitor and light effect, the actual color of the item might be slightly different from the color showed in the pictures.\u003c\/span\u003e\u003c\/p\u003e\n\u003c\/li\u003e\n\u003c\/ul\u003e","published_at":"2022-10-25T19:46:57-06:00","created_at":"2022-10-25T19:47:05-06:00","vendor":"luluwin","type":"","tags":["earring"],"price":599,"price_min":599,"price_max":799,"available":true,"price_varies":true,"compare_at_price":1599,"compare_at_price_min":1599,"compare_at_price_max":1599,"compare_at_price_varies":false,"variants":[{"id":42712282890394,"title":"White","option1":"White","option2":null,"option3":null,"sku":"OR39851-C005","requires_shipping":true,"taxable":false,"featured_image":{"id":35359140806810,"product_id":7548300558490,"position":16,"created_at":"2022-10-25T19:47:16-06:00","updated_at":"2022-10-25T19:47:16-06:00","alt":null,"width":800,"height":800,"src":"\/\/www.luluwin.co.uk\/cdn\/shop\/products\/sku1_5558d39c-016c-4a3d-8295-34a184bb2205.jpg?v=1666748836","variant_ids":[42712282890394]},"available":true,"name":"Cat Needle Threader - White","public_title":"White","options":["White"],"price":599,"weight":0,"compare_at_price":null,"inventory_management":null,"barcode":null,"featured_media":{"alt":null,"id":27835004027034,"position":16,"preview_image":{"aspect_ratio":1.0,"height":800,"width":800,"src":"\/\/www.luluwin.co.uk\/cdn\/shop\/products\/sku1_5558d39c-016c-4a3d-8295-34a184bb2205.jpg?v=1666748836"}},"requires_selling_plan":false,"selling_plan_allocations":[]},{"id":42712282923162,"title":"Black","option1":"Black","option2":null,"option3":null,"sku":"OR39851-C001","requires_shipping":true,"taxable":false,"featured_image":{"id":35359139365018,"product_id":7548300558490,"position":12,"created_at":"2022-10-25T19:47:09-06:00","updated_at":"2022-10-25T19:47:09-06:00","alt":null,"width":800,"height":800,"src":"\/\/www.luluwin.co.uk\/cdn\/shop\/products\/sku2_22f13a55-c208-4073-91a2-d530cc461c88.jpg?v=1666748829","variant_ids":[42712282923162]},"available":true,"name":"Cat Needle Threader - Black","public_title":"Black","options":["Black"],"price":599,"weight":0,"compare_at_price":null,"inventory_management":null,"barcode":null,"featured_media":{"alt":null,"id":27835002486938,"position":12,"preview_image":{"aspect_ratio":1.0,"height":800,"width":800,"src":"\/\/www.luluwin.co.uk\/cdn\/shop\/products\/sku2_22f13a55-c208-4073-91a2-d530cc461c88.jpg?v=1666748829"}},"requires_selling_plan":false,"selling_plan_allocations":[]},{"id":42712282955930,"title":"Gray","option1":"Gray","option2":null,"option3":null,"sku":"OR39851-C006","requires_shipping":true,"taxable":false,"featured_image":{"id":35359140085914,"product_id":7548300558490,"position":14,"created_at":"2022-10-25T19:47:12-06:00","updated_at":"2022-10-25T19:47:12-06:00","alt":null,"width":800,"height":800,"src":"\/\/www.luluwin.co.uk\/cdn\/shop\/products\/sku3_eb8fd46b-15d0-4bc9-9815-9f1a1fe7e16e.jpg?v=1666748832","variant_ids":[42712282955930]},"available":true,"name":"Cat Needle Threader - Gray","public_title":"Gray","options":["Gray"],"price":599,"weight":0,"compare_at_price":null,"inventory_management":null,"barcode":null,"featured_media":{"alt":null,"id":27835003207834,"position":14,"preview_image":{"aspect_ratio":1.0,"height":800,"width":800,"src":"\/\/www.luluwin.co.uk\/cdn\/shop\/products\/sku3_eb8fd46b-15d0-4bc9-9815-9f1a1fe7e16e.jpg?v=1666748832"}},"requires_selling_plan":false,"selling_plan_allocations":[]},{"id":42712282988698,"title":"Yellow","option1":"Yellow","option2":null,"option3":null,"sku":"OR39851-C003","requires_shipping":true,"taxable":false,"featured_image":{"id":35359141363866,"product_id":7548300558490,"position":18,"created_at":"2022-10-25T19:47:19-06:00","updated_at":"2022-10-25T19:47:19-06:00","alt":null,"width":800,"height":800,"src":"\/\/www.luluwin.co.uk\/cdn\/shop\/products\/sku4_c274e78e-a7dc-4733-a28f-01a638eba98d.jpg?v=1666748839","variant_ids":[42712282988698]},"available":true,"name":"Cat Needle Threader - Yellow","public_title":"Yellow","options":["Yellow"],"price":599,"weight":0,"compare_at_price":null,"inventory_management":null,"barcode":null,"featured_media":{"alt":null,"id":27835004584090,"position":18,"preview_image":{"aspect_ratio":1.0,"height":800,"width":800,"src":"\/\/www.luluwin.co.uk\/cdn\/shop\/products\/sku4_c274e78e-a7dc-4733-a28f-01a638eba98d.jpg?v=1666748839"}},"requires_selling_plan":false,"selling_plan_allocations":[]},{"id":42712283021466,"title":"Orange","option1":"Orange","option2":null,"option3":null,"sku":"OR39851-C121","requires_shipping":true,"taxable":false,"featured_image":{"id":35359140970650,"product_id":7548300558490,"position":17,"created_at":"2022-10-25T19:47:17-06:00","updated_at":"2022-10-25T19:47:17-06:00","alt":null,"width":800,"height":800,"src":"\/\/www.luluwin.co.uk\/cdn\/shop\/products\/sku5_5f2c55e4-96c3-4326-9b9f-02dd1fd6830e.jpg?v=1666748837","variant_ids":[42712283021466]},"available":true,"name":"Cat Needle Threader - Orange","public_title":"Orange","options":["Orange"],"price":599,"weight":0,"compare_at_price":null,"inventory_management":null,"barcode":null,"featured_media":{"alt":null,"id":27835004223642,"position":17,"preview_image":{"aspect_ratio":1.0,"height":800,"width":800,"src":"\/\/www.luluwin.co.uk\/cdn\/shop\/products\/sku5_5f2c55e4-96c3-4326-9b9f-02dd1fd6830e.jpg?v=1666748837"}},"requires_selling_plan":false,"selling_plan_allocations":[]},{"id":42712283054234,"title":"Pink","option1":"Pink","option2":null,"option3":null,"sku":"OR39851-C009","requires_shipping":true,"taxable":false,"featured_image":{"id":35359139496090,"product_id":7548300558490,"position":13,"created_at":"2022-10-25T19:47:11-06:00","updated_at":"2022-10-25T19:47:11-06:00","alt":null,"width":800,"height":800,"src":"\/\/www.luluwin.co.uk\/cdn\/shop\/products\/sku6_62665278-888d-49f3-bd2e-5101557fd78e.jpg?v=1666748831","variant_ids":[42712283054234]},"available":true,"name":"Cat Needle Threader - Pink","public_title":"Pink","options":["Pink"],"price":599,"weight":0,"compare_at_price":null,"inventory_management":null,"barcode":null,"featured_media":{"alt":null,"id":27835002618010,"position":13,"preview_image":{"aspect_ratio":1.0,"height":800,"width":800,"src":"\/\/www.luluwin.co.uk\/cdn\/shop\/products\/sku6_62665278-888d-49f3-bd2e-5101557fd78e.jpg?v=1666748831"}},"requires_selling_plan":false,"selling_plan_allocations":[]},{"id":42712283087002,"title":"1 Set(6colors)","option1":"1 Set(6colors)","option2":null,"option3":null,"sku":"OR39851-Z07097","requires_shipping":true,"taxable":false,"featured_image":{"id":35359140315290,"product_id":7548300558490,"position":15,"created_at":"2022-10-25T19:47:14-06:00","updated_at":"2022-10-25T19:47:14-06:00","alt":null,"width":800,"height":800,"src":"\/\/www.luluwin.co.uk\/cdn\/shop\/products\/1_2fcfb444-087f-4336-90b0-9a395d51d027.jpg?v=1666748834","variant_ids":[42712283087002]},"available":true,"name":"Cat Needle Threader - 1 Set(6colors)","public_title":"1 Set(6colors)","options":["1 Set(6colors)"],"price":799,"weight":0,"compare_at_price":1599,"inventory_management":null,"barcode":null,"featured_media":{"alt":null,"id":27835003535514,"position":15,"preview_image":{"aspect_ratio":1.0,"height":800,"width":800,"src":"\/\/www.luluwin.co.uk\/cdn\/shop\/products\/1_2fcfb444-087f-4336-90b0-9a395d51d027.jpg?v=1666748834"}},"requires_selling_plan":false,"selling_plan_allocations":[]}],"images":["\/\/www.luluwin.co.uk\/cdn\/shop\/products\/1_e0e7fc64-4c44-4387-8299-4273ef3d66ff.jpg?v=1666748825","\/\/www.luluwin.co.uk\/cdn\/shop\/products\/2_6794f4c9-926f-4029-be91-f30b7377f7ae.jpg?v=1666748825","\/\/www.luluwin.co.uk\/cdn\/shop\/products\/3_22ed70a2-f0d6-4c86-9771-96b3bc9a187c.jpg?v=1666748826","\/\/www.luluwin.co.uk\/cdn\/shop\/products\/4_2139e113-e30f-45ac-9380-4c8845e63382.jpg?v=1666748826","\/\/www.luluwin.co.uk\/cdn\/shop\/products\/5_7f651acc-76a3-4461-afbc-f2e1c12b839f.jpg?v=1666748826","\/\/www.luluwin.co.uk\/cdn\/shop\/products\/6_3f4c6af3-8ab9-4dca-ba93-707e069bb960.jpg?v=1666748826","\/\/www.luluwin.co.uk\/cdn\/shop\/products\/7_eac3fdbd-4820-495c-a3ea-f8898e602900.jpg?v=1666748826","\/\/www.luluwin.co.uk\/cdn\/shop\/products\/8_8207ea71-4391-4479-bd14-0c06b9e881c3.jpg?v=1666748826","\/\/www.luluwin.co.uk\/cdn\/shop\/products\/FM_a6560d15-f789-43f3-9961-f90438c267e5.jpg?v=1666748826","\/\/www.luluwin.co.uk\/cdn\/shop\/products\/FM1_95233e2b-173b-4d44-a887-db6656f3ea22.jpg?v=1666748826","\/\/www.luluwin.co.uk\/cdn\/shop\/products\/b8421501ceee8ed8defa49d79fc692df_4e63f3d6-17fb-4f71-94c4-2780c6e9dec4.jpg?v=1666748826","\/\/www.luluwin.co.uk\/cdn\/shop\/products\/sku2_22f13a55-c208-4073-91a2-d530cc461c88.jpg?v=1666748829","\/\/www.luluwin.co.uk\/cdn\/shop\/products\/sku6_62665278-888d-49f3-bd2e-5101557fd78e.jpg?v=1666748831","\/\/www.luluwin.co.uk\/cdn\/shop\/products\/sku3_eb8fd46b-15d0-4bc9-9815-9f1a1fe7e16e.jpg?v=1666748832","\/\/www.luluwin.co.uk\/cdn\/shop\/products\/1_2fcfb444-087f-4336-90b0-9a395d51d027.jpg?v=1666748834","\/\/www.luluwin.co.uk\/cdn\/shop\/products\/sku1_5558d39c-016c-4a3d-8295-34a184bb2205.jpg?v=1666748836","\/\/www.luluwin.co.uk\/cdn\/shop\/products\/sku5_5f2c55e4-96c3-4326-9b9f-02dd1fd6830e.jpg?v=1666748837","\/\/www.luluwin.co.uk\/cdn\/shop\/products\/sku4_c274e78e-a7dc-4733-a28f-01a638eba98d.jpg?v=1666748839"],"featured_image":"\/\/www.luluwin.co.uk\/cdn\/shop\/products\/1_e0e7fc64-4c44-4387-8299-4273ef3d66ff.jpg?v=1666748825","options":["Color"],"media":[{"alt":null,"id":27835001766042,"position":1,"preview_image":{"aspect_ratio":1.0,"height":800,"width":800,"src":"\/\/www.luluwin.co.uk\/cdn\/shop\/products\/1_e0e7fc64-4c44-4387-8299-4273ef3d66ff.jpg?v=1666748825"},"aspect_ratio":1.0,"height":800,"media_type":"image","src":"\/\/www.luluwin.co.uk\/cdn\/shop\/products\/1_e0e7fc64-4c44-4387-8299-4273ef3d66ff.jpg?v=1666748825","width":800},{"alt":null,"id":27835001831578,"position":2,"preview_image":{"aspect_ratio":1.0,"height":800,"width":800,"src":"\/\/www.luluwin.co.uk\/cdn\/shop\/products\/2_6794f4c9-926f-4029-be91-f30b7377f7ae.jpg?v=1666748825"},"aspect_ratio":1.0,"height":800,"media_type":"image","src":"\/\/www.luluwin.co.uk\/cdn\/shop\/products\/2_6794f4c9-926f-4029-be91-f30b7377f7ae.jpg?v=1666748825","width":800},{"alt":null,"id":27835001864346,"position":3,"preview_image":{"aspect_ratio":1.0,"height":800,"width":800,"src":"\/\/www.luluwin.co.uk\/cdn\/shop\/products\/3_22ed70a2-f0d6-4c86-9771-96b3bc9a187c.jpg?v=1666748826"},"aspect_ratio":1.0,"height":800,"media_type":"image","src":"\/\/www.luluwin.co.uk\/cdn\/shop\/products\/3_22ed70a2-f0d6-4c86-9771-96b3bc9a187c.jpg?v=1666748826","width":800},{"alt":null,"id":27835001897114,"position":4,"preview_image":{"aspect_ratio":1.0,"height":800,"width":800,"src":"\/\/www.luluwin.co.uk\/cdn\/shop\/products\/4_2139e113-e30f-45ac-9380-4c8845e63382.jpg?v=1666748826"},"aspect_ratio":1.0,"height":800,"media_type":"image","src":"\/\/www.luluwin.co.uk\/cdn\/shop\/products\/4_2139e113-e30f-45ac-9380-4c8845e63382.jpg?v=1666748826","width":800},{"alt":null,"id":27835001929882,"position":5,"preview_image":{"aspect_ratio":1.0,"height":800,"width":800,"src":"\/\/www.luluwin.co.uk\/cdn\/shop\/products\/5_7f651acc-76a3-4461-afbc-f2e1c12b839f.jpg?v=1666748826"},"aspect_ratio":1.0,"height":800,"media_type":"image","src":"\/\/www.luluwin.co.uk\/cdn\/shop\/products\/5_7f651acc-76a3-4461-afbc-f2e1c12b839f.jpg?v=1666748826","width":800},{"alt":null,"id":27835001962650,"position":6,"preview_image":{"aspect_ratio":1.0,"height":800,"width":800,"src":"\/\/www.luluwin.co.uk\/cdn\/shop\/products\/6_3f4c6af3-8ab9-4dca-ba93-707e069bb960.jpg?v=1666748826"},"aspect_ratio":1.0,"height":800,"media_type":"image","src":"\/\/www.luluwin.co.uk\/cdn\/shop\/products\/6_3f4c6af3-8ab9-4dca-ba93-707e069bb960.jpg?v=1666748826","width":800},{"alt":null,"id":27835001995418,"position":7,"preview_image":{"aspect_ratio":1.0,"height":800,"width":800,"src":"\/\/www.luluwin.co.uk\/cdn\/shop\/products\/7_eac3fdbd-4820-495c-a3ea-f8898e602900.jpg?v=1666748826"},"aspect_ratio":1.0,"height":800,"media_type":"image","src":"\/\/www.luluwin.co.uk\/cdn\/shop\/products\/7_eac3fdbd-4820-495c-a3ea-f8898e602900.jpg?v=1666748826","width":800},{"alt":null,"id":27835002028186,"position":8,"preview_image":{"aspect_ratio":1.0,"height":800,"width":800,"src":"\/\/www.luluwin.co.uk\/cdn\/shop\/products\/8_8207ea71-4391-4479-bd14-0c06b9e881c3.jpg?v=1666748826"},"aspect_ratio":1.0,"height":800,"media_type":"image","src":"\/\/www.luluwin.co.uk\/cdn\/shop\/products\/8_8207ea71-4391-4479-bd14-0c06b9e881c3.jpg?v=1666748826","width":800},{"alt":null,"id":27835002060954,"position":9,"preview_image":{"aspect_ratio":1.0,"height":800,"width":800,"src":"\/\/www.luluwin.co.uk\/cdn\/shop\/products\/FM_a6560d15-f789-43f3-9961-f90438c267e5.jpg?v=1666748826"},"aspect_ratio":1.0,"height":800,"media_type":"image","src":"\/\/www.luluwin.co.uk\/cdn\/shop\/products\/FM_a6560d15-f789-43f3-9961-f90438c267e5.jpg?v=1666748826","width":800},{"alt":null,"id":27835002093722,"position":10,"preview_image":{"aspect_ratio":1.0,"height":800,"width":800,"src":"\/\/www.luluwin.co.uk\/cdn\/shop\/products\/FM1_95233e2b-173b-4d44-a887-db6656f3ea22.jpg?v=1666748826"},"aspect_ratio":1.0,"height":800,"media_type":"image","src":"\/\/www.luluwin.co.uk\/cdn\/shop\/products\/FM1_95233e2b-173b-4d44-a887-db6656f3ea22.jpg?v=1666748826","width":800},{"alt":null,"id":27835002126490,"position":11,"preview_image":{"aspect_ratio":1.0,"height":800,"width":800,"src":"\/\/www.luluwin.co.uk\/cdn\/shop\/products\/b8421501ceee8ed8defa49d79fc692df_4e63f3d6-17fb-4f71-94c4-2780c6e9dec4.jpg?v=1666748826"},"aspect_ratio":1.0,"height":800,"media_type":"image","src":"\/\/www.luluwin.co.uk\/cdn\/shop\/products\/b8421501ceee8ed8defa49d79fc692df_4e63f3d6-17fb-4f71-94c4-2780c6e9dec4.jpg?v=1666748826","width":800},{"alt":null,"id":27835002486938,"position":12,"preview_image":{"aspect_ratio":1.0,"height":800,"width":800,"src":"\/\/www.luluwin.co.uk\/cdn\/shop\/products\/sku2_22f13a55-c208-4073-91a2-d530cc461c88.jpg?v=1666748829"},"aspect_ratio":1.0,"height":800,"media_type":"image","src":"\/\/www.luluwin.co.uk\/cdn\/shop\/products\/sku2_22f13a55-c208-4073-91a2-d530cc461c88.jpg?v=1666748829","width":800},{"alt":null,"id":27835002618010,"position":13,"preview_image":{"aspect_ratio":1.0,"height":800,"width":800,"src":"\/\/www.luluwin.co.uk\/cdn\/shop\/products\/sku6_62665278-888d-49f3-bd2e-5101557fd78e.jpg?v=1666748831"},"aspect_ratio":1.0,"height":800,"media_type":"image","src":"\/\/www.luluwin.co.uk\/cdn\/shop\/products\/sku6_62665278-888d-49f3-bd2e-5101557fd78e.jpg?v=1666748831","width":800},{"alt":null,"id":27835003207834,"position":14,"preview_image":{"aspect_ratio":1.0,"height":800,"width":800,"src":"\/\/www.luluwin.co.uk\/cdn\/shop\/products\/sku3_eb8fd46b-15d0-4bc9-9815-9f1a1fe7e16e.jpg?v=1666748832"},"aspect_ratio":1.0,"height":800,"media_type":"image","src":"\/\/www.luluwin.co.uk\/cdn\/shop\/products\/sku3_eb8fd46b-15d0-4bc9-9815-9f1a1fe7e16e.jpg?v=1666748832","width":800},{"alt":null,"id":27835003535514,"position":15,"preview_image":{"aspect_ratio":1.0,"height":800,"width":800,"src":"\/\/www.luluwin.co.uk\/cdn\/shop\/products\/1_2fcfb444-087f-4336-90b0-9a395d51d027.jpg?v=1666748834"},"aspect_ratio":1.0,"height":800,"media_type":"image","src":"\/\/www.luluwin.co.uk\/cdn\/shop\/products\/1_2fcfb444-087f-4336-90b0-9a395d51d027.jpg?v=1666748834","width":800},{"alt":null,"id":27835004027034,"position":16,"preview_image":{"aspect_ratio":1.0,"height":800,"width":800,"src":"\/\/www.luluwin.co.uk\/cdn\/shop\/products\/sku1_5558d39c-016c-4a3d-8295-34a184bb2205.jpg?v=1666748836"},"aspect_ratio":1.0,"height":800,"media_type":"image","src":"\/\/www.luluwin.co.uk\/cdn\/shop\/products\/sku1_5558d39c-016c-4a3d-8295-34a184bb2205.jpg?v=1666748836","width":800},{"alt":null,"id":27835004223642,"position":17,"preview_image":{"aspect_ratio":1.0,"height":800,"width":800,"src":"\/\/www.luluwin.co.uk\/cdn\/shop\/products\/sku5_5f2c55e4-96c3-4326-9b9f-02dd1fd6830e.jpg?v=1666748837"},"aspect_ratio":1.0,"height":800,"media_type":"image","src":"\/\/www.luluwin.co.uk\/cdn\/shop\/products\/sku5_5f2c55e4-96c3-4326-9b9f-02dd1fd6830e.jpg?v=1666748837","width":800},{"alt":null,"id":27835004584090,"position":18,"preview_image":{"aspect_ratio":1.0,"height":800,"width":800,"src":"\/\/www.luluwin.co.uk\/cdn\/shop\/products\/sku4_c274e78e-a7dc-4733-a28f-01a638eba98d.jpg?v=1666748839"},"aspect_ratio":1.0,"height":800,"media_type":"image","src":"\/\/www.luluwin.co.uk\/cdn\/shop\/products\/sku4_c274e78e-a7dc-4733-a28f-01a638eba98d.jpg?v=1666748839","width":800}],"requires_selling_plan":false,"selling_plan_groups":[],"content":"\u003cp data-mce-fragment=\"1\"\u003e\u003cspan data-mce-fragment=\"1\" style=\"color: #ff8000;\"\u003e\u003cstrong data-mce-fragment=\"1\"\u003eFEATURES\u003c\/strong\u003e\u003c\/span\u003e\u003c\/p\u003e\n\u003cdiv\u003e\n\u003cul\u003e\n\u003cli\u003e\u003cspan\u003e😻\u003cstrong\u003e\u003cspan style=\"color: #b8a7cf;\"\u003eThread your needles easily with the cutest needle threaders on the market!\u003c\/span\u003e \u003c\/strong\u003eA threader minder is a needle threader that doubles as a needle minder. Each threader is made with fine, strong wire compatible with almost all needle eye sizes.\u003c\/span\u003e\u003c\/li\u003e\n\u003c\/ul\u003e\n\u003c\/div\u003e\n\u003cdiv\u003e\n\u003cspan\u003e\u003cimg src=\"https:\/\/img-va.myshopline.com\/image\/store\/2000283284\/1650441738136\/92f56650fcd64c51b0ffddf7b6359a0d.jpg?w=800\u0026amp;h=800\" alt=\"\" width=\"484\" height=\"484\" data-src=\"https:\/\/img-va.myshopline.com\/image\/store\/2000283284\/1650441738136\/92f56650fcd64c51b0ffddf7b6359a0d.jpg?w=800\u0026amp;h=800\" data-loaded=\"true\" style=\"display: block; margin-left: auto; margin-right: auto;\"\u003e\u003c\/span\u003e\u003cbr\u003e\n\u003cul\u003e\n\u003cli\u003e\u003cspan\u003e⭐Choices include a brown cat, a calico cat, a black and white cat, a grey cat, a white cat with Siamese Markings, and a pink cat in an adorable hanging position.\u003c\/span\u003e\u003c\/li\u003e\n\u003c\/ul\u003e\n\u003c\/div\u003e\n\u003cdiv\u003e\u003cspan\u003e\u003cimg src=\"https:\/\/img-va.myshopline.com\/image\/store\/2000283284\/1650441738136\/0dc961955d53403a99f01e2f96d2385b.jpg?w=800\u0026amp;h=800\" alt=\"\" width=\"500\" height=\"500\" data-src=\"https:\/\/img-va.myshopline.com\/image\/store\/2000283284\/1650441738136\/0dc961955d53403a99f01e2f96d2385b.jpg?w=800\u0026amp;h=800\" data-loaded=\"true\" style=\"display: block; margin-left: auto; margin-right: auto;\"\u003e\u003c\/span\u003e\u003c\/div\u003e\n\u003cdiv\u003e\n\u003cul\u003e\n\u003cli\u003e\u003cspan\u003e💕\u003cspan style=\"color: #b8a7cf;\"\u003e\u003cstrong\u003eNot only are these threaders beautiful, but they are also more durable than most fine wire threaders. \u003c\/strong\u003e\u003c\/span\u003eThese threaders make the perfect gift for the cat-loving cross-stitcher, embroiderer, sewist, seamstress, or sewer in your life.\u003c\/span\u003e\u003c\/li\u003e\n\u003c\/ul\u003e\n\u003c\/div\u003e\n\u003cdiv\u003e\u003cspan\u003e\u003cimg src=\"https:\/\/img-va.myshopline.com\/image\/store\/2000283284\/1650441738136\/d511eb8fc45e48539108f13fe25e473b.jpg?w=800\u0026amp;h=800\" alt=\"\" width=\"490\" height=\"490\" data-src=\"https:\/\/img-va.myshopline.com\/image\/store\/2000283284\/1650441738136\/d511eb8fc45e48539108f13fe25e473b.jpg?w=800\u0026amp;h=800\" data-loaded=\"true\" style=\"display: block; margin-left: auto; margin-right: auto;\"\u003e\u003c\/span\u003e\u003c\/div\u003e\n\u003cp data-mce-fragment=\"1\"\u003e\u003cspan data-mce-fragment=\"1\" style=\"color: #ff8000;\"\u003e\u003cstrong data-mce-fragment=\"1\"\u003eSPECIFICATIONS\u003c\/strong\u003e\u003c\/span\u003e\u003cspan data-mce-fragment=\"1\"\u003e\u003c\/span\u003e\u003cspan data-mce-fragment=\"1\"\u003e\u003c\/span\u003e\u003c\/p\u003e\n\u003cul data-mce-fragment=\"1\"\u003e\n\u003cli data-mce-fragment=\"1\"\u003e\n\u003cp data-mce-fragment=\"1\"\u003e\u003cstrong data-mce-fragment=\"1\"\u003eMaterial:\u003c\/strong\u003e\u003cspan data-mce-fragment=\"1\"\u003e Alloy\u003c\/span\u003e\u003c\/p\u003e\n\u003c\/li\u003e\n\u003cli data-mce-fragment=\"1\"\u003e\n\u003cp data-mce-fragment=\"1\"\u003e\u003cstrong data-mce-fragment=\"1\"\u003eWeight:\u003c\/strong\u003e\u003cspan data-mce-fragment=\"1\"\u003e 1.2\u003c\/span\u003eg\u003c\/p\u003e\n\u003c\/li\u003e\n\u003cli data-mce-fragment=\"1\"\u003e\n\u003cp data-mce-fragment=\"1\"\u003e\u003cstrong data-mce-fragment=\"1\"\u003e\u003cspan data-mce-fragment=\"1\" class=\"Polaris-TextStyle--variationStrong_rpyvj\"\u003eColor:\u003c\/span\u003e\u003c\/strong\u003e\u003cspan data-mce-fragment=\"1\" class=\"Polaris-TextStyle--variationStrong_rpyvj\"\u003e\u003cspan data-mce-fragment=\"1\"\u003e \u003cspan data-mce-fragment=\"1\" class=\"Polaris-Badge_2qgie\"\u003eWhite, \u003c\/span\u003e\u003cspan data-mce-fragment=\"1\" class=\"Polaris-Badge_2qgie\"\u003eBlack, \u003c\/span\u003e\u003cspan data-mce-fragment=\"1\" class=\"Polaris-Badge_2qgie\"\u003eGray, \u003c\/span\u003e\u003cspan data-mce-fragment=\"1\" class=\"Polaris-Badge_2qgie\"\u003eYellow, \u003c\/span\u003e\u003cspan data-mce-fragment=\"1\" class=\"Polaris-Badge_2qgie\"\u003eOrange, \u003c\/span\u003e\u003cspan data-mce-fragment=\"1\" class=\"Polaris-Badge_2qgie\"\u003ePink\u003c\/span\u003e\u003c\/span\u003e\u003c\/span\u003e\u003c\/p\u003e\n\u003c\/li\u003e\n\u003cli data-mce-fragment=\"1\"\u003e\n\u003cp data-mce-fragment=\"1\"\u003e\u003cspan data-mce-fragment=\"1\"\u003e\u003cstrong data-mce-fragment=\"1\"\u003eSize:\u003c\/strong\u003e 2.5*1.1cm\/0.98*0.43in\u003c\/span\u003e\u003c\/p\u003e\n\u003c\/li\u003e\n\u003c\/ul\u003e\n\u003cul data-mce-fragment=\"1\"\u003e\u003c\/ul\u003e\n\u003cul data-mce-fragment=\"1\"\u003e\u003c\/ul\u003e\n\u003cul data-mce-fragment=\"1\"\u003e\u003c\/ul\u003e\n\u003cul data-mce-fragment=\"1\"\u003e\u003c\/ul\u003e\n\u003cul data-mce-fragment=\"1\"\u003e\u003c\/ul\u003e\n\u003cul data-mce-fragment=\"1\"\u003e\u003c\/ul\u003e\n\u003cspan data-mce-fragment=\"1\" style=\"color: #ff8000;\"\u003e\u003cstrong data-mce-fragment=\"1\"\u003ePACKAGE\u003c\/strong\u003e\u003c\/span\u003e\u003cspan data-mce-fragment=\"1\"\u003e\u003c\/span\u003e\u003cspan data-mce-fragment=\"1\"\u003e\u003c\/span\u003e\u003cspan data-mce-fragment=\"1\"\u003e\u003c\/span\u003e\u003cspan data-mce-fragment=\"1\"\u003e\u003c\/span\u003e\u003cspan data-mce-fragment=\"1\"\u003e\u003c\/span\u003e\u003cspan data-mce-fragment=\"1\"\u003e\u003c\/span\u003e\u003cspan data-mce-fragment=\"1\"\u003e\u003c\/span\u003e\u003cspan data-mce-fragment=\"1\"\u003e\u003c\/span\u003e\u003cspan data-mce-fragment=\"1\"\u003e\u003c\/span\u003e\u003cspan data-mce-fragment=\"1\"\u003e\u003c\/span\u003e\u003cspan data-mce-fragment=\"1\"\u003e\u003c\/span\u003e\u003cspan data-mce-fragment=\"1\"\u003e\u003c\/span\u003e\u003cspan data-mce-fragment=\"1\"\u003e\u003c\/span\u003e\u003cspan data-mce-fragment=\"1\"\u003e\u003c\/span\u003e\u003cspan data-mce-fragment=\"1\"\u003e\u003c\/span\u003e\n\u003cul data-mce-fragment=\"1\"\u003e\n\u003cli data-mce-fragment=\"1\"\u003e1 Pair * Cat Needle Threader\u003c\/li\u003e\n\u003c\/ul\u003e\n\u003cspan data-mce-fragment=\"1\" style=\"color: #ff8000;\"\u003e\u003cstrong data-mce-fragment=\"1\"\u003eNOTE\u003c\/strong\u003e\u003c\/span\u003e\u003cspan data-mce-fragment=\"1\"\u003e\u003c\/span\u003e\u003cspan data-mce-fragment=\"1\"\u003e\u003c\/span\u003e\u003cspan data-mce-fragment=\"1\"\u003e\u003c\/span\u003e\u003cspan data-mce-fragment=\"1\"\u003e\u003c\/span\u003e\u003cspan data-mce-fragment=\"1\"\u003e\u003c\/span\u003e\u003cspan data-mce-fragment=\"1\"\u003e\u003c\/span\u003e\u003cspan data-mce-fragment=\"1\"\u003e\u003c\/span\u003e\u003cspan data-mce-fragment=\"1\"\u003e\u003c\/span\u003e\u003cspan data-mce-fragment=\"1\"\u003e\u003c\/span\u003e\u003cspan data-mce-fragment=\"1\"\u003e\u003c\/span\u003e\u003cspan data-mce-fragment=\"1\"\u003e\u003c\/span\u003e\u003cspan data-mce-fragment=\"1\"\u003e\u003c\/span\u003e\u003cspan data-mce-fragment=\"1\"\u003e\u003c\/span\u003e\u003cspan data-mce-fragment=\"1\"\u003e\u003c\/span\u003e\u003cspan data-mce-fragment=\"1\"\u003e\u003c\/span\u003e\n\u003cul data-mce-fragment=\"1\"\u003e\n\u003cli data-mce-fragment=\"1\"\u003e\n\u003cp data-mce-fragment=\"1\"\u003e\u003cspan data-mce-fragment=\"1\"\u003ePlease allow slight measurement deviations due to manual measurement.\u003c\/span\u003e\u003c\/p\u003e\n\u003c\/li\u003e\n\u003cli data-mce-fragment=\"1\"\u003e\n\u003cp data-mce-fragment=\"1\"\u003e\u003cspan data-mce-fragment=\"1\"\u003eDue to the different monitor and light effect, the actual color of the item might be slightly different from the color showed in the pictures.\u003c\/span\u003e\u003c\/p\u003e\n\u003c\/li\u003e\n\u003c\/ul\u003e"}
Cat Needle Threader
Adding product to your cart
FEATURES
😻

Thread your needles easily with the cutest needle threaders on the market!

 A threader minder is a needle threader that doubles as a needle minder. Each threader is made with fine, strong wire compatible with almost all needle eye sizes.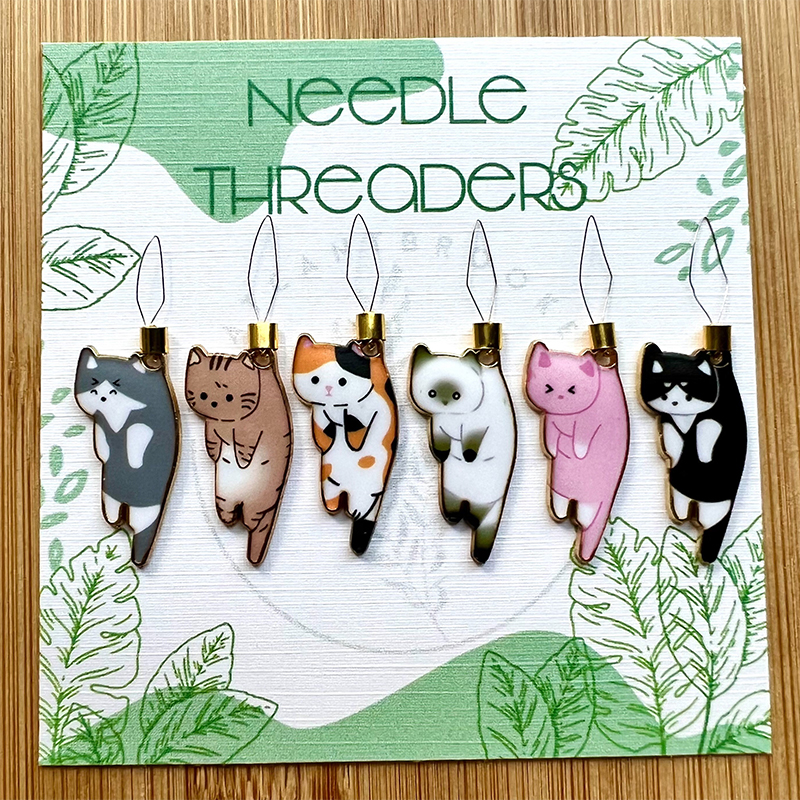 ⭐Choices include a brown cat, a calico cat, a black and white cat, a grey cat, a white cat with Siamese Markings, and a pink cat in an adorable hanging position.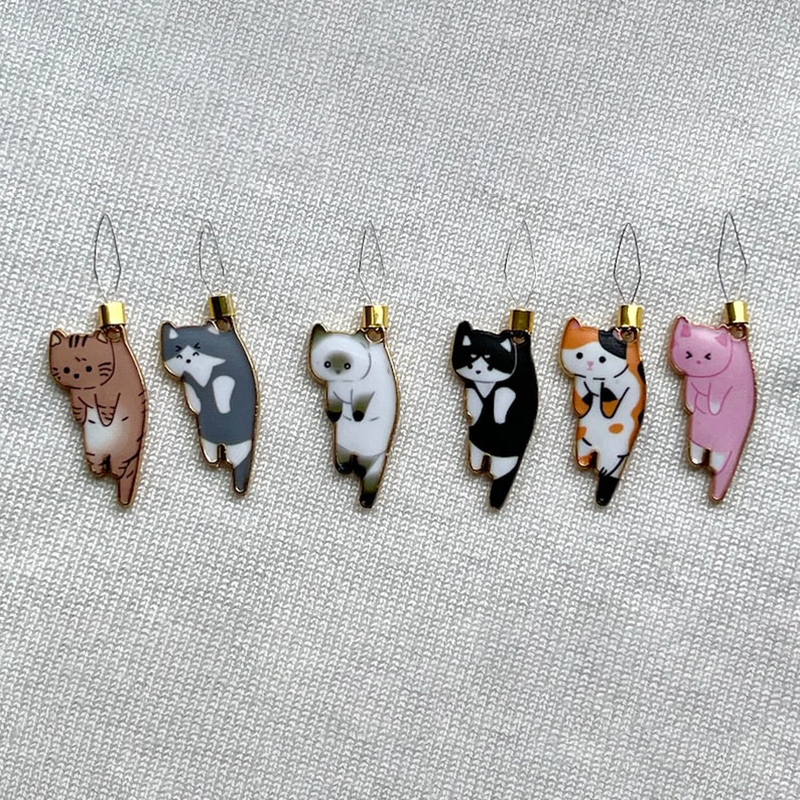 💕Not only are these threaders beautiful, but they are also more durable than most fine wire threaders. These threaders make the perfect gift for the cat-loving cross-stitcher, embroiderer, sewist, seamstress, or sewer in your life.
SPECIFICATIONS
Material: Alloy

Weight: 1.2g

Color: White, Black, Gray, Yellow, Orange, Pink

Size: 2.5*1.1cm/0.98*0.43in
PACKAGE
1 Pair * Cat Needle Threader
NOTE
Please allow slight measurement deviations due to manual measurement.

Due to the different monitor and light effect, the actual color of the item might be slightly different from the color showed in the pictures.