{"id":7406321991834,"title":"Carbon Fiber Texture Frameless For Magnetic charging iPhone Case","handle":"carbon-fiber-texture-frameless-for-magnetic-charging-iphone-case","description":"\u003ch4 style=\"text-align: center;\"\u003e\u003cstrong\u003e📱🎵\u003c\/strong\u003e\u003c\/h4\u003e\n\u003ch4 style=\"text-align: center;\" data-mce-fragment=\"1\"\u003e\u003cspan style=\"color: #3ca399;\"\u003e\u003cstrong\u003eLooking for a metal case that's compatible with your iPhone?\u003c\/strong\u003e\u003c\/span\u003e\u003c\/h4\u003e\n\u003ch4 style=\"text-align: center;\" data-mce-fragment=\"1\"\u003e\u003cspan style=\"color: #e9ab2e;\"\u003e\u003cstrong\u003eLook no further than the Magnetic charging Carbon Fiber Texture Case! \u003c\/strong\u003e\u003c\/span\u003e\u003c\/h4\u003e\n\u003cp\u003e\u003cspan style=\"color: #e9ab2e;\"\u003e\u003cstrong\u003e\u003cimg src=\"https:\/\/img.cdncloud.top\/uploader\/e41e4a00ea7378a4f06851796d3ebe17.gif\" style=\"display: block; margin-left: auto; margin-right: auto;\" width=\"401\" height=\"401\"\u003e\u003c\/strong\u003e\u003c\/span\u003e\u003c\/p\u003e\n\u003cp data-mce-fragment=\"1\"\u003e\u003cstrong\u003e\u003cspan style=\"color: #5383b9;\"\u003eThis case uses the powerful \"N52\" magnet, which is stronger than the \"N48\" magnet found on other cases on the market.\u003c\/span\u003e The built-in magnetic technology allows for 36 \"N52\" magnets to be fixed in independent grooves, ensuring that they won't loosen or fall off over time.\u003c\/strong\u003e\u003c\/p\u003e\n\u003ch4\u003e\u003cimg src=\"https:\/\/img.cdncloud.top\/uploader\/2471c3fd186c37e3dac57b7deadfeea4.gif\" style=\"display: block; margin-left: auto; margin-right: auto;\" width=\"400\" height=\"400\" data-mce-fragment=\"1\" data-mce-src=\"https:\/\/img.cdncloud.top\/uploader\/2471c3fd186c37e3dac57b7deadfeea4.gif\"\u003e\u003c\/h4\u003e\n\u003ch4 data-mce-fragment=\"1\"\u003e\u003cstrong\u003e\u003cspan style=\"color: #54a782;\"\u003eThe four corners use shock-resistant airbags, which can absorb and disperse 99.99% of the impact of falling.\u003c\/span\u003e The frame is designed slightly higher than the camera and screen, whether there are bumps or scratches, it can overcome almost anything and provide excellent protection.\u003c\/strong\u003e\u003c\/h4\u003e\n\u003cp\u003e\u003cstrong\u003e\u003cimg src=\"https:\/\/cdn.hotishop.com\/image\/2022\/07\/b9164dbbb48a83e138f6d5862a29a72a965121d0493cc76486d3bd63827677b9.gif\" style=\"display: block; margin-left: auto; margin-right: auto;\" width=\"400\" height=\"437\"\u003e\u003c\/strong\u003e\u003c\/p\u003e\n\u003ch3 data-mce-fragment=\"1\"\u003e\u003cspan style=\"color: #6a68ae;\"\u003e\u003cstrong\u003eFEATURES\u003c\/strong\u003e\u003c\/span\u003e\u003c\/h3\u003e\n\u003cul\u003e\n\u003cli\u003e\u003cspan style=\"color: #4d9f7b;\"\u003e\u003cstrong\u003e✔️​ DUST FREE LOUDSPEAKERS\u003c\/strong\u003e\u003c\/span\u003e\u003c\/li\u003e\n\u003c\/ul\u003e\n\u003cp style=\"padding-left: 30px;\" data-mce-fragment=\"1\"\u003e\u003cspan style=\"font-weight: 400;\" data-mce-fragment=\"1\" data-mce-style=\"font-weight: 400;\"\u003eThe Magnetic charging Carbon Fiber Texture Case keeps any dust away from your speakers so they keep their clean sound.\u003c\/span\u003e\u003c\/p\u003e\n\u003cul\u003e\n\u003cli\u003e\u003cspan style=\"color: #4d9f7b;\"\u003e\u003cstrong\u003e✔️​ UNIQUE DESIGN\u003c\/strong\u003e\u003c\/span\u003e\u003c\/li\u003e\n\u003c\/ul\u003e\n\u003cp style=\"padding-left: 30px;\" data-mce-fragment=\"1\"\u003e\u003cspan style=\"font-weight: 400;\" data-mce-fragment=\"1\" data-mce-style=\"font-weight: 400;\"\u003eOur Magnetic charging durable high-end aramid fiber Case makes your iPhone something unique. It becomes an eye-catcher and in addition it gets the best possible protection.\u003c\/span\u003e\u003c\/p\u003e\n\u003cdiv\u003e\u003cimg src=\"https:\/\/cdn.shopifycdn.net\/s\/files\/1\/0040\/2728\/5539\/products\/FM1_c28bc9c1-3306-4648-b9fb-cfbef29d1d5e_480x480.jpg?v=1658282879\" alt=\"\" style=\"display: block; margin-left: auto; margin-right: auto;\" width=\"400\" height=\"400\" data-mce-fragment=\"1\" data-mce-src=\"https:\/\/cdn.shopifycdn.net\/s\/files\/1\/0040\/2728\/5539\/products\/FM1_c28bc9c1-3306-4648-b9fb-cfbef29d1d5e_480x480.jpg?v=1658282879\"\u003e\u003c\/div\u003e\n\u003cul\u003e\n\u003cli\u003e\u003cspan style=\"color: #4d9f7b;\"\u003e\u003cstrong\u003e✔️​ PROTECTION\u003c\/strong\u003e\u003c\/span\u003e\u003c\/li\u003e\n\u003c\/ul\u003e\n\u003cp style=\"padding-left: 30px;\" data-mce-fragment=\"1\"\u003e\u003cspan style=\"font-weight: 400;\" data-mce-fragment=\"1\" data-mce-style=\"font-weight: 400;\"\u003eRaised bezels provide protection for the screen and camera. Full protection from scratches, daily wear and tear and drops.\u003c\/span\u003e\u003c\/p\u003e\n\u003cul\u003e\n\u003cli\u003e\u003cspan style=\"color: #4d9f7b;\"\u003e\u003cstrong\u003e✔️​ MILITARY GRADE MATERIAL\u003c\/strong\u003e\u003c\/span\u003e\u003c\/li\u003e\n\u003c\/ul\u003e\n\u003cp style=\"padding-left: 30px;\" data-mce-fragment=\"1\"\u003e\u003cspan style=\"font-weight: 400;\" data-mce-fragment=\"1\" data-mce-style=\"font-weight: 400;\"\u003eMade of ultra-light and durable materials that are very comfortable and elegant in the hand.\u003c\/span\u003e\u003c\/p\u003e\n\u003cdiv\u003e\u003cimg src=\"https:\/\/cdn.shopifycdn.net\/s\/files\/1\/0040\/2728\/5539\/products\/FM_960cb095-a1ca-43a8-8bf8-be6368e28101_480x480.jpg?v=1658282879\" alt=\"\" style=\"display: block; margin-left: auto; margin-right: auto;\" width=\"400\" height=\"400\" data-mce-fragment=\"1\" data-mce-src=\"https:\/\/cdn.shopifycdn.net\/s\/files\/1\/0040\/2728\/5539\/products\/FM_960cb095-a1ca-43a8-8bf8-be6368e28101_480x480.jpg?v=1658282879\"\u003e\u003c\/div\u003e\n\u003cul\u003e\n\u003cli\u003e\u003cspan style=\"color: #4d9f7b;\"\u003e\u003cstrong\u003e✔️​ MAGNETIC CHARGING FUNCTION\u003c\/strong\u003e\u003c\/span\u003e\u003c\/li\u003e\n\u003c\/ul\u003e\n\u003cp style=\"padding-left: 30px;\" data-mce-fragment=\"1\"\u003e\u003cspan style=\"font-weight: 400;\" data-mce-fragment=\"1\" data-mce-style=\"font-weight: 400;\"\u003eThe Magnetic charging Case supports charging with Magnetic charging.\u003c\/span\u003e\u003c\/p\u003e\n\u003ch3 data-mce-fragment=\"1\"\u003e\u003cspan style=\"color: #6a68ae;\"\u003e\u003cstrong\u003eSPECIFICATIONS\u003c\/strong\u003e\u003c\/span\u003e\u003c\/h3\u003e\n\u003cul\u003e\n\u003cli\u003e\u003cspan style=\"font-weight: 400;\" data-mce-fragment=\"1\" data-mce-style=\"font-weight: 400;\"\u003e\u003cstrong\u003eMaterial\u003c\/strong\u003e: carbon fiber\u003c\/span\u003e\u003c\/li\u003e\n\u003cli\u003e\u003cspan style=\"font-weight: 400;\" data-mce-fragment=\"1\" data-mce-style=\"font-weight: 400;\"\u003e\u003cstrong\u003eColor\u003c\/strong\u003e: red, black, green, blue, silver black, blue purple\u003c\/span\u003e\u003c\/li\u003e\n\u003cli\u003e\u003cspan style=\"font-weight: 400;\" data-mce-fragment=\"1\" data-mce-style=\"font-weight: 400;\"\u003e\u003cstrong\u003eCompatible models\u003c\/strong\u003e: iPhone 11, iPhone 11 Pro, iPhone 11 Pro Max, iPhone12, iPhone12Pro, iPhone12ProMax, iPhone13, iPhone13Pro, iPhone13ProMax\u003c\/span\u003e\u003c\/li\u003e\n\u003cli\u003e\u003cspan style=\"font-weight: 400;\" data-mce-fragment=\"1\" data-mce-style=\"font-weight: 400;\"\u003e\u003cstrong\u003eWeight\u003c\/strong\u003e: 50g \/ 0.1lb\u003c\/span\u003e\u003c\/li\u003e\n\u003c\/ul\u003e\n\u003ch3 data-mce-fragment=\"1\"\u003e\u003cspan style=\"color: #6a68ae;\"\u003e\u003cstrong\u003ePACKAGE INCLUDED\u003c\/strong\u003e\u003c\/span\u003e\u003c\/h3\u003e\n\u003cul\u003e\n\u003cli\u003e\u003cspan style=\"font-weight: 400;\" data-mce-fragment=\"1\" data-mce-style=\"font-weight: 400;\"\u003e1 × Carbon Fiber Texture Frameless For Magnetic charging iPhone Case\u003c\/span\u003e\u003c\/li\u003e\n\u003c\/ul\u003e","published_at":"2022-07-19T21:22:32-06:00","created_at":"2022-07-19T21:22:42-06:00","vendor":"luluwin","type":"","tags":["phone accessories"],"price":1999,"price_min":1999,"price_max":1999,"available":true,"price_varies":false,"compare_at_price":3899,"compare_at_price_min":3899,"compare_at_price_max":3899,"compare_at_price_varies":false,"variants":[{"id":42220065161370,"title":"silver black \/ iPhone 11","option1":"silver black","option2":"iPhone 11","option3":null,"sku":"CP34270-C503-X15499","requires_shipping":true,"taxable":false,"featured_image":{"id":34428140191898,"product_id":7406321991834,"position":16,"created_at":"2022-07-19T21:22:57-06:00","updated_at":"2022-07-19T21:22:57-06:00","alt":null,"width":800,"height":800,"src":"\/\/www.luluwin.co.uk\/cdn\/shop\/products\/sku6_8bfedfe4-6f41-48cc-ac58-a11a3cb7be47.jpg?v=1658287377","variant_ids":[42220065161370,42220065226906,42220065259674,42220065292442,42220065325210,42220065357978,42220065390746,42220065423514,42220065456282]},"available":true,"name":"Carbon Fiber Texture Frameless For Magnetic charging iPhone Case - silver black \/ iPhone 11","public_title":"silver black \/ iPhone 11","options":["silver black","iPhone 11"],"price":1999,"weight":0,"compare_at_price":3899,"inventory_management":null,"barcode":null,"featured_media":{"alt":null,"id":26887733772442,"position":16,"preview_image":{"aspect_ratio":1.0,"height":800,"width":800,"src":"\/\/www.luluwin.co.uk\/cdn\/shop\/products\/sku6_8bfedfe4-6f41-48cc-ac58-a11a3cb7be47.jpg?v=1658287377"}},"requires_selling_plan":false,"selling_plan_allocations":[]},{"id":42220065226906,"title":"silver black \/ iPhone 11 Pro","option1":"silver black","option2":"iPhone 11 Pro","option3":null,"sku":"CP34270-C503-X18613","requires_shipping":true,"taxable":false,"featured_image":{"id":34428140191898,"product_id":7406321991834,"position":16,"created_at":"2022-07-19T21:22:57-06:00","updated_at":"2022-07-19T21:22:57-06:00","alt":null,"width":800,"height":800,"src":"\/\/www.luluwin.co.uk\/cdn\/shop\/products\/sku6_8bfedfe4-6f41-48cc-ac58-a11a3cb7be47.jpg?v=1658287377","variant_ids":[42220065161370,42220065226906,42220065259674,42220065292442,42220065325210,42220065357978,42220065390746,42220065423514,42220065456282]},"available":true,"name":"Carbon Fiber Texture Frameless For Magnetic charging iPhone Case - silver black \/ iPhone 11 Pro","public_title":"silver black \/ iPhone 11 Pro","options":["silver black","iPhone 11 Pro"],"price":1999,"weight":0,"compare_at_price":3899,"inventory_management":null,"barcode":null,"featured_media":{"alt":null,"id":26887733772442,"position":16,"preview_image":{"aspect_ratio":1.0,"height":800,"width":800,"src":"\/\/www.luluwin.co.uk\/cdn\/shop\/products\/sku6_8bfedfe4-6f41-48cc-ac58-a11a3cb7be47.jpg?v=1658287377"}},"requires_selling_plan":false,"selling_plan_allocations":[]},{"id":42220065259674,"title":"silver black \/ iPhone 11 Pro Max","option1":"silver black","option2":"iPhone 11 Pro Max","option3":null,"sku":"CP34270-C503-X15057","requires_shipping":true,"taxable":false,"featured_image":{"id":34428140191898,"product_id":7406321991834,"position":16,"created_at":"2022-07-19T21:22:57-06:00","updated_at":"2022-07-19T21:22:57-06:00","alt":null,"width":800,"height":800,"src":"\/\/www.luluwin.co.uk\/cdn\/shop\/products\/sku6_8bfedfe4-6f41-48cc-ac58-a11a3cb7be47.jpg?v=1658287377","variant_ids":[42220065161370,42220065226906,42220065259674,42220065292442,42220065325210,42220065357978,42220065390746,42220065423514,42220065456282]},"available":true,"name":"Carbon Fiber Texture Frameless For Magnetic charging iPhone Case - silver black \/ iPhone 11 Pro Max","public_title":"silver black \/ iPhone 11 Pro Max","options":["silver black","iPhone 11 Pro Max"],"price":1999,"weight":0,"compare_at_price":3899,"inventory_management":null,"barcode":null,"featured_media":{"alt":null,"id":26887733772442,"position":16,"preview_image":{"aspect_ratio":1.0,"height":800,"width":800,"src":"\/\/www.luluwin.co.uk\/cdn\/shop\/products\/sku6_8bfedfe4-6f41-48cc-ac58-a11a3cb7be47.jpg?v=1658287377"}},"requires_selling_plan":false,"selling_plan_allocations":[]},{"id":42220065292442,"title":"silver black \/ iPhone12","option1":"silver black","option2":"iPhone12","option3":null,"sku":"CP34270-C503-X27031","requires_shipping":true,"taxable":false,"featured_image":{"id":34428140191898,"product_id":7406321991834,"position":16,"created_at":"2022-07-19T21:22:57-06:00","updated_at":"2022-07-19T21:22:57-06:00","alt":null,"width":800,"height":800,"src":"\/\/www.luluwin.co.uk\/cdn\/shop\/products\/sku6_8bfedfe4-6f41-48cc-ac58-a11a3cb7be47.jpg?v=1658287377","variant_ids":[42220065161370,42220065226906,42220065259674,42220065292442,42220065325210,42220065357978,42220065390746,42220065423514,42220065456282]},"available":true,"name":"Carbon Fiber Texture Frameless For Magnetic charging iPhone Case - silver black \/ iPhone12","public_title":"silver black \/ iPhone12","options":["silver black","iPhone12"],"price":1999,"weight":0,"compare_at_price":3899,"inventory_management":null,"barcode":null,"featured_media":{"alt":null,"id":26887733772442,"position":16,"preview_image":{"aspect_ratio":1.0,"height":800,"width":800,"src":"\/\/www.luluwin.co.uk\/cdn\/shop\/products\/sku6_8bfedfe4-6f41-48cc-ac58-a11a3cb7be47.jpg?v=1658287377"}},"requires_selling_plan":false,"selling_plan_allocations":[]},{"id":42220065325210,"title":"silver black \/ iPhone12Pro","option1":"silver black","option2":"iPhone12Pro","option3":null,"sku":"CP34270-C503-X27032","requires_shipping":true,"taxable":false,"featured_image":{"id":34428140191898,"product_id":7406321991834,"position":16,"created_at":"2022-07-19T21:22:57-06:00","updated_at":"2022-07-19T21:22:57-06:00","alt":null,"width":800,"height":800,"src":"\/\/www.luluwin.co.uk\/cdn\/shop\/products\/sku6_8bfedfe4-6f41-48cc-ac58-a11a3cb7be47.jpg?v=1658287377","variant_ids":[42220065161370,42220065226906,42220065259674,42220065292442,42220065325210,42220065357978,42220065390746,42220065423514,42220065456282]},"available":true,"name":"Carbon Fiber Texture Frameless For Magnetic charging iPhone Case - silver black \/ iPhone12Pro","public_title":"silver black \/ iPhone12Pro","options":["silver black","iPhone12Pro"],"price":1999,"weight":0,"compare_at_price":3899,"inventory_management":null,"barcode":null,"featured_media":{"alt":null,"id":26887733772442,"position":16,"preview_image":{"aspect_ratio":1.0,"height":800,"width":800,"src":"\/\/www.luluwin.co.uk\/cdn\/shop\/products\/sku6_8bfedfe4-6f41-48cc-ac58-a11a3cb7be47.jpg?v=1658287377"}},"requires_selling_plan":false,"selling_plan_allocations":[]},{"id":42220065357978,"title":"silver black \/ iPhone12ProMax","option1":"silver black","option2":"iPhone12ProMax","option3":null,"sku":"CP34270-C503-X27033","requires_shipping":true,"taxable":false,"featured_image":{"id":34428140191898,"product_id":7406321991834,"position":16,"created_at":"2022-07-19T21:22:57-06:00","updated_at":"2022-07-19T21:22:57-06:00","alt":null,"width":800,"height":800,"src":"\/\/www.luluwin.co.uk\/cdn\/shop\/products\/sku6_8bfedfe4-6f41-48cc-ac58-a11a3cb7be47.jpg?v=1658287377","variant_ids":[42220065161370,42220065226906,42220065259674,42220065292442,42220065325210,42220065357978,42220065390746,42220065423514,42220065456282]},"available":true,"name":"Carbon Fiber Texture Frameless For Magnetic charging iPhone Case - silver black \/ iPhone12ProMax","public_title":"silver black \/ iPhone12ProMax","options":["silver black","iPhone12ProMax"],"price":1999,"weight":0,"compare_at_price":3899,"inventory_management":null,"barcode":null,"featured_media":{"alt":null,"id":26887733772442,"position":16,"preview_image":{"aspect_ratio":1.0,"height":800,"width":800,"src":"\/\/www.luluwin.co.uk\/cdn\/shop\/products\/sku6_8bfedfe4-6f41-48cc-ac58-a11a3cb7be47.jpg?v=1658287377"}},"requires_selling_plan":false,"selling_plan_allocations":[]},{"id":42220065390746,"title":"silver black \/ iPhone13","option1":"silver black","option2":"iPhone13","option3":null,"sku":"CP34270-C503-X27028","requires_shipping":true,"taxable":false,"featured_image":{"id":34428140191898,"product_id":7406321991834,"position":16,"created_at":"2022-07-19T21:22:57-06:00","updated_at":"2022-07-19T21:22:57-06:00","alt":null,"width":800,"height":800,"src":"\/\/www.luluwin.co.uk\/cdn\/shop\/products\/sku6_8bfedfe4-6f41-48cc-ac58-a11a3cb7be47.jpg?v=1658287377","variant_ids":[42220065161370,42220065226906,42220065259674,42220065292442,42220065325210,42220065357978,42220065390746,42220065423514,42220065456282]},"available":true,"name":"Carbon Fiber Texture Frameless For Magnetic charging iPhone Case - silver black \/ iPhone13","public_title":"silver black \/ iPhone13","options":["silver black","iPhone13"],"price":1999,"weight":0,"compare_at_price":3899,"inventory_management":null,"barcode":null,"featured_media":{"alt":null,"id":26887733772442,"position":16,"preview_image":{"aspect_ratio":1.0,"height":800,"width":800,"src":"\/\/www.luluwin.co.uk\/cdn\/shop\/products\/sku6_8bfedfe4-6f41-48cc-ac58-a11a3cb7be47.jpg?v=1658287377"}},"requires_selling_plan":false,"selling_plan_allocations":[]},{"id":42220065423514,"title":"silver black \/ iPhone13Pro","option1":"silver black","option2":"iPhone13Pro","option3":null,"sku":"CP34270-C503-X27029","requires_shipping":true,"taxable":false,"featured_image":{"id":34428140191898,"product_id":7406321991834,"position":16,"created_at":"2022-07-19T21:22:57-06:00","updated_at":"2022-07-19T21:22:57-06:00","alt":null,"width":800,"height":800,"src":"\/\/www.luluwin.co.uk\/cdn\/shop\/products\/sku6_8bfedfe4-6f41-48cc-ac58-a11a3cb7be47.jpg?v=1658287377","variant_ids":[42220065161370,42220065226906,42220065259674,42220065292442,42220065325210,42220065357978,42220065390746,42220065423514,42220065456282]},"available":true,"name":"Carbon Fiber Texture Frameless For Magnetic charging iPhone Case - silver black \/ iPhone13Pro","public_title":"silver black \/ iPhone13Pro","options":["silver black","iPhone13Pro"],"price":1999,"weight":0,"compare_at_price":3899,"inventory_management":null,"barcode":null,"featured_media":{"alt":null,"id":26887733772442,"position":16,"preview_image":{"aspect_ratio":1.0,"height":800,"width":800,"src":"\/\/www.luluwin.co.uk\/cdn\/shop\/products\/sku6_8bfedfe4-6f41-48cc-ac58-a11a3cb7be47.jpg?v=1658287377"}},"requires_selling_plan":false,"selling_plan_allocations":[]},{"id":42220065456282,"title":"silver black \/ iPhone13ProMax","option1":"silver black","option2":"iPhone13ProMax","option3":null,"sku":"CP34270-C503-X27030","requires_shipping":true,"taxable":false,"featured_image":{"id":34428140191898,"product_id":7406321991834,"position":16,"created_at":"2022-07-19T21:22:57-06:00","updated_at":"2022-07-19T21:22:57-06:00","alt":null,"width":800,"height":800,"src":"\/\/www.luluwin.co.uk\/cdn\/shop\/products\/sku6_8bfedfe4-6f41-48cc-ac58-a11a3cb7be47.jpg?v=1658287377","variant_ids":[42220065161370,42220065226906,42220065259674,42220065292442,42220065325210,42220065357978,42220065390746,42220065423514,42220065456282]},"available":true,"name":"Carbon Fiber Texture Frameless For Magnetic charging iPhone Case - silver black \/ iPhone13ProMax","public_title":"silver black \/ iPhone13ProMax","options":["silver black","iPhone13ProMax"],"price":1999,"weight":0,"compare_at_price":3899,"inventory_management":null,"barcode":null,"featured_media":{"alt":null,"id":26887733772442,"position":16,"preview_image":{"aspect_ratio":1.0,"height":800,"width":800,"src":"\/\/www.luluwin.co.uk\/cdn\/shop\/products\/sku6_8bfedfe4-6f41-48cc-ac58-a11a3cb7be47.jpg?v=1658287377"}},"requires_selling_plan":false,"selling_plan_allocations":[]},{"id":42220065489050,"title":"blue purple \/ iPhone 11","option1":"blue purple","option2":"iPhone 11","option3":null,"sku":"CP34270-C1122-X15499","requires_shipping":true,"taxable":false,"featured_image":{"id":34428140126362,"product_id":7406321991834,"position":15,"created_at":"2022-07-19T21:22:55-06:00","updated_at":"2022-07-19T21:22:55-06:00","alt":null,"width":800,"height":800,"src":"\/\/www.luluwin.co.uk\/cdn\/shop\/products\/sku5_7357da82-c6fb-4edc-9578-1bb94fe6ac11.jpg?v=1658287375","variant_ids":[42220065489050,42220065521818,42220065554586,42220065587354,42220065620122,42220065652890,42220065685658,42220065718426,42220065783962]},"available":true,"name":"Carbon Fiber Texture Frameless For Magnetic charging iPhone Case - blue purple \/ iPhone 11","public_title":"blue purple \/ iPhone 11","options":["blue purple","iPhone 11"],"price":1999,"weight":0,"compare_at_price":3899,"inventory_management":null,"barcode":null,"featured_media":{"alt":null,"id":26887733674138,"position":15,"preview_image":{"aspect_ratio":1.0,"height":800,"width":800,"src":"\/\/www.luluwin.co.uk\/cdn\/shop\/products\/sku5_7357da82-c6fb-4edc-9578-1bb94fe6ac11.jpg?v=1658287375"}},"requires_selling_plan":false,"selling_plan_allocations":[]},{"id":42220065521818,"title":"blue purple \/ iPhone 11 Pro","option1":"blue purple","option2":"iPhone 11 Pro","option3":null,"sku":"CP34270-C1122-X18613","requires_shipping":true,"taxable":false,"featured_image":{"id":34428140126362,"product_id":7406321991834,"position":15,"created_at":"2022-07-19T21:22:55-06:00","updated_at":"2022-07-19T21:22:55-06:00","alt":null,"width":800,"height":800,"src":"\/\/www.luluwin.co.uk\/cdn\/shop\/products\/sku5_7357da82-c6fb-4edc-9578-1bb94fe6ac11.jpg?v=1658287375","variant_ids":[42220065489050,42220065521818,42220065554586,42220065587354,42220065620122,42220065652890,42220065685658,42220065718426,42220065783962]},"available":true,"name":"Carbon Fiber Texture Frameless For Magnetic charging iPhone Case - blue purple \/ iPhone 11 Pro","public_title":"blue purple \/ iPhone 11 Pro","options":["blue purple","iPhone 11 Pro"],"price":1999,"weight":0,"compare_at_price":3899,"inventory_management":null,"barcode":null,"featured_media":{"alt":null,"id":26887733674138,"position":15,"preview_image":{"aspect_ratio":1.0,"height":800,"width":800,"src":"\/\/www.luluwin.co.uk\/cdn\/shop\/products\/sku5_7357da82-c6fb-4edc-9578-1bb94fe6ac11.jpg?v=1658287375"}},"requires_selling_plan":false,"selling_plan_allocations":[]},{"id":42220065554586,"title":"blue purple \/ iPhone 11 Pro Max","option1":"blue purple","option2":"iPhone 11 Pro Max","option3":null,"sku":"CP34270-C1122-X15057","requires_shipping":true,"taxable":false,"featured_image":{"id":34428140126362,"product_id":7406321991834,"position":15,"created_at":"2022-07-19T21:22:55-06:00","updated_at":"2022-07-19T21:22:55-06:00","alt":null,"width":800,"height":800,"src":"\/\/www.luluwin.co.uk\/cdn\/shop\/products\/sku5_7357da82-c6fb-4edc-9578-1bb94fe6ac11.jpg?v=1658287375","variant_ids":[42220065489050,42220065521818,42220065554586,42220065587354,42220065620122,42220065652890,42220065685658,42220065718426,42220065783962]},"available":true,"name":"Carbon Fiber Texture Frameless For Magnetic charging iPhone Case - blue purple \/ iPhone 11 Pro Max","public_title":"blue purple \/ iPhone 11 Pro Max","options":["blue purple","iPhone 11 Pro Max"],"price":1999,"weight":0,"compare_at_price":3899,"inventory_management":null,"barcode":null,"featured_media":{"alt":null,"id":26887733674138,"position":15,"preview_image":{"aspect_ratio":1.0,"height":800,"width":800,"src":"\/\/www.luluwin.co.uk\/cdn\/shop\/products\/sku5_7357da82-c6fb-4edc-9578-1bb94fe6ac11.jpg?v=1658287375"}},"requires_selling_plan":false,"selling_plan_allocations":[]},{"id":42220065587354,"title":"blue purple \/ iPhone12","option1":"blue purple","option2":"iPhone12","option3":null,"sku":"CP34270-C1122-X27031","requires_shipping":true,"taxable":false,"featured_image":{"id":34428140126362,"product_id":7406321991834,"position":15,"created_at":"2022-07-19T21:22:55-06:00","updated_at":"2022-07-19T21:22:55-06:00","alt":null,"width":800,"height":800,"src":"\/\/www.luluwin.co.uk\/cdn\/shop\/products\/sku5_7357da82-c6fb-4edc-9578-1bb94fe6ac11.jpg?v=1658287375","variant_ids":[42220065489050,42220065521818,42220065554586,42220065587354,42220065620122,42220065652890,42220065685658,42220065718426,42220065783962]},"available":true,"name":"Carbon Fiber Texture Frameless For Magnetic charging iPhone Case - blue purple \/ iPhone12","public_title":"blue purple \/ iPhone12","options":["blue purple","iPhone12"],"price":1999,"weight":0,"compare_at_price":3899,"inventory_management":null,"barcode":null,"featured_media":{"alt":null,"id":26887733674138,"position":15,"preview_image":{"aspect_ratio":1.0,"height":800,"width":800,"src":"\/\/www.luluwin.co.uk\/cdn\/shop\/products\/sku5_7357da82-c6fb-4edc-9578-1bb94fe6ac11.jpg?v=1658287375"}},"requires_selling_plan":false,"selling_plan_allocations":[]},{"id":42220065620122,"title":"blue purple \/ iPhone12Pro","option1":"blue purple","option2":"iPhone12Pro","option3":null,"sku":"CP34270-C1122-X27032","requires_shipping":true,"taxable":false,"featured_image":{"id":34428140126362,"product_id":7406321991834,"position":15,"created_at":"2022-07-19T21:22:55-06:00","updated_at":"2022-07-19T21:22:55-06:00","alt":null,"width":800,"height":800,"src":"\/\/www.luluwin.co.uk\/cdn\/shop\/products\/sku5_7357da82-c6fb-4edc-9578-1bb94fe6ac11.jpg?v=1658287375","variant_ids":[42220065489050,42220065521818,42220065554586,42220065587354,42220065620122,42220065652890,42220065685658,42220065718426,42220065783962]},"available":true,"name":"Carbon Fiber Texture Frameless For Magnetic charging iPhone Case - blue purple \/ iPhone12Pro","public_title":"blue purple \/ iPhone12Pro","options":["blue purple","iPhone12Pro"],"price":1999,"weight":0,"compare_at_price":3899,"inventory_management":null,"barcode":null,"featured_media":{"alt":null,"id":26887733674138,"position":15,"preview_image":{"aspect_ratio":1.0,"height":800,"width":800,"src":"\/\/www.luluwin.co.uk\/cdn\/shop\/products\/sku5_7357da82-c6fb-4edc-9578-1bb94fe6ac11.jpg?v=1658287375"}},"requires_selling_plan":false,"selling_plan_allocations":[]},{"id":42220065652890,"title":"blue purple \/ iPhone12ProMax","option1":"blue purple","option2":"iPhone12ProMax","option3":null,"sku":"CP34270-C1122-X27033","requires_shipping":true,"taxable":false,"featured_image":{"id":34428140126362,"product_id":7406321991834,"position":15,"created_at":"2022-07-19T21:22:55-06:00","updated_at":"2022-07-19T21:22:55-06:00","alt":null,"width":800,"height":800,"src":"\/\/www.luluwin.co.uk\/cdn\/shop\/products\/sku5_7357da82-c6fb-4edc-9578-1bb94fe6ac11.jpg?v=1658287375","variant_ids":[42220065489050,42220065521818,42220065554586,42220065587354,42220065620122,42220065652890,42220065685658,42220065718426,42220065783962]},"available":true,"name":"Carbon Fiber Texture Frameless For Magnetic charging iPhone Case - blue purple \/ iPhone12ProMax","public_title":"blue purple \/ iPhone12ProMax","options":["blue purple","iPhone12ProMax"],"price":1999,"weight":0,"compare_at_price":3899,"inventory_management":null,"barcode":null,"featured_media":{"alt":null,"id":26887733674138,"position":15,"preview_image":{"aspect_ratio":1.0,"height":800,"width":800,"src":"\/\/www.luluwin.co.uk\/cdn\/shop\/products\/sku5_7357da82-c6fb-4edc-9578-1bb94fe6ac11.jpg?v=1658287375"}},"requires_selling_plan":false,"selling_plan_allocations":[]},{"id":42220065685658,"title":"blue purple \/ iPhone13","option1":"blue purple","option2":"iPhone13","option3":null,"sku":"CP34270-C1122-X27028","requires_shipping":true,"taxable":false,"featured_image":{"id":34428140126362,"product_id":7406321991834,"position":15,"created_at":"2022-07-19T21:22:55-06:00","updated_at":"2022-07-19T21:22:55-06:00","alt":null,"width":800,"height":800,"src":"\/\/www.luluwin.co.uk\/cdn\/shop\/products\/sku5_7357da82-c6fb-4edc-9578-1bb94fe6ac11.jpg?v=1658287375","variant_ids":[42220065489050,42220065521818,42220065554586,42220065587354,42220065620122,42220065652890,42220065685658,42220065718426,42220065783962]},"available":true,"name":"Carbon Fiber Texture Frameless For Magnetic charging iPhone Case - blue purple \/ iPhone13","public_title":"blue purple \/ iPhone13","options":["blue purple","iPhone13"],"price":1999,"weight":0,"compare_at_price":3899,"inventory_management":null,"barcode":null,"featured_media":{"alt":null,"id":26887733674138,"position":15,"preview_image":{"aspect_ratio":1.0,"height":800,"width":800,"src":"\/\/www.luluwin.co.uk\/cdn\/shop\/products\/sku5_7357da82-c6fb-4edc-9578-1bb94fe6ac11.jpg?v=1658287375"}},"requires_selling_plan":false,"selling_plan_allocations":[]},{"id":42220065718426,"title":"blue purple \/ iPhone13Pro","option1":"blue purple","option2":"iPhone13Pro","option3":null,"sku":"CP34270-C1122-X27029","requires_shipping":true,"taxable":false,"featured_image":{"id":34428140126362,"product_id":7406321991834,"position":15,"created_at":"2022-07-19T21:22:55-06:00","updated_at":"2022-07-19T21:22:55-06:00","alt":null,"width":800,"height":800,"src":"\/\/www.luluwin.co.uk\/cdn\/shop\/products\/sku5_7357da82-c6fb-4edc-9578-1bb94fe6ac11.jpg?v=1658287375","variant_ids":[42220065489050,42220065521818,42220065554586,42220065587354,42220065620122,42220065652890,42220065685658,42220065718426,42220065783962]},"available":true,"name":"Carbon Fiber Texture Frameless For Magnetic charging iPhone Case - blue purple \/ iPhone13Pro","public_title":"blue purple \/ iPhone13Pro","options":["blue purple","iPhone13Pro"],"price":1999,"weight":0,"compare_at_price":3899,"inventory_management":null,"barcode":null,"featured_media":{"alt":null,"id":26887733674138,"position":15,"preview_image":{"aspect_ratio":1.0,"height":800,"width":800,"src":"\/\/www.luluwin.co.uk\/cdn\/shop\/products\/sku5_7357da82-c6fb-4edc-9578-1bb94fe6ac11.jpg?v=1658287375"}},"requires_selling_plan":false,"selling_plan_allocations":[]},{"id":42220065783962,"title":"blue purple \/ iPhone13ProMax","option1":"blue purple","option2":"iPhone13ProMax","option3":null,"sku":"CP34270-C1122-X27030","requires_shipping":true,"taxable":false,"featured_image":{"id":34428140126362,"product_id":7406321991834,"position":15,"created_at":"2022-07-19T21:22:55-06:00","updated_at":"2022-07-19T21:22:55-06:00","alt":null,"width":800,"height":800,"src":"\/\/www.luluwin.co.uk\/cdn\/shop\/products\/sku5_7357da82-c6fb-4edc-9578-1bb94fe6ac11.jpg?v=1658287375","variant_ids":[42220065489050,42220065521818,42220065554586,42220065587354,42220065620122,42220065652890,42220065685658,42220065718426,42220065783962]},"available":true,"name":"Carbon Fiber Texture Frameless For Magnetic charging iPhone Case - blue purple \/ iPhone13ProMax","public_title":"blue purple \/ iPhone13ProMax","options":["blue purple","iPhone13ProMax"],"price":1999,"weight":0,"compare_at_price":3899,"inventory_management":null,"barcode":null,"featured_media":{"alt":null,"id":26887733674138,"position":15,"preview_image":{"aspect_ratio":1.0,"height":800,"width":800,"src":"\/\/www.luluwin.co.uk\/cdn\/shop\/products\/sku5_7357da82-c6fb-4edc-9578-1bb94fe6ac11.jpg?v=1658287375"}},"requires_selling_plan":false,"selling_plan_allocations":[]},{"id":42220065816730,"title":"black \/ iPhone 11","option1":"black","option2":"iPhone 11","option3":null,"sku":"CP34270-C001-X15499","requires_shipping":true,"taxable":false,"featured_image":{"id":34428139831450,"product_id":7406321991834,"position":13,"created_at":"2022-07-19T21:22:51-06:00","updated_at":"2022-07-19T21:22:51-06:00","alt":null,"width":800,"height":800,"src":"\/\/www.luluwin.co.uk\/cdn\/shop\/products\/sku1_0399cf6a-f9b4-44c2-b20c-eccc2cbe4076.jpg?v=1658287371","variant_ids":[42220065816730,42220065849498,42220065882266,42220065915034,42220065947802,42220065980570,42220066013338,42220066046106,42220066078874]},"available":true,"name":"Carbon Fiber Texture Frameless For Magnetic charging iPhone Case - black \/ iPhone 11","public_title":"black \/ iPhone 11","options":["black","iPhone 11"],"price":1999,"weight":0,"compare_at_price":3899,"inventory_management":null,"barcode":null,"featured_media":{"alt":null,"id":26887733379226,"position":13,"preview_image":{"aspect_ratio":1.0,"height":800,"width":800,"src":"\/\/www.luluwin.co.uk\/cdn\/shop\/products\/sku1_0399cf6a-f9b4-44c2-b20c-eccc2cbe4076.jpg?v=1658287371"}},"requires_selling_plan":false,"selling_plan_allocations":[]},{"id":42220065849498,"title":"black \/ iPhone 11 Pro","option1":"black","option2":"iPhone 11 Pro","option3":null,"sku":"CP34270-C001-X18613","requires_shipping":true,"taxable":false,"featured_image":{"id":34428139831450,"product_id":7406321991834,"position":13,"created_at":"2022-07-19T21:22:51-06:00","updated_at":"2022-07-19T21:22:51-06:00","alt":null,"width":800,"height":800,"src":"\/\/www.luluwin.co.uk\/cdn\/shop\/products\/sku1_0399cf6a-f9b4-44c2-b20c-eccc2cbe4076.jpg?v=1658287371","variant_ids":[42220065816730,42220065849498,42220065882266,42220065915034,42220065947802,42220065980570,42220066013338,42220066046106,42220066078874]},"available":true,"name":"Carbon Fiber Texture Frameless For Magnetic charging iPhone Case - black \/ iPhone 11 Pro","public_title":"black \/ iPhone 11 Pro","options":["black","iPhone 11 Pro"],"price":1999,"weight":0,"compare_at_price":3899,"inventory_management":null,"barcode":null,"featured_media":{"alt":null,"id":26887733379226,"position":13,"preview_image":{"aspect_ratio":1.0,"height":800,"width":800,"src":"\/\/www.luluwin.co.uk\/cdn\/shop\/products\/sku1_0399cf6a-f9b4-44c2-b20c-eccc2cbe4076.jpg?v=1658287371"}},"requires_selling_plan":false,"selling_plan_allocations":[]},{"id":42220065882266,"title":"black \/ iPhone 11 Pro Max","option1":"black","option2":"iPhone 11 Pro Max","option3":null,"sku":"CP34270-C001-X15057","requires_shipping":true,"taxable":false,"featured_image":{"id":34428139831450,"product_id":7406321991834,"position":13,"created_at":"2022-07-19T21:22:51-06:00","updated_at":"2022-07-19T21:22:51-06:00","alt":null,"width":800,"height":800,"src":"\/\/www.luluwin.co.uk\/cdn\/shop\/products\/sku1_0399cf6a-f9b4-44c2-b20c-eccc2cbe4076.jpg?v=1658287371","variant_ids":[42220065816730,42220065849498,42220065882266,42220065915034,42220065947802,42220065980570,42220066013338,42220066046106,42220066078874]},"available":true,"name":"Carbon Fiber Texture Frameless For Magnetic charging iPhone Case - black \/ iPhone 11 Pro Max","public_title":"black \/ iPhone 11 Pro Max","options":["black","iPhone 11 Pro Max"],"price":1999,"weight":0,"compare_at_price":3899,"inventory_management":null,"barcode":null,"featured_media":{"alt":null,"id":26887733379226,"position":13,"preview_image":{"aspect_ratio":1.0,"height":800,"width":800,"src":"\/\/www.luluwin.co.uk\/cdn\/shop\/products\/sku1_0399cf6a-f9b4-44c2-b20c-eccc2cbe4076.jpg?v=1658287371"}},"requires_selling_plan":false,"selling_plan_allocations":[]},{"id":42220065915034,"title":"black \/ iPhone12","option1":"black","option2":"iPhone12","option3":null,"sku":"CP34270-C001-X27031","requires_shipping":true,"taxable":false,"featured_image":{"id":34428139831450,"product_id":7406321991834,"position":13,"created_at":"2022-07-19T21:22:51-06:00","updated_at":"2022-07-19T21:22:51-06:00","alt":null,"width":800,"height":800,"src":"\/\/www.luluwin.co.uk\/cdn\/shop\/products\/sku1_0399cf6a-f9b4-44c2-b20c-eccc2cbe4076.jpg?v=1658287371","variant_ids":[42220065816730,42220065849498,42220065882266,42220065915034,42220065947802,42220065980570,42220066013338,42220066046106,42220066078874]},"available":true,"name":"Carbon Fiber Texture Frameless For Magnetic charging iPhone Case - black \/ iPhone12","public_title":"black \/ iPhone12","options":["black","iPhone12"],"price":1999,"weight":0,"compare_at_price":3899,"inventory_management":null,"barcode":null,"featured_media":{"alt":null,"id":26887733379226,"position":13,"preview_image":{"aspect_ratio":1.0,"height":800,"width":800,"src":"\/\/www.luluwin.co.uk\/cdn\/shop\/products\/sku1_0399cf6a-f9b4-44c2-b20c-eccc2cbe4076.jpg?v=1658287371"}},"requires_selling_plan":false,"selling_plan_allocations":[]},{"id":42220065947802,"title":"black \/ iPhone12Pro","option1":"black","option2":"iPhone12Pro","option3":null,"sku":"CP34270-C001-X27032","requires_shipping":true,"taxable":false,"featured_image":{"id":34428139831450,"product_id":7406321991834,"position":13,"created_at":"2022-07-19T21:22:51-06:00","updated_at":"2022-07-19T21:22:51-06:00","alt":null,"width":800,"height":800,"src":"\/\/www.luluwin.co.uk\/cdn\/shop\/products\/sku1_0399cf6a-f9b4-44c2-b20c-eccc2cbe4076.jpg?v=1658287371","variant_ids":[42220065816730,42220065849498,42220065882266,42220065915034,42220065947802,42220065980570,42220066013338,42220066046106,42220066078874]},"available":true,"name":"Carbon Fiber Texture Frameless For Magnetic charging iPhone Case - black \/ iPhone12Pro","public_title":"black \/ iPhone12Pro","options":["black","iPhone12Pro"],"price":1999,"weight":0,"compare_at_price":3899,"inventory_management":null,"barcode":null,"featured_media":{"alt":null,"id":26887733379226,"position":13,"preview_image":{"aspect_ratio":1.0,"height":800,"width":800,"src":"\/\/www.luluwin.co.uk\/cdn\/shop\/products\/sku1_0399cf6a-f9b4-44c2-b20c-eccc2cbe4076.jpg?v=1658287371"}},"requires_selling_plan":false,"selling_plan_allocations":[]},{"id":42220065980570,"title":"black \/ iPhone12ProMax","option1":"black","option2":"iPhone12ProMax","option3":null,"sku":"CP34270-C001-X27033","requires_shipping":true,"taxable":false,"featured_image":{"id":34428139831450,"product_id":7406321991834,"position":13,"created_at":"2022-07-19T21:22:51-06:00","updated_at":"2022-07-19T21:22:51-06:00","alt":null,"width":800,"height":800,"src":"\/\/www.luluwin.co.uk\/cdn\/shop\/products\/sku1_0399cf6a-f9b4-44c2-b20c-eccc2cbe4076.jpg?v=1658287371","variant_ids":[42220065816730,42220065849498,42220065882266,42220065915034,42220065947802,42220065980570,42220066013338,42220066046106,42220066078874]},"available":true,"name":"Carbon Fiber Texture Frameless For Magnetic charging iPhone Case - black \/ iPhone12ProMax","public_title":"black \/ iPhone12ProMax","options":["black","iPhone12ProMax"],"price":1999,"weight":0,"compare_at_price":3899,"inventory_management":null,"barcode":null,"featured_media":{"alt":null,"id":26887733379226,"position":13,"preview_image":{"aspect_ratio":1.0,"height":800,"width":800,"src":"\/\/www.luluwin.co.uk\/cdn\/shop\/products\/sku1_0399cf6a-f9b4-44c2-b20c-eccc2cbe4076.jpg?v=1658287371"}},"requires_selling_plan":false,"selling_plan_allocations":[]},{"id":42220066013338,"title":"black \/ iPhone13","option1":"black","option2":"iPhone13","option3":null,"sku":"CP34270-C001-X27028","requires_shipping":true,"taxable":false,"featured_image":{"id":34428139831450,"product_id":7406321991834,"position":13,"created_at":"2022-07-19T21:22:51-06:00","updated_at":"2022-07-19T21:22:51-06:00","alt":null,"width":800,"height":800,"src":"\/\/www.luluwin.co.uk\/cdn\/shop\/products\/sku1_0399cf6a-f9b4-44c2-b20c-eccc2cbe4076.jpg?v=1658287371","variant_ids":[42220065816730,42220065849498,42220065882266,42220065915034,42220065947802,42220065980570,42220066013338,42220066046106,42220066078874]},"available":true,"name":"Carbon Fiber Texture Frameless For Magnetic charging iPhone Case - black \/ iPhone13","public_title":"black \/ iPhone13","options":["black","iPhone13"],"price":1999,"weight":0,"compare_at_price":3899,"inventory_management":null,"barcode":null,"featured_media":{"alt":null,"id":26887733379226,"position":13,"preview_image":{"aspect_ratio":1.0,"height":800,"width":800,"src":"\/\/www.luluwin.co.uk\/cdn\/shop\/products\/sku1_0399cf6a-f9b4-44c2-b20c-eccc2cbe4076.jpg?v=1658287371"}},"requires_selling_plan":false,"selling_plan_allocations":[]},{"id":42220066046106,"title":"black \/ iPhone13Pro","option1":"black","option2":"iPhone13Pro","option3":null,"sku":"CP34270-C001-X27029","requires_shipping":true,"taxable":false,"featured_image":{"id":34428139831450,"product_id":7406321991834,"position":13,"created_at":"2022-07-19T21:22:51-06:00","updated_at":"2022-07-19T21:22:51-06:00","alt":null,"width":800,"height":800,"src":"\/\/www.luluwin.co.uk\/cdn\/shop\/products\/sku1_0399cf6a-f9b4-44c2-b20c-eccc2cbe4076.jpg?v=1658287371","variant_ids":[42220065816730,42220065849498,42220065882266,42220065915034,42220065947802,42220065980570,42220066013338,42220066046106,42220066078874]},"available":true,"name":"Carbon Fiber Texture Frameless For Magnetic charging iPhone Case - black \/ iPhone13Pro","public_title":"black \/ iPhone13Pro","options":["black","iPhone13Pro"],"price":1999,"weight":0,"compare_at_price":3899,"inventory_management":null,"barcode":null,"featured_media":{"alt":null,"id":26887733379226,"position":13,"preview_image":{"aspect_ratio":1.0,"height":800,"width":800,"src":"\/\/www.luluwin.co.uk\/cdn\/shop\/products\/sku1_0399cf6a-f9b4-44c2-b20c-eccc2cbe4076.jpg?v=1658287371"}},"requires_selling_plan":false,"selling_plan_allocations":[]},{"id":42220066078874,"title":"black \/ iPhone13ProMax","option1":"black","option2":"iPhone13ProMax","option3":null,"sku":"CP34270-C001-X27030","requires_shipping":true,"taxable":false,"featured_image":{"id":34428139831450,"product_id":7406321991834,"position":13,"created_at":"2022-07-19T21:22:51-06:00","updated_at":"2022-07-19T21:22:51-06:00","alt":null,"width":800,"height":800,"src":"\/\/www.luluwin.co.uk\/cdn\/shop\/products\/sku1_0399cf6a-f9b4-44c2-b20c-eccc2cbe4076.jpg?v=1658287371","variant_ids":[42220065816730,42220065849498,42220065882266,42220065915034,42220065947802,42220065980570,42220066013338,42220066046106,42220066078874]},"available":true,"name":"Carbon Fiber Texture Frameless For Magnetic charging iPhone Case - black \/ iPhone13ProMax","public_title":"black \/ iPhone13ProMax","options":["black","iPhone13ProMax"],"price":1999,"weight":0,"compare_at_price":3899,"inventory_management":null,"barcode":null,"featured_media":{"alt":null,"id":26887733379226,"position":13,"preview_image":{"aspect_ratio":1.0,"height":800,"width":800,"src":"\/\/www.luluwin.co.uk\/cdn\/shop\/products\/sku1_0399cf6a-f9b4-44c2-b20c-eccc2cbe4076.jpg?v=1658287371"}},"requires_selling_plan":false,"selling_plan_allocations":[]},{"id":42220066111642,"title":"red \/ iPhone 11","option1":"red","option2":"iPhone 11","option3":null,"sku":"CP34270-C341-X15499","requires_shipping":true,"taxable":false,"featured_image":{"id":34428140028058,"product_id":7406321991834,"position":14,"created_at":"2022-07-19T21:22:53-06:00","updated_at":"2022-07-19T21:22:53-06:00","alt":null,"width":800,"height":800,"src":"\/\/www.luluwin.co.uk\/cdn\/shop\/products\/sku4_7630ff57-157d-4dd1-8b4b-05264b69a8cb.jpg?v=1658287373","variant_ids":[42220066111642,42220066144410,42220066177178,42220066209946,42220066242714,42220066275482,42220066308250,42220066341018,42220066373786]},"available":true,"name":"Carbon Fiber Texture Frameless For Magnetic charging iPhone Case - red \/ iPhone 11","public_title":"red \/ iPhone 11","options":["red","iPhone 11"],"price":1999,"weight":0,"compare_at_price":3899,"inventory_management":null,"barcode":null,"featured_media":{"alt":null,"id":26887733575834,"position":14,"preview_image":{"aspect_ratio":1.0,"height":800,"width":800,"src":"\/\/www.luluwin.co.uk\/cdn\/shop\/products\/sku4_7630ff57-157d-4dd1-8b4b-05264b69a8cb.jpg?v=1658287373"}},"requires_selling_plan":false,"selling_plan_allocations":[]},{"id":42220066144410,"title":"red \/ iPhone 11 Pro","option1":"red","option2":"iPhone 11 Pro","option3":null,"sku":"CP34270-C341-X18613","requires_shipping":true,"taxable":false,"featured_image":{"id":34428140028058,"product_id":7406321991834,"position":14,"created_at":"2022-07-19T21:22:53-06:00","updated_at":"2022-07-19T21:22:53-06:00","alt":null,"width":800,"height":800,"src":"\/\/www.luluwin.co.uk\/cdn\/shop\/products\/sku4_7630ff57-157d-4dd1-8b4b-05264b69a8cb.jpg?v=1658287373","variant_ids":[42220066111642,42220066144410,42220066177178,42220066209946,42220066242714,42220066275482,42220066308250,42220066341018,42220066373786]},"available":true,"name":"Carbon Fiber Texture Frameless For Magnetic charging iPhone Case - red \/ iPhone 11 Pro","public_title":"red \/ iPhone 11 Pro","options":["red","iPhone 11 Pro"],"price":1999,"weight":0,"compare_at_price":3899,"inventory_management":null,"barcode":null,"featured_media":{"alt":null,"id":26887733575834,"position":14,"preview_image":{"aspect_ratio":1.0,"height":800,"width":800,"src":"\/\/www.luluwin.co.uk\/cdn\/shop\/products\/sku4_7630ff57-157d-4dd1-8b4b-05264b69a8cb.jpg?v=1658287373"}},"requires_selling_plan":false,"selling_plan_allocations":[]},{"id":42220066177178,"title":"red \/ iPhone 11 Pro Max","option1":"red","option2":"iPhone 11 Pro Max","option3":null,"sku":"CP34270-C341-X15057","requires_shipping":true,"taxable":false,"featured_image":{"id":34428140028058,"product_id":7406321991834,"position":14,"created_at":"2022-07-19T21:22:53-06:00","updated_at":"2022-07-19T21:22:53-06:00","alt":null,"width":800,"height":800,"src":"\/\/www.luluwin.co.uk\/cdn\/shop\/products\/sku4_7630ff57-157d-4dd1-8b4b-05264b69a8cb.jpg?v=1658287373","variant_ids":[42220066111642,42220066144410,42220066177178,42220066209946,42220066242714,42220066275482,42220066308250,42220066341018,42220066373786]},"available":true,"name":"Carbon Fiber Texture Frameless For Magnetic charging iPhone Case - red \/ iPhone 11 Pro Max","public_title":"red \/ iPhone 11 Pro Max","options":["red","iPhone 11 Pro Max"],"price":1999,"weight":0,"compare_at_price":3899,"inventory_management":null,"barcode":null,"featured_media":{"alt":null,"id":26887733575834,"position":14,"preview_image":{"aspect_ratio":1.0,"height":800,"width":800,"src":"\/\/www.luluwin.co.uk\/cdn\/shop\/products\/sku4_7630ff57-157d-4dd1-8b4b-05264b69a8cb.jpg?v=1658287373"}},"requires_selling_plan":false,"selling_plan_allocations":[]},{"id":42220066209946,"title":"red \/ iPhone12","option1":"red","option2":"iPhone12","option3":null,"sku":"CP34270-C341-X27031","requires_shipping":true,"taxable":false,"featured_image":{"id":34428140028058,"product_id":7406321991834,"position":14,"created_at":"2022-07-19T21:22:53-06:00","updated_at":"2022-07-19T21:22:53-06:00","alt":null,"width":800,"height":800,"src":"\/\/www.luluwin.co.uk\/cdn\/shop\/products\/sku4_7630ff57-157d-4dd1-8b4b-05264b69a8cb.jpg?v=1658287373","variant_ids":[42220066111642,42220066144410,42220066177178,42220066209946,42220066242714,42220066275482,42220066308250,42220066341018,42220066373786]},"available":true,"name":"Carbon Fiber Texture Frameless For Magnetic charging iPhone Case - red \/ iPhone12","public_title":"red \/ iPhone12","options":["red","iPhone12"],"price":1999,"weight":0,"compare_at_price":3899,"inventory_management":null,"barcode":null,"featured_media":{"alt":null,"id":26887733575834,"position":14,"preview_image":{"aspect_ratio":1.0,"height":800,"width":800,"src":"\/\/www.luluwin.co.uk\/cdn\/shop\/products\/sku4_7630ff57-157d-4dd1-8b4b-05264b69a8cb.jpg?v=1658287373"}},"requires_selling_plan":false,"selling_plan_allocations":[]},{"id":42220066242714,"title":"red \/ iPhone12Pro","option1":"red","option2":"iPhone12Pro","option3":null,"sku":"CP34270-C341-X27032","requires_shipping":true,"taxable":false,"featured_image":{"id":34428140028058,"product_id":7406321991834,"position":14,"created_at":"2022-07-19T21:22:53-06:00","updated_at":"2022-07-19T21:22:53-06:00","alt":null,"width":800,"height":800,"src":"\/\/www.luluwin.co.uk\/cdn\/shop\/products\/sku4_7630ff57-157d-4dd1-8b4b-05264b69a8cb.jpg?v=1658287373","variant_ids":[42220066111642,42220066144410,42220066177178,42220066209946,42220066242714,42220066275482,42220066308250,42220066341018,42220066373786]},"available":true,"name":"Carbon Fiber Texture Frameless For Magnetic charging iPhone Case - red \/ iPhone12Pro","public_title":"red \/ iPhone12Pro","options":["red","iPhone12Pro"],"price":1999,"weight":0,"compare_at_price":3899,"inventory_management":null,"barcode":null,"featured_media":{"alt":null,"id":26887733575834,"position":14,"preview_image":{"aspect_ratio":1.0,"height":800,"width":800,"src":"\/\/www.luluwin.co.uk\/cdn\/shop\/products\/sku4_7630ff57-157d-4dd1-8b4b-05264b69a8cb.jpg?v=1658287373"}},"requires_selling_plan":false,"selling_plan_allocations":[]},{"id":42220066275482,"title":"red \/ iPhone12ProMax","option1":"red","option2":"iPhone12ProMax","option3":null,"sku":"CP34270-C341-X27033","requires_shipping":true,"taxable":false,"featured_image":{"id":34428140028058,"product_id":7406321991834,"position":14,"created_at":"2022-07-19T21:22:53-06:00","updated_at":"2022-07-19T21:22:53-06:00","alt":null,"width":800,"height":800,"src":"\/\/www.luluwin.co.uk\/cdn\/shop\/products\/sku4_7630ff57-157d-4dd1-8b4b-05264b69a8cb.jpg?v=1658287373","variant_ids":[42220066111642,42220066144410,42220066177178,42220066209946,42220066242714,42220066275482,42220066308250,42220066341018,42220066373786]},"available":true,"name":"Carbon Fiber Texture Frameless For Magnetic charging iPhone Case - red \/ iPhone12ProMax","public_title":"red \/ iPhone12ProMax","options":["red","iPhone12ProMax"],"price":1999,"weight":0,"compare_at_price":3899,"inventory_management":null,"barcode":null,"featured_media":{"alt":null,"id":26887733575834,"position":14,"preview_image":{"aspect_ratio":1.0,"height":800,"width":800,"src":"\/\/www.luluwin.co.uk\/cdn\/shop\/products\/sku4_7630ff57-157d-4dd1-8b4b-05264b69a8cb.jpg?v=1658287373"}},"requires_selling_plan":false,"selling_plan_allocations":[]},{"id":42220066308250,"title":"red \/ iPhone13","option1":"red","option2":"iPhone13","option3":null,"sku":"CP34270-C341-X27028","requires_shipping":true,"taxable":false,"featured_image":{"id":34428140028058,"product_id":7406321991834,"position":14,"created_at":"2022-07-19T21:22:53-06:00","updated_at":"2022-07-19T21:22:53-06:00","alt":null,"width":800,"height":800,"src":"\/\/www.luluwin.co.uk\/cdn\/shop\/products\/sku4_7630ff57-157d-4dd1-8b4b-05264b69a8cb.jpg?v=1658287373","variant_ids":[42220066111642,42220066144410,42220066177178,42220066209946,42220066242714,42220066275482,42220066308250,42220066341018,42220066373786]},"available":true,"name":"Carbon Fiber Texture Frameless For Magnetic charging iPhone Case - red \/ iPhone13","public_title":"red \/ iPhone13","options":["red","iPhone13"],"price":1999,"weight":0,"compare_at_price":3899,"inventory_management":null,"barcode":null,"featured_media":{"alt":null,"id":26887733575834,"position":14,"preview_image":{"aspect_ratio":1.0,"height":800,"width":800,"src":"\/\/www.luluwin.co.uk\/cdn\/shop\/products\/sku4_7630ff57-157d-4dd1-8b4b-05264b69a8cb.jpg?v=1658287373"}},"requires_selling_plan":false,"selling_plan_allocations":[]},{"id":42220066341018,"title":"red \/ iPhone13Pro","option1":"red","option2":"iPhone13Pro","option3":null,"sku":"CP34270-C341-X27029","requires_shipping":true,"taxable":false,"featured_image":{"id":34428140028058,"product_id":7406321991834,"position":14,"created_at":"2022-07-19T21:22:53-06:00","updated_at":"2022-07-19T21:22:53-06:00","alt":null,"width":800,"height":800,"src":"\/\/www.luluwin.co.uk\/cdn\/shop\/products\/sku4_7630ff57-157d-4dd1-8b4b-05264b69a8cb.jpg?v=1658287373","variant_ids":[42220066111642,42220066144410,42220066177178,42220066209946,42220066242714,42220066275482,42220066308250,42220066341018,42220066373786]},"available":true,"name":"Carbon Fiber Texture Frameless For Magnetic charging iPhone Case - red \/ iPhone13Pro","public_title":"red \/ iPhone13Pro","options":["red","iPhone13Pro"],"price":1999,"weight":0,"compare_at_price":3899,"inventory_management":null,"barcode":null,"featured_media":{"alt":null,"id":26887733575834,"position":14,"preview_image":{"aspect_ratio":1.0,"height":800,"width":800,"src":"\/\/www.luluwin.co.uk\/cdn\/shop\/products\/sku4_7630ff57-157d-4dd1-8b4b-05264b69a8cb.jpg?v=1658287373"}},"requires_selling_plan":false,"selling_plan_allocations":[]},{"id":42220066373786,"title":"red \/ iPhone13ProMax","option1":"red","option2":"iPhone13ProMax","option3":null,"sku":"CP34270-C341-X27030","requires_shipping":true,"taxable":false,"featured_image":{"id":34428140028058,"product_id":7406321991834,"position":14,"created_at":"2022-07-19T21:22:53-06:00","updated_at":"2022-07-19T21:22:53-06:00","alt":null,"width":800,"height":800,"src":"\/\/www.luluwin.co.uk\/cdn\/shop\/products\/sku4_7630ff57-157d-4dd1-8b4b-05264b69a8cb.jpg?v=1658287373","variant_ids":[42220066111642,42220066144410,42220066177178,42220066209946,42220066242714,42220066275482,42220066308250,42220066341018,42220066373786]},"available":true,"name":"Carbon Fiber Texture Frameless For Magnetic charging iPhone Case - red \/ iPhone13ProMax","public_title":"red \/ iPhone13ProMax","options":["red","iPhone13ProMax"],"price":1999,"weight":0,"compare_at_price":3899,"inventory_management":null,"barcode":null,"featured_media":{"alt":null,"id":26887733575834,"position":14,"preview_image":{"aspect_ratio":1.0,"height":800,"width":800,"src":"\/\/www.luluwin.co.uk\/cdn\/shop\/products\/sku4_7630ff57-157d-4dd1-8b4b-05264b69a8cb.jpg?v=1658287373"}},"requires_selling_plan":false,"selling_plan_allocations":[]},{"id":42220066406554,"title":"green \/ iPhone 11","option1":"green","option2":"iPhone 11","option3":null,"sku":"CP34270-C913-X15499","requires_shipping":true,"taxable":false,"featured_image":{"id":34428139700378,"product_id":7406321991834,"position":11,"created_at":"2022-07-19T21:22:47-06:00","updated_at":"2022-07-19T21:22:47-06:00","alt":null,"width":800,"height":800,"src":"\/\/www.luluwin.co.uk\/cdn\/shop\/products\/sku3_810ae22c-ab7f-490e-a57c-00f735ece1e0.jpg?v=1658287367","variant_ids":[42220066406554,42220066439322,42220066472090,42220066504858,42220066537626,42220066570394,42220066603162,42220066635930,42220066668698]},"available":true,"name":"Carbon Fiber Texture Frameless For Magnetic charging iPhone Case - green \/ iPhone 11","public_title":"green \/ iPhone 11","options":["green","iPhone 11"],"price":1999,"weight":0,"compare_at_price":3899,"inventory_management":null,"barcode":null,"featured_media":{"alt":null,"id":26887733084314,"position":11,"preview_image":{"aspect_ratio":1.0,"height":800,"width":800,"src":"\/\/www.luluwin.co.uk\/cdn\/shop\/products\/sku3_810ae22c-ab7f-490e-a57c-00f735ece1e0.jpg?v=1658287367"}},"requires_selling_plan":false,"selling_plan_allocations":[]},{"id":42220066439322,"title":"green \/ iPhone 11 Pro","option1":"green","option2":"iPhone 11 Pro","option3":null,"sku":"CP34270-C913-X18613","requires_shipping":true,"taxable":false,"featured_image":{"id":34428139700378,"product_id":7406321991834,"position":11,"created_at":"2022-07-19T21:22:47-06:00","updated_at":"2022-07-19T21:22:47-06:00","alt":null,"width":800,"height":800,"src":"\/\/www.luluwin.co.uk\/cdn\/shop\/products\/sku3_810ae22c-ab7f-490e-a57c-00f735ece1e0.jpg?v=1658287367","variant_ids":[42220066406554,42220066439322,42220066472090,42220066504858,42220066537626,42220066570394,42220066603162,42220066635930,42220066668698]},"available":true,"name":"Carbon Fiber Texture Frameless For Magnetic charging iPhone Case - green \/ iPhone 11 Pro","public_title":"green \/ iPhone 11 Pro","options":["green","iPhone 11 Pro"],"price":1999,"weight":0,"compare_at_price":3899,"inventory_management":null,"barcode":null,"featured_media":{"alt":null,"id":26887733084314,"position":11,"preview_image":{"aspect_ratio":1.0,"height":800,"width":800,"src":"\/\/www.luluwin.co.uk\/cdn\/shop\/products\/sku3_810ae22c-ab7f-490e-a57c-00f735ece1e0.jpg?v=1658287367"}},"requires_selling_plan":false,"selling_plan_allocations":[]},{"id":42220066472090,"title":"green \/ iPhone 11 Pro Max","option1":"green","option2":"iPhone 11 Pro Max","option3":null,"sku":"CP34270-C913-X15057","requires_shipping":true,"taxable":false,"featured_image":{"id":34428139700378,"product_id":7406321991834,"position":11,"created_at":"2022-07-19T21:22:47-06:00","updated_at":"2022-07-19T21:22:47-06:00","alt":null,"width":800,"height":800,"src":"\/\/www.luluwin.co.uk\/cdn\/shop\/products\/sku3_810ae22c-ab7f-490e-a57c-00f735ece1e0.jpg?v=1658287367","variant_ids":[42220066406554,42220066439322,42220066472090,42220066504858,42220066537626,42220066570394,42220066603162,42220066635930,42220066668698]},"available":true,"name":"Carbon Fiber Texture Frameless For Magnetic charging iPhone Case - green \/ iPhone 11 Pro Max","public_title":"green \/ iPhone 11 Pro Max","options":["green","iPhone 11 Pro Max"],"price":1999,"weight":0,"compare_at_price":3899,"inventory_management":null,"barcode":null,"featured_media":{"alt":null,"id":26887733084314,"position":11,"preview_image":{"aspect_ratio":1.0,"height":800,"width":800,"src":"\/\/www.luluwin.co.uk\/cdn\/shop\/products\/sku3_810ae22c-ab7f-490e-a57c-00f735ece1e0.jpg?v=1658287367"}},"requires_selling_plan":false,"selling_plan_allocations":[]},{"id":42220066504858,"title":"green \/ iPhone12","option1":"green","option2":"iPhone12","option3":null,"sku":"CP34270-C913-X27031","requires_shipping":true,"taxable":false,"featured_image":{"id":34428139700378,"product_id":7406321991834,"position":11,"created_at":"2022-07-19T21:22:47-06:00","updated_at":"2022-07-19T21:22:47-06:00","alt":null,"width":800,"height":800,"src":"\/\/www.luluwin.co.uk\/cdn\/shop\/products\/sku3_810ae22c-ab7f-490e-a57c-00f735ece1e0.jpg?v=1658287367","variant_ids":[42220066406554,42220066439322,42220066472090,42220066504858,42220066537626,42220066570394,42220066603162,42220066635930,42220066668698]},"available":true,"name":"Carbon Fiber Texture Frameless For Magnetic charging iPhone Case - green \/ iPhone12","public_title":"green \/ iPhone12","options":["green","iPhone12"],"price":1999,"weight":0,"compare_at_price":3899,"inventory_management":null,"barcode":null,"featured_media":{"alt":null,"id":26887733084314,"position":11,"preview_image":{"aspect_ratio":1.0,"height":800,"width":800,"src":"\/\/www.luluwin.co.uk\/cdn\/shop\/products\/sku3_810ae22c-ab7f-490e-a57c-00f735ece1e0.jpg?v=1658287367"}},"requires_selling_plan":false,"selling_plan_allocations":[]},{"id":42220066537626,"title":"green \/ iPhone12Pro","option1":"green","option2":"iPhone12Pro","option3":null,"sku":"CP34270-C913-X27032","requires_shipping":true,"taxable":false,"featured_image":{"id":34428139700378,"product_id":7406321991834,"position":11,"created_at":"2022-07-19T21:22:47-06:00","updated_at":"2022-07-19T21:22:47-06:00","alt":null,"width":800,"height":800,"src":"\/\/www.luluwin.co.uk\/cdn\/shop\/products\/sku3_810ae22c-ab7f-490e-a57c-00f735ece1e0.jpg?v=1658287367","variant_ids":[42220066406554,42220066439322,42220066472090,42220066504858,42220066537626,42220066570394,42220066603162,42220066635930,42220066668698]},"available":true,"name":"Carbon Fiber Texture Frameless For Magnetic charging iPhone Case - green \/ iPhone12Pro","public_title":"green \/ iPhone12Pro","options":["green","iPhone12Pro"],"price":1999,"weight":0,"compare_at_price":3899,"inventory_management":null,"barcode":null,"featured_media":{"alt":null,"id":26887733084314,"position":11,"preview_image":{"aspect_ratio":1.0,"height":800,"width":800,"src":"\/\/www.luluwin.co.uk\/cdn\/shop\/products\/sku3_810ae22c-ab7f-490e-a57c-00f735ece1e0.jpg?v=1658287367"}},"requires_selling_plan":false,"selling_plan_allocations":[]},{"id":42220066570394,"title":"green \/ iPhone12ProMax","option1":"green","option2":"iPhone12ProMax","option3":null,"sku":"CP34270-C913-X27033","requires_shipping":true,"taxable":false,"featured_image":{"id":34428139700378,"product_id":7406321991834,"position":11,"created_at":"2022-07-19T21:22:47-06:00","updated_at":"2022-07-19T21:22:47-06:00","alt":null,"width":800,"height":800,"src":"\/\/www.luluwin.co.uk\/cdn\/shop\/products\/sku3_810ae22c-ab7f-490e-a57c-00f735ece1e0.jpg?v=1658287367","variant_ids":[42220066406554,42220066439322,42220066472090,42220066504858,42220066537626,42220066570394,42220066603162,42220066635930,42220066668698]},"available":true,"name":"Carbon Fiber Texture Frameless For Magnetic charging iPhone Case - green \/ iPhone12ProMax","public_title":"green \/ iPhone12ProMax","options":["green","iPhone12ProMax"],"price":1999,"weight":0,"compare_at_price":3899,"inventory_management":null,"barcode":null,"featured_media":{"alt":null,"id":26887733084314,"position":11,"preview_image":{"aspect_ratio":1.0,"height":800,"width":800,"src":"\/\/www.luluwin.co.uk\/cdn\/shop\/products\/sku3_810ae22c-ab7f-490e-a57c-00f735ece1e0.jpg?v=1658287367"}},"requires_selling_plan":false,"selling_plan_allocations":[]},{"id":42220066603162,"title":"green \/ iPhone13","option1":"green","option2":"iPhone13","option3":null,"sku":"CP34270-C913-X27028","requires_shipping":true,"taxable":false,"featured_image":{"id":34428139700378,"product_id":7406321991834,"position":11,"created_at":"2022-07-19T21:22:47-06:00","updated_at":"2022-07-19T21:22:47-06:00","alt":null,"width":800,"height":800,"src":"\/\/www.luluwin.co.uk\/cdn\/shop\/products\/sku3_810ae22c-ab7f-490e-a57c-00f735ece1e0.jpg?v=1658287367","variant_ids":[42220066406554,42220066439322,42220066472090,42220066504858,42220066537626,42220066570394,42220066603162,42220066635930,42220066668698]},"available":true,"name":"Carbon Fiber Texture Frameless For Magnetic charging iPhone Case - green \/ iPhone13","public_title":"green \/ iPhone13","options":["green","iPhone13"],"price":1999,"weight":0,"compare_at_price":3899,"inventory_management":null,"barcode":null,"featured_media":{"alt":null,"id":26887733084314,"position":11,"preview_image":{"aspect_ratio":1.0,"height":800,"width":800,"src":"\/\/www.luluwin.co.uk\/cdn\/shop\/products\/sku3_810ae22c-ab7f-490e-a57c-00f735ece1e0.jpg?v=1658287367"}},"requires_selling_plan":false,"selling_plan_allocations":[]},{"id":42220066635930,"title":"green \/ iPhone13Pro","option1":"green","option2":"iPhone13Pro","option3":null,"sku":"CP34270-C913-X27029","requires_shipping":true,"taxable":false,"featured_image":{"id":34428139700378,"product_id":7406321991834,"position":11,"created_at":"2022-07-19T21:22:47-06:00","updated_at":"2022-07-19T21:22:47-06:00","alt":null,"width":800,"height":800,"src":"\/\/www.luluwin.co.uk\/cdn\/shop\/products\/sku3_810ae22c-ab7f-490e-a57c-00f735ece1e0.jpg?v=1658287367","variant_ids":[42220066406554,42220066439322,42220066472090,42220066504858,42220066537626,42220066570394,42220066603162,42220066635930,42220066668698]},"available":true,"name":"Carbon Fiber Texture Frameless For Magnetic charging iPhone Case - green \/ iPhone13Pro","public_title":"green \/ iPhone13Pro","options":["green","iPhone13Pro"],"price":1999,"weight":0,"compare_at_price":3899,"inventory_management":null,"barcode":null,"featured_media":{"alt":null,"id":26887733084314,"position":11,"preview_image":{"aspect_ratio":1.0,"height":800,"width":800,"src":"\/\/www.luluwin.co.uk\/cdn\/shop\/products\/sku3_810ae22c-ab7f-490e-a57c-00f735ece1e0.jpg?v=1658287367"}},"requires_selling_plan":false,"selling_plan_allocations":[]},{"id":42220066668698,"title":"green \/ iPhone13ProMax","option1":"green","option2":"iPhone13ProMax","option3":null,"sku":"CP34270-C913-X27030","requires_shipping":true,"taxable":false,"featured_image":{"id":34428139700378,"product_id":7406321991834,"position":11,"created_at":"2022-07-19T21:22:47-06:00","updated_at":"2022-07-19T21:22:47-06:00","alt":null,"width":800,"height":800,"src":"\/\/www.luluwin.co.uk\/cdn\/shop\/products\/sku3_810ae22c-ab7f-490e-a57c-00f735ece1e0.jpg?v=1658287367","variant_ids":[42220066406554,42220066439322,42220066472090,42220066504858,42220066537626,42220066570394,42220066603162,42220066635930,42220066668698]},"available":true,"name":"Carbon Fiber Texture Frameless For Magnetic charging iPhone Case - green \/ iPhone13ProMax","public_title":"green \/ iPhone13ProMax","options":["green","iPhone13ProMax"],"price":1999,"weight":0,"compare_at_price":3899,"inventory_management":null,"barcode":null,"featured_media":{"alt":null,"id":26887733084314,"position":11,"preview_image":{"aspect_ratio":1.0,"height":800,"width":800,"src":"\/\/www.luluwin.co.uk\/cdn\/shop\/products\/sku3_810ae22c-ab7f-490e-a57c-00f735ece1e0.jpg?v=1658287367"}},"requires_selling_plan":false,"selling_plan_allocations":[]},{"id":42220066701466,"title":"blue \/ iPhone 11","option1":"blue","option2":"iPhone 11","option3":null,"sku":"CP34270-C356-X15499","requires_shipping":true,"taxable":false,"featured_image":{"id":34428139765914,"product_id":7406321991834,"position":12,"created_at":"2022-07-19T21:22:48-06:00","updated_at":"2022-07-19T21:22:49-06:00","alt":null,"width":800,"height":800,"src":"\/\/www.luluwin.co.uk\/cdn\/shop\/products\/sku2_c88a4075-00a8-44a3-8623-09522a176ead.jpg?v=1658287369","variant_ids":[42220066701466,42220066734234,42220066767002,42220066799770,42220066832538,42220066865306,42220066898074,42220066930842,42220066963610]},"available":true,"name":"Carbon Fiber Texture Frameless For Magnetic charging iPhone Case - blue \/ iPhone 11","public_title":"blue \/ iPhone 11","options":["blue","iPhone 11"],"price":1999,"weight":0,"compare_at_price":3899,"inventory_management":null,"barcode":null,"featured_media":{"alt":null,"id":26887733313690,"position":12,"preview_image":{"aspect_ratio":1.0,"height":800,"width":800,"src":"\/\/www.luluwin.co.uk\/cdn\/shop\/products\/sku2_c88a4075-00a8-44a3-8623-09522a176ead.jpg?v=1658287369"}},"requires_selling_plan":false,"selling_plan_allocations":[]},{"id":42220066734234,"title":"blue \/ iPhone 11 Pro","option1":"blue","option2":"iPhone 11 Pro","option3":null,"sku":"CP34270-C356-X18613","requires_shipping":true,"taxable":false,"featured_image":{"id":34428139765914,"product_id":7406321991834,"position":12,"created_at":"2022-07-19T21:22:48-06:00","updated_at":"2022-07-19T21:22:49-06:00","alt":null,"width":800,"height":800,"src":"\/\/www.luluwin.co.uk\/cdn\/shop\/products\/sku2_c88a4075-00a8-44a3-8623-09522a176ead.jpg?v=1658287369","variant_ids":[42220066701466,42220066734234,42220066767002,42220066799770,42220066832538,42220066865306,42220066898074,42220066930842,42220066963610]},"available":true,"name":"Carbon Fiber Texture Frameless For Magnetic charging iPhone Case - blue \/ iPhone 11 Pro","public_title":"blue \/ iPhone 11 Pro","options":["blue","iPhone 11 Pro"],"price":1999,"weight":0,"compare_at_price":3899,"inventory_management":null,"barcode":null,"featured_media":{"alt":null,"id":26887733313690,"position":12,"preview_image":{"aspect_ratio":1.0,"height":800,"width":800,"src":"\/\/www.luluwin.co.uk\/cdn\/shop\/products\/sku2_c88a4075-00a8-44a3-8623-09522a176ead.jpg?v=1658287369"}},"requires_selling_plan":false,"selling_plan_allocations":[]},{"id":42220066767002,"title":"blue \/ iPhone 11 Pro Max","option1":"blue","option2":"iPhone 11 Pro Max","option3":null,"sku":"CP34270-C356-X15057","requires_shipping":true,"taxable":false,"featured_image":{"id":34428139765914,"product_id":7406321991834,"position":12,"created_at":"2022-07-19T21:22:48-06:00","updated_at":"2022-07-19T21:22:49-06:00","alt":null,"width":800,"height":800,"src":"\/\/www.luluwin.co.uk\/cdn\/shop\/products\/sku2_c88a4075-00a8-44a3-8623-09522a176ead.jpg?v=1658287369","variant_ids":[42220066701466,42220066734234,42220066767002,42220066799770,42220066832538,42220066865306,42220066898074,42220066930842,42220066963610]},"available":true,"name":"Carbon Fiber Texture Frameless For Magnetic charging iPhone Case - blue \/ iPhone 11 Pro Max","public_title":"blue \/ iPhone 11 Pro Max","options":["blue","iPhone 11 Pro Max"],"price":1999,"weight":0,"compare_at_price":3899,"inventory_management":null,"barcode":null,"featured_media":{"alt":null,"id":26887733313690,"position":12,"preview_image":{"aspect_ratio":1.0,"height":800,"width":800,"src":"\/\/www.luluwin.co.uk\/cdn\/shop\/products\/sku2_c88a4075-00a8-44a3-8623-09522a176ead.jpg?v=1658287369"}},"requires_selling_plan":false,"selling_plan_allocations":[]},{"id":42220066799770,"title":"blue \/ iPhone12","option1":"blue","option2":"iPhone12","option3":null,"sku":"CP34270-C356-X27031","requires_shipping":true,"taxable":false,"featured_image":{"id":34428139765914,"product_id":7406321991834,"position":12,"created_at":"2022-07-19T21:22:48-06:00","updated_at":"2022-07-19T21:22:49-06:00","alt":null,"width":800,"height":800,"src":"\/\/www.luluwin.co.uk\/cdn\/shop\/products\/sku2_c88a4075-00a8-44a3-8623-09522a176ead.jpg?v=1658287369","variant_ids":[42220066701466,42220066734234,42220066767002,42220066799770,42220066832538,42220066865306,42220066898074,42220066930842,42220066963610]},"available":true,"name":"Carbon Fiber Texture Frameless For Magnetic charging iPhone Case - blue \/ iPhone12","public_title":"blue \/ iPhone12","options":["blue","iPhone12"],"price":1999,"weight":0,"compare_at_price":3899,"inventory_management":null,"barcode":null,"featured_media":{"alt":null,"id":26887733313690,"position":12,"preview_image":{"aspect_ratio":1.0,"height":800,"width":800,"src":"\/\/www.luluwin.co.uk\/cdn\/shop\/products\/sku2_c88a4075-00a8-44a3-8623-09522a176ead.jpg?v=1658287369"}},"requires_selling_plan":false,"selling_plan_allocations":[]},{"id":42220066832538,"title":"blue \/ iPhone12Pro","option1":"blue","option2":"iPhone12Pro","option3":null,"sku":"CP34270-C356-X27032","requires_shipping":true,"taxable":false,"featured_image":{"id":34428139765914,"product_id":7406321991834,"position":12,"created_at":"2022-07-19T21:22:48-06:00","updated_at":"2022-07-19T21:22:49-06:00","alt":null,"width":800,"height":800,"src":"\/\/www.luluwin.co.uk\/cdn\/shop\/products\/sku2_c88a4075-00a8-44a3-8623-09522a176ead.jpg?v=1658287369","variant_ids":[42220066701466,42220066734234,42220066767002,42220066799770,42220066832538,42220066865306,42220066898074,42220066930842,42220066963610]},"available":true,"name":"Carbon Fiber Texture Frameless For Magnetic charging iPhone Case - blue \/ iPhone12Pro","public_title":"blue \/ iPhone12Pro","options":["blue","iPhone12Pro"],"price":1999,"weight":0,"compare_at_price":3899,"inventory_management":null,"barcode":null,"featured_media":{"alt":null,"id":26887733313690,"position":12,"preview_image":{"aspect_ratio":1.0,"height":800,"width":800,"src":"\/\/www.luluwin.co.uk\/cdn\/shop\/products\/sku2_c88a4075-00a8-44a3-8623-09522a176ead.jpg?v=1658287369"}},"requires_selling_plan":false,"selling_plan_allocations":[]},{"id":42220066865306,"title":"blue \/ iPhone12ProMax","option1":"blue","option2":"iPhone12ProMax","option3":null,"sku":"CP34270-C356-X27033","requires_shipping":true,"taxable":false,"featured_image":{"id":34428139765914,"product_id":7406321991834,"position":12,"created_at":"2022-07-19T21:22:48-06:00","updated_at":"2022-07-19T21:22:49-06:00","alt":null,"width":800,"height":800,"src":"\/\/www.luluwin.co.uk\/cdn\/shop\/products\/sku2_c88a4075-00a8-44a3-8623-09522a176ead.jpg?v=1658287369","variant_ids":[42220066701466,42220066734234,42220066767002,42220066799770,42220066832538,42220066865306,42220066898074,42220066930842,42220066963610]},"available":true,"name":"Carbon Fiber Texture Frameless For Magnetic charging iPhone Case - blue \/ iPhone12ProMax","public_title":"blue \/ iPhone12ProMax","options":["blue","iPhone12ProMax"],"price":1999,"weight":0,"compare_at_price":3899,"inventory_management":null,"barcode":null,"featured_media":{"alt":null,"id":26887733313690,"position":12,"preview_image":{"aspect_ratio":1.0,"height":800,"width":800,"src":"\/\/www.luluwin.co.uk\/cdn\/shop\/products\/sku2_c88a4075-00a8-44a3-8623-09522a176ead.jpg?v=1658287369"}},"requires_selling_plan":false,"selling_plan_allocations":[]},{"id":42220066898074,"title":"blue \/ iPhone13","option1":"blue","option2":"iPhone13","option3":null,"sku":"CP34270-C356-X27028","requires_shipping":true,"taxable":false,"featured_image":{"id":34428139765914,"product_id":7406321991834,"position":12,"created_at":"2022-07-19T21:22:48-06:00","updated_at":"2022-07-19T21:22:49-06:00","alt":null,"width":800,"height":800,"src":"\/\/www.luluwin.co.uk\/cdn\/shop\/products\/sku2_c88a4075-00a8-44a3-8623-09522a176ead.jpg?v=1658287369","variant_ids":[42220066701466,42220066734234,42220066767002,42220066799770,42220066832538,42220066865306,42220066898074,42220066930842,42220066963610]},"available":true,"name":"Carbon Fiber Texture Frameless For Magnetic charging iPhone Case - blue \/ iPhone13","public_title":"blue \/ iPhone13","options":["blue","iPhone13"],"price":1999,"weight":0,"compare_at_price":3899,"inventory_management":null,"barcode":null,"featured_media":{"alt":null,"id":26887733313690,"position":12,"preview_image":{"aspect_ratio":1.0,"height":800,"width":800,"src":"\/\/www.luluwin.co.uk\/cdn\/shop\/products\/sku2_c88a4075-00a8-44a3-8623-09522a176ead.jpg?v=1658287369"}},"requires_selling_plan":false,"selling_plan_allocations":[]},{"id":42220066930842,"title":"blue \/ iPhone13Pro","option1":"blue","option2":"iPhone13Pro","option3":null,"sku":"CP34270-C356-X27029","requires_shipping":true,"taxable":false,"featured_image":{"id":34428139765914,"product_id":7406321991834,"position":12,"created_at":"2022-07-19T21:22:48-06:00","updated_at":"2022-07-19T21:22:49-06:00","alt":null,"width":800,"height":800,"src":"\/\/www.luluwin.co.uk\/cdn\/shop\/products\/sku2_c88a4075-00a8-44a3-8623-09522a176ead.jpg?v=1658287369","variant_ids":[42220066701466,42220066734234,42220066767002,42220066799770,42220066832538,42220066865306,42220066898074,42220066930842,42220066963610]},"available":true,"name":"Carbon Fiber Texture Frameless For Magnetic charging iPhone Case - blue \/ iPhone13Pro","public_title":"blue \/ iPhone13Pro","options":["blue","iPhone13Pro"],"price":1999,"weight":0,"compare_at_price":3899,"inventory_management":null,"barcode":null,"featured_media":{"alt":null,"id":26887733313690,"position":12,"preview_image":{"aspect_ratio":1.0,"height":800,"width":800,"src":"\/\/www.luluwin.co.uk\/cdn\/shop\/products\/sku2_c88a4075-00a8-44a3-8623-09522a176ead.jpg?v=1658287369"}},"requires_selling_plan":false,"selling_plan_allocations":[]},{"id":42220066963610,"title":"blue \/ iPhone13ProMax","option1":"blue","option2":"iPhone13ProMax","option3":null,"sku":"CP34270-C356-X27030","requires_shipping":true,"taxable":false,"featured_image":{"id":34428139765914,"product_id":7406321991834,"position":12,"created_at":"2022-07-19T21:22:48-06:00","updated_at":"2022-07-19T21:22:49-06:00","alt":null,"width":800,"height":800,"src":"\/\/www.luluwin.co.uk\/cdn\/shop\/products\/sku2_c88a4075-00a8-44a3-8623-09522a176ead.jpg?v=1658287369","variant_ids":[42220066701466,42220066734234,42220066767002,42220066799770,42220066832538,42220066865306,42220066898074,42220066930842,42220066963610]},"available":true,"name":"Carbon Fiber Texture Frameless For Magnetic charging iPhone Case - blue \/ iPhone13ProMax","public_title":"blue \/ iPhone13ProMax","options":["blue","iPhone13ProMax"],"price":1999,"weight":0,"compare_at_price":3899,"inventory_management":null,"barcode":null,"featured_media":{"alt":null,"id":26887733313690,"position":12,"preview_image":{"aspect_ratio":1.0,"height":800,"width":800,"src":"\/\/www.luluwin.co.uk\/cdn\/shop\/products\/sku2_c88a4075-00a8-44a3-8623-09522a176ead.jpg?v=1658287369"}},"requires_selling_plan":false,"selling_plan_allocations":[]}],"images":["\/\/www.luluwin.co.uk\/cdn\/shop\/products\/FM_960cb095-a1ca-43a8-8bf8-be6368e28101.jpg?v=1658287362","\/\/www.luluwin.co.uk\/cdn\/shop\/products\/FM1_c28bc9c1-3306-4648-b9fb-cfbef29d1d5e.jpg?v=1658287362","\/\/www.luluwin.co.uk\/cdn\/shop\/products\/1_6a975237-9a45-4c10-aa43-732991b57def.jpg?v=1658287362","\/\/www.luluwin.co.uk\/cdn\/shop\/products\/2_57ccecad-2007-4d53-8518-9fb5abe3c8a3.jpg?v=1658287362","\/\/www.luluwin.co.uk\/cdn\/shop\/products\/3_d4f2c6bd-e7ee-4c87-ab49-71084dc3b26f.jpg?v=1658287362","\/\/www.luluwin.co.uk\/cdn\/shop\/products\/4_ca85b229-47be-4b55-8ecb-82eb23a825da.jpg?v=1658287362","\/\/www.luluwin.co.uk\/cdn\/shop\/products\/5_9745dd11-a6b8-495a-a864-a67944802245.jpg?v=1658287362","\/\/www.luluwin.co.uk\/cdn\/shop\/products\/6_390393c8-1153-4d06-a281-de7b1d0d55d1.jpg?v=1658287362","\/\/www.luluwin.co.uk\/cdn\/shop\/products\/7_578ac16f-0a0a-4f75-8ea4-28f7c010df9d.jpg?v=1658287362","\/\/www.luluwin.co.uk\/cdn\/shop\/products\/8_b4810787-cc6c-467d-a830-8ac3516187fa.jpg?v=1658287362","\/\/www.luluwin.co.uk\/cdn\/shop\/products\/sku3_810ae22c-ab7f-490e-a57c-00f735ece1e0.jpg?v=1658287367","\/\/www.luluwin.co.uk\/cdn\/shop\/products\/sku2_c88a4075-00a8-44a3-8623-09522a176ead.jpg?v=1658287369","\/\/www.luluwin.co.uk\/cdn\/shop\/products\/sku1_0399cf6a-f9b4-44c2-b20c-eccc2cbe4076.jpg?v=1658287371","\/\/www.luluwin.co.uk\/cdn\/shop\/products\/sku4_7630ff57-157d-4dd1-8b4b-05264b69a8cb.jpg?v=1658287373","\/\/www.luluwin.co.uk\/cdn\/shop\/products\/sku5_7357da82-c6fb-4edc-9578-1bb94fe6ac11.jpg?v=1658287375","\/\/www.luluwin.co.uk\/cdn\/shop\/products\/sku6_8bfedfe4-6f41-48cc-ac58-a11a3cb7be47.jpg?v=1658287377"],"featured_image":"\/\/www.luluwin.co.uk\/cdn\/shop\/products\/FM_960cb095-a1ca-43a8-8bf8-be6368e28101.jpg?v=1658287362","options":["Color","Models"],"media":[{"alt":null,"id":26887732494490,"position":1,"preview_image":{"aspect_ratio":1.0,"height":800,"width":800,"src":"\/\/www.luluwin.co.uk\/cdn\/shop\/products\/FM_960cb095-a1ca-43a8-8bf8-be6368e28101.jpg?v=1658287362"},"aspect_ratio":1.0,"height":800,"media_type":"image","src":"\/\/www.luluwin.co.uk\/cdn\/shop\/products\/FM_960cb095-a1ca-43a8-8bf8-be6368e28101.jpg?v=1658287362","width":800},{"alt":null,"id":26887732527258,"position":2,"preview_image":{"aspect_ratio":1.0,"height":800,"width":800,"src":"\/\/www.luluwin.co.uk\/cdn\/shop\/products\/FM1_c28bc9c1-3306-4648-b9fb-cfbef29d1d5e.jpg?v=1658287362"},"aspect_ratio":1.0,"height":800,"media_type":"image","src":"\/\/www.luluwin.co.uk\/cdn\/shop\/products\/FM1_c28bc9c1-3306-4648-b9fb-cfbef29d1d5e.jpg?v=1658287362","width":800},{"alt":null,"id":26887732560026,"position":3,"preview_image":{"aspect_ratio":1.0,"height":800,"width":800,"src":"\/\/www.luluwin.co.uk\/cdn\/shop\/products\/1_6a975237-9a45-4c10-aa43-732991b57def.jpg?v=1658287362"},"aspect_ratio":1.0,"height":800,"media_type":"image","src":"\/\/www.luluwin.co.uk\/cdn\/shop\/products\/1_6a975237-9a45-4c10-aa43-732991b57def.jpg?v=1658287362","width":800},{"alt":null,"id":26887732592794,"position":4,"preview_image":{"aspect_ratio":1.0,"height":800,"width":800,"src":"\/\/www.luluwin.co.uk\/cdn\/shop\/products\/2_57ccecad-2007-4d53-8518-9fb5abe3c8a3.jpg?v=1658287362"},"aspect_ratio":1.0,"height":800,"media_type":"image","src":"\/\/www.luluwin.co.uk\/cdn\/shop\/products\/2_57ccecad-2007-4d53-8518-9fb5abe3c8a3.jpg?v=1658287362","width":800},{"alt":null,"id":26887732625562,"position":5,"preview_image":{"aspect_ratio":1.0,"height":800,"width":800,"src":"\/\/www.luluwin.co.uk\/cdn\/shop\/products\/3_d4f2c6bd-e7ee-4c87-ab49-71084dc3b26f.jpg?v=1658287362"},"aspect_ratio":1.0,"height":800,"media_type":"image","src":"\/\/www.luluwin.co.uk\/cdn\/shop\/products\/3_d4f2c6bd-e7ee-4c87-ab49-71084dc3b26f.jpg?v=1658287362","width":800},{"alt":null,"id":26887732658330,"position":6,"preview_image":{"aspect_ratio":1.0,"height":800,"width":800,"src":"\/\/www.luluwin.co.uk\/cdn\/shop\/products\/4_ca85b229-47be-4b55-8ecb-82eb23a825da.jpg?v=1658287362"},"aspect_ratio":1.0,"height":800,"media_type":"image","src":"\/\/www.luluwin.co.uk\/cdn\/shop\/products\/4_ca85b229-47be-4b55-8ecb-82eb23a825da.jpg?v=1658287362","width":800},{"alt":null,"id":26887732691098,"position":7,"preview_image":{"aspect_ratio":1.0,"height":800,"width":800,"src":"\/\/www.luluwin.co.uk\/cdn\/shop\/products\/5_9745dd11-a6b8-495a-a864-a67944802245.jpg?v=1658287362"},"aspect_ratio":1.0,"height":800,"media_type":"image","src":"\/\/www.luluwin.co.uk\/cdn\/shop\/products\/5_9745dd11-a6b8-495a-a864-a67944802245.jpg?v=1658287362","width":800},{"alt":null,"id":26887732723866,"position":8,"preview_image":{"aspect_ratio":1.0,"height":800,"width":800,"src":"\/\/www.luluwin.co.uk\/cdn\/shop\/products\/6_390393c8-1153-4d06-a281-de7b1d0d55d1.jpg?v=1658287362"},"aspect_ratio":1.0,"height":800,"media_type":"image","src":"\/\/www.luluwin.co.uk\/cdn\/shop\/products\/6_390393c8-1153-4d06-a281-de7b1d0d55d1.jpg?v=1658287362","width":800},{"alt":null,"id":26887732756634,"position":9,"preview_image":{"aspect_ratio":1.0,"height":800,"width":800,"src":"\/\/www.luluwin.co.uk\/cdn\/shop\/products\/7_578ac16f-0a0a-4f75-8ea4-28f7c010df9d.jpg?v=1658287362"},"aspect_ratio":1.0,"height":800,"media_type":"image","src":"\/\/www.luluwin.co.uk\/cdn\/shop\/products\/7_578ac16f-0a0a-4f75-8ea4-28f7c010df9d.jpg?v=1658287362","width":800},{"alt":null,"id":26887732789402,"position":10,"preview_image":{"aspect_ratio":1.0,"height":800,"width":800,"src":"\/\/www.luluwin.co.uk\/cdn\/shop\/products\/8_b4810787-cc6c-467d-a830-8ac3516187fa.jpg?v=1658287362"},"aspect_ratio":1.0,"height":800,"media_type":"image","src":"\/\/www.luluwin.co.uk\/cdn\/shop\/products\/8_b4810787-cc6c-467d-a830-8ac3516187fa.jpg?v=1658287362","width":800},{"alt":null,"id":26887733084314,"position":11,"preview_image":{"aspect_ratio":1.0,"height":800,"width":800,"src":"\/\/www.luluwin.co.uk\/cdn\/shop\/products\/sku3_810ae22c-ab7f-490e-a57c-00f735ece1e0.jpg?v=1658287367"},"aspect_ratio":1.0,"height":800,"media_type":"image","src":"\/\/www.luluwin.co.uk\/cdn\/shop\/products\/sku3_810ae22c-ab7f-490e-a57c-00f735ece1e0.jpg?v=1658287367","width":800},{"alt":null,"id":26887733313690,"position":12,"preview_image":{"aspect_ratio":1.0,"height":800,"width":800,"src":"\/\/www.luluwin.co.uk\/cdn\/shop\/products\/sku2_c88a4075-00a8-44a3-8623-09522a176ead.jpg?v=1658287369"},"aspect_ratio":1.0,"height":800,"media_type":"image","src":"\/\/www.luluwin.co.uk\/cdn\/shop\/products\/sku2_c88a4075-00a8-44a3-8623-09522a176ead.jpg?v=1658287369","width":800},{"alt":null,"id":26887733379226,"position":13,"preview_image":{"aspect_ratio":1.0,"height":800,"width":800,"src":"\/\/www.luluwin.co.uk\/cdn\/shop\/products\/sku1_0399cf6a-f9b4-44c2-b20c-eccc2cbe4076.jpg?v=1658287371"},"aspect_ratio":1.0,"height":800,"media_type":"image","src":"\/\/www.luluwin.co.uk\/cdn\/shop\/products\/sku1_0399cf6a-f9b4-44c2-b20c-eccc2cbe4076.jpg?v=1658287371","width":800},{"alt":null,"id":26887733575834,"position":14,"preview_image":{"aspect_ratio":1.0,"height":800,"width":800,"src":"\/\/www.luluwin.co.uk\/cdn\/shop\/products\/sku4_7630ff57-157d-4dd1-8b4b-05264b69a8cb.jpg?v=1658287373"},"aspect_ratio":1.0,"height":800,"media_type":"image","src":"\/\/www.luluwin.co.uk\/cdn\/shop\/products\/sku4_7630ff57-157d-4dd1-8b4b-05264b69a8cb.jpg?v=1658287373","width":800},{"alt":null,"id":26887733674138,"position":15,"preview_image":{"aspect_ratio":1.0,"height":800,"width":800,"src":"\/\/www.luluwin.co.uk\/cdn\/shop\/products\/sku5_7357da82-c6fb-4edc-9578-1bb94fe6ac11.jpg?v=1658287375"},"aspect_ratio":1.0,"height":800,"media_type":"image","src":"\/\/www.luluwin.co.uk\/cdn\/shop\/products\/sku5_7357da82-c6fb-4edc-9578-1bb94fe6ac11.jpg?v=1658287375","width":800},{"alt":null,"id":26887733772442,"position":16,"preview_image":{"aspect_ratio":1.0,"height":800,"width":800,"src":"\/\/www.luluwin.co.uk\/cdn\/shop\/products\/sku6_8bfedfe4-6f41-48cc-ac58-a11a3cb7be47.jpg?v=1658287377"},"aspect_ratio":1.0,"height":800,"media_type":"image","src":"\/\/www.luluwin.co.uk\/cdn\/shop\/products\/sku6_8bfedfe4-6f41-48cc-ac58-a11a3cb7be47.jpg?v=1658287377","width":800}],"requires_selling_plan":false,"selling_plan_groups":[],"content":"\u003ch4 style=\"text-align: center;\"\u003e\u003cstrong\u003e📱🎵\u003c\/strong\u003e\u003c\/h4\u003e\n\u003ch4 style=\"text-align: center;\" data-mce-fragment=\"1\"\u003e\u003cspan style=\"color: #3ca399;\"\u003e\u003cstrong\u003eLooking for a metal case that's compatible with your iPhone?\u003c\/strong\u003e\u003c\/span\u003e\u003c\/h4\u003e\n\u003ch4 style=\"text-align: center;\" data-mce-fragment=\"1\"\u003e\u003cspan style=\"color: #e9ab2e;\"\u003e\u003cstrong\u003eLook no further than the Magnetic charging Carbon Fiber Texture Case! \u003c\/strong\u003e\u003c\/span\u003e\u003c\/h4\u003e\n\u003cp\u003e\u003cspan style=\"color: #e9ab2e;\"\u003e\u003cstrong\u003e\u003cimg src=\"https:\/\/img.cdncloud.top\/uploader\/e41e4a00ea7378a4f06851796d3ebe17.gif\" style=\"display: block; margin-left: auto; margin-right: auto;\" width=\"401\" height=\"401\"\u003e\u003c\/strong\u003e\u003c\/span\u003e\u003c\/p\u003e\n\u003cp data-mce-fragment=\"1\"\u003e\u003cstrong\u003e\u003cspan style=\"color: #5383b9;\"\u003eThis case uses the powerful \"N52\" magnet, which is stronger than the \"N48\" magnet found on other cases on the market.\u003c\/span\u003e The built-in magnetic technology allows for 36 \"N52\" magnets to be fixed in independent grooves, ensuring that they won't loosen or fall off over time.\u003c\/strong\u003e\u003c\/p\u003e\n\u003ch4\u003e\u003cimg src=\"https:\/\/img.cdncloud.top\/uploader\/2471c3fd186c37e3dac57b7deadfeea4.gif\" style=\"display: block; margin-left: auto; margin-right: auto;\" width=\"400\" height=\"400\" data-mce-fragment=\"1\" data-mce-src=\"https:\/\/img.cdncloud.top\/uploader\/2471c3fd186c37e3dac57b7deadfeea4.gif\"\u003e\u003c\/h4\u003e\n\u003ch4 data-mce-fragment=\"1\"\u003e\u003cstrong\u003e\u003cspan style=\"color: #54a782;\"\u003eThe four corners use shock-resistant airbags, which can absorb and disperse 99.99% of the impact of falling.\u003c\/span\u003e The frame is designed slightly higher than the camera and screen, whether there are bumps or scratches, it can overcome almost anything and provide excellent protection.\u003c\/strong\u003e\u003c\/h4\u003e\n\u003cp\u003e\u003cstrong\u003e\u003cimg src=\"https:\/\/cdn.hotishop.com\/image\/2022\/07\/b9164dbbb48a83e138f6d5862a29a72a965121d0493cc76486d3bd63827677b9.gif\" style=\"display: block; margin-left: auto; margin-right: auto;\" width=\"400\" height=\"437\"\u003e\u003c\/strong\u003e\u003c\/p\u003e\n\u003ch3 data-mce-fragment=\"1\"\u003e\u003cspan style=\"color: #6a68ae;\"\u003e\u003cstrong\u003eFEATURES\u003c\/strong\u003e\u003c\/span\u003e\u003c\/h3\u003e\n\u003cul\u003e\n\u003cli\u003e\u003cspan style=\"color: #4d9f7b;\"\u003e\u003cstrong\u003e✔️​ DUST FREE LOUDSPEAKERS\u003c\/strong\u003e\u003c\/span\u003e\u003c\/li\u003e\n\u003c\/ul\u003e\n\u003cp style=\"padding-left: 30px;\" data-mce-fragment=\"1\"\u003e\u003cspan style=\"font-weight: 400;\" data-mce-fragment=\"1\" data-mce-style=\"font-weight: 400;\"\u003eThe Magnetic charging Carbon Fiber Texture Case keeps any dust away from your speakers so they keep their clean sound.\u003c\/span\u003e\u003c\/p\u003e\n\u003cul\u003e\n\u003cli\u003e\u003cspan style=\"color: #4d9f7b;\"\u003e\u003cstrong\u003e✔️​ UNIQUE DESIGN\u003c\/strong\u003e\u003c\/span\u003e\u003c\/li\u003e\n\u003c\/ul\u003e\n\u003cp style=\"padding-left: 30px;\" data-mce-fragment=\"1\"\u003e\u003cspan style=\"font-weight: 400;\" data-mce-fragment=\"1\" data-mce-style=\"font-weight: 400;\"\u003eOur Magnetic charging durable high-end aramid fiber Case makes your iPhone something unique. It becomes an eye-catcher and in addition it gets the best possible protection.\u003c\/span\u003e\u003c\/p\u003e\n\u003cdiv\u003e\u003cimg src=\"https:\/\/cdn.shopifycdn.net\/s\/files\/1\/0040\/2728\/5539\/products\/FM1_c28bc9c1-3306-4648-b9fb-cfbef29d1d5e_480x480.jpg?v=1658282879\" alt=\"\" style=\"display: block; margin-left: auto; margin-right: auto;\" width=\"400\" height=\"400\" data-mce-fragment=\"1\" data-mce-src=\"https:\/\/cdn.shopifycdn.net\/s\/files\/1\/0040\/2728\/5539\/products\/FM1_c28bc9c1-3306-4648-b9fb-cfbef29d1d5e_480x480.jpg?v=1658282879\"\u003e\u003c\/div\u003e\n\u003cul\u003e\n\u003cli\u003e\u003cspan style=\"color: #4d9f7b;\"\u003e\u003cstrong\u003e✔️​ PROTECTION\u003c\/strong\u003e\u003c\/span\u003e\u003c\/li\u003e\n\u003c\/ul\u003e\n\u003cp style=\"padding-left: 30px;\" data-mce-fragment=\"1\"\u003e\u003cspan style=\"font-weight: 400;\" data-mce-fragment=\"1\" data-mce-style=\"font-weight: 400;\"\u003eRaised bezels provide protection for the screen and camera. Full protection from scratches, daily wear and tear and drops.\u003c\/span\u003e\u003c\/p\u003e\n\u003cul\u003e\n\u003cli\u003e\u003cspan style=\"color: #4d9f7b;\"\u003e\u003cstrong\u003e✔️​ MILITARY GRADE MATERIAL\u003c\/strong\u003e\u003c\/span\u003e\u003c\/li\u003e\n\u003c\/ul\u003e\n\u003cp style=\"padding-left: 30px;\" data-mce-fragment=\"1\"\u003e\u003cspan style=\"font-weight: 400;\" data-mce-fragment=\"1\" data-mce-style=\"font-weight: 400;\"\u003eMade of ultra-light and durable materials that are very comfortable and elegant in the hand.\u003c\/span\u003e\u003c\/p\u003e\n\u003cdiv\u003e\u003cimg src=\"https:\/\/cdn.shopifycdn.net\/s\/files\/1\/0040\/2728\/5539\/products\/FM_960cb095-a1ca-43a8-8bf8-be6368e28101_480x480.jpg?v=1658282879\" alt=\"\" style=\"display: block; margin-left: auto; margin-right: auto;\" width=\"400\" height=\"400\" data-mce-fragment=\"1\" data-mce-src=\"https:\/\/cdn.shopifycdn.net\/s\/files\/1\/0040\/2728\/5539\/products\/FM_960cb095-a1ca-43a8-8bf8-be6368e28101_480x480.jpg?v=1658282879\"\u003e\u003c\/div\u003e\n\u003cul\u003e\n\u003cli\u003e\u003cspan style=\"color: #4d9f7b;\"\u003e\u003cstrong\u003e✔️​ MAGNETIC CHARGING FUNCTION\u003c\/strong\u003e\u003c\/span\u003e\u003c\/li\u003e\n\u003c\/ul\u003e\n\u003cp style=\"padding-left: 30px;\" data-mce-fragment=\"1\"\u003e\u003cspan style=\"font-weight: 400;\" data-mce-fragment=\"1\" data-mce-style=\"font-weight: 400;\"\u003eThe Magnetic charging Case supports charging with Magnetic charging.\u003c\/span\u003e\u003c\/p\u003e\n\u003ch3 data-mce-fragment=\"1\"\u003e\u003cspan style=\"color: #6a68ae;\"\u003e\u003cstrong\u003eSPECIFICATIONS\u003c\/strong\u003e\u003c\/span\u003e\u003c\/h3\u003e\n\u003cul\u003e\n\u003cli\u003e\u003cspan style=\"font-weight: 400;\" data-mce-fragment=\"1\" data-mce-style=\"font-weight: 400;\"\u003e\u003cstrong\u003eMaterial\u003c\/strong\u003e: carbon fiber\u003c\/span\u003e\u003c\/li\u003e\n\u003cli\u003e\u003cspan style=\"font-weight: 400;\" data-mce-fragment=\"1\" data-mce-style=\"font-weight: 400;\"\u003e\u003cstrong\u003eColor\u003c\/strong\u003e: red, black, green, blue, silver black, blue purple\u003c\/span\u003e\u003c\/li\u003e\n\u003cli\u003e\u003cspan style=\"font-weight: 400;\" data-mce-fragment=\"1\" data-mce-style=\"font-weight: 400;\"\u003e\u003cstrong\u003eCompatible models\u003c\/strong\u003e: iPhone 11, iPhone 11 Pro, iPhone 11 Pro Max, iPhone12, iPhone12Pro, iPhone12ProMax, iPhone13, iPhone13Pro, iPhone13ProMax\u003c\/span\u003e\u003c\/li\u003e\n\u003cli\u003e\u003cspan style=\"font-weight: 400;\" data-mce-fragment=\"1\" data-mce-style=\"font-weight: 400;\"\u003e\u003cstrong\u003eWeight\u003c\/strong\u003e: 50g \/ 0.1lb\u003c\/span\u003e\u003c\/li\u003e\n\u003c\/ul\u003e\n\u003ch3 data-mce-fragment=\"1\"\u003e\u003cspan style=\"color: #6a68ae;\"\u003e\u003cstrong\u003ePACKAGE INCLUDED\u003c\/strong\u003e\u003c\/span\u003e\u003c\/h3\u003e\n\u003cul\u003e\n\u003cli\u003e\u003cspan style=\"font-weight: 400;\" data-mce-fragment=\"1\" data-mce-style=\"font-weight: 400;\"\u003e1 × Carbon Fiber Texture Frameless For Magnetic charging iPhone Case\u003c\/span\u003e\u003c\/li\u003e\n\u003c\/ul\u003e"}
Carbon Fiber Texture Frameless For Magnetic charging iPhone Case
Adding product to your cart
📱🎵
Looking for a metal case that's compatible with your iPhone?
Look no further than the Magnetic charging Carbon Fiber Texture Case! 
This case uses the powerful "N52" magnet, which is stronger than the "N48" magnet found on other cases on the market. The built-in magnetic technology allows for 36 "N52" magnets to be fixed in independent grooves, ensuring that they won't loosen or fall off over time.

The four corners use shock-resistant airbags, which can absorb and disperse 99.99% of the impact of falling.

The frame is designed slightly higher than the camera and screen, whether there are bumps or scratches, it can overcome almost anything and provide excellent protection.
FEATURES
✔️​ DUST FREE LOUDSPEAKERS
The Magnetic charging Carbon Fiber Texture Case keeps any dust away from your speakers so they keep their clean sound.
Our Magnetic charging durable high-end aramid fiber Case makes your iPhone something unique. It becomes an eye-catcher and in addition it gets the best possible protection.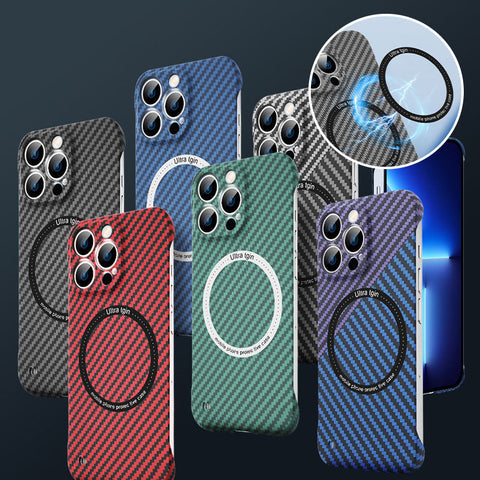 Raised bezels provide protection for the screen and camera. Full protection from scratches, daily wear and tear and drops.
✔️​ MILITARY GRADE MATERIAL
Made of ultra-light and durable materials that are very comfortable and elegant in the hand.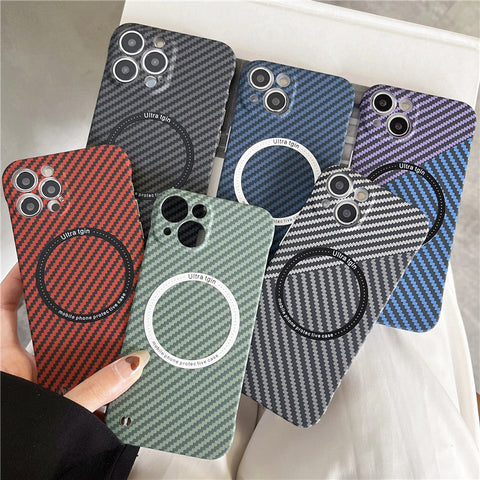 ✔️​ MAGNETIC CHARGING FUNCTION
The Magnetic charging Case supports charging with Magnetic charging.
SPECIFICATIONS
Material: carbon fiber
Color: red, black, green, blue, silver black, blue purple
Compatible models: iPhone 11, iPhone 11 Pro, iPhone 11 Pro Max, iPhone12, iPhone12Pro, iPhone12ProMax, iPhone13, iPhone13Pro, iPhone13ProMax
Weight: 50g / 0.1lb
PACKAGE INCLUDED
1 × Carbon Fiber Texture Frameless For Magnetic charging iPhone Case