{"id":7098573422746,"title":"Angel In Heaven Memorial Ornament","handle":"angel-in-heaven-memorial-ornament","description":"\u003ch4 style=\"text-align: center;\"\u003e🎄⭐\u003c\/h4\u003e\n\u003ch4 style=\"text-align: center;\" data-mce-fragment=\"1\"\u003e\u003cspan style=\"color: #edbb19;\"\u003e\u003cstrong\u003eHave you been looking for a special gift to commemorate a loved one who has passed away?\u003c\/strong\u003e\u003c\/span\u003e\u003c\/h4\u003e\n\u003ch4 style=\"text-align: center;\" data-mce-fragment=\"1\"\u003e\u003cspan style=\"color: #259458;\"\u003e\u003cstrong\u003eThe heart-pleasing commemorative feather decorations will make your loved ones leave beautiful memories!\u003c\/strong\u003e\u003c\/span\u003e\u003c\/h4\u003e\n\u003cdiv\u003e\u003cimg src=\"https:\/\/cdn.shopifycdn.net\/s\/files\/1\/0548\/9423\/1722\/files\/76cb4391f08aabc8db19f35a398c3dfd_720_480x480.jpg?v=1634527595\" alt=\"\" style=\"display: block; margin-left: auto; margin-right: auto;\" width=\"400\" height=\"400\" data-mce-fragment=\"1\" data-mce-src=\"https:\/\/cdn.shopifycdn.net\/s\/files\/1\/0548\/9423\/1722\/files\/76cb4391f08aabc8db19f35a398c3dfd_720_480x480.jpg?v=1634527595\"\u003e\u003c\/div\u003e\n\u003ch3 data-mce-fragment=\"1\"\u003e\u003cspan style=\"color: #2b7e7e;\"\u003e\u003cstrong\u003eFEATURES\u003c\/strong\u003e\u003c\/span\u003e\u003c\/h3\u003e\n\u003cul\u003e\n\u003cli\u003e\u003cspan style=\"font-weight: 400;\" data-mce-fragment=\"1\" data-mce-style=\"font-weight: 400;\"\u003e\u003cspan style=\"color: #eac117;\"\u003e\u003cstrong\u003e💦Unique Design\u003c\/strong\u003e\u003c\/span\u003e: An original, classic spherical transparent glass decoration with the engraved \"I  Have an angel in Heaven\" on it to strongly remind this person of the impact on our lives.\u003c\/span\u003e\u003c\/li\u003e\n\u003cli\u003e\u003cspan style=\"font-weight: 400;\" data-mce-fragment=\"1\" data-mce-style=\"font-weight: 400;\"\u003e\u003cspan style=\"color: #eac117;\"\u003e\u003cstrong\u003e💦Meaningful Decoration\u003c\/strong\u003e\u003c\/span\u003e: Our souvenir spherical glass feathers are decorated with eye-catching white ribbons, which can be made into elegant Christmas tree decorations that are easy to hang, or as special socks fillers.\u003c\/span\u003e\u003c\/li\u003e\n\u003cli\u003e\u003cspan style=\"font-weight: 400;\" data-mce-fragment=\"1\" data-mce-style=\"font-weight: 400;\"\u003e\u003cspan style=\"color: #eac117;\"\u003e\u003cstrong\u003e💦Beautiful Memorial\u003c\/strong\u003e\u003c\/span\u003e: Makes a beautiful memorial for your lost loved one. Our lost loved ones will always be in our minds, inspiring, encouraging, and empowering us.\u003c\/span\u003e\u003c\/li\u003e\n\u003c\/ul\u003e\n\u003cdiv\u003e\u003cimg src=\"https:\/\/cdn.shopifycdn.net\/s\/files\/1\/0548\/9423\/1722\/files\/1_ecf98c14-a8f7-4891-a033-4ae106a0a922_480x480.jpg?v=1634527774\" alt=\"\" style=\"display: block; margin-left: auto; margin-right: auto;\" width=\"400\" height=\"400\" data-mce-fragment=\"1\" data-mce-src=\"https:\/\/cdn.shopifycdn.net\/s\/files\/1\/0548\/9423\/1722\/files\/1_ecf98c14-a8f7-4891-a033-4ae106a0a922_480x480.jpg?v=1634527774\"\u003e\u003c\/div\u003e\n\u003ch3 data-mce-fragment=\"1\"\u003e\u003cspan style=\"color: #2b7e7e;\"\u003e\u003cstrong\u003eSPECIFICATIONS\u003c\/strong\u003e\u003c\/span\u003e\u003c\/h3\u003e\n\u003cul\u003e\n\u003cli\u003e\u003cspan style=\"font-weight: 400;\" data-mce-fragment=\"1\" data-mce-style=\"font-weight: 400;\"\u003e\u003cstrong\u003eMaterial\u003c\/strong\u003e: PP\u003c\/span\u003e\u003c\/li\u003e\n\u003cli\u003e\u003cspan style=\"font-weight: 400;\" data-mce-fragment=\"1\" data-mce-style=\"font-weight: 400;\"\u003e\u003cstrong\u003eColor\u003c\/strong\u003e: White\u003c\/span\u003e\u003c\/li\u003e\n\u003cli\u003e\u003cspan style=\"font-weight: 400;\" data-mce-fragment=\"1\" data-mce-style=\"font-weight: 400;\"\u003e\u003cstrong\u003eStyle\u003c\/strong\u003e: Mom, Brother, Sister, Dad, Grandma, Grandpa, Daughter, Uncle, Aunt, Son, Wife, Husband\u003c\/span\u003e\u003c\/li\u003e\n\u003cli\u003e\u003cspan style=\"font-weight: 400;\" data-mce-fragment=\"1\" data-mce-style=\"font-weight: 400;\"\u003e\u003cstrong\u003eWeight\u003c\/strong\u003e: 30g \/ 0.06lb\u003c\/span\u003e\u003c\/li\u003e\n\u003cli\u003e\u003cspan style=\"font-weight: 400;\" data-mce-fragment=\"1\" data-mce-style=\"font-weight: 400;\"\u003e\u003cstrong\u003eSize\u003c\/strong\u003e: 18*16*5cm \/ 7.08*6.29*1.96in\u003c\/span\u003e\u003c\/li\u003e\n\u003c\/ul\u003e\n\u003ch3 data-mce-fragment=\"1\"\u003e\u003cspan style=\"color: #2b7e7e;\"\u003e\u003cstrong\u003ePACKAGE INCLUDED\u003c\/strong\u003e\u003c\/span\u003e\u003c\/h3\u003e\n\u003cul\u003e\n\u003cli\u003e\u003cspan style=\"font-weight: 400;\" data-mce-fragment=\"1\" data-mce-style=\"font-weight: 400;\"\u003e1 × Angel In Heaven Memorial Ornament\u003c\/span\u003e\u003c\/li\u003e\n\u003c\/ul\u003e","published_at":"2021-10-17T23:10:30-06:00","created_at":"2021-10-17T23:10:44-06:00","vendor":"luluwin","type":"Decorations","tags":["gift ideas"],"price":699,"price_min":699,"price_max":699,"available":true,"price_varies":false,"compare_at_price":1299,"compare_at_price_min":1299,"compare_at_price_max":1299,"compare_at_price_varies":false,"variants":[{"id":41115338866842,"title":"Mom","option1":"Mom","option2":null,"option3":null,"sku":"CP21274-X11722","requires_shipping":true,"taxable":false,"featured_image":{"id":31941865341082,"product_id":7098573422746,"position":14,"created_at":"2021-10-17T23:10:44-06:00","updated_at":"2021-10-17T23:10:44-06:00","alt":null,"width":800,"height":800,"src":"\/\/www.luluwin.co.uk\/cdn\/shop\/products\/14_84c521f3-08b2-4597-81f0-023f4ef8995c.jpg?v=1634533844","variant_ids":[41115338866842]},"available":true,"name":"Angel In Heaven Memorial Ornament - Mom","public_title":"Mom","options":["Mom"],"price":699,"weight":0,"compare_at_price":1299,"inventory_management":null,"barcode":null,"featured_media":{"alt":null,"id":24364693913754,"position":14,"preview_image":{"aspect_ratio":1.0,"height":800,"width":800,"src":"\/\/www.luluwin.co.uk\/cdn\/shop\/products\/14_84c521f3-08b2-4597-81f0-023f4ef8995c.jpg?v=1634533844"}},"requires_selling_plan":false,"selling_plan_allocations":[]},{"id":41115338899610,"title":"Brother","option1":"Brother","option2":null,"option3":null,"sku":"CP21274-X15170","requires_shipping":true,"taxable":false,"featured_image":{"id":31941865046170,"product_id":7098573422746,"position":6,"created_at":"2021-10-17T23:10:44-06:00","updated_at":"2021-10-17T23:10:44-06:00","alt":null,"width":800,"height":800,"src":"\/\/www.luluwin.co.uk\/cdn\/shop\/products\/6_2bb9526a-5bd5-47b6-ad0c-23a7e467cc41.jpg?v=1634533844","variant_ids":[41115338899610]},"available":true,"name":"Angel In Heaven Memorial Ornament - Brother","public_title":"Brother","options":["Brother"],"price":699,"weight":0,"compare_at_price":1299,"inventory_management":null,"barcode":null,"featured_media":{"alt":null,"id":24364693651610,"position":6,"preview_image":{"aspect_ratio":1.0,"height":800,"width":800,"src":"\/\/www.luluwin.co.uk\/cdn\/shop\/products\/6_2bb9526a-5bd5-47b6-ad0c-23a7e467cc41.jpg?v=1634533844"}},"requires_selling_plan":false,"selling_plan_allocations":[]},{"id":41115338932378,"title":"Sister","option1":"Sister","option2":null,"option3":null,"sku":"CP21274-X0555","requires_shipping":true,"taxable":false,"featured_image":{"id":31941865078938,"product_id":7098573422746,"position":7,"created_at":"2021-10-17T23:10:44-06:00","updated_at":"2021-10-17T23:10:44-06:00","alt":null,"width":800,"height":800,"src":"\/\/www.luluwin.co.uk\/cdn\/shop\/products\/7_4529ef52-d0ba-4296-bfe8-1352671fdeaf.jpg?v=1634533844","variant_ids":[41115338932378]},"available":true,"name":"Angel In Heaven Memorial Ornament - Sister","public_title":"Sister","options":["Sister"],"price":699,"weight":0,"compare_at_price":1299,"inventory_management":null,"barcode":null,"featured_media":{"alt":null,"id":24364693684378,"position":7,"preview_image":{"aspect_ratio":1.0,"height":800,"width":800,"src":"\/\/www.luluwin.co.uk\/cdn\/shop\/products\/7_4529ef52-d0ba-4296-bfe8-1352671fdeaf.jpg?v=1634533844"}},"requires_selling_plan":false,"selling_plan_allocations":[]},{"id":41115338965146,"title":"Dad","option1":"Dad","option2":null,"option3":null,"sku":"CP21274-X15169","requires_shipping":true,"taxable":false,"featured_image":{"id":31941865210010,"product_id":7098573422746,"position":10,"created_at":"2021-10-17T23:10:44-06:00","updated_at":"2021-10-17T23:10:44-06:00","alt":null,"width":800,"height":800,"src":"\/\/www.luluwin.co.uk\/cdn\/shop\/products\/10_9db05cc9-06f5-4a84-af87-ba25c0ba0c7f.jpg?v=1634533844","variant_ids":[41115338965146]},"available":true,"name":"Angel In Heaven Memorial Ornament - Dad","public_title":"Dad","options":["Dad"],"price":699,"weight":0,"compare_at_price":1299,"inventory_management":null,"barcode":null,"featured_media":{"alt":null,"id":24364693782682,"position":10,"preview_image":{"aspect_ratio":1.0,"height":800,"width":800,"src":"\/\/www.luluwin.co.uk\/cdn\/shop\/products\/10_9db05cc9-06f5-4a84-af87-ba25c0ba0c7f.jpg?v=1634533844"}},"requires_selling_plan":false,"selling_plan_allocations":[]},{"id":41115339030682,"title":"Grandma","option1":"Grandma","option2":null,"option3":null,"sku":"CP21274-X14275","requires_shipping":true,"taxable":false,"featured_image":{"id":31941865111706,"product_id":7098573422746,"position":8,"created_at":"2021-10-17T23:10:44-06:00","updated_at":"2021-10-17T23:10:44-06:00","alt":null,"width":800,"height":800,"src":"\/\/www.luluwin.co.uk\/cdn\/shop\/products\/8_b8eee0ee-617e-4103-aa0b-0be4b121fde2.jpg?v=1634533844","variant_ids":[41115339030682]},"available":true,"name":"Angel In Heaven Memorial Ornament - Grandma","public_title":"Grandma","options":["Grandma"],"price":699,"weight":0,"compare_at_price":1299,"inventory_management":null,"barcode":null,"featured_media":{"alt":null,"id":24364693717146,"position":8,"preview_image":{"aspect_ratio":1.0,"height":800,"width":800,"src":"\/\/www.luluwin.co.uk\/cdn\/shop\/products\/8_b8eee0ee-617e-4103-aa0b-0be4b121fde2.jpg?v=1634533844"}},"requires_selling_plan":false,"selling_plan_allocations":[]},{"id":41115339063450,"title":"Grandpa","option1":"Grandpa","option2":null,"option3":null,"sku":"CP21274-X11074","requires_shipping":true,"taxable":false,"featured_image":{"id":31941865013402,"product_id":7098573422746,"position":5,"created_at":"2021-10-17T23:10:44-06:00","updated_at":"2021-10-17T23:10:44-06:00","alt":null,"width":800,"height":800,"src":"\/\/www.luluwin.co.uk\/cdn\/shop\/products\/5_f1c8e928-af77-4df5-88c7-ee96f4badb53.jpg?v=1634533844","variant_ids":[41115339063450]},"available":true,"name":"Angel In Heaven Memorial Ornament - Grandpa","public_title":"Grandpa","options":["Grandpa"],"price":699,"weight":0,"compare_at_price":1299,"inventory_management":null,"barcode":null,"featured_media":{"alt":null,"id":24364693618842,"position":5,"preview_image":{"aspect_ratio":1.0,"height":800,"width":800,"src":"\/\/www.luluwin.co.uk\/cdn\/shop\/products\/5_f1c8e928-af77-4df5-88c7-ee96f4badb53.jpg?v=1634533844"}},"requires_selling_plan":false,"selling_plan_allocations":[]},{"id":41115339096218,"title":"Daughter","option1":"Daughter","option2":null,"option3":null,"sku":"CP21274-X0410","requires_shipping":true,"taxable":false,"featured_image":{"id":31941864947866,"product_id":7098573422746,"position":3,"created_at":"2021-10-17T23:10:44-06:00","updated_at":"2021-10-17T23:10:44-06:00","alt":null,"width":800,"height":800,"src":"\/\/www.luluwin.co.uk\/cdn\/shop\/products\/3_09aabee4-d4ee-42fc-8b41-1fea4914b7ed.jpg?v=1634533844","variant_ids":[41115339096218]},"available":true,"name":"Angel In Heaven Memorial Ornament - Daughter","public_title":"Daughter","options":["Daughter"],"price":699,"weight":0,"compare_at_price":1299,"inventory_management":null,"barcode":null,"featured_media":{"alt":null,"id":24364693553306,"position":3,"preview_image":{"aspect_ratio":1.0,"height":800,"width":800,"src":"\/\/www.luluwin.co.uk\/cdn\/shop\/products\/3_09aabee4-d4ee-42fc-8b41-1fea4914b7ed.jpg?v=1634533844"}},"requires_selling_plan":false,"selling_plan_allocations":[]},{"id":41115339128986,"title":"Uncle","option1":"Uncle","option2":null,"option3":null,"sku":"CP21274-X11118","requires_shipping":true,"taxable":false,"featured_image":{"id":31941865177242,"product_id":7098573422746,"position":9,"created_at":"2021-10-17T23:10:44-06:00","updated_at":"2021-10-17T23:10:44-06:00","alt":null,"width":800,"height":800,"src":"\/\/www.luluwin.co.uk\/cdn\/shop\/products\/9_e73e7e02-4bfd-49cb-b766-4276d663707d.jpg?v=1634533844","variant_ids":[41115339128986]},"available":true,"name":"Angel In Heaven Memorial Ornament - Uncle","public_title":"Uncle","options":["Uncle"],"price":699,"weight":0,"compare_at_price":1299,"inventory_management":null,"barcode":null,"featured_media":{"alt":null,"id":24364693749914,"position":9,"preview_image":{"aspect_ratio":1.0,"height":800,"width":800,"src":"\/\/www.luluwin.co.uk\/cdn\/shop\/products\/9_e73e7e02-4bfd-49cb-b766-4276d663707d.jpg?v=1634533844"}},"requires_selling_plan":false,"selling_plan_allocations":[]},{"id":41115339161754,"title":"Aunt","option1":"Aunt","option2":null,"option3":null,"sku":"CP21274-X15171","requires_shipping":true,"taxable":false,"featured_image":{"id":31941864980634,"product_id":7098573422746,"position":4,"created_at":"2021-10-17T23:10:44-06:00","updated_at":"2021-10-17T23:10:44-06:00","alt":null,"width":800,"height":800,"src":"\/\/www.luluwin.co.uk\/cdn\/shop\/products\/4_591a0d44-2803-4055-8722-7338e9b29dcb.jpg?v=1634533844","variant_ids":[41115339161754]},"available":true,"name":"Angel In Heaven Memorial Ornament - Aunt","public_title":"Aunt","options":["Aunt"],"price":699,"weight":0,"compare_at_price":1299,"inventory_management":null,"barcode":null,"featured_media":{"alt":null,"id":24364693586074,"position":4,"preview_image":{"aspect_ratio":1.0,"height":800,"width":800,"src":"\/\/www.luluwin.co.uk\/cdn\/shop\/products\/4_591a0d44-2803-4055-8722-7338e9b29dcb.jpg?v=1634533844"}},"requires_selling_plan":false,"selling_plan_allocations":[]},{"id":41115339194522,"title":"Son","option1":"Son","option2":null,"option3":null,"sku":"CP21274-X0409","requires_shipping":true,"taxable":false,"featured_image":{"id":31941865308314,"product_id":7098573422746,"position":13,"created_at":"2021-10-17T23:10:44-06:00","updated_at":"2021-10-17T23:10:44-06:00","alt":null,"width":800,"height":800,"src":"\/\/www.luluwin.co.uk\/cdn\/shop\/products\/13_b8444121-cad1-42e1-ba1d-da8b8ad12d14.jpg?v=1634533844","variant_ids":[41115339194522]},"available":true,"name":"Angel In Heaven Memorial Ornament - Son","public_title":"Son","options":["Son"],"price":699,"weight":0,"compare_at_price":1299,"inventory_management":null,"barcode":null,"featured_media":{"alt":null,"id":24364693880986,"position":13,"preview_image":{"aspect_ratio":1.0,"height":800,"width":800,"src":"\/\/www.luluwin.co.uk\/cdn\/shop\/products\/13_b8444121-cad1-42e1-ba1d-da8b8ad12d14.jpg?v=1634533844"}},"requires_selling_plan":false,"selling_plan_allocations":[]},{"id":41115339227290,"title":"Wife","option1":"Wife","option2":null,"option3":null,"sku":"CP21274-X16056","requires_shipping":true,"taxable":false,"featured_image":{"id":31941865275546,"product_id":7098573422746,"position":12,"created_at":"2021-10-17T23:10:44-06:00","updated_at":"2021-10-17T23:10:44-06:00","alt":null,"width":800,"height":800,"src":"\/\/www.luluwin.co.uk\/cdn\/shop\/products\/12_099d1cd8-458f-40c3-a69e-27f69c264a61.jpg?v=1634533844","variant_ids":[41115339227290]},"available":true,"name":"Angel In Heaven Memorial Ornament - Wife","public_title":"Wife","options":["Wife"],"price":699,"weight":0,"compare_at_price":1299,"inventory_management":null,"barcode":null,"featured_media":{"alt":null,"id":24364693848218,"position":12,"preview_image":{"aspect_ratio":1.0,"height":800,"width":800,"src":"\/\/www.luluwin.co.uk\/cdn\/shop\/products\/12_099d1cd8-458f-40c3-a69e-27f69c264a61.jpg?v=1634533844"}},"requires_selling_plan":false,"selling_plan_allocations":[]},{"id":41115339260058,"title":"Husband","option1":"Husband","option2":null,"option3":null,"sku":"CP21274-X16057","requires_shipping":true,"taxable":false,"featured_image":{"id":31941865242778,"product_id":7098573422746,"position":11,"created_at":"2021-10-17T23:10:44-06:00","updated_at":"2021-10-17T23:10:44-06:00","alt":null,"width":800,"height":800,"src":"\/\/www.luluwin.co.uk\/cdn\/shop\/products\/11_03a47727-7a41-4061-9569-7e173d430c07.jpg?v=1634533844","variant_ids":[41115339260058]},"available":true,"name":"Angel In Heaven Memorial Ornament - Husband","public_title":"Husband","options":["Husband"],"price":699,"weight":0,"compare_at_price":1299,"inventory_management":null,"barcode":null,"featured_media":{"alt":null,"id":24364693815450,"position":11,"preview_image":{"aspect_ratio":1.0,"height":800,"width":800,"src":"\/\/www.luluwin.co.uk\/cdn\/shop\/products\/11_03a47727-7a41-4061-9569-7e173d430c07.jpg?v=1634533844"}},"requires_selling_plan":false,"selling_plan_allocations":[]}],"images":["\/\/www.luluwin.co.uk\/cdn\/shop\/products\/1_6b9b396a-c16d-4117-befc-576d48b30b3f.jpg?v=1634533844","\/\/www.luluwin.co.uk\/cdn\/shop\/products\/2_64bf65f4-0213-4fb1-9caf-a13567f9fcf2.jpg?v=1634533844","\/\/www.luluwin.co.uk\/cdn\/shop\/products\/3_09aabee4-d4ee-42fc-8b41-1fea4914b7ed.jpg?v=1634533844","\/\/www.luluwin.co.uk\/cdn\/shop\/products\/4_591a0d44-2803-4055-8722-7338e9b29dcb.jpg?v=1634533844","\/\/www.luluwin.co.uk\/cdn\/shop\/products\/5_f1c8e928-af77-4df5-88c7-ee96f4badb53.jpg?v=1634533844","\/\/www.luluwin.co.uk\/cdn\/shop\/products\/6_2bb9526a-5bd5-47b6-ad0c-23a7e467cc41.jpg?v=1634533844","\/\/www.luluwin.co.uk\/cdn\/shop\/products\/7_4529ef52-d0ba-4296-bfe8-1352671fdeaf.jpg?v=1634533844","\/\/www.luluwin.co.uk\/cdn\/shop\/products\/8_b8eee0ee-617e-4103-aa0b-0be4b121fde2.jpg?v=1634533844","\/\/www.luluwin.co.uk\/cdn\/shop\/products\/9_e73e7e02-4bfd-49cb-b766-4276d663707d.jpg?v=1634533844","\/\/www.luluwin.co.uk\/cdn\/shop\/products\/10_9db05cc9-06f5-4a84-af87-ba25c0ba0c7f.jpg?v=1634533844","\/\/www.luluwin.co.uk\/cdn\/shop\/products\/11_03a47727-7a41-4061-9569-7e173d430c07.jpg?v=1634533844","\/\/www.luluwin.co.uk\/cdn\/shop\/products\/12_099d1cd8-458f-40c3-a69e-27f69c264a61.jpg?v=1634533844","\/\/www.luluwin.co.uk\/cdn\/shop\/products\/13_b8444121-cad1-42e1-ba1d-da8b8ad12d14.jpg?v=1634533844","\/\/www.luluwin.co.uk\/cdn\/shop\/products\/14_84c521f3-08b2-4597-81f0-023f4ef8995c.jpg?v=1634533844"],"featured_image":"\/\/www.luluwin.co.uk\/cdn\/shop\/products\/1_6b9b396a-c16d-4117-befc-576d48b30b3f.jpg?v=1634533844","options":["Style"],"media":[{"alt":null,"id":24364693487770,"position":1,"preview_image":{"aspect_ratio":1.0,"height":800,"width":800,"src":"\/\/www.luluwin.co.uk\/cdn\/shop\/products\/1_6b9b396a-c16d-4117-befc-576d48b30b3f.jpg?v=1634533844"},"aspect_ratio":1.0,"height":800,"media_type":"image","src":"\/\/www.luluwin.co.uk\/cdn\/shop\/products\/1_6b9b396a-c16d-4117-befc-576d48b30b3f.jpg?v=1634533844","width":800},{"alt":null,"id":24364693520538,"position":2,"preview_image":{"aspect_ratio":1.0,"height":800,"width":800,"src":"\/\/www.luluwin.co.uk\/cdn\/shop\/products\/2_64bf65f4-0213-4fb1-9caf-a13567f9fcf2.jpg?v=1634533844"},"aspect_ratio":1.0,"height":800,"media_type":"image","src":"\/\/www.luluwin.co.uk\/cdn\/shop\/products\/2_64bf65f4-0213-4fb1-9caf-a13567f9fcf2.jpg?v=1634533844","width":800},{"alt":null,"id":24364693553306,"position":3,"preview_image":{"aspect_ratio":1.0,"height":800,"width":800,"src":"\/\/www.luluwin.co.uk\/cdn\/shop\/products\/3_09aabee4-d4ee-42fc-8b41-1fea4914b7ed.jpg?v=1634533844"},"aspect_ratio":1.0,"height":800,"media_type":"image","src":"\/\/www.luluwin.co.uk\/cdn\/shop\/products\/3_09aabee4-d4ee-42fc-8b41-1fea4914b7ed.jpg?v=1634533844","width":800},{"alt":null,"id":24364693586074,"position":4,"preview_image":{"aspect_ratio":1.0,"height":800,"width":800,"src":"\/\/www.luluwin.co.uk\/cdn\/shop\/products\/4_591a0d44-2803-4055-8722-7338e9b29dcb.jpg?v=1634533844"},"aspect_ratio":1.0,"height":800,"media_type":"image","src":"\/\/www.luluwin.co.uk\/cdn\/shop\/products\/4_591a0d44-2803-4055-8722-7338e9b29dcb.jpg?v=1634533844","width":800},{"alt":null,"id":24364693618842,"position":5,"preview_image":{"aspect_ratio":1.0,"height":800,"width":800,"src":"\/\/www.luluwin.co.uk\/cdn\/shop\/products\/5_f1c8e928-af77-4df5-88c7-ee96f4badb53.jpg?v=1634533844"},"aspect_ratio":1.0,"height":800,"media_type":"image","src":"\/\/www.luluwin.co.uk\/cdn\/shop\/products\/5_f1c8e928-af77-4df5-88c7-ee96f4badb53.jpg?v=1634533844","width":800},{"alt":null,"id":24364693651610,"position":6,"preview_image":{"aspect_ratio":1.0,"height":800,"width":800,"src":"\/\/www.luluwin.co.uk\/cdn\/shop\/products\/6_2bb9526a-5bd5-47b6-ad0c-23a7e467cc41.jpg?v=1634533844"},"aspect_ratio":1.0,"height":800,"media_type":"image","src":"\/\/www.luluwin.co.uk\/cdn\/shop\/products\/6_2bb9526a-5bd5-47b6-ad0c-23a7e467cc41.jpg?v=1634533844","width":800},{"alt":null,"id":24364693684378,"position":7,"preview_image":{"aspect_ratio":1.0,"height":800,"width":800,"src":"\/\/www.luluwin.co.uk\/cdn\/shop\/products\/7_4529ef52-d0ba-4296-bfe8-1352671fdeaf.jpg?v=1634533844"},"aspect_ratio":1.0,"height":800,"media_type":"image","src":"\/\/www.luluwin.co.uk\/cdn\/shop\/products\/7_4529ef52-d0ba-4296-bfe8-1352671fdeaf.jpg?v=1634533844","width":800},{"alt":null,"id":24364693717146,"position":8,"preview_image":{"aspect_ratio":1.0,"height":800,"width":800,"src":"\/\/www.luluwin.co.uk\/cdn\/shop\/products\/8_b8eee0ee-617e-4103-aa0b-0be4b121fde2.jpg?v=1634533844"},"aspect_ratio":1.0,"height":800,"media_type":"image","src":"\/\/www.luluwin.co.uk\/cdn\/shop\/products\/8_b8eee0ee-617e-4103-aa0b-0be4b121fde2.jpg?v=1634533844","width":800},{"alt":null,"id":24364693749914,"position":9,"preview_image":{"aspect_ratio":1.0,"height":800,"width":800,"src":"\/\/www.luluwin.co.uk\/cdn\/shop\/products\/9_e73e7e02-4bfd-49cb-b766-4276d663707d.jpg?v=1634533844"},"aspect_ratio":1.0,"height":800,"media_type":"image","src":"\/\/www.luluwin.co.uk\/cdn\/shop\/products\/9_e73e7e02-4bfd-49cb-b766-4276d663707d.jpg?v=1634533844","width":800},{"alt":null,"id":24364693782682,"position":10,"preview_image":{"aspect_ratio":1.0,"height":800,"width":800,"src":"\/\/www.luluwin.co.uk\/cdn\/shop\/products\/10_9db05cc9-06f5-4a84-af87-ba25c0ba0c7f.jpg?v=1634533844"},"aspect_ratio":1.0,"height":800,"media_type":"image","src":"\/\/www.luluwin.co.uk\/cdn\/shop\/products\/10_9db05cc9-06f5-4a84-af87-ba25c0ba0c7f.jpg?v=1634533844","width":800},{"alt":null,"id":24364693815450,"position":11,"preview_image":{"aspect_ratio":1.0,"height":800,"width":800,"src":"\/\/www.luluwin.co.uk\/cdn\/shop\/products\/11_03a47727-7a41-4061-9569-7e173d430c07.jpg?v=1634533844"},"aspect_ratio":1.0,"height":800,"media_type":"image","src":"\/\/www.luluwin.co.uk\/cdn\/shop\/products\/11_03a47727-7a41-4061-9569-7e173d430c07.jpg?v=1634533844","width":800},{"alt":null,"id":24364693848218,"position":12,"preview_image":{"aspect_ratio":1.0,"height":800,"width":800,"src":"\/\/www.luluwin.co.uk\/cdn\/shop\/products\/12_099d1cd8-458f-40c3-a69e-27f69c264a61.jpg?v=1634533844"},"aspect_ratio":1.0,"height":800,"media_type":"image","src":"\/\/www.luluwin.co.uk\/cdn\/shop\/products\/12_099d1cd8-458f-40c3-a69e-27f69c264a61.jpg?v=1634533844","width":800},{"alt":null,"id":24364693880986,"position":13,"preview_image":{"aspect_ratio":1.0,"height":800,"width":800,"src":"\/\/www.luluwin.co.uk\/cdn\/shop\/products\/13_b8444121-cad1-42e1-ba1d-da8b8ad12d14.jpg?v=1634533844"},"aspect_ratio":1.0,"height":800,"media_type":"image","src":"\/\/www.luluwin.co.uk\/cdn\/shop\/products\/13_b8444121-cad1-42e1-ba1d-da8b8ad12d14.jpg?v=1634533844","width":800},{"alt":null,"id":24364693913754,"position":14,"preview_image":{"aspect_ratio":1.0,"height":800,"width":800,"src":"\/\/www.luluwin.co.uk\/cdn\/shop\/products\/14_84c521f3-08b2-4597-81f0-023f4ef8995c.jpg?v=1634533844"},"aspect_ratio":1.0,"height":800,"media_type":"image","src":"\/\/www.luluwin.co.uk\/cdn\/shop\/products\/14_84c521f3-08b2-4597-81f0-023f4ef8995c.jpg?v=1634533844","width":800}],"requires_selling_plan":false,"selling_plan_groups":[],"content":"\u003ch4 style=\"text-align: center;\"\u003e🎄⭐\u003c\/h4\u003e\n\u003ch4 style=\"text-align: center;\" data-mce-fragment=\"1\"\u003e\u003cspan style=\"color: #edbb19;\"\u003e\u003cstrong\u003eHave you been looking for a special gift to commemorate a loved one who has passed away?\u003c\/strong\u003e\u003c\/span\u003e\u003c\/h4\u003e\n\u003ch4 style=\"text-align: center;\" data-mce-fragment=\"1\"\u003e\u003cspan style=\"color: #259458;\"\u003e\u003cstrong\u003eThe heart-pleasing commemorative feather decorations will make your loved ones leave beautiful memories!\u003c\/strong\u003e\u003c\/span\u003e\u003c\/h4\u003e\n\u003cdiv\u003e\u003cimg src=\"https:\/\/cdn.shopifycdn.net\/s\/files\/1\/0548\/9423\/1722\/files\/76cb4391f08aabc8db19f35a398c3dfd_720_480x480.jpg?v=1634527595\" alt=\"\" style=\"display: block; margin-left: auto; margin-right: auto;\" width=\"400\" height=\"400\" data-mce-fragment=\"1\" data-mce-src=\"https:\/\/cdn.shopifycdn.net\/s\/files\/1\/0548\/9423\/1722\/files\/76cb4391f08aabc8db19f35a398c3dfd_720_480x480.jpg?v=1634527595\"\u003e\u003c\/div\u003e\n\u003ch3 data-mce-fragment=\"1\"\u003e\u003cspan style=\"color: #2b7e7e;\"\u003e\u003cstrong\u003eFEATURES\u003c\/strong\u003e\u003c\/span\u003e\u003c\/h3\u003e\n\u003cul\u003e\n\u003cli\u003e\u003cspan style=\"font-weight: 400;\" data-mce-fragment=\"1\" data-mce-style=\"font-weight: 400;\"\u003e\u003cspan style=\"color: #eac117;\"\u003e\u003cstrong\u003e💦Unique Design\u003c\/strong\u003e\u003c\/span\u003e: An original, classic spherical transparent glass decoration with the engraved \"I  Have an angel in Heaven\" on it to strongly remind this person of the impact on our lives.\u003c\/span\u003e\u003c\/li\u003e\n\u003cli\u003e\u003cspan style=\"font-weight: 400;\" data-mce-fragment=\"1\" data-mce-style=\"font-weight: 400;\"\u003e\u003cspan style=\"color: #eac117;\"\u003e\u003cstrong\u003e💦Meaningful Decoration\u003c\/strong\u003e\u003c\/span\u003e: Our souvenir spherical glass feathers are decorated with eye-catching white ribbons, which can be made into elegant Christmas tree decorations that are easy to hang, or as special socks fillers.\u003c\/span\u003e\u003c\/li\u003e\n\u003cli\u003e\u003cspan style=\"font-weight: 400;\" data-mce-fragment=\"1\" data-mce-style=\"font-weight: 400;\"\u003e\u003cspan style=\"color: #eac117;\"\u003e\u003cstrong\u003e💦Beautiful Memorial\u003c\/strong\u003e\u003c\/span\u003e: Makes a beautiful memorial for your lost loved one. Our lost loved ones will always be in our minds, inspiring, encouraging, and empowering us.\u003c\/span\u003e\u003c\/li\u003e\n\u003c\/ul\u003e\n\u003cdiv\u003e\u003cimg src=\"https:\/\/cdn.shopifycdn.net\/s\/files\/1\/0548\/9423\/1722\/files\/1_ecf98c14-a8f7-4891-a033-4ae106a0a922_480x480.jpg?v=1634527774\" alt=\"\" style=\"display: block; margin-left: auto; margin-right: auto;\" width=\"400\" height=\"400\" data-mce-fragment=\"1\" data-mce-src=\"https:\/\/cdn.shopifycdn.net\/s\/files\/1\/0548\/9423\/1722\/files\/1_ecf98c14-a8f7-4891-a033-4ae106a0a922_480x480.jpg?v=1634527774\"\u003e\u003c\/div\u003e\n\u003ch3 data-mce-fragment=\"1\"\u003e\u003cspan style=\"color: #2b7e7e;\"\u003e\u003cstrong\u003eSPECIFICATIONS\u003c\/strong\u003e\u003c\/span\u003e\u003c\/h3\u003e\n\u003cul\u003e\n\u003cli\u003e\u003cspan style=\"font-weight: 400;\" data-mce-fragment=\"1\" data-mce-style=\"font-weight: 400;\"\u003e\u003cstrong\u003eMaterial\u003c\/strong\u003e: PP\u003c\/span\u003e\u003c\/li\u003e\n\u003cli\u003e\u003cspan style=\"font-weight: 400;\" data-mce-fragment=\"1\" data-mce-style=\"font-weight: 400;\"\u003e\u003cstrong\u003eColor\u003c\/strong\u003e: White\u003c\/span\u003e\u003c\/li\u003e\n\u003cli\u003e\u003cspan style=\"font-weight: 400;\" data-mce-fragment=\"1\" data-mce-style=\"font-weight: 400;\"\u003e\u003cstrong\u003eStyle\u003c\/strong\u003e: Mom, Brother, Sister, Dad, Grandma, Grandpa, Daughter, Uncle, Aunt, Son, Wife, Husband\u003c\/span\u003e\u003c\/li\u003e\n\u003cli\u003e\u003cspan style=\"font-weight: 400;\" data-mce-fragment=\"1\" data-mce-style=\"font-weight: 400;\"\u003e\u003cstrong\u003eWeight\u003c\/strong\u003e: 30g \/ 0.06lb\u003c\/span\u003e\u003c\/li\u003e\n\u003cli\u003e\u003cspan style=\"font-weight: 400;\" data-mce-fragment=\"1\" data-mce-style=\"font-weight: 400;\"\u003e\u003cstrong\u003eSize\u003c\/strong\u003e: 18*16*5cm \/ 7.08*6.29*1.96in\u003c\/span\u003e\u003c\/li\u003e\n\u003c\/ul\u003e\n\u003ch3 data-mce-fragment=\"1\"\u003e\u003cspan style=\"color: #2b7e7e;\"\u003e\u003cstrong\u003ePACKAGE INCLUDED\u003c\/strong\u003e\u003c\/span\u003e\u003c\/h3\u003e\n\u003cul\u003e\n\u003cli\u003e\u003cspan style=\"font-weight: 400;\" data-mce-fragment=\"1\" data-mce-style=\"font-weight: 400;\"\u003e1 × Angel In Heaven Memorial Ornament\u003c\/span\u003e\u003c\/li\u003e\n\u003c\/ul\u003e"}
Angel In Heaven Memorial Ornament
Adding product to your cart
🎄⭐
Have you been looking for a special gift to commemorate a loved one who has passed away?
The heart-pleasing commemorative feather decorations will make your loved ones leave beautiful memories!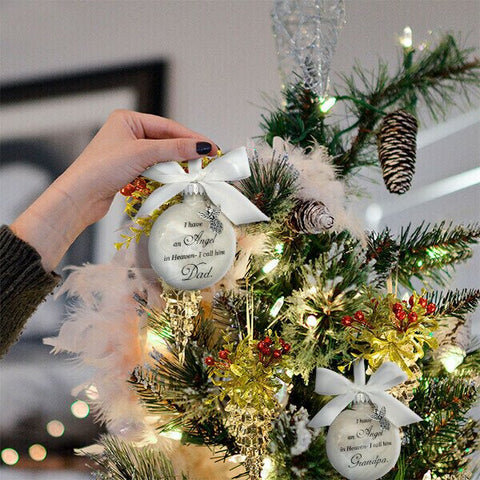 FEATURES
💦Unique Design: An original, classic spherical transparent glass decoration with the engraved "I  Have an angel in Heaven" on it to strongly remind this person of the impact on our lives.
💦Meaningful Decoration: Our souvenir spherical glass feathers are decorated with eye-catching white ribbons, which can be made into elegant Christmas tree decorations that are easy to hang, or as special socks fillers.
💦Beautiful Memorial: Makes a beautiful memorial for your lost loved one. Our lost loved ones will always be in our minds, inspiring, encouraging, and empowering us.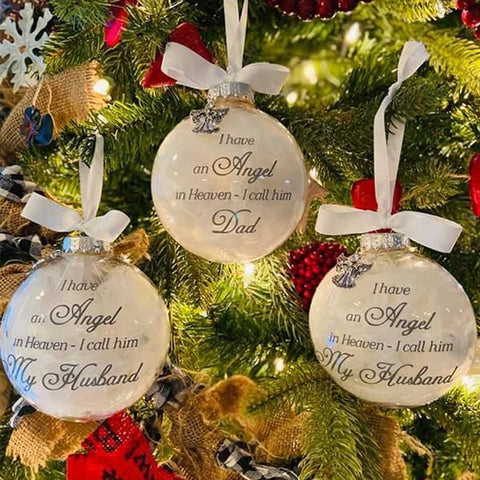 SPECIFICATIONS
Material: PP
Color: White
Style: Mom, Brother, Sister, Dad, Grandma, Grandpa, Daughter, Uncle, Aunt, Son, Wife, Husband
Weight: 30g / 0.06lb
Size: 18*16*5cm / 7.08*6.29*1.96in
PACKAGE INCLUDED
1 × Angel In Heaven Memorial Ornament