{"id":7375758262426,"title":"All-Day Ripple Long Ribbed Sports Bra","handle":"all-day-ripple-long-ribbed-sports-bra","description":"\u003ch4 style=\"text-align: center;\"\u003e\u003cstrong\u003e🤾‍♀🏋‍♀⛹‍♀\u003c\/strong\u003e\u003c\/h4\u003e\n\u003ch4 style=\"text-align: center;\" data-mce-fragment=\"1\"\u003e\u003cspan style=\"color: #3d9186;\"\u003e\u003cstrong\u003eStreamline, Limitless movement\u003c\/strong\u003e\u003c\/span\u003e\u003c\/h4\u003e\n\u003cdiv\u003e\u003cimg src=\"https:\/\/cdn.shopifycdn.net\/s\/files\/1\/0585\/8669\/3786\/products\/9f51552b11f9d48d1aa47638aceefcfb_8cf08370-8e25-499a-89c2-f8b9792fd972_480x480.jpg?v=1655883811\" alt=\"\" style=\"display: block; margin-left: auto; margin-right: auto;\" width=\"400\" height=\"400\" data-mce-fragment=\"1\" data-mce-src=\"https:\/\/cdn.shopifycdn.net\/s\/files\/1\/0585\/8669\/3786\/products\/9f51552b11f9d48d1aa47638aceefcfb_8cf08370-8e25-499a-89c2-f8b9792fd972_480x480.jpg?v=1655883811\"\u003e\u003c\/div\u003e\n\u003ch3 data-mce-fragment=\"1\"\u003e\u003cspan style=\"color: #7e7eae;\"\u003e\u003cstrong\u003eFEATURES\u003c\/strong\u003e\u003c\/span\u003e\u003c\/h3\u003e\n\u003cul\u003e\n\u003cli\u003e\u003cspan style=\"font-weight: 400;\" data-mce-style=\"font-weight: 400;\" data-mce-fragment=\"1\"\u003e🌈 Our Ripple sports bra features a long line cut and a ribbed texture, suitable for most kinds of workouts and training. \u003c\/span\u003e\u003c\/li\u003e\n\u003c\/ul\u003e\n\u003cdiv\u003e\u003cimg src=\"https:\/\/cdn.shopifycdn.net\/s\/files\/1\/0585\/8669\/3786\/files\/1_0000_3-removebg-preview_480x480.jpg?v=1655883861\" alt=\"\" style=\"display: block; margin-left: auto; margin-right: auto;\" width=\"400\" height=\"400\" data-mce-fragment=\"1\" data-mce-src=\"https:\/\/cdn.shopifycdn.net\/s\/files\/1\/0585\/8669\/3786\/files\/1_0000_3-removebg-preview_480x480.jpg?v=1655883861\"\u003e\u003c\/div\u003e\n\u003cul\u003e\n\u003cli\u003e\u003cspan style=\"font-weight: 400;\" data-mce-style=\"font-weight: 400;\" data-mce-fragment=\"1\"\u003e🌈 Designed with a feminine elongated v-shaped neckline and simple tank top in front and a strappy sexy back, it is business and play all melded into one.\u003c\/span\u003e\u003c\/li\u003e\n\u003c\/ul\u003e\n\u003cdiv\u003e\u003cimg src=\"https:\/\/cdn.shopifycdn.net\/s\/files\/1\/0585\/8669\/3786\/files\/1_0001_4-removebg-preview_480x480.jpg?v=1655883880\" alt=\"\" style=\"display: block; margin-left: auto; margin-right: auto;\" width=\"400\" height=\"400\" data-mce-fragment=\"1\" data-mce-src=\"https:\/\/cdn.shopifycdn.net\/s\/files\/1\/0585\/8669\/3786\/files\/1_0001_4-removebg-preview_480x480.jpg?v=1655883880\"\u003e\u003c\/div\u003e\n\u003cul\u003e\n\u003cli\u003e\u003cspan style=\"font-weight: 400;\" data-mce-style=\"font-weight: 400;\" data-mce-fragment=\"1\"\u003e🌈 Velvety smooth and soft fabric that feels weightless like 2nd skin. Four-way stretch for a comfortable 3D fit.\u003c\/span\u003e\u003c\/li\u003e\n\u003c\/ul\u003e\n\u003cdiv\u003e\u003cimg src=\"https:\/\/cdn.shopifycdn.net\/s\/files\/1\/0585\/8669\/3786\/files\/1_0004_5_480x480.jpg?v=1655883930\" alt=\"\" style=\"display: block; margin-left: auto; margin-right: auto;\" width=\"400\" height=\"400\" data-mce-fragment=\"1\" data-mce-src=\"https:\/\/cdn.shopifycdn.net\/s\/files\/1\/0585\/8669\/3786\/files\/1_0004_5_480x480.jpg?v=1655883930\"\u003e\u003c\/div\u003e\n\u003ch3 data-mce-fragment=\"1\"\u003e\u003cspan style=\"color: #7e7eae;\"\u003e\u003cstrong\u003eSPECIFICATIONS\u003c\/strong\u003e\u003c\/span\u003e\u003c\/h3\u003e\n\u003cul\u003e\n\u003cli\u003e\u003cspan style=\"font-weight: 400;\" data-mce-style=\"font-weight: 400;\" data-mce-fragment=\"1\"\u003e\u003cstrong\u003eMaterial\u003c\/strong\u003e: Nylon+Spandex\u003c\/span\u003e\u003c\/li\u003e\n\u003cli\u003e\u003cspan style=\"font-weight: 400;\" data-mce-style=\"font-weight: 400;\" data-mce-fragment=\"1\"\u003e\u003cstrong\u003eColor\u003c\/strong\u003e: Cherry Blossom Purple, Roland Purple, Haitao Blue, Midnight Black\u003c\/span\u003e\u003c\/li\u003e\n\u003cli\u003e\u003cspan style=\"font-weight: 400;\" data-mce-style=\"font-weight: 400;\" data-mce-fragment=\"1\"\u003e\u003cstrong\u003eWeight\u003c\/strong\u003e: 150g \/ 0.3lb\u003c\/span\u003e\u003c\/li\u003e\n\u003cli\u003e\u003cspan style=\"font-weight: 400;\" data-mce-style=\"font-weight: 400;\" data-mce-fragment=\"1\"\u003e\u003cstrong\u003eSize chart\u003c\/strong\u003e: \u003c\/span\u003e\u003c\/li\u003e\n\u003c\/ul\u003e\n\u003ctable style=\"width: 93.535%; margin-left: auto; margin-right: auto;\" data-mce-fragment=\"1\"\u003e\n\u003ctbody data-mce-fragment=\"1\"\u003e\n\u003ctr data-mce-fragment=\"1\"\u003e\n\u003ctd style=\"width: 10%; text-align: center;\" data-mce-fragment=\"1\"\u003e Size\u003c\/td\u003e\n\u003ctd style=\"width: 18%; text-align: center;\" data-mce-fragment=\"1\"\u003eS\u003c\/td\u003e\n\u003ctd style=\"width: 18%; text-align: center;\" data-mce-fragment=\"1\"\u003eM\u003c\/td\u003e\n\u003ctd style=\"width: 17%; text-align: center;\" data-mce-fragment=\"1\"\u003eL\u003c\/td\u003e\n\u003ctd style=\"width: 16.535%; text-align: center;\" data-mce-fragment=\"1\"\u003eXL\u003c\/td\u003e\n\u003c\/tr\u003e\n\u003ctr style=\"text-align: center;\" data-mce-fragment=\"1\"\u003e\n\u003ctd style=\"width: 10%;\" data-mce-fragment=\"1\"\u003eLength\u003c\/td\u003e\n\u003ctd style=\"width: 18%;\" data-mce-fragment=\"1\"\u003e30.5cm\/12.0in\u003c\/td\u003e\n\u003ctd style=\"width: 18%;\" data-mce-fragment=\"1\"\u003e32cm\/12.6in\u003c\/td\u003e\n\u003ctd style=\"width: 17%;\" data-mce-fragment=\"1\"\u003e33.5cm\/13.2in\u003c\/td\u003e\n\u003ctd style=\"width: 16.535%;\" data-mce-fragment=\"1\"\u003e35cm\/13.8in\u003c\/td\u003e\n\u003c\/tr\u003e\n\u003ctr style=\"text-align: center;\" data-mce-fragment=\"1\"\u003e\n\u003ctd style=\"width: 10%;\" data-mce-fragment=\"1\"\u003eBust\u003c\/td\u003e\n\u003ctd style=\"width: 18%;\" data-mce-fragment=\"1\"\u003e62cm\/24.4in\u003c\/td\u003e\n\u003ctd style=\"width: 18%;\" data-mce-fragment=\"1\"\u003e66cm\/25.9in\u003c\/td\u003e\n\u003ctd style=\"width: 17%;\" data-mce-fragment=\"1\"\u003e70cm\/27.6in\u003c\/td\u003e\n\u003ctd style=\"width: 16.535%;\" data-mce-fragment=\"1\"\u003e74cm\/29.1in\u003c\/td\u003e\n\u003c\/tr\u003e\n\u003ctr data-mce-fragment=\"1\"\u003e\n\u003ctd style=\"width: 10%; text-align: center;\" data-mce-fragment=\"1\"\u003eHem\u003c\/td\u003e\n\u003ctd style=\"width: 18%; text-align: center;\" data-mce-fragment=\"1\"\u003e59cm\/23.2in\u003c\/td\u003e\n\u003ctd style=\"width: 18%; text-align: center;\" data-mce-fragment=\"1\"\u003e63cm\/24.8in\u003c\/td\u003e\n\u003ctd style=\"width: 17%; text-align: center;\" data-mce-fragment=\"1\"\u003e67cm\/26.4in\u003c\/td\u003e\n\u003ctd style=\"width: 16.535%; text-align: center;\" data-mce-fragment=\"1\"\u003e71cm\/27.9in\u003c\/td\u003e\n\u003c\/tr\u003e\n\u003c\/tbody\u003e\n\u003c\/table\u003e\n\u003cbr data-mce-fragment=\"1\"\u003e\n\u003ch3 data-mce-fragment=\"1\"\u003e\u003cspan style=\"color: #7e7eae;\"\u003e\u003cstrong\u003ePACKAGE INCLUDED\u003c\/strong\u003e\u003c\/span\u003e\u003c\/h3\u003e\n\u003cul\u003e\n\u003cli\u003e\u003cspan style=\"font-weight: 400;\" data-mce-style=\"font-weight: 400;\" data-mce-fragment=\"1\"\u003e1 × All-Day Ripple Long Ribbed Sports Bra\u003c\/span\u003e\u003c\/li\u003e\n\u003c\/ul\u003e\n\u003cbr data-mce-fragment=\"1\"\u003e","published_at":"2022-06-22T01:45:43-06:00","created_at":"2022-06-22T00:49:58-06:00","vendor":"luluwin","type":"Clothing","tags":["CLOTHING \u0026 ACCESSORIES","Women's Clothing"],"price":2499,"price_min":2499,"price_max":2499,"available":true,"price_varies":false,"compare_at_price":4999,"compare_at_price_min":4999,"compare_at_price_max":4999,"compare_at_price_varies":false,"variants":[{"id":42118292078746,"title":"Cherry Blossom Purple \/ S","option1":"Cherry Blossom Purple","option2":"S","option3":null,"sku":"UN32780-S00S-X24303","requires_shipping":true,"taxable":false,"featured_image":{"id":34162168070298,"product_id":7375758262426,"position":7,"created_at":"2022-06-22T01:42:36-06:00","updated_at":"2022-06-22T01:42:39-06:00","alt":null,"width":800,"height":800,"src":"\/\/www.luluwin.co.uk\/cdn\/shop\/products\/1_0006_3.jpg?v=1655883759","variant_ids":[42118292078746,42118292111514,42118292144282,42118292177050]},"available":true,"name":"All-Day Ripple Long Ribbed Sports Bra - Cherry Blossom Purple \/ S","public_title":"Cherry Blossom Purple \/ S","options":["Cherry Blossom Purple","S"],"price":2499,"weight":0,"compare_at_price":4999,"inventory_management":null,"barcode":"","featured_media":{"alt":null,"id":26617697042586,"position":7,"preview_image":{"aspect_ratio":1.0,"height":800,"width":800,"src":"\/\/www.luluwin.co.uk\/cdn\/shop\/products\/1_0006_3.jpg?v=1655883759"}},"requires_selling_plan":false,"selling_plan_allocations":[]},{"id":42118292111514,"title":"Cherry Blossom Purple \/ M","option1":"Cherry Blossom Purple","option2":"M","option3":null,"sku":"UN32780-S00M-X24303","requires_shipping":true,"taxable":false,"featured_image":{"id":34162168070298,"product_id":7375758262426,"position":7,"created_at":"2022-06-22T01:42:36-06:00","updated_at":"2022-06-22T01:42:39-06:00","alt":null,"width":800,"height":800,"src":"\/\/www.luluwin.co.uk\/cdn\/shop\/products\/1_0006_3.jpg?v=1655883759","variant_ids":[42118292078746,42118292111514,42118292144282,42118292177050]},"available":true,"name":"All-Day Ripple Long Ribbed Sports Bra - Cherry Blossom Purple \/ M","public_title":"Cherry Blossom Purple \/ M","options":["Cherry Blossom Purple","M"],"price":2499,"weight":0,"compare_at_price":4999,"inventory_management":null,"barcode":"","featured_media":{"alt":null,"id":26617697042586,"position":7,"preview_image":{"aspect_ratio":1.0,"height":800,"width":800,"src":"\/\/www.luluwin.co.uk\/cdn\/shop\/products\/1_0006_3.jpg?v=1655883759"}},"requires_selling_plan":false,"selling_plan_allocations":[]},{"id":42118292144282,"title":"Cherry Blossom Purple \/ L","option1":"Cherry Blossom Purple","option2":"L","option3":null,"sku":"UN32780-S00L-X24303","requires_shipping":true,"taxable":false,"featured_image":{"id":34162168070298,"product_id":7375758262426,"position":7,"created_at":"2022-06-22T01:42:36-06:00","updated_at":"2022-06-22T01:42:39-06:00","alt":null,"width":800,"height":800,"src":"\/\/www.luluwin.co.uk\/cdn\/shop\/products\/1_0006_3.jpg?v=1655883759","variant_ids":[42118292078746,42118292111514,42118292144282,42118292177050]},"available":true,"name":"All-Day Ripple Long Ribbed Sports Bra - Cherry Blossom Purple \/ L","public_title":"Cherry Blossom Purple \/ L","options":["Cherry Blossom Purple","L"],"price":2499,"weight":0,"compare_at_price":4999,"inventory_management":null,"barcode":"","featured_media":{"alt":null,"id":26617697042586,"position":7,"preview_image":{"aspect_ratio":1.0,"height":800,"width":800,"src":"\/\/www.luluwin.co.uk\/cdn\/shop\/products\/1_0006_3.jpg?v=1655883759"}},"requires_selling_plan":false,"selling_plan_allocations":[]},{"id":42118292177050,"title":"Cherry Blossom Purple \/ XL","option1":"Cherry Blossom Purple","option2":"XL","option3":null,"sku":"UN32780-S00X-X24303","requires_shipping":true,"taxable":false,"featured_image":{"id":34162168070298,"product_id":7375758262426,"position":7,"created_at":"2022-06-22T01:42:36-06:00","updated_at":"2022-06-22T01:42:39-06:00","alt":null,"width":800,"height":800,"src":"\/\/www.luluwin.co.uk\/cdn\/shop\/products\/1_0006_3.jpg?v=1655883759","variant_ids":[42118292078746,42118292111514,42118292144282,42118292177050]},"available":true,"name":"All-Day Ripple Long Ribbed Sports Bra - Cherry Blossom Purple \/ XL","public_title":"Cherry Blossom Purple \/ XL","options":["Cherry Blossom Purple","XL"],"price":2499,"weight":0,"compare_at_price":4999,"inventory_management":null,"barcode":"","featured_media":{"alt":null,"id":26617697042586,"position":7,"preview_image":{"aspect_ratio":1.0,"height":800,"width":800,"src":"\/\/www.luluwin.co.uk\/cdn\/shop\/products\/1_0006_3.jpg?v=1655883759"}},"requires_selling_plan":false,"selling_plan_allocations":[]},{"id":42118292209818,"title":"Roland Purple \/ S","option1":"Roland Purple","option2":"S","option3":null,"sku":"UN32780-S00S-X18571","requires_shipping":true,"taxable":false,"featured_image":{"id":34162167742618,"product_id":7375758262426,"position":5,"created_at":"2022-06-22T01:42:36-06:00","updated_at":"2022-06-22T01:42:37-06:00","alt":null,"width":800,"height":800,"src":"\/\/www.luluwin.co.uk\/cdn\/shop\/products\/1_0004_5_028766e0-7c11-46c5-a80b-b0659f0e1f2a.jpg?v=1655883757","variant_ids":[42118292209818,42118292242586,42118292275354,42118292308122]},"available":true,"name":"All-Day Ripple Long Ribbed Sports Bra - Roland Purple \/ S","public_title":"Roland Purple \/ S","options":["Roland Purple","S"],"price":2499,"weight":0,"compare_at_price":4999,"inventory_management":null,"barcode":"","featured_media":{"alt":null,"id":26617696977050,"position":5,"preview_image":{"aspect_ratio":1.0,"height":800,"width":800,"src":"\/\/www.luluwin.co.uk\/cdn\/shop\/products\/1_0004_5_028766e0-7c11-46c5-a80b-b0659f0e1f2a.jpg?v=1655883757"}},"requires_selling_plan":false,"selling_plan_allocations":[]},{"id":42118292242586,"title":"Roland Purple \/ M","option1":"Roland Purple","option2":"M","option3":null,"sku":"UN32780-S00M-X18571","requires_shipping":true,"taxable":false,"featured_image":{"id":34162167742618,"product_id":7375758262426,"position":5,"created_at":"2022-06-22T01:42:36-06:00","updated_at":"2022-06-22T01:42:37-06:00","alt":null,"width":800,"height":800,"src":"\/\/www.luluwin.co.uk\/cdn\/shop\/products\/1_0004_5_028766e0-7c11-46c5-a80b-b0659f0e1f2a.jpg?v=1655883757","variant_ids":[42118292209818,42118292242586,42118292275354,42118292308122]},"available":true,"name":"All-Day Ripple Long Ribbed Sports Bra - Roland Purple \/ M","public_title":"Roland Purple \/ M","options":["Roland Purple","M"],"price":2499,"weight":0,"compare_at_price":4999,"inventory_management":null,"barcode":"","featured_media":{"alt":null,"id":26617696977050,"position":5,"preview_image":{"aspect_ratio":1.0,"height":800,"width":800,"src":"\/\/www.luluwin.co.uk\/cdn\/shop\/products\/1_0004_5_028766e0-7c11-46c5-a80b-b0659f0e1f2a.jpg?v=1655883757"}},"requires_selling_plan":false,"selling_plan_allocations":[]},{"id":42118292275354,"title":"Roland Purple \/ L","option1":"Roland Purple","option2":"L","option3":null,"sku":"UN32780-S00L-X18571","requires_shipping":true,"taxable":false,"featured_image":{"id":34162167742618,"product_id":7375758262426,"position":5,"created_at":"2022-06-22T01:42:36-06:00","updated_at":"2022-06-22T01:42:37-06:00","alt":null,"width":800,"height":800,"src":"\/\/www.luluwin.co.uk\/cdn\/shop\/products\/1_0004_5_028766e0-7c11-46c5-a80b-b0659f0e1f2a.jpg?v=1655883757","variant_ids":[42118292209818,42118292242586,42118292275354,42118292308122]},"available":true,"name":"All-Day Ripple Long Ribbed Sports Bra - Roland Purple \/ L","public_title":"Roland Purple \/ L","options":["Roland Purple","L"],"price":2499,"weight":0,"compare_at_price":4999,"inventory_management":null,"barcode":"","featured_media":{"alt":null,"id":26617696977050,"position":5,"preview_image":{"aspect_ratio":1.0,"height":800,"width":800,"src":"\/\/www.luluwin.co.uk\/cdn\/shop\/products\/1_0004_5_028766e0-7c11-46c5-a80b-b0659f0e1f2a.jpg?v=1655883757"}},"requires_selling_plan":false,"selling_plan_allocations":[]},{"id":42118292308122,"title":"Roland Purple \/ XL","option1":"Roland Purple","option2":"XL","option3":null,"sku":"UN32780-S00X-X18571","requires_shipping":true,"taxable":false,"featured_image":{"id":34162167742618,"product_id":7375758262426,"position":5,"created_at":"2022-06-22T01:42:36-06:00","updated_at":"2022-06-22T01:42:37-06:00","alt":null,"width":800,"height":800,"src":"\/\/www.luluwin.co.uk\/cdn\/shop\/products\/1_0004_5_028766e0-7c11-46c5-a80b-b0659f0e1f2a.jpg?v=1655883757","variant_ids":[42118292209818,42118292242586,42118292275354,42118292308122]},"available":true,"name":"All-Day Ripple Long Ribbed Sports Bra - Roland Purple \/ XL","public_title":"Roland Purple \/ XL","options":["Roland Purple","XL"],"price":2499,"weight":0,"compare_at_price":4999,"inventory_management":null,"barcode":"","featured_media":{"alt":null,"id":26617696977050,"position":5,"preview_image":{"aspect_ratio":1.0,"height":800,"width":800,"src":"\/\/www.luluwin.co.uk\/cdn\/shop\/products\/1_0004_5_028766e0-7c11-46c5-a80b-b0659f0e1f2a.jpg?v=1655883757"}},"requires_selling_plan":false,"selling_plan_allocations":[]},{"id":42118292340890,"title":"Ocean Blue \/ S","option1":"Ocean Blue","option2":"S","option3":null,"sku":"UN32780-S00S-X25828","requires_shipping":true,"taxable":false,"featured_image":{"id":34162167644314,"product_id":7375758262426,"position":6,"created_at":"2022-06-22T01:42:36-06:00","updated_at":"2022-06-22T01:42:37-06:00","alt":null,"width":800,"height":800,"src":"\/\/www.luluwin.co.uk\/cdn\/shop\/products\/1_0005_4.jpg?v=1655883757","variant_ids":[42118292340890,42118292373658,42118292406426,42118292439194]},"available":true,"name":"All-Day Ripple Long Ribbed Sports Bra - Ocean Blue \/ S","public_title":"Ocean Blue \/ S","options":["Ocean Blue","S"],"price":2499,"weight":0,"compare_at_price":4999,"inventory_management":null,"barcode":"","featured_media":{"alt":null,"id":26617697009818,"position":6,"preview_image":{"aspect_ratio":1.0,"height":800,"width":800,"src":"\/\/www.luluwin.co.uk\/cdn\/shop\/products\/1_0005_4.jpg?v=1655883757"}},"requires_selling_plan":false,"selling_plan_allocations":[]},{"id":42118292373658,"title":"Ocean Blue \/ M","option1":"Ocean Blue","option2":"M","option3":null,"sku":"UN32780-S00M-X25828","requires_shipping":true,"taxable":false,"featured_image":{"id":34162167644314,"product_id":7375758262426,"position":6,"created_at":"2022-06-22T01:42:36-06:00","updated_at":"2022-06-22T01:42:37-06:00","alt":null,"width":800,"height":800,"src":"\/\/www.luluwin.co.uk\/cdn\/shop\/products\/1_0005_4.jpg?v=1655883757","variant_ids":[42118292340890,42118292373658,42118292406426,42118292439194]},"available":true,"name":"All-Day Ripple Long Ribbed Sports Bra - Ocean Blue \/ M","public_title":"Ocean Blue \/ M","options":["Ocean Blue","M"],"price":2499,"weight":0,"compare_at_price":4999,"inventory_management":null,"barcode":"","featured_media":{"alt":null,"id":26617697009818,"position":6,"preview_image":{"aspect_ratio":1.0,"height":800,"width":800,"src":"\/\/www.luluwin.co.uk\/cdn\/shop\/products\/1_0005_4.jpg?v=1655883757"}},"requires_selling_plan":false,"selling_plan_allocations":[]},{"id":42118292406426,"title":"Ocean Blue \/ L","option1":"Ocean Blue","option2":"L","option3":null,"sku":"UN32780-S00L-X25828","requires_shipping":true,"taxable":false,"featured_image":{"id":34162167644314,"product_id":7375758262426,"position":6,"created_at":"2022-06-22T01:42:36-06:00","updated_at":"2022-06-22T01:42:37-06:00","alt":null,"width":800,"height":800,"src":"\/\/www.luluwin.co.uk\/cdn\/shop\/products\/1_0005_4.jpg?v=1655883757","variant_ids":[42118292340890,42118292373658,42118292406426,42118292439194]},"available":true,"name":"All-Day Ripple Long Ribbed Sports Bra - Ocean Blue \/ L","public_title":"Ocean Blue \/ L","options":["Ocean Blue","L"],"price":2499,"weight":0,"compare_at_price":4999,"inventory_management":null,"barcode":"","featured_media":{"alt":null,"id":26617697009818,"position":6,"preview_image":{"aspect_ratio":1.0,"height":800,"width":800,"src":"\/\/www.luluwin.co.uk\/cdn\/shop\/products\/1_0005_4.jpg?v=1655883757"}},"requires_selling_plan":false,"selling_plan_allocations":[]},{"id":42118292439194,"title":"Ocean Blue \/ XL","option1":"Ocean Blue","option2":"XL","option3":null,"sku":"UN32780-S00X-X25828","requires_shipping":true,"taxable":false,"featured_image":{"id":34162167644314,"product_id":7375758262426,"position":6,"created_at":"2022-06-22T01:42:36-06:00","updated_at":"2022-06-22T01:42:37-06:00","alt":null,"width":800,"height":800,"src":"\/\/www.luluwin.co.uk\/cdn\/shop\/products\/1_0005_4.jpg?v=1655883757","variant_ids":[42118292340890,42118292373658,42118292406426,42118292439194]},"available":true,"name":"All-Day Ripple Long Ribbed Sports Bra - Ocean Blue \/ XL","public_title":"Ocean Blue \/ XL","options":["Ocean Blue","XL"],"price":2499,"weight":0,"compare_at_price":4999,"inventory_management":null,"barcode":"","featured_media":{"alt":null,"id":26617697009818,"position":6,"preview_image":{"aspect_ratio":1.0,"height":800,"width":800,"src":"\/\/www.luluwin.co.uk\/cdn\/shop\/products\/1_0005_4.jpg?v=1655883757"}},"requires_selling_plan":false,"selling_plan_allocations":[]},{"id":42118292471962,"title":"Midnight Black \/ S","option1":"Midnight Black","option2":"S","option3":null,"sku":"UN32780-S00S-X24538","requires_shipping":true,"taxable":false,"featured_image":{"id":34162167677082,"product_id":7375758262426,"position":8,"created_at":"2022-06-22T01:42:36-06:00","updated_at":"2022-06-22T01:42:37-06:00","alt":null,"width":800,"height":800,"src":"\/\/www.luluwin.co.uk\/cdn\/shop\/products\/1_0007_6.jpg?v=1655883757","variant_ids":[42118292471962,42118292504730,42118292537498,42118292603034]},"available":true,"name":"All-Day Ripple Long Ribbed Sports Bra - Midnight Black \/ S","public_title":"Midnight Black \/ S","options":["Midnight Black","S"],"price":2499,"weight":0,"compare_at_price":4999,"inventory_management":null,"barcode":"","featured_media":{"alt":null,"id":26617697075354,"position":8,"preview_image":{"aspect_ratio":1.0,"height":800,"width":800,"src":"\/\/www.luluwin.co.uk\/cdn\/shop\/products\/1_0007_6.jpg?v=1655883757"}},"requires_selling_plan":false,"selling_plan_allocations":[]},{"id":42118292504730,"title":"Midnight Black \/ M","option1":"Midnight Black","option2":"M","option3":null,"sku":"UN32780-S00M-X24538","requires_shipping":true,"taxable":false,"featured_image":{"id":34162167677082,"product_id":7375758262426,"position":8,"created_at":"2022-06-22T01:42:36-06:00","updated_at":"2022-06-22T01:42:37-06:00","alt":null,"width":800,"height":800,"src":"\/\/www.luluwin.co.uk\/cdn\/shop\/products\/1_0007_6.jpg?v=1655883757","variant_ids":[42118292471962,42118292504730,42118292537498,42118292603034]},"available":true,"name":"All-Day Ripple Long Ribbed Sports Bra - Midnight Black \/ M","public_title":"Midnight Black \/ M","options":["Midnight Black","M"],"price":2499,"weight":0,"compare_at_price":4999,"inventory_management":null,"barcode":"","featured_media":{"alt":null,"id":26617697075354,"position":8,"preview_image":{"aspect_ratio":1.0,"height":800,"width":800,"src":"\/\/www.luluwin.co.uk\/cdn\/shop\/products\/1_0007_6.jpg?v=1655883757"}},"requires_selling_plan":false,"selling_plan_allocations":[]},{"id":42118292537498,"title":"Midnight Black \/ L","option1":"Midnight Black","option2":"L","option3":null,"sku":"UN32780-S00L-X24538","requires_shipping":true,"taxable":false,"featured_image":{"id":34162167677082,"product_id":7375758262426,"position":8,"created_at":"2022-06-22T01:42:36-06:00","updated_at":"2022-06-22T01:42:37-06:00","alt":null,"width":800,"height":800,"src":"\/\/www.luluwin.co.uk\/cdn\/shop\/products\/1_0007_6.jpg?v=1655883757","variant_ids":[42118292471962,42118292504730,42118292537498,42118292603034]},"available":true,"name":"All-Day Ripple Long Ribbed Sports Bra - Midnight Black \/ L","public_title":"Midnight Black \/ L","options":["Midnight Black","L"],"price":2499,"weight":0,"compare_at_price":4999,"inventory_management":null,"barcode":"","featured_media":{"alt":null,"id":26617697075354,"position":8,"preview_image":{"aspect_ratio":1.0,"height":800,"width":800,"src":"\/\/www.luluwin.co.uk\/cdn\/shop\/products\/1_0007_6.jpg?v=1655883757"}},"requires_selling_plan":false,"selling_plan_allocations":[]},{"id":42118292603034,"title":"Midnight Black \/ XL","option1":"Midnight Black","option2":"XL","option3":null,"sku":"UN32780-S00X-X24538","requires_shipping":true,"taxable":false,"featured_image":{"id":34162167677082,"product_id":7375758262426,"position":8,"created_at":"2022-06-22T01:42:36-06:00","updated_at":"2022-06-22T01:42:37-06:00","alt":null,"width":800,"height":800,"src":"\/\/www.luluwin.co.uk\/cdn\/shop\/products\/1_0007_6.jpg?v=1655883757","variant_ids":[42118292471962,42118292504730,42118292537498,42118292603034]},"available":true,"name":"All-Day Ripple Long Ribbed Sports Bra - Midnight Black \/ XL","public_title":"Midnight Black \/ XL","options":["Midnight Black","XL"],"price":2499,"weight":0,"compare_at_price":4999,"inventory_management":null,"barcode":"","featured_media":{"alt":null,"id":26617697075354,"position":8,"preview_image":{"aspect_ratio":1.0,"height":800,"width":800,"src":"\/\/www.luluwin.co.uk\/cdn\/shop\/products\/1_0007_6.jpg?v=1655883757"}},"requires_selling_plan":false,"selling_plan_allocations":[]}],"images":["\/\/www.luluwin.co.uk\/cdn\/shop\/products\/9f51552b11f9d48d1aa47638aceefcfb_8cf08370-8e25-499a-89c2-f8b9792fd972.jpg?v=1655883758","\/\/www.luluwin.co.uk\/cdn\/shop\/products\/1_ae270edc-dec0-4d1e-900a-09fc424c3a59.jpg?v=1655883757","\/\/www.luluwin.co.uk\/cdn\/shop\/products\/1_0002__2.jpg?v=1655883759","\/\/www.luluwin.co.uk\/cdn\/shop\/products\/1_0003__1.jpg?v=1655883759","\/\/www.luluwin.co.uk\/cdn\/shop\/products\/1_0004_5_028766e0-7c11-46c5-a80b-b0659f0e1f2a.jpg?v=1655883757","\/\/www.luluwin.co.uk\/cdn\/shop\/products\/1_0005_4.jpg?v=1655883757","\/\/www.luluwin.co.uk\/cdn\/shop\/products\/1_0006_3.jpg?v=1655883759","\/\/www.luluwin.co.uk\/cdn\/shop\/products\/1_0007_6.jpg?v=1655883757"],"featured_image":"\/\/www.luluwin.co.uk\/cdn\/shop\/products\/9f51552b11f9d48d1aa47638aceefcfb_8cf08370-8e25-499a-89c2-f8b9792fd972.jpg?v=1655883758","options":["Color","Size"],"media":[{"alt":null,"id":26617696780442,"position":1,"preview_image":{"aspect_ratio":1.0,"height":800,"width":800,"src":"\/\/www.luluwin.co.uk\/cdn\/shop\/products\/9f51552b11f9d48d1aa47638aceefcfb_8cf08370-8e25-499a-89c2-f8b9792fd972.jpg?v=1655883758"},"aspect_ratio":1.0,"height":800,"media_type":"image","src":"\/\/www.luluwin.co.uk\/cdn\/shop\/products\/9f51552b11f9d48d1aa47638aceefcfb_8cf08370-8e25-499a-89c2-f8b9792fd972.jpg?v=1655883758","width":800},{"alt":null,"id":26617696813210,"position":2,"preview_image":{"aspect_ratio":1.0,"height":800,"width":800,"src":"\/\/www.luluwin.co.uk\/cdn\/shop\/products\/1_ae270edc-dec0-4d1e-900a-09fc424c3a59.jpg?v=1655883757"},"aspect_ratio":1.0,"height":800,"media_type":"image","src":"\/\/www.luluwin.co.uk\/cdn\/shop\/products\/1_ae270edc-dec0-4d1e-900a-09fc424c3a59.jpg?v=1655883757","width":800},{"alt":null,"id":26617696911514,"position":3,"preview_image":{"aspect_ratio":1.0,"height":800,"width":800,"src":"\/\/www.luluwin.co.uk\/cdn\/shop\/products\/1_0002__2.jpg?v=1655883759"},"aspect_ratio":1.0,"height":800,"media_type":"image","src":"\/\/www.luluwin.co.uk\/cdn\/shop\/products\/1_0002__2.jpg?v=1655883759","width":800},{"alt":null,"id":26617696944282,"position":4,"preview_image":{"aspect_ratio":1.0,"height":800,"width":800,"src":"\/\/www.luluwin.co.uk\/cdn\/shop\/products\/1_0003__1.jpg?v=1655883759"},"aspect_ratio":1.0,"height":800,"media_type":"image","src":"\/\/www.luluwin.co.uk\/cdn\/shop\/products\/1_0003__1.jpg?v=1655883759","width":800},{"alt":null,"id":26617696977050,"position":5,"preview_image":{"aspect_ratio":1.0,"height":800,"width":800,"src":"\/\/www.luluwin.co.uk\/cdn\/shop\/products\/1_0004_5_028766e0-7c11-46c5-a80b-b0659f0e1f2a.jpg?v=1655883757"},"aspect_ratio":1.0,"height":800,"media_type":"image","src":"\/\/www.luluwin.co.uk\/cdn\/shop\/products\/1_0004_5_028766e0-7c11-46c5-a80b-b0659f0e1f2a.jpg?v=1655883757","width":800},{"alt":null,"id":26617697009818,"position":6,"preview_image":{"aspect_ratio":1.0,"height":800,"width":800,"src":"\/\/www.luluwin.co.uk\/cdn\/shop\/products\/1_0005_4.jpg?v=1655883757"},"aspect_ratio":1.0,"height":800,"media_type":"image","src":"\/\/www.luluwin.co.uk\/cdn\/shop\/products\/1_0005_4.jpg?v=1655883757","width":800},{"alt":null,"id":26617697042586,"position":7,"preview_image":{"aspect_ratio":1.0,"height":800,"width":800,"src":"\/\/www.luluwin.co.uk\/cdn\/shop\/products\/1_0006_3.jpg?v=1655883759"},"aspect_ratio":1.0,"height":800,"media_type":"image","src":"\/\/www.luluwin.co.uk\/cdn\/shop\/products\/1_0006_3.jpg?v=1655883759","width":800},{"alt":null,"id":26617697075354,"position":8,"preview_image":{"aspect_ratio":1.0,"height":800,"width":800,"src":"\/\/www.luluwin.co.uk\/cdn\/shop\/products\/1_0007_6.jpg?v=1655883757"},"aspect_ratio":1.0,"height":800,"media_type":"image","src":"\/\/www.luluwin.co.uk\/cdn\/shop\/products\/1_0007_6.jpg?v=1655883757","width":800}],"requires_selling_plan":false,"selling_plan_groups":[],"content":"\u003ch4 style=\"text-align: center;\"\u003e\u003cstrong\u003e🤾‍♀🏋‍♀⛹‍♀\u003c\/strong\u003e\u003c\/h4\u003e\n\u003ch4 style=\"text-align: center;\" data-mce-fragment=\"1\"\u003e\u003cspan style=\"color: #3d9186;\"\u003e\u003cstrong\u003eStreamline, Limitless movement\u003c\/strong\u003e\u003c\/span\u003e\u003c\/h4\u003e\n\u003cdiv\u003e\u003cimg src=\"https:\/\/cdn.shopifycdn.net\/s\/files\/1\/0585\/8669\/3786\/products\/9f51552b11f9d48d1aa47638aceefcfb_8cf08370-8e25-499a-89c2-f8b9792fd972_480x480.jpg?v=1655883811\" alt=\"\" style=\"display: block; margin-left: auto; margin-right: auto;\" width=\"400\" height=\"400\" data-mce-fragment=\"1\" data-mce-src=\"https:\/\/cdn.shopifycdn.net\/s\/files\/1\/0585\/8669\/3786\/products\/9f51552b11f9d48d1aa47638aceefcfb_8cf08370-8e25-499a-89c2-f8b9792fd972_480x480.jpg?v=1655883811\"\u003e\u003c\/div\u003e\n\u003ch3 data-mce-fragment=\"1\"\u003e\u003cspan style=\"color: #7e7eae;\"\u003e\u003cstrong\u003eFEATURES\u003c\/strong\u003e\u003c\/span\u003e\u003c\/h3\u003e\n\u003cul\u003e\n\u003cli\u003e\u003cspan style=\"font-weight: 400;\" data-mce-style=\"font-weight: 400;\" data-mce-fragment=\"1\"\u003e🌈 Our Ripple sports bra features a long line cut and a ribbed texture, suitable for most kinds of workouts and training. \u003c\/span\u003e\u003c\/li\u003e\n\u003c\/ul\u003e\n\u003cdiv\u003e\u003cimg src=\"https:\/\/cdn.shopifycdn.net\/s\/files\/1\/0585\/8669\/3786\/files\/1_0000_3-removebg-preview_480x480.jpg?v=1655883861\" alt=\"\" style=\"display: block; margin-left: auto; margin-right: auto;\" width=\"400\" height=\"400\" data-mce-fragment=\"1\" data-mce-src=\"https:\/\/cdn.shopifycdn.net\/s\/files\/1\/0585\/8669\/3786\/files\/1_0000_3-removebg-preview_480x480.jpg?v=1655883861\"\u003e\u003c\/div\u003e\n\u003cul\u003e\n\u003cli\u003e\u003cspan style=\"font-weight: 400;\" data-mce-style=\"font-weight: 400;\" data-mce-fragment=\"1\"\u003e🌈 Designed with a feminine elongated v-shaped neckline and simple tank top in front and a strappy sexy back, it is business and play all melded into one.\u003c\/span\u003e\u003c\/li\u003e\n\u003c\/ul\u003e\n\u003cdiv\u003e\u003cimg src=\"https:\/\/cdn.shopifycdn.net\/s\/files\/1\/0585\/8669\/3786\/files\/1_0001_4-removebg-preview_480x480.jpg?v=1655883880\" alt=\"\" style=\"display: block; margin-left: auto; margin-right: auto;\" width=\"400\" height=\"400\" data-mce-fragment=\"1\" data-mce-src=\"https:\/\/cdn.shopifycdn.net\/s\/files\/1\/0585\/8669\/3786\/files\/1_0001_4-removebg-preview_480x480.jpg?v=1655883880\"\u003e\u003c\/div\u003e\n\u003cul\u003e\n\u003cli\u003e\u003cspan style=\"font-weight: 400;\" data-mce-style=\"font-weight: 400;\" data-mce-fragment=\"1\"\u003e🌈 Velvety smooth and soft fabric that feels weightless like 2nd skin. Four-way stretch for a comfortable 3D fit.\u003c\/span\u003e\u003c\/li\u003e\n\u003c\/ul\u003e\n\u003cdiv\u003e\u003cimg src=\"https:\/\/cdn.shopifycdn.net\/s\/files\/1\/0585\/8669\/3786\/files\/1_0004_5_480x480.jpg?v=1655883930\" alt=\"\" style=\"display: block; margin-left: auto; margin-right: auto;\" width=\"400\" height=\"400\" data-mce-fragment=\"1\" data-mce-src=\"https:\/\/cdn.shopifycdn.net\/s\/files\/1\/0585\/8669\/3786\/files\/1_0004_5_480x480.jpg?v=1655883930\"\u003e\u003c\/div\u003e\n\u003ch3 data-mce-fragment=\"1\"\u003e\u003cspan style=\"color: #7e7eae;\"\u003e\u003cstrong\u003eSPECIFICATIONS\u003c\/strong\u003e\u003c\/span\u003e\u003c\/h3\u003e\n\u003cul\u003e\n\u003cli\u003e\u003cspan style=\"font-weight: 400;\" data-mce-style=\"font-weight: 400;\" data-mce-fragment=\"1\"\u003e\u003cstrong\u003eMaterial\u003c\/strong\u003e: Nylon+Spandex\u003c\/span\u003e\u003c\/li\u003e\n\u003cli\u003e\u003cspan style=\"font-weight: 400;\" data-mce-style=\"font-weight: 400;\" data-mce-fragment=\"1\"\u003e\u003cstrong\u003eColor\u003c\/strong\u003e: Cherry Blossom Purple, Roland Purple, Haitao Blue, Midnight Black\u003c\/span\u003e\u003c\/li\u003e\n\u003cli\u003e\u003cspan style=\"font-weight: 400;\" data-mce-style=\"font-weight: 400;\" data-mce-fragment=\"1\"\u003e\u003cstrong\u003eWeight\u003c\/strong\u003e: 150g \/ 0.3lb\u003c\/span\u003e\u003c\/li\u003e\n\u003cli\u003e\u003cspan style=\"font-weight: 400;\" data-mce-style=\"font-weight: 400;\" data-mce-fragment=\"1\"\u003e\u003cstrong\u003eSize chart\u003c\/strong\u003e: \u003c\/span\u003e\u003c\/li\u003e\n\u003c\/ul\u003e\n\u003ctable style=\"width: 93.535%; margin-left: auto; margin-right: auto;\" data-mce-fragment=\"1\"\u003e\n\u003ctbody data-mce-fragment=\"1\"\u003e\n\u003ctr data-mce-fragment=\"1\"\u003e\n\u003ctd style=\"width: 10%; text-align: center;\" data-mce-fragment=\"1\"\u003e Size\u003c\/td\u003e\n\u003ctd style=\"width: 18%; text-align: center;\" data-mce-fragment=\"1\"\u003eS\u003c\/td\u003e\n\u003ctd style=\"width: 18%; text-align: center;\" data-mce-fragment=\"1\"\u003eM\u003c\/td\u003e\n\u003ctd style=\"width: 17%; text-align: center;\" data-mce-fragment=\"1\"\u003eL\u003c\/td\u003e\n\u003ctd style=\"width: 16.535%; text-align: center;\" data-mce-fragment=\"1\"\u003eXL\u003c\/td\u003e\n\u003c\/tr\u003e\n\u003ctr style=\"text-align: center;\" data-mce-fragment=\"1\"\u003e\n\u003ctd style=\"width: 10%;\" data-mce-fragment=\"1\"\u003eLength\u003c\/td\u003e\n\u003ctd style=\"width: 18%;\" data-mce-fragment=\"1\"\u003e30.5cm\/12.0in\u003c\/td\u003e\n\u003ctd style=\"width: 18%;\" data-mce-fragment=\"1\"\u003e32cm\/12.6in\u003c\/td\u003e\n\u003ctd style=\"width: 17%;\" data-mce-fragment=\"1\"\u003e33.5cm\/13.2in\u003c\/td\u003e\n\u003ctd style=\"width: 16.535%;\" data-mce-fragment=\"1\"\u003e35cm\/13.8in\u003c\/td\u003e\n\u003c\/tr\u003e\n\u003ctr style=\"text-align: center;\" data-mce-fragment=\"1\"\u003e\n\u003ctd style=\"width: 10%;\" data-mce-fragment=\"1\"\u003eBust\u003c\/td\u003e\n\u003ctd style=\"width: 18%;\" data-mce-fragment=\"1\"\u003e62cm\/24.4in\u003c\/td\u003e\n\u003ctd style=\"width: 18%;\" data-mce-fragment=\"1\"\u003e66cm\/25.9in\u003c\/td\u003e\n\u003ctd style=\"width: 17%;\" data-mce-fragment=\"1\"\u003e70cm\/27.6in\u003c\/td\u003e\n\u003ctd style=\"width: 16.535%;\" data-mce-fragment=\"1\"\u003e74cm\/29.1in\u003c\/td\u003e\n\u003c\/tr\u003e\n\u003ctr data-mce-fragment=\"1\"\u003e\n\u003ctd style=\"width: 10%; text-align: center;\" data-mce-fragment=\"1\"\u003eHem\u003c\/td\u003e\n\u003ctd style=\"width: 18%; text-align: center;\" data-mce-fragment=\"1\"\u003e59cm\/23.2in\u003c\/td\u003e\n\u003ctd style=\"width: 18%; text-align: center;\" data-mce-fragment=\"1\"\u003e63cm\/24.8in\u003c\/td\u003e\n\u003ctd style=\"width: 17%; text-align: center;\" data-mce-fragment=\"1\"\u003e67cm\/26.4in\u003c\/td\u003e\n\u003ctd style=\"width: 16.535%; text-align: center;\" data-mce-fragment=\"1\"\u003e71cm\/27.9in\u003c\/td\u003e\n\u003c\/tr\u003e\n\u003c\/tbody\u003e\n\u003c\/table\u003e\n\u003cbr data-mce-fragment=\"1\"\u003e\n\u003ch3 data-mce-fragment=\"1\"\u003e\u003cspan style=\"color: #7e7eae;\"\u003e\u003cstrong\u003ePACKAGE INCLUDED\u003c\/strong\u003e\u003c\/span\u003e\u003c\/h3\u003e\n\u003cul\u003e\n\u003cli\u003e\u003cspan style=\"font-weight: 400;\" data-mce-style=\"font-weight: 400;\" data-mce-fragment=\"1\"\u003e1 × All-Day Ripple Long Ribbed Sports Bra\u003c\/span\u003e\u003c\/li\u003e\n\u003c\/ul\u003e\n\u003cbr data-mce-fragment=\"1\"\u003e"}
All-Day Ripple Long Ribbed Sports Bra
Adding product to your cart
🤾‍♀🏋‍♀⛹‍♀
Streamline, Limitless movement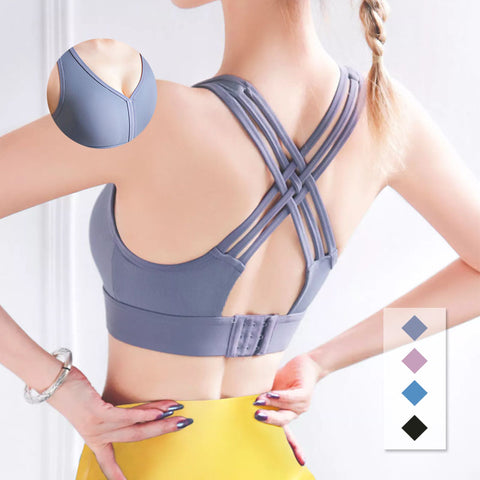 FEATURES
🌈 Our Ripple sports bra features a long line cut and a ribbed texture, suitable for most kinds of workouts and training.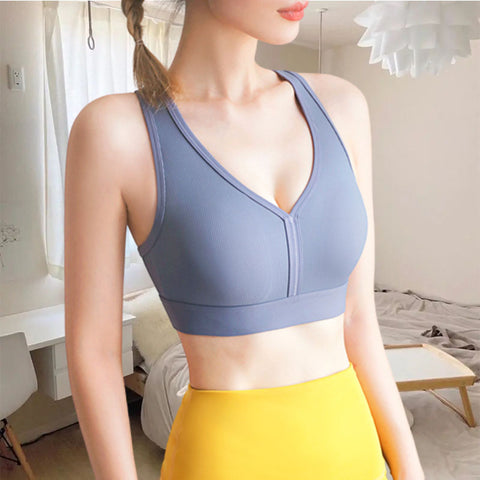 🌈 Designed with a feminine elongated v-shaped neckline and simple tank top in front and a strappy sexy back, it is business and play all melded into one.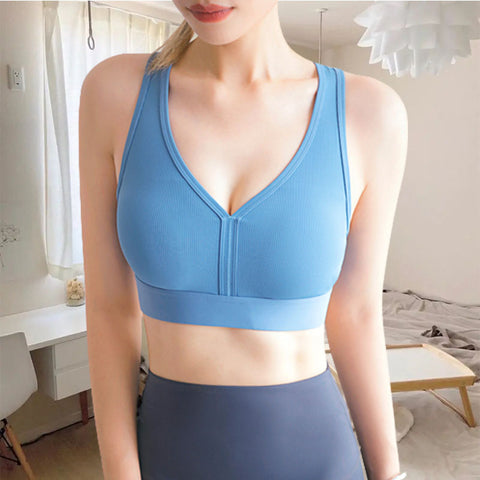 🌈 Velvety smooth and soft fabric that feels weightless like 2nd skin. Four-way stretch for a comfortable 3D fit.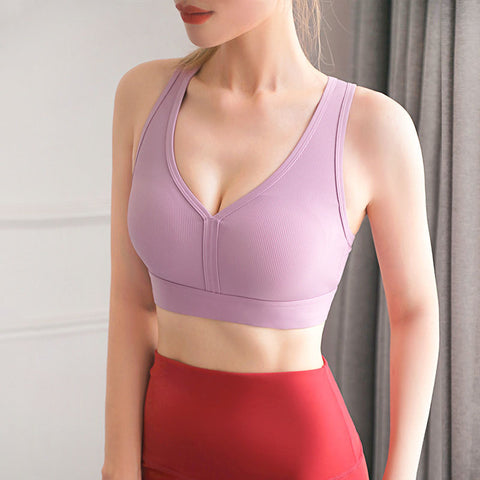 SPECIFICATIONS
Material: Nylon+Spandex
Color: Cherry Blossom Purple, Roland Purple, Haitao Blue, Midnight Black
Weight: 150g / 0.3lb
Size chart: 
| | | | | |
| --- | --- | --- | --- | --- |
|  Size | S | M | L | XL |
| Length | 30.5cm/12.0in | 32cm/12.6in | 33.5cm/13.2in | 35cm/13.8in |
| Bust | 62cm/24.4in | 66cm/25.9in | 70cm/27.6in | 74cm/29.1in |
| Hem | 59cm/23.2in | 63cm/24.8in | 67cm/26.4in | 71cm/27.9in |
PACKAGE INCLUDED
1 × All-Day Ripple Long Ribbed Sports Bra