{"id":7184173465754,"title":"100 Languages \"I LOVE YOU\" Necklace","handle":"100-languages-i-love-you-necklace","description":"\u003ch4 style=\"text-align: center;\" data-key=\"22\"\u003e\u003cspan style=\"color: #ff2a00;\"\u003e\u003cstrong\u003e\u003cspan class=\"jss220\"\u003eKeep your relationships forever and make eternal memories.\u003c\/span\u003e\u003c\/strong\u003e\u003c\/span\u003e\u003c\/h4\u003e\n\u003cdiv data-key=\"22\"\u003e\n\u003ch4 style=\"text-align: center;\" data-key=\"38\"\u003e\u003cspan style=\"color: #f9b60c;\"\u003eThe 100 Languages \"I LOVE YOU\" Necklace gives you the energy to become a deeper loving person.\u003c\/span\u003e\u003c\/h4\u003e\n\u003ch4 style=\"text-align: center;\" data-key=\"40\" data-slate-fragment=\"JTdCJTIyb2JqZWN0JTIyJTNBJTIyZG9jdW1lbnQlMjIlMkMlMjJkYXRhJTIyJTNBJTdCJTdEJTJDJTIybm9kZXMlMjIlM0ElNUIlN0IlMjJvYmplY3QlMjIlM0ElMjJibG9jayUyMiUyQyUyMnR5cGUlMjIlM0ElMjJwYXJhZ3JhcGglMjIlMkMlMjJkYXRhJTIyJTNBJTdCJTdEJTJDJTIybm9kZXMlMjIlM0ElNUIlN0IlMjJvYmplY3QlMjIlM0ElMjJ0ZXh0JTIyJTJDJTIybGVhdmVzJTIyJTNBJTVCJTdCJTIyb2JqZWN0JTIyJTNBJTIybGVhZiUyMiUyQyUyMnRleHQlMjIlM0ElMjJLZWVwJTIweW91ciUyMHJlbGF0aW9uc2hpcHMlMjBmb3JldmVyJTIwYW5kJUMyJUEwbWFrZSUyMGV0ZXJuYWwlMjBtZW1vcmllcy4lMjIlMkMlMjJtYXJrcyUyMiUzQSU1QiU3QiUyMm9iamVjdCUyMiUzQSUyMm1hcmslMjIlMkMlMjJ0eXBlJTIyJTNBJTIyYm9sZCUyMiUyQyUyMmRhdGElMjIlM0ElN0IlN0QlN0QlNUQlN0QlNUQlN0QlNUQlN0QlMkMlN0IlMjJvYmplY3QlMjIlM0ElMjJibG9jayUyMiUyQyUyMnR5cGUlMjIlM0ElMjJwYXJhZ3JhcGglMjIlMkMlMjJkYXRhJTIyJTNBJTdCJTdEJTJDJTIybm9kZXMlMjIlM0ElNUIlN0IlMjJvYmplY3QlMjIlM0ElMjJ0ZXh0JTIyJTJDJTIybGVhdmVzJTIyJTNBJTVCJTdCJTIyb2JqZWN0JTIyJTNBJTIybGVhZiUyMiUyQyUyMnRleHQlMjIlM0ElMjIlMjIlMkMlMjJtYXJrcyUyMiUzQSU1QiU1RCU3RCU1RCU3RCU1RCU3RCUyQyU3QiUyMm9iamVjdCUyMiUzQSUyMmJsb2NrJTIyJTJDJTIydHlwZSUyMiUzQSUyMnBhcmFncmFwaCUyMiUyQyUyMmRhdGElMjIlM0ElN0IlN0QlMkMlMjJub2RlcyUyMiUzQSU1QiU3QiUyMm9iamVjdCUyMiUzQSUyMnRleHQlMjIlMkMlMjJsZWF2ZXMlMjIlM0ElNUIlN0IlMjJvYmplY3QlMjIlM0ElMjJsZWFmJTIyJTJDJTIydGV4dCUyMiUzQSUyMlRoZSVDMiVBMDEwMCUyMExhbmd1YWdlcyUyMCU1QyUyMkklMjBMT1ZFJTIwWU9VJTVDJTIyJTIwUmluZyVFRiVCQyU4Nk5lY2tsYWNlJTIwZ2l2ZXMlMjB5b3UlMjB0aGUlMjBlbmVyZ3klMjB0byUyMGJlY29tZSUyMGElMjBkZWVwZXIlMjBsb3ZpbmclMjBwZXJzb24uJTVDbiUyMiUyQyUyMm1hcmtzJTIyJTNBJTVCJTVEJTdEJTVEJTdEJTVEJTdEJTJDJTdCJTIyb2JqZWN0JTIyJTNBJTIyYmxvY2slMjIlMkMlMjJ0eXBlJTIyJTNBJTIycGFyYWdyYXBoJTIyJTJDJTIyZGF0YSUyMiUzQSU3QiU3RCUyQyUyMm5vZGVzJTIyJTNBJTVCJTdCJTIyb2JqZWN0JTIyJTNBJTIydGV4dCUyMiUyQyUyMmxlYXZlcyUyMiUzQSU1QiU3QiUyMm9iamVjdCUyMiUzQSUyMmxlYWYlMjIlMkMlMjJ0ZXh0JTIyJTNBJTIyT3ZlcmNvbWUlMjBhbnklMjBvYnN0YWNsZSUyMiUyQyUyMm1hcmtzJTIyJTNBJTVCJTdCJTIyb2JqZWN0JTIyJTNBJTIybWFyayUyMiUyQyUyMnR5cGUlMjIlM0ElMjJib2xkJTIyJTJDJTIyZGF0YSUyMiUzQSU3QiU3RCU3RCU1RCU3RCUyQyU3QiUyMm9iamVjdCUyMiUzQSUyMmxlYWYlMjIlMkMlMjJ0ZXh0JTIyJTNBJTIyJUMyJUEwJTIyJTJDJTIybWFya3MlMjIlM0ElNUIlNUQlN0QlMkMlN0IlMjJvYmplY3QlMjIlM0ElMjJsZWFmJTIyJTJDJTIydGV4dCUyMiUzQSUyMmFuZCUyMiUyQyUyMm1hcmtzJTIyJTNBJTVCJTdCJTIyb2JqZWN0JTIyJTNBJTIybWFyayUyMiUyQyUyMnR5cGUlMjIlM0ElMjJib2xkJTIyJTJDJTIyZGF0YSUyMiUzQSU3QiU3RCU3RCU1RCU3RCUyQyU3QiUyMm9iamVjdCUyMiUzQSUyMmxlYWYlMjIlMkMlMjJ0ZXh0JTIyJTNBJTIyJUMyJUEwJTIyJTJDJTIybWFya3MlMjIlM0ElNUIlNUQlN0QlMkMlN0IlMjJvYmplY3QlMjIlM0ElMjJsZWFmJTIyJTJDJTIydGV4dCUyMiUzQSUyMmdpdmUlMjB5b3VyJTIwbGlmZSUyMG1vcmUlMjBwYXNzaW9uLiUyMiUyQyUyMm1hcmtzJTIyJTNBJTVCJTdCJTIyb2JqZWN0JTIyJTNBJTIybWFyayUyMiUyQyUyMnR5cGUlMjIlM0ElMjJib2xkJTIyJTJDJTIyZGF0YSUyMiUzQSU3QiU3RCU3RCU1RCU3RCU1RCU3RCU1RCU3RCU1RCU3RA==\"\u003e\u003cspan style=\"color: #ff8000;\"\u003e\u003cstrong\u003e\u003cspan class=\"jss220\"\u003eOvercome any obstacle\u003c\/span\u003e \u003cspan class=\"jss220\"\u003eand\u003c\/span\u003e \u003cspan class=\"jss220\"\u003egive your life more passion.\u003c\/span\u003e\u003c\/strong\u003e\u003c\/span\u003e\u003c\/h4\u003e\n\u003cdiv data-key=\"40\" data-slate-fragment=\"JTdCJTIyb2JqZWN0JTIyJTNBJTIyZG9jdW1lbnQlMjIlMkMlMjJkYXRhJTIyJTNBJTdCJTdEJTJDJTIybm9kZXMlMjIlM0ElNUIlN0IlMjJvYmplY3QlMjIlM0ElMjJibG9jayUyMiUyQyUyMnR5cGUlMjIlM0ElMjJwYXJhZ3JhcGglMjIlMkMlMjJkYXRhJTIyJTNBJTdCJTdEJTJDJTIybm9kZXMlMjIlM0ElNUIlN0IlMjJvYmplY3QlMjIlM0ElMjJ0ZXh0JTIyJTJDJTIybGVhdmVzJTIyJTNBJTVCJTdCJTIyb2JqZWN0JTIyJTNBJTIybGVhZiUyMiUyQyUyMnRleHQlMjIlM0ElMjJLZWVwJTIweW91ciUyMHJlbGF0aW9uc2hpcHMlMjBmb3JldmVyJTIwYW5kJUMyJUEwbWFrZSUyMGV0ZXJuYWwlMjBtZW1vcmllcy4lMjIlMkMlMjJtYXJrcyUyMiUzQSU1QiU3QiUyMm9iamVjdCUyMiUzQSUyMm1hcmslMjIlMkMlMjJ0eXBlJTIyJTNBJTIyYm9sZCUyMiUyQyUyMmRhdGElMjIlM0ElN0IlN0QlN0QlNUQlN0QlNUQlN0QlNUQlN0QlMkMlN0IlMjJvYmplY3QlMjIlM0ElMjJibG9jayUyMiUyQyUyMnR5cGUlMjIlM0ElMjJwYXJhZ3JhcGglMjIlMkMlMjJkYXRhJTIyJTNBJTdCJTdEJTJDJTIybm9kZXMlMjIlM0ElNUIlN0IlMjJvYmplY3QlMjIlM0ElMjJ0ZXh0JTIyJTJDJTIybGVhdmVzJTIyJTNBJTVCJTdCJTIyb2JqZWN0JTIyJTNBJTIybGVhZiUyMiUyQyUyMnRleHQlMjIlM0ElMjIlMjIlMkMlMjJtYXJrcyUyMiUzQSU1QiU1RCU3RCU1RCU3RCU1RCU3RCUyQyU3QiUyMm9iamVjdCUyMiUzQSUyMmJsb2NrJTIyJTJDJTIydHlwZSUyMiUzQSUyMnBhcmFncmFwaCUyMiUyQyUyMmRhdGElMjIlM0ElN0IlN0QlMkMlMjJub2RlcyUyMiUzQSU1QiU3QiUyMm9iamVjdCUyMiUzQSUyMnRleHQlMjIlMkMlMjJsZWF2ZXMlMjIlM0ElNUIlN0IlMjJvYmplY3QlMjIlM0ElMjJsZWFmJTIyJTJDJTIydGV4dCUyMiUzQSUyMlRoZSVDMiVBMDEwMCUyMExhbmd1YWdlcyUyMCU1QyUyMkklMjBMT1ZFJTIwWU9VJTVDJTIyJTIwUmluZyVFRiVCQyU4Nk5lY2tsYWNlJTIwZ2l2ZXMlMjB5b3UlMjB0aGUlMjBlbmVyZ3klMjB0byUyMGJlY29tZSUyMGElMjBkZWVwZXIlMjBsb3ZpbmclMjBwZXJzb24uJTVDbiUyMiUyQyUyMm1hcmtzJTIyJTNBJTVCJTVEJTdEJTVEJTdEJTVEJTdEJTJDJTdCJTIyb2JqZWN0JTIyJTNBJTIyYmxvY2slMjIlMkMlMjJ0eXBlJTIyJTNBJTIycGFyYWdyYXBoJTIyJTJDJTIyZGF0YSUyMiUzQSU3QiU3RCUyQyUyMm5vZGVzJTIyJTNBJTVCJTdCJTIyb2JqZWN0JTIyJTNBJTIydGV4dCUyMiUyQyUyMmxlYXZlcyUyMiUzQSU1QiU3QiUyMm9iamVjdCUyMiUzQSUyMmxlYWYlMjIlMkMlMjJ0ZXh0JTIyJTNBJTIyT3ZlcmNvbWUlMjBhbnklMjBvYnN0YWNsZSUyMiUyQyUyMm1hcmtzJTIyJTNBJTVCJTdCJTIyb2JqZWN0JTIyJTNBJTIybWFyayUyMiUyQyUyMnR5cGUlMjIlM0ElMjJib2xkJTIyJTJDJTIyZGF0YSUyMiUzQSU3QiU3RCU3RCU1RCU3RCUyQyU3QiUyMm9iamVjdCUyMiUzQSUyMmxlYWYlMjIlMkMlMjJ0ZXh0JTIyJTNBJTIyJUMyJUEwJTIyJTJDJTIybWFya3MlMjIlM0ElNUIlNUQlN0QlMkMlN0IlMjJvYmplY3QlMjIlM0ElMjJsZWFmJTIyJTJDJTIydGV4dCUyMiUzQSUyMmFuZCUyMiUyQyUyMm1hcmtzJTIyJTNBJTVCJTdCJTIyb2JqZWN0JTIyJTNBJTIybWFyayUyMiUyQyUyMnR5cGUlMjIlM0ElMjJib2xkJTIyJTJDJTIyZGF0YSUyMiUzQSU3QiU3RCU3RCU1RCU3RCUyQyU3QiUyMm9iamVjdCUyMiUzQSUyMmxlYWYlMjIlMkMlMjJ0ZXh0JTIyJTNBJTIyJUMyJUEwJTIyJTJDJTIybWFya3MlMjIlM0ElNUIlNUQlN0QlMkMlN0IlMjJvYmplY3QlMjIlM0ElMjJsZWFmJTIyJTJDJTIydGV4dCUyMiUzQSUyMmdpdmUlMjB5b3VyJTIwbGlmZSUyMG1vcmUlMjBwYXNzaW9uLiUyMiUyQyUyMm1hcmtzJTIyJTNBJTVCJTdCJTIyb2JqZWN0JTIyJTNBJTIybWFyayUyMiUyQyUyMnR5cGUlMjIlM0ElMjJib2xkJTIyJTJDJTIyZGF0YSUyMiUzQSU3QiU3RCU3RCU1RCU3RCU1RCU3RCU1RCU3RCU1RCU3RA==\"\u003e\u003cstrong\u003e\u003cspan class=\"jss220\"\u003e\u003cimg alt=\"\" src=\"https:\/\/cdn.shopify.com\/s\/files\/1\/0585\/8669\/3786\/products\/1_5264d824-e688-497b-ab0a-a2e28641a2d6_480x480.jpg?v=1640072074\" style=\"display: block; margin-left: auto; margin-right: auto;\" width=\"400\" height=\"400\"\u003e\u003c\/span\u003e\u003c\/strong\u003e\u003c\/div\u003e\n\u003cdiv data-key=\"40\" data-slate-fragment=\"JTdCJTIyb2JqZWN0JTIyJTNBJTIyZG9jdW1lbnQlMjIlMkMlMjJkYXRhJTIyJTNBJTdCJTdEJTJDJTIybm9kZXMlMjIlM0ElNUIlN0IlMjJvYmplY3QlMjIlM0ElMjJibG9jayUyMiUyQyUyMnR5cGUlMjIlM0ElMjJwYXJhZ3JhcGglMjIlMkMlMjJkYXRhJTIyJTNBJTdCJTdEJTJDJTIybm9kZXMlMjIlM0ElNUIlN0IlMjJvYmplY3QlMjIlM0ElMjJ0ZXh0JTIyJTJDJTIybGVhdmVzJTIyJTNBJTVCJTdCJTIyb2JqZWN0JTIyJTNBJTIybGVhZiUyMiUyQyUyMnRleHQlMjIlM0ElMjJLZWVwJTIweW91ciUyMHJlbGF0aW9uc2hpcHMlMjBmb3JldmVyJTIwYW5kJUMyJUEwbWFrZSUyMGV0ZXJuYWwlMjBtZW1vcmllcy4lMjIlMkMlMjJtYXJrcyUyMiUzQSU1QiU3QiUyMm9iamVjdCUyMiUzQSUyMm1hcmslMjIlMkMlMjJ0eXBlJTIyJTNBJTIyYm9sZCUyMiUyQyUyMmRhdGElMjIlM0ElN0IlN0QlN0QlNUQlN0QlNUQlN0QlNUQlN0QlMkMlN0IlMjJvYmplY3QlMjIlM0ElMjJibG9jayUyMiUyQyUyMnR5cGUlMjIlM0ElMjJwYXJhZ3JhcGglMjIlMkMlMjJkYXRhJTIyJTNBJTdCJTdEJTJDJTIybm9kZXMlMjIlM0ElNUIlN0IlMjJvYmplY3QlMjIlM0ElMjJ0ZXh0JTIyJTJDJTIybGVhdmVzJTIyJTNBJTVCJTdCJTIyb2JqZWN0JTIyJTNBJTIybGVhZiUyMiUyQyUyMnRleHQlMjIlM0ElMjIlMjIlMkMlMjJtYXJrcyUyMiUzQSU1QiU1RCU3RCU1RCU3RCU1RCU3RCUyQyU3QiUyMm9iamVjdCUyMiUzQSUyMmJsb2NrJTIyJTJDJTIydHlwZSUyMiUzQSUyMnBhcmFncmFwaCUyMiUyQyUyMmRhdGElMjIlM0ElN0IlN0QlMkMlMjJub2RlcyUyMiUzQSU1QiU3QiUyMm9iamVjdCUyMiUzQSUyMnRleHQlMjIlMkMlMjJsZWF2ZXMlMjIlM0ElNUIlN0IlMjJvYmplY3QlMjIlM0ElMjJsZWFmJTIyJTJDJTIydGV4dCUyMiUzQSUyMlRoZSVDMiVBMDEwMCUyMExhbmd1YWdlcyUyMCU1QyUyMkklMjBMT1ZFJTIwWU9VJTVDJTIyJTIwUmluZyVFRiVCQyU4Nk5lY2tsYWNlJTIwZ2l2ZXMlMjB5b3UlMjB0aGUlMjBlbmVyZ3klMjB0byUyMGJlY29tZSUyMGElMjBkZWVwZXIlMjBsb3ZpbmclMjBwZXJzb24uJTVDbiUyMiUyQyUyMm1hcmtzJTIyJTNBJTVCJTVEJTdEJTVEJTdEJTVEJTdEJTJDJTdCJTIyb2JqZWN0JTIyJTNBJTIyYmxvY2slMjIlMkMlMjJ0eXBlJTIyJTNBJTIycGFyYWdyYXBoJTIyJTJDJTIyZGF0YSUyMiUzQSU3QiU3RCUyQyUyMm5vZGVzJTIyJTNBJTVCJTdCJTIyb2JqZWN0JTIyJTNBJTIydGV4dCUyMiUyQyUyMmxlYXZlcyUyMiUzQSU1QiU3QiUyMm9iamVjdCUyMiUzQSUyMmxlYWYlMjIlMkMlMjJ0ZXh0JTIyJTNBJTIyT3ZlcmNvbWUlMjBhbnklMjBvYnN0YWNsZSUyMiUyQyUyMm1hcmtzJTIyJTNBJTVCJTdCJTIyb2JqZWN0JTIyJTNBJTIybWFyayUyMiUyQyUyMnR5cGUlMjIlM0ElMjJib2xkJTIyJTJDJTIyZGF0YSUyMiUzQSU3QiU3RCU3RCU1RCU3RCUyQyU3QiUyMm9iamVjdCUyMiUzQSUyMmxlYWYlMjIlMkMlMjJ0ZXh0JTIyJTNBJTIyJUMyJUEwJTIyJTJDJTIybWFya3MlMjIlM0ElNUIlNUQlN0QlMkMlN0IlMjJvYmplY3QlMjIlM0ElMjJsZWFmJTIyJTJDJTIydGV4dCUyMiUzQSUyMmFuZCUyMiUyQyUyMm1hcmtzJTIyJTNBJTVCJTdCJTIyb2JqZWN0JTIyJTNBJTIybWFyayUyMiUyQyUyMnR5cGUlMjIlM0ElMjJib2xkJTIyJTJDJTIyZGF0YSUyMiUzQSU3QiU3RCU3RCU1RCU3RCUyQyU3QiUyMm9iamVjdCUyMiUzQSUyMmxlYWYlMjIlMkMlMjJ0ZXh0JTIyJTNBJTIyJUMyJUEwJTIyJTJDJTIybWFya3MlMjIlM0ElNUIlNUQlN0QlMkMlN0IlMjJvYmplY3QlMjIlM0ElMjJsZWFmJTIyJTJDJTIydGV4dCUyMiUzQSUyMmdpdmUlMjB5b3VyJTIwbGlmZSUyMG1vcmUlMjBwYXNzaW9uLiUyMiUyQyUyMm1hcmtzJTIyJTNBJTVCJTdCJTIyb2JqZWN0JTIyJTNBJTIybWFyayUyMiUyQyUyMnR5cGUlMjIlM0ElMjJib2xkJTIyJTJDJTIyZGF0YSUyMiUzQSU3QiU3RCU3RCU1RCU3RCU1RCU3RCU1RCU3RCU1RCU3RA==\"\u003e\n\u003ch3 data-mce-fragment=\"1\"\u003e\u003cspan style=\"color: #5e5fa4;\"\u003e\u003cstrong\u003eFEATURES\u003c\/strong\u003e\u003c\/span\u003e\u003c\/h3\u003e\n\u003cul\u003e\n\u003cli\u003eChain 16 inches + 2 inches extension. Pendant Height: 1.50 inch, Width: 1.00 inch.\u003c\/li\u003e\n\u003cli\u003eThe necklace is available in two colors, rose gold and silver, and there are two\u003cstrong\u003e ways\u003c\/strong\u003e to wear it. \u003c\/li\u003e\n\u003c\/ul\u003e\n\u003cp\u003e\u003cimg height=\"400\" width=\"400\" style=\"display: block; margin-left: auto; margin-right: auto;\" src=\"https:\/\/cdn.shopify.com\/s\/files\/1\/0585\/8669\/3786\/products\/5_48b75810-dd23-4dc8-ab98-33bc02bb1a72_480x480.jpg?v=1640071488\" alt=\"\"\u003e\u003c\/p\u003e\n\u003cul\u003e\n\u003cli\u003e\n\u003cspan style=\"color: #fcb80c;\"\u003e 🌻\u003cstrong\u003eDurable For Everyday Use\u003c\/strong\u003e\u003c\/span\u003e\u003cspan\u003e \u003c\/span\u003e-  No tarnishing over time. You can be sure to wear this necklace every day if you want to.\u003c\/li\u003e\n\u003cli\u003e\n\u003cspan style=\"color: #fcb80c;\"\u003e 🌻\u003cstrong\u003eAnti-Allergy and Eco-Friendly\u003c\/strong\u003e\u003c\/span\u003e\u003cspan\u003e \u003c\/span\u003e- Nothing can be worse than an allergy preventing you from wearing your favorite necklace. Wear this necklace as often as you like with no swelling up! Eco-friendly means we only craft in ethical conditions as well as using only ethically and economically friendly gathered materials.\u003c\/li\u003e\n\u003cli\u003e\n\u003cspan style=\"color: #fcb80c;\"\u003e 🌻\u003cstrong\u003e\"I Love You\" in 100 Languages engraved through nano micro carving.\u003c\/strong\u003e\u003c\/span\u003e\u003cspan\u003e You can see it through every standard camera\/smartphone lens! Project the center heart at a black background with your camera flashlight to show your love.\u003c\/span\u003e\u003cimg src=\"https:\/\/cdn.shopify.com\/s\/files\/1\/0013\/1350\/5354\/files\/7_480x480.png?v=1568946659\" alt=\"\" width=\"357\" height=\"344\" style=\"display: block; margin-left: auto; margin-right: auto;\"\u003e\n\u003c\/li\u003e\n\u003cli\u003e🌻\u003cspan\u003e\u003cspan style=\"color: #fcb80c;\"\u003e\u003cstrong\u003eThe perfect anniversary gift\u003c\/strong\u003e\u003c\/span\u003e, treat your wife for your wedding anniversary. Delight your mom on Mother's Day, your girlfriend for Valentines Day, your daughter for Christmas or best friend on her birthday!\u003c\/span\u003e\u003cstrong\u003e\u003cspan\u003e \u003c\/span\u003e\u003c\/strong\u003e\n\u003c\/li\u003e\n\u003c\/ul\u003e\n\u003ch3 style=\"display: inline !important;\"\u003e\u003cstrong\u003e\u003cspan style=\"color: #5e5fa4;\"\u003eSPECIFICATIONS\u003c\/span\u003e\u003c\/strong\u003e\u003c\/h3\u003e\n\u003cul\u003e\u003c\/ul\u003e\n\u003cul\u003e\n\u003cli\u003e\n\u003cstrong\u003eMaterial\u003c\/strong\u003e: titanium steel\u003c\/li\u003e\n\u003cli\u003e\n\u003cstrong\u003eColor\u003c\/strong\u003e: rose gold, white\u003c\/li\u003e\n\u003cli\u003e\n\u003cstrong\u003eWeight\u003c\/strong\u003e: 30g \/ 0.07lb\u003c\/li\u003e\n\u003cli\u003e\n\u003cstrong\u003eSize\u003c\/strong\u003e:\u003c\/li\u003e\n\u003c\/ul\u003e\n\u003cp\u003e\u003cimg height=\"400\" width=\"400\" style=\"display: block; margin-left: auto; margin-right: auto;\" src=\"https:\/\/cdn.shopifycdn.net\/s\/files\/1\/0585\/8669\/3786\/files\/12_86cf6b38-de85-43c7-9fd4-b9a7adc00490_480x480.jpg?v=1640072133\" alt=\"\"\u003e\u003c\/p\u003e\n\u003ch3\u003e\u003cstrong\u003e\u003cspan style=\"color: #5e5fa4;\"\u003ePACKAGE INCLUDED\u003c\/span\u003e\u003c\/strong\u003e\u003c\/h3\u003e\n\u003cul\u003e\n\u003cli\u003e\n\u003cp\u003e1 × 100 Languages \"I LOVE YOU\" Necklace\u003c\/p\u003e\n\u003c\/li\u003e\n\u003c\/ul\u003e\n\u003c\/div\u003e\n\u003c\/div\u003e\n\u003cdiv data-key=\"28\"\u003e\u003c\/div\u003e","published_at":"2021-12-21T01:36:04-06:00","created_at":"2021-12-21T01:06:47-06:00","vendor":"luluwin","type":"Fashion","tags":["gift ideas"],"price":2599,"price_min":2599,"price_max":2599,"available":true,"price_varies":false,"compare_at_price":5199,"compare_at_price_min":5199,"compare_at_price_max":5199,"compare_at_price_varies":false,"variants":[{"id":41419611603098,"title":"white","option1":"white","option2":null,"option3":null,"sku":"CAJY006","requires_shipping":true,"taxable":false,"featured_image":{"id":32632464933018,"product_id":7184173465754,"position":8,"created_at":"2021-12-21T01:19:36-06:00","updated_at":"2021-12-21T01:19:38-06:00","alt":null,"width":800,"height":800,"src":"\/\/www.luluwin.co.uk\/cdn\/shop\/products\/11_014c9f01-b99a-402f-b78c-e8fe9b72787a.jpg?v=1640071178","variant_ids":[41419611603098]},"available":true,"name":"100 Languages \"I LOVE YOU\" Necklace - white","public_title":"white","options":["white"],"price":2599,"weight":0,"compare_at_price":5199,"inventory_management":null,"barcode":null,"featured_media":{"alt":null,"id":25064090861722,"position":8,"preview_image":{"aspect_ratio":1.0,"height":800,"width":800,"src":"\/\/www.luluwin.co.uk\/cdn\/shop\/products\/11_014c9f01-b99a-402f-b78c-e8fe9b72787a.jpg?v=1640071178"}},"requires_selling_plan":false,"selling_plan_allocations":[]},{"id":41419611635866,"title":"rose gold","option1":"rose gold","option2":null,"option3":null,"sku":"CAJY007","requires_shipping":true,"taxable":false,"featured_image":{"id":32632465064090,"product_id":7184173465754,"position":7,"created_at":"2021-12-21T01:19:36-06:00","updated_at":"2021-12-21T01:19:38-06:00","alt":null,"width":800,"height":800,"src":"\/\/www.luluwin.co.uk\/cdn\/shop\/products\/10_5173e7b6-1ea3-48c3-be32-a6280b819cef.jpg?v=1640071178","variant_ids":[41419611635866]},"available":true,"name":"100 Languages \"I LOVE YOU\" Necklace - rose gold","public_title":"rose gold","options":["rose gold"],"price":2599,"weight":0,"compare_at_price":5199,"inventory_management":null,"barcode":null,"featured_media":{"alt":null,"id":25064090828954,"position":7,"preview_image":{"aspect_ratio":1.0,"height":800,"width":800,"src":"\/\/www.luluwin.co.uk\/cdn\/shop\/products\/10_5173e7b6-1ea3-48c3-be32-a6280b819cef.jpg?v=1640071178"}},"requires_selling_plan":false,"selling_plan_allocations":[]}],"images":["\/\/www.luluwin.co.uk\/cdn\/shop\/products\/1_5264d824-e688-497b-ab0a-a2e28641a2d6.jpg?v=1640071179","\/\/www.luluwin.co.uk\/cdn\/shop\/products\/6_68f15c1e-d227-4179-a348-a4eb1bd11475.jpg?v=1640071474","\/\/www.luluwin.co.uk\/cdn\/shop\/products\/2_c0660ab7-95f6-4acc-b570-4ec086d7d7f6.jpg?v=1640071474","\/\/www.luluwin.co.uk\/cdn\/shop\/products\/4_96ff8a12-1751-463d-8885-13a62c8621de.jpg?v=1640071474","\/\/www.luluwin.co.uk\/cdn\/shop\/products\/5_48b75810-dd23-4dc8-ab98-33bc02bb1a72.jpg?v=1640071474","\/\/www.luluwin.co.uk\/cdn\/shop\/products\/8_c3a88ebe-55a4-4226-b19d-1a6d46b9ef90.jpg?v=1640071179","\/\/www.luluwin.co.uk\/cdn\/shop\/products\/10_5173e7b6-1ea3-48c3-be32-a6280b819cef.jpg?v=1640071178","\/\/www.luluwin.co.uk\/cdn\/shop\/products\/11_014c9f01-b99a-402f-b78c-e8fe9b72787a.jpg?v=1640071178"],"featured_image":"\/\/www.luluwin.co.uk\/cdn\/shop\/products\/1_5264d824-e688-497b-ab0a-a2e28641a2d6.jpg?v=1640071179","options":["Color"],"media":[{"alt":null,"id":25064090534042,"position":1,"preview_image":{"aspect_ratio":1.0,"height":800,"width":800,"src":"\/\/www.luluwin.co.uk\/cdn\/shop\/products\/1_5264d824-e688-497b-ab0a-a2e28641a2d6.jpg?v=1640071179"},"aspect_ratio":1.0,"height":800,"media_type":"image","src":"\/\/www.luluwin.co.uk\/cdn\/shop\/products\/1_5264d824-e688-497b-ab0a-a2e28641a2d6.jpg?v=1640071179","width":800},{"alt":null,"id":25064090697882,"position":2,"preview_image":{"aspect_ratio":1.0,"height":800,"width":800,"src":"\/\/www.luluwin.co.uk\/cdn\/shop\/products\/6_68f15c1e-d227-4179-a348-a4eb1bd11475.jpg?v=1640071474"},"aspect_ratio":1.0,"height":800,"media_type":"image","src":"\/\/www.luluwin.co.uk\/cdn\/shop\/products\/6_68f15c1e-d227-4179-a348-a4eb1bd11475.jpg?v=1640071474","width":800},{"alt":null,"id":25064090566810,"position":3,"preview_image":{"aspect_ratio":1.0,"height":800,"width":800,"src":"\/\/www.luluwin.co.uk\/cdn\/shop\/products\/2_c0660ab7-95f6-4acc-b570-4ec086d7d7f6.jpg?v=1640071474"},"aspect_ratio":1.0,"height":800,"media_type":"image","src":"\/\/www.luluwin.co.uk\/cdn\/shop\/products\/2_c0660ab7-95f6-4acc-b570-4ec086d7d7f6.jpg?v=1640071474","width":800},{"alt":null,"id":25064090632346,"position":4,"preview_image":{"aspect_ratio":1.0,"height":800,"width":800,"src":"\/\/www.luluwin.co.uk\/cdn\/shop\/products\/4_96ff8a12-1751-463d-8885-13a62c8621de.jpg?v=1640071474"},"aspect_ratio":1.0,"height":800,"media_type":"image","src":"\/\/www.luluwin.co.uk\/cdn\/shop\/products\/4_96ff8a12-1751-463d-8885-13a62c8621de.jpg?v=1640071474","width":800},{"alt":null,"id":25064090665114,"position":5,"preview_image":{"aspect_ratio":1.0,"height":800,"width":800,"src":"\/\/www.luluwin.co.uk\/cdn\/shop\/products\/5_48b75810-dd23-4dc8-ab98-33bc02bb1a72.jpg?v=1640071474"},"aspect_ratio":1.0,"height":800,"media_type":"image","src":"\/\/www.luluwin.co.uk\/cdn\/shop\/products\/5_48b75810-dd23-4dc8-ab98-33bc02bb1a72.jpg?v=1640071474","width":800},{"alt":null,"id":25064090763418,"position":6,"preview_image":{"aspect_ratio":1.0,"height":800,"width":800,"src":"\/\/www.luluwin.co.uk\/cdn\/shop\/products\/8_c3a88ebe-55a4-4226-b19d-1a6d46b9ef90.jpg?v=1640071179"},"aspect_ratio":1.0,"height":800,"media_type":"image","src":"\/\/www.luluwin.co.uk\/cdn\/shop\/products\/8_c3a88ebe-55a4-4226-b19d-1a6d46b9ef90.jpg?v=1640071179","width":800},{"alt":null,"id":25064090828954,"position":7,"preview_image":{"aspect_ratio":1.0,"height":800,"width":800,"src":"\/\/www.luluwin.co.uk\/cdn\/shop\/products\/10_5173e7b6-1ea3-48c3-be32-a6280b819cef.jpg?v=1640071178"},"aspect_ratio":1.0,"height":800,"media_type":"image","src":"\/\/www.luluwin.co.uk\/cdn\/shop\/products\/10_5173e7b6-1ea3-48c3-be32-a6280b819cef.jpg?v=1640071178","width":800},{"alt":null,"id":25064090861722,"position":8,"preview_image":{"aspect_ratio":1.0,"height":800,"width":800,"src":"\/\/www.luluwin.co.uk\/cdn\/shop\/products\/11_014c9f01-b99a-402f-b78c-e8fe9b72787a.jpg?v=1640071178"},"aspect_ratio":1.0,"height":800,"media_type":"image","src":"\/\/www.luluwin.co.uk\/cdn\/shop\/products\/11_014c9f01-b99a-402f-b78c-e8fe9b72787a.jpg?v=1640071178","width":800}],"requires_selling_plan":false,"selling_plan_groups":[],"content":"\u003ch4 style=\"text-align: center;\" data-key=\"22\"\u003e\u003cspan style=\"color: #ff2a00;\"\u003e\u003cstrong\u003e\u003cspan class=\"jss220\"\u003eKeep your relationships forever and make eternal memories.\u003c\/span\u003e\u003c\/strong\u003e\u003c\/span\u003e\u003c\/h4\u003e\n\u003cdiv data-key=\"22\"\u003e\n\u003ch4 style=\"text-align: center;\" data-key=\"38\"\u003e\u003cspan style=\"color: #f9b60c;\"\u003eThe 100 Languages \"I LOVE YOU\" Necklace gives you the energy to become a deeper loving person.\u003c\/span\u003e\u003c\/h4\u003e\n\u003ch4 style=\"text-align: center;\" data-key=\"40\" data-slate-fragment=\"JTdCJTIyb2JqZWN0JTIyJTNBJTIyZG9jdW1lbnQlMjIlMkMlMjJkYXRhJTIyJTNBJTdCJTdEJTJDJTIybm9kZXMlMjIlM0ElNUIlN0IlMjJvYmplY3QlMjIlM0ElMjJibG9jayUyMiUyQyUyMnR5cGUlMjIlM0ElMjJwYXJhZ3JhcGglMjIlMkMlMjJkYXRhJTIyJTNBJTdCJTdEJTJDJTIybm9kZXMlMjIlM0ElNUIlN0IlMjJvYmplY3QlMjIlM0ElMjJ0ZXh0JTIyJTJDJTIybGVhdmVzJTIyJTNBJTVCJTdCJTIyb2JqZWN0JTIyJTNBJTIybGVhZiUyMiUyQyUyMnRleHQlMjIlM0ElMjJLZWVwJTIweW91ciUyMHJlbGF0aW9uc2hpcHMlMjBmb3JldmVyJTIwYW5kJUMyJUEwbWFrZSUyMGV0ZXJuYWwlMjBtZW1vcmllcy4lMjIlMkMlMjJtYXJrcyUyMiUzQSU1QiU3QiUyMm9iamVjdCUyMiUzQSUyMm1hcmslMjIlMkMlMjJ0eXBlJTIyJTNBJTIyYm9sZCUyMiUyQyUyMmRhdGElMjIlM0ElN0IlN0QlN0QlNUQlN0QlNUQlN0QlNUQlN0QlMkMlN0IlMjJvYmplY3QlMjIlM0ElMjJibG9jayUyMiUyQyUyMnR5cGUlMjIlM0ElMjJwYXJhZ3JhcGglMjIlMkMlMjJkYXRhJTIyJTNBJTdCJTdEJTJDJTIybm9kZXMlMjIlM0ElNUIlN0IlMjJvYmplY3QlMjIlM0ElMjJ0ZXh0JTIyJTJDJTIybGVhdmVzJTIyJTNBJTVCJTdCJTIyb2JqZWN0JTIyJTNBJTIybGVhZiUyMiUyQyUyMnRleHQlMjIlM0ElMjIlMjIlMkMlMjJtYXJrcyUyMiUzQSU1QiU1RCU3RCU1RCU3RCU1RCU3RCUyQyU3QiUyMm9iamVjdCUyMiUzQSUyMmJsb2NrJTIyJTJDJTIydHlwZSUyMiUzQSUyMnBhcmFncmFwaCUyMiUyQyUyMmRhdGElMjIlM0ElN0IlN0QlMkMlMjJub2RlcyUyMiUzQSU1QiU3QiUyMm9iamVjdCUyMiUzQSUyMnRleHQlMjIlMkMlMjJsZWF2ZXMlMjIlM0ElNUIlN0IlMjJvYmplY3QlMjIlM0ElMjJsZWFmJTIyJTJDJTIydGV4dCUyMiUzQSUyMlRoZSVDMiVBMDEwMCUyMExhbmd1YWdlcyUyMCU1QyUyMkklMjBMT1ZFJTIwWU9VJTVDJTIyJTIwUmluZyVFRiVCQyU4Nk5lY2tsYWNlJTIwZ2l2ZXMlMjB5b3UlMjB0aGUlMjBlbmVyZ3klMjB0byUyMGJlY29tZSUyMGElMjBkZWVwZXIlMjBsb3ZpbmclMjBwZXJzb24uJTVDbiUyMiUyQyUyMm1hcmtzJTIyJTNBJTVCJTVEJTdEJTVEJTdEJTVEJTdEJTJDJTdCJTIyb2JqZWN0JTIyJTNBJTIyYmxvY2slMjIlMkMlMjJ0eXBlJTIyJTNBJTIycGFyYWdyYXBoJTIyJTJDJTIyZGF0YSUyMiUzQSU3QiU3RCUyQyUyMm5vZGVzJTIyJTNBJTVCJTdCJTIyb2JqZWN0JTIyJTNBJTIydGV4dCUyMiUyQyUyMmxlYXZlcyUyMiUzQSU1QiU3QiUyMm9iamVjdCUyMiUzQSUyMmxlYWYlMjIlMkMlMjJ0ZXh0JTIyJTNBJTIyT3ZlcmNvbWUlMjBhbnklMjBvYnN0YWNsZSUyMiUyQyUyMm1hcmtzJTIyJTNBJTVCJTdCJTIyb2JqZWN0JTIyJTNBJTIybWFyayUyMiUyQyUyMnR5cGUlMjIlM0ElMjJib2xkJTIyJTJDJTIyZGF0YSUyMiUzQSU3QiU3RCU3RCU1RCU3RCUyQyU3QiUyMm9iamVjdCUyMiUzQSUyMmxlYWYlMjIlMkMlMjJ0ZXh0JTIyJTNBJTIyJUMyJUEwJTIyJTJDJTIybWFya3MlMjIlM0ElNUIlNUQlN0QlMkMlN0IlMjJvYmplY3QlMjIlM0ElMjJsZWFmJTIyJTJDJTIydGV4dCUyMiUzQSUyMmFuZCUyMiUyQyUyMm1hcmtzJTIyJTNBJTVCJTdCJTIyb2JqZWN0JTIyJTNBJTIybWFyayUyMiUyQyUyMnR5cGUlMjIlM0ElMjJib2xkJTIyJTJDJTIyZGF0YSUyMiUzQSU3QiU3RCU3RCU1RCU3RCUyQyU3QiUyMm9iamVjdCUyMiUzQSUyMmxlYWYlMjIlMkMlMjJ0ZXh0JTIyJTNBJTIyJUMyJUEwJTIyJTJDJTIybWFya3MlMjIlM0ElNUIlNUQlN0QlMkMlN0IlMjJvYmplY3QlMjIlM0ElMjJsZWFmJTIyJTJDJTIydGV4dCUyMiUzQSUyMmdpdmUlMjB5b3VyJTIwbGlmZSUyMG1vcmUlMjBwYXNzaW9uLiUyMiUyQyUyMm1hcmtzJTIyJTNBJTVCJTdCJTIyb2JqZWN0JTIyJTNBJTIybWFyayUyMiUyQyUyMnR5cGUlMjIlM0ElMjJib2xkJTIyJTJDJTIyZGF0YSUyMiUzQSU3QiU3RCU3RCU1RCU3RCU1RCU3RCU1RCU3RCU1RCU3RA==\"\u003e\u003cspan style=\"color: #ff8000;\"\u003e\u003cstrong\u003e\u003cspan class=\"jss220\"\u003eOvercome any obstacle\u003c\/span\u003e \u003cspan class=\"jss220\"\u003eand\u003c\/span\u003e \u003cspan class=\"jss220\"\u003egive your life more passion.\u003c\/span\u003e\u003c\/strong\u003e\u003c\/span\u003e\u003c\/h4\u003e\n\u003cdiv data-key=\"40\" data-slate-fragment=\"JTdCJTIyb2JqZWN0JTIyJTNBJTIyZG9jdW1lbnQlMjIlMkMlMjJkYXRhJTIyJTNBJTdCJTdEJTJDJTIybm9kZXMlMjIlM0ElNUIlN0IlMjJvYmplY3QlMjIlM0ElMjJibG9jayUyMiUyQyUyMnR5cGUlMjIlM0ElMjJwYXJhZ3JhcGglMjIlMkMlMjJkYXRhJTIyJTNBJTdCJTdEJTJDJTIybm9kZXMlMjIlM0ElNUIlN0IlMjJvYmplY3QlMjIlM0ElMjJ0ZXh0JTIyJTJDJTIybGVhdmVzJTIyJTNBJTVCJTdCJTIyb2JqZWN0JTIyJTNBJTIybGVhZiUyMiUyQyUyMnRleHQlMjIlM0ElMjJLZWVwJTIweW91ciUyMHJlbGF0aW9uc2hpcHMlMjBmb3JldmVyJTIwYW5kJUMyJUEwbWFrZSUyMGV0ZXJuYWwlMjBtZW1vcmllcy4lMjIlMkMlMjJtYXJrcyUyMiUzQSU1QiU3QiUyMm9iamVjdCUyMiUzQSUyMm1hcmslMjIlMkMlMjJ0eXBlJTIyJTNBJTIyYm9sZCUyMiUyQyUyMmRhdGElMjIlM0ElN0IlN0QlN0QlNUQlN0QlNUQlN0QlNUQlN0QlMkMlN0IlMjJvYmplY3QlMjIlM0ElMjJibG9jayUyMiUyQyUyMnR5cGUlMjIlM0ElMjJwYXJhZ3JhcGglMjIlMkMlMjJkYXRhJTIyJTNBJTdCJTdEJTJDJTIybm9kZXMlMjIlM0ElNUIlN0IlMjJvYmplY3QlMjIlM0ElMjJ0ZXh0JTIyJTJDJTIybGVhdmVzJTIyJTNBJTVCJTdCJTIyb2JqZWN0JTIyJTNBJTIybGVhZiUyMiUyQyUyMnRleHQlMjIlM0ElMjIlMjIlMkMlMjJtYXJrcyUyMiUzQSU1QiU1RCU3RCU1RCU3RCU1RCU3RCUyQyU3QiUyMm9iamVjdCUyMiUzQSUyMmJsb2NrJTIyJTJDJTIydHlwZSUyMiUzQSUyMnBhcmFncmFwaCUyMiUyQyUyMmRhdGElMjIlM0ElN0IlN0QlMkMlMjJub2RlcyUyMiUzQSU1QiU3QiUyMm9iamVjdCUyMiUzQSUyMnRleHQlMjIlMkMlMjJsZWF2ZXMlMjIlM0ElNUIlN0IlMjJvYmplY3QlMjIlM0ElMjJsZWFmJTIyJTJDJTIydGV4dCUyMiUzQSUyMlRoZSVDMiVBMDEwMCUyMExhbmd1YWdlcyUyMCU1QyUyMkklMjBMT1ZFJTIwWU9VJTVDJTIyJTIwUmluZyVFRiVCQyU4Nk5lY2tsYWNlJTIwZ2l2ZXMlMjB5b3UlMjB0aGUlMjBlbmVyZ3klMjB0byUyMGJlY29tZSUyMGElMjBkZWVwZXIlMjBsb3ZpbmclMjBwZXJzb24uJTVDbiUyMiUyQyUyMm1hcmtzJTIyJTNBJTVCJTVEJTdEJTVEJTdEJTVEJTdEJTJDJTdCJTIyb2JqZWN0JTIyJTNBJTIyYmxvY2slMjIlMkMlMjJ0eXBlJTIyJTNBJTIycGFyYWdyYXBoJTIyJTJDJTIyZGF0YSUyMiUzQSU3QiU3RCUyQyUyMm5vZGVzJTIyJTNBJTVCJTdCJTIyb2JqZWN0JTIyJTNBJTIydGV4dCUyMiUyQyUyMmxlYXZlcyUyMiUzQSU1QiU3QiUyMm9iamVjdCUyMiUzQSUyMmxlYWYlMjIlMkMlMjJ0ZXh0JTIyJTNBJTIyT3ZlcmNvbWUlMjBhbnklMjBvYnN0YWNsZSUyMiUyQyUyMm1hcmtzJTIyJTNBJTVCJTdCJTIyb2JqZWN0JTIyJTNBJTIybWFyayUyMiUyQyUyMnR5cGUlMjIlM0ElMjJib2xkJTIyJTJDJTIyZGF0YSUyMiUzQSU3QiU3RCU3RCU1RCU3RCUyQyU3QiUyMm9iamVjdCUyMiUzQSUyMmxlYWYlMjIlMkMlMjJ0ZXh0JTIyJTNBJTIyJUMyJUEwJTIyJTJDJTIybWFya3MlMjIlM0ElNUIlNUQlN0QlMkMlN0IlMjJvYmplY3QlMjIlM0ElMjJsZWFmJTIyJTJDJTIydGV4dCUyMiUzQSUyMmFuZCUyMiUyQyUyMm1hcmtzJTIyJTNBJTVCJTdCJTIyb2JqZWN0JTIyJTNBJTIybWFyayUyMiUyQyUyMnR5cGUlMjIlM0ElMjJib2xkJTIyJTJDJTIyZGF0YSUyMiUzQSU3QiU3RCU3RCU1RCU3RCUyQyU3QiUyMm9iamVjdCUyMiUzQSUyMmxlYWYlMjIlMkMlMjJ0ZXh0JTIyJTNBJTIyJUMyJUEwJTIyJTJDJTIybWFya3MlMjIlM0ElNUIlNUQlN0QlMkMlN0IlMjJvYmplY3QlMjIlM0ElMjJsZWFmJTIyJTJDJTIydGV4dCUyMiUzQSUyMmdpdmUlMjB5b3VyJTIwbGlmZSUyMG1vcmUlMjBwYXNzaW9uLiUyMiUyQyUyMm1hcmtzJTIyJTNBJTVCJTdCJTIyb2JqZWN0JTIyJTNBJTIybWFyayUyMiUyQyUyMnR5cGUlMjIlM0ElMjJib2xkJTIyJTJDJTIyZGF0YSUyMiUzQSU3QiU3RCU3RCU1RCU3RCU1RCU3RCU1RCU3RCU1RCU3RA==\"\u003e\u003cstrong\u003e\u003cspan class=\"jss220\"\u003e\u003cimg alt=\"\" src=\"https:\/\/cdn.shopify.com\/s\/files\/1\/0585\/8669\/3786\/products\/1_5264d824-e688-497b-ab0a-a2e28641a2d6_480x480.jpg?v=1640072074\" style=\"display: block; margin-left: auto; margin-right: auto;\" width=\"400\" height=\"400\"\u003e\u003c\/span\u003e\u003c\/strong\u003e\u003c\/div\u003e\n\u003cdiv data-key=\"40\" data-slate-fragment=\"JTdCJTIyb2JqZWN0JTIyJTNBJTIyZG9jdW1lbnQlMjIlMkMlMjJkYXRhJTIyJTNBJTdCJTdEJTJDJTIybm9kZXMlMjIlM0ElNUIlN0IlMjJvYmplY3QlMjIlM0ElMjJibG9jayUyMiUyQyUyMnR5cGUlMjIlM0ElMjJwYXJhZ3JhcGglMjIlMkMlMjJkYXRhJTIyJTNBJTdCJTdEJTJDJTIybm9kZXMlMjIlM0ElNUIlN0IlMjJvYmplY3QlMjIlM0ElMjJ0ZXh0JTIyJTJDJTIybGVhdmVzJTIyJTNBJTVCJTdCJTIyb2JqZWN0JTIyJTNBJTIybGVhZiUyMiUyQyUyMnRleHQlMjIlM0ElMjJLZWVwJTIweW91ciUyMHJlbGF0aW9uc2hpcHMlMjBmb3JldmVyJTIwYW5kJUMyJUEwbWFrZSUyMGV0ZXJuYWwlMjBtZW1vcmllcy4lMjIlMkMlMjJtYXJrcyUyMiUzQSU1QiU3QiUyMm9iamVjdCUyMiUzQSUyMm1hcmslMjIlMkMlMjJ0eXBlJTIyJTNBJTIyYm9sZCUyMiUyQyUyMmRhdGElMjIlM0ElN0IlN0QlN0QlNUQlN0QlNUQlN0QlNUQlN0QlMkMlN0IlMjJvYmplY3QlMjIlM0ElMjJibG9jayUyMiUyQyUyMnR5cGUlMjIlM0ElMjJwYXJhZ3JhcGglMjIlMkMlMjJkYXRhJTIyJTNBJTdCJTdEJTJDJTIybm9kZXMlMjIlM0ElNUIlN0IlMjJvYmplY3QlMjIlM0ElMjJ0ZXh0JTIyJTJDJTIybGVhdmVzJTIyJTNBJTVCJTdCJTIyb2JqZWN0JTIyJTNBJTIybGVhZiUyMiUyQyUyMnRleHQlMjIlM0ElMjIlMjIlMkMlMjJtYXJrcyUyMiUzQSU1QiU1RCU3RCU1RCU3RCU1RCU3RCUyQyU3QiUyMm9iamVjdCUyMiUzQSUyMmJsb2NrJTIyJTJDJTIydHlwZSUyMiUzQSUyMnBhcmFncmFwaCUyMiUyQyUyMmRhdGElMjIlM0ElN0IlN0QlMkMlMjJub2RlcyUyMiUzQSU1QiU3QiUyMm9iamVjdCUyMiUzQSUyMnRleHQlMjIlMkMlMjJsZWF2ZXMlMjIlM0ElNUIlN0IlMjJvYmplY3QlMjIlM0ElMjJsZWFmJTIyJTJDJTIydGV4dCUyMiUzQSUyMlRoZSVDMiVBMDEwMCUyMExhbmd1YWdlcyUyMCU1QyUyMkklMjBMT1ZFJTIwWU9VJTVDJTIyJTIwUmluZyVFRiVCQyU4Nk5lY2tsYWNlJTIwZ2l2ZXMlMjB5b3UlMjB0aGUlMjBlbmVyZ3klMjB0byUyMGJlY29tZSUyMGElMjBkZWVwZXIlMjBsb3ZpbmclMjBwZXJzb24uJTVDbiUyMiUyQyUyMm1hcmtzJTIyJTNBJTVCJTVEJTdEJTVEJTdEJTVEJTdEJTJDJTdCJTIyb2JqZWN0JTIyJTNBJTIyYmxvY2slMjIlMkMlMjJ0eXBlJTIyJTNBJTIycGFyYWdyYXBoJTIyJTJDJTIyZGF0YSUyMiUzQSU3QiU3RCUyQyUyMm5vZGVzJTIyJTNBJTVCJTdCJTIyb2JqZWN0JTIyJTNBJTIydGV4dCUyMiUyQyUyMmxlYXZlcyUyMiUzQSU1QiU3QiUyMm9iamVjdCUyMiUzQSUyMmxlYWYlMjIlMkMlMjJ0ZXh0JTIyJTNBJTIyT3ZlcmNvbWUlMjBhbnklMjBvYnN0YWNsZSUyMiUyQyUyMm1hcmtzJTIyJTNBJTVCJTdCJTIyb2JqZWN0JTIyJTNBJTIybWFyayUyMiUyQyUyMnR5cGUlMjIlM0ElMjJib2xkJTIyJTJDJTIyZGF0YSUyMiUzQSU3QiU3RCU3RCU1RCU3RCUyQyU3QiUyMm9iamVjdCUyMiUzQSUyMmxlYWYlMjIlMkMlMjJ0ZXh0JTIyJTNBJTIyJUMyJUEwJTIyJTJDJTIybWFya3MlMjIlM0ElNUIlNUQlN0QlMkMlN0IlMjJvYmplY3QlMjIlM0ElMjJsZWFmJTIyJTJDJTIydGV4dCUyMiUzQSUyMmFuZCUyMiUyQyUyMm1hcmtzJTIyJTNBJTVCJTdCJTIyb2JqZWN0JTIyJTNBJTIybWFyayUyMiUyQyUyMnR5cGUlMjIlM0ElMjJib2xkJTIyJTJDJTIyZGF0YSUyMiUzQSU3QiU3RCU3RCU1RCU3RCUyQyU3QiUyMm9iamVjdCUyMiUzQSUyMmxlYWYlMjIlMkMlMjJ0ZXh0JTIyJTNBJTIyJUMyJUEwJTIyJTJDJTIybWFya3MlMjIlM0ElNUIlNUQlN0QlMkMlN0IlMjJvYmplY3QlMjIlM0ElMjJsZWFmJTIyJTJDJTIydGV4dCUyMiUzQSUyMmdpdmUlMjB5b3VyJTIwbGlmZSUyMG1vcmUlMjBwYXNzaW9uLiUyMiUyQyUyMm1hcmtzJTIyJTNBJTVCJTdCJTIyb2JqZWN0JTIyJTNBJTIybWFyayUyMiUyQyUyMnR5cGUlMjIlM0ElMjJib2xkJTIyJTJDJTIyZGF0YSUyMiUzQSU3QiU3RCU3RCU1RCU3RCU1RCU3RCU1RCU3RCU1RCU3RA==\"\u003e\n\u003ch3 data-mce-fragment=\"1\"\u003e\u003cspan style=\"color: #5e5fa4;\"\u003e\u003cstrong\u003eFEATURES\u003c\/strong\u003e\u003c\/span\u003e\u003c\/h3\u003e\n\u003cul\u003e\n\u003cli\u003eChain 16 inches + 2 inches extension. Pendant Height: 1.50 inch, Width: 1.00 inch.\u003c\/li\u003e\n\u003cli\u003eThe necklace is available in two colors, rose gold and silver, and there are two\u003cstrong\u003e ways\u003c\/strong\u003e to wear it. \u003c\/li\u003e\n\u003c\/ul\u003e\n\u003cp\u003e\u003cimg height=\"400\" width=\"400\" style=\"display: block; margin-left: auto; margin-right: auto;\" src=\"https:\/\/cdn.shopify.com\/s\/files\/1\/0585\/8669\/3786\/products\/5_48b75810-dd23-4dc8-ab98-33bc02bb1a72_480x480.jpg?v=1640071488\" alt=\"\"\u003e\u003c\/p\u003e\n\u003cul\u003e\n\u003cli\u003e\n\u003cspan style=\"color: #fcb80c;\"\u003e 🌻\u003cstrong\u003eDurable For Everyday Use\u003c\/strong\u003e\u003c\/span\u003e\u003cspan\u003e \u003c\/span\u003e-  No tarnishing over time. You can be sure to wear this necklace every day if you want to.\u003c\/li\u003e\n\u003cli\u003e\n\u003cspan style=\"color: #fcb80c;\"\u003e 🌻\u003cstrong\u003eAnti-Allergy and Eco-Friendly\u003c\/strong\u003e\u003c\/span\u003e\u003cspan\u003e \u003c\/span\u003e- Nothing can be worse than an allergy preventing you from wearing your favorite necklace. Wear this necklace as often as you like with no swelling up! Eco-friendly means we only craft in ethical conditions as well as using only ethically and economically friendly gathered materials.\u003c\/li\u003e\n\u003cli\u003e\n\u003cspan style=\"color: #fcb80c;\"\u003e 🌻\u003cstrong\u003e\"I Love You\" in 100 Languages engraved through nano micro carving.\u003c\/strong\u003e\u003c\/span\u003e\u003cspan\u003e You can see it through every standard camera\/smartphone lens! Project the center heart at a black background with your camera flashlight to show your love.\u003c\/span\u003e\u003cimg src=\"https:\/\/cdn.shopify.com\/s\/files\/1\/0013\/1350\/5354\/files\/7_480x480.png?v=1568946659\" alt=\"\" width=\"357\" height=\"344\" style=\"display: block; margin-left: auto; margin-right: auto;\"\u003e\n\u003c\/li\u003e\n\u003cli\u003e🌻\u003cspan\u003e\u003cspan style=\"color: #fcb80c;\"\u003e\u003cstrong\u003eThe perfect anniversary gift\u003c\/strong\u003e\u003c\/span\u003e, treat your wife for your wedding anniversary. Delight your mom on Mother's Day, your girlfriend for Valentines Day, your daughter for Christmas or best friend on her birthday!\u003c\/span\u003e\u003cstrong\u003e\u003cspan\u003e \u003c\/span\u003e\u003c\/strong\u003e\n\u003c\/li\u003e\n\u003c\/ul\u003e\n\u003ch3 style=\"display: inline !important;\"\u003e\u003cstrong\u003e\u003cspan style=\"color: #5e5fa4;\"\u003eSPECIFICATIONS\u003c\/span\u003e\u003c\/strong\u003e\u003c\/h3\u003e\n\u003cul\u003e\u003c\/ul\u003e\n\u003cul\u003e\n\u003cli\u003e\n\u003cstrong\u003eMaterial\u003c\/strong\u003e: titanium steel\u003c\/li\u003e\n\u003cli\u003e\n\u003cstrong\u003eColor\u003c\/strong\u003e: rose gold, white\u003c\/li\u003e\n\u003cli\u003e\n\u003cstrong\u003eWeight\u003c\/strong\u003e: 30g \/ 0.07lb\u003c\/li\u003e\n\u003cli\u003e\n\u003cstrong\u003eSize\u003c\/strong\u003e:\u003c\/li\u003e\n\u003c\/ul\u003e\n\u003cp\u003e\u003cimg height=\"400\" width=\"400\" style=\"display: block; margin-left: auto; margin-right: auto;\" src=\"https:\/\/cdn.shopifycdn.net\/s\/files\/1\/0585\/8669\/3786\/files\/12_86cf6b38-de85-43c7-9fd4-b9a7adc00490_480x480.jpg?v=1640072133\" alt=\"\"\u003e\u003c\/p\u003e\n\u003ch3\u003e\u003cstrong\u003e\u003cspan style=\"color: #5e5fa4;\"\u003ePACKAGE INCLUDED\u003c\/span\u003e\u003c\/strong\u003e\u003c\/h3\u003e\n\u003cul\u003e\n\u003cli\u003e\n\u003cp\u003e1 × 100 Languages \"I LOVE YOU\" Necklace\u003c\/p\u003e\n\u003c\/li\u003e\n\u003c\/ul\u003e\n\u003c\/div\u003e\n\u003c\/div\u003e\n\u003cdiv data-key=\"28\"\u003e\u003c\/div\u003e"}
100 Languages "I LOVE YOU" Necklace
Adding product to your cart
Keep your relationships forever and make eternal memories.
The 100 Languages "I LOVE YOU" Necklace gives you the energy to become a deeper loving person.
Overcome any obstacle

 

and

 

give your life more passion.
FEATURES
Chain 16 inches + 2 inches extension. Pendant Height: 1.50 inch, Width: 1.00 inch.
The necklace is available in two colors, rose gold and silver, and there are two ways to wear it. 
🌻Durable For Everyday Use

 

-  No tarnishing over time. You can be sure to wear this necklace every day if you want to.
🌻Anti-Allergy and Eco-Friendly

 

- Nothing can be worse than an allergy preventing you from wearing your favorite necklace. Wear this necklace as often as you like with no swelling up! Eco-friendly means we only craft in ethical conditions as well as using only ethically and economically friendly gathered materials.
🌻"I Love You" in 100 Languages engraved through nano micro carving.

 You can see it through every standard camera/smartphone lens! Project the center heart at a black background with your camera flashlight to show your love.

🌻The perfect anniversary gift, treat your wife for your wedding anniversary. Delight your mom on Mother's Day, your girlfriend for Valentines Day, your daughter for Christmas or best friend on her birthday!

 
SPECIFICATIONS
Material: titanium steel
Color: rose gold, white
Weight: 30g / 0.07lb
Size: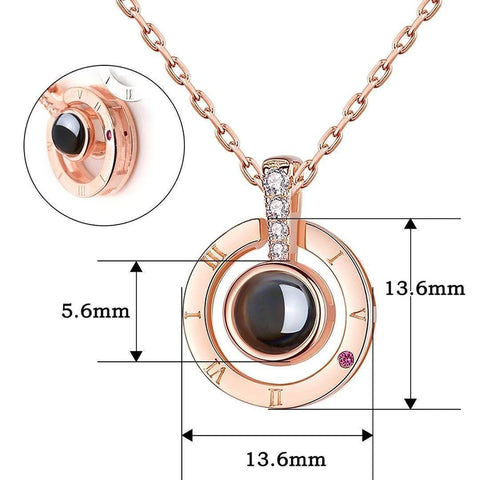 PACKAGE INCLUDED
1 × 100 Languages "I LOVE YOU" Necklace